Movie Theater Popcorn Bars take movie snacks to the next level. They're sweet, salty and totally delicious.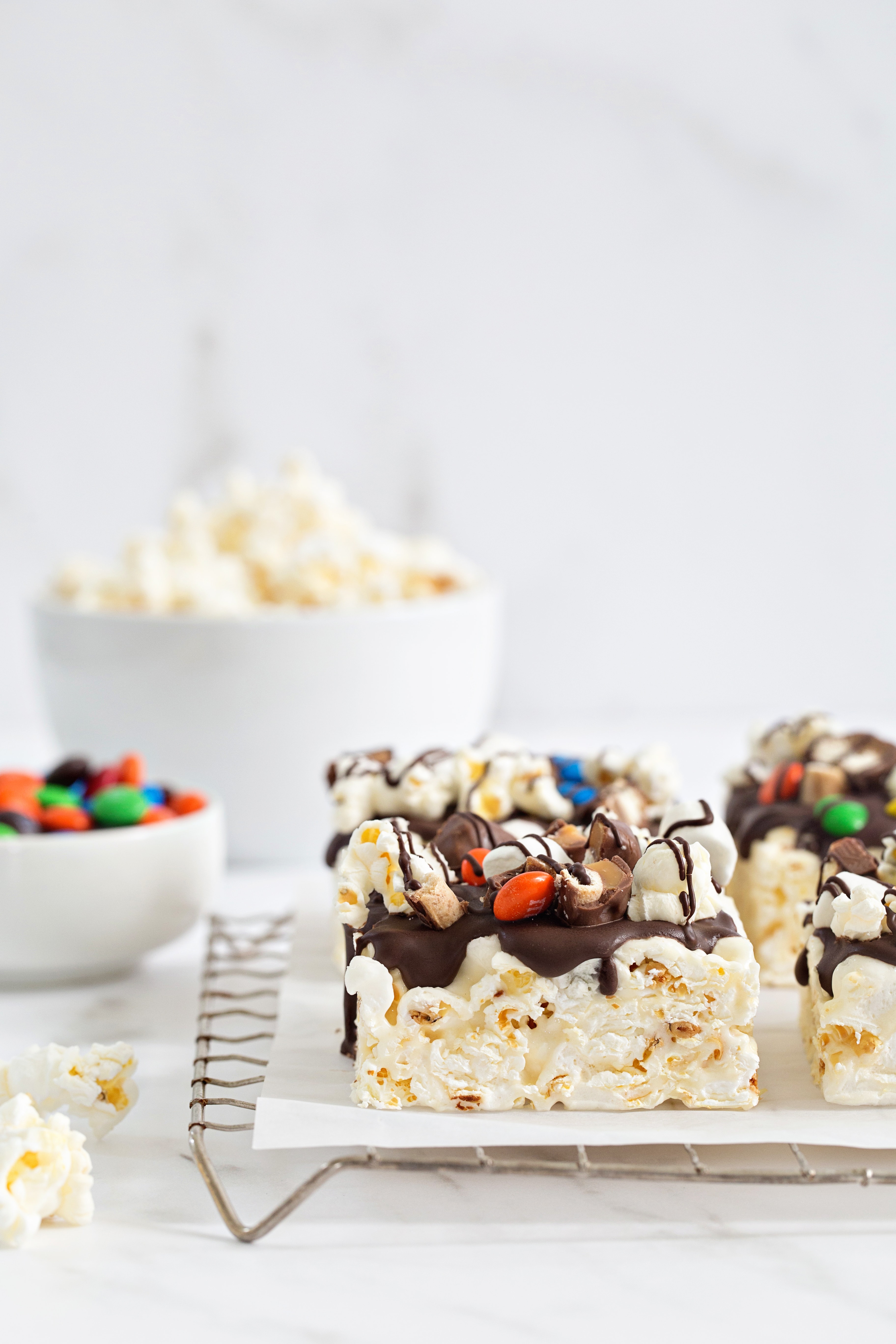 Last month, we were invited to an outdoor movie night and the initial thought of it sounded pretty fantastic.
Patio, friends, kiddos, snacks, movie – all sound kinda fun, right?
In fact, I loved the idea of an outdoor movie night so much, that I actually found myself Googling outdoor theater screens for pricing.
If you know me personally, you're probably laughing just a little bit right now with something like this 🤔 expression on your face.
You see, me and the outdoors at night are so not a thing. I've been camping like once in my life and ended up sleeping in my 1983 Ford Escort because I couldn't take the creepy noises, the smell of the campfire, or the freaking bugs.
I'm just not into it, guys.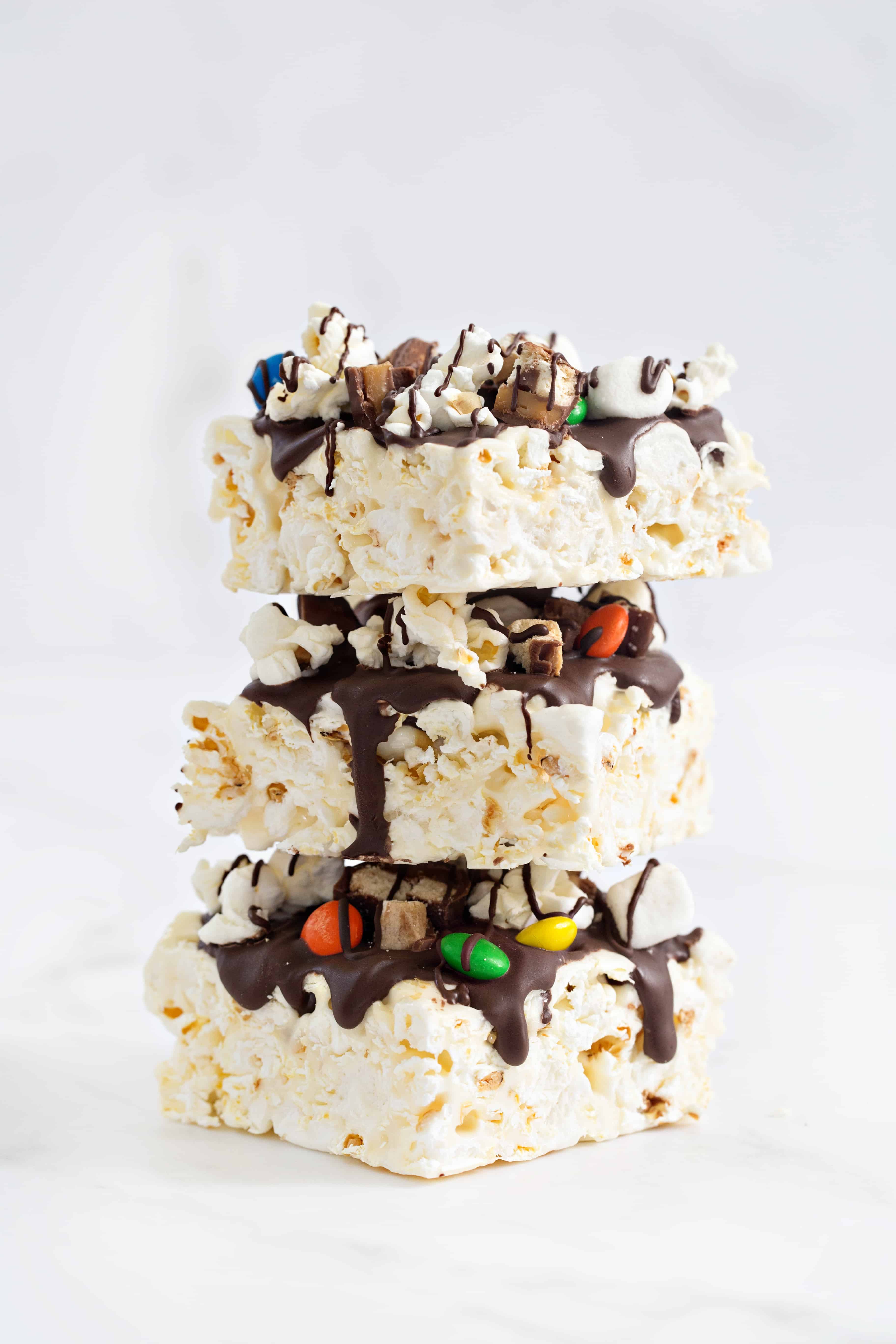 However, I totally would've sucked it up, slathered Elle and I in bug spray, and showed up with loads of snacks if we didn't already have plans that evening.
Even though we couldn't make it, I've been thinking about it for weeks and continue to search for the perfect outdoor screen for our backyard.
Guys, I don't really watch movies, which is totally a topic for another day. And I sure as heck don't like bugs. But I continue to obsess over having an outdoor movie night for Elle and the neighborhood kids.
I don't even know who I am anymore.
I will tell you one thing, having kids changes everything, because I know if my sweet babe ever discovers camping, I'll be there. Mind you, I'll be covered in mosquito spray and possibly wearing a bug net, but I'll be there.
Until that discovery happens, we'll be over here, building tents in our family room and watching Doc McStuffins (my babe doesn't like movies either) while eating these Movie Theater Popcorn Bars.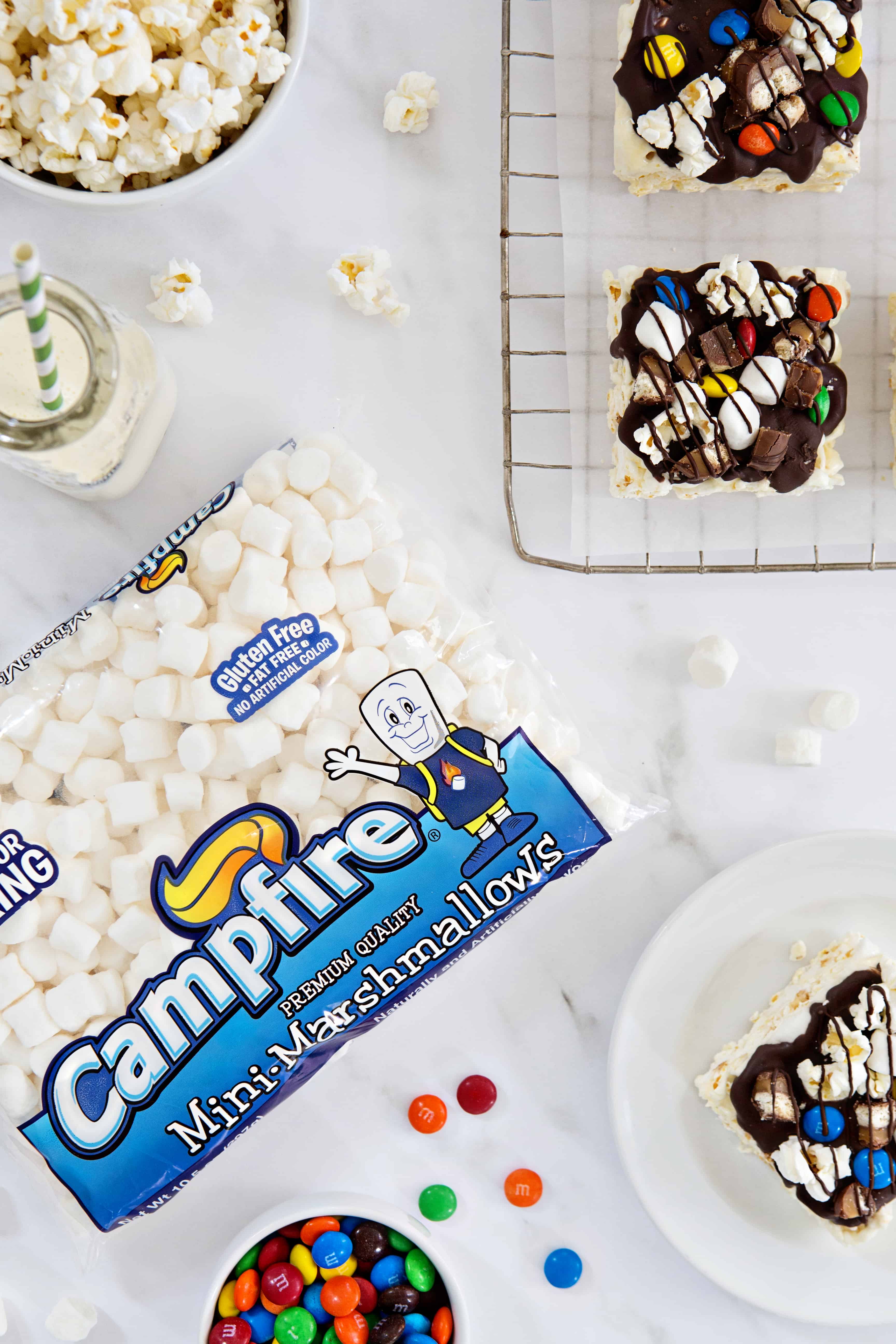 MOVIE THEATER POPCORN BARS
These Movie Theater Popcorn Bars contain all the good stuff! Popcorn, Campfire® Marshmallows, M&Ms, & Twix. Seriously, how could this combination ever be a bad thing.
However, if you're not into Twix or M&Ms, you can totally make these your own by using any combination of candy. Think Junior Mints, Snickers, Peanut Butter M&Ms – the combinations are endless!
Just in case you're new here, I've been working with Campfire® Marshmallows for the past few years to create some amazing marshmallow recipes just like these Movie Theater Popcorn Bars.
We've got tons of delicious dishes and desserts from the past couple of years, and so many more coming your way this fall.
We even created a Marshmallow Madness Pinterest board where we've pinned loads of delicious ooey-gooey marshmallow recipes.
Just like these Cookie Dough Cheesecake S'mores. And this Strawberry Cheesecake Fluff, or this S'mores Snack Mix.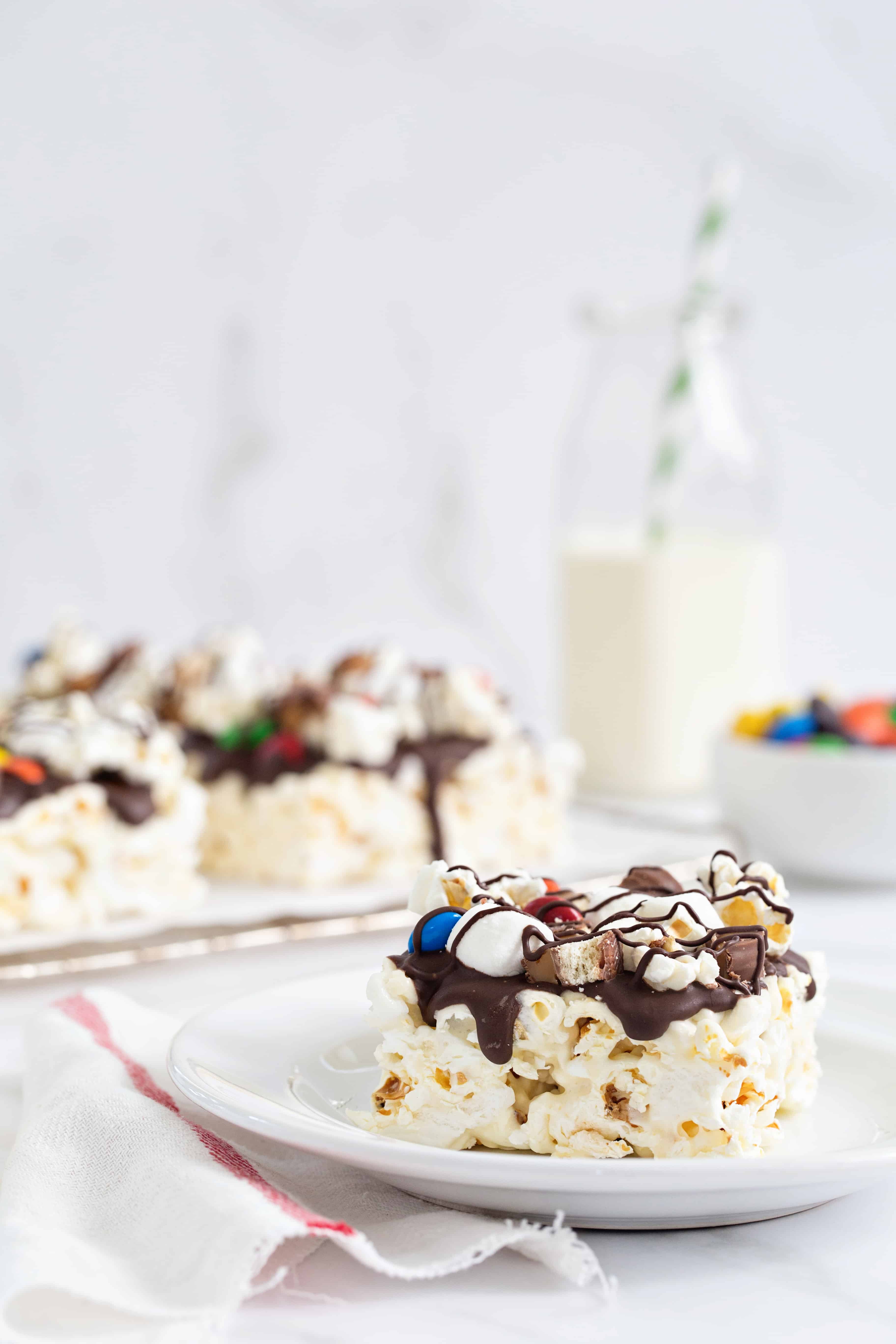 SWEET AND SALTY POPCORN RECIPE
Does anyone else completely dig the sweet and salty combo?
I mean, obviously I have no problem with sweets. They're my bread and butter around here.
But sometimes I really love combining something salty with my something sweet. These Movie Theater Popcorn Bars fit that bill perfectly.
Using salty, popcorn as the base of these bars provides the perfect canvas for topping with your favorite movie theater candy. I opted for M&Ms, Twix, and some extra popcorn and Campfire marshmallows for good measure.
Feel free to substitute with your favorite movie theater candy, though! You could even add another salty snack, such as crushed pretzels, if you want to up the salt-factor even more.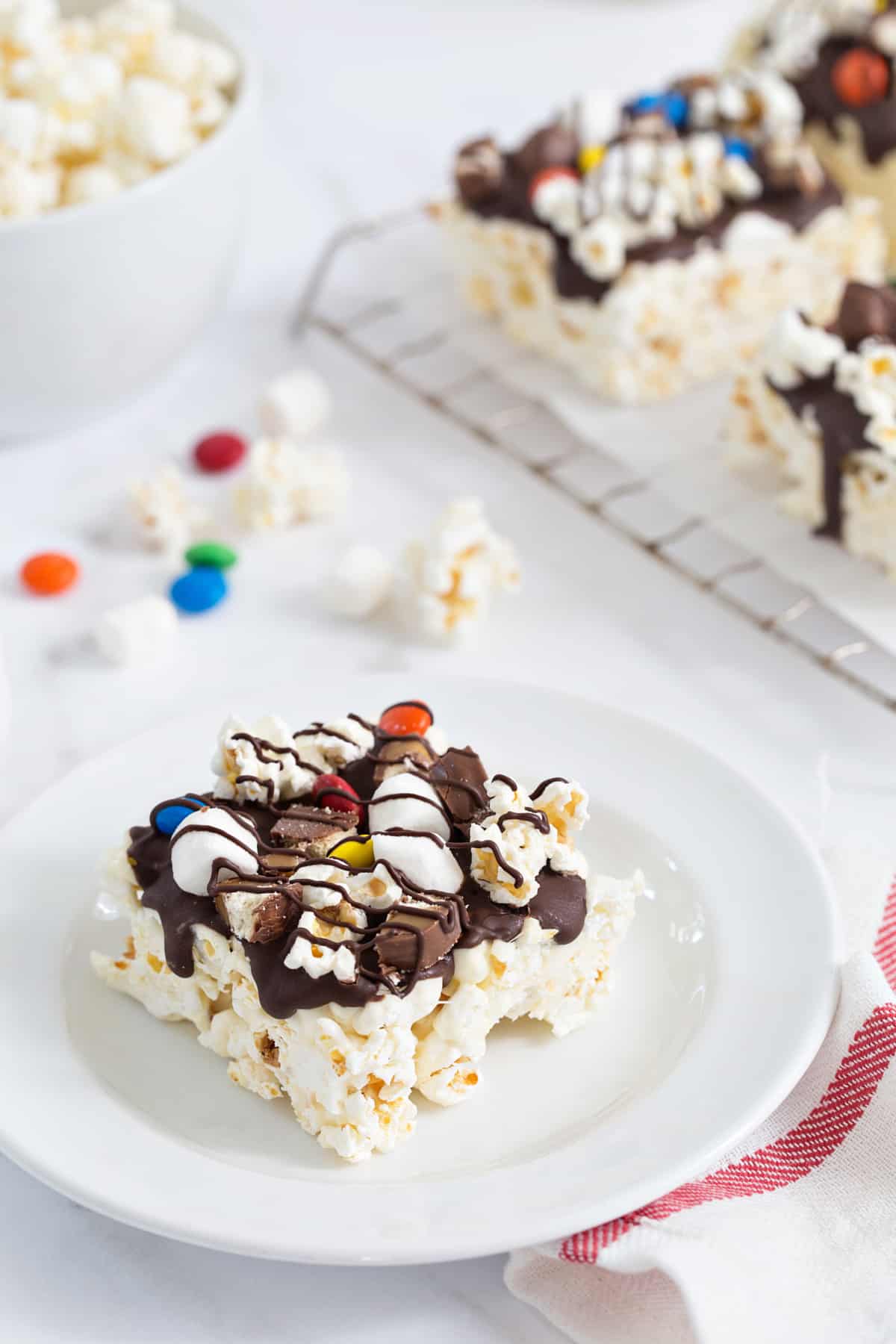 HOW TO MAKE POPCORN BARS
Making Movie Theater Popcorn Bars is just as easy as making your favorite marshmallow cereal treats. Just instead of using cereal, we will use popcorn as our base.
I like to use microwave popcorn to make these Movie Theater Popcorn Bars super quick and easy, but you could use stove-popped popcorn if you prefer. Just make sure to salt the popcorn. You'll need about 9 cups of popped popcorn.
From there, melt your Campfire® Marshmallows and your butter as you normally would for any marshmallow treat. Fold in the popcorn, gently press into your pan, and get ready to top them with your favorite movie theater snacks!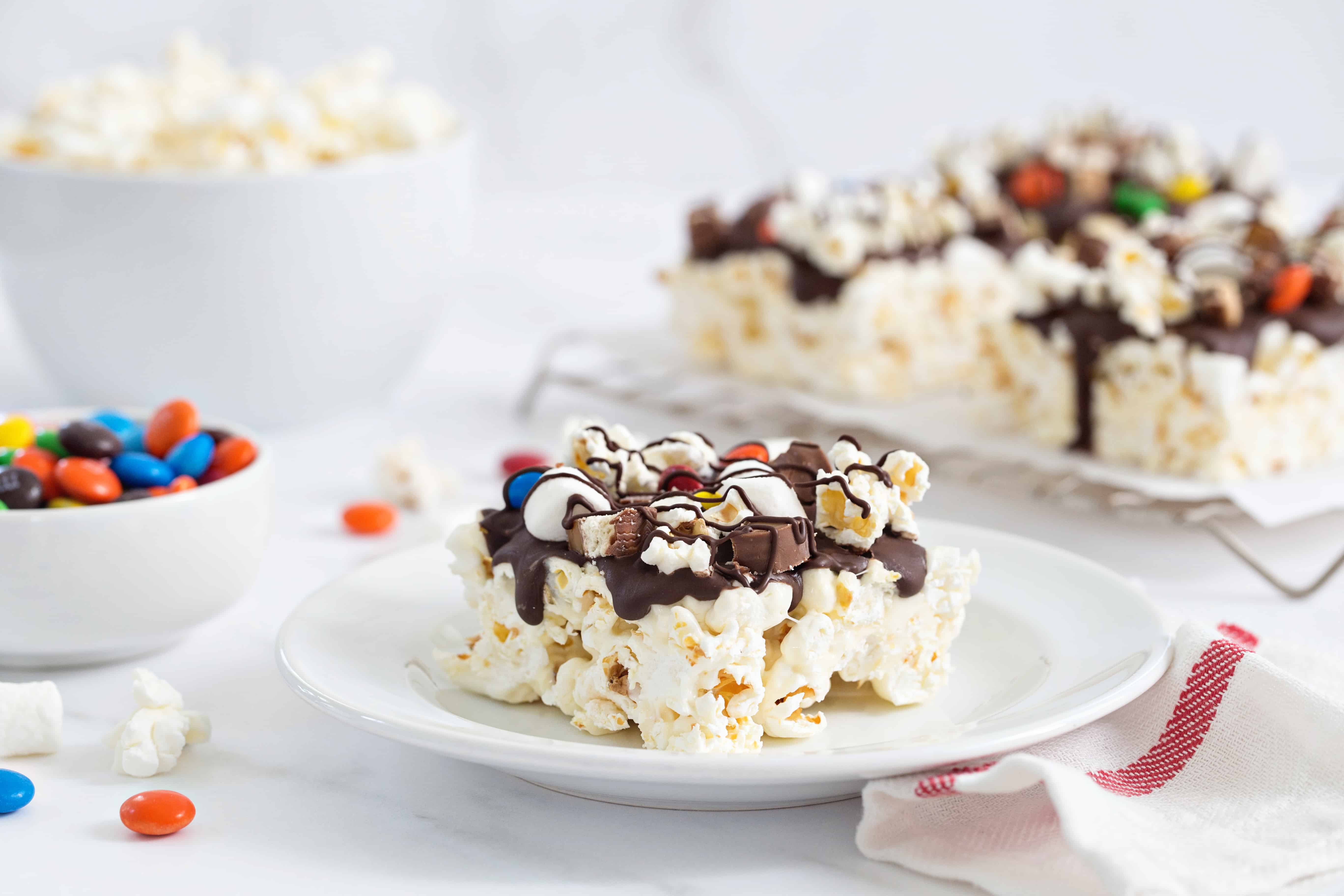 MARSHMALLOW TREATS
Looking for more recipes for easy marshmallow treats? Luckily Campfire® Marshmallows and I have you covered.
Birthday Marshmallow Cereal Treats are always a good place to start, as are S'mores Marshmallow Crispy Treats.
Looking for something fruity? Berry Cereal Treats and Chocolate Dipped Key Lime Pie Marshmallow Treats are just for you.
Frosted Maple Pecan Marshmallow Cereal Treats and Biscoff Marshmallow Treats are full of cozy fall flavors – perfect as the weather cools down!
And of course, you can never go wrong with something seasonal. Try Marshmallow Treat Cupcakes in the spring or Gingerbread Marshmallow Treat Cupcakes at Christmas.
No matter which recipe or flavor combo you choose, marshmallow treats such as these Movie Theater Popcorn Bars are always a hit with friends and family of all ages!
Whether you're making them for your own outdoor movie night or for a couch Netflix marathon session, I can guarantee you'll love them.