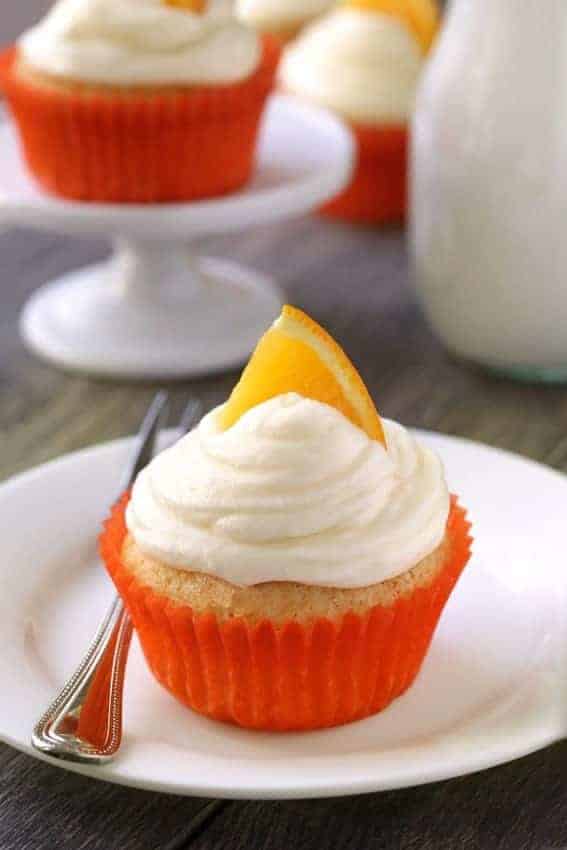 Orange Creamsicle Cupcakes are loaded with orange flavor and are topped with cream cheese frosting. With a gluten-free option.
As a Texan currently living in gray and dreary Germany, I miss the sun. My husband and I just returned from three weeks visiting friends and family in the South where we enjoyed t-shirt weather for all but a few days. When we returned to Berlin, it was 23°F and in the past 9 days, we've had a few hours of sunshine. I've never had a harder time getting out of bed!
I don't like coffee or tea so for a pick-me-up, I turn to citrus goodies this time of year. They always boost my mood and make me a little more energetic. At least until the sugar high is over. ;)
Post-Christmas, I usually go lemon crazy and make a lot of puckery sweets like these mini lemon curd tarts or these gluten-free lemon thumbprint cookies and I thought that making a cupcake version of the ever-popular orange creamsicle popsicles would be a nice change. If you're not familiar with them, creamsicles have a vanilla cream center and an orange popsicle shell. I've never been a fan as I'm just not into popsicles but I can totally get on board with the orange, vanilla and cream combination!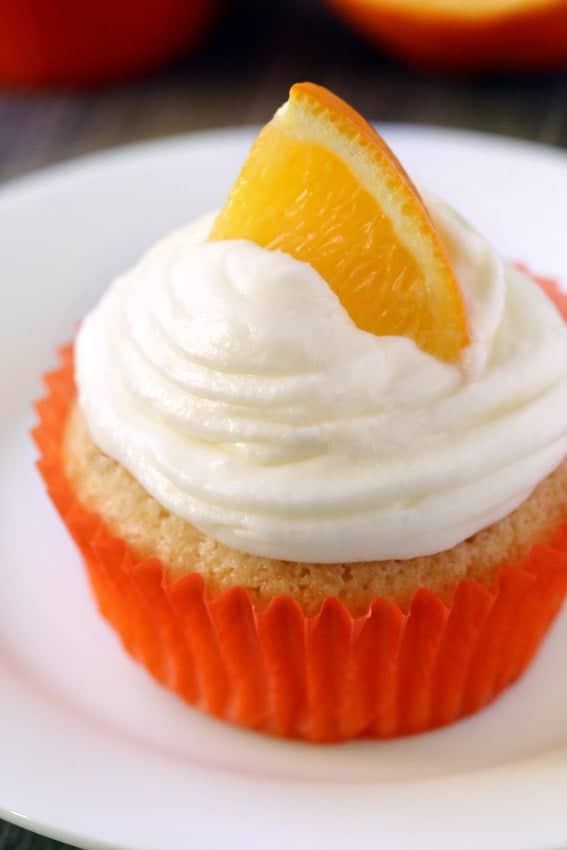 The cupcakes aren't overly fluffy but they're not dense, either. The gluten-free version is actually a little lighter than the one with all-purpose flour and you can't tell any difference at all in taste or texture! If you're not in the mood for orange, replace all the orange ingredients (extract, juice and zest) with lemon or lime.
To frost them, I opted for a cream cheese frosting. Because cream cheese frosting makes everything better. I just can't imagine using buttercream when you could have cream cheese frosting instead!
Normally when I make cupcakes, I try out a few different tips and spend ages practicing, then piping the frosting on the cupcakes, and finally deciding they're all ugly and need to be re-done. It's a big time suck. With these creamsicle cupcakes, I wanted to try something else.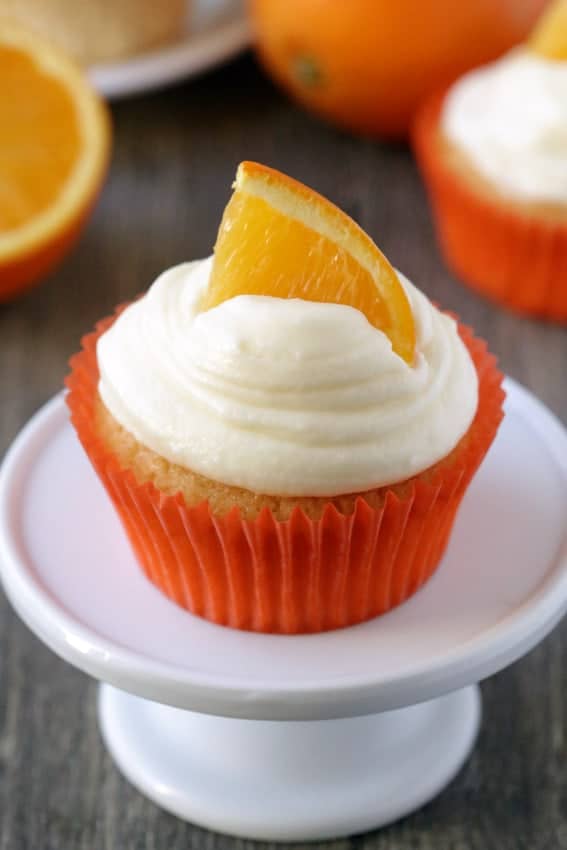 I'd read about using a plastic freezer bag for piping but never tried it since I had proper piping bags and a big set of piping tips. That was silly of me! I love how easy it was to frost these cupcakes using that method and I didn't feel compelled to redo a single one. What I did was cut a small hole, about 1/4″, in the corner of a freezer bag and filled it with frosting. You can make it a little bigger but I liked the squiggly appearance that resulted from the small cut.
Looking for some more citrus treats? Try Jamie's chewy lime sugar cookies or Meyer lemon meltaways!