Raspberry Lemonade Cupcakes
Summer is just around the corner and that means it's time for ice cold lemonade! These Raspberry Lemonade Cupcakes are just what you need for your grown-up lemonade stand!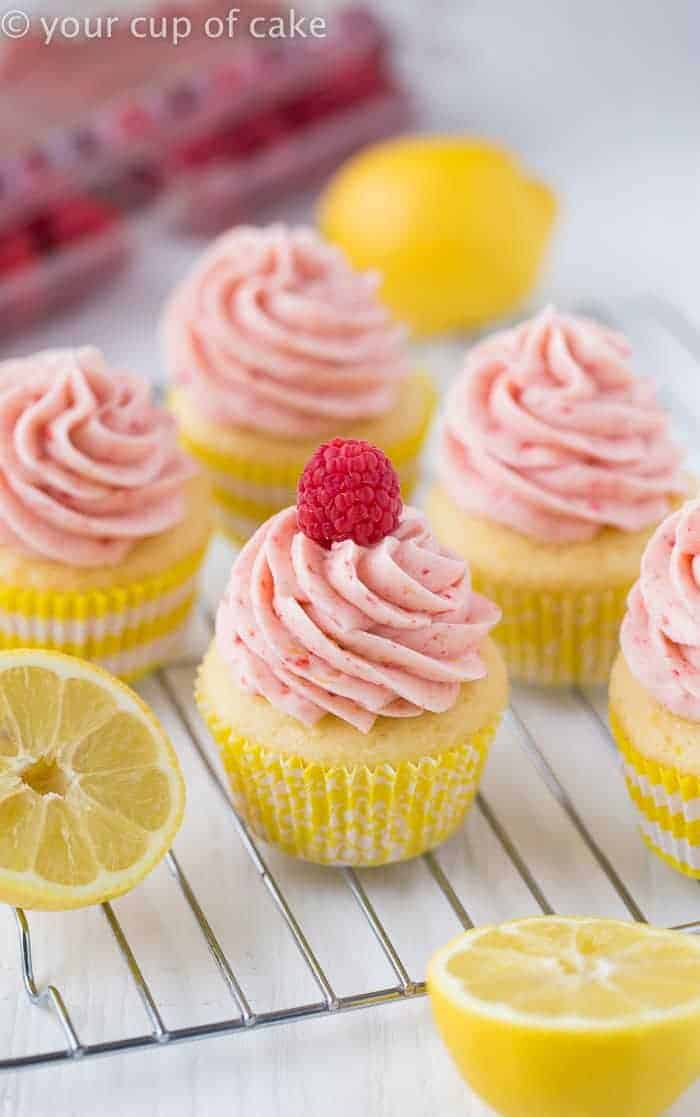 I am so happy to be back on My Baking Addiction to bring you this delicious recipe. I'm Lizzy from Your Cup of Cake and I'm always in the kitchen baking up cute cupcakes like my Palm Tree Cupcakes with little tanning teddy grahams!
Today it's all about summer lemonade and how I squeeeeezed all that flavor into these Raspberry Lemonade Cupcakes. I don't know about you, but when I'm at a restaurant and they offer me lemonade or raspberry lemonade, I always pick the raspberry! Today I have a great raspberry frosting for you, along with a few ways to make it work for your kitchen.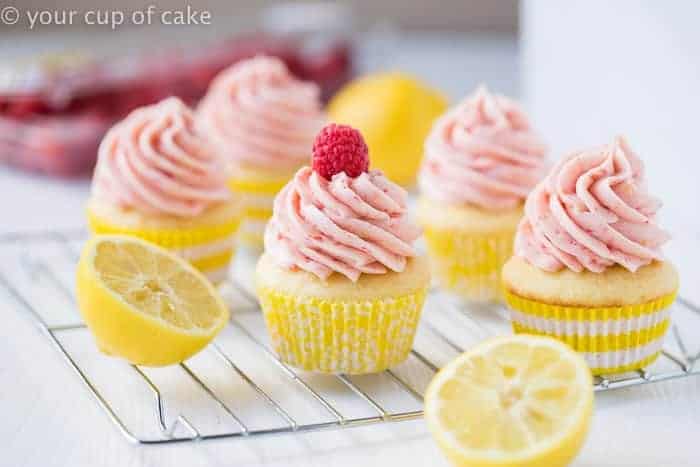 I love using freeze dried berries in my frostings, they're pretty much genius. If you want to know all about that you can check out my How to Make the Best Strawberry Frosting post! But for today we're going to be using other options that are probably already in your pantry because I'm all about using what you have on hand.
The first option is using a raspberry puree, which is a fancy way of saying you blend your raspberries in a blender! You can strain out the seeds too if you want!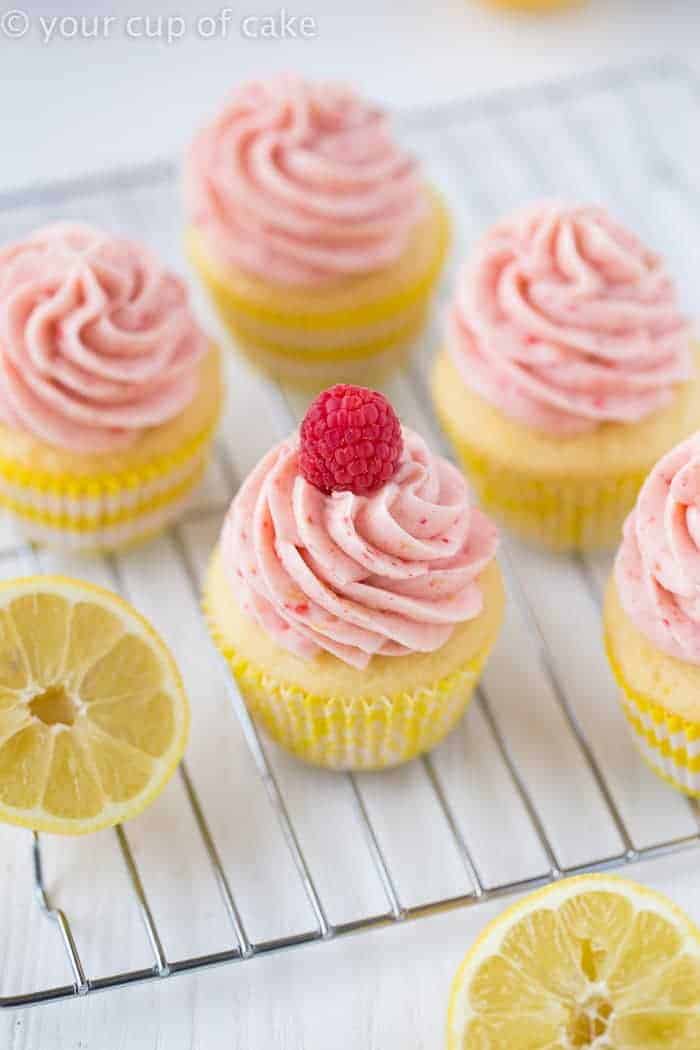 The next option is using some jam, jelly, preserves or anything like that! That's a great option because its the least amount of prep work and you probably have a jar in your fridge from making PB&J sandwiches.
The third option may sound a little strange… adding jello powder! It's a huge punch of flavor and color (albeit it's dyes and artificial stuff). But it works! You can even use a jelly and then add just a little of the jello powder to boost the flavor.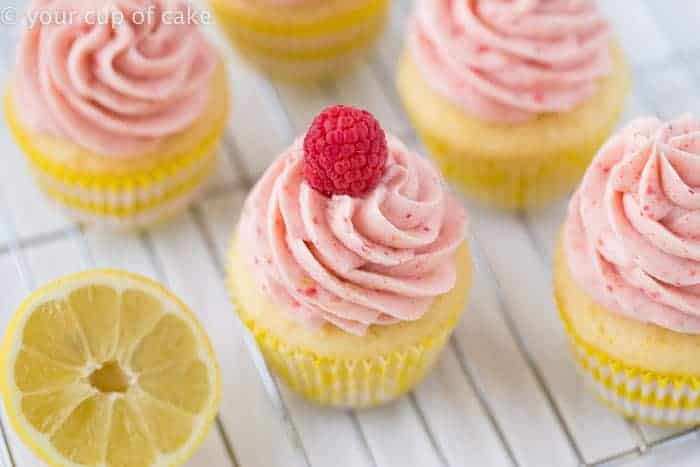 The tricky part about berry frostings is that you can't add to many fresh berries because then the frosting will be way too soft! That's why I'm obsessed with my freeze dried berry trick I linked to above and also why the jello powder is a great substitute.
I hope you learned a little something today about berry frostings! Don't forget to come visit me at Your Cup of Cake and find something sweet to bring to your next summer pot luck!
If you love these Raspberry Lemonade Cupcakes, you definitely need to check out these Thin Mint Cupcakes and these Banana Nutella Cupcakes.
Happy baking!
Raspberry Lemonade Cupcakes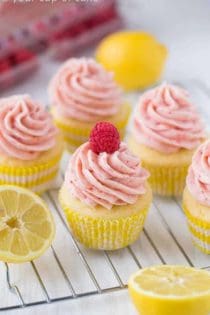 Ingredients:
FOR THE CUPCAKES
1 cup unsalted butter, room temperature
2 cup sugar
Zest of 2 small lemons (or 1 large)
4 eggs
2 1/2 cup flour
1/2 cup cornstarch
1 tablespoon baking powder
1 teaspoon salt
1 cup sour cream
2 tablespoons milk
2 tablespoons freshly-squeezed lemon juice
1 1/2 teaspoons vanilla extract
FOR THE RASPBERRY FROSTING
1 cup unsalted butter, room temperature
1 teaspoons vanilla extract
1 teaspoon lemon zest, optional
3-4 cup powdered sugar
1/4 cup raspberry puree, jam, preserves (or 1 tablespoon raspberry jello powder)
Directions:
Preheat oven to 350ºF and line pans with cupcake liners.
Beat butter, sugar and lemon zest together until light and fluffy. Add in eggs and mix until thoroughly incorporated.
In a large bowl whisk together flour, cornstarch, baking powder and salt.  You can sift these ingredients together if you prefer a very light texture.
Add half the dry ingredients to the butter/sugar/zest and mix on medium speed.  Then add sour cream, milk and lemon juice and mix again.  Continue to add the rest of the dry ingredients.  Scrape down the sides of the bowl after each new addition.  Be careful to not over mix!
Evenly divide the batter between the 24 cupcake liners. Bake for 18-22 minutes or until an inserted knife or toothpick comes out clean.  Let cupcakes cool.
To make frosting, beat butter for 1 minute.  Add vanilla extract and lemon zest and 2 cup of powdered sugar.  Then add your raspberries!  (If you want to use the raspberry puree option just place a handful in a blender and blend until smooth.  You can sift out the seeds if you want, and then add to the butter mixture.  You can always add just a little of the jello powder to boost the flavor and color up a notch.) Continue to add as much powdered sugar as needed to reach your desired consistency!
Pipe onto cooled cupcakes and top with fresh raspberries!
All images and text ©
Follow Jamie on Instagram. We love to see what you're baking from MBA! Be sure to tag @jamiemba and use the hashtag #mbarecipes!
This post may contain affiliate links. We are a participant in the Amazon Services LLC Associates Program, an affiliate advertising program designed to provide a means for us to earn fees by linking to Amazon.com and affiliated sites.