Strawberry pretzel salad is a vintage classic. This jello salad features a buttery pretzel crust, tangy cream cheese filling, and a sweet strawberry topping.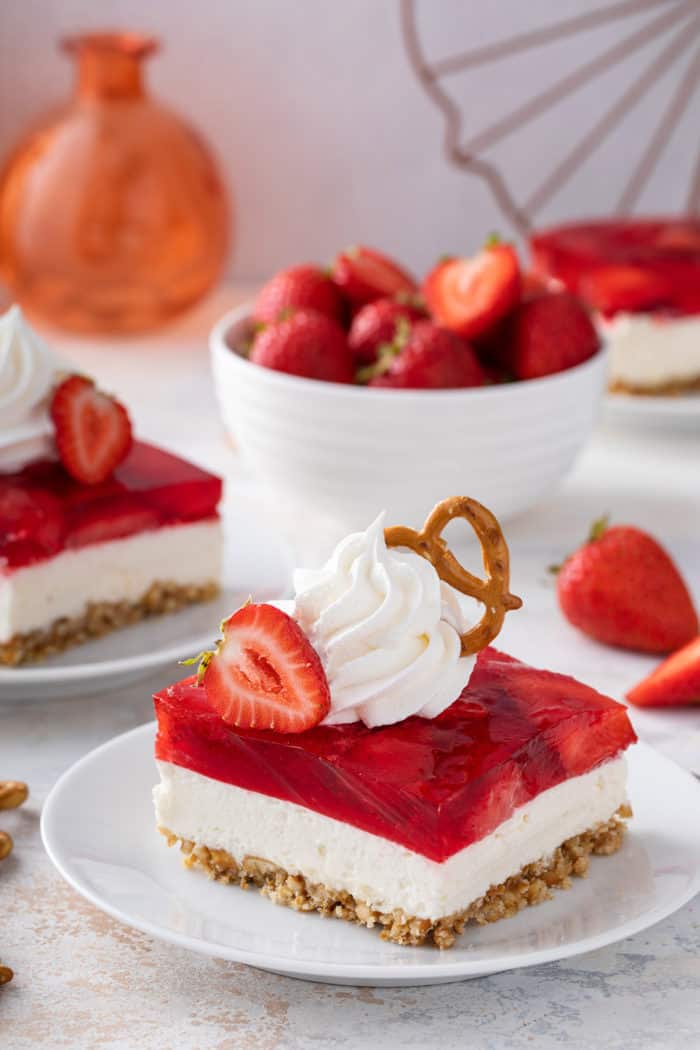 Let me start out this post for Strawberry Pretzel Salad by saying I know this is not a salad. But it's been a midwest staple dessert for as long as I can remember.
I fondly remember making this with my Nana for all types of occasions. I have lost my Nana's exact recipe, but recreated it using the same ingredients from her classic sweet-and-salty dessert.
A buttery, salty pretzel crust layered with a no-bake style cheesecake filling and topped with Jell-o and strawberries. As you can imagine, this strawberry pretzel salad speaks to my cheesecake-loving heart.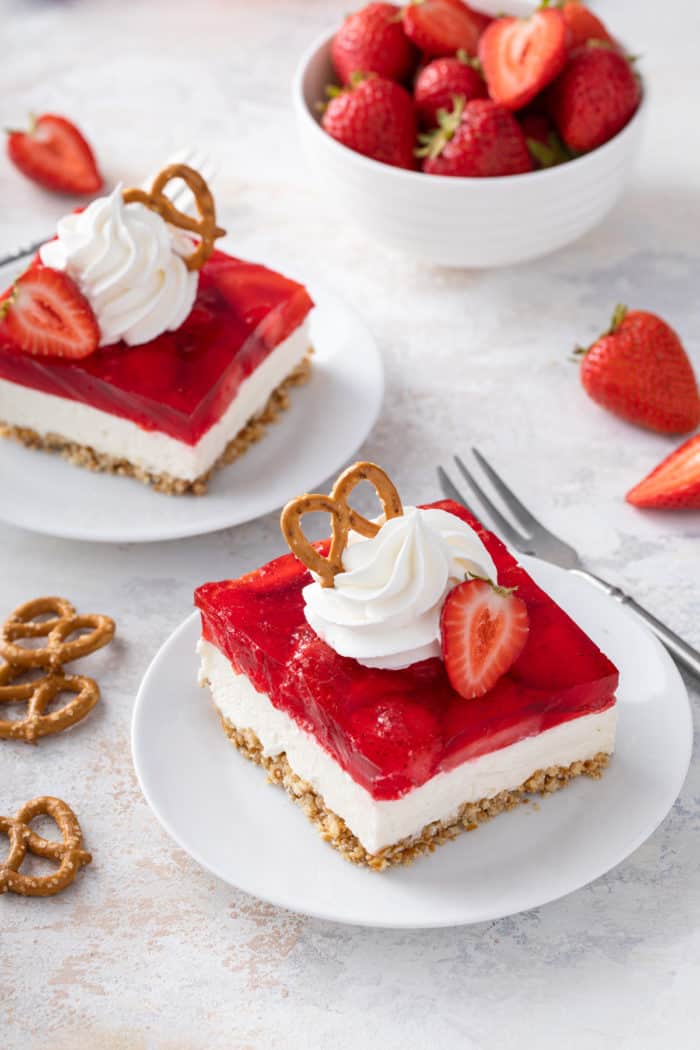 WHAT IS STRAWBERRY PRETZEL SALAD?
Let's just get this out of the way, ok?
This isn't a salad in the way that you would normally think of a salad. You know…like a cucumber salad or even Italian pasta salad.
No, strawberry pretzel salad is called "salad" because it is a type of jello salad.
Jello salads such as watergate salad were big in the '60s and '70s and even though they're considered retro now, that doesn't mean they aren't still delicious!
Strawberry pretzel salad is a layered jello salad. It has a buttery pretzel crust that's both sweet and salty, a luscious cream cheese layer in the middle, and a strawberry jello layer on the top.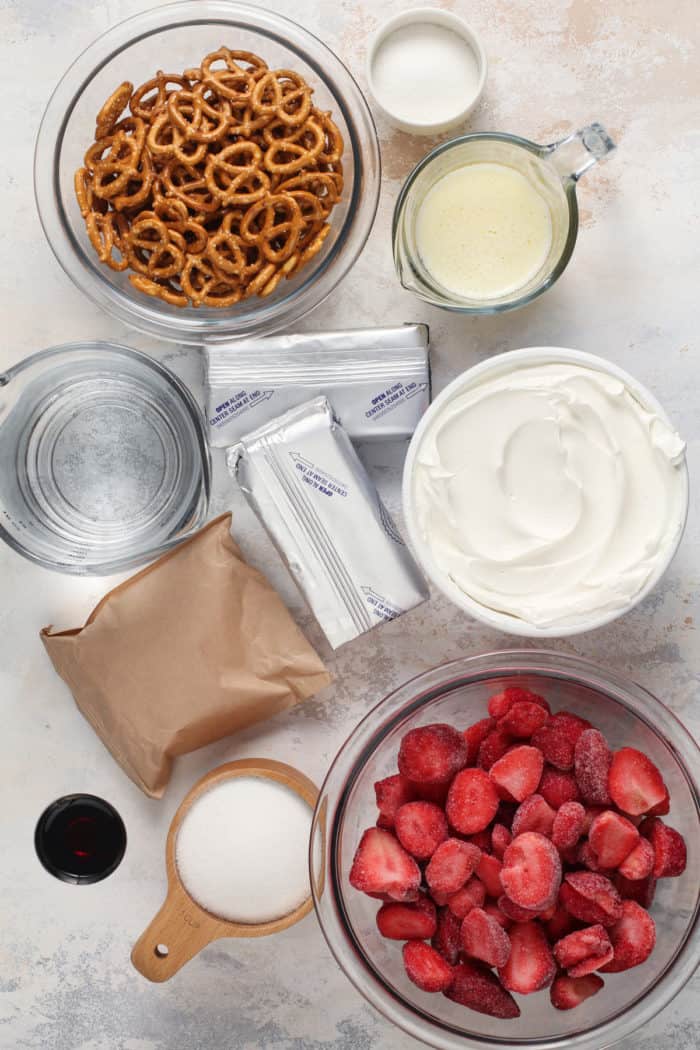 I love the flavors of this recipe so much that it was the inspiration for using pretzels in the crust of my fresh strawberry pie. And my friend Megan was inspired by Dolly Parton's love for it when she created her strawberry pretzel ice cream.
I mean, you know you can't go wrong with something that Dolly Parton loves!
Is this a dessert?
Again, I know the word "salad" is in the name, but that doesn't necessarily mean that this needs to be a side dish.
I tend to think of strawberry pretzel salad as more of a dessert, although you could certainly serve it in any way you like!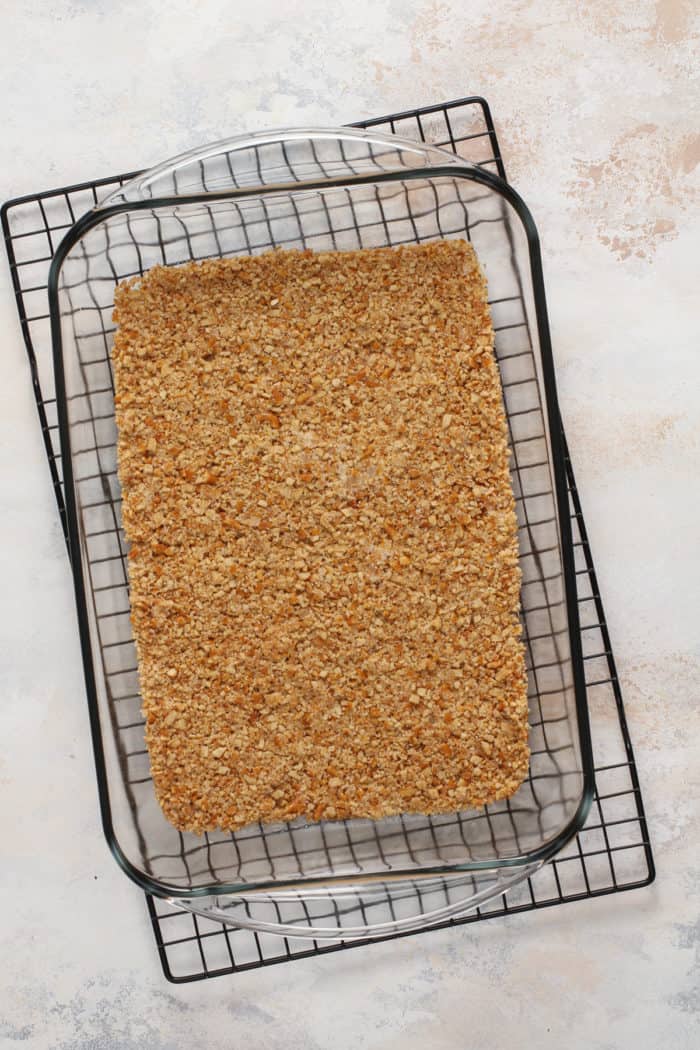 HOW TO MAKE STRAWBERRY PRETZEL SALAD
One thing you can always count on with retro recipes like ambrosia salad or creamy grape salad is that they're going to be pretty easy to make. This recipe is no different!
Ingredients you'll need
The ingredients for strawberry pretzel salad are pretty simple. You'll need:
3 cups tiny pretzel twists
1 ¼ cup granulated sugar, divided use
8 tablespoons unsalted butter, melted
2 8-ounce packages cream cheese
1 teaspoon vanilla extract
1 8-ounce container whipped topping
1 6-ounce package strawberry flavored jell-o
2 cups boiling water
1 16-ounce package frozen sliced strawberries
If you need this recipe to be gluten free, simply swap out the regular pretzel twists for gluten-free pretzel twists. You may also want to make sure that you use a strawberry gelatin and whipped topping that was produced in an allergen-free facility, just to be extra safe.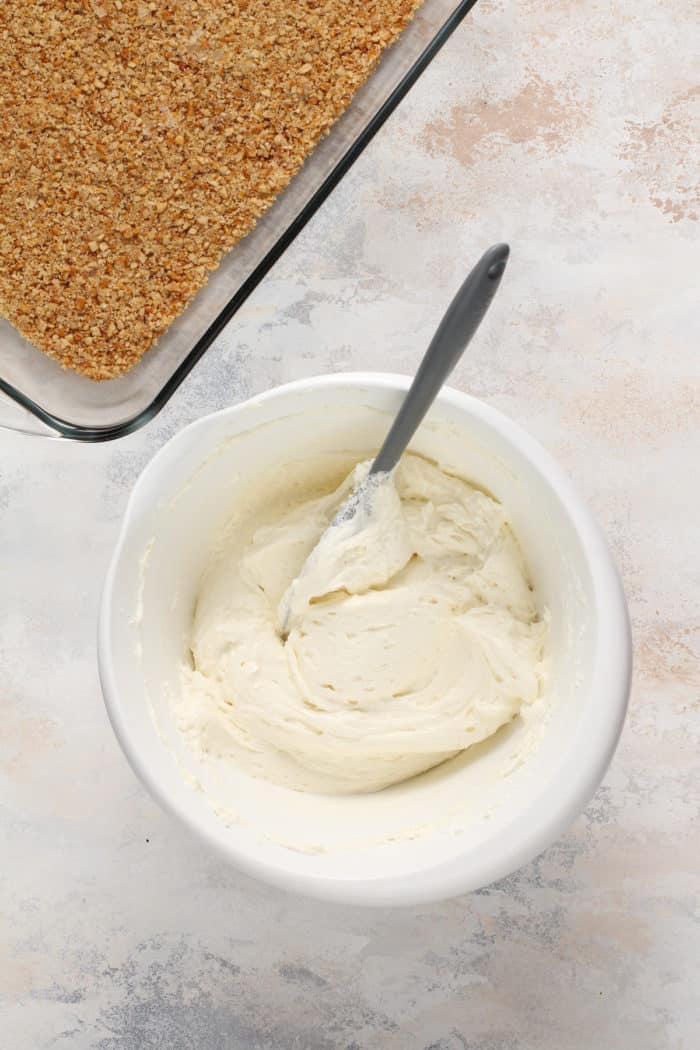 Can you use fresh strawberries instead of frozen?
I prefer to use frozen strawberries for this recipe. The frozen berries help the jello layer to set a bit before you pour it over the cream cheese layer.
If you want to use fresh sliced strawberries, let the jello cool to room temperature before adding the strawberries and pouring the jello over the cream cheese filling.
Making this recipe
Start by preparing the pretzels for the crust by crushing them in a zip-top bag with a rolling pin.
Mix the crushed pretzels with the melted butter and ¼ cup of the sugar, then press the mixture into the bottom of a 13×9-inch baking dish. Bake this for 10 minutes and let it cool completely.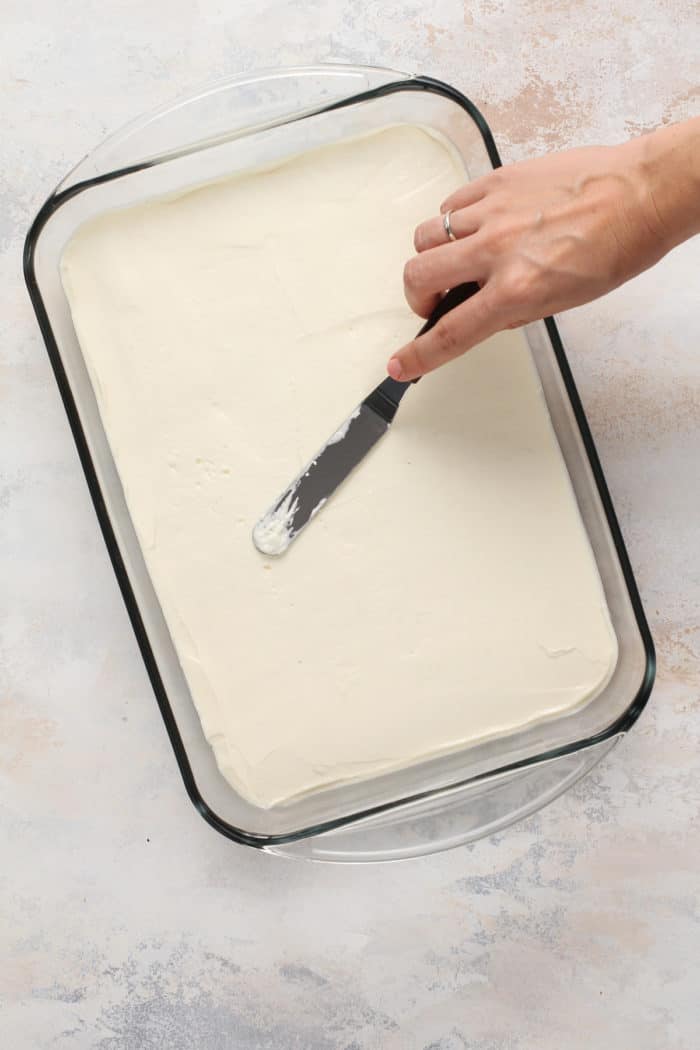 Using an electric mixer, mix the cream cheese, remaining sugar, and vanilla for about 5 minutes. Fold in the thawed whipped topping and spread the mixture over the cooled pretzel crust.
Cover this and let it rest in the refrigerator for 1 hour to set.
Once the cream cheese layer has set in the refrigerator, whisk together the jello and boiling water for 2 minutes. Stir in the frozen strawberries and let this rest for 2 more minutes. Spoon this mixture over the cream cheese filling in an even layer.
Let the entire dessert chill for at least 6 hours before slicing and serving.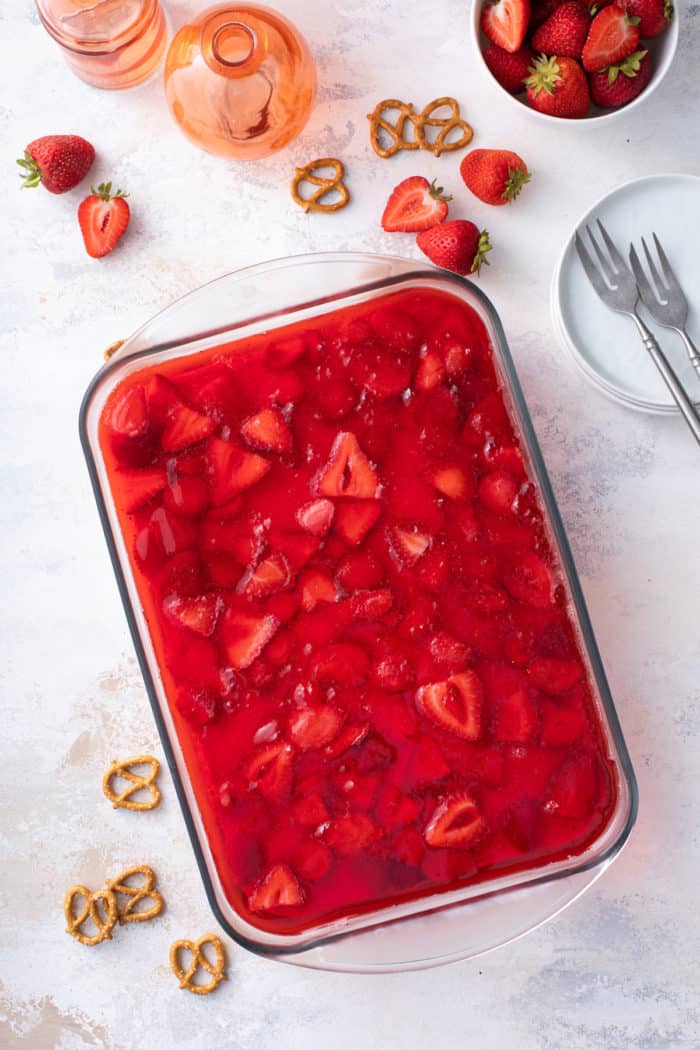 MAKE-AHEAD & STORAGE
Since strawberry pretzel salad needs to rest in the fridge for at least 6 hours before serving, it's the perfect dessert to make ahead for any occasion.
Simply make it the night before and let it chill in the refrigerator until you're ready to serve it.
Make sure you store any leftovers in the refrigerator.
Because of the jello layer on top, I do not recommend freezing this recipe.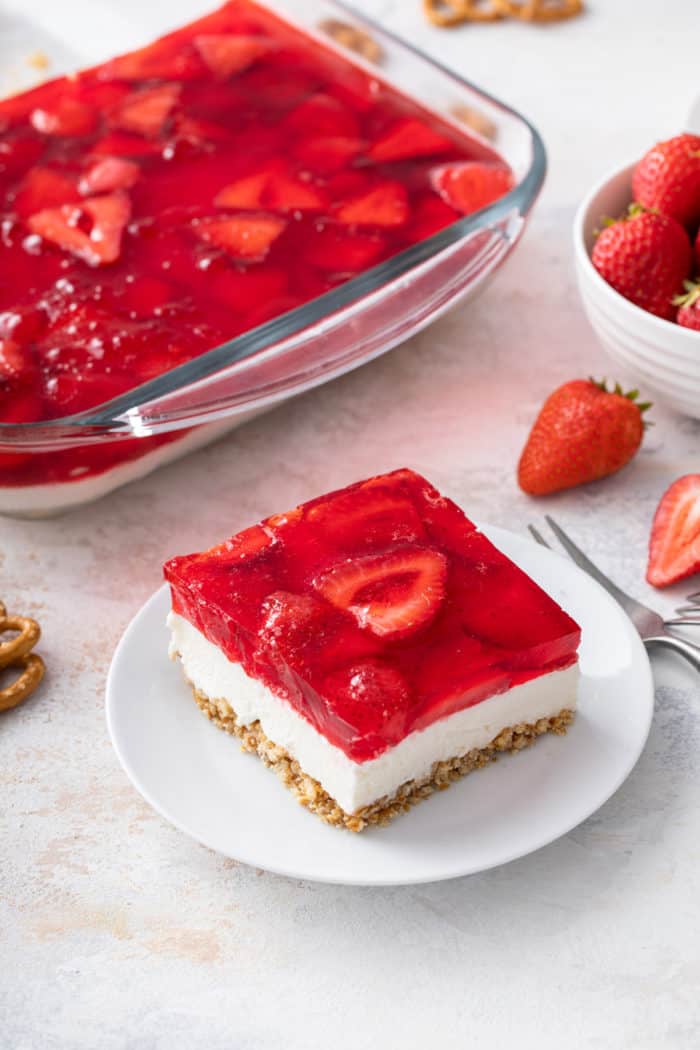 RECIPE VARIATIONS
The strawberry, pretzel, and cream cheese combination is the classic version of this recipe, but that doesn't mean you can't get creative!
Give this a try with your favorite frozen fruits and jello flavors. Raspberries, peaches, pineapple, and even cherries would be great flavors to try!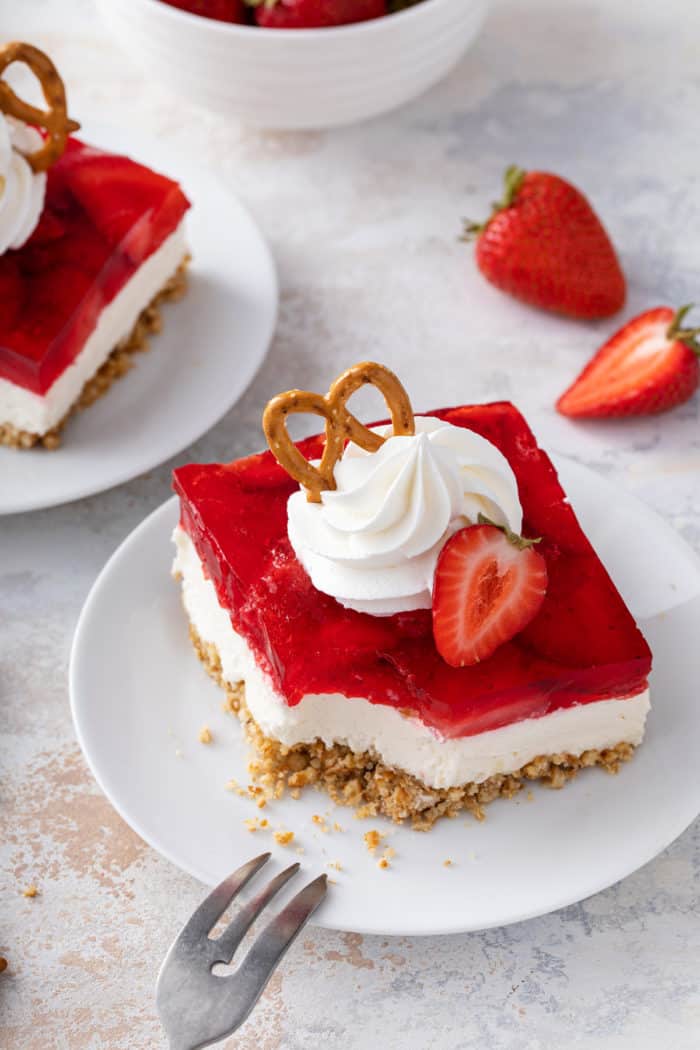 You also have the option to serve this in individual containers instead of a 13×9-inch pan. Choose any size jar or ramekin you like and layer in the crust, filling, and topping as noted in the recipe.
When I make these in individual servings, I use jars that hold around 5.5 ounces, or just under ¾ cup, and it makes 10 servings.
Whether you're new to strawberry pretzel salad or it's something you remember your grandmother making, I hope you'll give this recipe a try. It is too good to keep in the past!