My dad celebrated his birthday on Tuesday and although I wasn't able to actually take him a special birthday treat – I did make one in his honor. You see, my dad is a HUGE fan of anything chocolate malt. And since he loved my Chocolate Malt Cupcakes so much, I knew I had to play around with this flavor combination and test out a recipe that I could plan to take the next time I visit. On a side note, my dad wanted lamps for his birthday – yes, lamps. An odd request, but I must say that I enjoyed shopping for home decor much more than his typical clothing or boating accessory requests.
My favorite brownie recipe comes together very quickly and it's the perfect foundation for creating deliciously fun flavor combinations. If you haven't noticed this yet, I'm kind of obsessed with stuffing candy bars into the center of this fudgy, chocolatey treat.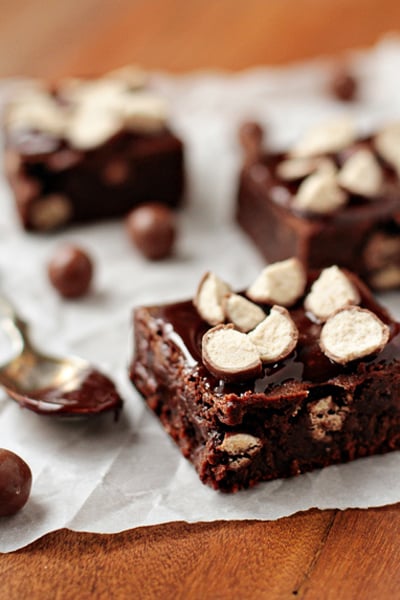 Yesterday when I posted a "sneak peek" of these Whoppers Brownies on Facebook, a few of the MBA followers asked if I had used Maltesers in the brownies. My brain immediately went to my puppies – which are both Maltese mixes – because I had no idea what a Maltesers were. Luckily, Amber is a wealth of British knowledge and informed me that Maltesers are pretty much the British equivalent to Whoppers. As if malt infused brownies weren't enough, I had to one up this recipe by pouring on a satiny chocolate ganache and more chopped Whoppers. Seriously, who can resist a ganache covered brownie?
Whether you're baking something special for a chocolate malt lover or just looking for a scrumptious weekend dessert – I'm pretty certain these brownies will be just what you're looking for.
[pinit]