Whoppers Brownies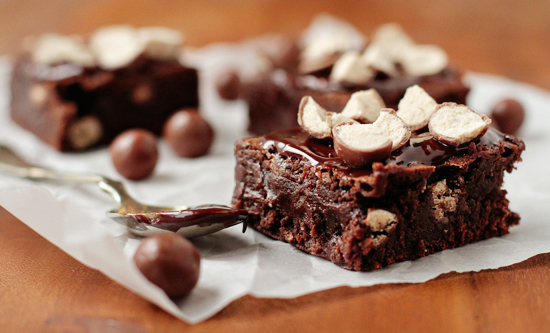 My dad celebrated his birthday on Tuesday and although I wasn't able to actually take him a special birthday treat – I did make one in his honor. You see, my dad is a HUGE fan of anything chocolate malt. And since he loved my Chocolate Malt Cupcakes so much, I knew I had to play around with this flavor combination and test out a recipe that I could plan to take the next time I visit. On a side note, my dad wanted lamps for his birthday – yes, lamps. An odd request, but I must say that I enjoyed shopping for home decor much more than his typical clothing or boating accessory requests.
My favorite brownie recipe comes together very quickly and it's the perfect foundation for creating deliciously fun flavor combinations. If you haven't noticed this yet, I'm kind of obsessed with stuffing candy bars into the center of this fudgy, chocolatey treat.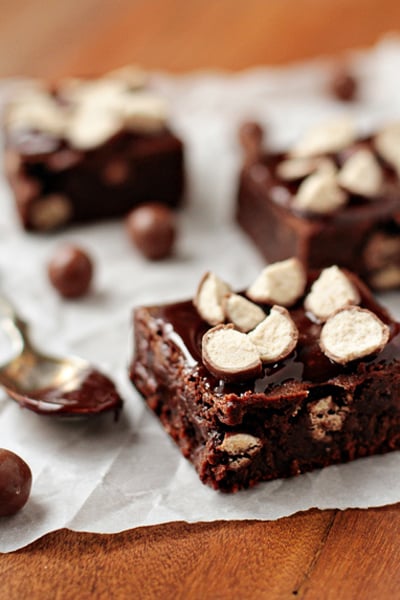 Yesterday when I posted a "sneak peek" of these Whoppers Brownies on Facebook, a few of the MBA followers asked if I had used Maltesers in the brownies. My brain immediately went to my puppies – which are both Maltese mixes – because I had no idea what a Maltesers were. Luckily, Amber is a wealth of British knowledge and informed me that Maltesers are pretty much the British equivalent to Whoppers. As if malt infused brownies weren't enough, I had to one up this recipe by pouring on a satiny chocolate ganache and more chopped Whoppers. Seriously, who can resist a ganache covered brownie?
Whether you're baking something special for a chocolate malt lover or just looking for a scrumptious weekend dessert – I'm pretty certain these brownies will be just what you're looking for.
[pinit]

Whoppers Brownies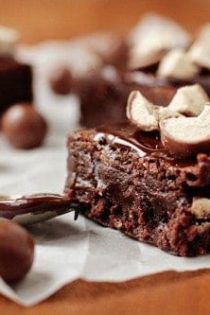 Ingredients:
4 ounces unsweetened chocolate; coarsely chopped

3/4 cup unsalted butter, cut into cubes

1 1/4 cups sugar

3 eggs

1 teaspoon pure vanilla extract

1/4 teaspoon salt

3/4 cup all-purpose flour

1/2 cup malted milk powder (I used Carnation)

1 1/2 cup Whoppers, chopped
For the Ganache
4 ounces semisweet chocolate, chopped

1/2 cup heavy cream
Directions:
1. Preheat oven to 350 degrees. Line an 8×8 inch baking pan with foil and spray with nonstick cooking spray.
2. Microwave chocolate and butter in a large bowl microwave-safe bowl at medium (50% power) for 3-4 minutes or until butter is melted.
3. Stir until chocolate is melted. Whisk in sugar, eggs, vanilla and salt. Gradually add in flour and malted milk powder; stir until just combined.
4. Spread 1/2 the batter into prepared pan. Add an even layer of chopped Whoppers and cover with remaining 1/2 of brownie batter. Bake for 30-35 minutes; do not over bake.
5. Remove to cooling rack to cool completely. Before serving, prepare the ganache.
6. To make the ganache, pour the chopped chocolate into a medium mixing bowl, set aside. Pour the heavy cream into a microwave safe measuring cup (Pyrex) and microwave on high for about 1 minute or until bubbles begin to form on the surface. Take care to not overheat because the cream will boil over. Pour the hot cream over the chocolate and allow it to sit for about 3 minutes. Use a small whisk to combine the mixture into a smooth chocolate glaze. Spoon the ganache over the brownies. If desired, top with additional chopped Whoppers.
Notes:
- I purchased the Whoppers at Target in movie theater sized boxes.

- Make sure you chop the Whoppers, they do harden a bit during the cooking process, so you don't want the pieces to be too big. However, if you pulverize them they'll completely disappear.

- Wait until just before serving to top your brownies with the ganache and additional chopped Whoppers.

- The brownies are very fudgy, make sure you allow them to cool completely before cutting into them.

-
My Baking Addiction
All images and text ©
Follow Jamie on Instagram. We love to see what you're baking from MBA! Be sure to tag @jamiemba and use the hashtag #mbarecipes!
This post may contain affiliate links. We are a participant in the Amazon Services LLC Associates Program, an affiliate advertising program designed to provide a means for us to earn fees by linking to Amazon.com and affiliated sites.