Chai Spiced Sugar Cookies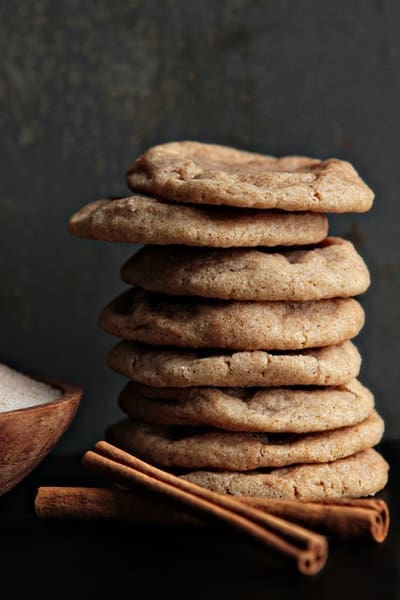 You may be well on your way into settling into this New Year, and maybe even weaned your way out of your elastic-waist pants. Personally, I was really questioning if I would be able to fit into my dress pants for work on Tuesday, but thankfully they slid right on. We won't talk about the less forgiving bathroom scale, deal?
I think I'm finally coming down from my food induced haze and find myself craving structure as opposed to cookies. Ha! Who am I kidding? I'm not fooling anyone here – I love cookies. It doesn't matter that we just spent 2 months baking our little hearts out. Every day is a baking day around here.
I made Chewy Chai Spiced Sugar Cookies over the holiday, but never got around to photographing them, so I just had to make them again. They are actually quite reminiscent of Snickerdoodles, but definitely pack a bigger flavor punch due to the blend of Chai inspired spices.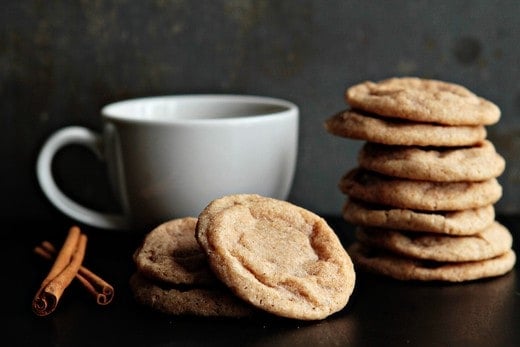 Cinnamon, cardamom, ginger, allspice and black pepper combine to create an incredibly aromatic spice blend that transforms a plain, chewy sugar cookie recipe into a complex and comforting cookie that is pairs perfectly with a piping hot cup of tea.
I think you're going to love them. In fact, I know you're going to love them so much you'll forgive me for posting a delicious must-make cookie recipe five days after the New Year has begun. That's the power of positive thinking for ya.
Chai Spiced Sugar Cookies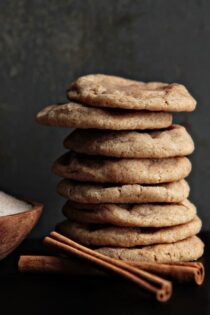 Ingredients:
2 3/4 cups all-purpose flour
1 teaspoon baking soda
1/2 teaspoon baking powder
1/2 teaspoon salt
1 3/4 cups white sugar
2 1/2 teaspoons ground cinnamon
1 teaspoon ground ginger
1 teaspoon ground cardamom
1/2 teaspoon ground allspice
1/4 teaspoon finely ground black pepper
1 cup unsalted butter, softened
1 egg
1/2 teaspoon vanilla extract
Directions:
Preheat oven to 350 degrees. Line a baking sheet with parchment paper; set aside.
In a large bowl, sift together flour, baking soda, baking powder and salt. Set aside.
In a medium bowl combine sugar, cinnamon, ginger, cardamom, allspice and black pepper. Remove 1/4 cup of the sugar-spice mixture, set aside to reserve for rolling the cookies.
In the bowl of a stand mixer fitted with the paddle attachment or in a large bowl with an electric mixer, beat the butter and sugar-spice mixture until light and fluffy, about 3 minutes.
Beat in egg and vanilla extract, combine until fully incorporated.
Slowly blend in dry ingredients mixing until just combined.
Using a small scoop (2 teaspoons) roll dough into balls and then into the reserved sugar-spice mixture. Place dough balls on prepared baking sheet about 1 1/2 inches apart.
Bake in preheated oven for 8 to 10 minutes.
Let stand on baking sheet two minutes before removing to cool on wire racks.
Notes:
Store cookies in an airtight container at room temperature for up to 3 days.
All images and text ©
Follow Jamie on Instagram. We love to see what you're baking from MBA! Be sure to tag @jamiemba and use the hashtag #mbarecipes!
This post may contain affiliate links. We are a participant in the Amazon Services LLC Associates Program, an affiliate advertising program designed to provide a means for us to earn fees by linking to Amazon.com and affiliated sites.