Homemade Cherry Pie Filling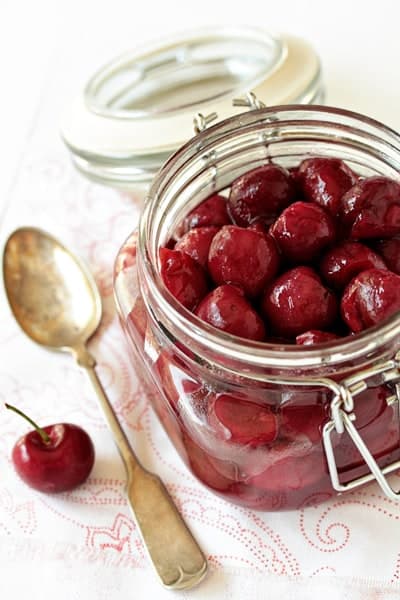 I'm on a pretty serious cherry kick, meaning I have a bag on hand at all times. And although eating them by the fistful is certainly satisfying, I've decided to use this gorgeous summer fruit for more than just snacking.
First I made Frozen Cherry Mojitos that were knock your socks off good and I then I got the hankering for cherry pie. But anyone who knows me well, knows that I have an adverse reaction to anything cherry flavored.
Cherry flavoring or perhaps the red dye, makes me cough like crazy which then triggers a sneezing fit, like 15 sneezes in a row…I kinda like to sneeze though. Anyway, canned cherry pie filling is pretty much out of the question. I have the same reaction to banana and green apple flavored things as well. Weird, I know.
I set out to turn the huge bag of cherries that I purchased into a homemade cherry pie filling. I used a recipe from About.com as a guide, but of course threw in a couple of extra ingredients to create an incredible cherry pie filling that left me super happy and free of any crazy coughing fits.
Stay tuned in coming weeks to see what deliciousness I have in store for you using this simple homemade cherry pie filling recipe.
Homemade Cherry Pie Filling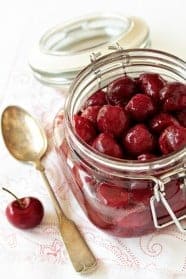 Ingredients:
5 to 6 cups fresh pitted cherries, about 2 1/2 to 3 pounds ( I used Bing)
1/2 cup water
2 tablespoons fresh lemon juice
2/3 cup granulated sugar
4 tablespoons cornstarch
1/4 teaspoon almond extract
Directions:
In a saucepan over medium heat, combine cherries, water, lemon juice, sugar and cornstarch.
Bring to a boil; reduce heat to low and cook, stirring frequently, for about 10 minutes.
Stir in almond extract. Cool slightly before using as a topping.
Notes:
If using sour cherries, you will need to adjust the amount of sugar. I'd recommend starting about ¾ cup and working your way up if more sweetness is needed.
Refrigerate leftover fresh cherry pie filling in a sealed container for up to 2 days.
I have not tried freezing this cherry pie filling, but if you do, please let me know.
Recipe adapted from about.com
176 Responses to "Homemade Cherry Pie Filling"