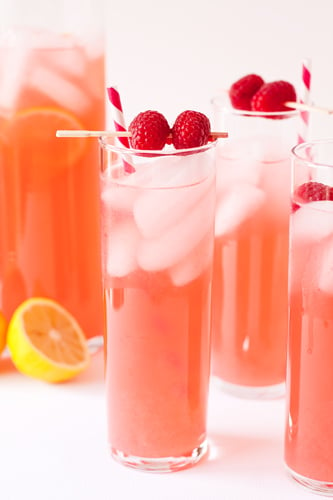 I don't normally post beverages on MBA, but it is officially summer and my Raspberry Lemonade Recipe is the perfect way to beat the heat.
This recipe came about last week when I had a container of raspberries starting to get a little on the mushy side. I also had a huge bag of lemons, so it seemed natural to combine them to create a sweet, tart, ice cold drink. The results were delish!
I make fresh lemonade a lot during the summer months; it's so easy and in my opinion tastes much better than the powdered variety. When I was a kid, there was a family owned lemonade stand that would make appearances at the local festivals. Their lemonade was amazing because it had that perfect balance of sweet and tart. I tried to replicate that balance in this recipe and hope you get that smooth sweet flavor with a little pucker.
Variations:
-Having a get together at your house? You can most definitely throw in a little tequila or vodka to make one heck of a summery adult beverage.
-Have a plethora of strawberries or blueberries right now? Perfect, use the same method, just sub in different fruit for the raspberries.
-Is your mint plant growing like crazy? Infuse your simple syrup with some mint leaves (strain out when infused) and garnish your glasses with it as well. Gorgeous and tasty.
Notes: I am betting you are as smitten with the pink and white striped straws as I am. If so, you can pick yourself up a box from Bake It Pretty. Seriously how adorable are they?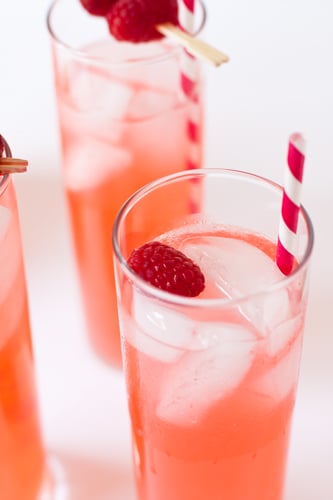 Raspberry Lemonade
Ingredients
1 cup sugar
1 cup of water
¾ cup raspberries; pureed and pushed through a fine mesh sieve; plus more whole berries for garnish if desired
1 cup fresh lemon juice (this equaled close to 8 of my lemons)
4-6 cups cold water (this will vary depending on your taste)
Directions
1. Make a simple syrup by combining the sugar with 1 cup of water in a saucepan. Place over medium heat and heat until the sugar in completely dissolved; swirl the pan occasionally. Let cool.
2. Measure 3/4 of fresh raspberries and puree them in your blender or food processor.
3. Push the raspberry puree through a fine mesh sieve to separate the seeds from the pulp.
4. Once the simple syrup has cooled, combine the raspberry puree, simple syrup and lemon juice in a large pitcher.
5. Add 4-6 cups of cold water. The amount of water you use will depend on your taste, so add as little or as much as you want to achieve your perfect sweet/tart balance.
If you enjoyed this recipe, you may like...