This bacon ranch cheese ball is the best appetizer for any bacon fans! Serve this easy-to-make cheese ball with your favorite crackers for a snack that will disappear in a flash.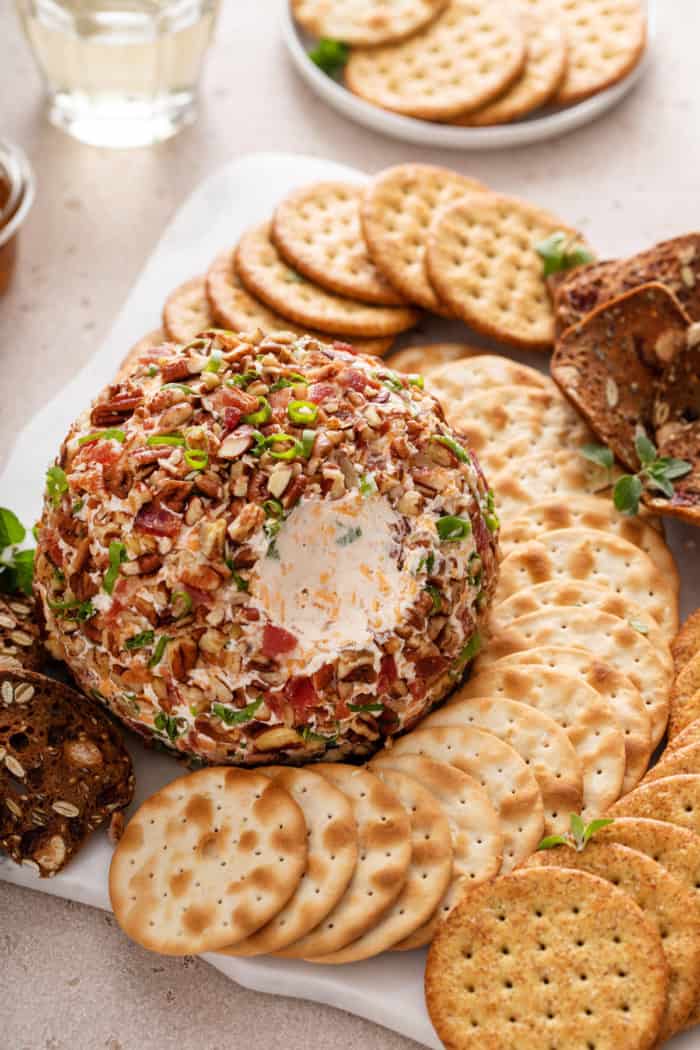 I think everyone can agree that appetizers are some of the best foods, right?
Maybe that's why holiday parties and game day gatherings are so much fun. There is always a whole table full of appetizers and snacks!
This time of year, some of my favorite appetizers include sausage balls, spinach artichoke bites, cranberry brie bites, cranberry cream cheese dip, and all of the cheese balls.
Right now I'm really craving this bacon ranch cheese ball. Salty bacon, creamy cheese, and herby ranch…all I need is a box of crackers and this cheese ball and I'm happy for hours!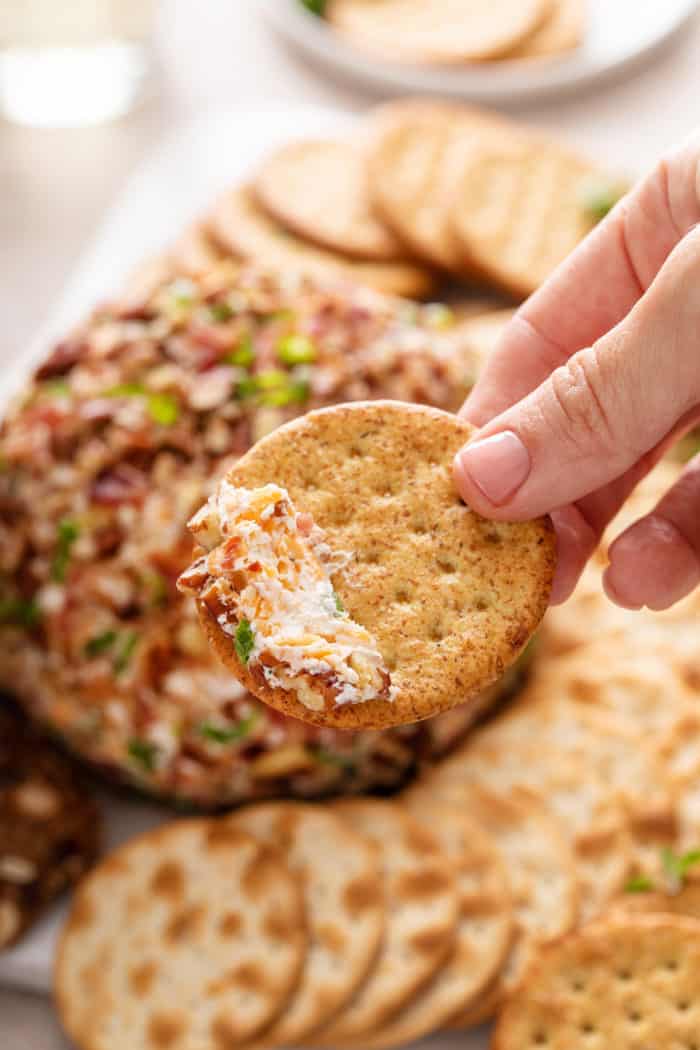 MY BACON RANCH CHEESE BALL RECIPE
Cheese balls are always a hit around here.
I'm a fan of them because they're easy to make. My friends and family are fans of them because…well, they're delicious!
We love a savory classic cheese ball. We love a sweet-savory combo with cranberry pecan goat cheese ball, pineapple pecan cheese ball, or apple brie cheese ball. And we love to channel into our midwestern roots with this bacon ranch cheese ball.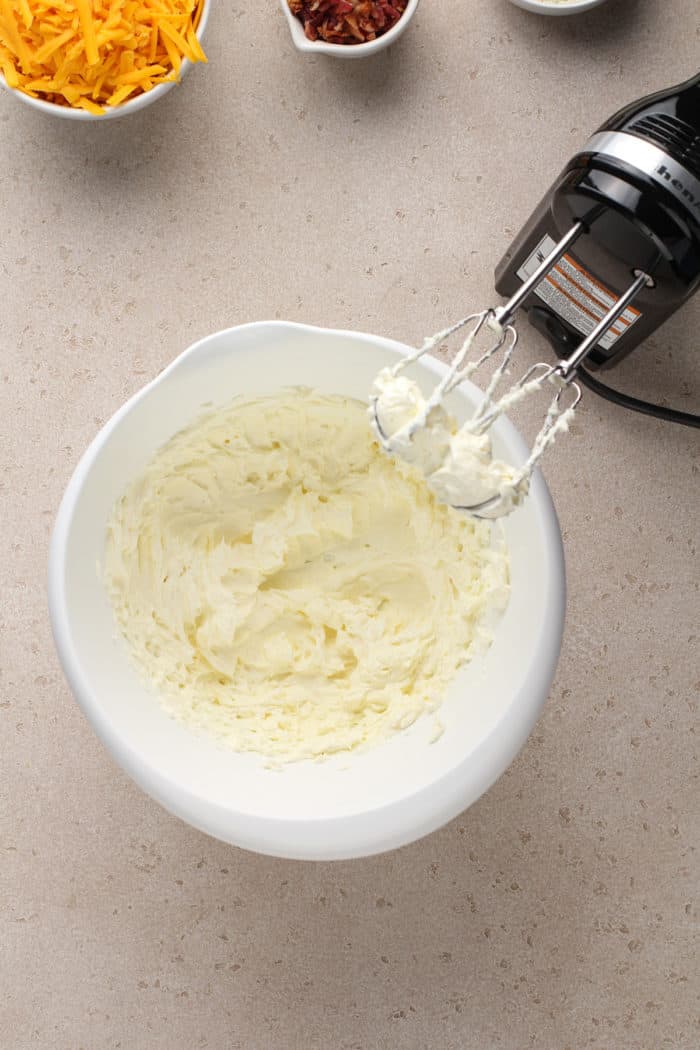 Seriously, if you have someone in your life who loves bacon and loves ranch, this is the cheese ball for them.
This recipe is packed with bacon bits, cheddar cheese, green onions, and (of course) ranch! It's incredible on its own with crackers or alongside your favorite cured meats as part of a charcuterie board.
Or you could simply make it to snack on by yourself. I won't tell anyone!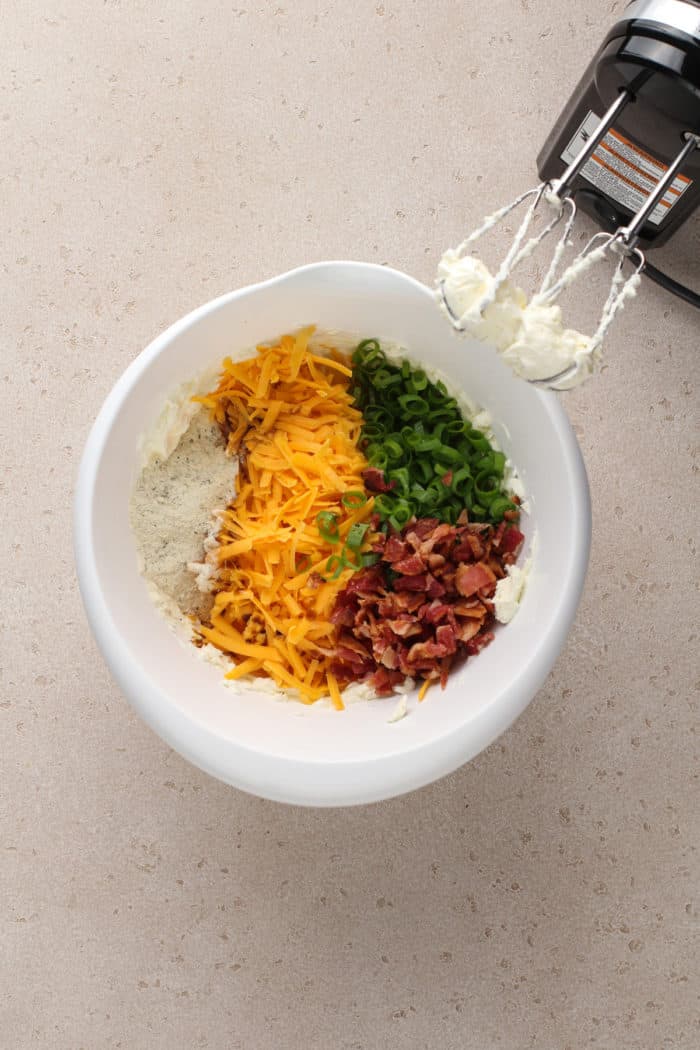 HOW TO MAKE A BACON RANCH CHEESE BALL
Cheese balls are great because they come together quickly, are easy to make ahead, and always feed a crowd. This bacon ranch cheese ball is no exception!
Ingredients you'll need
This recipe has just a handful of simple ingredients, many of which you may already keep on hand.
You'll need:
Cream cheese: Cream cheese is the base of this cheese ball. If you forget to set out your cream cheese ahead of time, check out my tips for how to soften cream cheese.
Sharp cheddar cheese: Cheddar cheese is so good with both bacon and ranch, so it's perfect in this recipe! I like to use a sharp cheddar, but you can use mild cheddar if you prefer. I do recommend using freshly shredded cheese instead of pre-shredded.
Green onions: Green onions add some crunch and add to the ranch flavor.
Cooked & crumbled bacon: Can't have a bacon ranch cheese ball without bacon! You can use freshly cooked and crumbled bacon or real bacon bits for a shortcut.
Worcestershire sauce: Worcestershire sauce adds some savoriness to this recipe and really deepens the flavor.
Ranch mix: You can use 1 packet of dry ranch seasoning or 2 tablespoons of my homemade ranch seasoning mix.
After making the cheese ball, you will roll it in a mixture of bacon, green onions, and pecans. Feel free to omit the pecans and or the topping entirely if you need this recipe to be nut free.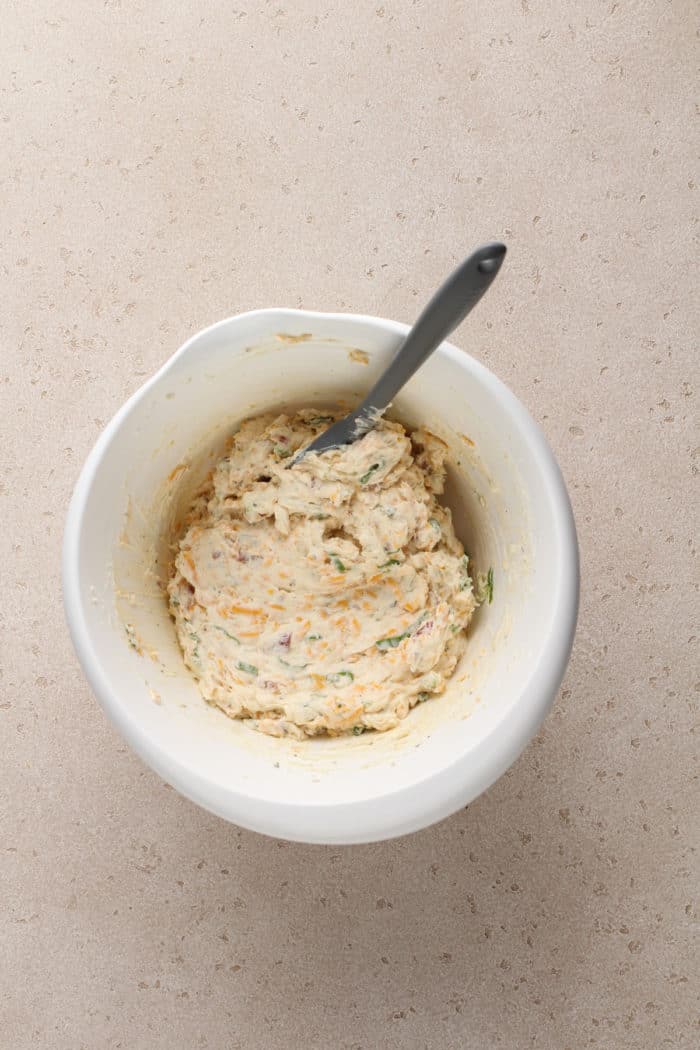 Making this recipe
Grab a big mixing bowl and your electric mixer. You can also do this in a stand mixer fitted with the paddle attachment.
Beat the softened cream cheese until it is smooth and creamy. Add in the rest of the cheese ball ingredients and mix until well combined.
Now it's time for the only tricky part of making this recipe: shaping!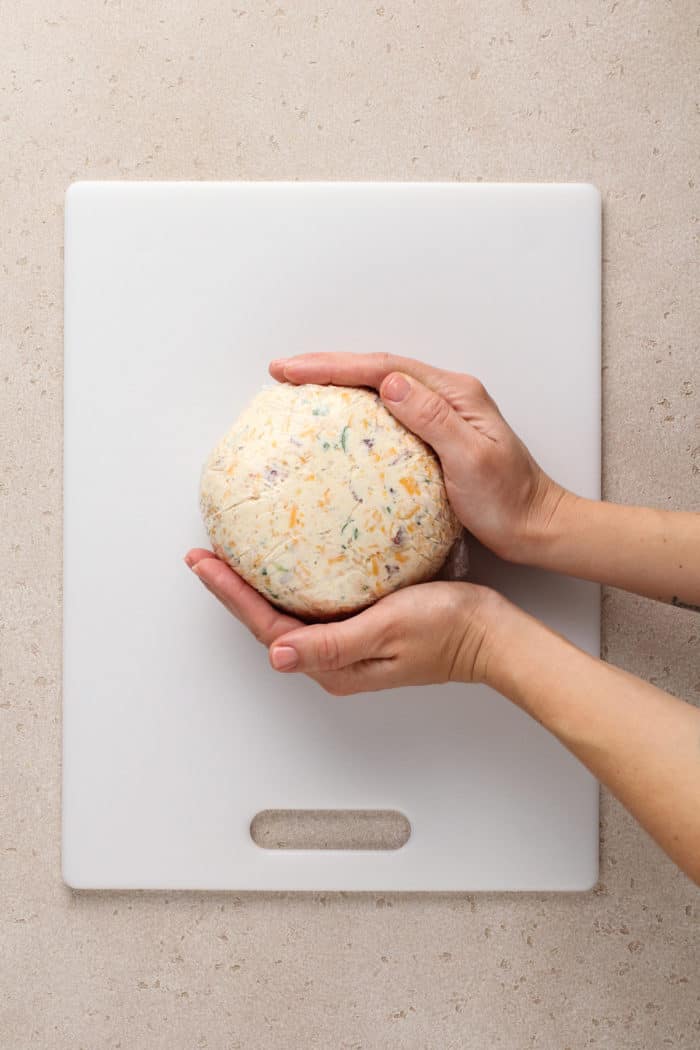 Shaping your cheese ball
Place a large piece of plastic wrap on a flat surface. Spoon the cheese ball mixture into the center of the plastic wrap.
Bring up the edges of the plastic wrap to cover the cheese and form it into a ball. Twist the edges together to tighten up the ball.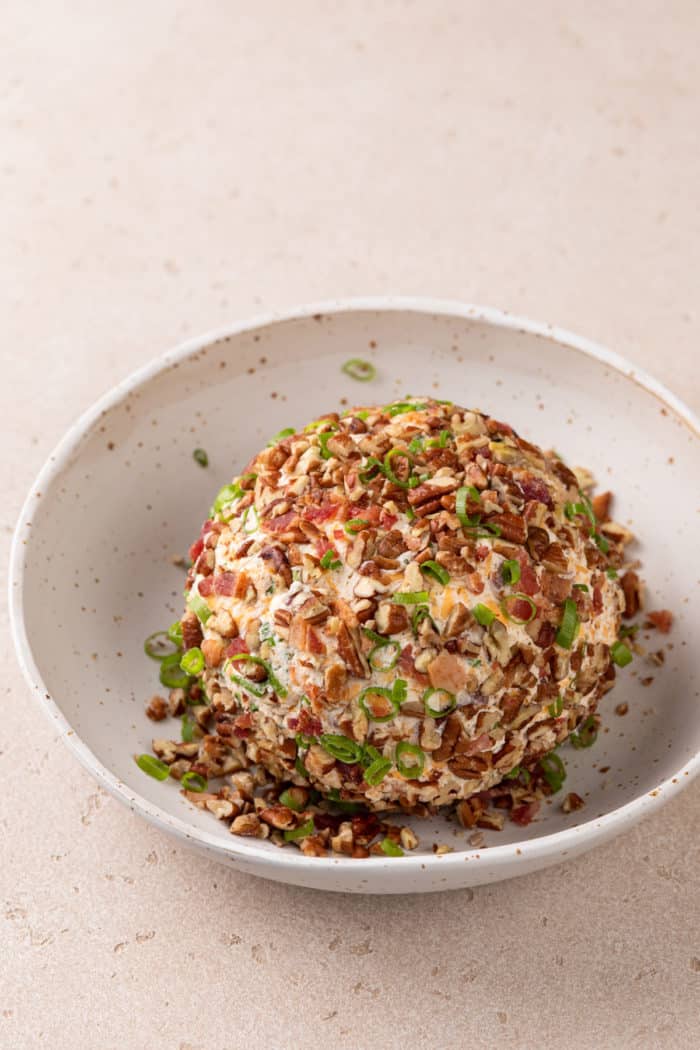 I like to place mine in a bowl and then set it in the refrigerator for at least 3 hours. The bowl will help prevent the cheese ball from forming a flat spot where it was set down and hold the ball shape as the cream cheese chills.
Don't worry if the ball isn't 100% perfect. After it has chilled, you will roll it in the bacon, green onion, and pecan mixture, which will cover any spots that aren't perfectly smooth!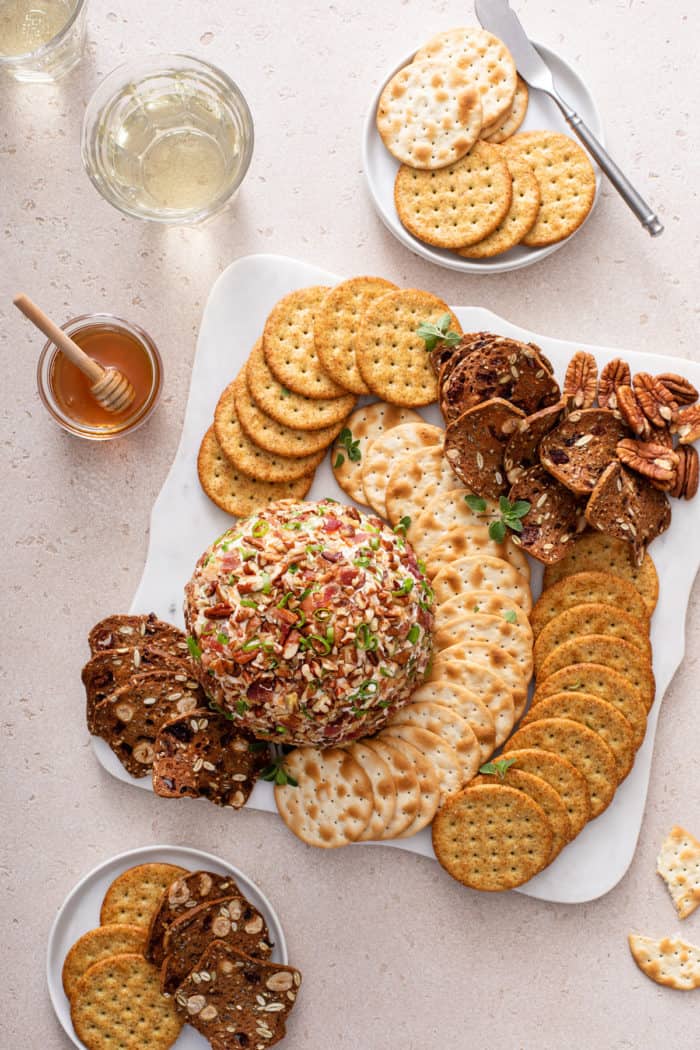 MAKE-AHEAD & STORAGE TIPS
Since the cheese ball needs to chill in the refrigerator for at least 3 hours, it's great for making ahead of time.
You could make the cheese ball base up to a day ahead of time. Just wait to roll it in the topping until right before serving so the pecans stay nice and crunchy.
If you have any leftovers, place them in an airtight container and store them in the fridge for up to 3 days.
Whether you're making this bacon ranch cheese ball for a holiday appetizer or as part of a game-day spread, it's sure to become one that your family asks for again and again!