Chai Spiced Candied Pecans are sweet, crunchy and totally delicious! They're perfect for topping salads, desserts, or just munching by the handful.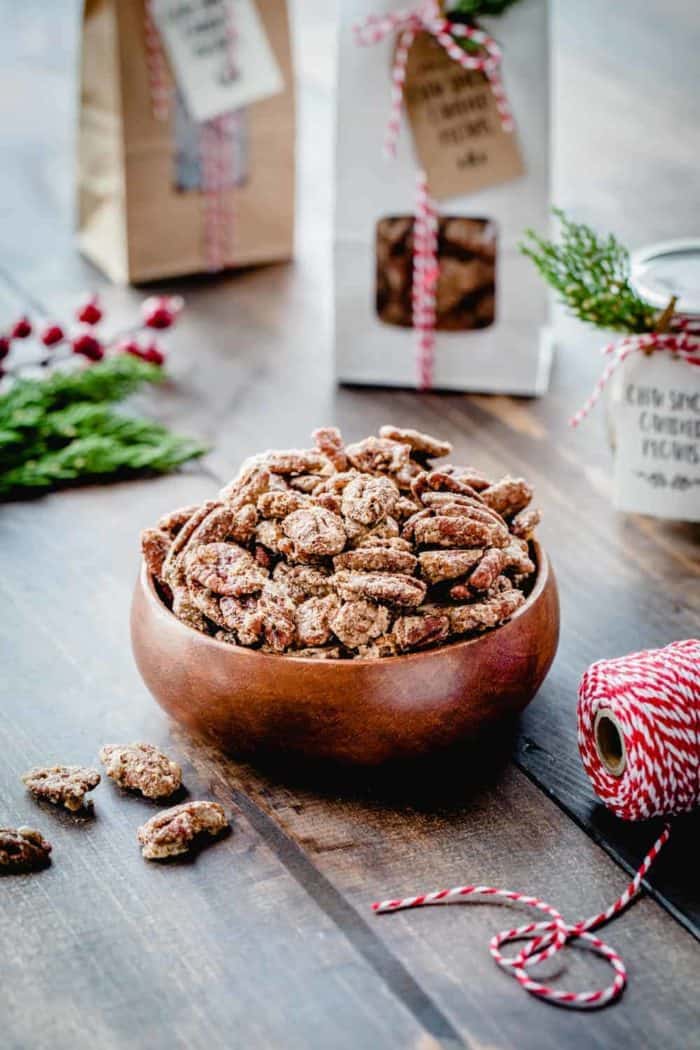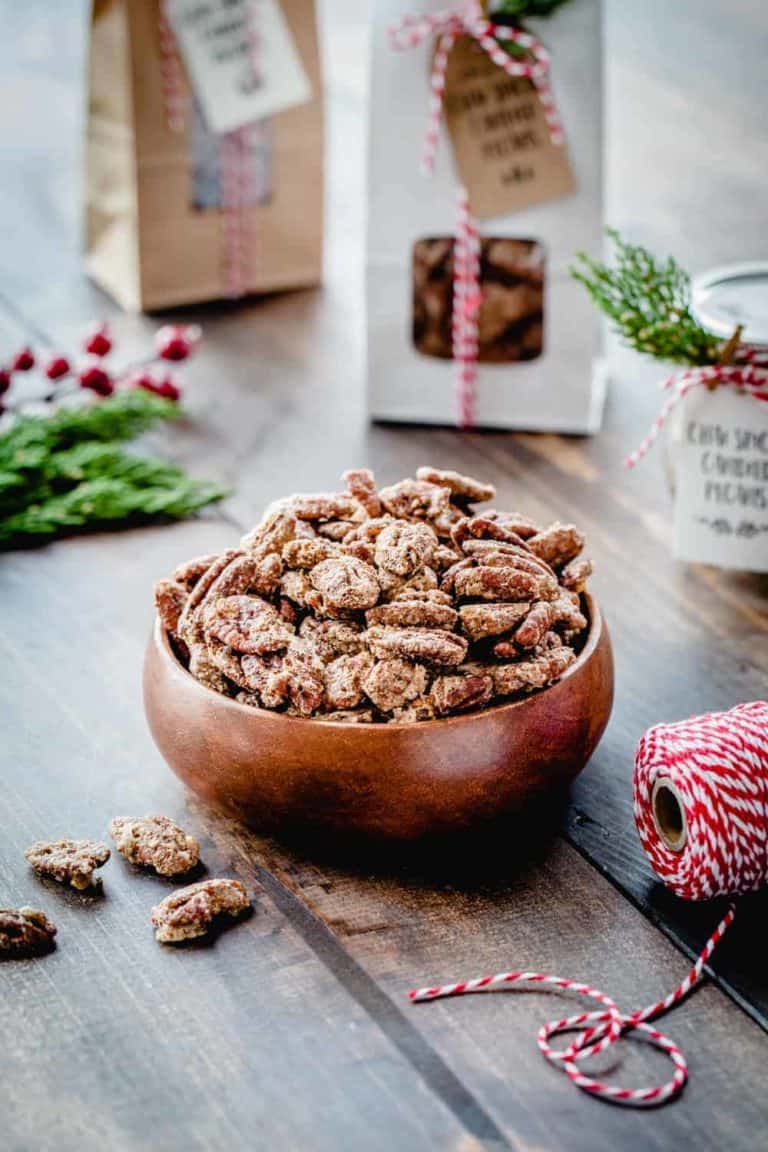 Are you guys feeling the holiday pressure yet? I know I am sure am. And of course, we've all come down with colds that happen to coincide with Eric's ACL surgery.
And it snowed. Like a lot. So I've been reading snow blower reviews for no less than 9 hours and have still yet to make a purchase.
Let me tell you, it's fun times over here!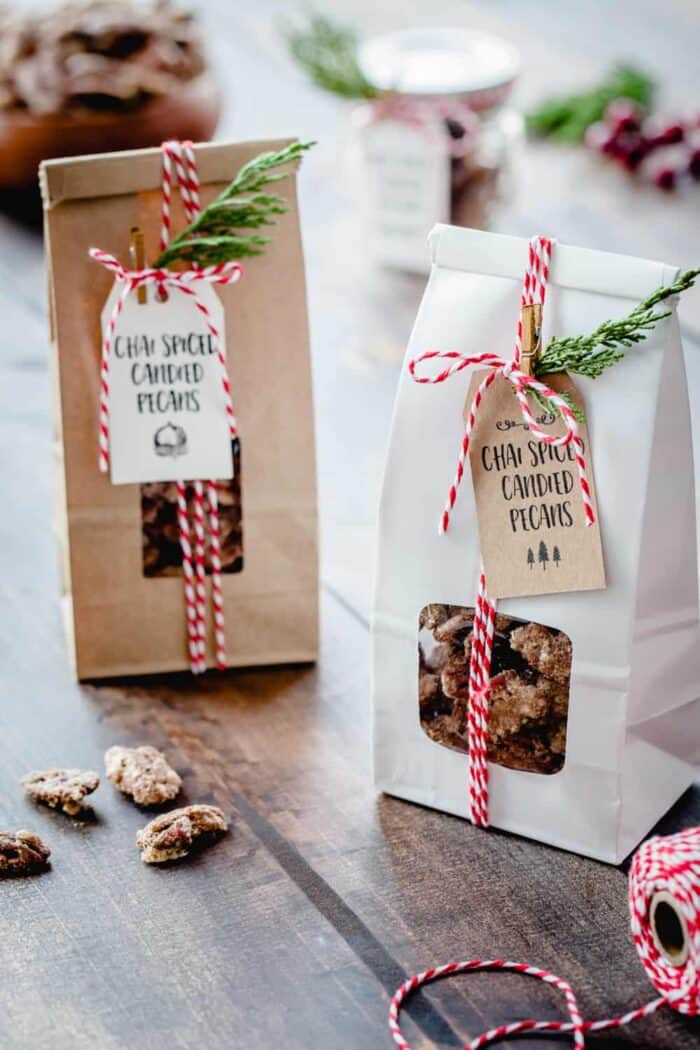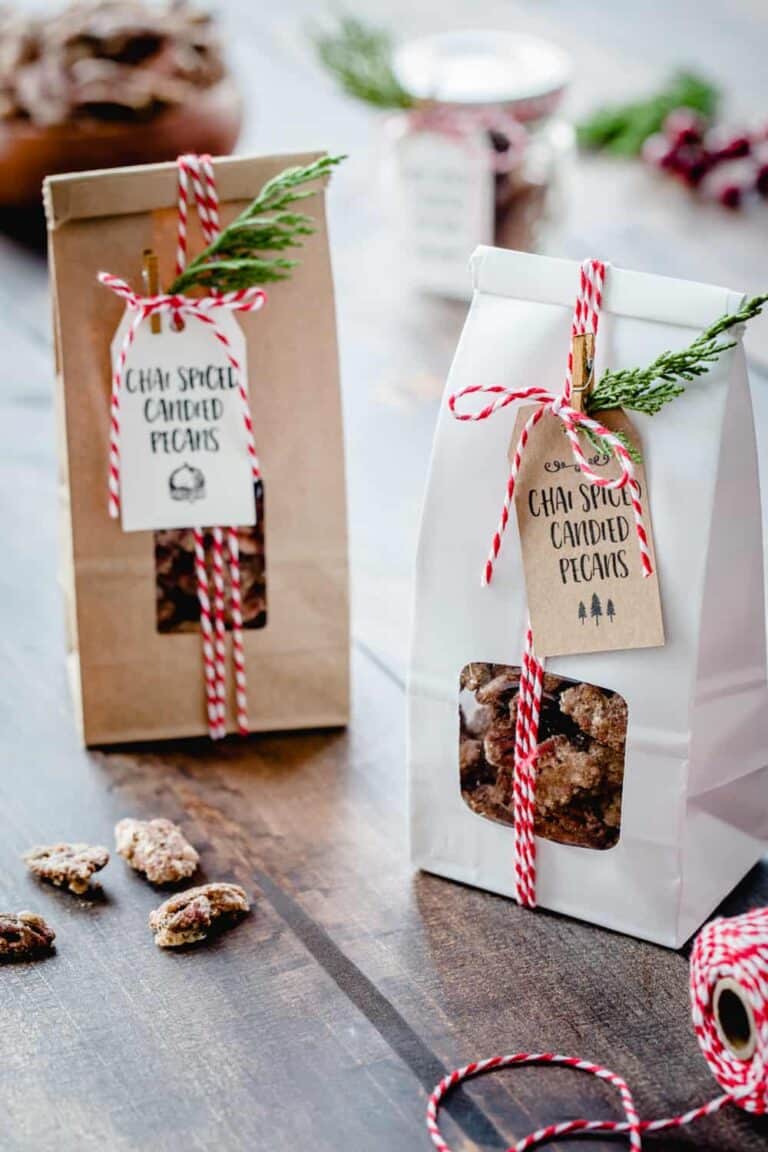 Luckily, we have some amazing neighbors that knew Eric was laid up for a bit. They cleared our driveway and sidewalks, and I maybe thought about crying from the joy of it.
I think they felt sorry for me when they saw me bundled up like Randy from a Christmas Story, trying to use a broken shovel to clear the snow. I mean, I definitely felt sorry for me.
We've managed to make it through three winters at our new house with a bag of salt and busted shovel, but that ship has sailed. Clearly Mother Nature has other plans for us this year.
Speaking of neighbors, what are your go-to gifts for the really amazing ones? I feel like I need to up my game, given their kindness this year.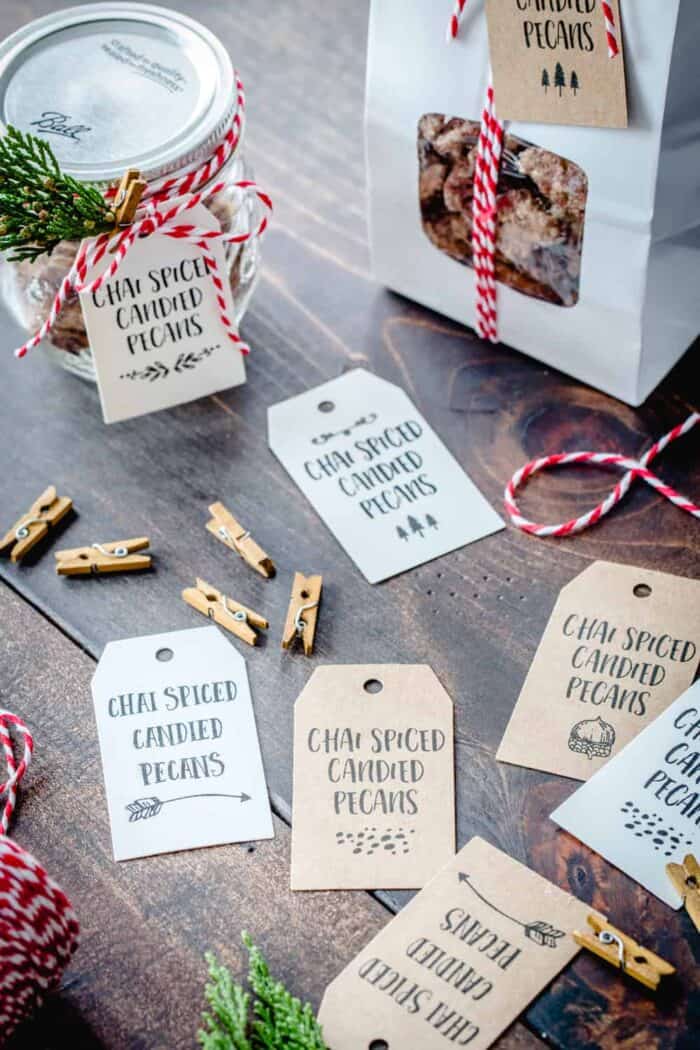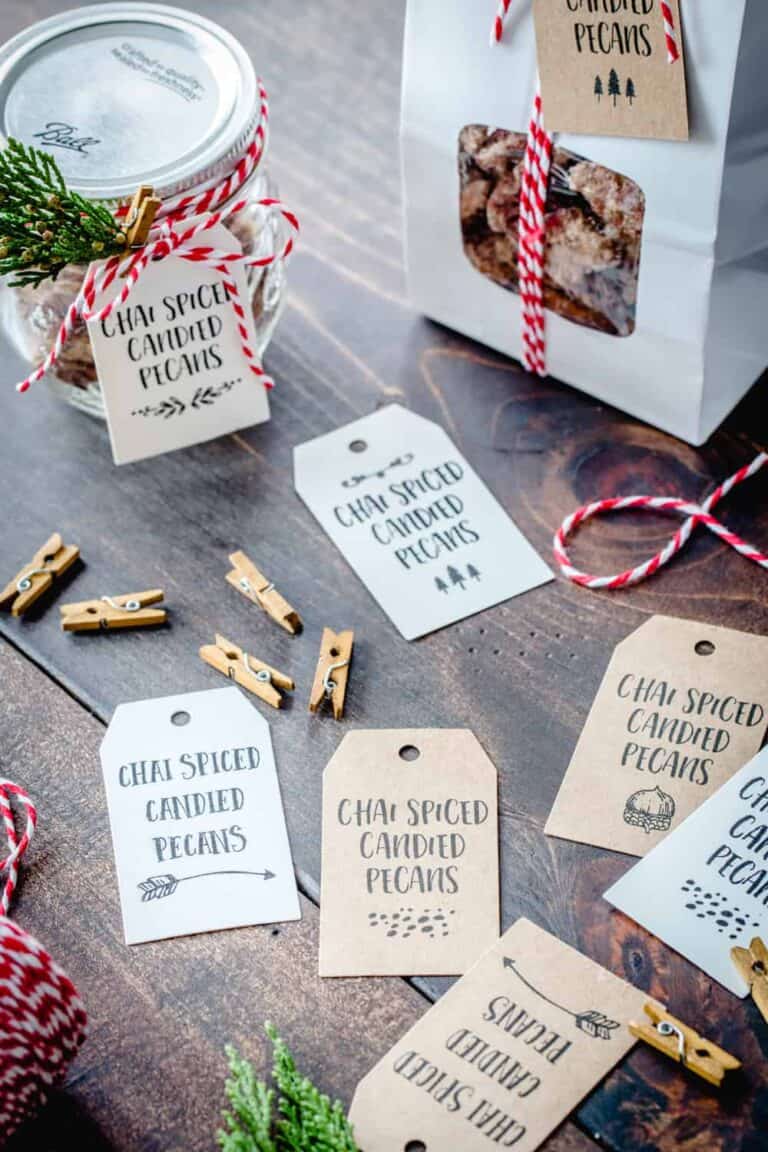 Last year we sent small treat towers filled with candies, cookies and fruit. I'm thinking I've got to switch things up this year.
If you happened to catch my post for a homemade chai spice blend, you probably saw these chai spiced candied pecans coming a mile away. They're sweet, spicy and perfectly crunchy!
And I just so happen to think they'd make a delicious holiday gift for anyone on your list. From your kiddo's bus driver or teacher, a lovely neighbor, or the mailman – they're a welcome treat.
I love taking something simple like these chai spiced candied pecans and packaging them up in festive way for the holidays.
Scoop them into a jar, or into a pretty bag, add a sweet tag and a bit of ribbon or twine and you have a lovely, inexpensive homemade gift.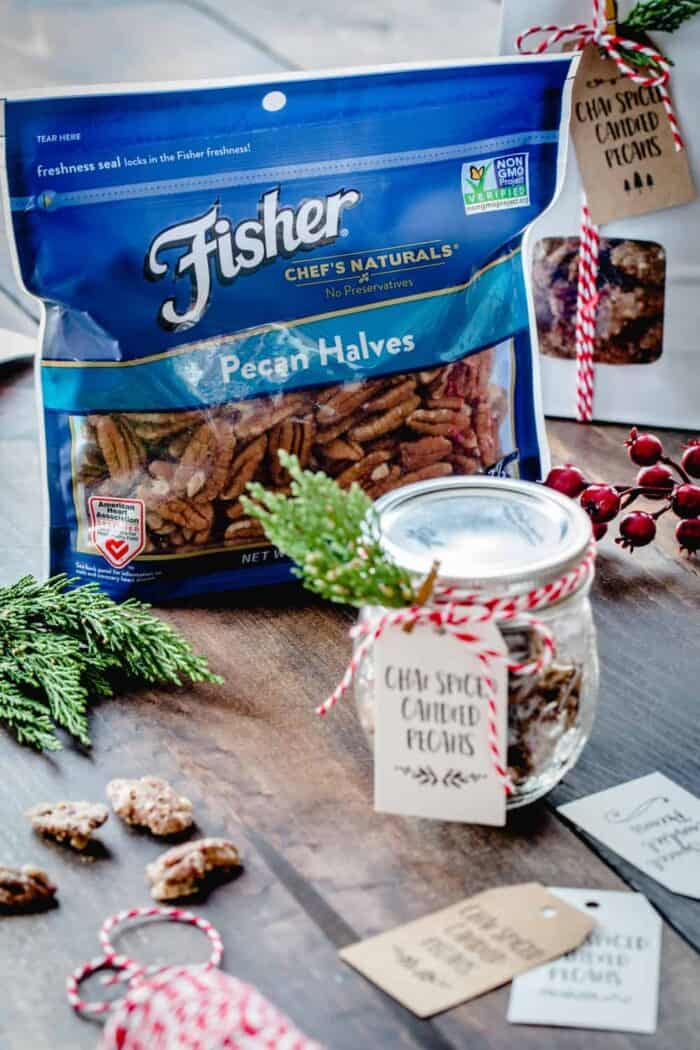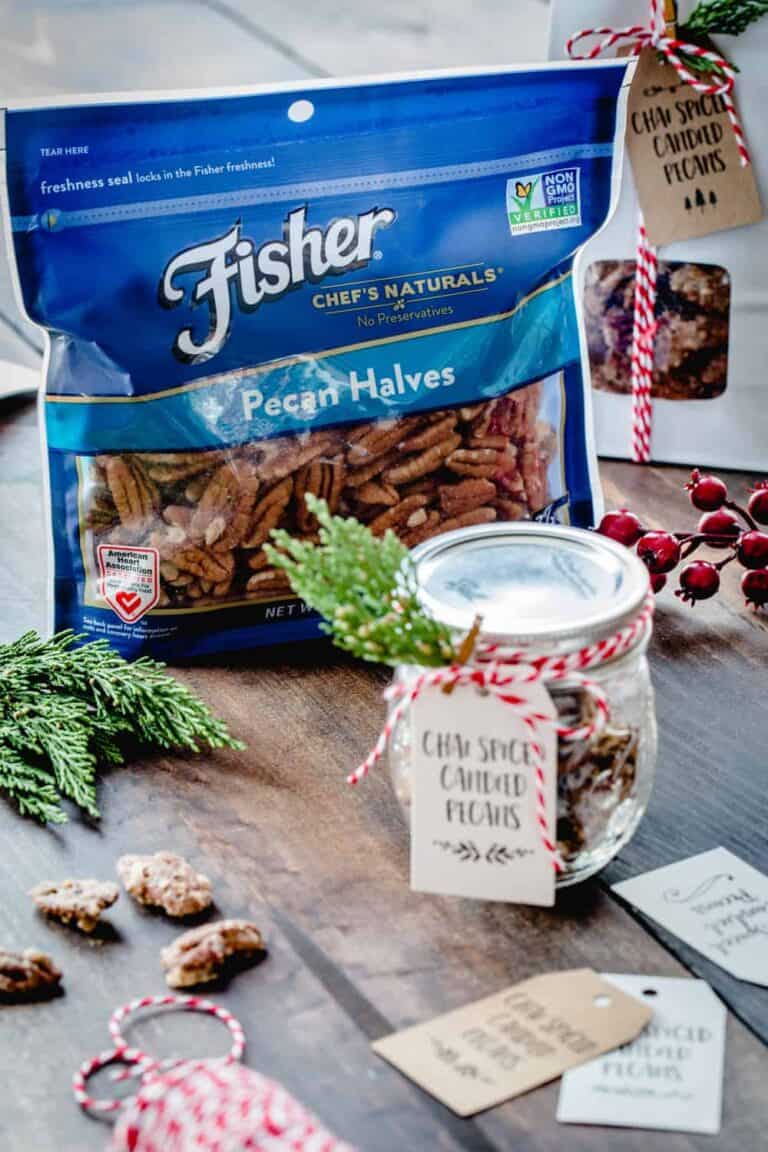 You could even add these to a little basket with a bottle of wine, fresh fruit and cheese for slightly bigger impact. Ya know, maybe for those neighbors that shovel your snow?
If you've never made candied nuts before, the process couldn't be easier and it requires just a handful of ingredients that you probably have on hand already.
You start by mixing up some sugar, chai spice blend and a pinch of salt.
Then you whisk up an egg white with some vanilla, stir in the pecans, and toss them in the spicy sugar mixture.
Bake them at a low temp for about an hour, until they're perfectly sweet and crunchy.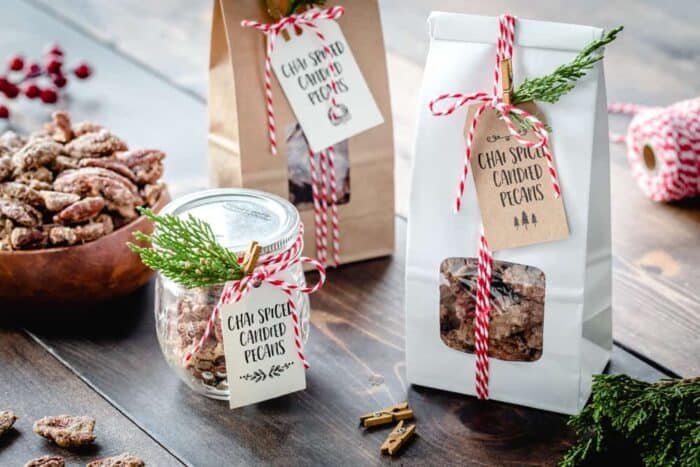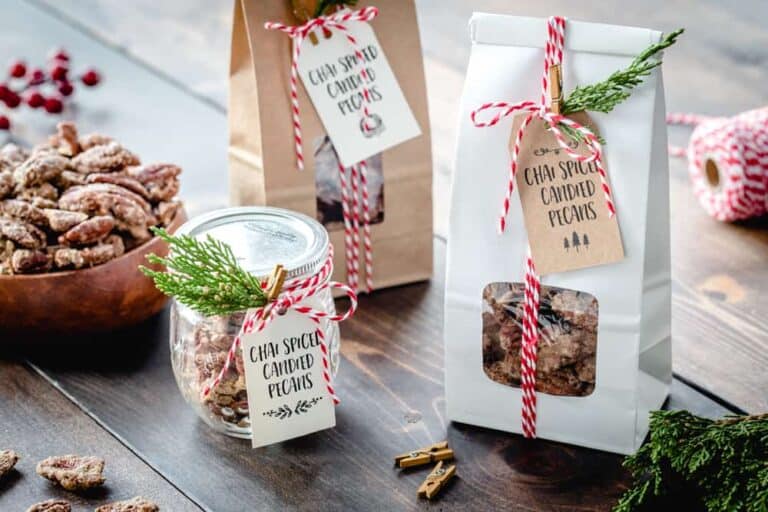 Just be sure to use quality ingredients like Fisher® Pecan Halves. I've been partnering with Fisher® for four years now, because I love the brand and their products.
Fisher® nuts are fresh out of their shells, have no preservatives and are non-GMO Project Verified – which is something I can always get behind.
I'm also kind of obsessed with their stand-up bag that was designed for convenience. It's resealable which means your nuts will stay fresh longer.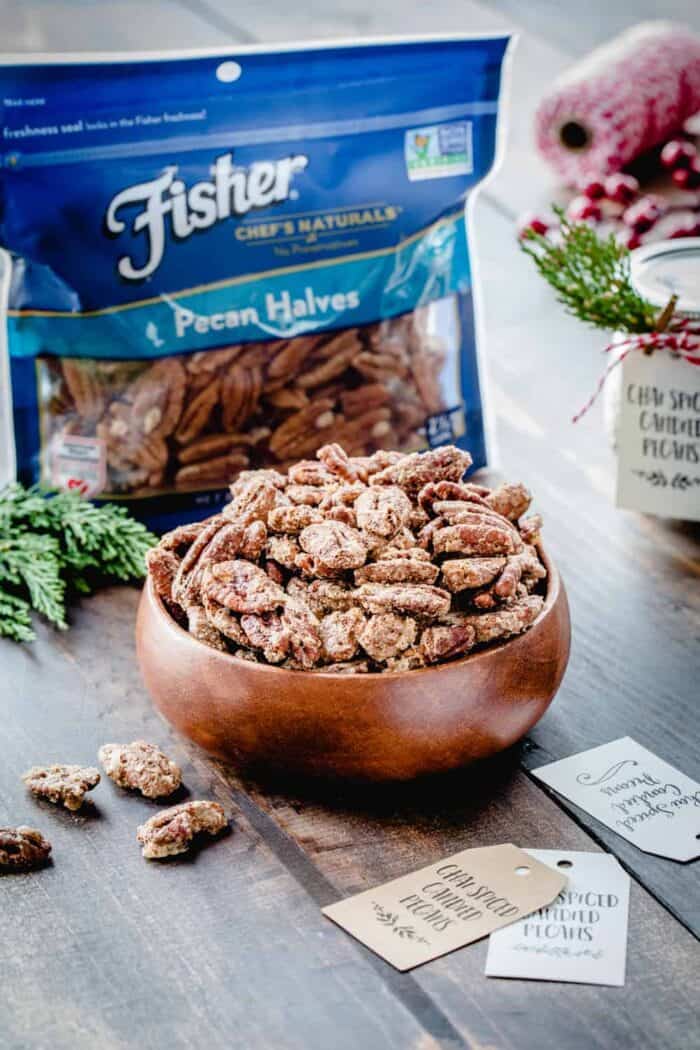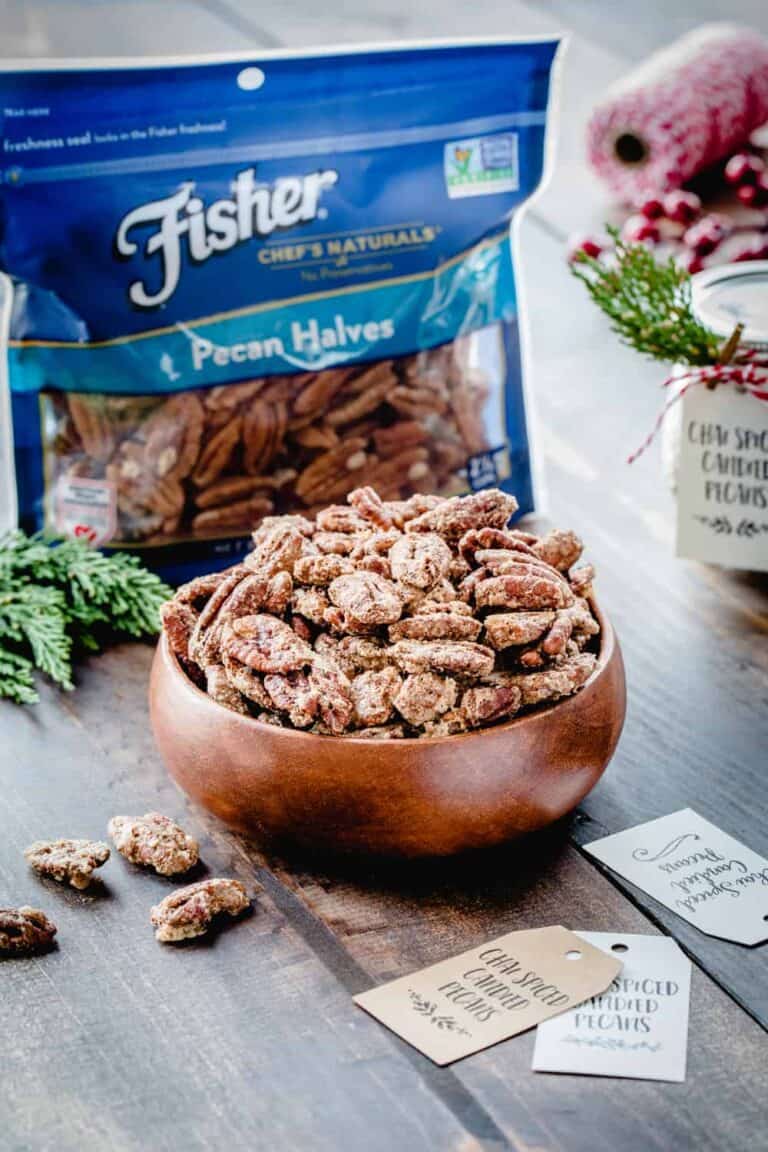 If you're looking for more delicious recipes using pecans, be sure to check out these sausage cheeseballs, this coconut pecan granola, and these olive oil banana walnut muffins.
You can also find more inspiration on the Fisher® website.
This is a sponsored conversation written by me on behalf of Fisher. The opinions and text are all mine.