Looking for a quick and easy yeast roll recipe for your holiday table? These Cheddar Dinner Rolls are soft, fluffy, packed with cheese, and as easy as can be!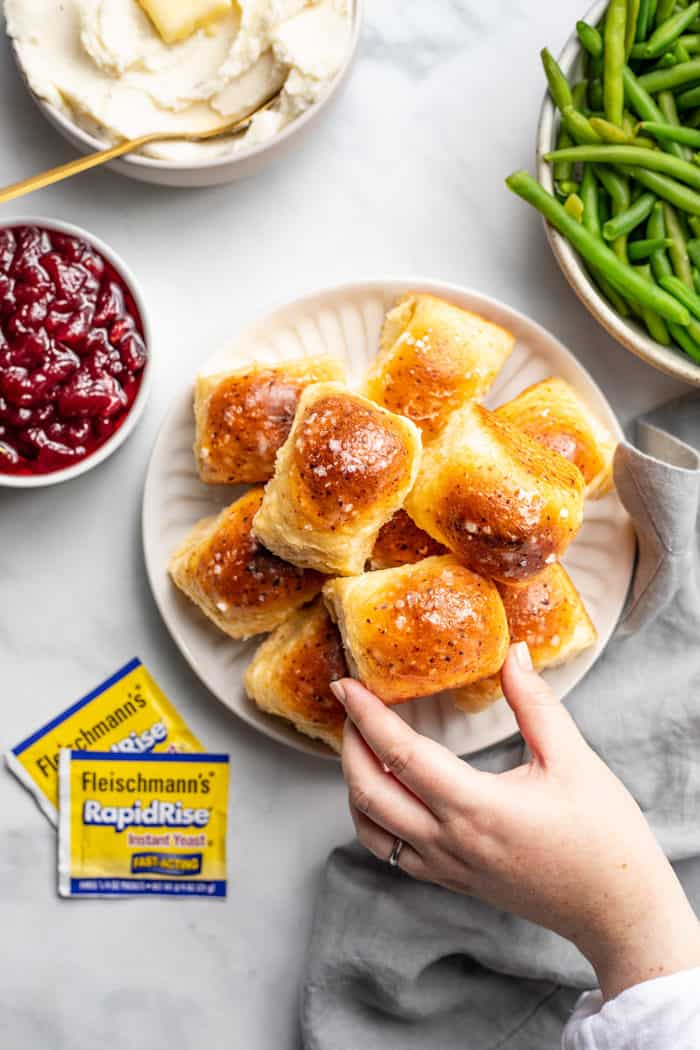 This post is sponsored by Fleischmann's® Yeast. Thank you for continuing to support the brands that make My Baking Addiction possible.
What are your holiday dinner musts?
In our family, we can't have a holiday meal without Homemade Cranberry Sauce, Cranberry Fluff, and Sweet Potato Casserole or mashed potatoes. And don't forget the Pumpkin Cheesecake or Pumpkin Roll.
But the real star of the show? The dinner rolls.
There's just something about coming around the holiday table with your loved ones, passing the basket of dinner rolls from person to person.
(Not to mention that we always fight over the leftover rolls. They make the best little sandwiches with the leftover turkey or ham!)
Some years I get really fancy and make super buttery Parker House Rolls. Some years I go a little non-traditional with Pretzel Rolls.
But this year I am getting cheesy with these super easy Cheddar Dinner Rolls.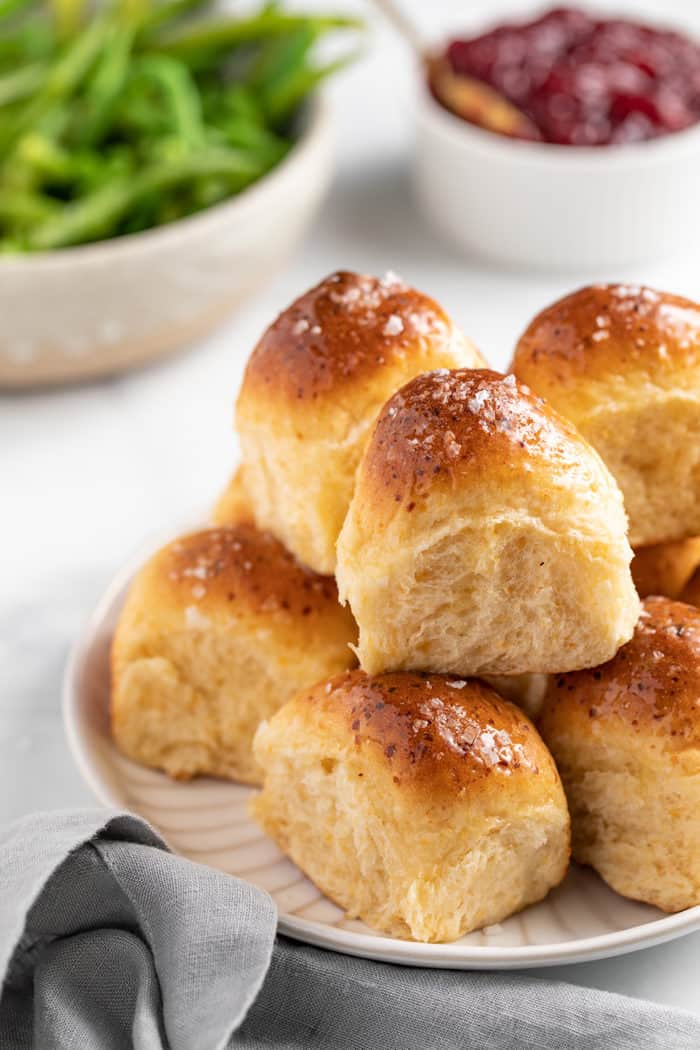 EASY, CHEESY HOMEMADE DINNER ROLLS
Even though the dinner rolls are one of my favorite parts of any holiday dinner, by the time I get to making them, sometimes I am kind of tired and not really interested in a super time-intensive recipe.
After all, if you're hosting a holiday meal, you've probably already spent hours in the kitchen roasting a turkey or ham, prepping your side dishes, and making sure the house is clean.
So I decided that this year, I was going to go with a quick and easy yeast roll recipe.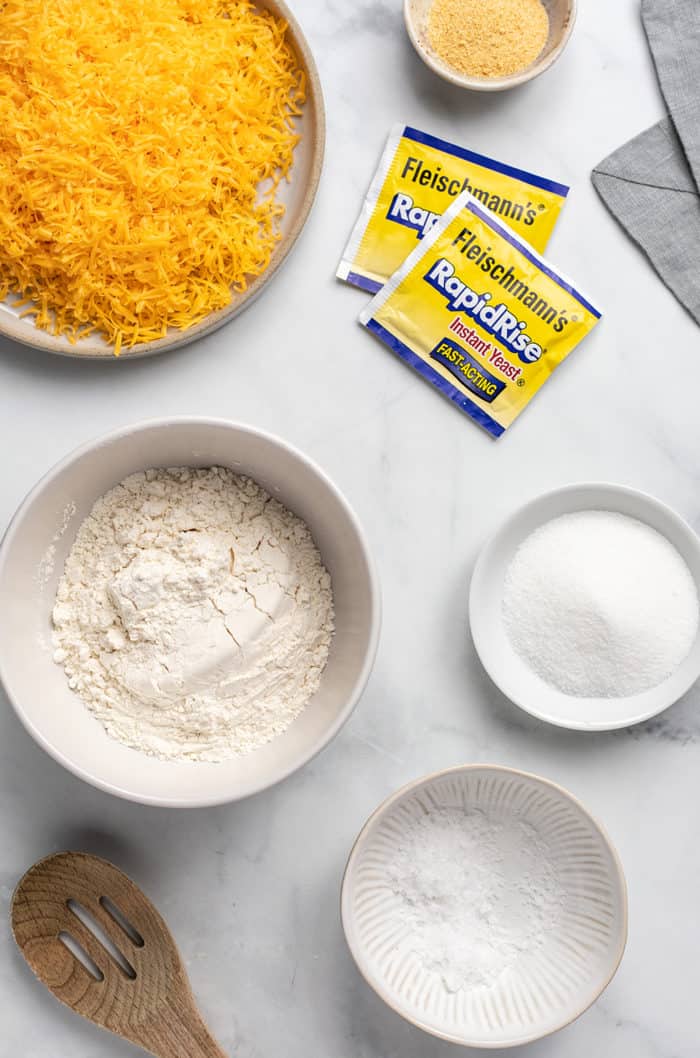 To get started, I reached for this Homemade Dinner Roll recipe using my favorite Fleischmann's® RapidRise® Instant Yeast.
I love using Fleischmann's® RapidRise® Instant Yeast all year round, but especially at the holidays because it really simplifies the baking process for me:
NO need to rehydrate the yeast in water before adding it to the recipe
The dough only needs ONE quick 10-minute rest and one rise before it's ready to bake!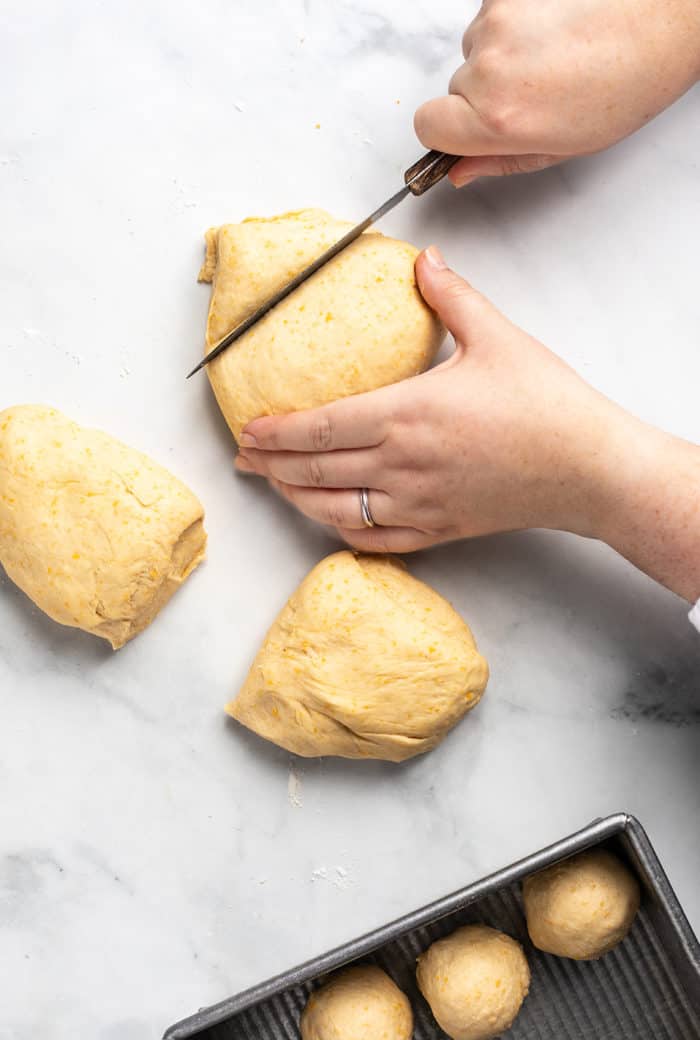 That means that instead of spending 2+ hours waiting for dough and shaped rolls to rise before even going in the oven, these Cheddar Dinner Rolls get a 10-minute rest, a 30-minute rise, and a 20-minute bake.
You read that right. You only need just over an hour to make these homemade dinner rolls!
Did I mention that they are packed with sharp cheddar cheese and topped with melted butter and flakey salt as soon as they come out of the oven?
Honestly, they're a recipe I'll be making long after the holidays are over. They're that good and that easy.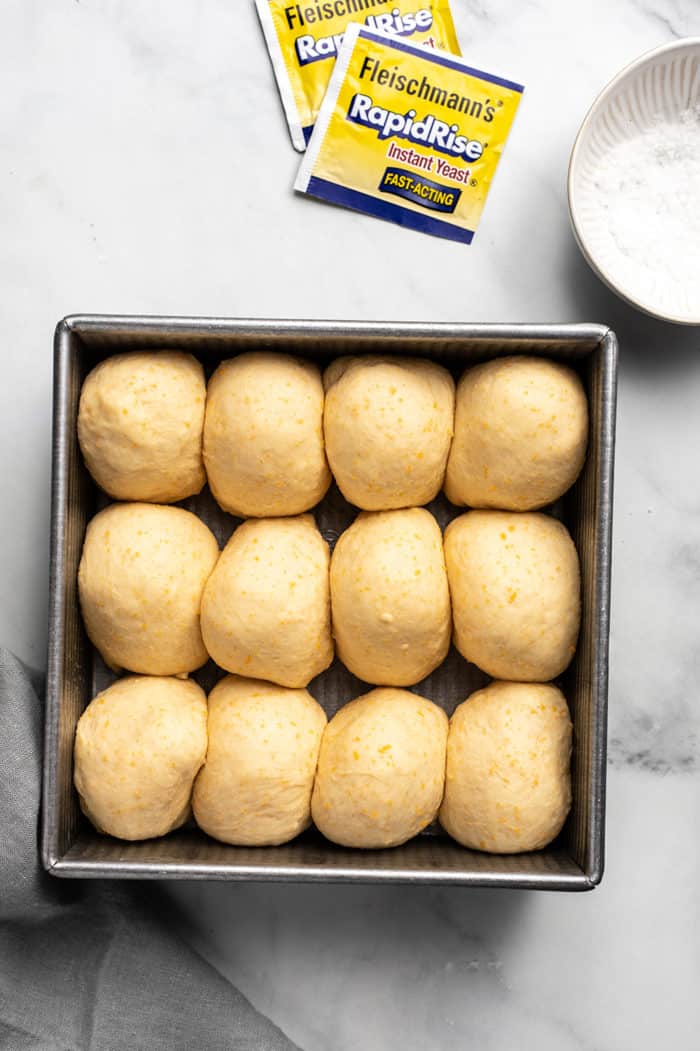 HOW TO MAKE THESE CHEDDAR ROLLS
This recipe is so easy that I don't even reach for my electric mixer to make the dough. I stir it all together by hand!
In a large bowl, mix together flour, sugar, 1 packet of Fleischmann's® RapidRise® Instant Yeast, fine sea salt, and garlic powder. Add together milk, water, and butter that has been heated in the microwave until warm, but not hot.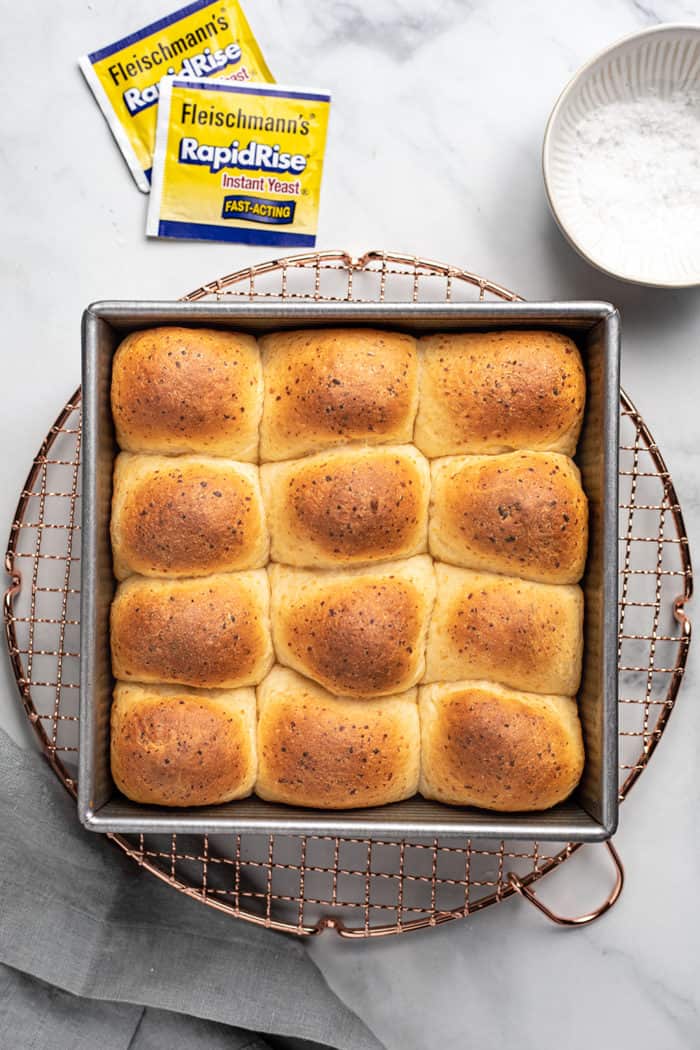 You don't want the liquid to be too hot, or else it will kill the yeast!
Stir everything together for about 2 minutes, then add in a cup of shredded sharp cheddar cheese and another ¼ cup of flour.
I love to use sharp cheddar cheese for these rolls, but you could use any cheese you like best. Smoked gouda would be amazing or pepper jack would make for a spicy twist!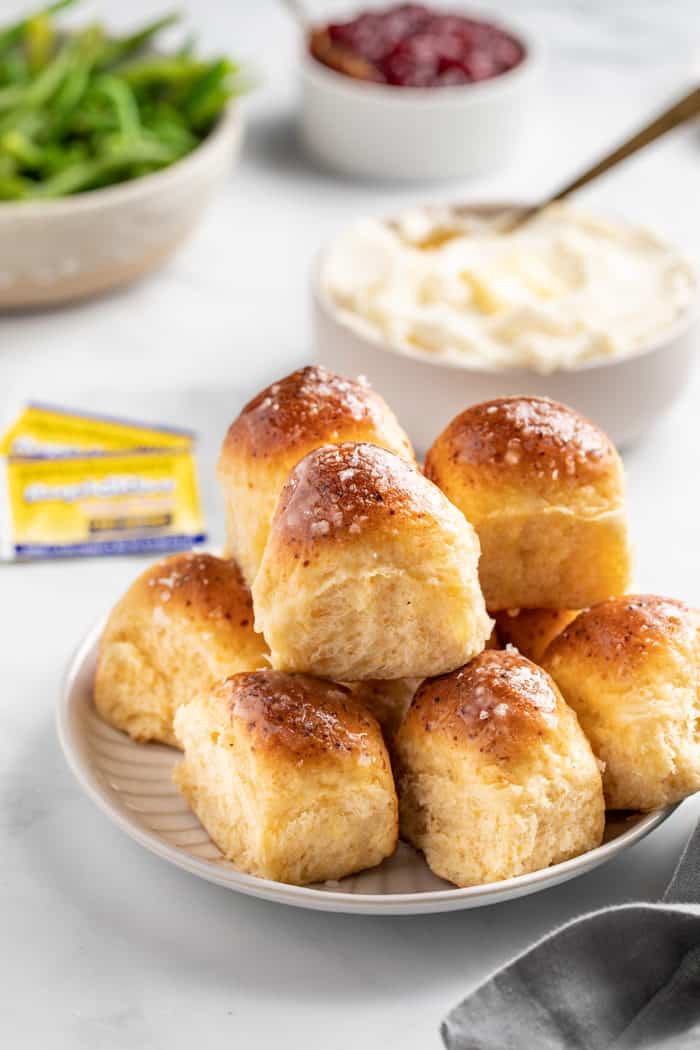 Continue stirring for another 2 minutes before adding an additional ¾ to 1 cup of flour.
Knead the dough on a floured surface for 6-8 minutes, then cover with a clean kitchen towel and let the dough rest for 10 minutes.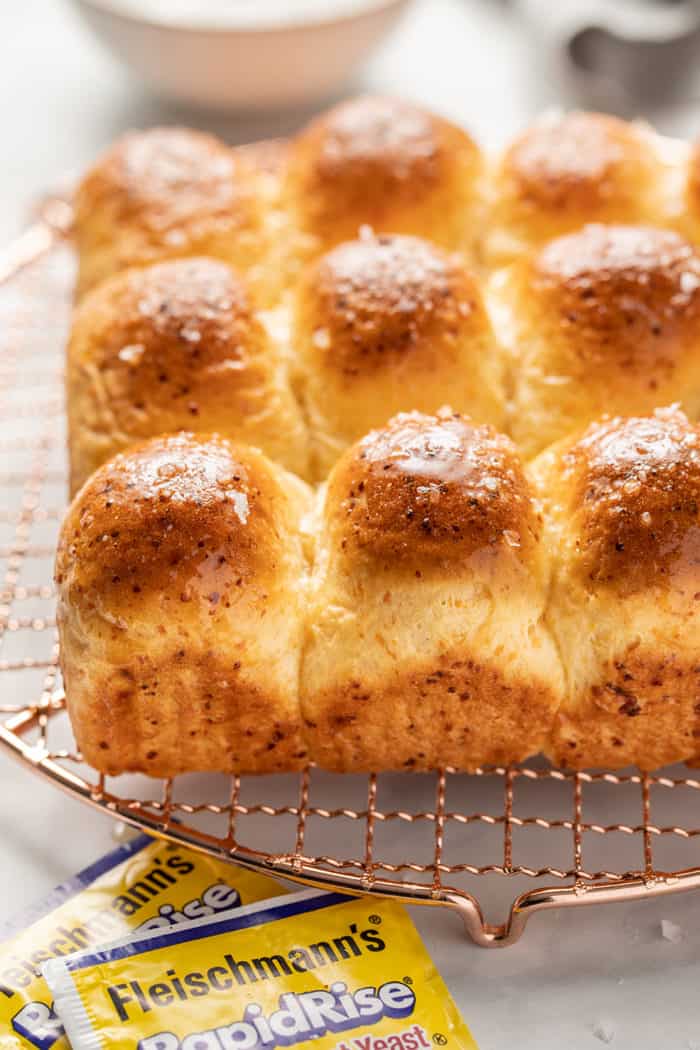 After 10 minutes, cut the dough into 12 pieces. Shape each piece into a ball and place into a greased 8×8-inch baking pan. Let the rolls rise for 30 minutes.
Once the rolls have risen, bake for 20-25 minutes. Brush the hot rolls with melted butter and sprinkle them with flakey salt before serving.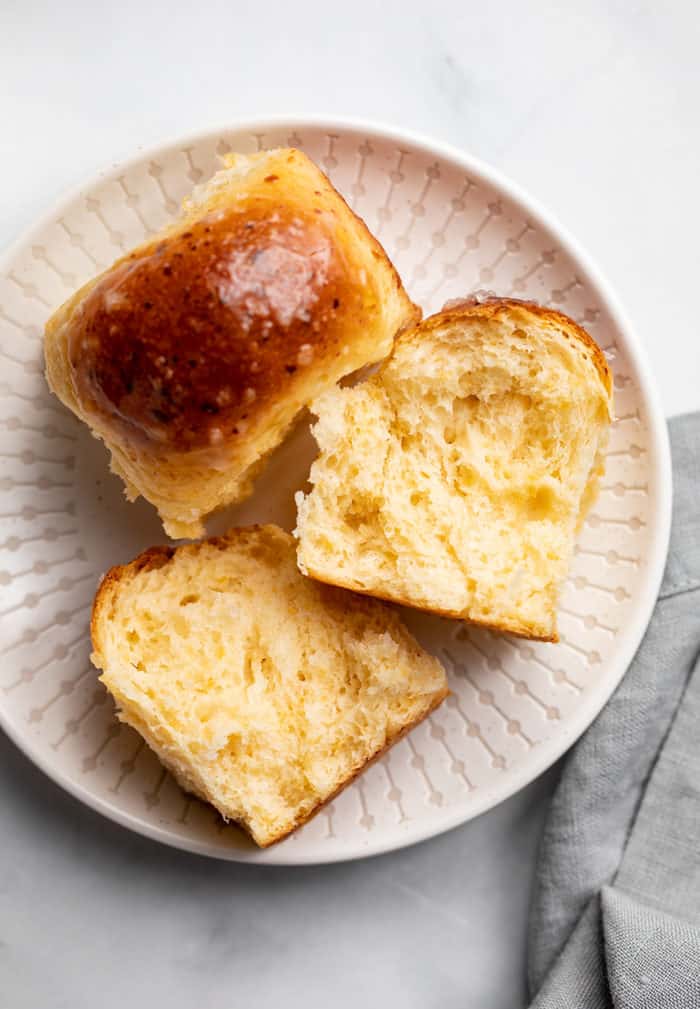 HOW TO STORE LEFTOVER YEAST ROLLS
This recipe makes 12 small-to-medium rolls, which is perfect for a small family without having a ton of rolls left over.
If you have any leftover rolls, store them in a zip-top bag with the extra air removed. If you have a bread box, pop the bag in there to keep them extra fresh.
Even though these Cheddar Dinner Rolls are best the day they're made, they will make for great leftovers for 1-2 days.