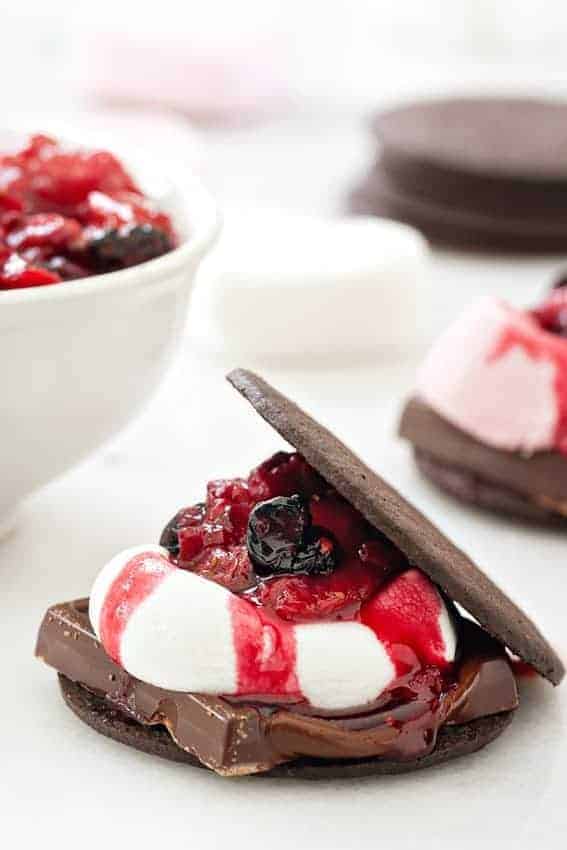 Chocolate Berry S'mores are simple to make and crazy delicious. How could you possibly go wrong with chocolate, strawberry marshmallows and roasted berry sauce? Ya just can't.
This is a sponsored post on behalf of Campfire® Marshmallows. All opinions are my own. Thank you for supporting the brands that continue to make My Baking Addiction possible.
I've never really been one to get all fussy about Valentine's Day, it's just not really my thing. And if I'm being honest, the thought of dining in a crowded restaurant with a bunch of overly affectionate people sort of makes my eye twitch a bit.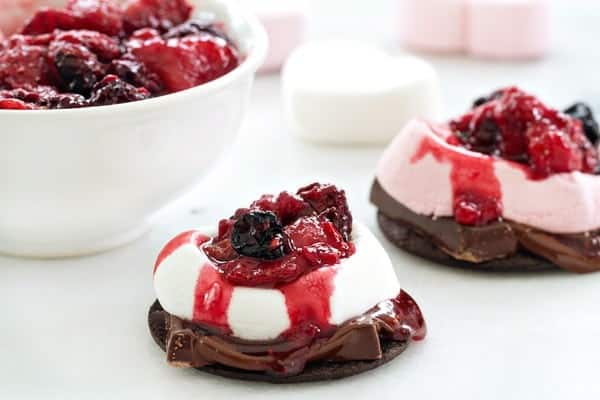 That's why we kept it super low key this year and went out the day before Valentine's Day to grab burgers and the best milkshakes ever at B Spot. I don't know what kind of crazy milkshake magic Michael Symon has developed, but they're amazing. And I don't even really like milkshakes. That's gotta say something, right? And in case you're wondering, Vanilla Bean is my fave.
After dinner, we headed out on a quest to find a few Peppa Pig items for our little babe. Which, by the way, is no task when you're not shopping online. Have you watched this show? Elle is obsessed with and I'm pretty certain we're all starting to develop a British accent.
If you've been reading MBA for any length of time, you know s'mores are our jam around here. From salted caramel s'mores and no bake s'mores cheesecake to s'mores trifles – we love all s'mores, all the time. And if you're like me, I kind of think s'mores are the perfect dessert for Valentine's Day. Hello, there's melty chocolate, and ooey-gooey marshmallows involved.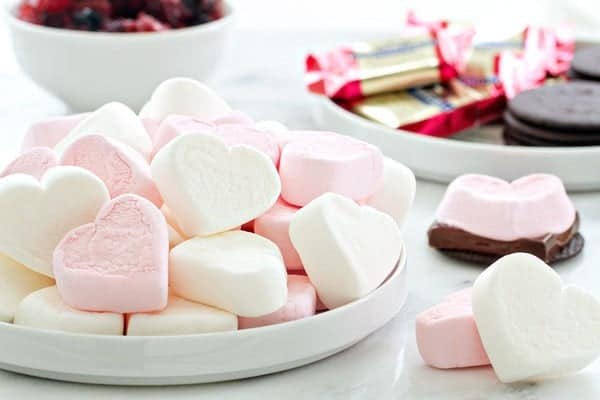 These Chocolate Berry S'mores were a happy accident. We were craving s'mores one night and there was a jar of leftover roasted berry sauce in our fridge just begging to be used. A couple of chocolate wafer cookies, Campfire® CupidMallows (these are totally adorable), strawberry filled chocolate squares and a spoonful of roasted berry sauce make these s'mores my new favorite. Seriously, just look how gorgeous they are – who could resist?
I've partnered with Emily from Jelly Toast and Campfire® Marshmallows to create recipes to share with you in 2016!
We even created a Marshmallow Madness Pinterest board where we've pinning loads of delicious marshmallow recipes that are perfect for any occasion. Like these S'mores Cookie Cups and No Bake S'mores Cheesecake.