This decadent Chocolate Bread is infused with espresso and chocolate chips for a quick bread that satisfies your chocolate cravings for breakfast or an afternoon snack. Or try a slice with whipped cream and berries for a simple yet delicious dessert.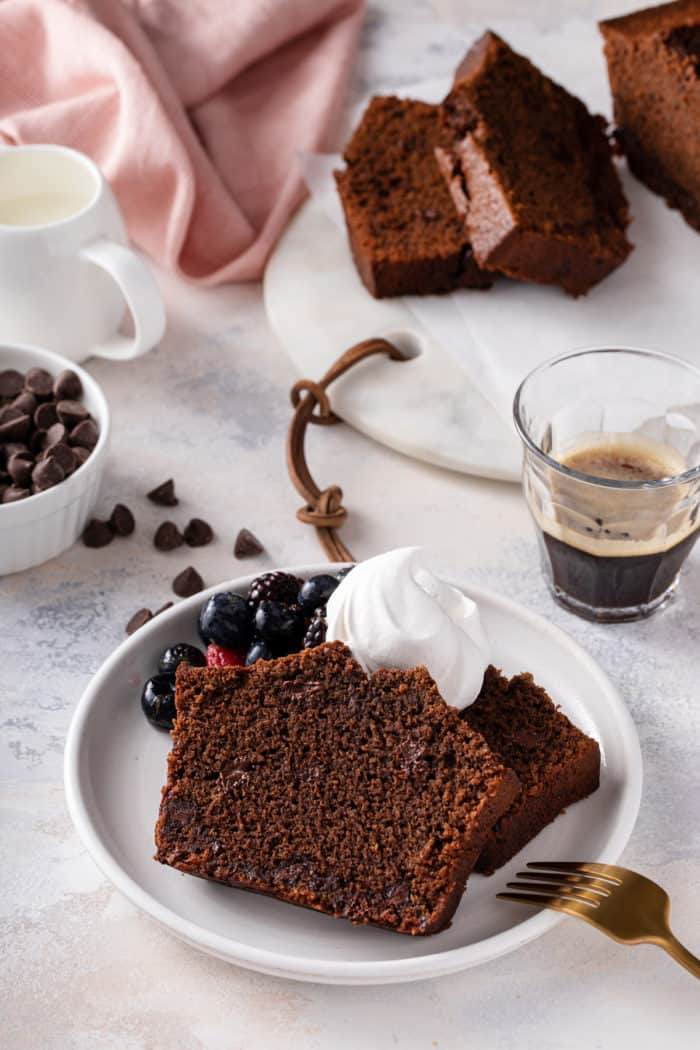 This post contains affiliate links.
It seems like lately I have had a lot of people around me who need some cheering up. I don't know what's in the air these days, but it feels like everyone has had something going on.
One of the easiest ways for me to spread some love is by sharing baked goods. And quick breads are always a hit!
Sometimes I will make a big batch of quick bread and freeze a few loaves, that way I have something on hand that I can pull out and take to a friend or neighbor when they are sick, have just had a baby, or simply need a pick-me-up.
Lately, this chocolate bread has been one of my favorite pick-me-up recipes. It's super rich and decadent and makes you feel better with just one bite.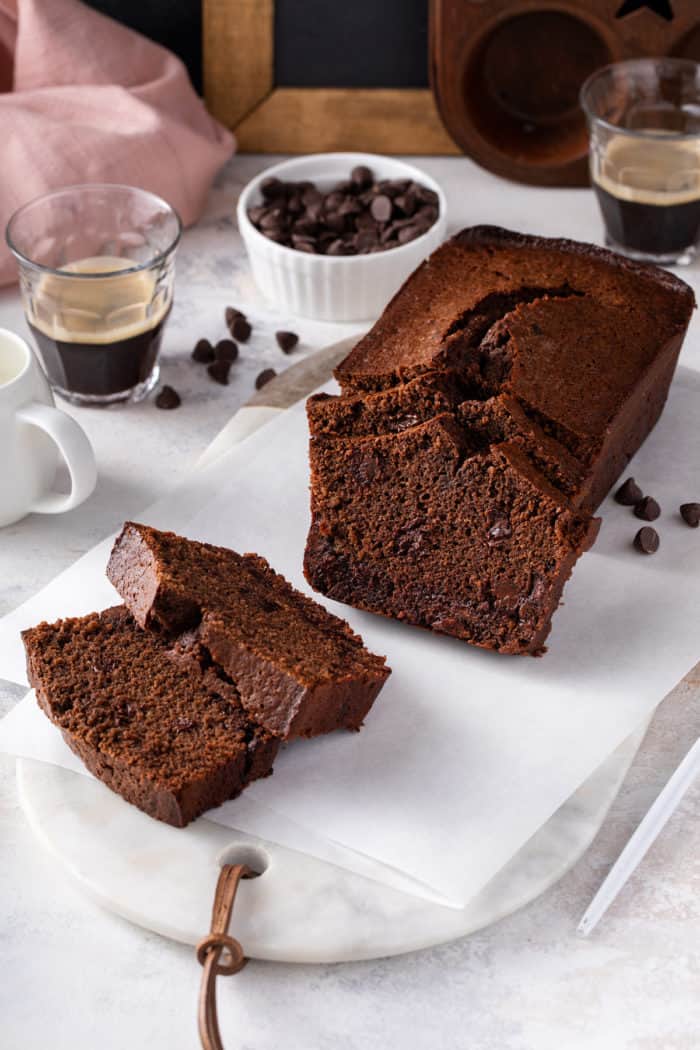 WHAT ARE QUICK BREADS?
Like my all-time favorite pumpkin bread, this chocolate bread is a type of quick bread.
Quick breads are breads that use baking powder or baking soda as leaveners instead of yeast. Since they don't contain any yeast, they don't need to rise and can be prepared quickly. Thus, quick bread!
Muffins, scones, and biscuits are all types of quick bread recipes, along with breads baked in a loaf pan such as this chocolate bread.
Even though this recipe bakes for over an hour, you can have these loaves in the oven within 15 minutes or so, so the hands-on time is very minimal. In fact, recipes like this are great to make with kids or beginner bakers because they're so simple to make!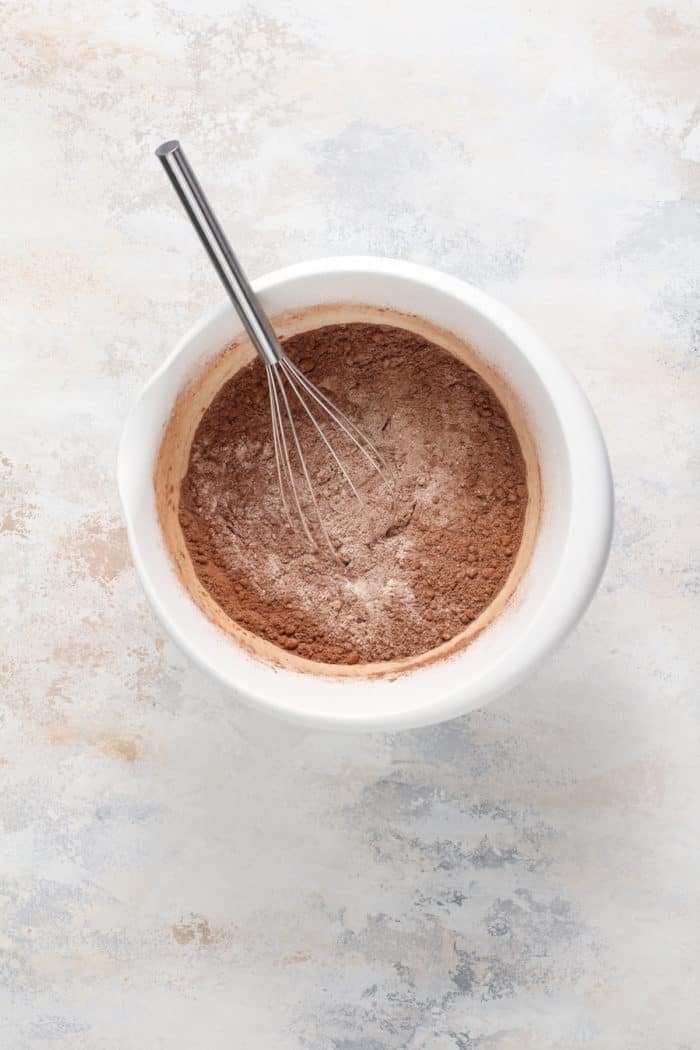 HOW TO MAKE THIS CHOCOLATE BREAD
If you like to bake, and especially if you're a chocolate lover, you may already have everything you need to make these loaves of chocolate bread in your pantry already./
Ingredients you'll need
The ingredients for this recipe are quite simple. You'll need:
All-purpose flour: Make sure you know how to measure flour properly so you are set up for success from the start.
Granulated sugar: We want to make sure our bread has just enough sweetness to it.
Unsweetened cocoa powder & semisweet chocolate morsels: I love the double-chocolate goodness of my chocolate zucchini muffins, so you know I had to use both cocoa powder and chocolate chips in this recipe, too!
Baking powder: This serves as the leavening agent in this recipe.
Salt: Just a bit of salt helps round out the flavors in this bread.
Milk & vegetable oil: We need both liquid and fat in our bread to bring the batter together and keep the bread nice and tender.
Eggs: Eggs serve as a binder and make for a tender crumb.
Vanilla extract: Vanilla is always a must for tying together the flavors in a quick bread!
Instant espresso granules: Coffee and chocolate go together perfectly.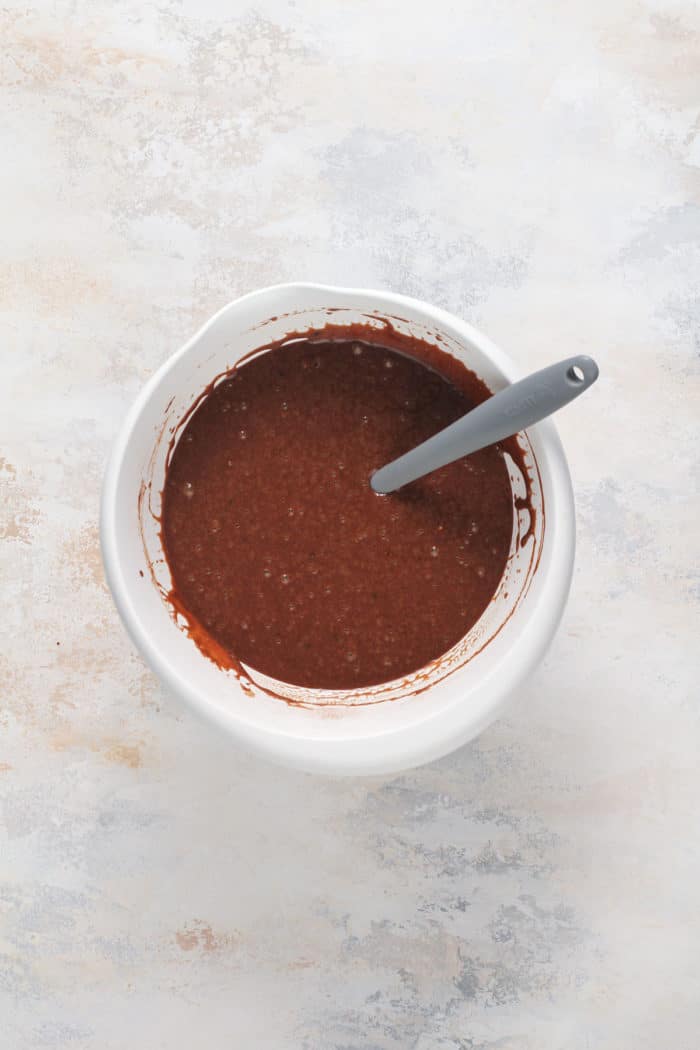 Do you have to use espresso in your chocolate bread?
If you've made what I believe to be the best chocolate cake recipe, you'll recognize why there's a bit of instant espresso in this recipe.
A bit of coffee in chocolate-based recipes helps enrich and deepen the chocolate flavor. But it won't make this bread taste like coffee!
But don't worry – you can always skip the espresso if you'd like. Simply leave out the espresso mixture and the bread will still be amazing!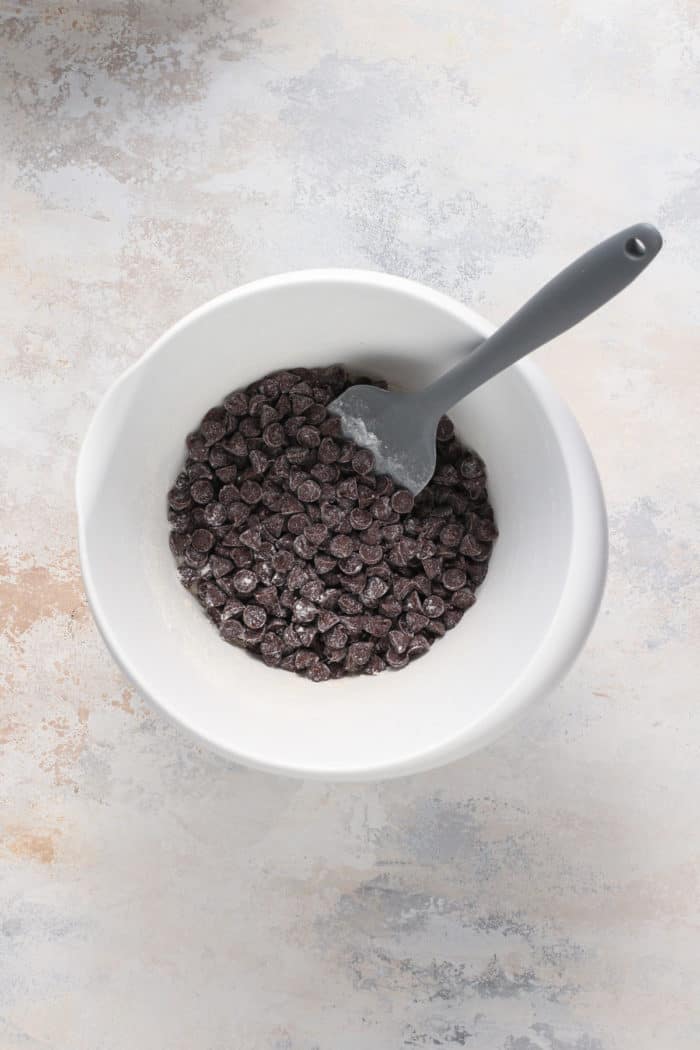 Making this recipe
Start by preparing your pans. Grab two 8×4-inch loaf pans and spray them with nonstick cooking spray. Line the pans with parchment paper and then spray the parchment as well. This will ensure a clean release after the bread has cooled.
Whisk together the dry ingredients: flour, sugar, cocoa, baking powder, and salt. Add the milk, oil, eggs, vanilla, and espresso mixture (if using) and beat this together with an electric mixer.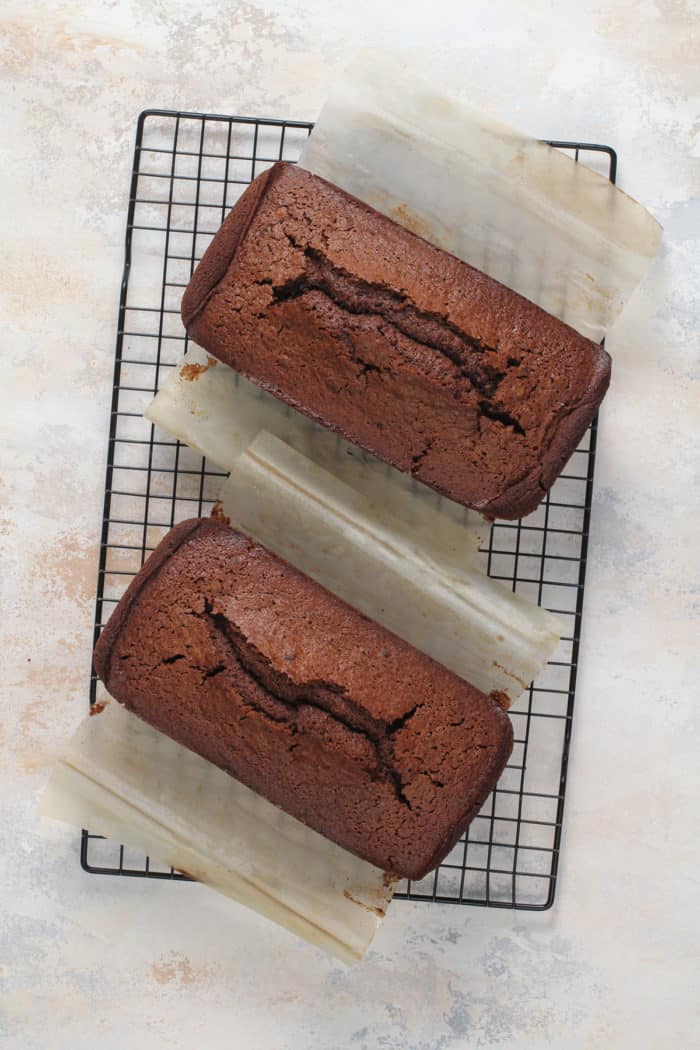 In a separate bowl, toss the chocolate morsels or chips with 2 tablespoons of flour. Doing this will help keep the chips from sinking right to the bottom of the loaves!
Stir the chocolate chips into the bread batter and then divide the batter evenly into the prepared loaf pans.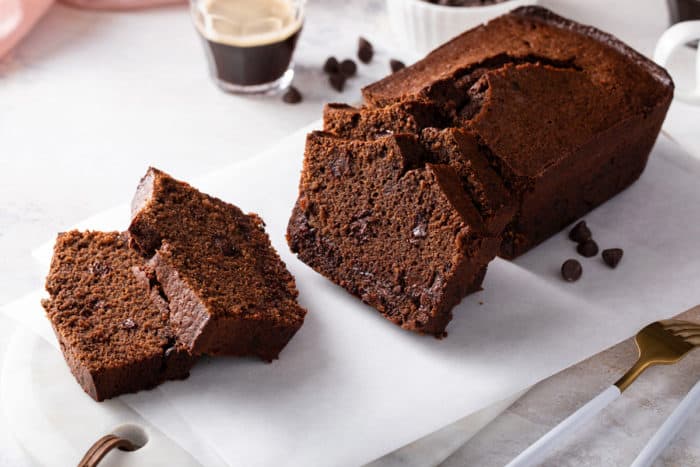 After the bread has fully baked, let the loaves cool in the pans for 20 minutes before turning them out onto wire racks to cool completely.
Serve your chocolate bread for breakfast or as an afternoon snack. You can even top it with some homemade whipped cream and fresh berries for a simple yet delicious dessert!
Or use it to make french toast! Sort of similar to banana bread french toast…but more chocolatey!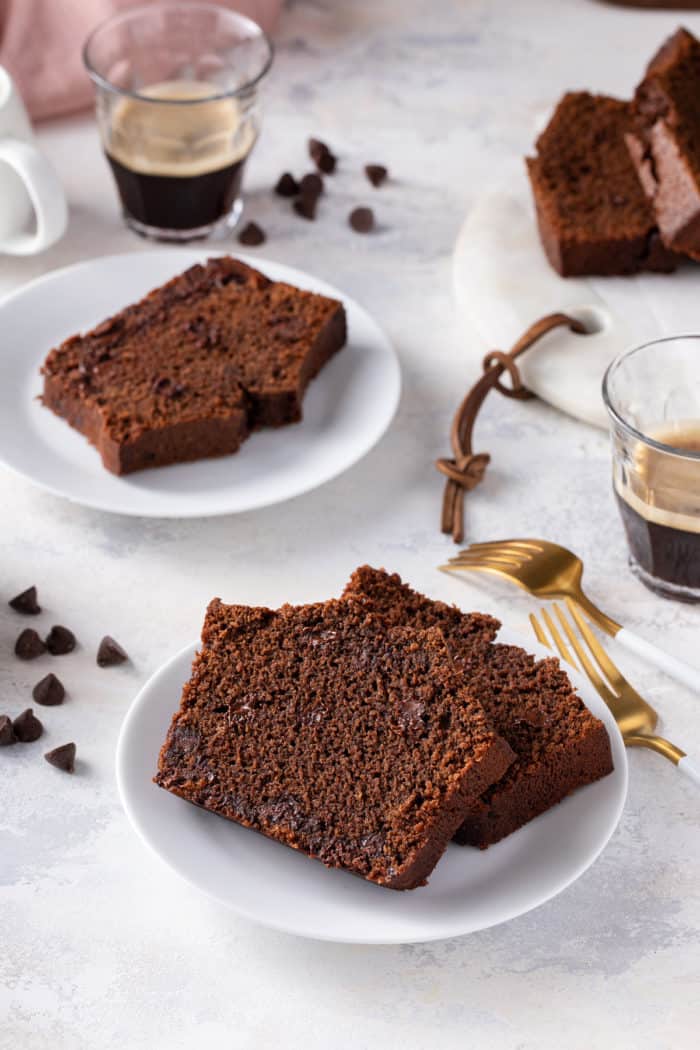 STORAGE AND FREEZING
Just like my pumpkin chocolate chip bread, I think this bread is actually even better the next day. You can keep this bread, well wrapped, at room temperature for up to 3 days.
Or you can freeze it for even longer – it freezes beautifully!
You can wrap an entire loaf of chocolate bread and freeze it whole or cut it into thick slices and freeze them individually. Either way, wrap the bread in a layer of plastic wrap or foil and place in a zip-top freezer bag.
Freeze the bread for up to 3 months. Let it thaw at room temperature or pop a slice in the microwave for 30-60 seconds to enjoy a warm, gooey piece of chocolate bread at a moment's notice.