Decadent chocolate bread infused with espresso and chocolate chips.
Today was my first day back to work from maternity leave. And it was hard. Really hard. I became incredibly comfortable and content being with Elle all day every day. The mere thought of being away from her for 8 hours a day pretty much made me cry every single time I thought about it. Needless to say, I cried a lot in the past week.
We're incredibly fortunate that we don't have to put Elle in daycare; however, it didn't lessen the blow of heading back to work. If I'm being honest, the thought of being a stay-at-home mom never really appealed to me – until I had a baby. When people say that a baby changes you and everything in your world – believe them. And those changes? They're pretty damn amazing.
Since I'm not one to quit a job halfway through a school year, I put on my big girl panties, deliberately skipped mascara, and cried the entire way to work. Then I sat in my car for a good 10 minutes, gave myself a pep talk, applied a couple of coats of mascara, and headed into work. And ya know what? It wasn't nearly as traumatizing as I thought it would be. It definitely helps that Elle is home with Eric and I feel totally comfortable pestering him all. day. long.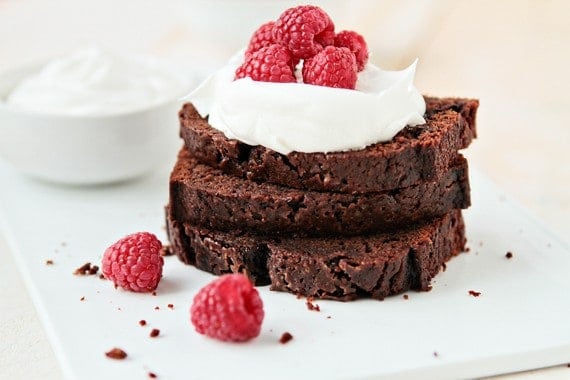 I made this chocolate bread last night and decided to give it a little kick with the addition of espresso. The coffee flavor is not overly powerful, but a slight nuance definitely comes through. It's perfect for breakfast or a midday pick-me-up with a cup of piping hot coffee. Pair it with a dollop of whipped cream and fresh berries and you have a lovely weekday dessert.
You might say I was baking my feelings (and then eating them), and you'd be right. But that doesn't stop this from being one delicious bread that you'll love nibbling on. Almost as much as baby toes.
Chocolate Bread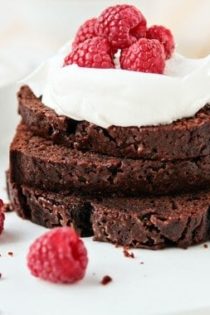 Ingredients:
2 1/4 cups all-purpose flour
2 cups granulated sugar
3/4 cup unsweetened cocoa powder
1 1/2 teaspoons baking powder
1/2 teaspoon salt
1 1/2 cups milk
1 cup vegetable oil
3 large eggs
2 teaspoons vanilla extract
1 tablespoon instant espresso granules dissolved in 1 tablespoon hot water, optional (see note section below)
2 cups semisweet chocolate morsels, plus 2 tablespoons flour
Directions:
1. Preheat oven to 325 °F;. Spray (2) 9 by 5-inch loaf pans with nonstick cooking spray and line with parchment paper. Give the parchment a quick spray as well.
2. In a large bowl whisk together the flour, sugar, cocoa, baking powder, and salt. Using an electric mixer, beat in the milk, oil, eggs, vanilla and optional espresso mixture. Combine at medium speed with an electric mixer until combined. In a medium bowl, toss the chocolate chips with 2 tablespoons of flour (this will help to prevent the chips from sinking to the bottom of the batter), and gently stir into the batter. Spoon evenly into the prepared pans.
3. Bake in preheated oven until a wooden pick inserted in center comes out clean, about 1 hour and 15-20 minutes. Let cool in the pans for 20 minutes. Remove the bread from the pans and cool completely on a wire rack.
Notes:
This bread will store well in an airtight container at room temperature for up to 3 days.
You find instant espresso granules in the coffee aisle of many supermarkets, or at Amazon.
Slightly adapted from Paula Deen
All images and text ©
Follow Jamie on Instagram. We love to see what you're baking from MBA! Be sure to tag @jamiemba and use the hashtag #mbarecipes!