Cinnamon Roll Blondies combine everything you love about cinnamon rolls with chewy blondies to create a two in one dessert that's sure to become one of your new faves!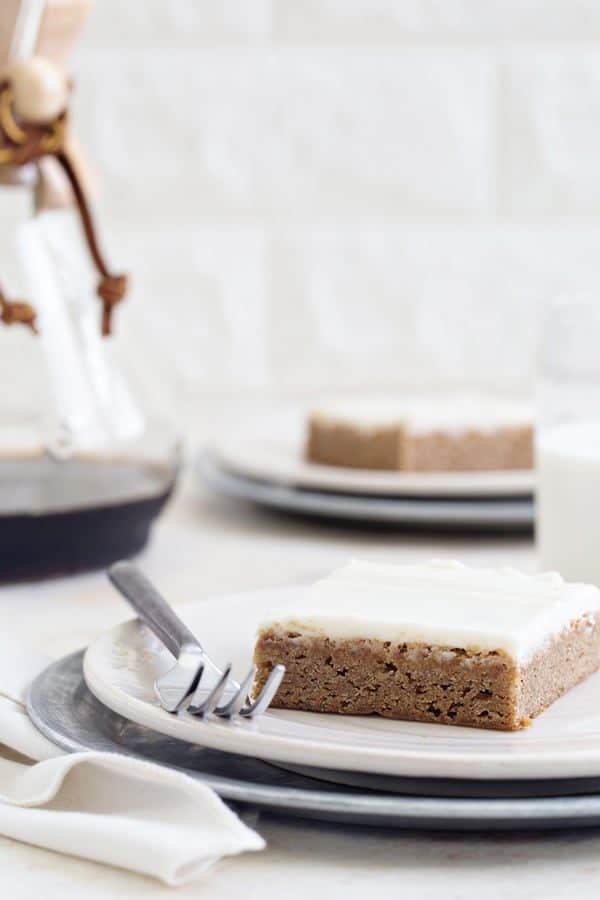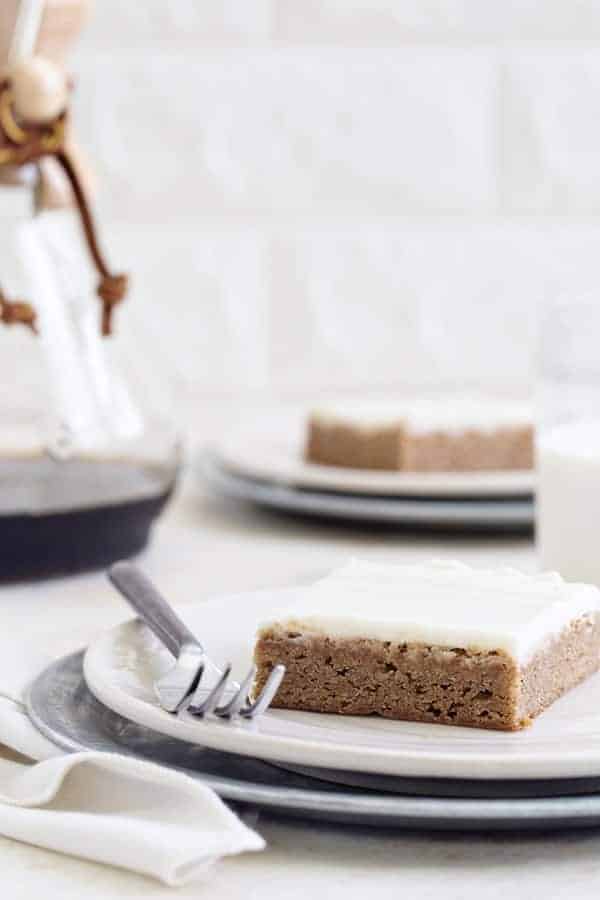 Today I want to chat about dining out at fancy-schmancy restaurants. Ya see, Eric and I don't really venture into the high-end dining scene much anymore.
Mainly because he knows the way to my heart is a chicken salad from Chipotle with extra guac, or a burger bowl from Five Guys with double bacon. I'm pretty simple to please, ya'll.
However, this past weekend, we got dressed up and went to one of our favorite spots in the Cleveland area. The restaurant is perched on a cliff that overlooks Lake Erie, so it offers one of the best views in the city.
Plus, it has one of Eric's favorite menu items in all of Cleveland – Braised Beef Short Rib Pierogies. And yes, they are every bit as delicious as they sound.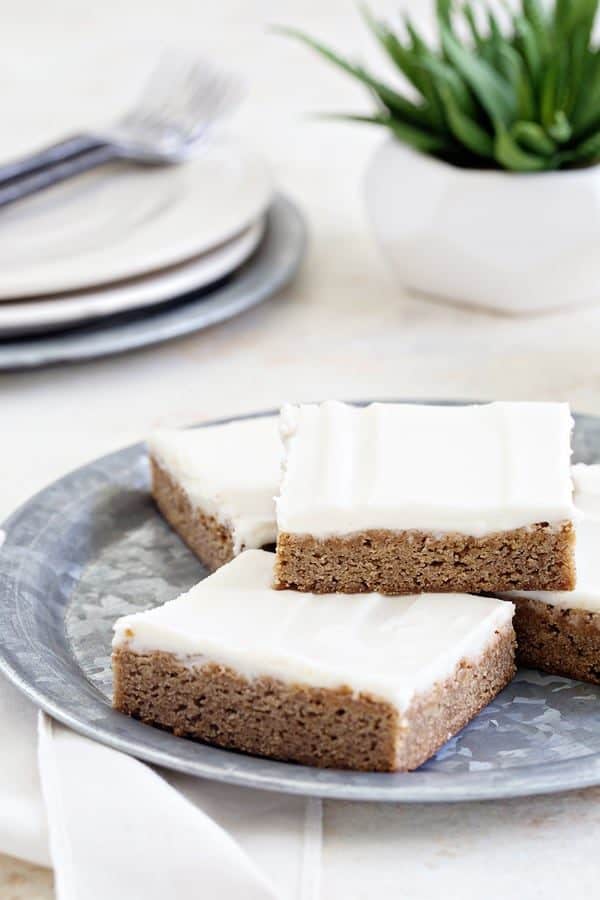 If you've been following my blog forever (thank you by the way), you know that I worked in the restaurant business for years. Pretty much from the age of 14 when I was a server at a local diner to my last job at a high-end steakhouse while I was in graduate school.
Basically what I'm trying to say is that since I worked in the restaurant business for so long, I am NOT a complainer.
In fact, I'm the person that gets totally uncomfortable and anxious when other people complain at tables around me. If you've ever worked in the business, you feel me, right?
Admit it, you're a plate stacker, crumb wiper and over-tipper too.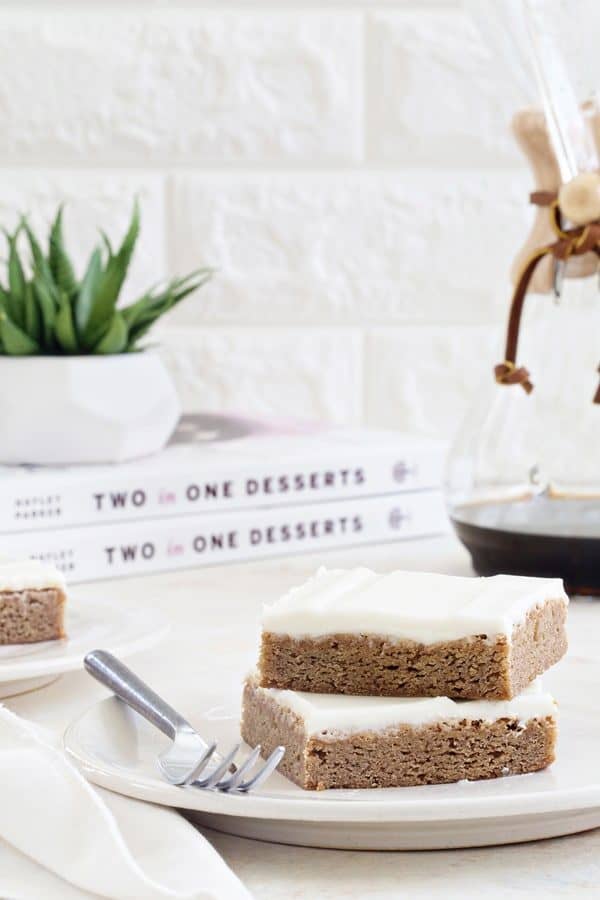 We've had many great experiences at this restaurant, but you guys, this time was pretty terrible. Our shrimp cocktail hadn't been cleaned properly, so we were kind of turned off by that.
And our steaks were overcooked to the point of being gray and tough. Eric actually left quite a bit of his steak behind which NEVER happens.
Let me put a little disclaimer out there and say that we both like our steaks somewhere between medium and medium-well – gray, not so much.
When I nonchalantly questioned the done-ness of our steak, the server explained that there was some pink, we just couldn't see it because of the lighting. Sure sure.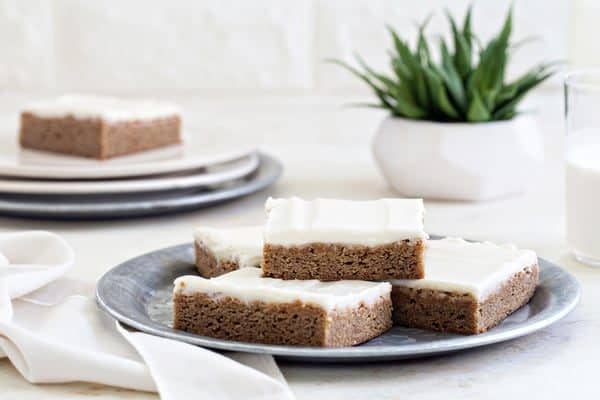 We didn't say a word, I guzzled the last bit of my wine, we paid the check and left. And then I had regrets.
Not because I wanted a free meal, but more so because maybe when you're paying good money for a night out, someone being lackluster about the things you're paying them for is just not awesome.
So tell me, do you speak up, or pay your bill and never return?
I'm not sure we'll ever go back, even though the view is spectacular. No view can make up for gray steak.
I was pretty dang glad that I had a pan of these Cinnamon Roll Blondies at home. Because they're pretty much what I ate for dinner.
Blondies make just about anything, including a crappy dinner out, better. Especially THESE blondies.
They're from my friend Haley's new cookbook – Two In One Desserts and they're all kinds of delicious.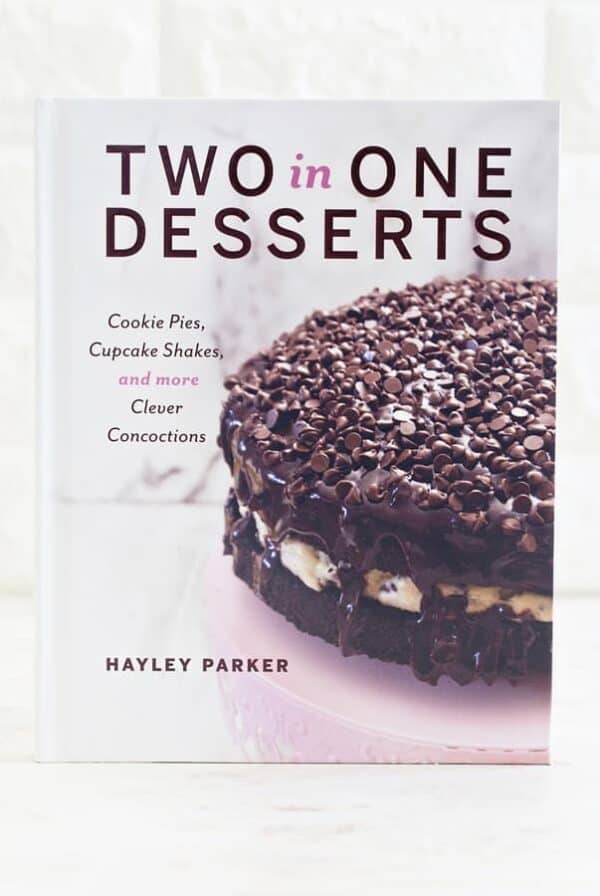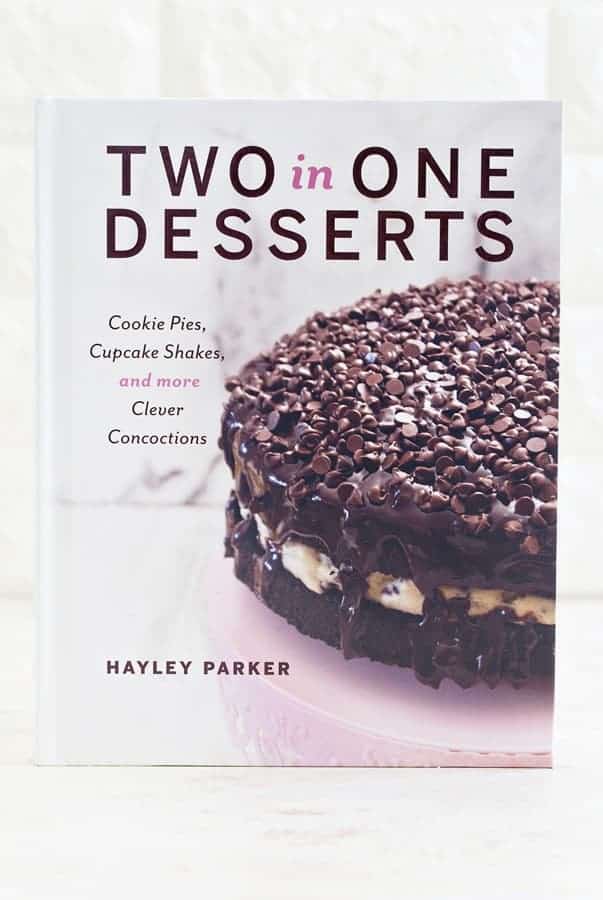 Two In One Desserts is full of just that – two in one desserts. From Brownie-Filled Chocolate Chip Cookies and Muddy Buddy Bars to Tiramisu Pie and these Cinnamon Roll Blondies, there's definitely a decadent dessert hybrid for everyone.
Hayley's recipes are clever, simple and of course – delicious! I like that the recipes are unique, and dare I say, rebellious!
Rather than taking the same old Caramelitas or Brownies from a box (no shame, we've all been there), you've got to try Hayley's Cinnamon Roll Blondies. The icing makes them over the top delicious, and they're just different enough that they'll be the talk of your picnic or party.
Grab this book so you can be a domestic rebel too. And make sure you stop by Hayley's blog for more delectable treats too.
Looking for more bar desserts, be sure to check out these Peach Crumb Bars and these Snickerdoodle Bars!
Post contains affiliate links.