Craving the Chipotle honey vinaigrette but want to make it at home? This copycat Chipotle vinaigrette is quick and easy to make and will satisfy all of your cravings.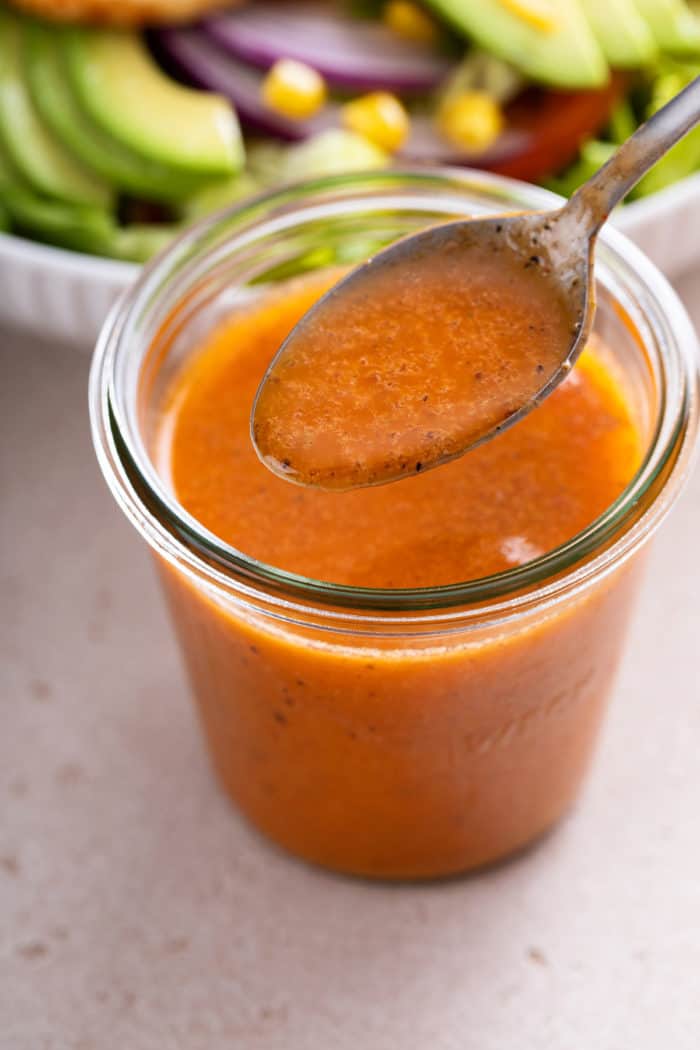 This post contains affiliate links.
I'm not gonna lie to you guys. I spend a lot of time on TikTok.
I know I'm not a Gen Z cool kid, but I love that app, ok? My feed is mostly beauty and food and it's fun to just scroll through.
I've been influenced by TikTok to try a few different recipes before. The cinnamon rolls with heavy cream and the grinder sandwich are now two of my favorite recipes.
So when I saw the Chipotle honey vinaigrette coming up a lot along with the viral quesadilla hack (come back later this week for that one), I knew I had to try my hand at making the famous dressing at home.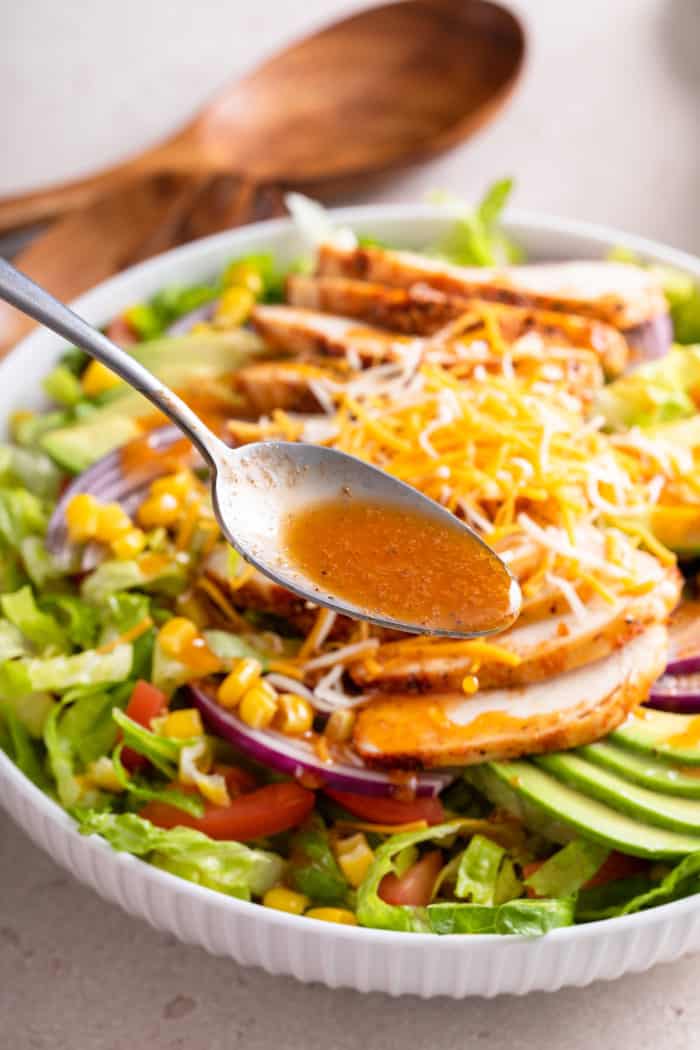 HOMEMADE CHIPOTLE VINAIGRETTE
If you aren't on "FoodTok," let me fill you in. Some TikTok creators figured out how to make a quesadilla at Chipotle that tastes kind of like a Philly cheesesteak.
One of the key components of this quesadilla "hack" is a sauce made by combining sour cream with the Chipotle vinaigrette.
The problem? Chipotle doesn't like giving out their vinaigrette unless you order a salad, so some customers have had a hard time getting to try this out. Other restaurants have had so many people come to order the quesadillas that they have been running out of dressing!
For me, the obvious answer is to make a copycat version of the vinaigrette at home.
After all, when you make it at home, just like when you make Chipotle barbacoa, you can choose to make it just like they do at the restaurant or you can choose to make it spicier!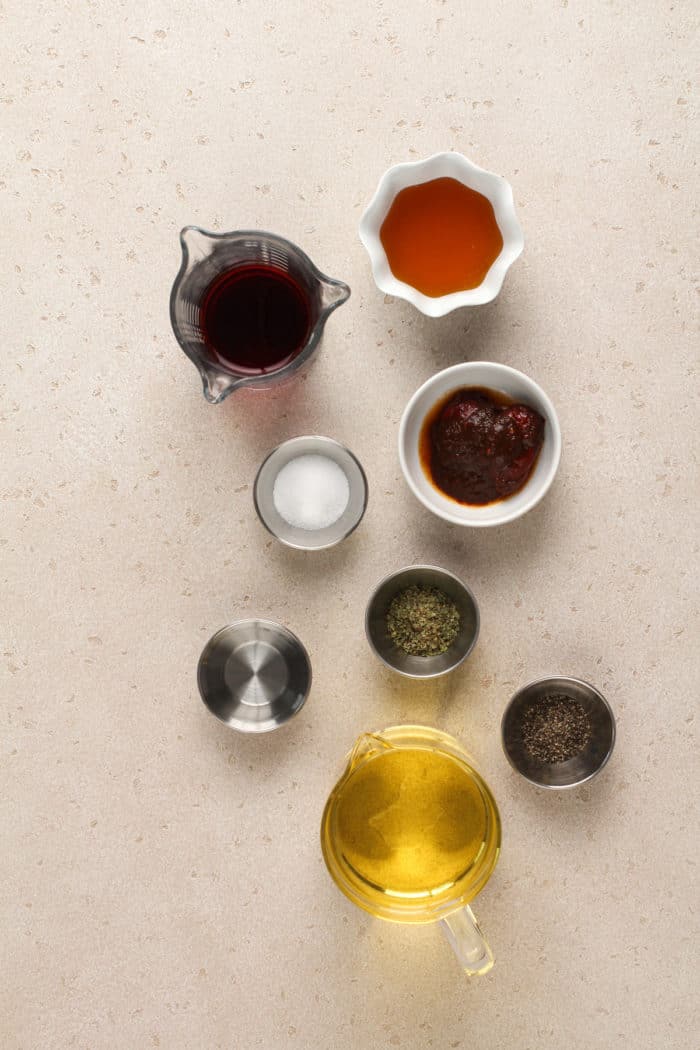 HOW TO MAKE CHIPOTLE HONEY VINAIGRETTE
I did some research before giving this recipe a try and found Chipotle's actual recipe that they use.
The only problem? Their recipe makes a LOT. Ya know, enough for a whole restaurant. So definitely more than any home kitchen could use.
I did the math, made some tweaks, and was able to scale the recipe down and simplify it just a smidge so that anyone can make it home.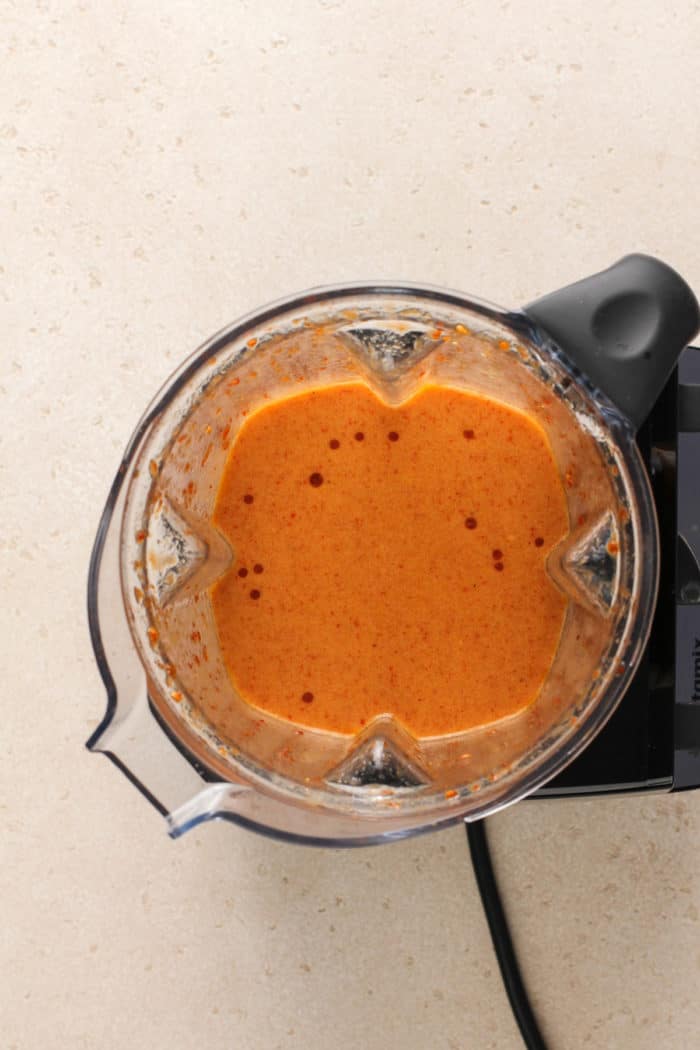 Ingredients you'll need
The Chipotle vinaigrette is smokey with a little bit of heat, a little bit of sweetness, and a little bit of tang.
To get this balance of flavors, you'll need:
½ cup red wine vinegar
Heaping ¼ cup honey
2 tablespoons water
2 tablespoons fine sea salt
2-3 chipotles in adobo, plus 1 tablespoon of the adobo sauce from the can
2 cups vegetable oil
2 teaspoons oregano
1 ½ teaspoons black pepper
At the restaurant, they actually use rice bran oil instead of vegetable oil. But rice bran oil is hard to find and frankly? It's kind of expensive.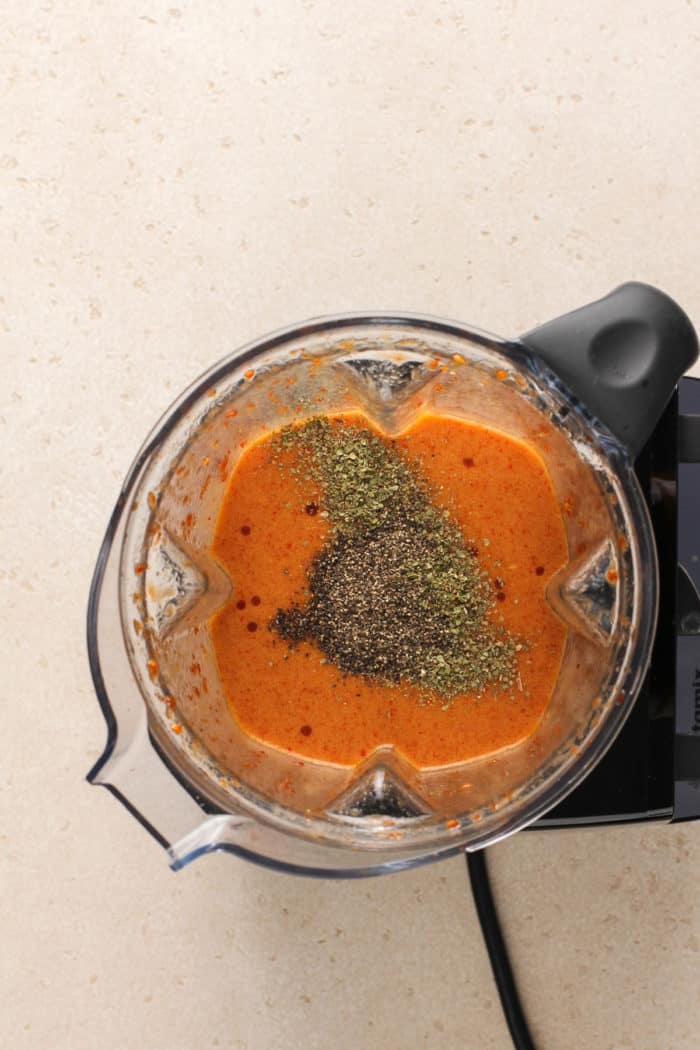 I chose to swap in vegetable oil, but you could use your favorite neutral-flavored oil, such as avocado oil, instead. Or use rice bran oil if you happen to have it on hand!
At my grocery store, it's easier to find canned chipotle peppers in adobo than adobo sauce. So I used a couple of the peppers plus some of the sauce in this dressing.
If you are able to easily find adobo sauce, use 2-3 tablespoons of that instead.
This recipe makes about 1 quart of dressing. If you don't think you can use it all within a few days, I recommend halving the recipe to make a smaller batch.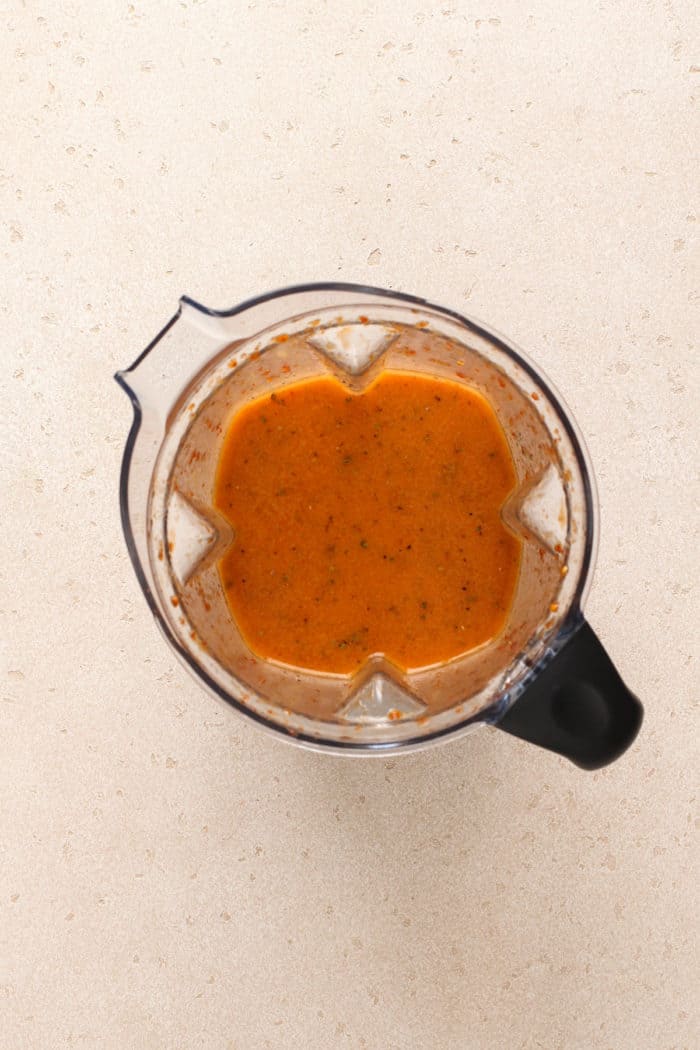 Is this vinaigrette spicy?
While this dressing has a little bit of a kick to it, I wouldn't necessarily say that it's spicy. It's definitely more on the mild side with some smokiness to it.
But since you're making it at home, you can absolutely make it spicy if you want! For more heat, simply use more chipotle peppers and/or adobo sauce.
Making this recipe
To make the Chipotle vinaigrette, you will need a blender or a food processor. This will help you get a smooth dressing and help the oil to emulsify better than whisking it by hand.
To make the dressing, add all of the ingredients except for the oil, oregano, and black pepper to your food processor or blender.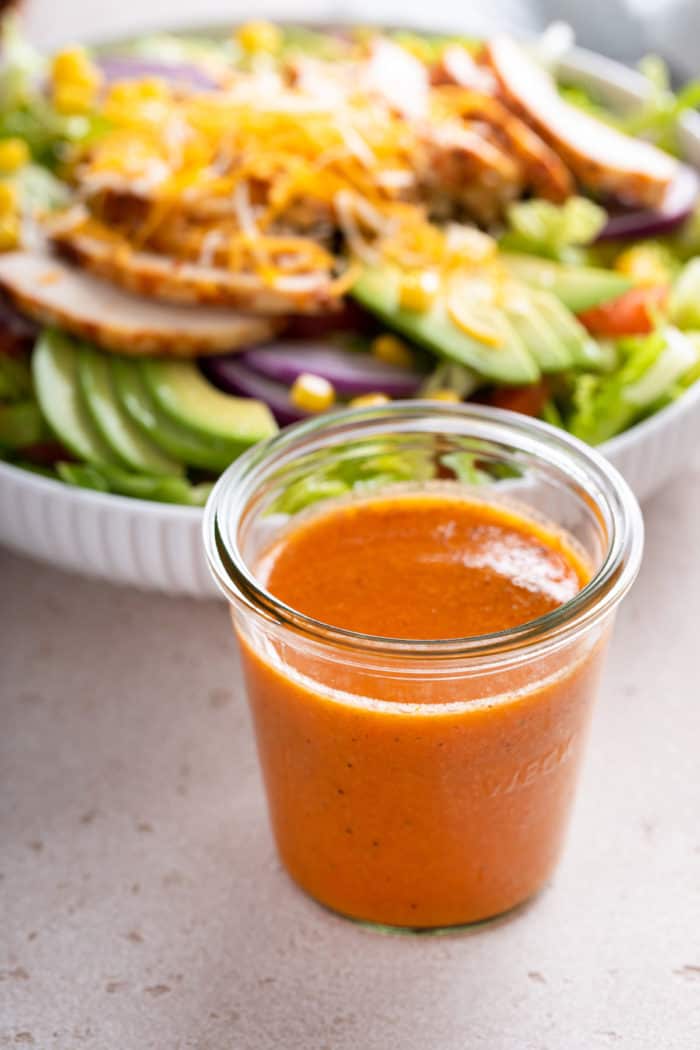 Blend or process on high to combine the ingredients. Then, with the machine still running, slowly add the oil.
As the oil gets blended into the other ingredients, the dressing will emulsify and thicken.
Once you've added the oil, turn off the machine and add the pepper and oregano. Fold this in with a spatula to get the same texture as the dressing at the restaurant.
(If you don't care about the texture being the same, you can blend the oregano and pepper into the dressing instead.)
Give the vinaigrette a taste and adjust seasoning as desired.
Transfer the dressing to a jar and refrigerate for 2-4 days.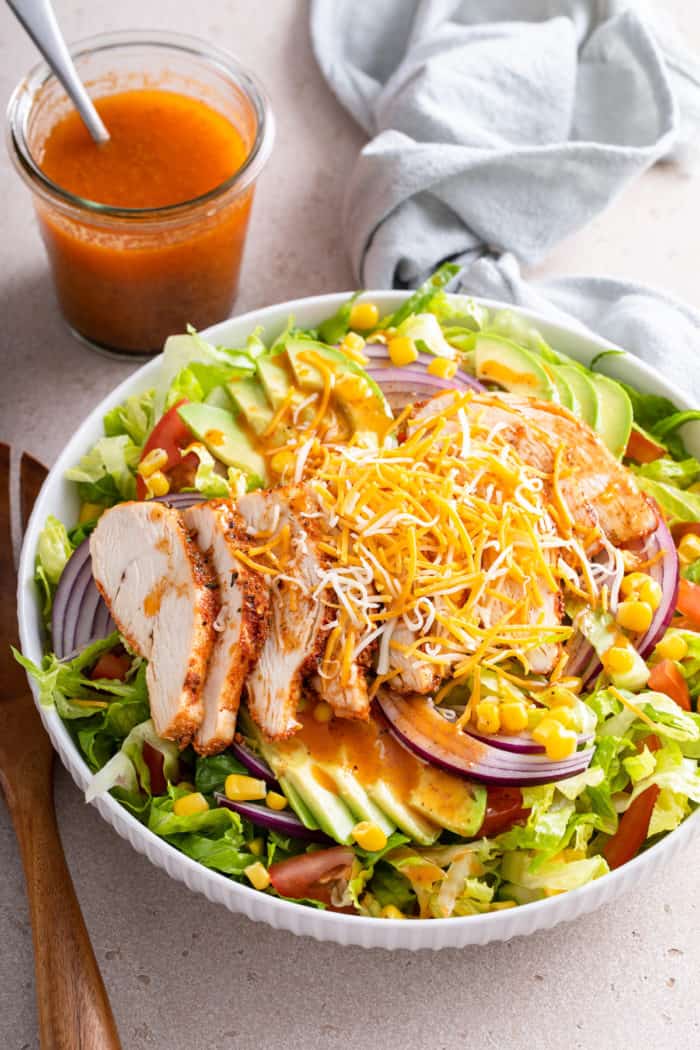 SERVING SUGGESTIONS
At the end of the day, the Chipotle honey vinaigrette is still a dressing, so you can of course go the route of homemade ranch dressing or homemade blue cheese dressing and put it on your favorite salad!
Toss together some lettuce, chipotle chicken, cheese, pico de gallo, red onion, avocado and this dressing for a salad that's out of this world!
Or mix together this dressing with some sour cream for a dipping sauce that's amazing with Chipotle quesadillas, flank steak tacos, or even nachos.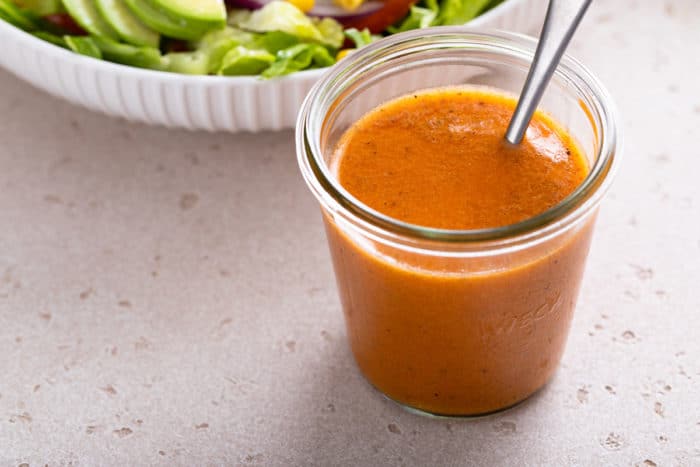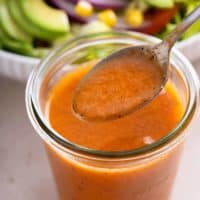 Copycat Chipotle Vinaigrette
Copycat Chipotle vinaigrette is quick and easy to make at home and will satisfy all of your cravings for the famous dressing.
Print
Pin
Ingredients
½

cup

red wine vinegar

Heaping ¼ cup honey

2

tablespoons

water

2

tablespoons

fine sea salt

2-3

chipotles in adobo

plus 1 tablespoon of the adobo sauce from the can (see notes)

2

cups

vegetable oil

2

teaspoons

dried oregano

1 ½

teaspoons

black pepper
Instructions
Add all ingredients except the oil, oregano, and black pepper to a food processor or blender.

Blend on high. With the blender or food processor running, slowly stream in the oil until the dressing is emulsified and thickened. If desired, continue slowly adding more oil for a thicker dressing.

With the machine off, fold in the oregano and black pepper. Taste and adjust seasoning as desired.

Transfer to a quart jar or other airtight container and refrigerate for 2-4 days.
Notes
If your store sells chipotle adobo sauce (just the sauce without the peppers), you can use 2-3 tablespoons of that in place of the peppers and sauce.
For a spicier dressing, use more chipotles and/or adobo sauce.
Note that this dressing will eventually separate and be hard to shake back together, so I recommend using it within 2-4 days. You can halve the recipe for a smaller batch if desired.
Makes 1 quart.
Nutrition
Serving:
0.25
cup
|
Calories:
261
kcal
|
Carbohydrates:
5
g
|
Protein:
0.1
g
|
Fat:
27
g
|
Saturated Fat:
4
g
|
Polyunsaturated Fat:
16
g
|
Monounsaturated Fat:
6
g
|
Trans Fat:
0.2
g
|
Sodium:
873
mg
|
Potassium:
11
mg
|
Fiber:
0.4
g
|
Sugar:
4
g
|
Vitamin A:
5
IU
|
Vitamin C:
0.1
mg
|
Calcium:
6
mg
|
Iron:
0.2
mg
The default measuring system on My Baking Addiction is US Customary. Unit conversions are provided as a courtesy; please be aware that there may be some discrepancies.
Card may contain affiliate links. As an Amazon Associate and member of other affiliate programs, I earn from qualifying purchases.