Think that mousses are difficult to make? Think again! This easy white chocolate mousse is made with cream cheese and without eggs for an amazingly delicious treat that's perfect for any day.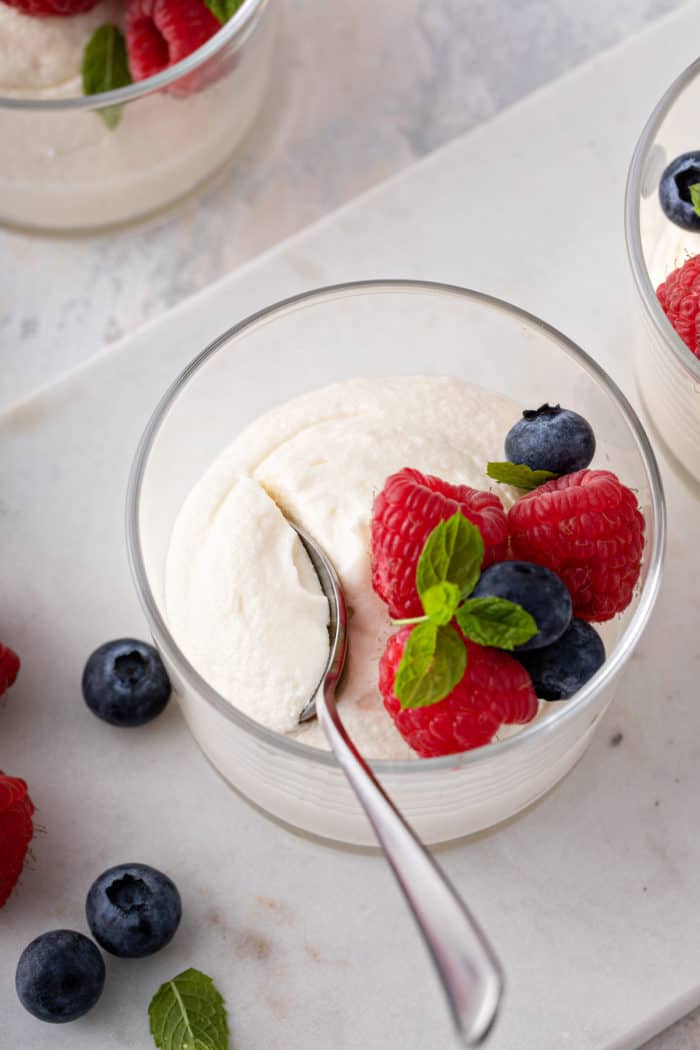 I love discovering that things I thought were complicated to make are actually super easy.
Remember how I taught you all how to brown butter and we discovered that just because a food is French doesn't have to mean it's hard to make?
The same thing applies to this white chocolate mousse!
This recipe came from my friend Erin from Texanerin Baking. We originally brought you this recipe several years back, but I decided it was time to remind everyone of how simple and delicious it is.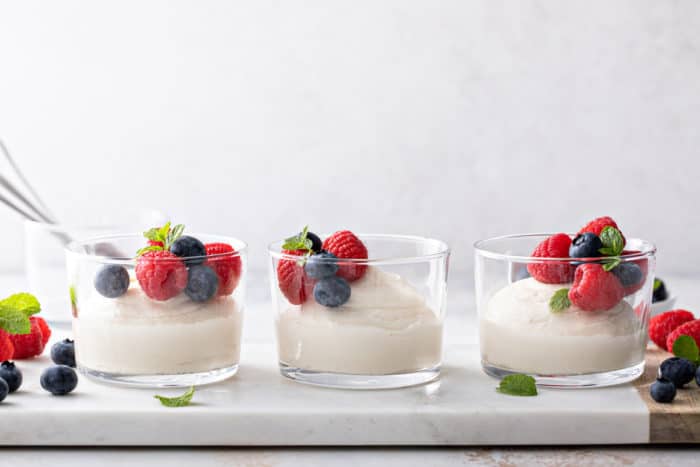 WHAT IS MOUSSE?
The word "mousse" comes from the French word for "foam" – which is a pretty good definition of what a mousse is!
Mousses can be sweet or savory and include a whipped element – usually cream or eggs – to give them their light and fluffy texture. Mousses can often include gelatin as an additional stabilizer.
What's the difference between mousse and pudding?
Sweet mousses are the cousin to pudding.
Unlike homemade vanilla pudding or chocolate pudding which has a thick, creamy texture, mousses have a light and airy (almost fluffy) texture.
Both desserts can be served on their own or be used in other applications, such as cake fillings.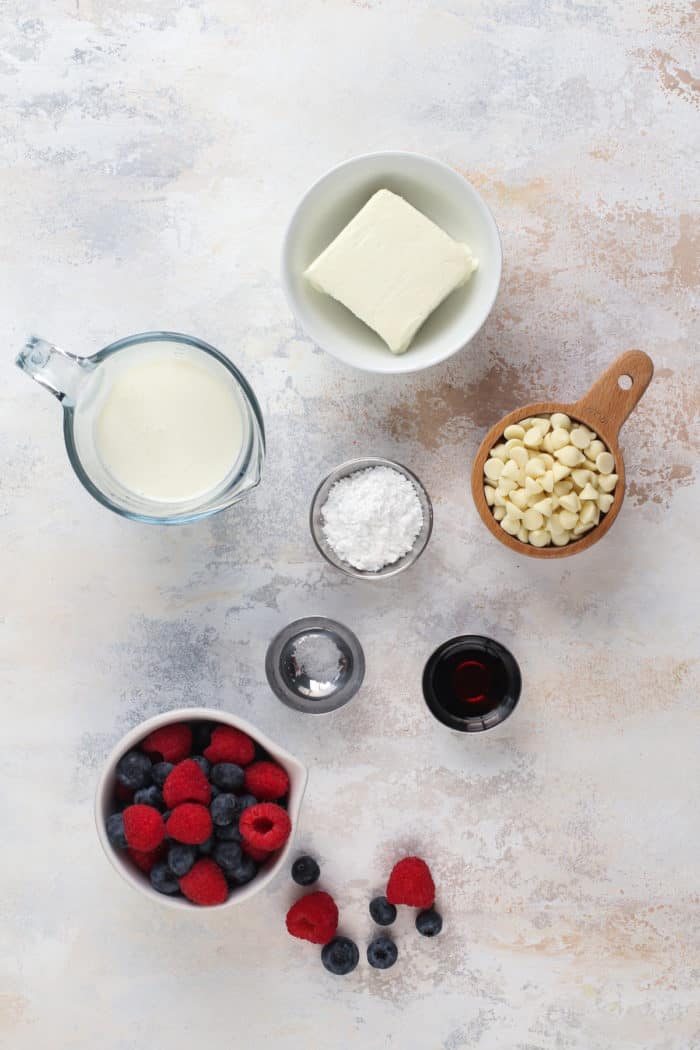 WHITE CHOCOLATE MOUSSE WITHOUT EGGS OR GELATIN
One reason that I love today's recipe is that it doesn't have any eggs.
I don't have anything against eggs but I don't like eating them raw. And the mousse recipes that call for cooked eggs usually require a few extra steps.
So here we have a fuss-free and egg-free version! All you do is melt white chocolate, whip whipping cream, and then mix them together and add in a few other ingredients.
This recipe also does not need gelatin to stabilize it. That makes it perfectly safe for folks who can't eat eggs or gelatin!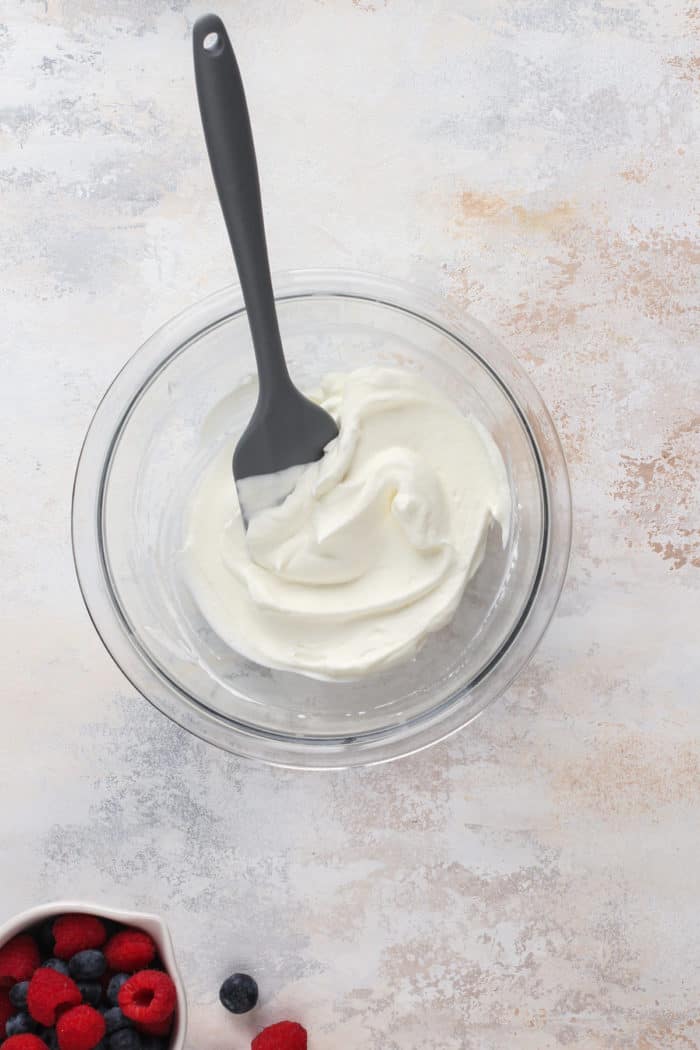 HOW TO MAKE THIS EASY WHITE CHOCOLATE MOUSSE
It doesn't get much easier than this white chocolate mousse.
It requires only a handful of simple ingredients and a few easy steps to make – but it'll impress anyone you serve it to.
Ingredients you'll need
There are just a few ingredients you'll need to make this simple dessert:
1/2 cup whipping cream: If you don't have any whipping cream, I'm pretty sure heavy cream would be okay. It'll just be firmer. Half-and-half would not work!
1/2 cup chopped white chocolate or white chocolate chips: The white chocolate pairs so well with the cream cheese in this mousse. I also don't recommend using semi-sweet chocolate in place of the white chocolate. It could work out, but I haven't tried it.
4 ounces cream cheese, softened: If you forget to set out your cream cheese ahead of time, use my tips for how to soften cream cheese quickly.
1-3 tablespoons powdered sugar, divided: There's a range given for the amount of sugar because the sweetness of white chocolate seems to vary a lot. One tablespoon of sugar was enough for us but you may want another 1-2 tablespoons. You can easily add that in at the very end.
1/2 teaspoon vanilla extract & a pinch of salt: Don't skip either of these! They add flavor and help balance out the sweetness of the mousse.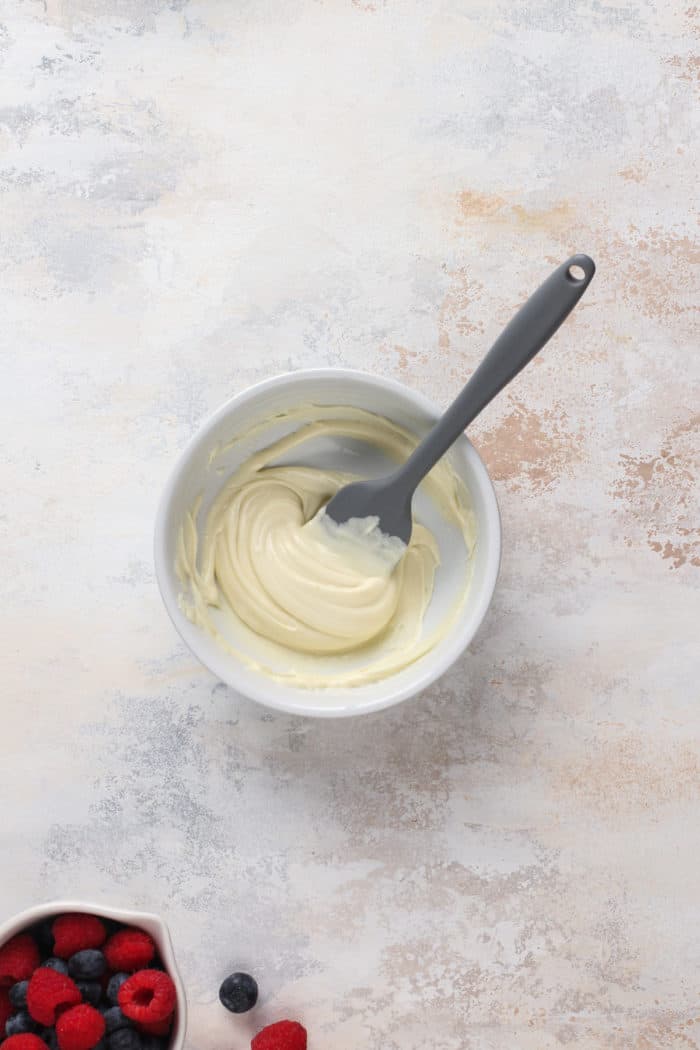 Making this recipe
If you've made homemade whipped cream, you're halfway to having made this white chocolate mousse.
In one bowl, use a hand mixer to beat the whipping cream to stiff peaks. Set the whipped cream aside.
Grab a microwave-safe bowl, set your microwave to 50% power, and melt the white chocolate in 30-second intervals. Set this aside as well.
In a third (and final) bowl, beat the cream cheese with 1 tablespoon of the powdered sugar until light and fluffy. You can use the same beaters that you used for the whipped cream; no need to wash them!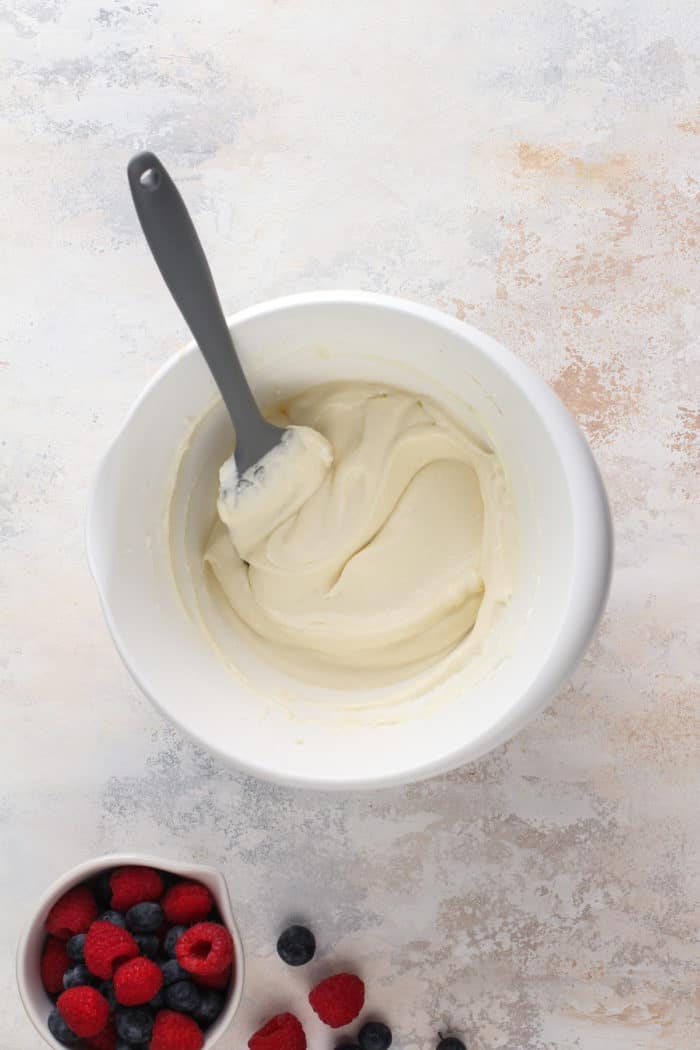 Beat in the melted white chocolate along with the vanilla and salt until the mixture is smooth.
Now it's time to ditch your mixer for a spatula. Use a spatula to fold the whipped cream into the cream cheese mixture.
This might take a bit of folding to combine, but try to be patient. If it's not combining easily, you can use the mixer on the very lowest setting to mix it in until just combined, but I'd only do this as a last resort!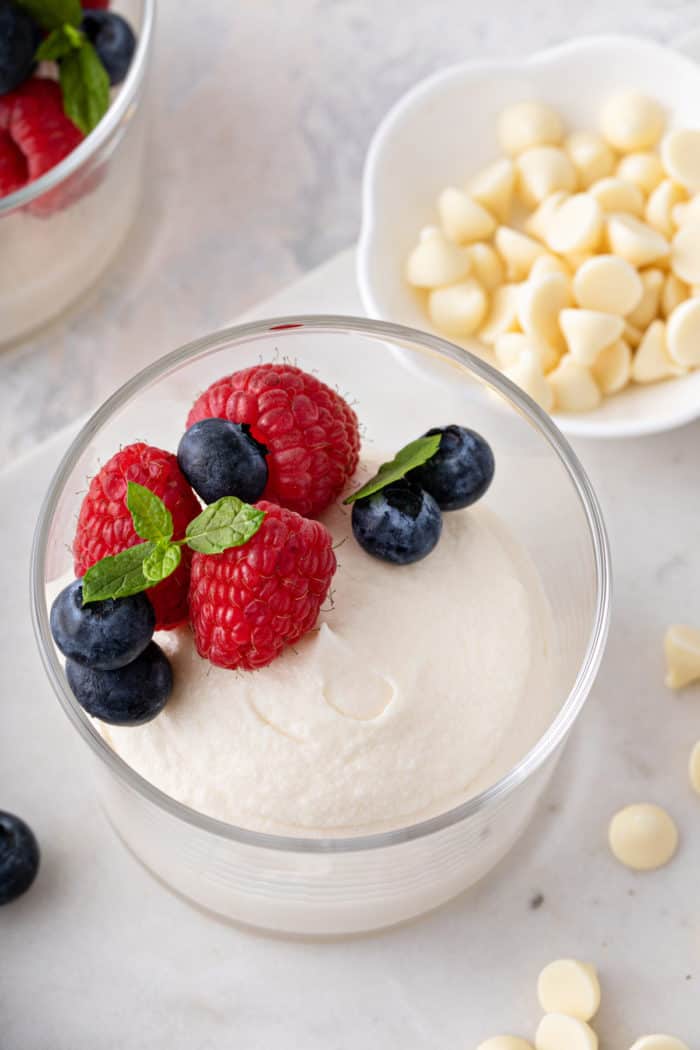 Remember that being gentle with the cream will help keep those air bubbles we want in a nice fluffy white chocolate mousse.
At this point, you can taste the mousse for sweetness and fold in an additional 1-2 tablespoons of powdered sugar until it is just right.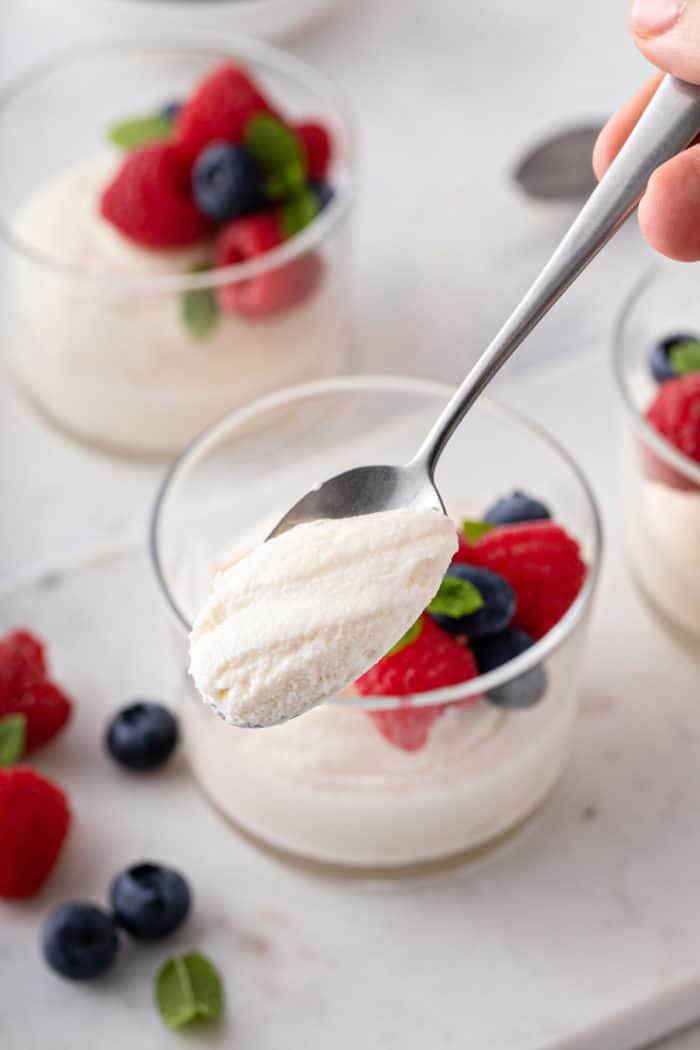 SERVING SUGGESTIONS
The most classic way to serve this white chocolate mousse is in a serving dish along with fresh berries.
Spoon or pipe the mousse into your favorite serving dishes. You can serve it right away or refrigerate it until serving for a firmer texture.
Top with your favorite fresh berries just before serving. I think raspberries are the perfect combination with the white chocolate and cream cheese.
(If you also love that combo, try these no-bake mini raspberry cheesecakes, which is probably one of my favorite recipes ever.)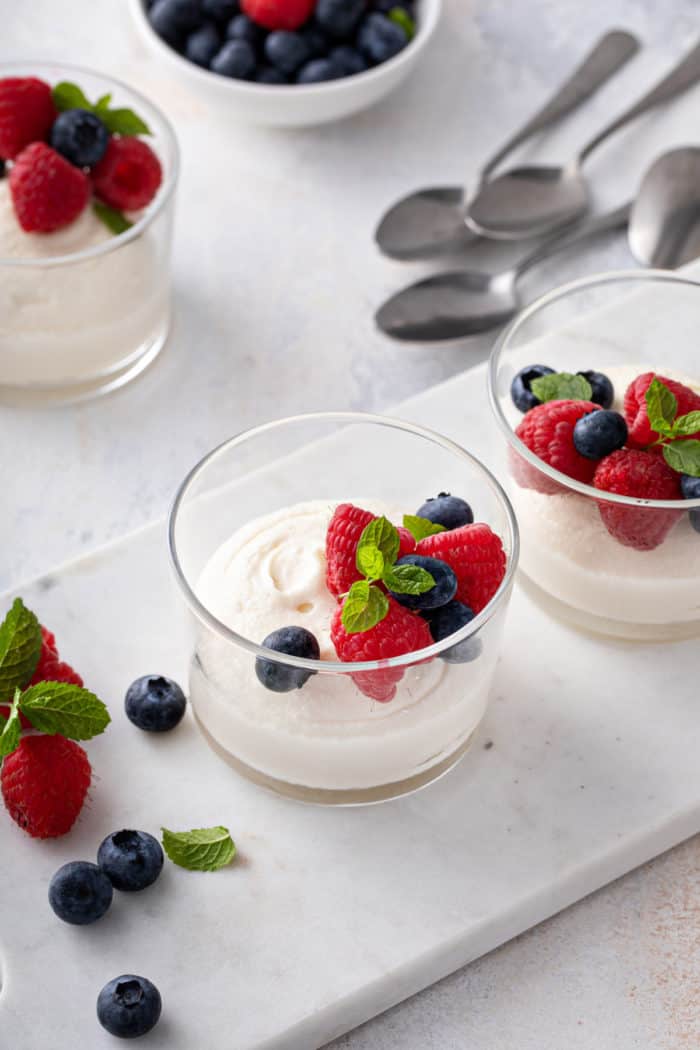 You could also layer the mousse with sweetened whipped cream and the berries. You could even add in some crushed cookie crumbs if you'd like.
Another way to serve this white chocolate mousse is as a filling for cakes or cupcakes. It would be great paired with pumpkin spice cupcakes or the best chocolate cake.
Whether you serve this easy white chocolate mousse as-is for a date night in or a dinner party or use it as part of another recipe, it's a simple that is sure to impress!