Homemade Banana Pudding is a classic for a reason! Homemade vanilla pudding layered with bananas, vanilla wafer cookies and whipped cream is the ultimate comfort food.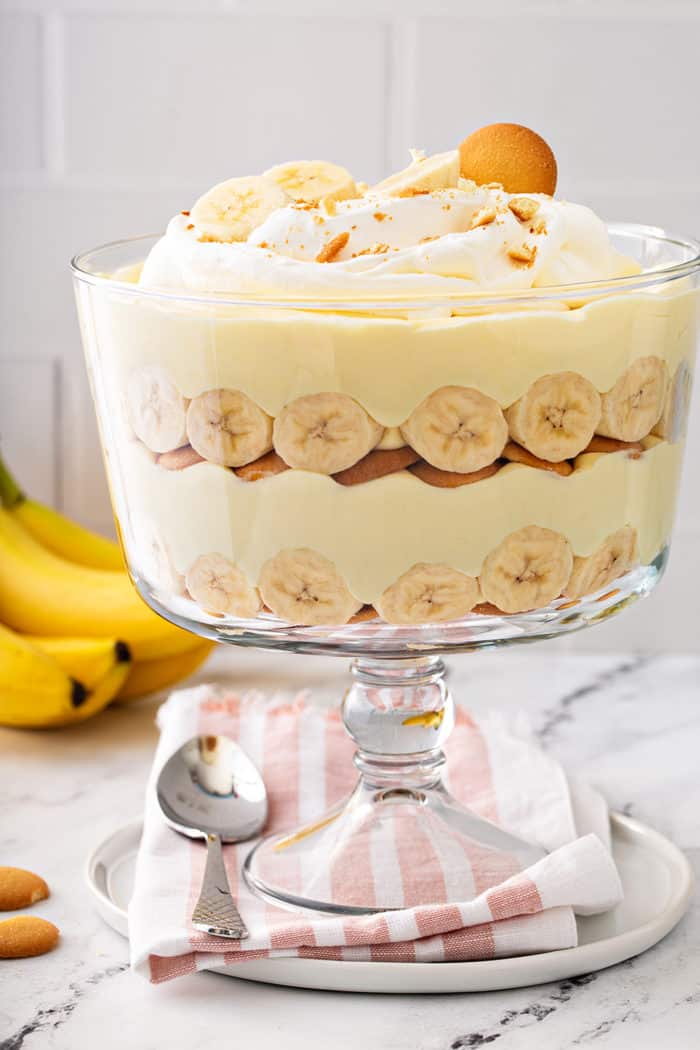 If there were ever a dessert – aside from cheesecake that I'd say I am obsessed with, it would be Banana Pudding.
Whether it is homemade, a super simple version with packaged ingredients, or even this easy Banana Cream Pie Fluff, I simply don't think you can wrong with bananas, whipped cream and vanilla wafers. It's pretty much my favorite flavor combo at the moment, so you'll be seeing a few more banana cream recipes in the coming weeks.
Homemade Banana Pudding is so simple to make – even from scratch and it can feed a crowd if you double the recipe for a trifle dish, which is why it's ranks as one of my top 5 potluck recipes. But it also keeps pretty well in the fridge, so if you're not feeding a crowd, you can have this as a delicious dessert or snack throughout the week.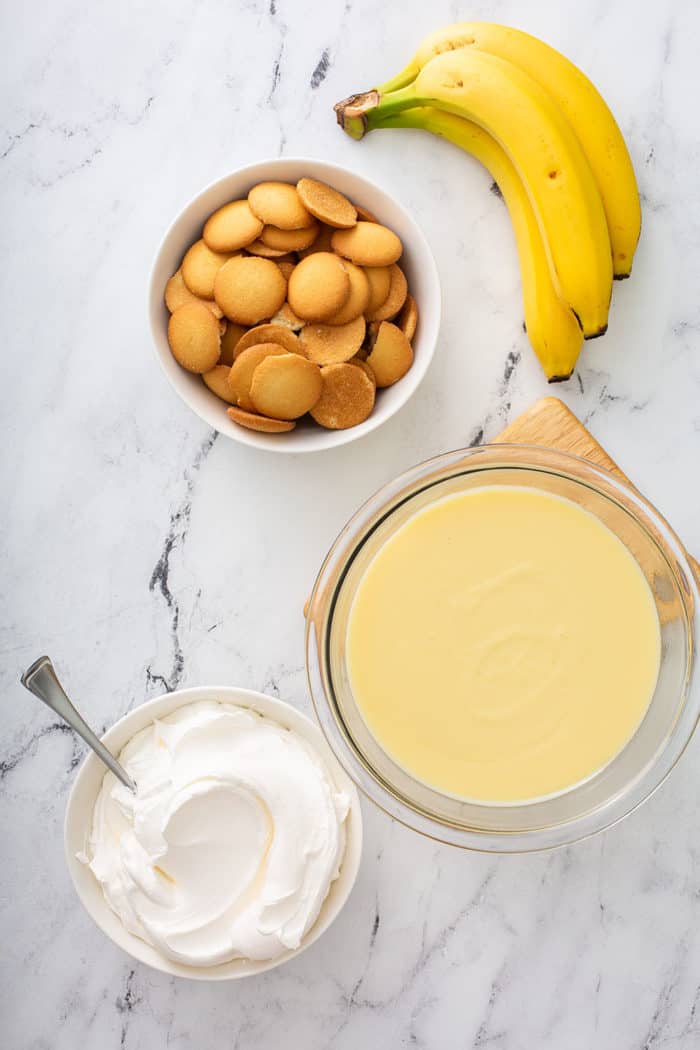 HOMEMADE BANANA PUDDING
As I said, I love banana pudding. I have made plenty of banana desserts and yet somehow it's hard to beat a classic banana pudding.
There's just something about the layers of Nilla wafer cookies, sweet and creamy vanilla pudding, fresh bananas, and pillowy whipped cream. I could eat it all day long.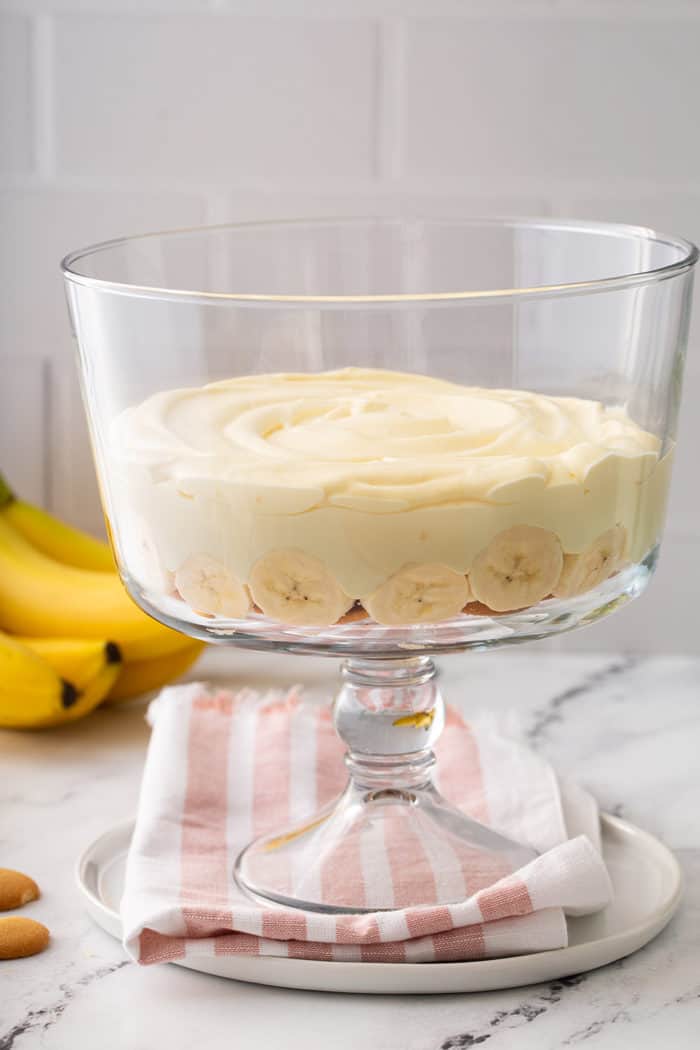 There are lots of ways to make an easy banana pudding with pudding mix or even Cool Whip. But sometimes I just want to make a Homemade Banana Pudding with Homemade Vanilla Pudding and Homemade Whipped Cream.
Homemade everything!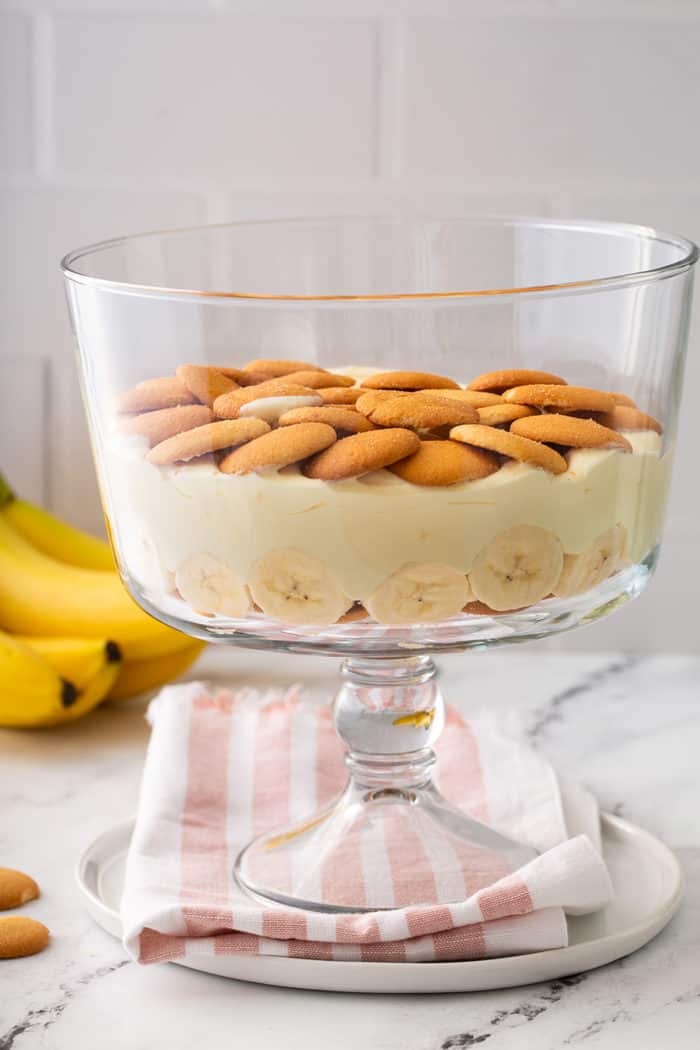 Ok, not quite. I don't make my own Nilla wafers, although you totally could! Homemade vanilla wafers would be delicious – I just never feel like making them.
Don't worry that making your own banana pudding from scratch is hard. It's a lot easier than you think!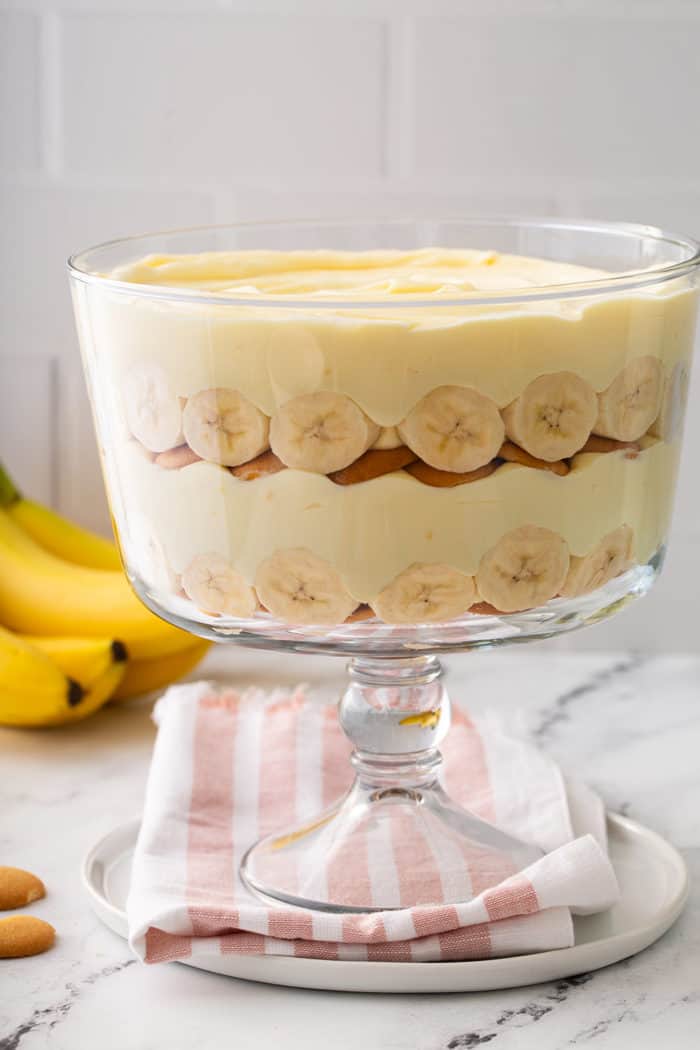 HOW TO MAKE BANANA PUDDING FROM SCRATCH
First, you'll want to get the components of your Homemade Banana Pudding ready to go:
Make homemade vanilla pudding according to my recipe
Slice 3-4 bananas
Whip up some homemade whipped cream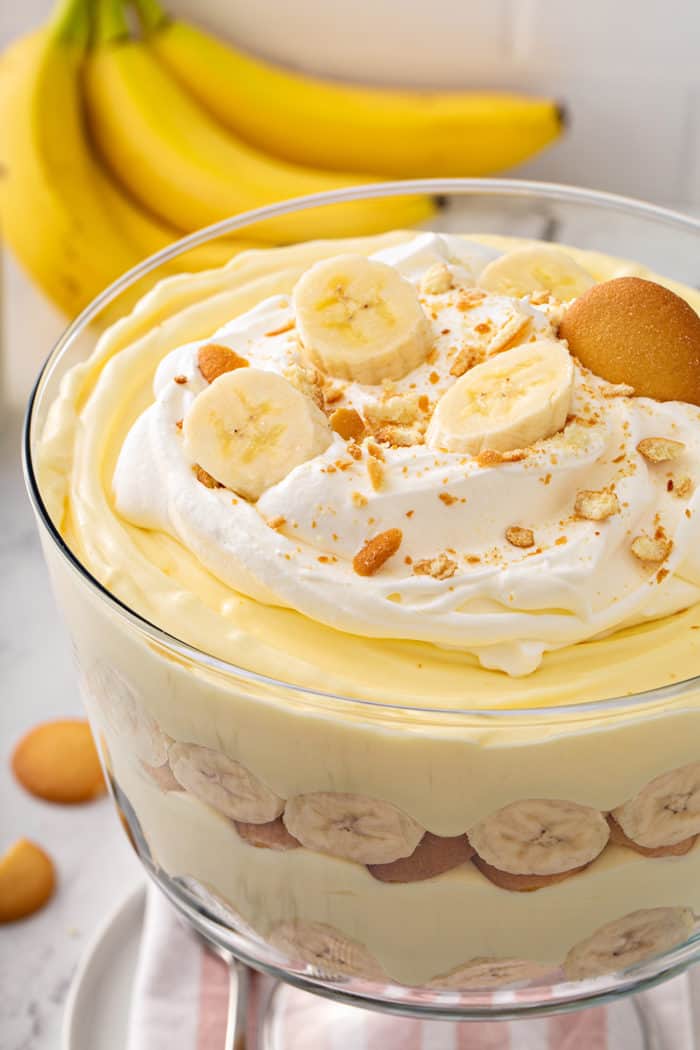 As soon as the pudding comes off the stove and you whisk in the butter and vanilla, grab your favorite baking dish. Line the bottom of the dish with a layer of Nilla wafer cookies, topped with a layer of sliced bananas.
Pour half of the warm pudding over the sliced bananas. Repeat the cookie, banana, and pudding layers one more time.
Place a layer of plastic wrap over the pudding so that the plastic touches the top of the pudding. This will prevent a skin from forming while it chills.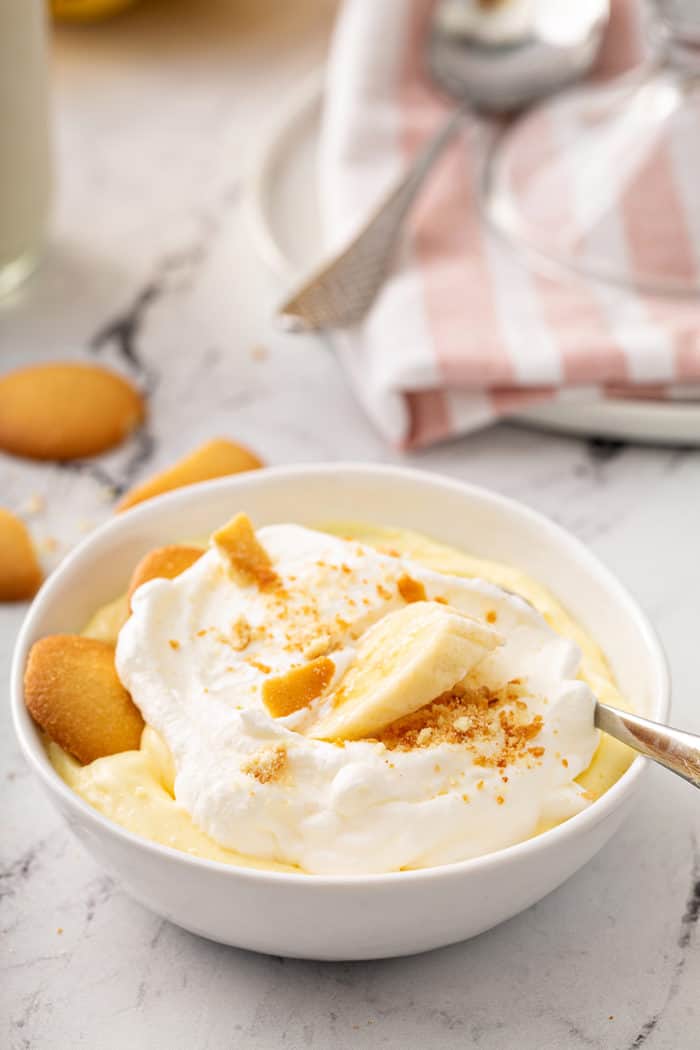 Let the pudding chill for at least 4 hours. Before serving, top with as much whipped cream as you desire. Garnish with more cookies and banana slices.
One batch of pudding will fill a 2 to 2 ½ quart baking dish. If you'd like to make your banana pudding in a trifle dish like you see in these photos, I recommend doubling the recipe to fill the dish.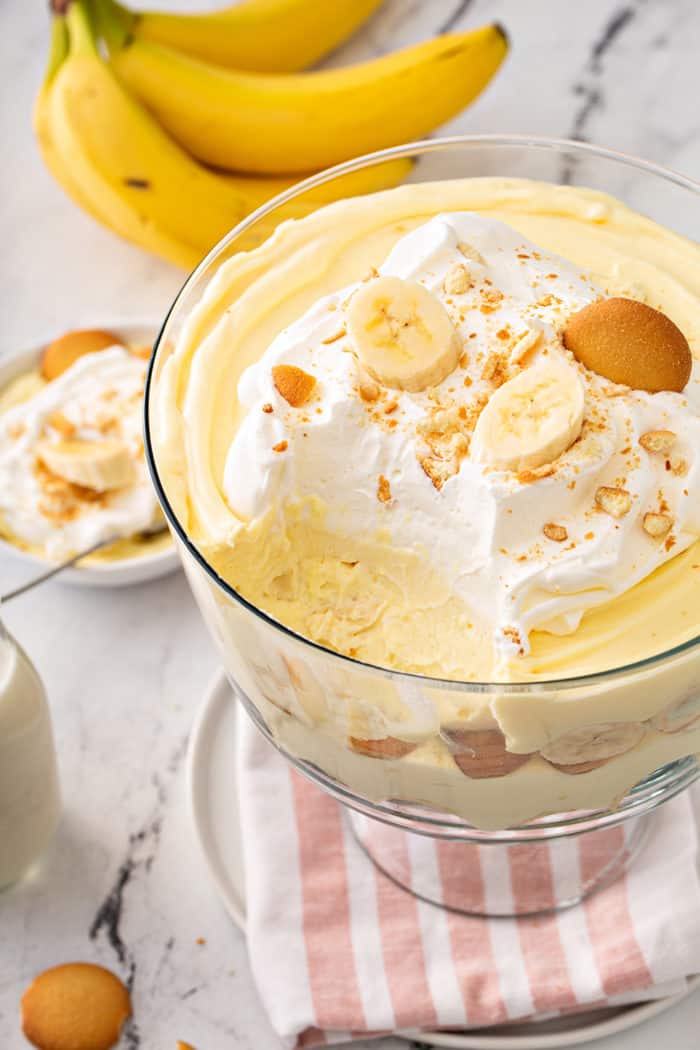 MORE BANANA DESSERT RECIPES
I don't know what it is about spring that makes me want to make all of the banana desserts. If you are also craving all sorts of banana goodness, check out four more of my favorite banana dessert recipes.