Have you ever made simple syrup at home? Once you know how to make simple syrup yourself, you'll never bother buying this pantry and cocktail-making staple at the store again!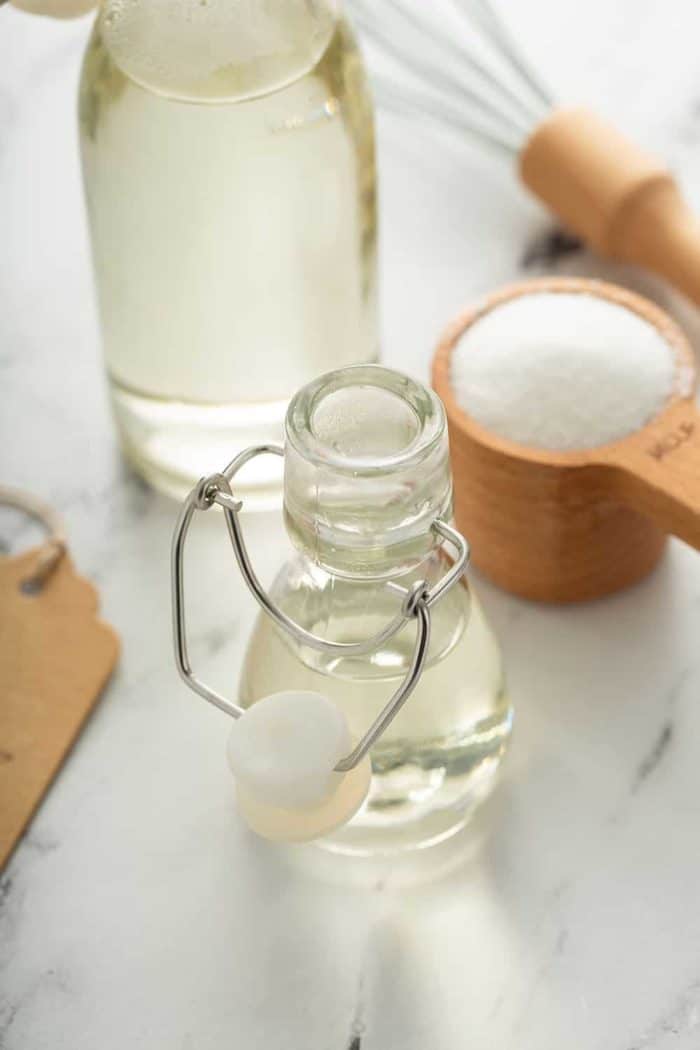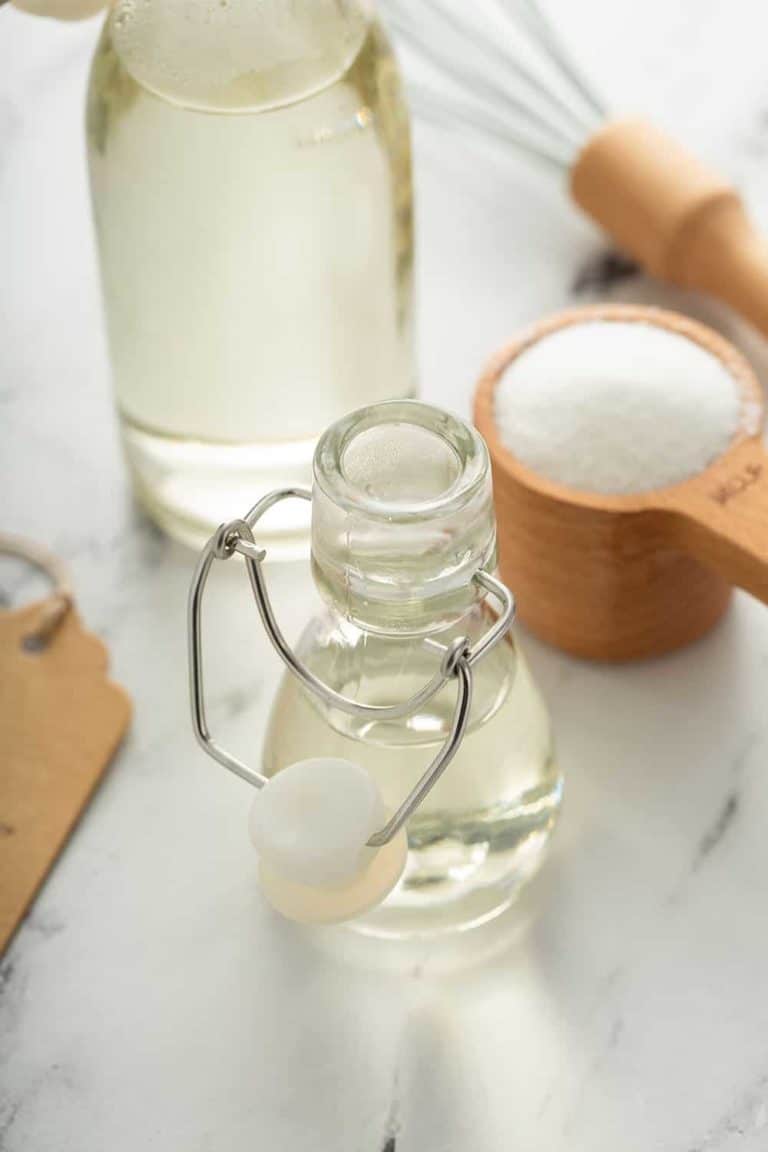 I've mentioned before that there are a lot of things I like to make at home instead of buying at the store.
Now, don't get me wrong. I don't like to make everything at home.
Puff pastry? I could totally make it but I'd rather buy it.
Graham crackers? Sure, homemade ones are delicious but when I'm making graham cracker crust or eclair cake, I'd rather just buy them.
But other staples are totally worth making at home, especially when I can make them in batches and store them in the pantry, refrigerator, or freezer.
I'm talking about things like apple pie spice, chili seasoning, cherry pie filling, and simple syrup.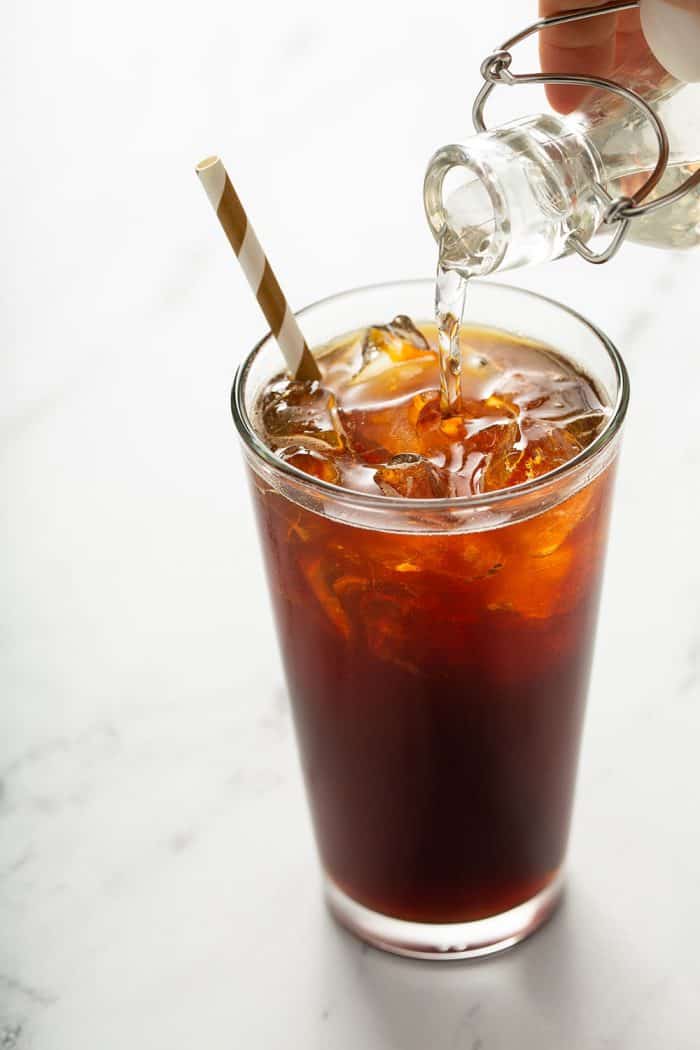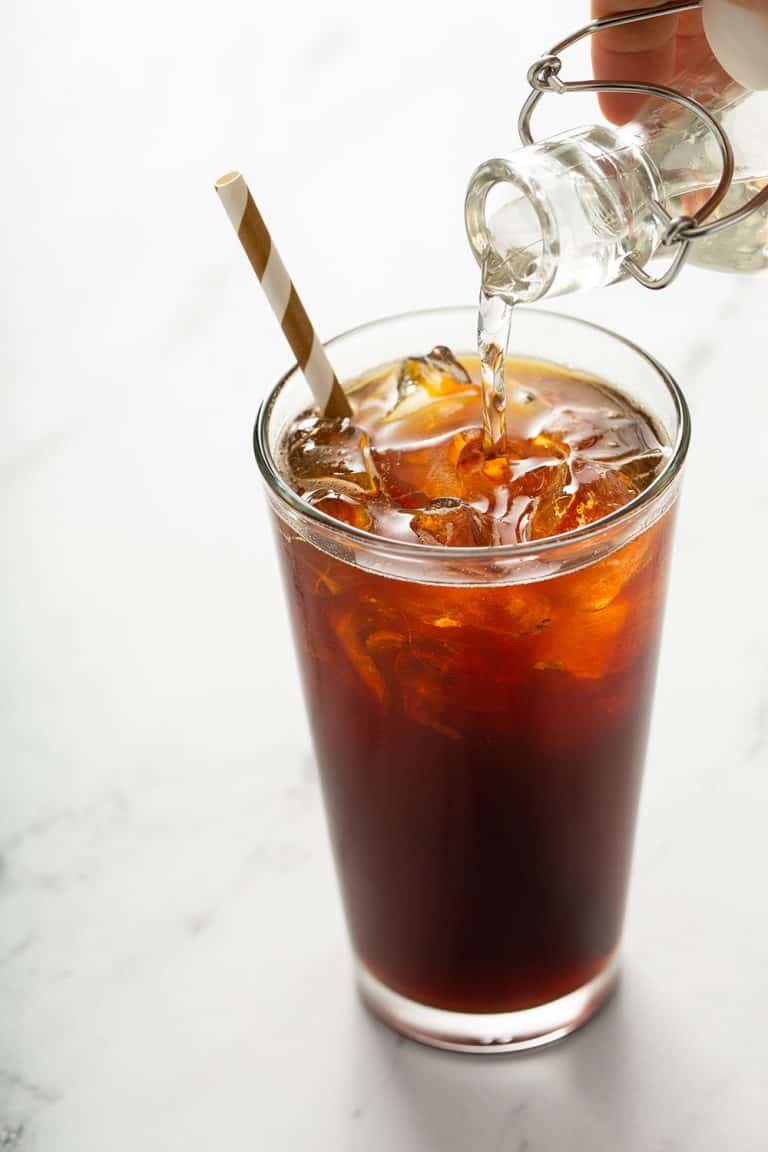 THE MOST COMMON SIMPLE SYRUP RATIO
The most basic simple syrup is just water and granulated sugar combined in a 1-to-1 ratio. That is, equal parts water and sugar.
Even though this is the most common ratio, that doesn't mean you're stuck with it! You can always add a bit more water or a bit more sugar to make the syrup thinner or thicker.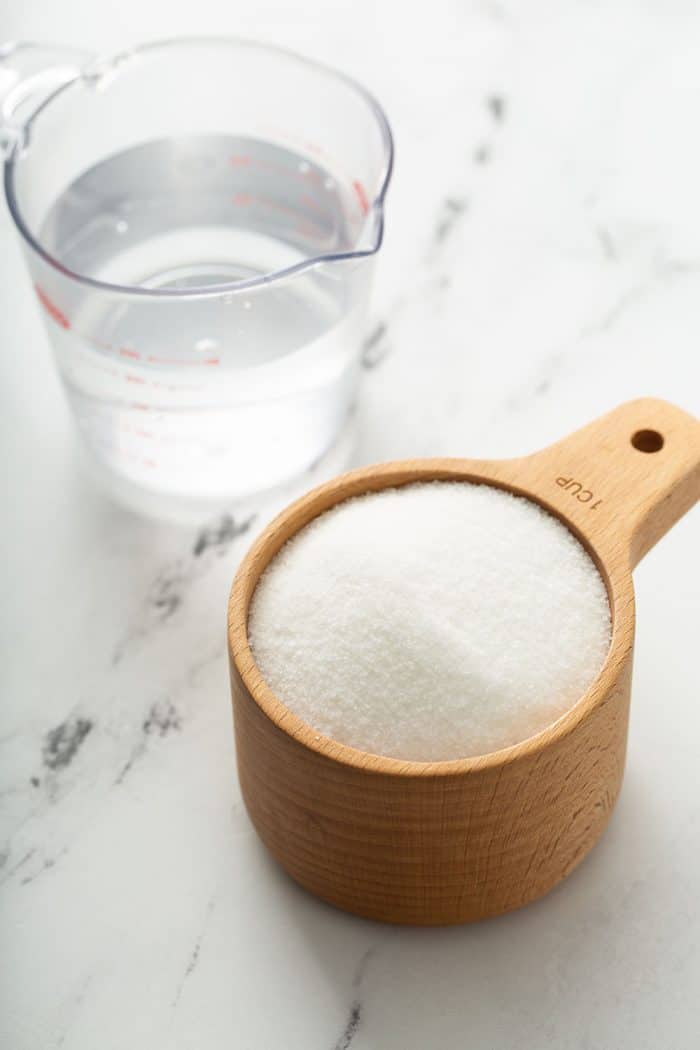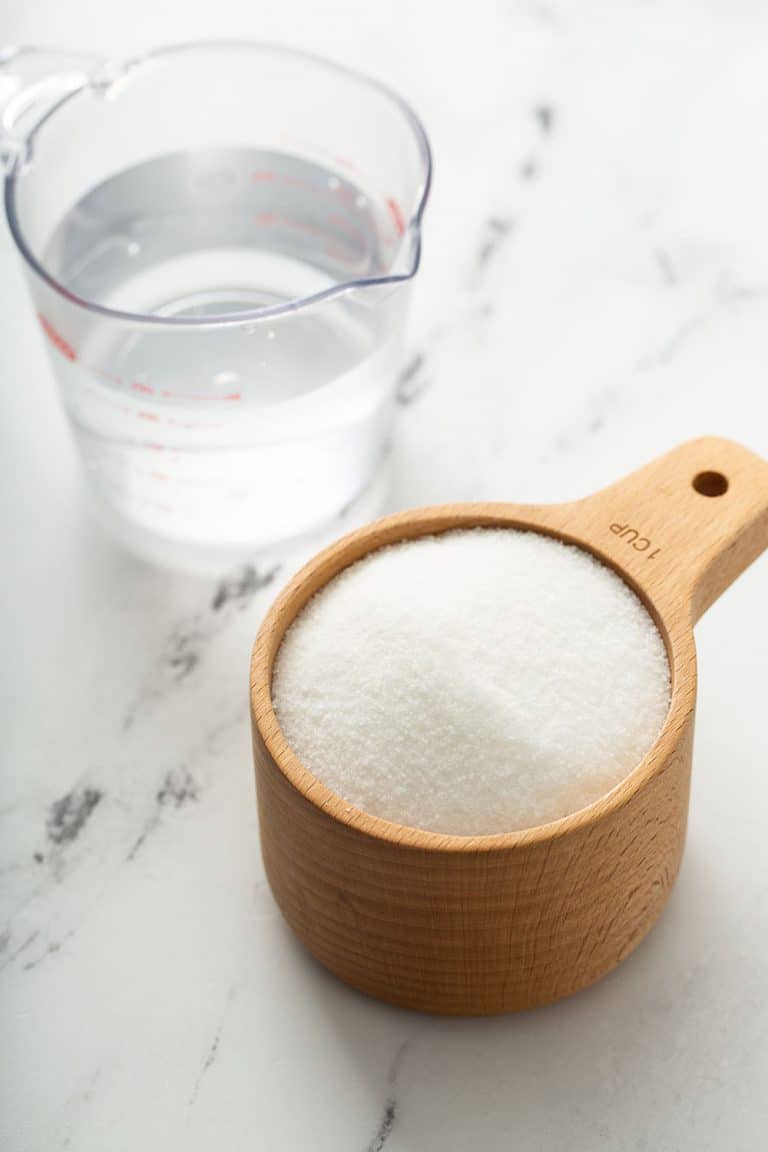 SIMPLE SYRUP USES
Have you ever tried to sweeten a glass of iced tea or iced coffee with plain sugar and been stuck with a bunch of grainy sugar at the bottom of the glass?
This is why we need simple syrup in our lives.
It mixes much better with cold liquids, so it can be used in any place where granulated sugar might not dissolve.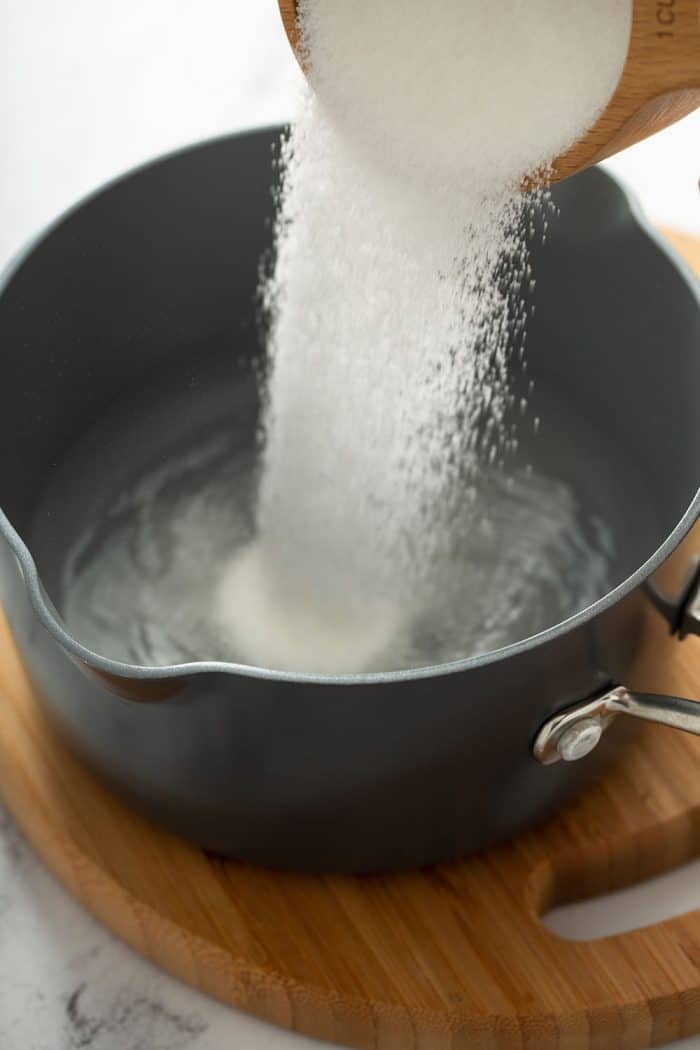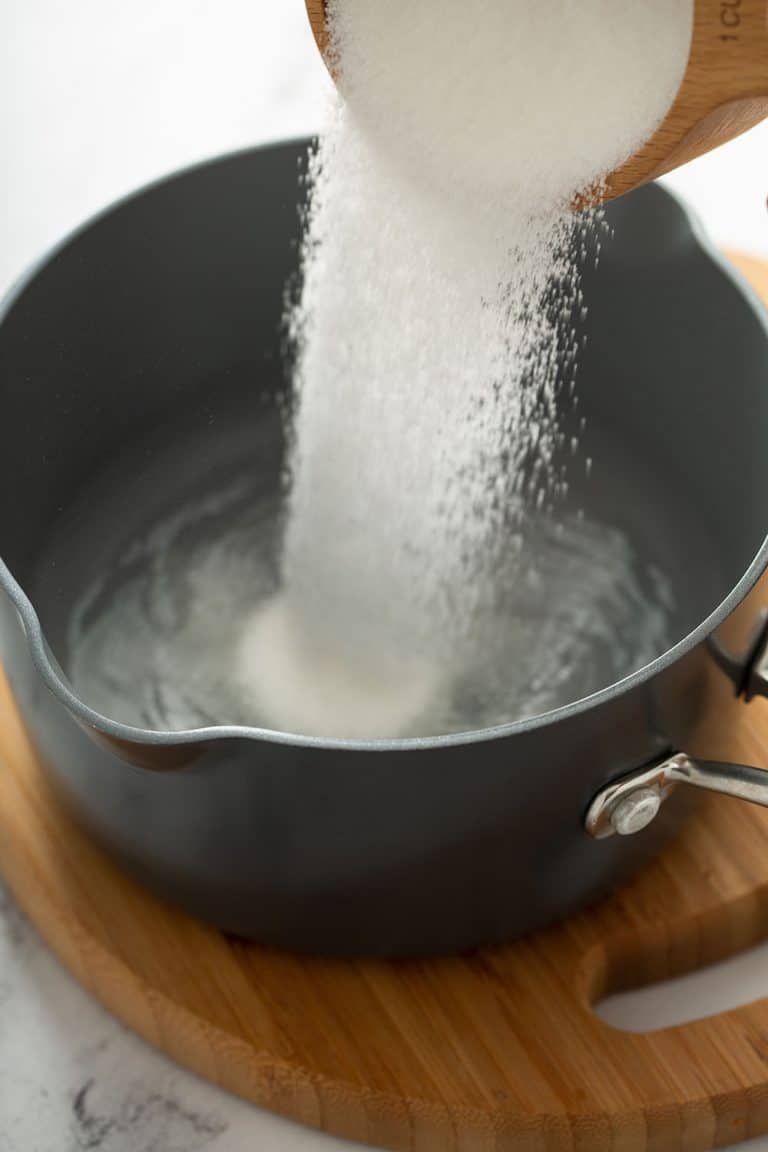 It's perfect for sweetening iced tea, iced coffee, cocktails, or any other cold drink, such as Homemade Strawberry Lemonade.
It's not just for drinks, though! Many cake decorators use it to moisten cakes before assembling and decorating them. It lightly sweetens the cake and helps keep it moist, especially if it has to be refrigerated before serving.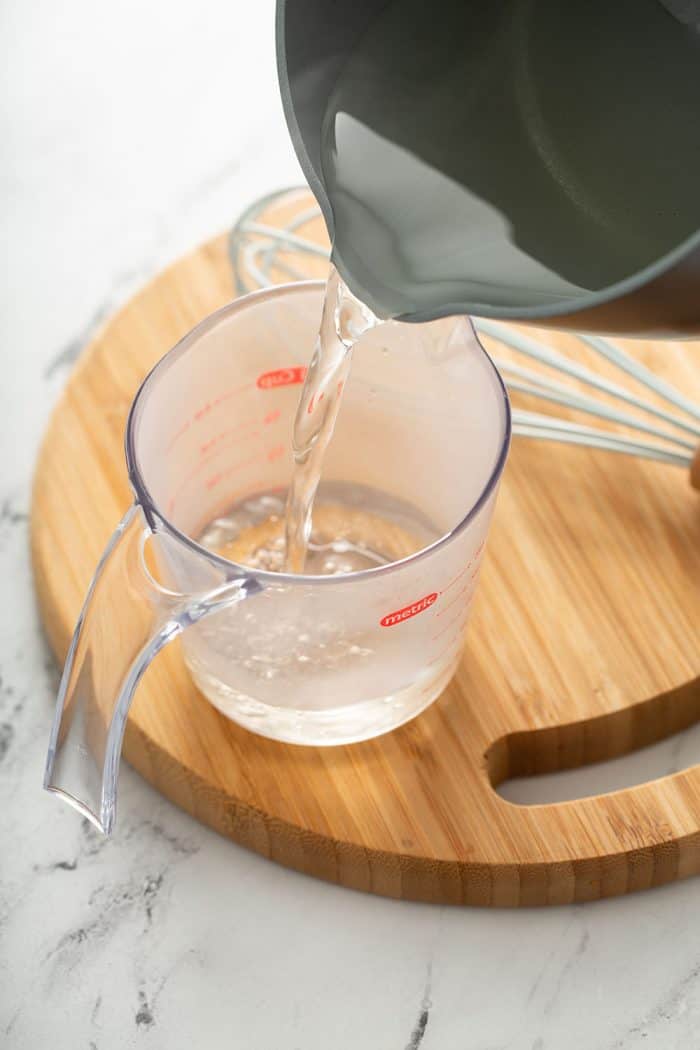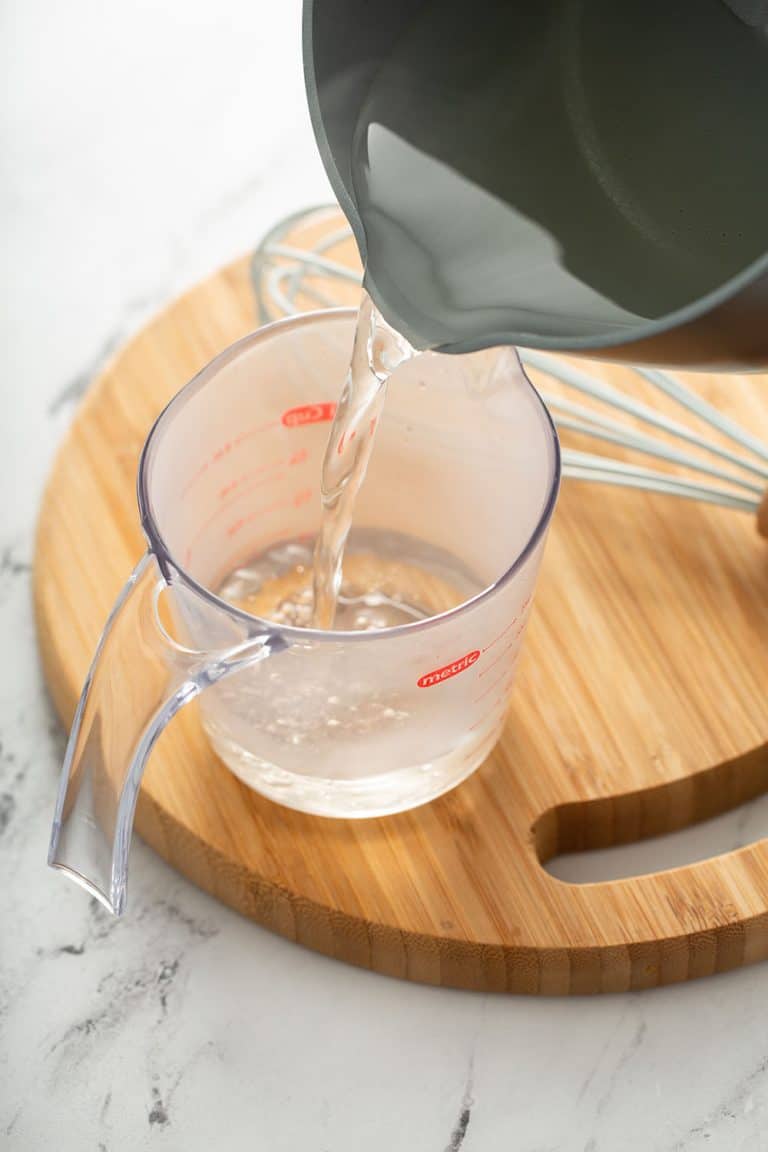 HOW TO MAKE SIMPLE SYRUP
Once you learn how to make simple syrup, you'll be shocked that you never tried it before! It's so easy.
The most basic simple syrup recipe is made in just a couple steps:
Combine equal amounts of water and granulated sugar in a saucepan
Bring to a boil
Let simmer until the sugar fully dissolves
Allow to cool before storing!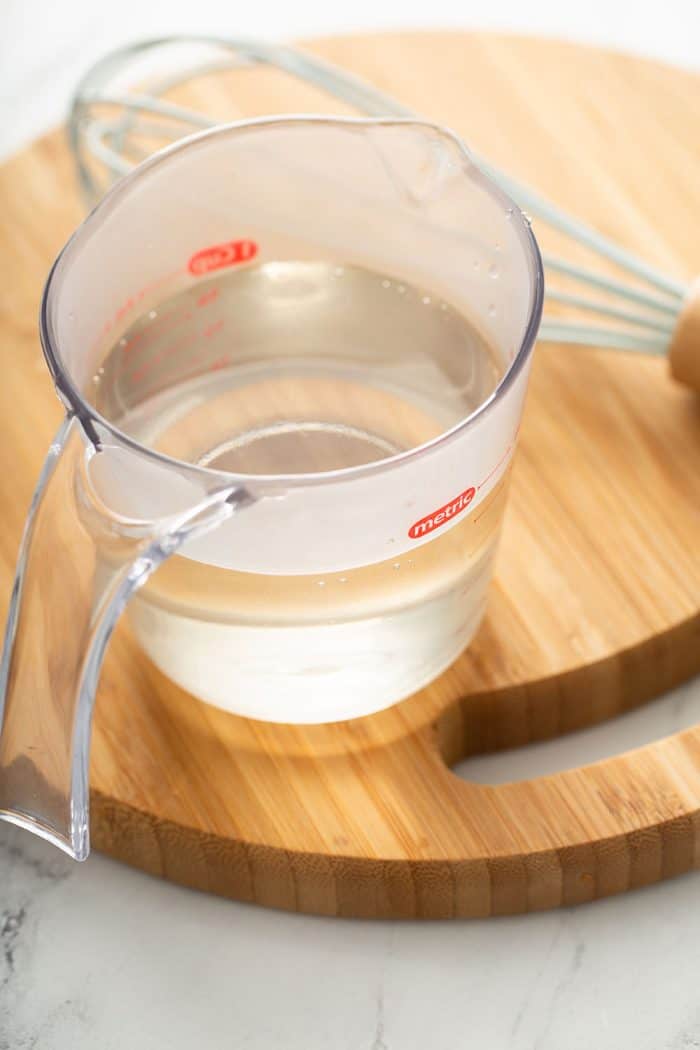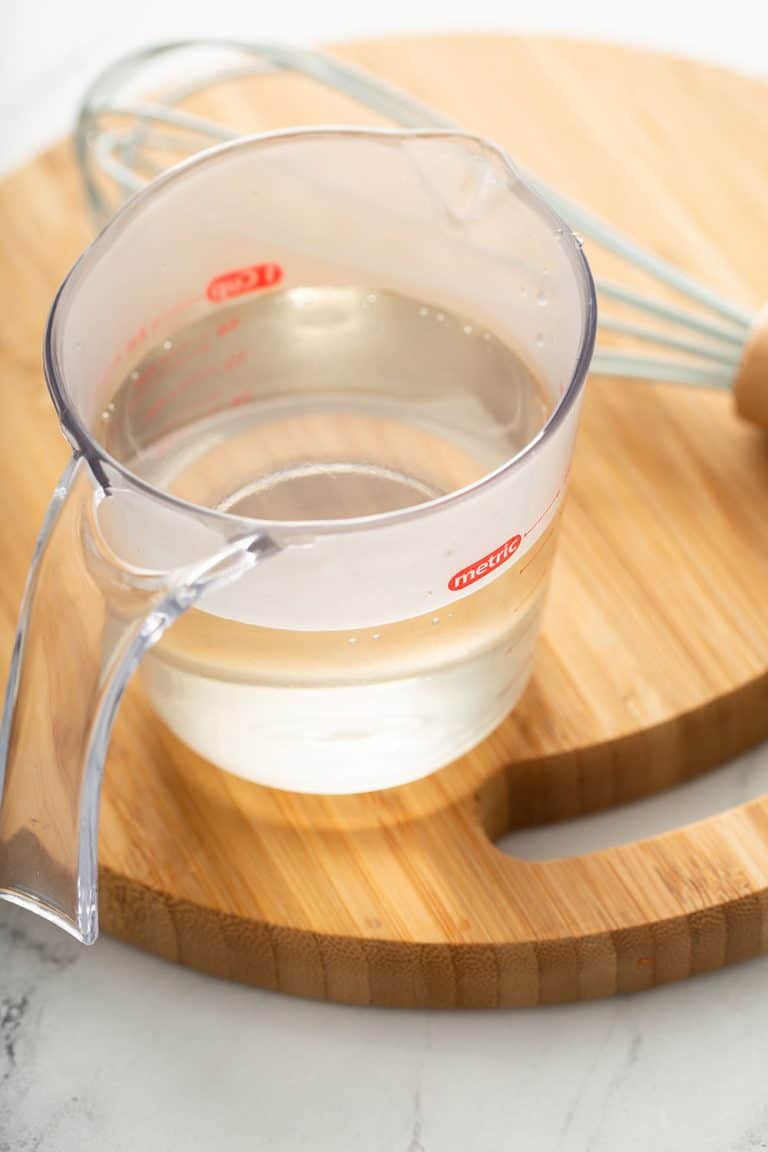 If you want to try making a flavored simple syrup, you can add fruits, spices, or herbs. After boiling, let the syrup steep for about 30 minutes before straining and storing.
This can be done with many flavors. Mint simple syrup is a great one to try because mint grows like a weed and it can be used in cocktails or iced tea! But don't be afraid to branch out and try some other flavor combinations:
Strawberries + split vanilla bean
Cinnamon stick
Fresh thyme or rosemary + lemon
Fresh ginger + peaches
You can even swap out some or all of the granulated sugar for brown sugar or honey. This will give the syrup a different flavor, which is great for cocktails or iced coffee.
Once you get the basic recipe down, the options really are endless!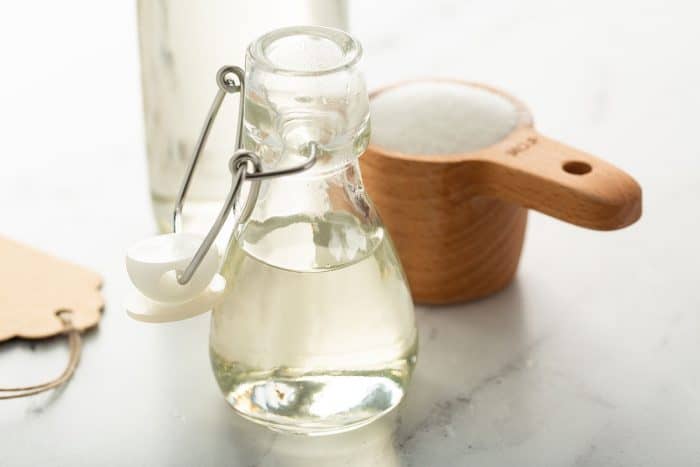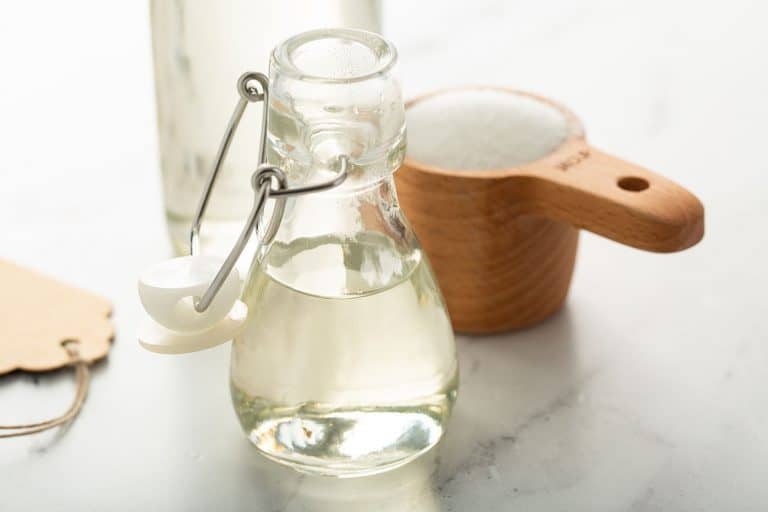 CAN SIMPLE SYRUP BE FROZEN?
The great thing about making this at home is that it lasts for weeks.
Put the syrup in a glass bottle or jar and pop it in the refrigerator. It will keep for up to a month, especially if you are careful not to dip any dirty spoons into it.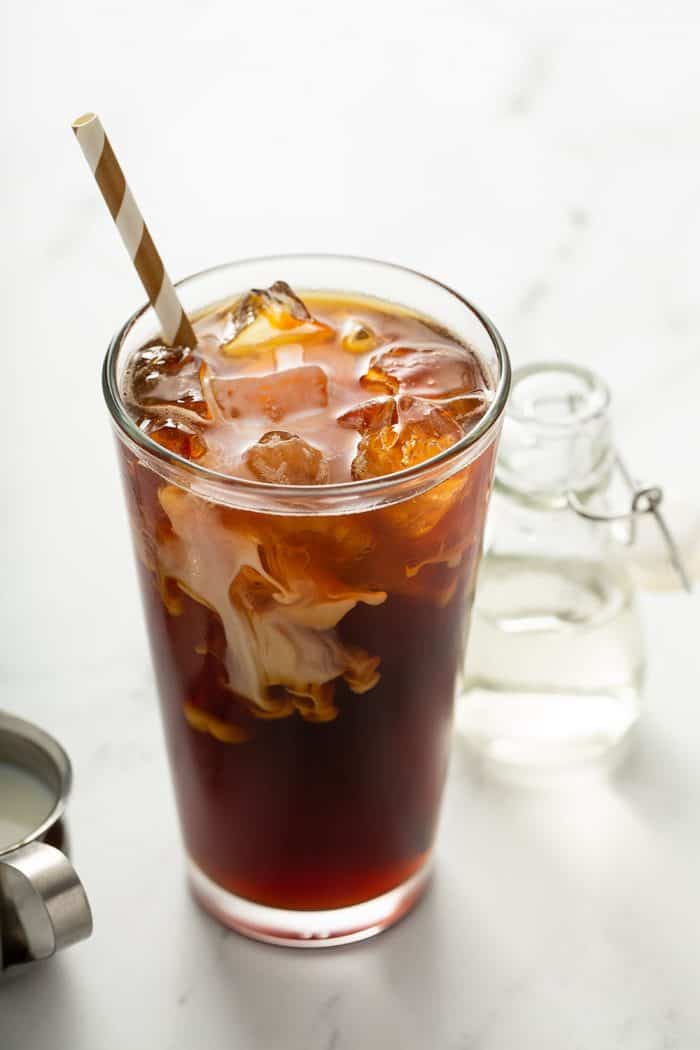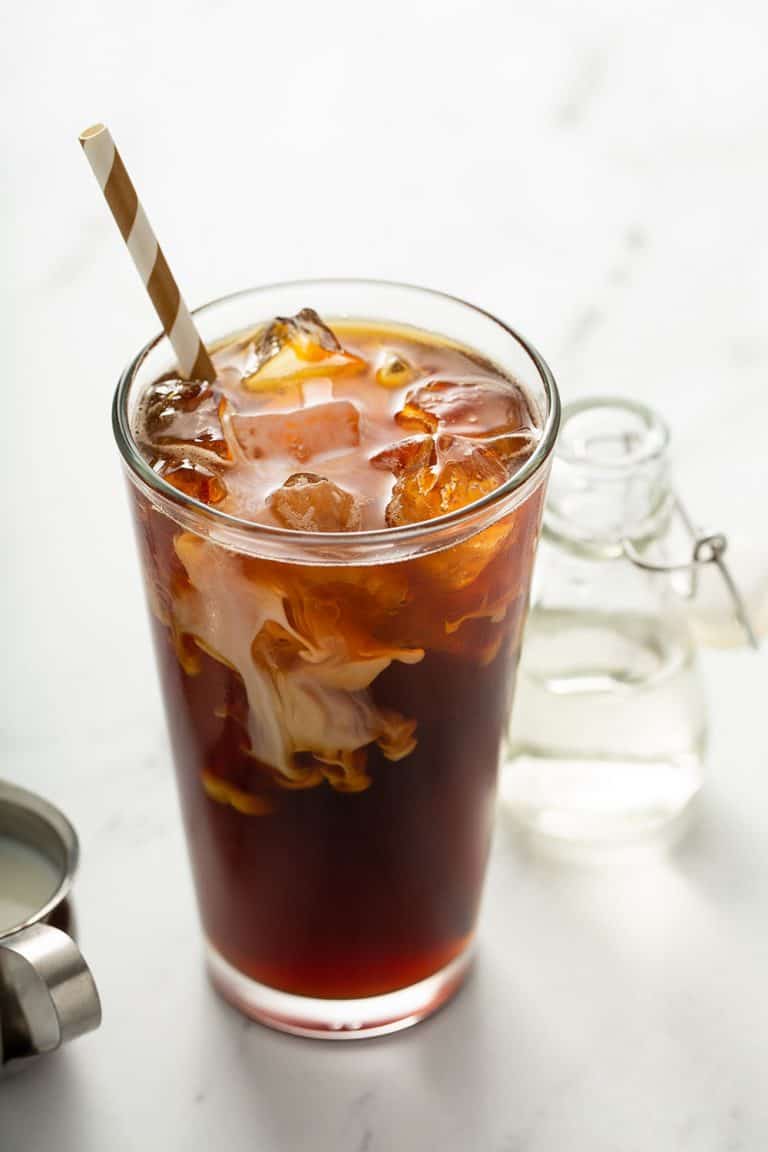 If the syrup starts to look cloudy or if it starts to get any mold, toss it out. It won't last forever, but anything that lasts a month in the fridge is good enough for me!
If you want it to last longer, simple syrup can be frozen instead. Because of the sugar content it may not freeze completely solid, but it will last even longer in the freezer, closer to 6 months.
Note that if you choose to flavor your simple syrup, especially with fruit, it may not last as long. Again, simply keep and eye on it and toss it if it starts to look cloudy or questionable.