Jo Jo Potato Wedges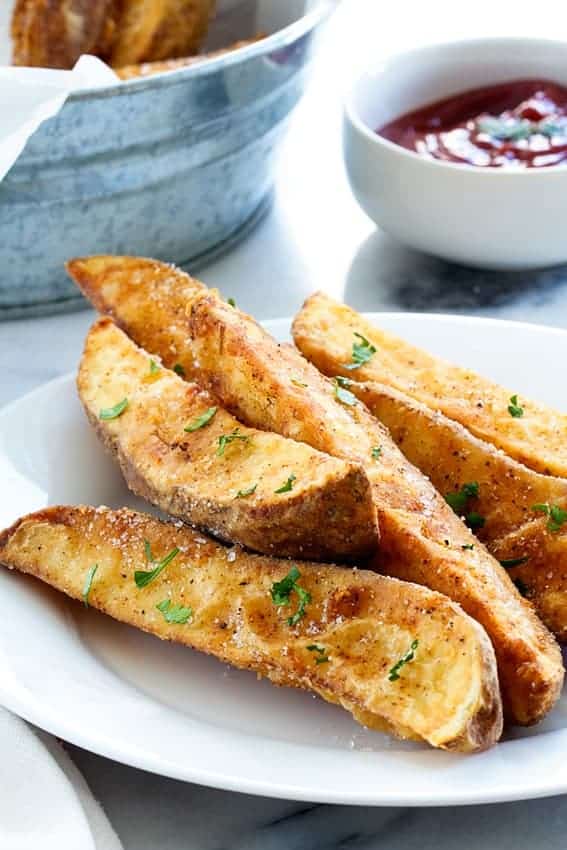 Jo Jo Potato Wedges are thick and satisfying! They're crisp on the outside and fluffy on the inside and they're sure to become your new favorite side dish.
Okay, guys – I'm branching into fried food territory and I might be just a tad obsessed. Let me start by saying that frying things has never been my thing. And if I'm being honest, frying up foods like fries and chicken kind of scared me a bit. Since I've never owned a proper deep fryer, I've always just fried food on my stovetop in a large Dutch oven and that was a rarity. Because let's be real – splattering 350+ degree oil is both messy and mildly terrifying.
My dad and I got into a frying discussion just before Christmas and Eric overheard me tell him that I've never owned a deep fryer. You know exactly where this story is headed, right? Yep, Santa left a shiny new deep fryer under the Christmas tree complete with a giant bottle of peanut oil and oil funnel with a handy strainer. I mean, there was really no excuse not to get a fryin', right?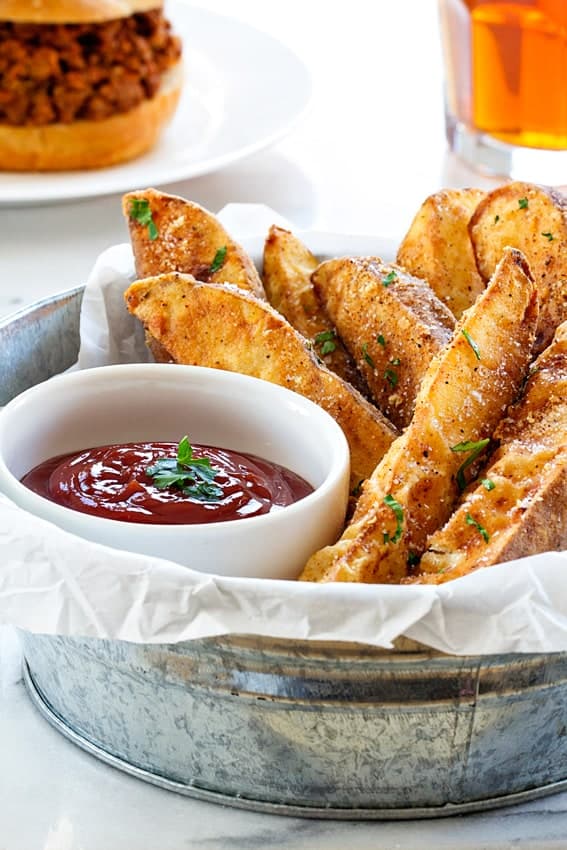 I started dabbling with frozen items like jalapeño poppers, French fries and mozzarella sticks, and then tried homemade Jo Jo Potato Wedges.
I'm thinking that the term Jo Jo Potatoes may be a midwestern thing, but I'm not entirely sure. All I know is that when I reference Jo Jo Potatoes to people outside of Ohio, they look at me like I'm a little crazy and I often get, "You mean potato wedges?" – No, I mean Jo Jo Potatoes, you know the kind you can buy at gas stations and convenience stores alongside fried chicken? Then I immediately lose them because I mentioned actually consuming fried food purchased where gasoline is sold. Ahhh, Ohio – I love you.
In all seriousness, Jo Jo Potatoes are definitely wedges of potatoes that are coated in a seasoned flour and fried to crispy, golden brown perfection. And even though the outsides are nice and crisp, the insides are fluffy like a perfectly baked potato.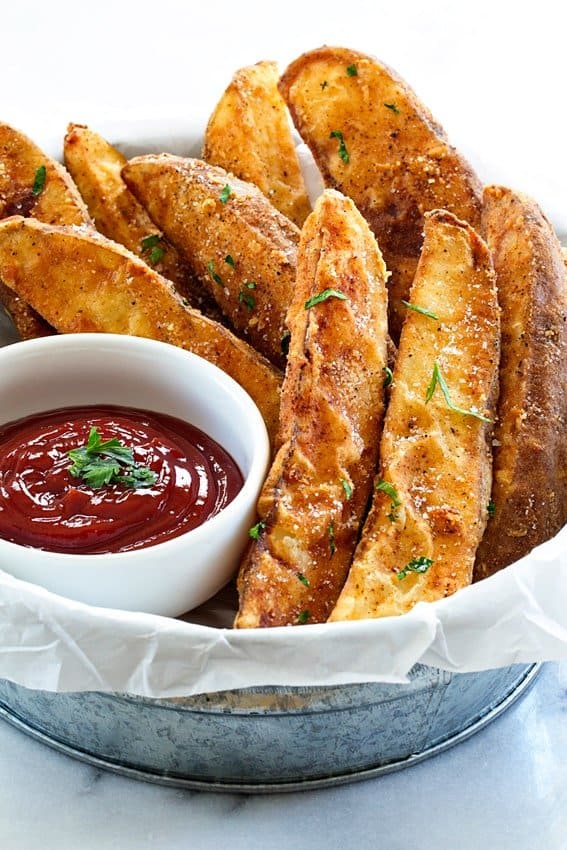 Now, I'm no deep frying expert, but I'm kinda in love with this new-to-me appliance. It was super simple to set up and easy to use. The fact that there's a cover, means no splattering and the digital temperature display means that there's no need for a thermometer. The clean up is a bit of a pain, but really didn't take all that much time.
If you're a seasoned deep fryer or a newbie like me, I hope you give these Jo Jo Potato Wedges a try. They're the perfect side to just about any meal! I am also loving these fried pickles, have you made them?

Products Featured in this Recipe:
(may include affiliate links)
This post may contain affiliate links. We are a participant in the Amazon Services LLC Associates Program, an affiliate advertising program designed to provide a means for us to earn fees by linking to Amazon.com and affiliated sites.