I've been on a pretty major brownie kick lately – I'm talking 3 different varieties in one week. I'm officially brownied out for a while, but the good news is that I'll be sharing all the chocolately goodness with you in weeks to come.
First on the list are these incredibly rich and decadent Peanut Butter Snickers Brownies. I first became aware of these little square nuggets of bliss when Amber guest posted her recipe for Peanut Butter Snickeroos. I was intrigued, they but didn't make their way into my shopping cart until last week.
I tried one as soon as I got home (purely for research purposes of course) and knew they would be bad news if I kept them in the house for too long. In fact, a certain someone was smuggling them from the kitchen and into his pockets – I found the wrapper evidence in the dryer.
With a gazillion calories at our immediate reach, I decided to bake them into a batch of brownies and pass them along to my dad, brother, and mom's boyfriend. Knowing full well they couldn't resist noshing down on deep, dark chocolate brownies flecked with chunks of Peanut Butter Snickers deliciousness.
Well, they were a hit. My dad actually hid his and rationed them over two days, so the vulchers (co-workers) didn't wipe him out with one pass of his desk.
These brownies are rich, decadent and have the perfect chewy texture. So sure, they may be calorie bombs. But they're worth every extra step on the treadmill, I swear. Plus, since they're so rich, you don't have to have a big serving to satisfy any intense chocolate craving you may be having.
Looking for more Peanut Butter and Chocolate Bliss?
Chocolate Peanut Butter Cup Cupcakes
Tagalog Peanut Butter Parfaits
Chocolate Peanut Butter Torte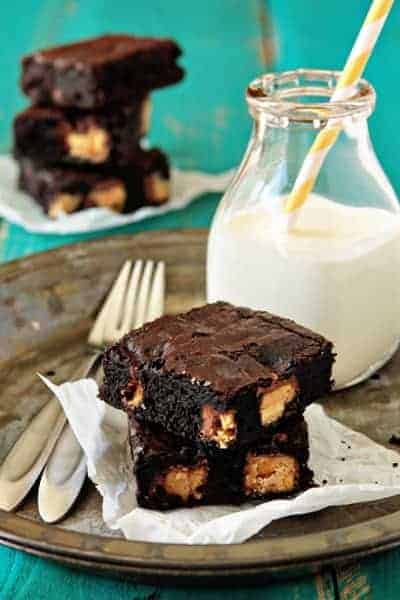 Peanut Butter Snickers Brownies
Ingredients
1 cup (2 sticks) unsalted butter
2 1/4 cups sugar
4 large eggs
1 1/4 cups Dutch-process cocoa or Hershey's Special Dark Cocoa
1 teaspoon salt
1 teaspoon baking powder
1 teaspoon espresso powder
1 tablespoon vanilla extract
1 1/2 cups King Arthur Unbleached All-Purpose Flour
12 Peanut Butter Snickers Squares, each cut into 4 pieces
Instructions
1. Preheat the oven to 350 degrees. Line a 9" x 13" pan with foil and spray with non-stick cooking spray.
2. In a saucepan over low heat, melt the butter, add sugar and stir to combine. Continue heating mixture just until it's hot (about 110°F to 120°F), but don't let it bubble. It should get a shiny appearance as you stir it. According the lovely bakers at King Arthur Flour, heating this mixture a second time dissolves more of the sugar, which will create a shiny top crust the brownies.
3. While the sugar heats a second time, crack the 4 eggs into a bowl, and beat them with an electric mixer on low speed and add in the cocoa, salt, baking powder, espresso powder, and vanilla until the mixture is thoroughly incorporated and smooth.
4. Add the hot butter/sugar mixture, stirring with a wooden spoon until smooth.
5. Add the flour and stir until just combined.
6. Spoon half of the batter into the prepared pan. Place an even layer of Peanut Butter Snickers onto the brownie batter. Slightly push the Peanut Butter Snickers into the batter. Top with the remaining batter and smooth the batter to cover the Snickers pieces.
7. Bake the brownies for about 30 minutes. The brownies should feel set on the edges, and the center should look very moist, but not uncooked. Remove them from the oven and cool completely on a rack before cutting and serving.
Notes
- I used Hershey's Special Dark Cocoa Powder because I was out of Dutch-process. The results were delicious. I would not recommend using regular unsweetened cocoa.
- Not a fan of Peanut Butter Snickers? No problem. Sub in another candy bar like Almond Joy, regular Snickers, Twix, Reese Cups, etc.