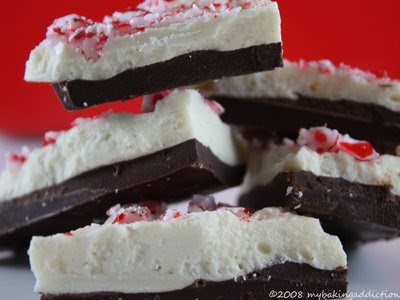 While I was walking around Williams Sonoma with a drool covered chin and a five year old, the a friendly sales associate had to make my experience a little more delicious by offering us a sample of their Peppermint Bark. I have tasted this divine holiday treat on numerous occasions, but I still stuffed my mouth with a piece and savored the delectable chocolate mint flavor. For a brief moment, I picked up the cute container and almost made it to the checkout but, at that very moment, I remembered Leslie's Peppermint Bark Post. I decided to save the $26.50 and attempt to make my own. I went into this with realistic expectations…I knew very well that my interpretation would not come close the exquisiteness that is Williams Sonoma Peppermint Bark, but I decided to give it a whirl. I found a recipe that claimed to be a great rendition of the original AND it was super easy to assemble! After making this recipe, I am not going to claim Williams Sonoma perfection, but it's damn close for a fraction of the cost. Not to mention, it's deliciously simple AND deliciously addictive!
Peppermint Bark from abouteating.com
12 oz chocolate chips
1 pound white chocolate chips
1/2 teaspoon peppermint extract (I used 3/4 teaspoon)
1/2 cup peppermint candy, crushed

1. Preheat oven to 250. Line a 9×13 pan with foil, letting it hang over the sides. Spray foil. Pour the chocolate chips in an even layer on the foil. Place in oven for 5 minutes or until almost melted. Remove from oven, smooth with an offset spatula or knife. Place in refrigerator until cold and firm, about 20 minutes.
2. Melt white chocolate chips in a double boiler or in a metal bowl over simmering water (don't let bottom of bowl touch water), until chocolate is almost melted. You can use your microwave for this if you're brave! Remove bowl from water and stir until completely melted, stirring in extract. Let cool a little bit so it does not melt the chocolate layer when you pour it on top. Pour this over chocolate layer, and, working quickly, spread to cover.
3. Sprinkle with crushed candy.
4. Chill until both layers are firm. Lift foil out of pan and shake off excess candy. Trim edges. Cut into 2" wide strips. Peel bark from foil and cut each strip as desired. Chill in covered container. Makes about 2 pounds.
Note: My snowflake container came from Walmart for a whopping $2.00!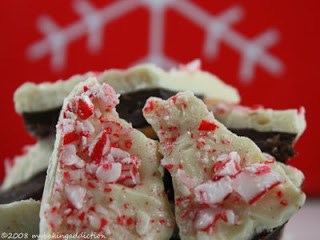 HOLIDAY GIVEAWAY NOW CLOSED!
It is that time of year when my pants start to get snug because my diet consists of cookies and more cookies. While browsing the holiday section of Walmart, I found a super cute Wilton Cookie Cutter set. I purchased one for myself and one to use as a giveaway. One lucky winner will receive this Holiday Cookie Cutter Set, a Holiday Icing Colors Set and holiday sprinkles. Here is what you have to do…Leave a comment in this post telling me about your favorite holiday cookie recipe and provide a link to the recipe. I thought this would be a fun way to exchange some recipes and maybe broaden our horizons a little bit! The winner will be selected by the random integer generator and will be posted Friday afternoon. Please make sure I have a way to contact you. I would like to get these items sent out on Saturday morning to ensure they arrive in time for some baking
Up Next…Tiramisu Layer Cake