Buckeyes are a Midwestern holiday favorite! These peanut butter balls are partially dipped in chocolate to resemble the famous Ohio nut.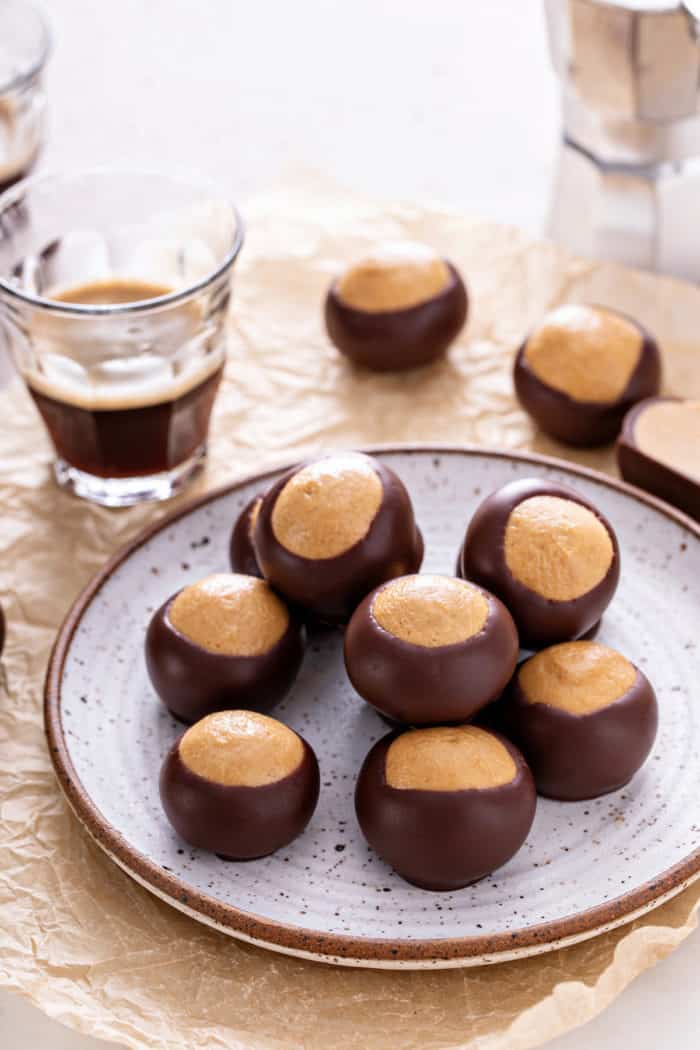 I grew up and still live in Ohio. We have a couple of foods that are really popular around here but aren't as well known outside of our area of the Midwest.
Clothespin cookies are a must at Christmas and weddings here. Jo jo potato wedges are something I grew up eating. And of course, we can't forget the most Ohio of all Ohio foods: buckeyes!
I'm not sure I've ever been to a Christmas party or big OSU football watch party around here that didn't have these peanut butter and chocolate candies. If you've never had a buckeye, keep reading because you're gonna want to try these!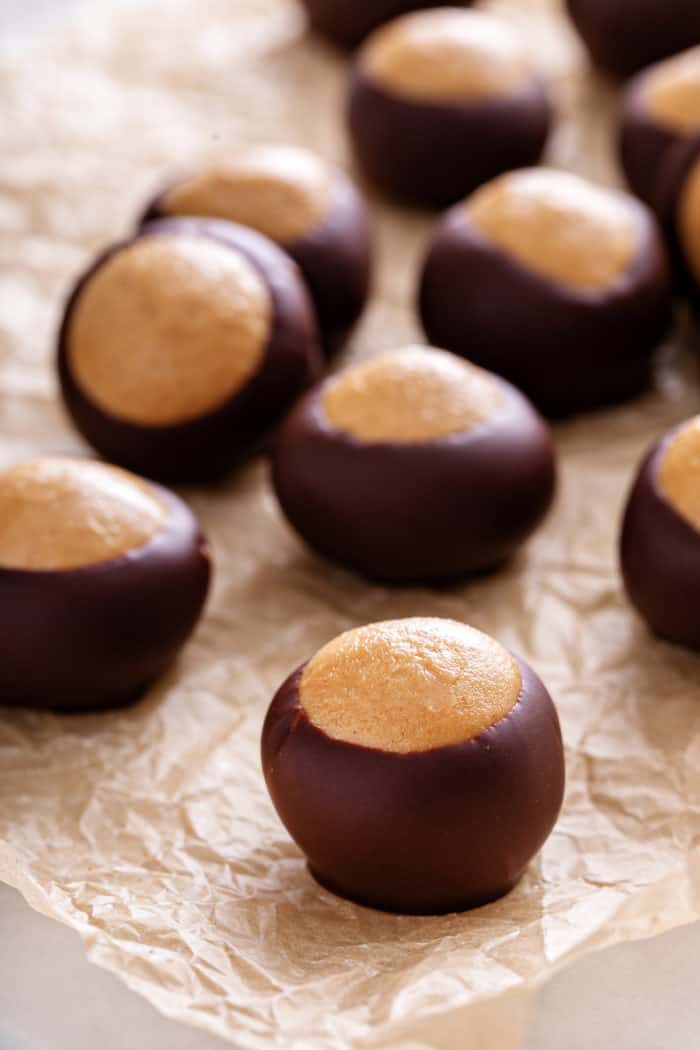 WHAT ARE BUCKEYES?
If you're from the Midwest, you probably already know all about buckeyes. If you aren't or if you don't have any family from the Ohio area, you probably have no idea what buckeye candies.
Buckeyes are a type of chocolate-covered peanut butter balls. In this case though, they are only partially dipped in semi-sweet chocolate, leaving part of the peanut butter center showing so that they resemble the nut of the buckeye tree.
The buckeye tree is the state tree of Ohio and Brutus the Buckeye is the mascot of The Ohio State University, so buckeyes are a big deal around here!
Something important to note is that you cannot actually eat buckeye nuts, although it's said that carrying one with you brings good luck.
Buckeye candy is really popular here during Christmas and college football season, but these candies are so good that you really could make them any time of year!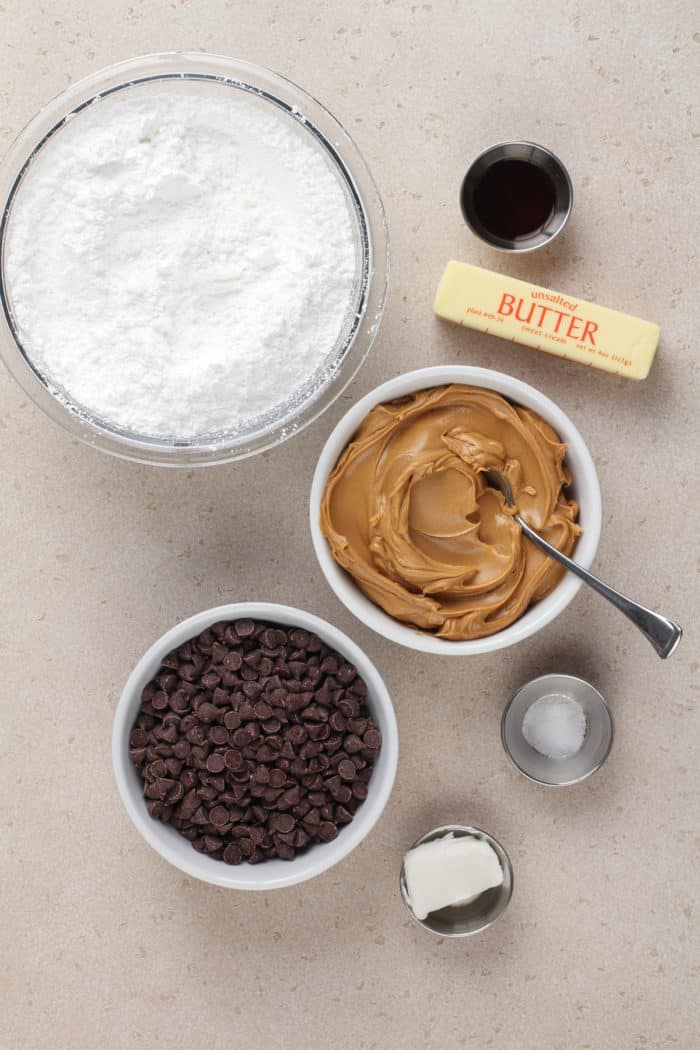 HOW TO MAKE BUCKEYES
If you have made my old-fashioned peanut butter balls, then you are halfway to making buckeyes!
Don't be intimidated by making these; they're one of the easiest candies to make.
Ingredients you'll need
The ingredient list for this recipe is pretty simple. Odds are good that you have most of what you will need on hand already.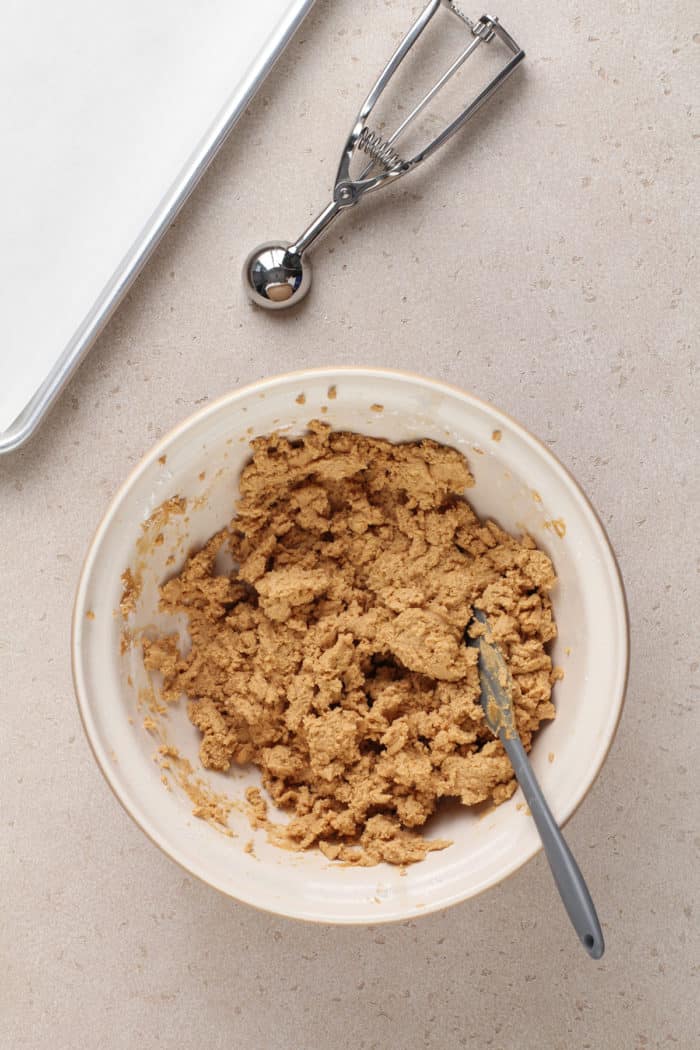 This recipe uses:
Unsalted butter: Butter is combined with peanut butter to form the base of these candies. Make sure you use softened butter for these.
Creamy peanut butter: You will want to use creamy peanut butter to make your buckeyes. Use a traditional peanut butter or no-stir natural peanut butter; don't use the peanut butter that is just ground peanuts. It does not work well in recipes like this.
Vanilla extract: Vanilla helps round out the flavor of the peanut butter centers. You can use your favorite brand of vanilla or use homemade vanilla extract.
Powdered sugar: Powdered sugar helps hold the peanut butter centers together and sweetens them without making the candy grainy.
Kosher salt: As always, a bit of salt helps to balance out the sweetness of this recipe.
Semi-sweet chocolate chips: I like to use semi-sweet chocolate chips to coat my buckeyes. You do need to use a regular chocolate – not white chocolate – for these to be true buckeyes.
Shortening: A bit of shortening gives the melted chocolate a smoother consistency, so the coating will be more even on the final candies.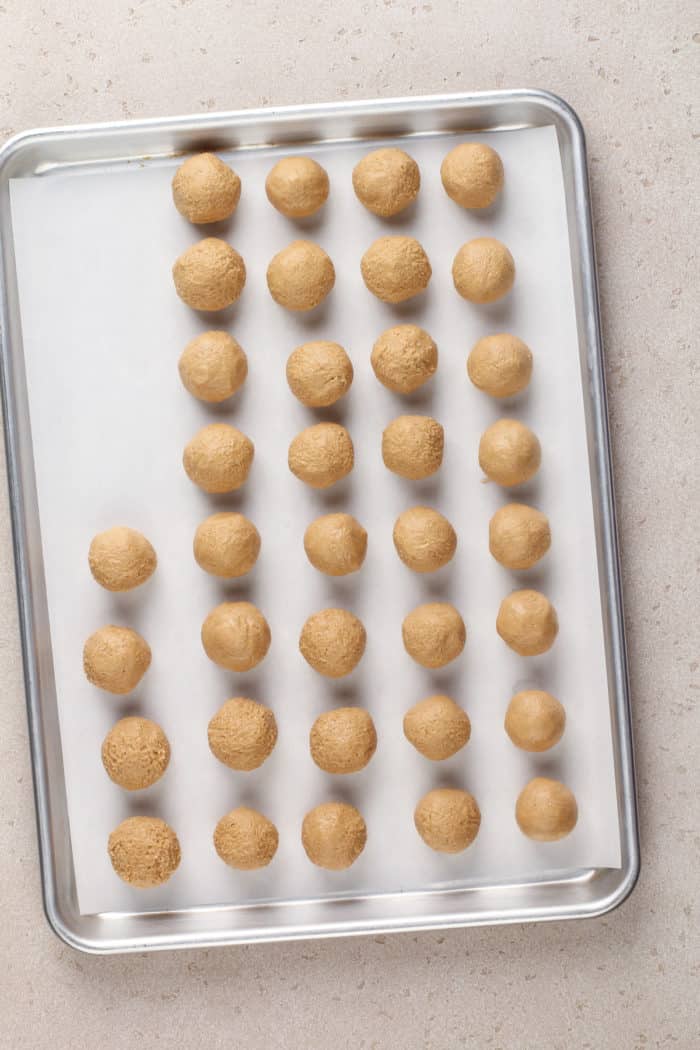 Making buckeye candy
To make these candies, start by beating the softened butter, peanut butter, and vanilla together with a mixer until well combined.
Gradually add the powdered sugar and salt and mix on low speed until combined. Once combined, increase the speed to medium and beat for 2 minutes.
Divide this mixture into 1-tablespoon portions and roll them into balls. If the balls aren't perfectly smooth, don't worry – we'll fix it later.
Set the dough balls on a parchment-lined baking sheet and refrigerate them for 1 hour.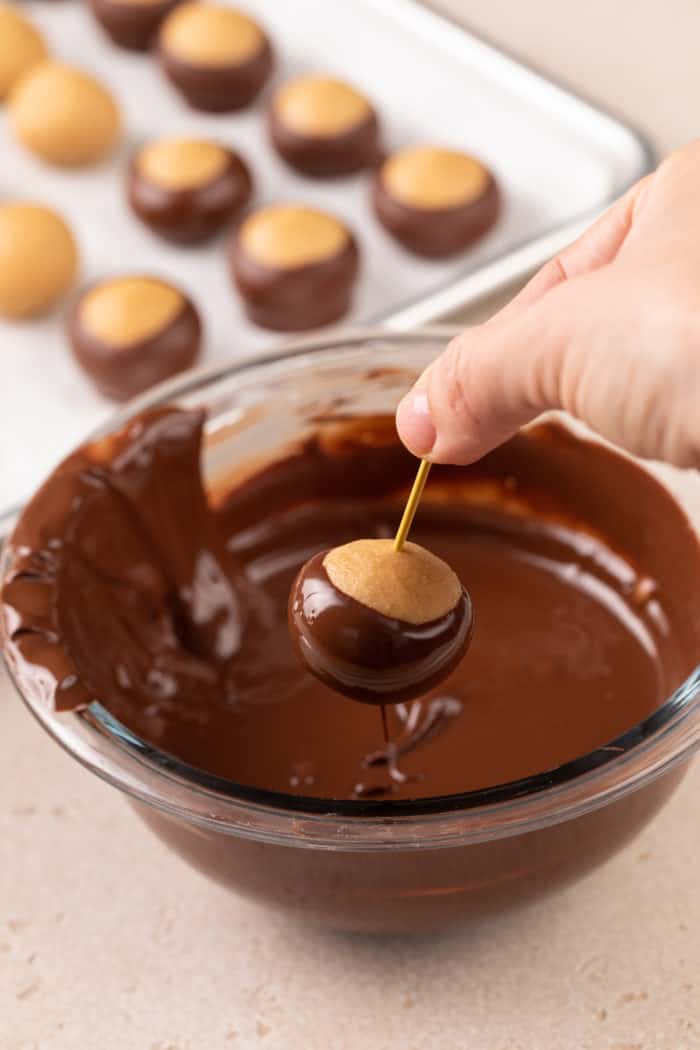 If you need to smooth the outsides of the peanut butter balls, quickly roll them in your palms now that they have chilled. Place the baking sheet with the balls into the freezer for at least 1 hour.
When you're ready to dip the buckeyes, microwave the chocolate chips and shortening together in a bowl for 1 minute. Stir, then continue microwaving in 15-second intervals, stirring after each one until the chocolate is melted and smooth.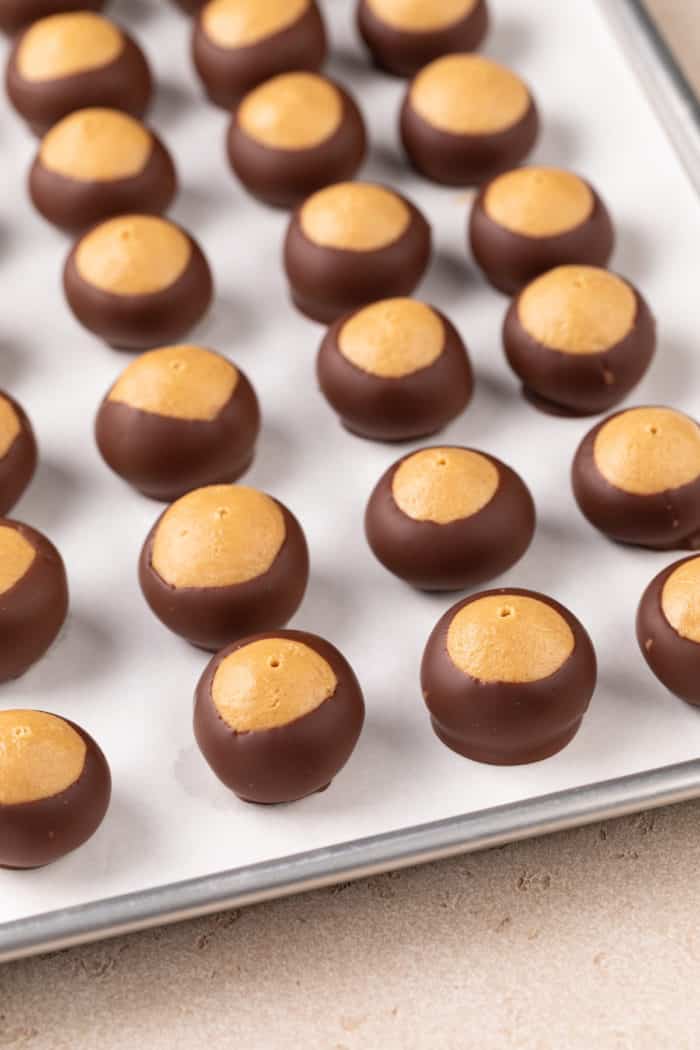 To dip the buckeye candies, insert a toothpick into each peanut butter ball and dip it into the chocolate. Make sure to leave a circle of the peanut butter center visible at the top of each candy.
Use the edge of the bowl to remove any excess chocolate from the bottom of each candy and place them back on the lined baking sheet to set.
If you like, you can use your finger to smooth over the hole where the toothpick was inserted in each candy.
Refrigerate the dipped buckeyes until the chocolate is set.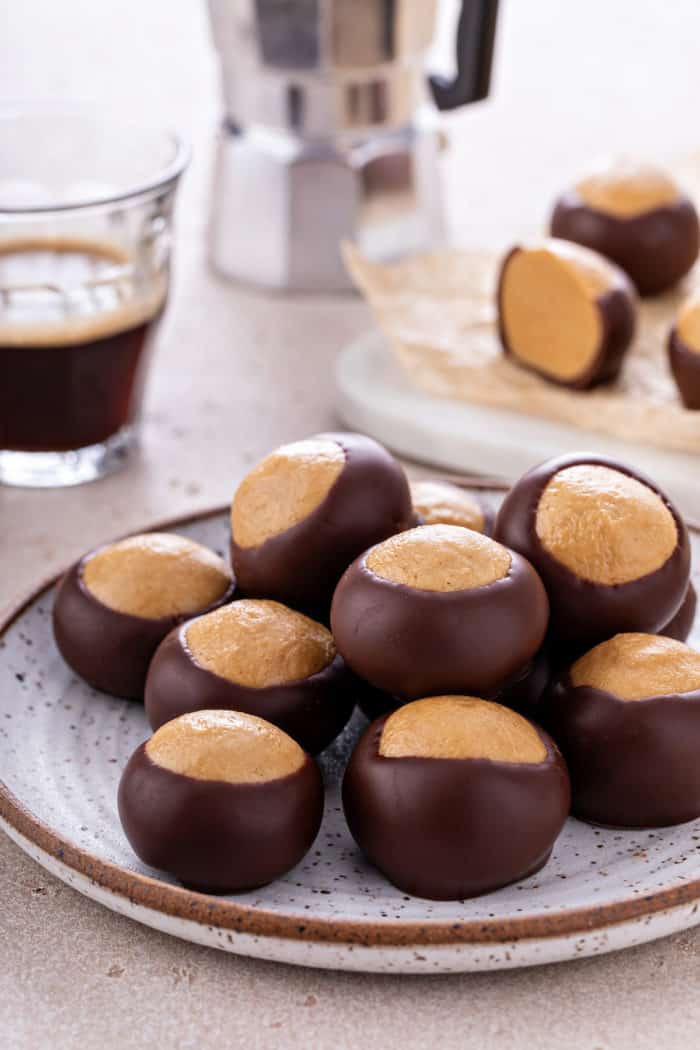 STORAGE TIPS
Store buckeyes in an airtight container in the refrigerator for up to 4 days.
You can also store them in the freezer for up to a month. They will thaw pretty quickly, so you don't need to worry about pulling them out of the freezer too far in advance of serving them.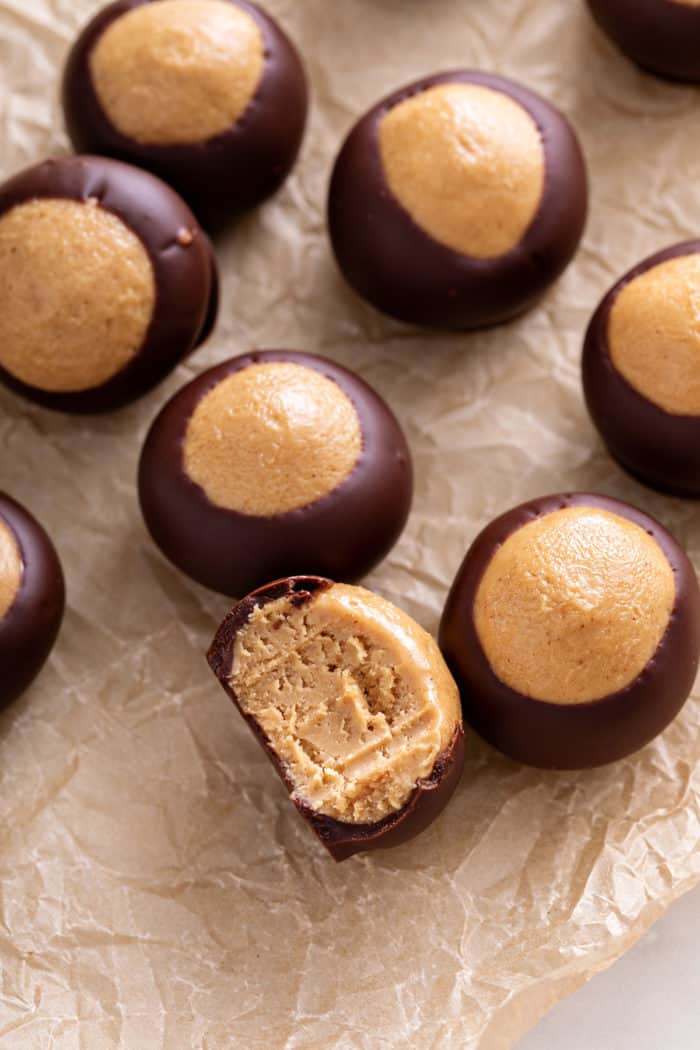 MORE CHOCOLATE & PEANUT BUTTER TREATS
If these buckeyes are making you crave more chocolate and peanut butter treats this holiday season, I've got you covered! Try some of these recipes to add some of that classic flavor combination to your holiday table: