These peanut butter balls are an old-fashioned treat! Enjoy them as-is, roll them in a variety of toppings, or dip them in chocolate for a sweet holiday treat.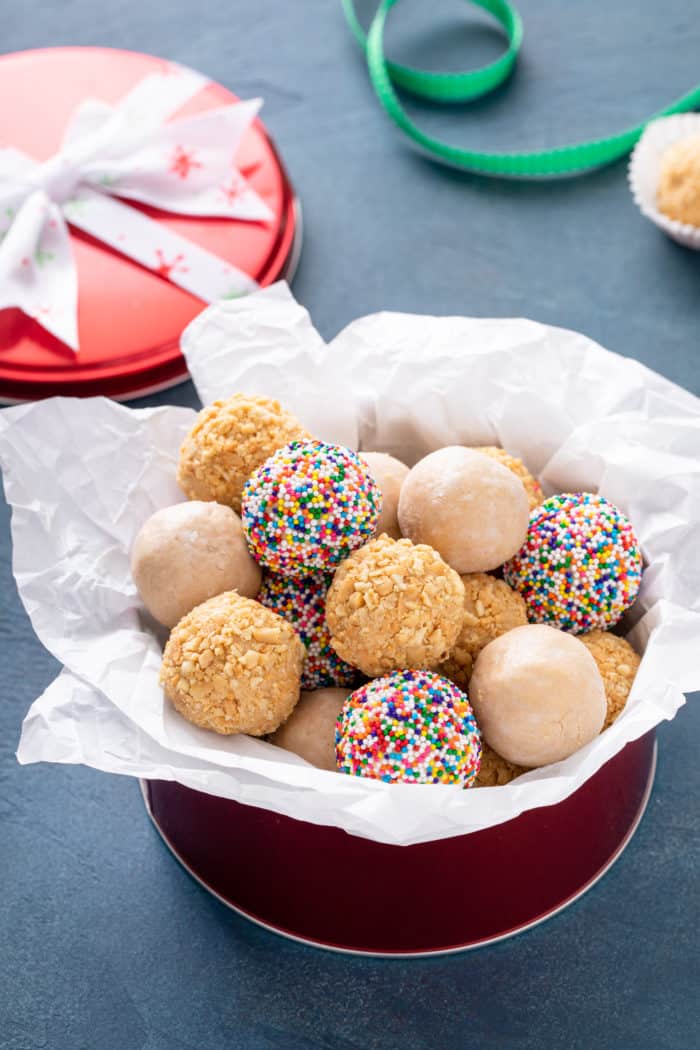 This post contains affiliate links.
If you weren't already in the holiday baking mood, it's now officially holiday cookie season!
I love to make platters of traditional Christmas cookies like peppermint mocha cookies, gingerbread cookies, and peanut butter blossoms. But I also like to make some old-fashioned treats that aren't quite cookies, but fit in perfectly on a holiday cookie platter.
I'm talking recipes like rum balls or bourbon balls, peppermint oreo balls, or these old-fashioned peanut butter balls.
These simple no-bake treats are always fun to make and make everyone nostalgic for the days of baking with their grandmas.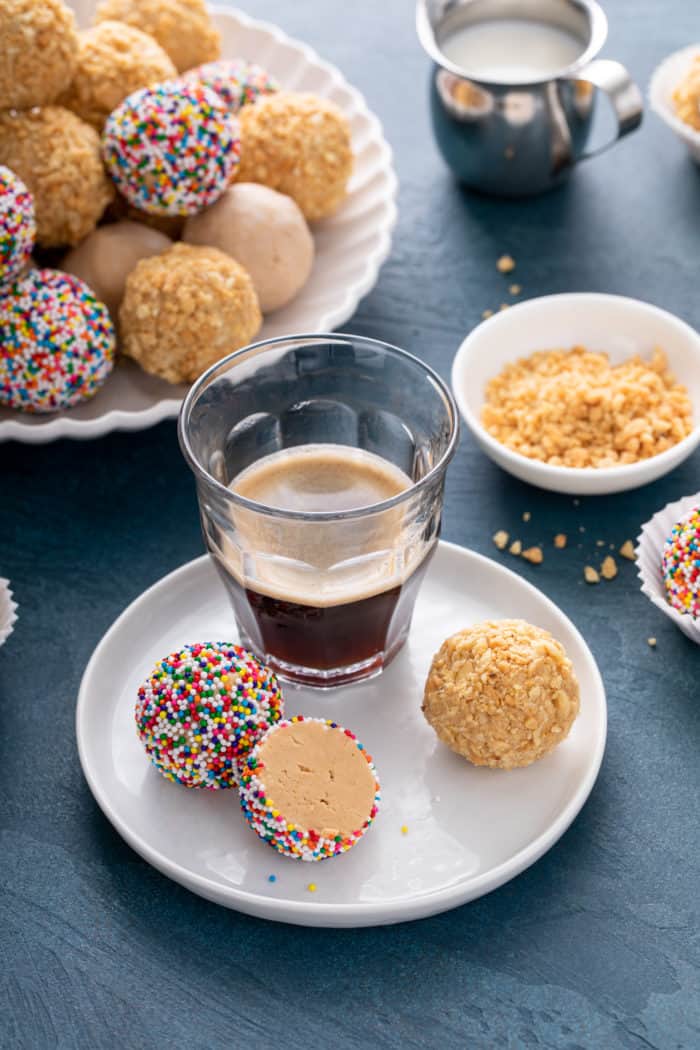 WHAT ARE PEANUT BUTTER BALLS?
This recipe is for what many would consider to be old-fashioned peanut butter balls.
If you have never had this sweet treat, these are soft balls of peanut butter that can be eaten on their own, rolled in a variety of toppings, or even dipped in chocolate for chocolate-covered peanut butter balls.
They're sort of like the peanut butter equivalent of homemade truffles!
Since they're so fun and festive, they make a great addition to a holiday cookie tray in place of peanut butter cookies.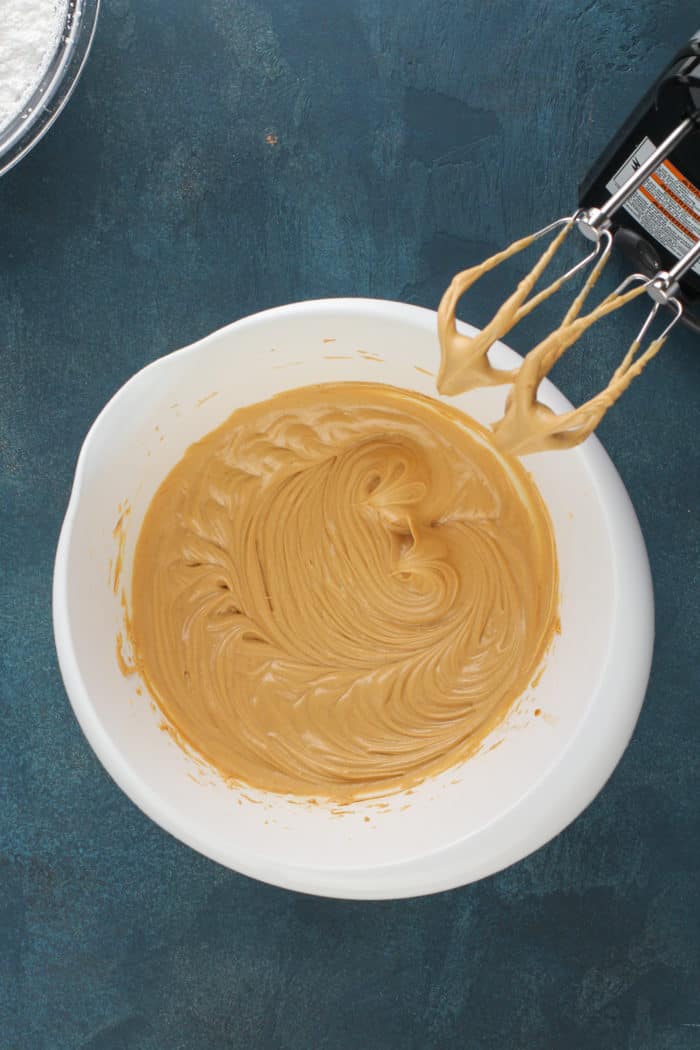 HOW TO MAKE THESE PEANUT BUTTER BALLS
These peanut butter balls use just a small handful of ingredients to make a treat that can be enjoyed in a lot of different ways.
And since this is a totally no-bake recipe, it's a great one to get the kids to help with! If they enjoy getting their hands messy, they'll enjoy helping you mix up the batter and roll the balls.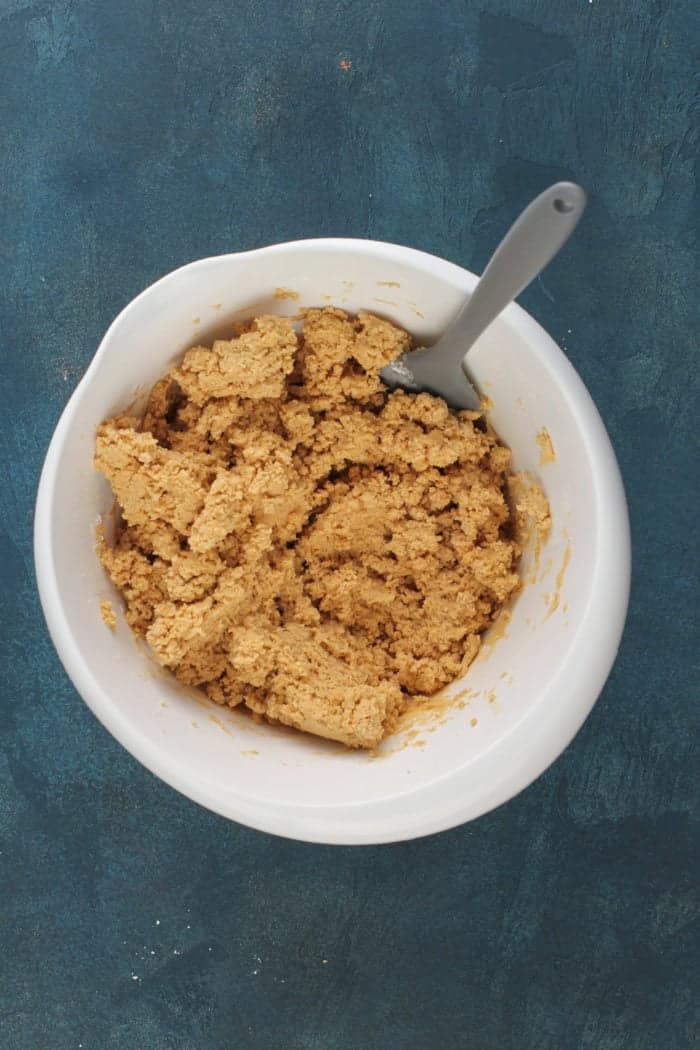 Ingredients you'll need
All of the ingredients for my peanut butter ball recipe are things that I keep in my fridge and pantry at all times:
Unsalted butter: Butter plays an important role in these peanut butter balls for both texture and flavor. If you forget to set your butter out ahead of time, check out my tips for how to soften butter quickly.
Creamy peanut butter: You can't make this recipe without peanut butter! You will need creamy peanut butter for this. I recommend using a no-frills, standard peanut butter or a no-stir natural peanut butter. Don't use the kind that is just peanuts – the texture is not quite smooth enough for these balls.
Vanilla extract: You can use your favorite brand of pure vanilla extract or homemade vanilla extract for this recipe.
Powdered sugar: We'll use powdered sugar to sweeten the peanut butter balls and to help them hold together. If you find you ran out of powdered sugar, learn how to make powdered sugar that you can use as a substitute.
Salt: We'll need just a pinch of salt to help balance out the sweetness of this recipe.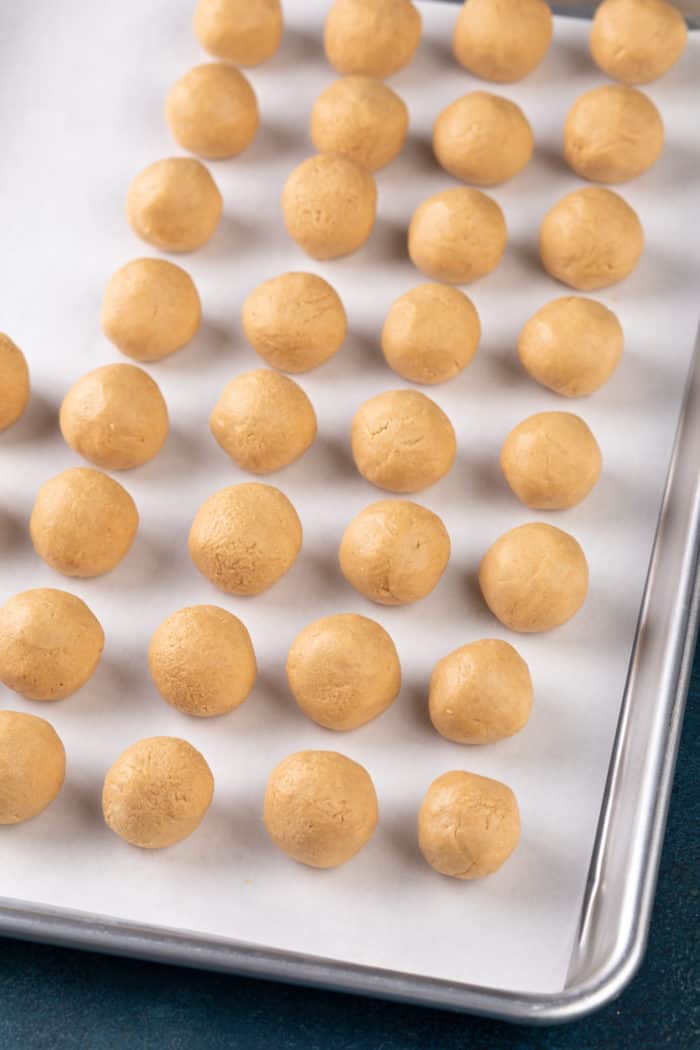 Making this recipe
To get started, line a half sheet pan with parchment paper. Make sure you have space in your refrigerator for the pan.
Using your stand mixer or an electric hand mixer, beat together the butter, peanut butter, and vanilla until well combined.
Turn the mixer to low speed and gradually add the powdered sugar and salt. Mix until combined, then increase the speed to medium and beat for about 2 minutes. The dough will be like a very soft cookie dough.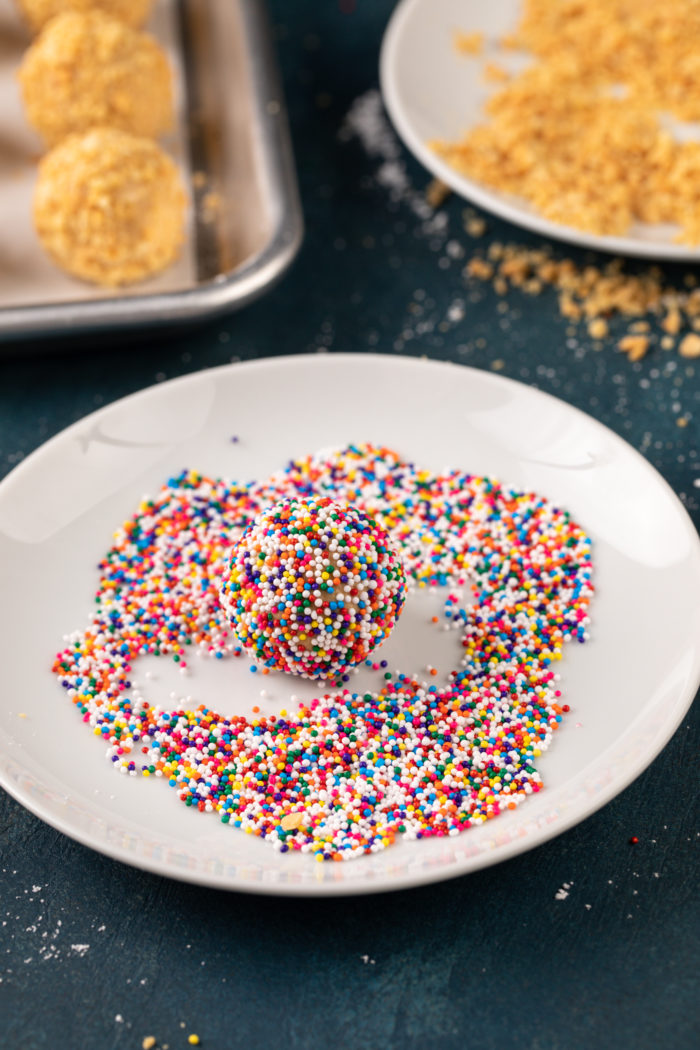 Use a small cookie scoop or a measuring spoon to measure out 1 tablespoon portions of the dough. Roll each into a ball and place them on the lined baking sheet.
As your hands get messier, the balls may not be perfectly smooth, but that's ok. We'll fix that later!
Place the pan with the peanut butter dough balls in the refrigerator for 1 hour.
Once the dough has chilled for an hour, the balls will have set up enough that you can quickly roll them again between your palms to smooth them out.
Now it's time for the fun part: toppings!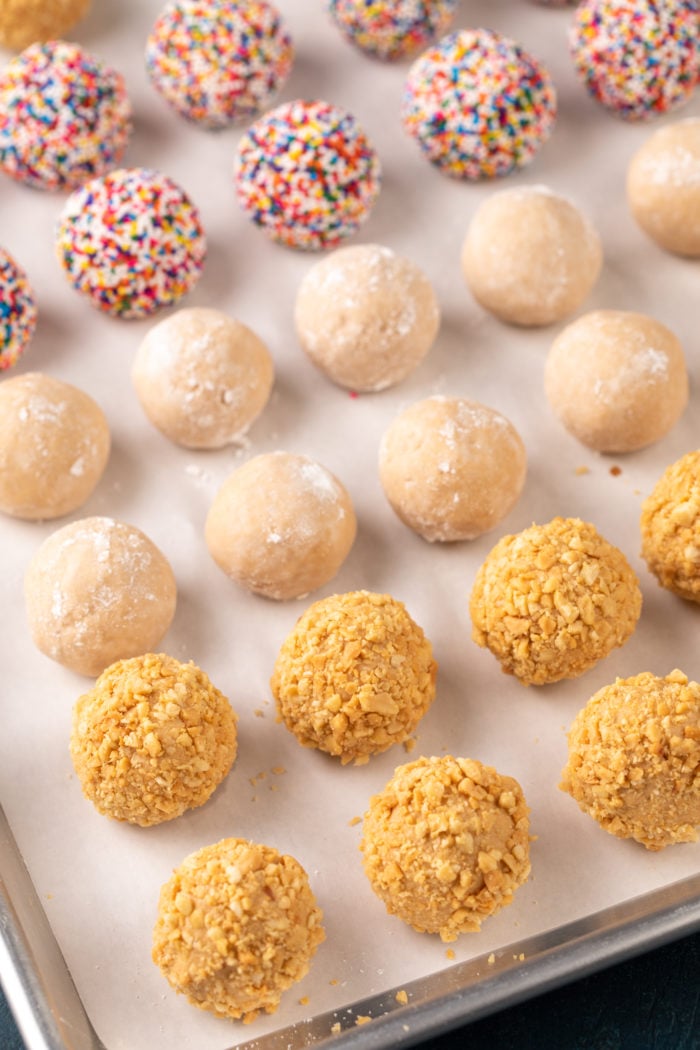 TOPPING SUGGESTIONS
You can always enjoy these peanut butter balls as-is, without rolling them in any toppings, but I think the toppings are what make them extra delicious and fun.
Some of my personal favorites are:
Finely shredded coconut
Nonpareil sprinkles (try using festive colors for the holidays!)
Finely chopped nuts
Powdered sugar
You can also dip them in chocolate or even colored candy melts. Try dipping them only part of the way to make buckeyes!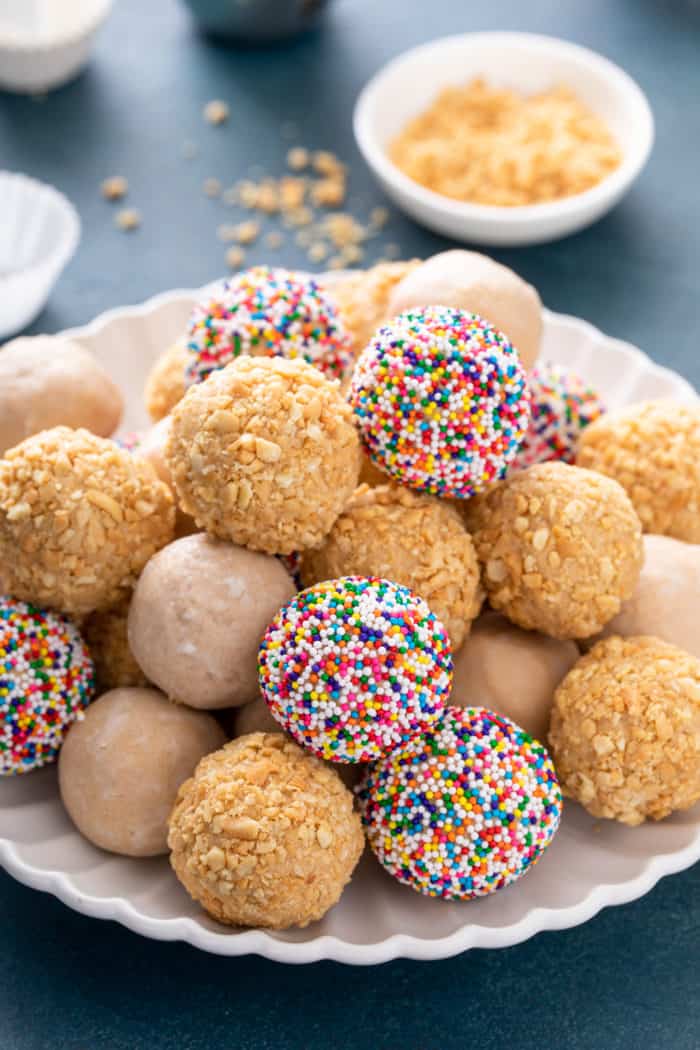 STORAGE AND FREEZING
These peanut butter balls will soften quickly at room temperature, so store them in an airtight container in the refrigerator for up to 4 days.
I recommend placing a piece of parchment paper or wax paper between the layers if you have to stack them to prevent them from sticking together.
Keep the balls chilled until you're ready to serve them.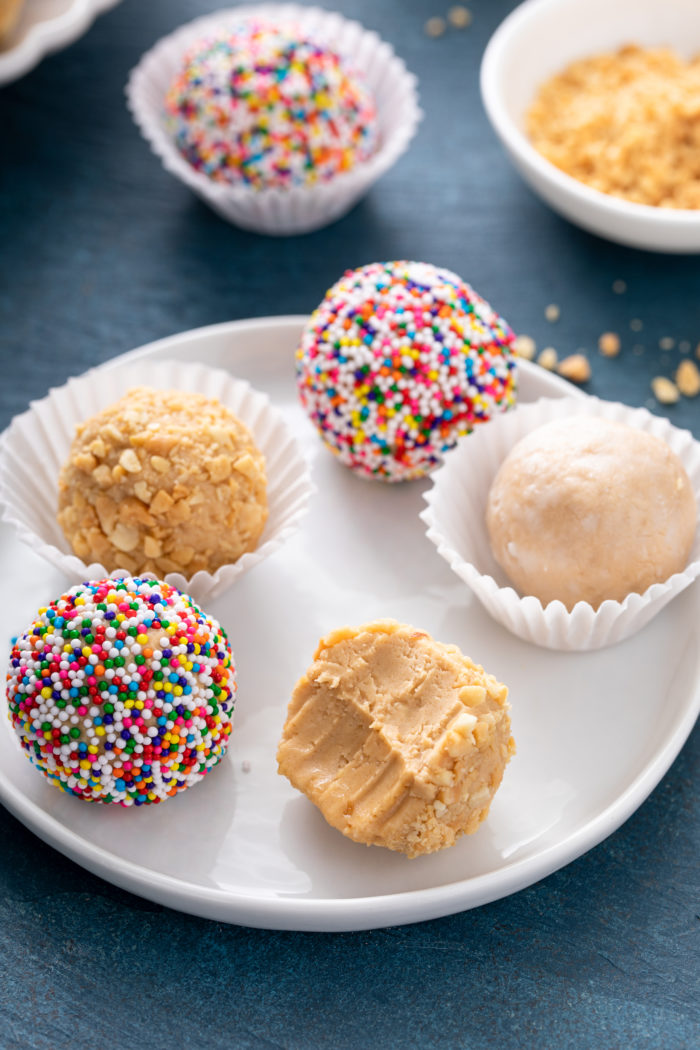 Can you freeze these?
These are one of the best holiday treats to make ahead of time and store in the freezer.
Place them in an airtight container and freeze for up to a month.
Because they don't take long to thaw, you can simply pull them out of the freezer just before serving. In fact, I think they are extra delicious straight from the freezer!