Chocolate Covered Peanut Butter Balls make a festive treat that transports easily to all your holiday parties. They also make amazing homemade gifts!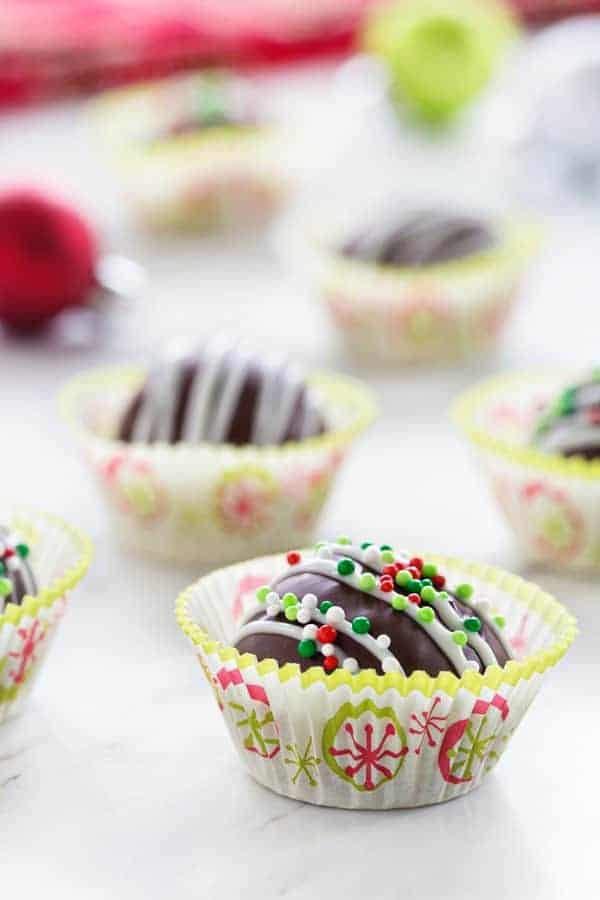 This is a sponsored post on behalf of Glad®. Thank you for continuing to support the brands that make My Baking Addiction possible.
I've mentioned before that we're pretty big local sports fans. The Cavs, the Browns, and of course, the Ohio State Buckeyes.
My husband takes his Buckeyes very seriously. Every Saturday, he proudly launches our OSU flag high, and brings it in again at sundown. It's a serious thing, you guys.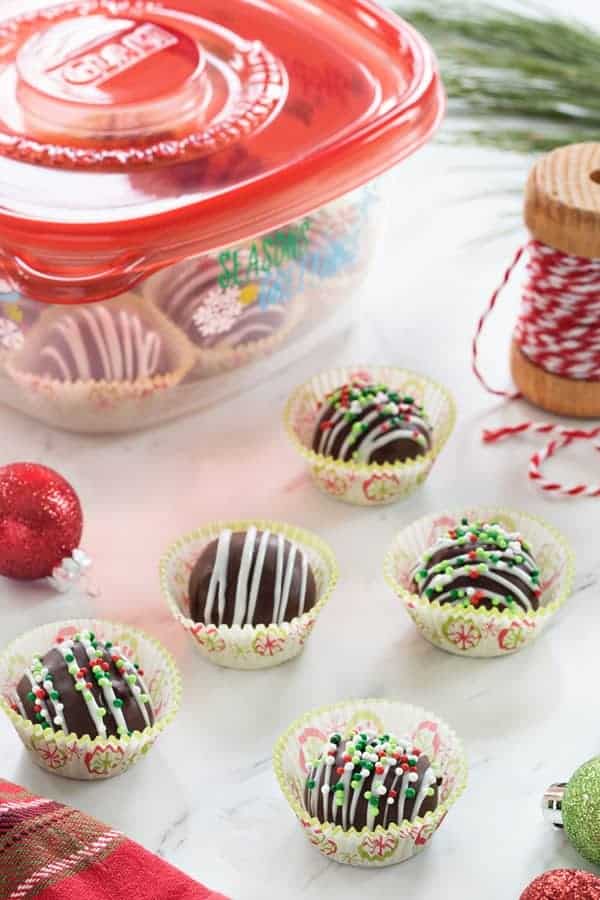 Every year, we make plenty of Buckeye candies to give to family and friends and munch on during the holidays. And while I love my Buckeye treats, I wanted to do something a bit more festive this weekend.
These Chocolate Covered Peanut Butter Balls are pretty similar to Buckeyes, but they're fully dipped in chocolate and covered in contrasting festive sprinkles.
This time of year is perfect for this kind of poppable treat. They're easy to make, and everyone loves that classic combination of chocolate and peanut butter. Add adorable red, white, and green sprinkles, and you're on to something truly fun.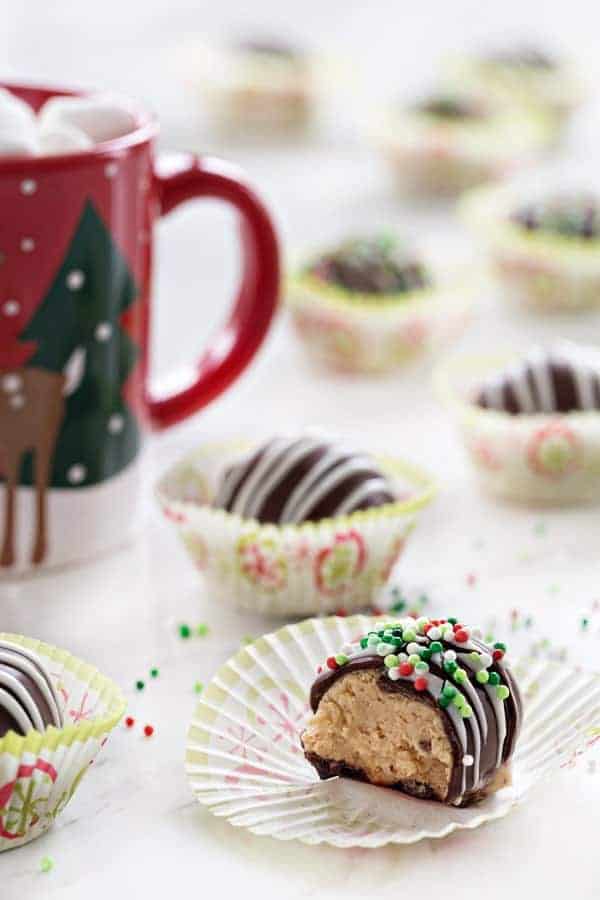 They transport perfectly when you put them in Glad® holiday containers, these one's are available exclusively at Walmart, and don't even need a bow. . The adorable holiday designs and festive lids mean you don't need gift wrap of any kind. I just write a to and from on the lid, and call it good, unless I'm feeling extra fancy.
I got everything I needed on a quick trip to Walmart. Chocolate Covered Peanut Butter Balls are pretty much the easiest holiday treat you can make, and everyone loves getting them.
The ingredients list is just so simple – butter, peanut butter, powdered sugar, vanilla extract, chocolate, and your favorite sprinkles. That's it! I'm pretty sure you can get everything you need in only two aisles at Walmart.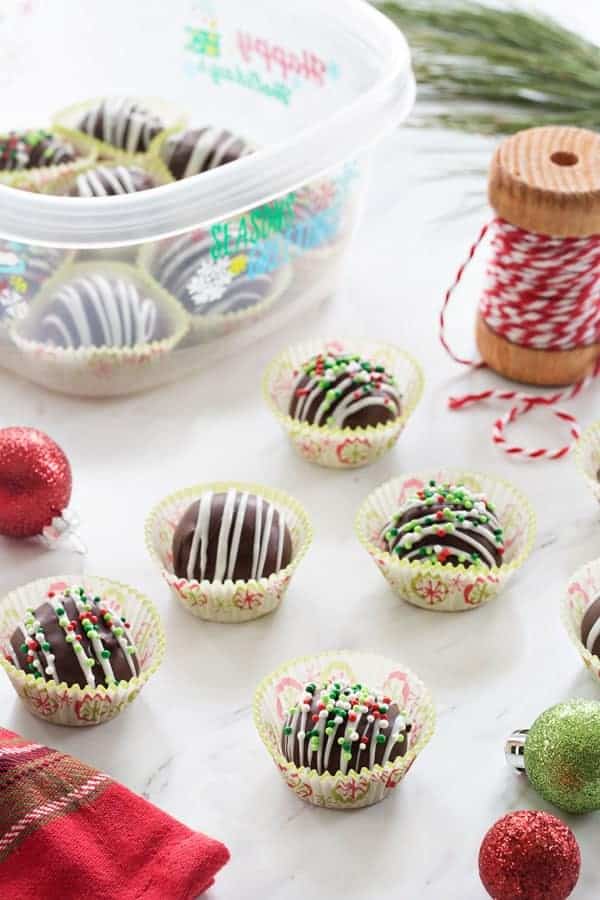 Hit that third aisle for your super cute Glad® holiday containers, and you're in and out before you can get holiday crowd anxiety. Or is that just me?
We make these treats for pretty much everyone in the family, as well our fellow OSU fanatics. If you're feeling fancy, you can pick up red and grey sprinkles on your trip to Walmart, and just maybe out-Buckeye the Buckeye.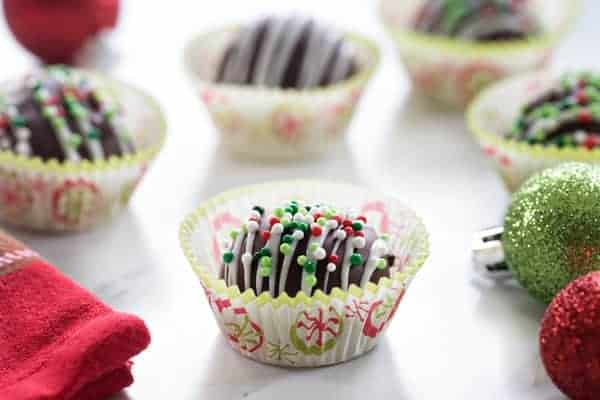 For more holiday entertaining tips and recipes, be sure to check out www.walmart.com/holidayfavorites. Also be sure to check out these Cherry Cheesecake Cookies and these Chocolate Almond Kiss Cookies, both pack up beautifully in Glad® holiday containers and are perfect for gift giving!
Happy Holidays, my fellow OSU fans. It's going to be an awesome rest of the season – and a pretty amazing Christmas too.
This is a sponsored conversation written by me on behalf of Glad. The opinions and text are all mine.