Chocolate-covered peanut butter balls are a festive treat that transports easily to all your holiday parties. Use your favorite chocolates, candy melts, and sprinkles to decorate these sweet little bites.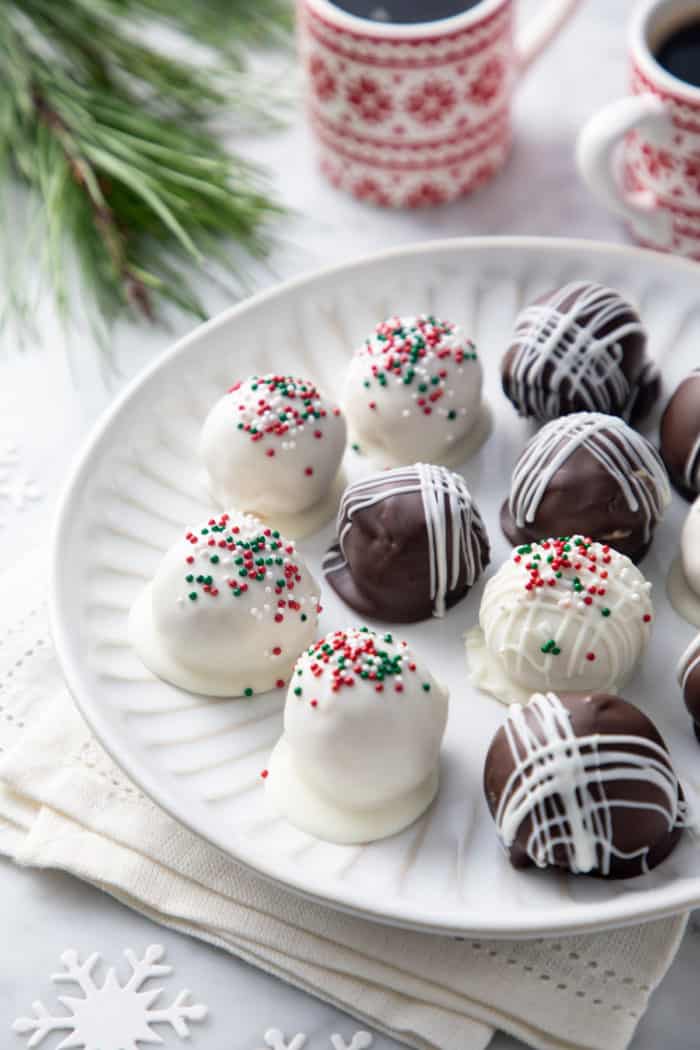 This time of year is perfect for little poppable treats.
Peppermint oreo balls, homemade truffles, bourbon balls, and these chocolate-covered peanut butter balls are some of my personal favorites.
These festive little guys are easy to make and you can't go wrong with that classic combination of chocolate and peanut butter.
Add adorable red, white, and green sprinkles, and you're on to something truly fun.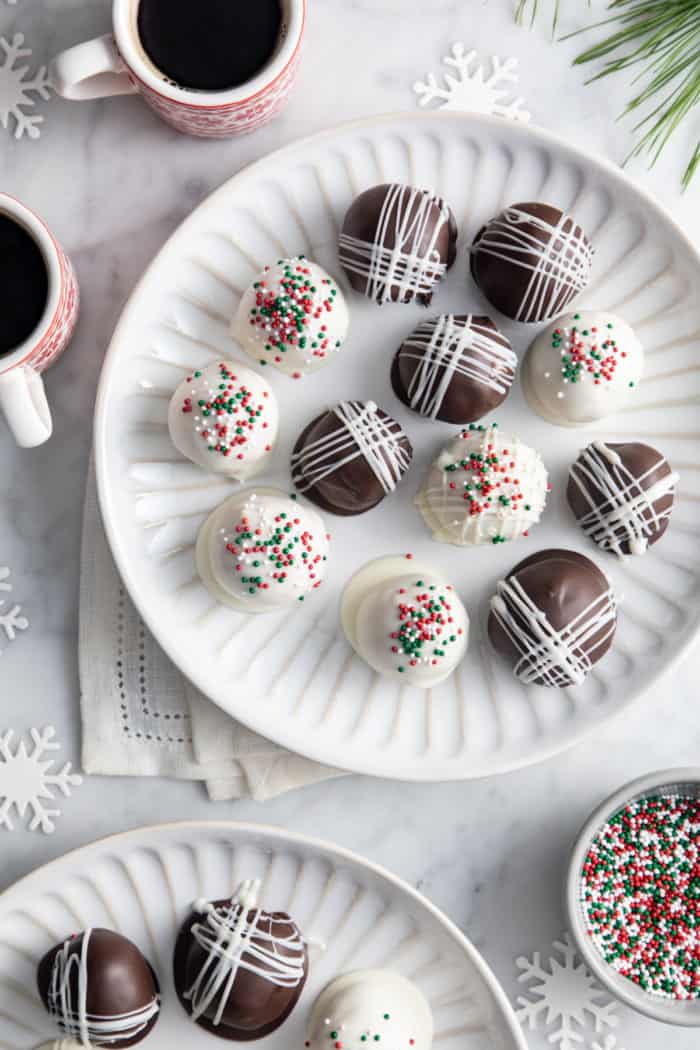 FESTIVE CHOCOLATE-COVERED PEANUT BUTTER BALLS
If you're the kind of person who goes bananas for that classic peanut butter and chocolate combination, these chocolate-covered peanut butter balls are the treat for you.
Whether it's peanut butter cup brownies, peanut butter blossoms, or peanut butter pretzel bars, I love creamy peanut butter and rich chocolate together, so it only makes sense to turn my old-fashioned peanut butter balls into a chocolate-covered, poppable treat!
The best part about making chocolate-covered peanut butter balls is that you can decorate them in any way you like.
Use your favorite milk chocolate, dark chocolate, or white chocolate chips, get colorful with candy melts, and adorn them with festive sprinkles. (Skip down to "decorating tips & ideas" for more details!)
Whether you're making them for a holiday party, a bridal or baby shower, the big game, or for a birthday party, you can dress these little bites up for any theme.
Oh, and the best part? These are the perfect dessert to make ahead of time, so you aren't rushing around trying to throw them together the day of your party or get-together!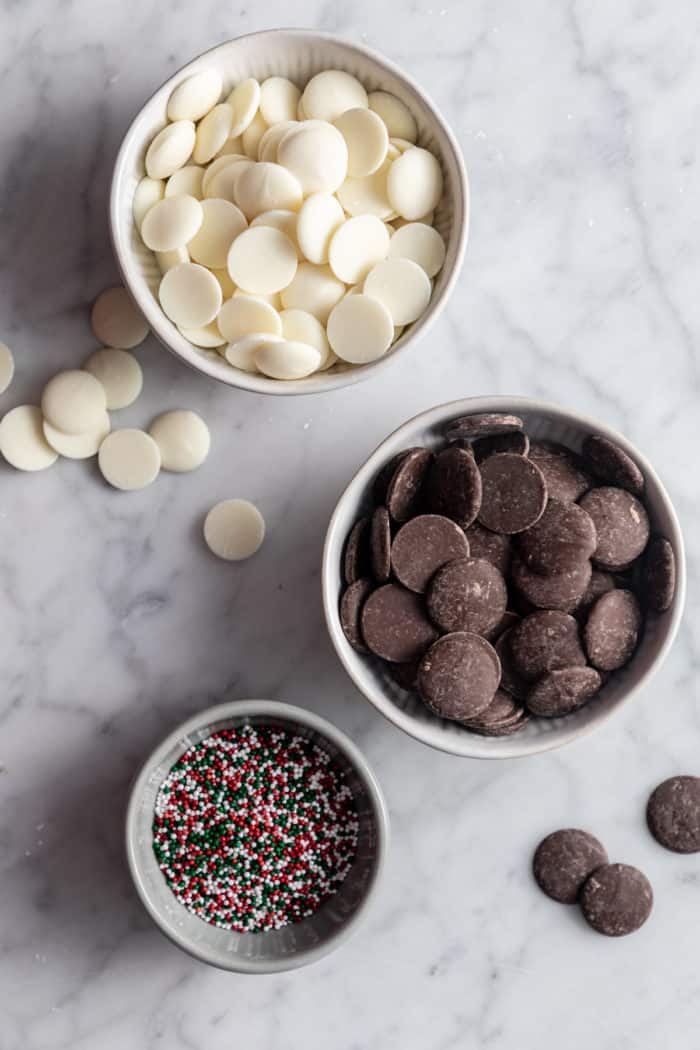 HOW TO MAKE CHOCOLATE-COVERED PEANUT BUTTER BALLS
I love holiday recipes that I can make with Elle. This one is extra fun to make with kids!
Since this is a no-bake recipe, there are lots of opportunities for kids to help you make these. Get them involved with mixing together the peanut butter filling, rolling the balls, dipping them, and/or decorating them with sprinkles.
Ingredients you'll need
The filling recipe for chocolate-covered peanut butter balls is the same as my old-fashioned peanut butter balls. You will need:
½ cup unsalted butter
2 cups creamy peanut butter
2 teaspoons vanilla extract
4 cups powdered sugar
¼ teaspoon kosher salt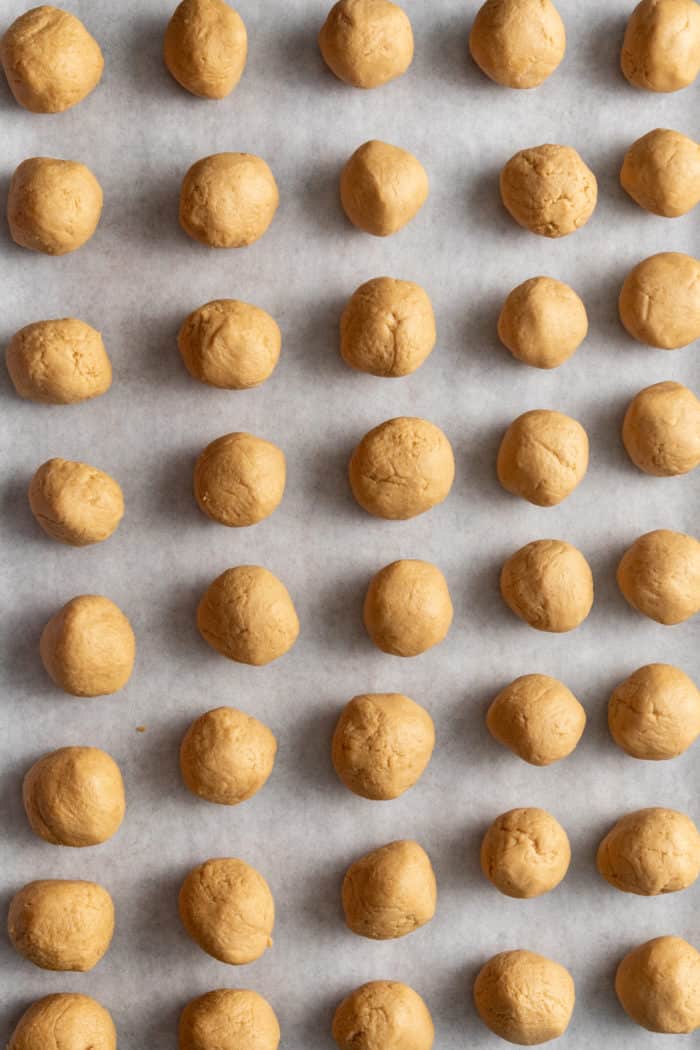 In addition to the filling ingredients, you will need the following for decorating:
Your favorite chocolate chips
Candy melts or almond bark
Colorful sprinkles
That's really it! The best part is you can find almost everything you need in just a couple of aisles at the grocery store, so you can make a quick run in and out.
What kind of peanut butter should you use?
Make sure you use creamy peanut butter for this recipe. You can use a standard creamy peanut butter or a no-stir natural peanut butter.
I don't recommend using the kind of natural peanut butter that is just ground peanuts and nothing else. It doesn't usually work as well in recipes like this, so save that one for your peanut butter sandwiches.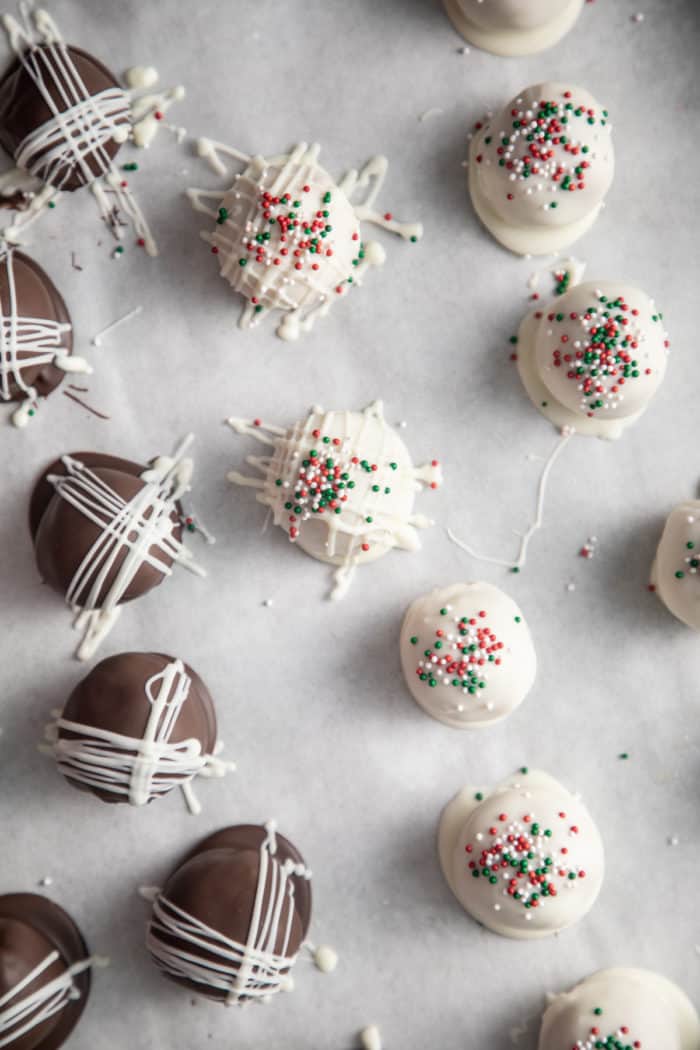 Making this recipe
Make the peanut butter filling by beating together the softened butter, peanut butter, and vanilla with a mixer until well combined.
Turn the mixer to low speed and gradually add the powdered sugar and salt. Do this slowly so you don't accidentally get powdered sugar everywhere!
Once that's combined, increase the speed of the mixer to medium and beat the mixture for about 2 minutes. It'll look a little like cookie dough.
Portion out the peanut butter balls. I like to use about 2 teaspoons for smaller balls and 1 tablespoon for larger ones.
Roll each portion into a ball. Because the filling dough softens as you work with it, the balls may not be perfectly smooth, but we'll fix this later. Set each ball on a parchment-lined baking sheet.
Let the peanut butter balls chill in the refrigerator for at least 1 hour. Once they've chilled, you can quickly re-roll them in your palms to smooth the outsides if needed.
Keep the tray of peanut butter balls in the fridge or freezer to keep them cold while you get your decorations ready.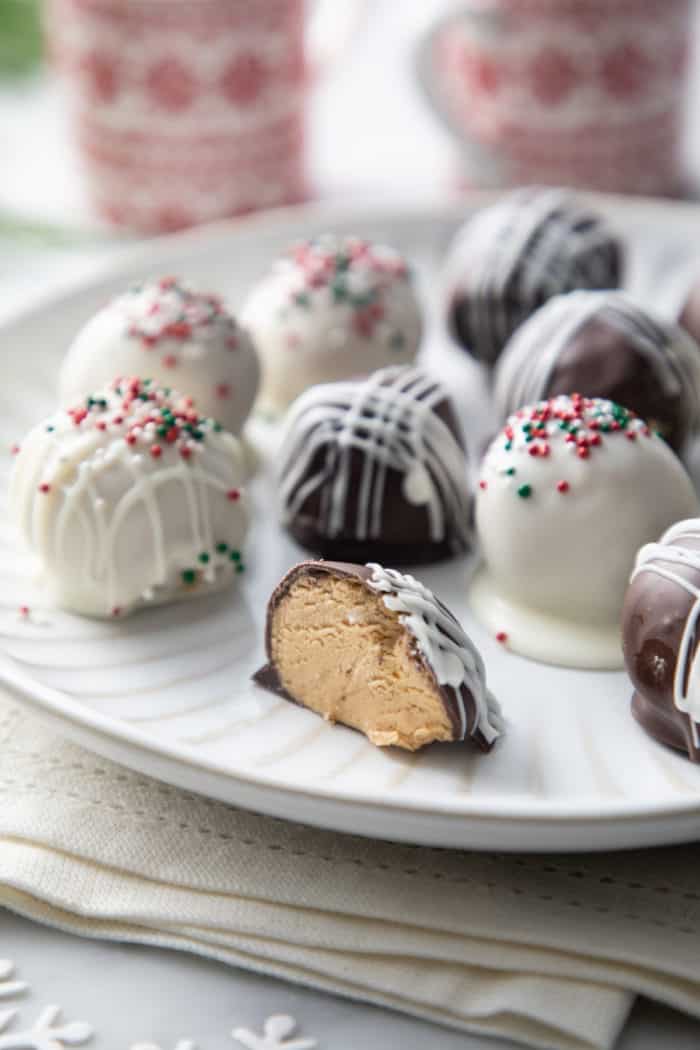 DECORATING TIPS & IDEAS
There are so many ways you can dip and decorate your chocolate-covered peanut butter balls.
You can use dark, milk, or white chocolate chips, candy melts, or almond bark for dipping and also for adding contrasting accents.
I usually like to use at least 2 colors of chocolate or candy melts as well as festive sprinkles when I make this recipe.
To do the decorating, melt the chocolate, candy melts, or almond bark according to the package directions (or learn how to melt chocolate).
Place each chilled peanut butter ball on a fork, then use the fork to lower the ball into the melted chocolate.
When you lift the ball out of the chocolate, let any excess chocolate drip off for a moment before placing the coated ball back onto the parchment-lined baking sheet.
(Psst! Dip the center only part of the way in the chocolate to make the Ohio-famous buckeyes!)
Feel free to get creative with the contrasting chocolate colors!
Use a fork, spoon, or even a piping bag to drizzle a contrasting chocolate over the dipped balls. Dip halfway in one chocolate, and halfway into another. Let your imagination run wild!
If you want to add sprinkles, make sure to do so right away while the chocolate is still wet.
Once all of the peanut butter balls are coated, place the sheet tray back in the refrigerator for at least 1 hour to fully set the chocolate.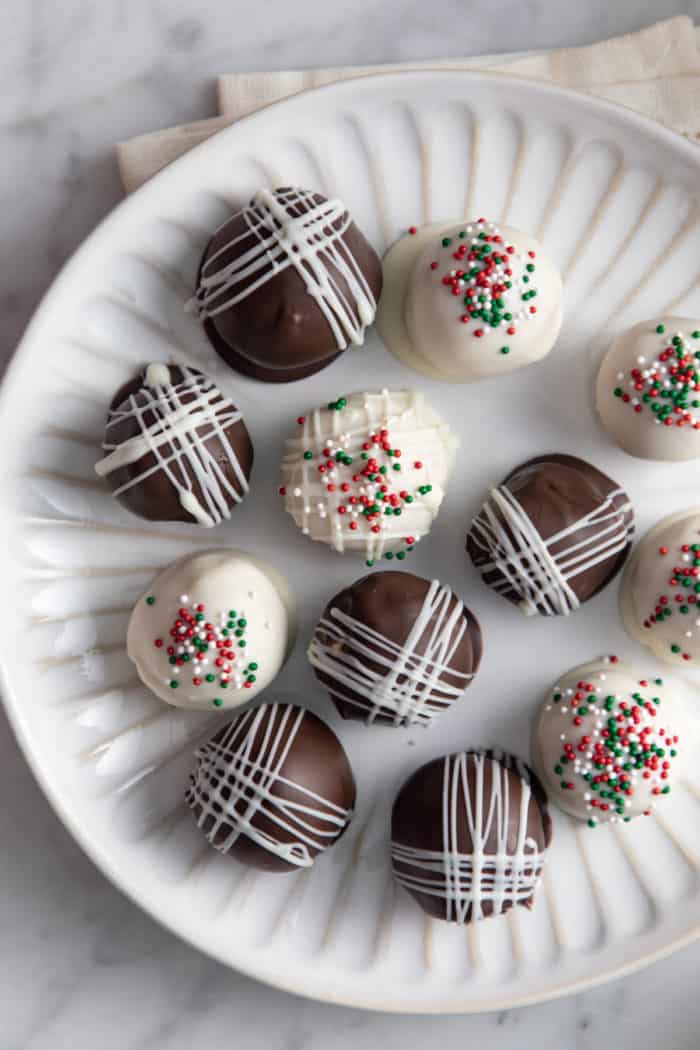 STORAGE TIPS
Once the chocolate-covered peanut butter balls are set, you can move them to an airtight container. I recommend placing a sheet of parchment paper or wax paper between layers if you need to stack them.
Store them in the refrigerator until it's time to serve them. They will last in the refrigerator for up to a week.
You can also store these in the freezer for up to a month. Chocolate-covered peanut butter balls will thaw quickly, so there's no need to worry about transferring them to the refrigerator in advance of serving them, but they are almost more delicious straight from the freezer!