Looking for a light, simple dessert that will please a crowd? This airy pineapple angel food cake is made with just a few simple ingredients and will have everyone asking for a second slice.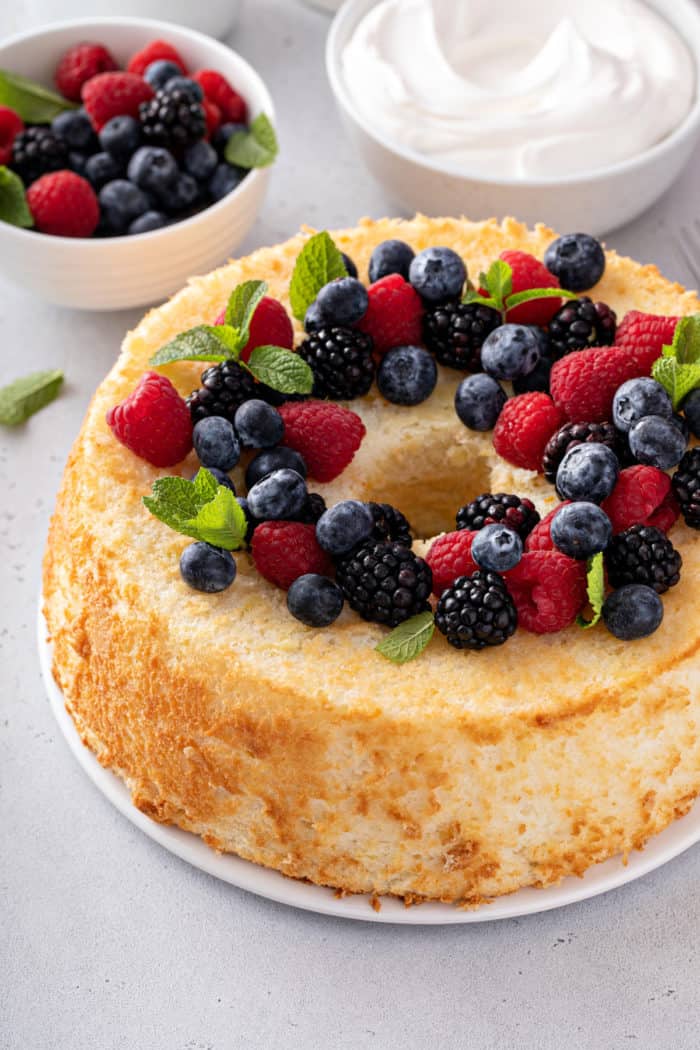 This post contains affiliate links.
Summertime always makes me crave anything remotely tropical.
Anything with pineapple, coconut, and/or key lime is at the top of my list.
That means that cherry pineapple dump cake, key lime pie bars, and lime coconut cake are all on repeat throughout the summer.
And now I'm adding this super delicious pineapple angel food cake to that list.
This sweet, pineapple-forward cake is light as air and deceptively easy to make.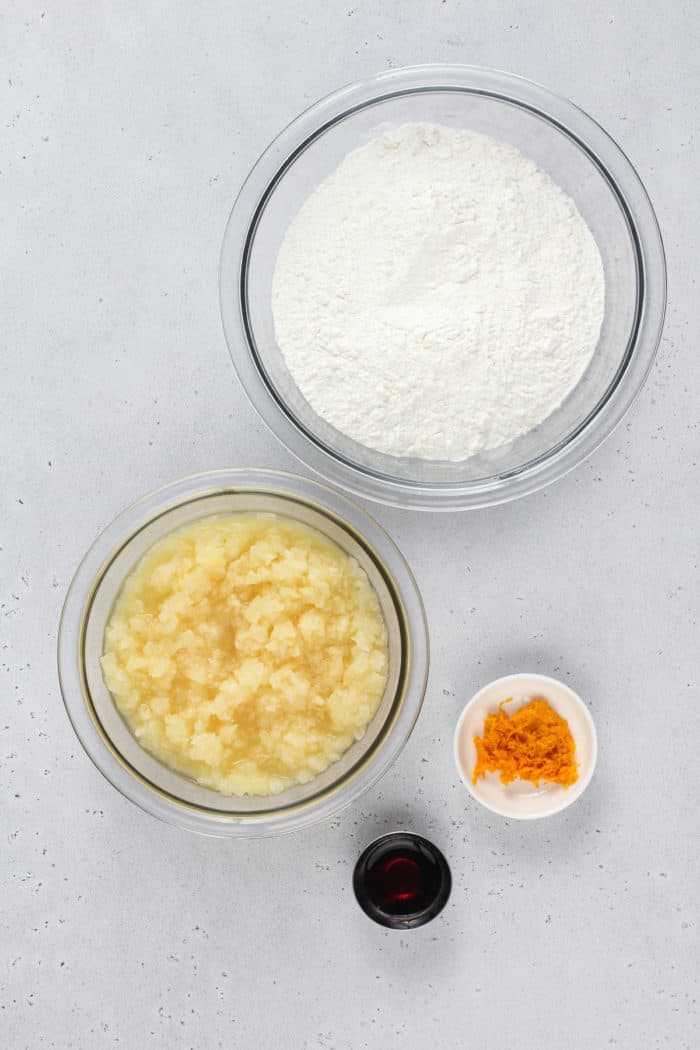 WHAT IS ANGEL FOOD CAKE?
Have you ever had angel food cake?
It's kind of an old-school dessert, but I think it needs to make a comeback. It's so good!
Angel food cake is a type of sponge cake that is made mostly from egg whites, without any fat in it. That means it is super light and fluffy and bright white in color.
It's totally different from recipes like banana cake or pineapple cake, but is so delicious!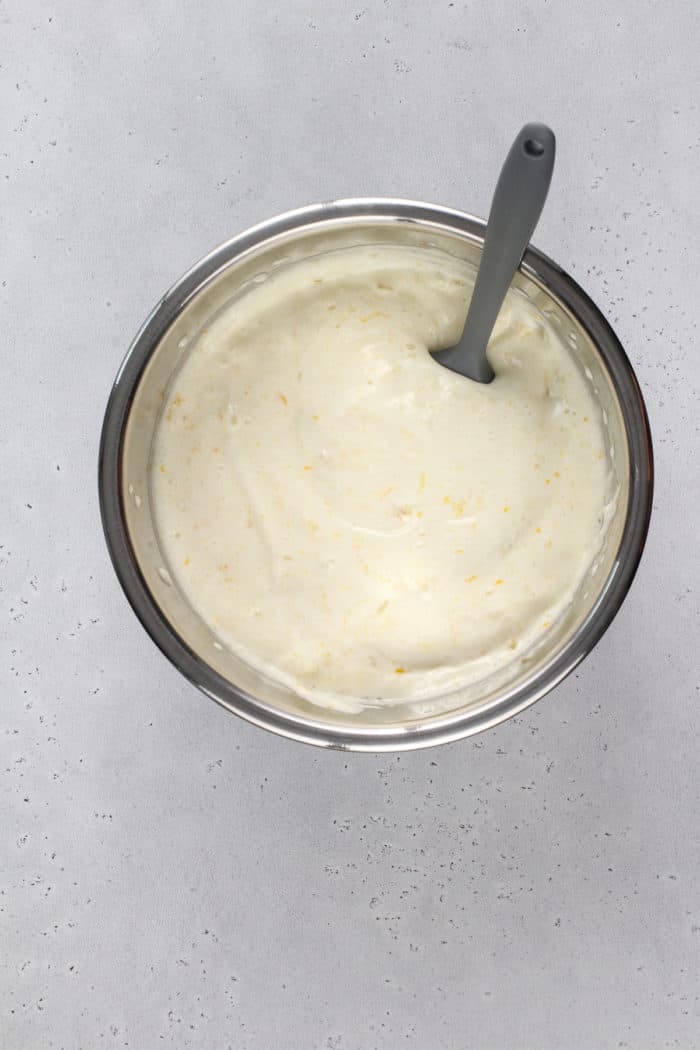 My friend Stephie loves making homemade angel food cake from scratch. Even though it's not hard to make from scratch, I still prefer to use an angel food cake mix, just to keep things simple.
When I learned that you could add a can of pineapple to your angel food cake mix to get a light and fluffy pineapple angel food cake, I was so excited to try it out and see if it worked.
It absolutely worked and the resulting cake is absolutely perfect for summer.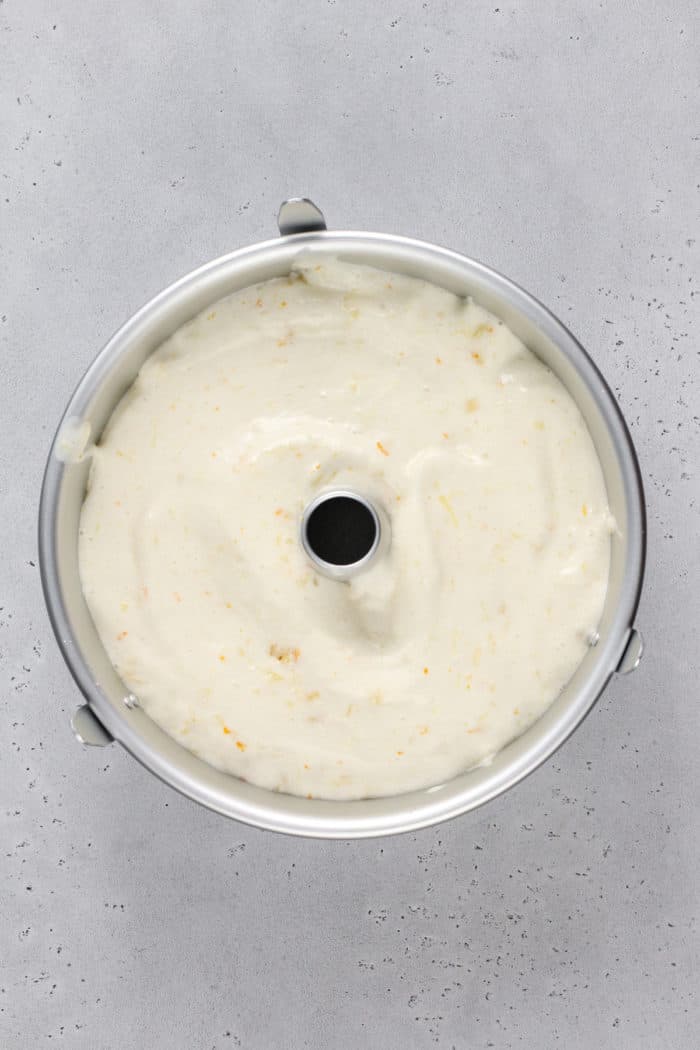 HOW TO MAKE PINEAPPLE ANGEL FOOD CAKE
Pineapple angel food cake is so delightfully easy to make. The light flavor of the cake allows the pineapple flavor to really shine through, making this a tropical cake that you can throw together any time.
Ingredients you'll need
The great thing about this recipe is that you can easily keep the ingredients on hand so you can whip this cake up any time you like. You'll need:
1 (16 ounce) box angel food cake mix
1 (20 ounce) can crushed pineapple in juice, undrained
Zest of 1 large orange
1 teaspoon vanilla extract
I like adding some orange zest to my pineapple angel food cake. I like the way that the orange zest pairs with the pineapple, but you can certainly leave this out if you don't happen to have an orange on hand.
Whatever you do, make sure you use crushed pineapple and you do NOT drain it! You want all of the juice from the pineapple to help the cake mix come together correctly.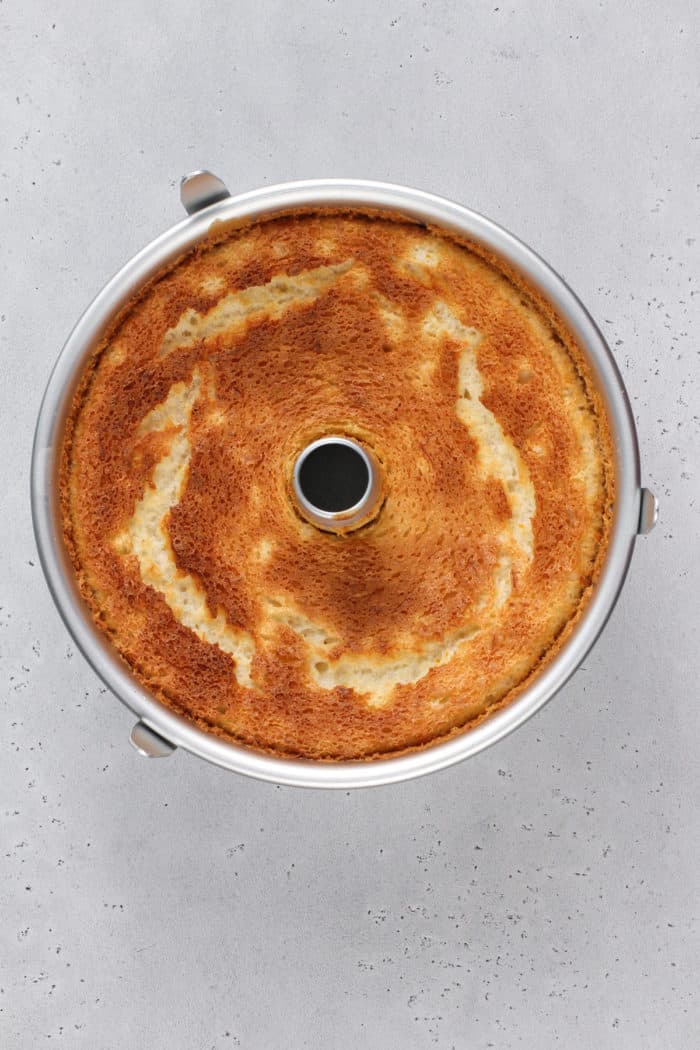 Using an angel food cake pan
You will need to use an angel food cake pan to make this cake. They're pretty inexpensive to buy new, and sometimes you can even find them at garage sales or second-hand stores.
The important thing about an angel food cake pan is that it does NOT have a nonstick surface. The cake needs to be able to climb the walls of the pan, so you want a surface it can stick to!
If you don't have an angel food cake pan, you can use two 9×5-inch loaf pans, but again: make sure they do not have a nonstick coating on them. The cake will bake a couple of minutes faster in the loaf pans, so make sure to start checking it a few minutes early, around 35-37 minutes.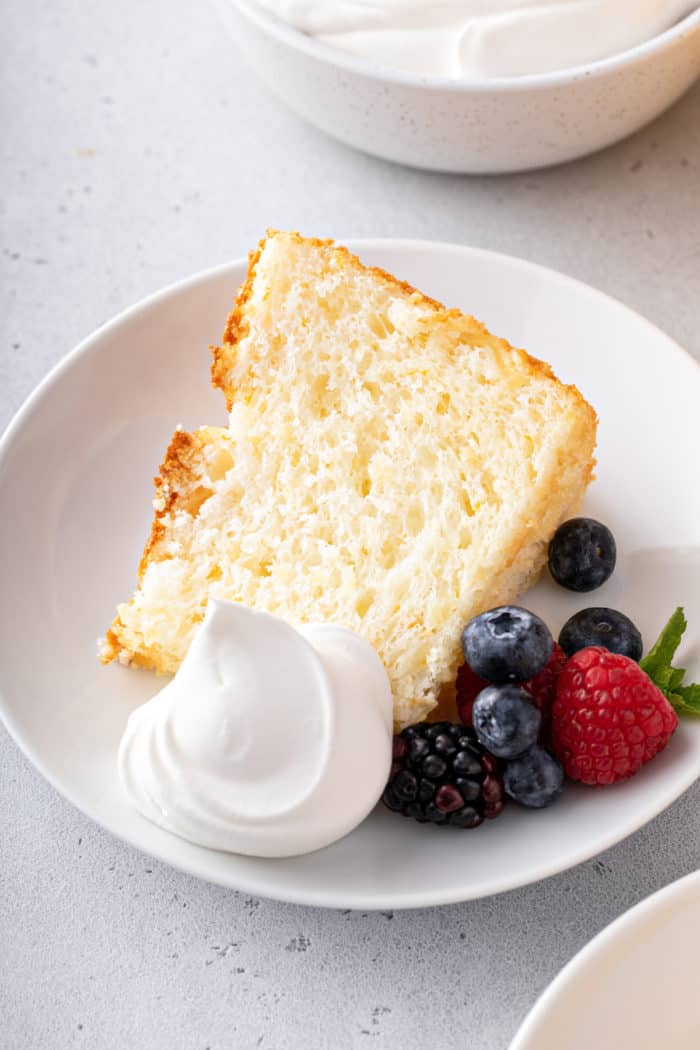 Making this cake
To make the angel food cake batter, add all of the ingredients to a glass or metal bowl and beat with an electric mixer at low speed for 30 seconds, then at medium speed for 1 minute.
Make sure you use a glass or metal bowl. Plastic bowls hold onto fat particles, and we don't want those in our cake batter or else it might not rise.
The batter will be super light, so very gently add it to your ungreased angel food cake pan.
Let the cake bake for 40 minutes. You'll know it's done when the top is golden and the cracks are relatively dry.
As soon as you pull the cake from the oven, turn the pan upside down to cool. This will keep the cake nice and light in texture, and is one of the reasons you can't use a nonstick pan for this recipe!
If your cake has "feet" around the edge, you can simply set it on those to cool. If yours doesn't have those, you can prop it on a wine bottle or something similar.
Make sure you let the cake cool completely before turning the pan back over and removing the cake from the pan.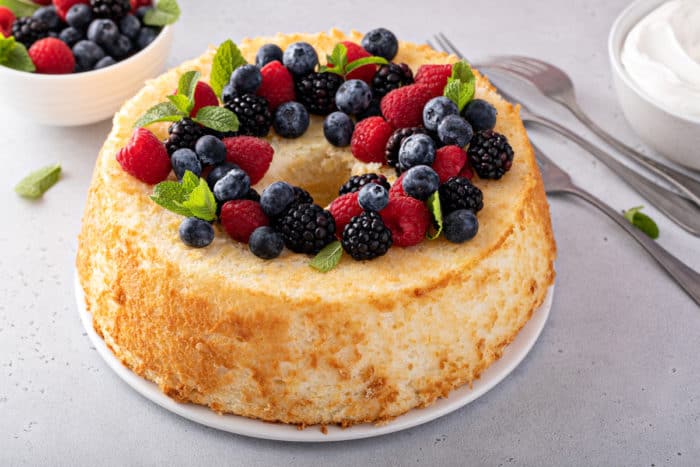 SERVING SUGGESTIONS
I think that this pineapple angel food cake is perfect with a dollop of Cool Whip or homemade whipped cream and some fresh berries.
If you want to add a frosting, you could add a light layer of cream cheese frosting or even Cool Whip frosting.
I would stay away from buttercream frosting for this recipe; since the cake is so light, you don't want to weigh it down with a thicker frosting.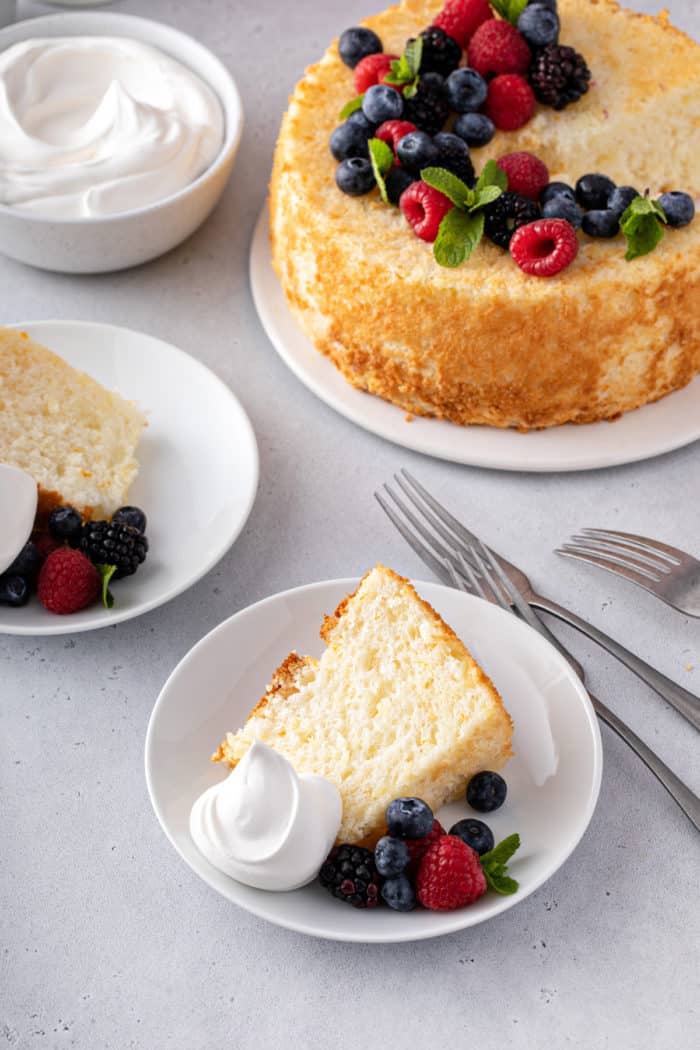 CAKE STORAGE
Store any leftover cake in a covered container at room temperature for up to 2 days.
I don't recommend storing pineapple angel food cake in the refrigerator. The delicate texture of the cake tends to attract all of the moisture in the fridge, so keep it at room temperature.
Try making pineapple angel food cake for anything from a bridal or baby shower to a casual cookout. It's a fun twist on a classic that everyone is sure to love!