Pumpkin butter is a rich, delicious way to celebrate fall. Made in the slow cooker, this recipe is simple to make and is as delightful on toast as it is jarred up as a hostess gift.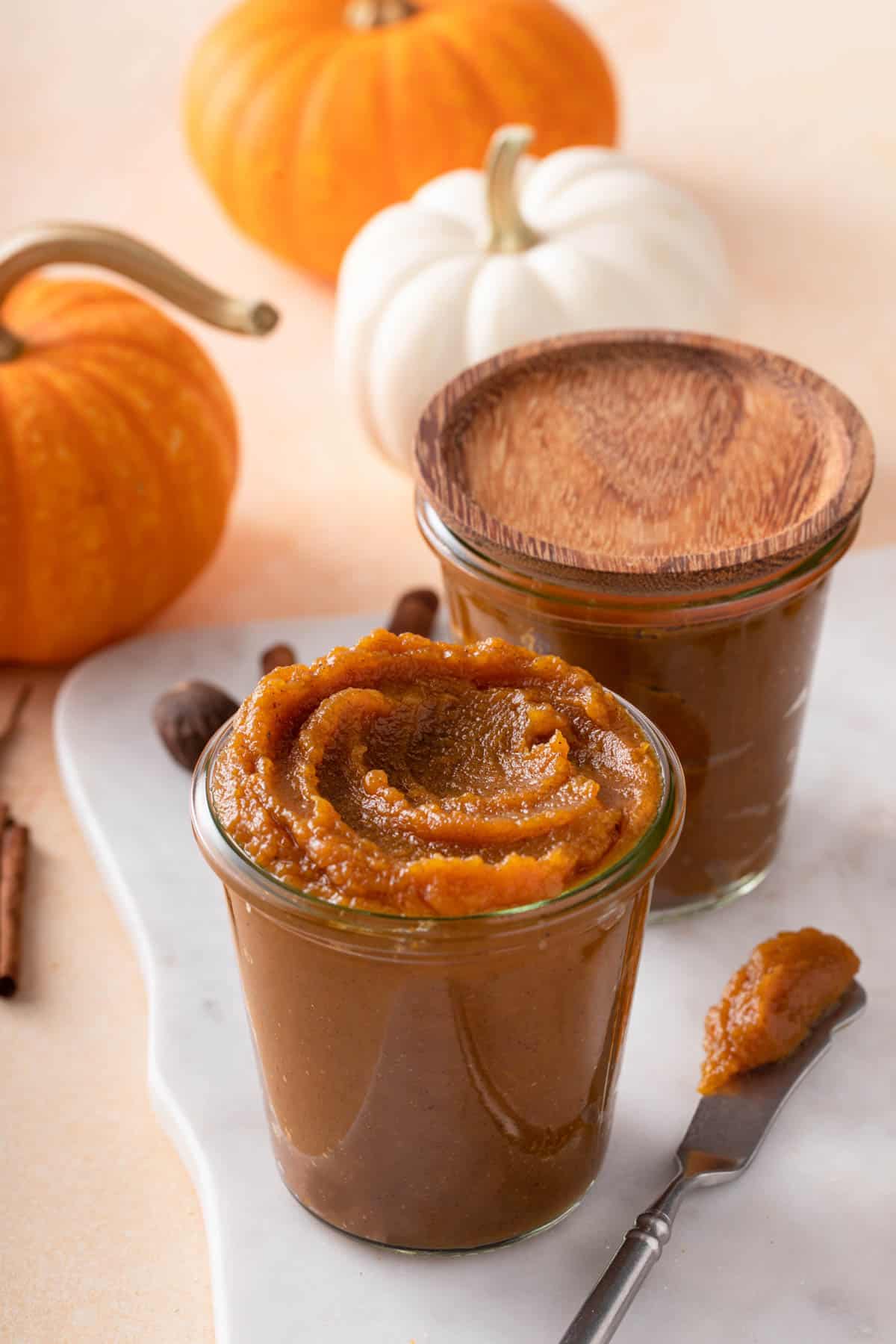 This post contains affiliate links.
One of my favorite fall recipes is also one of your – my readers – favorite recipes: apple butter!
There is nothing quite like putting apple butter in my crockpot before bed, setting it to low, and waking up to the amazing smell of cinnamon and apples in the morning.
With how much I love pumpkin, I couldn't believe that I had never yet made homemade pumpkin butter!
This was the year to change that. This pumpkin butter is so dreamy and the perfect way to start off your morning.
Toast topped with pumpkin butter alongside a cup of coffee? Nothing could be better.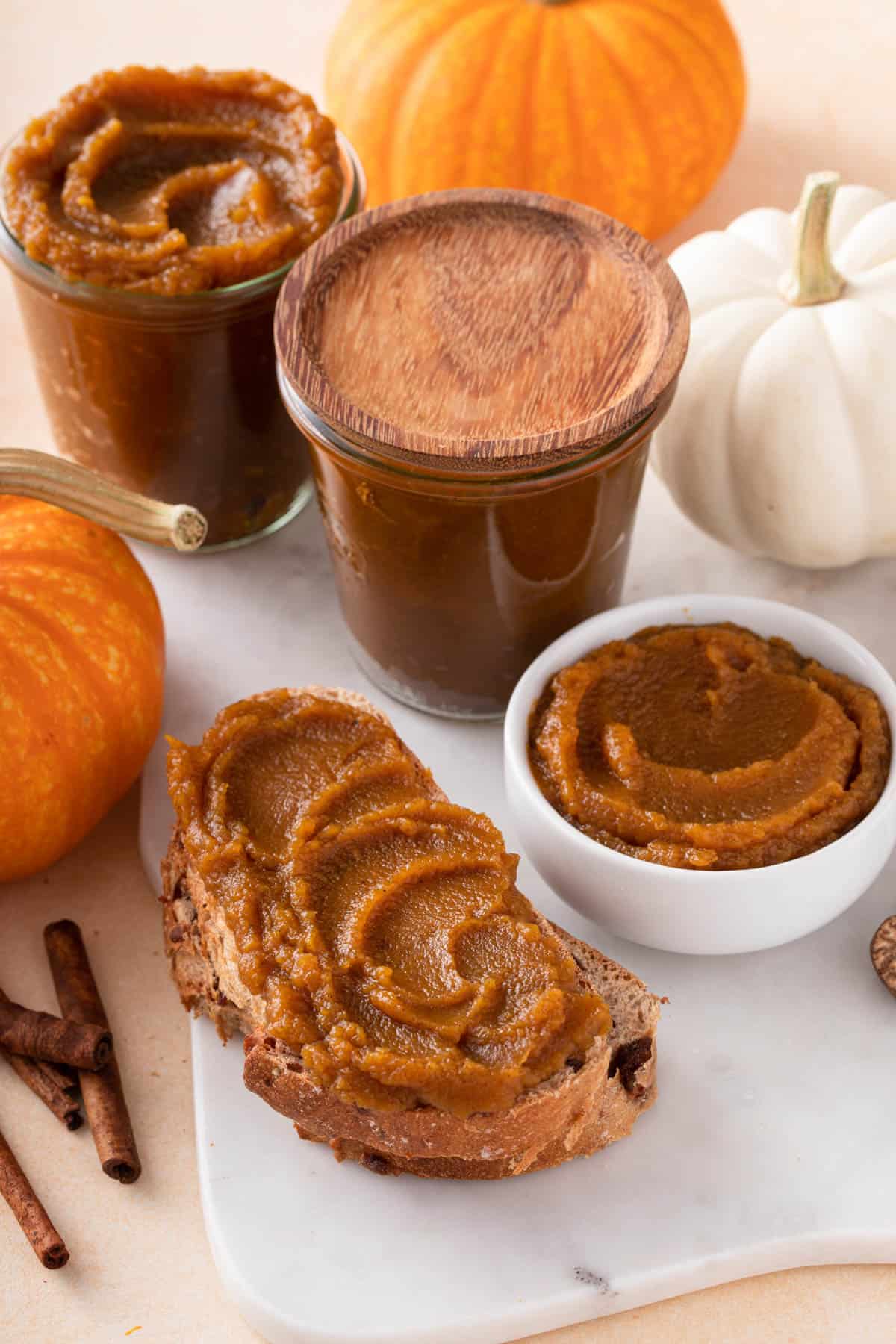 WHAT IS PUMPKIN BUTTER?
Now, before you get weirded out, fruit butters – including this pumpkin butter – don't actually have any butter in them.
They are a type of spread made of fruit that is cooked down and sweetened.
I make my slow cooker apple butter several times each year and everyone loves it, so I decided it was time to make a pumpkin butter version!
Even though Trader Joe's carries jars of pumpkin butter every fall, we all know how hard it is to get your hands on their seasonal products. Making this at home was so easy and definitely less stressful than trying to rush over to Trader Joe's.
This spread is smooth and rich, with just the right amount of sweetness. Warm fall spices pair perfectly with the mildly flavored pumpkin.
If you love pumpkin, you will go nuts for this recipe!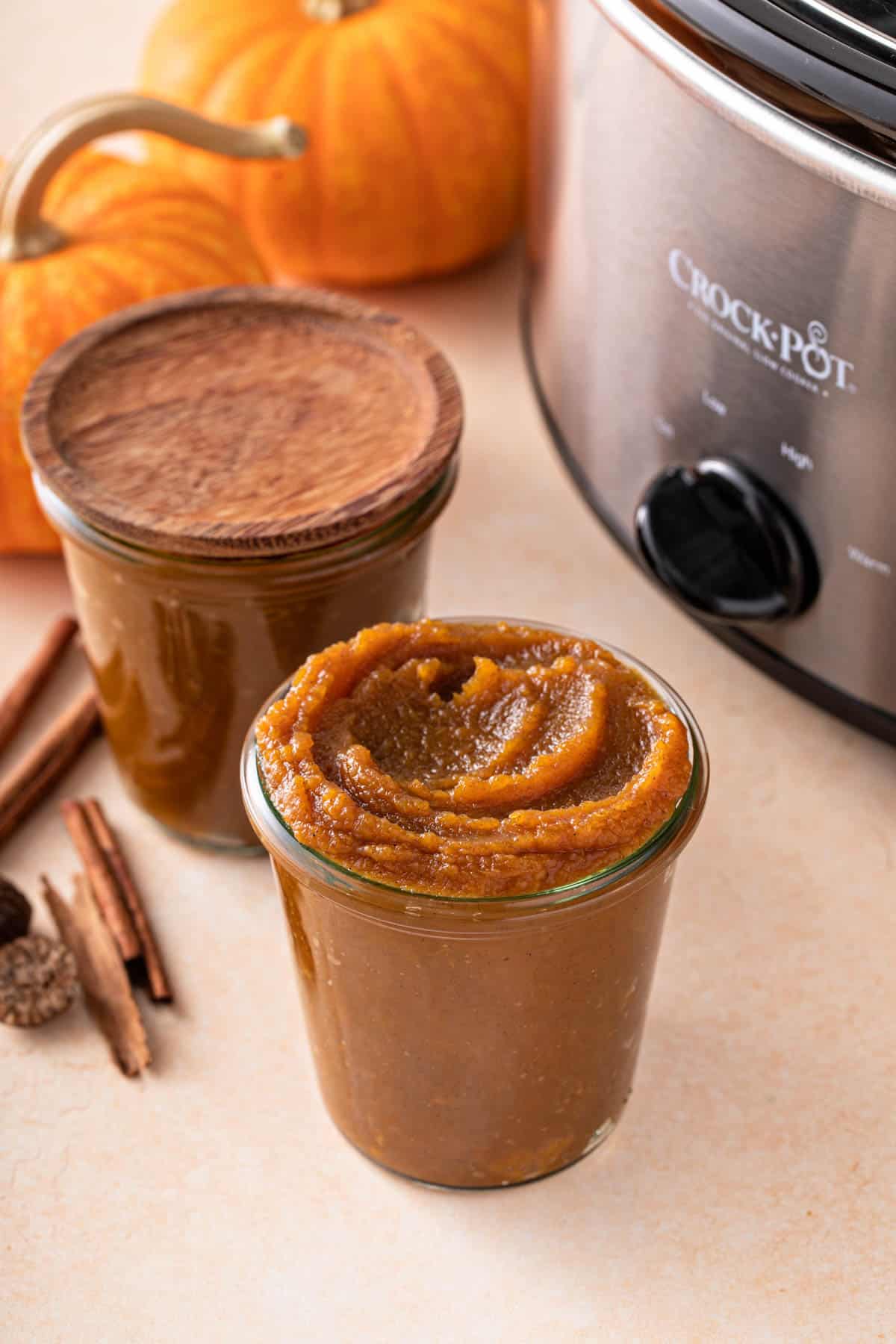 HOW TO MAKE PUMPKIN BUTTER IN THE SLOW COOKER
I like to use my crockpot to make this pumpkin butter. It can cook overnight and I wake up to my house smelling absolutely heavenly!
What kind of pumpkin to use
Unlike a lot of my pumpkin recipes, this recipe does not use canned pumpkin puree. Instead, we're using a whole pumpkin!
Now, you don't want to use the same big pumpkins that you'd buy to make jack-o-lanterns. In this case, you want to look for the smaller pumpkins that are used for cooking and baking.
These pumpkins are known as pie pumpkins or sugar pumpkins. They'll usually be in the produce section of the grocery store, or you can often find them at farmer's markets.
Because these pumpkins are smaller, prepping them is not all that different from preparing other winter squash, such as butternut squash for butternut squash puree.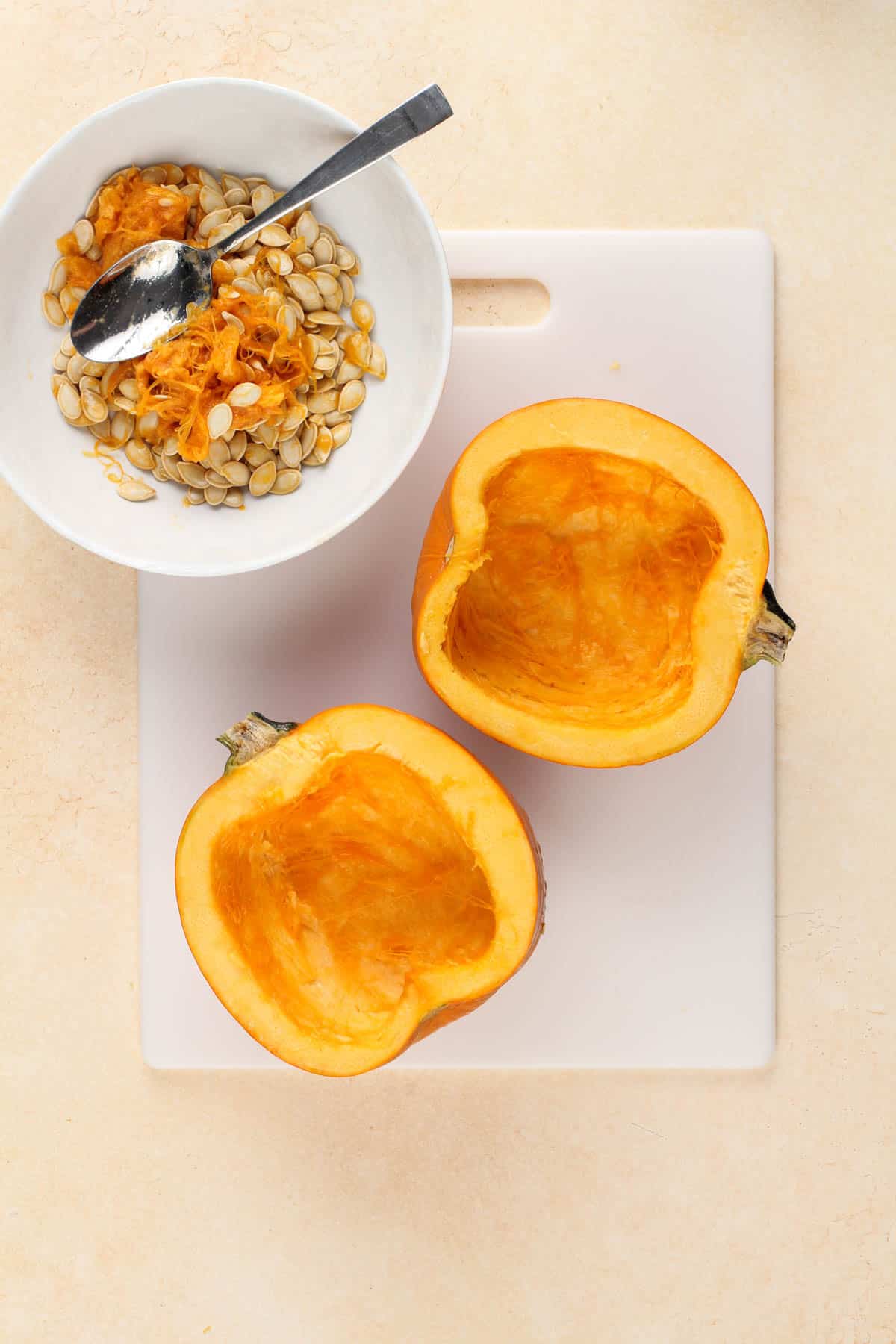 Using a large, sharp knife, carefully cut the pumpkin in half and scoop out the seeds.
You can discard the seeds or save them to make roasted pumpkin seeds.
Now you can use a sharp peeler to remove the rind of the pumpkin. I like to use a y peeler for this.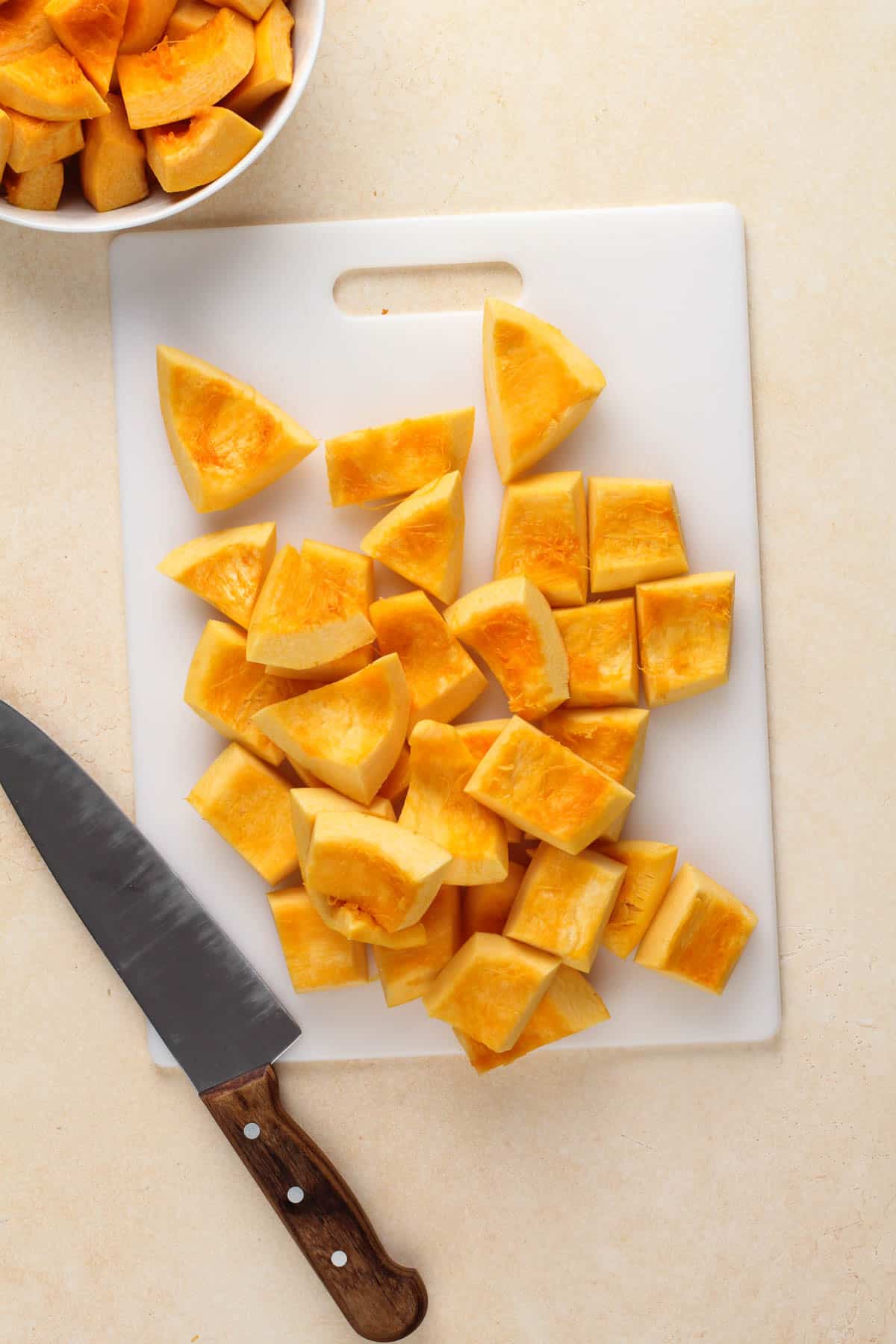 Because the pumpkin will cook down and get pureed, there's no need to worry about cutting it into a perfect dice. Just cut it into chunks and into the slow cooker it goes!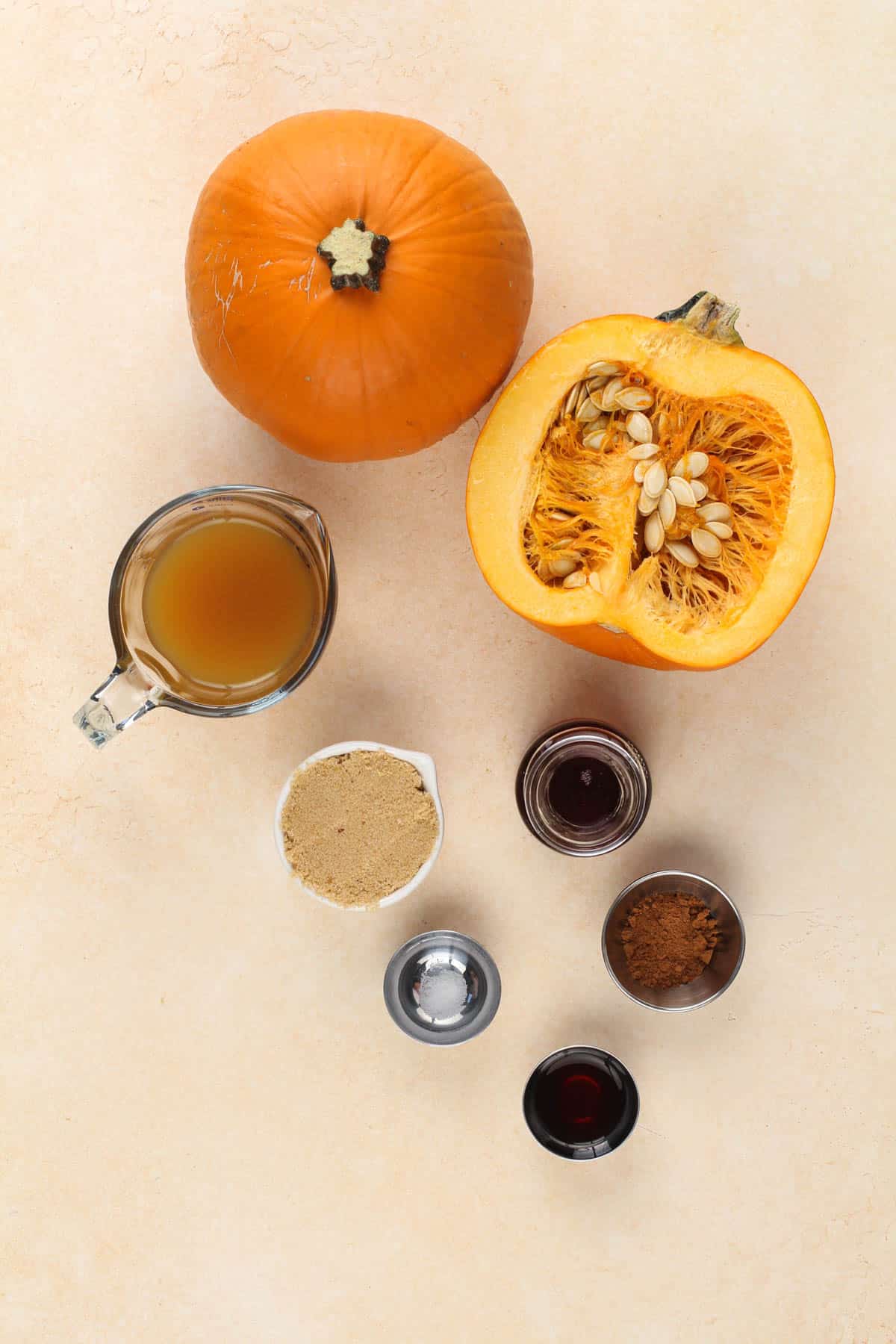 Other ingredients you'll need
In addition to the pumpkin, you will need:
Apple cider or apple juice: Because the pumpkin does not contain a lot of water, adding some liquid helps keep it from drying out while cooking. You could use water, but I think using apple cider or apple juice adds a nice extra layer of flavor.
Light brown sugar & maple syrup: I like to use a combination of brown sugar and maple syrup for sweetness. I like the way they both play against the spices and the pumpkin.
Pumpkin pie spice: Time for the spices! I like my pumpkin butter pretty heavily spiced, so I tend to use 1 tablespoon of pumpkin pie spice. Start with 2 teaspoons, though, and add more if you'd like.
A pinch of salt: A small pinch of salt helps round out the flavors of the pumpkin butter.
Vanilla extract: A little splash of vanilla extract is the perfect finish to this recipe. You can use vanilla bean paste if you prefer.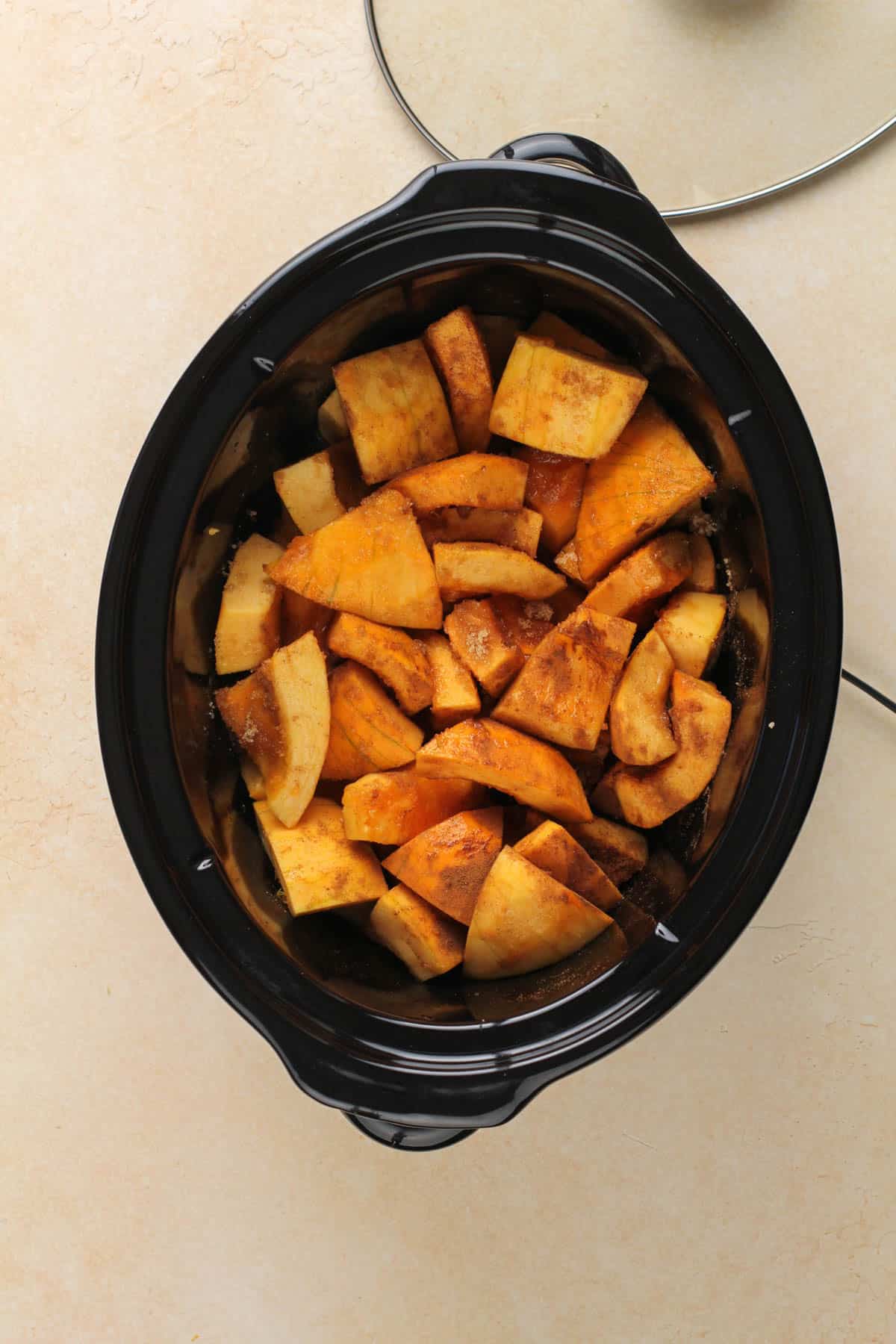 Making this recipe
Break down the pumpkin as described above and add the chunks of pumpkin to the crock of your slow cooker.
Add the cider or juice, along with all of the other ingredients except for the vanilla. Cover the slow cooker and cook on low for 10-12 hours.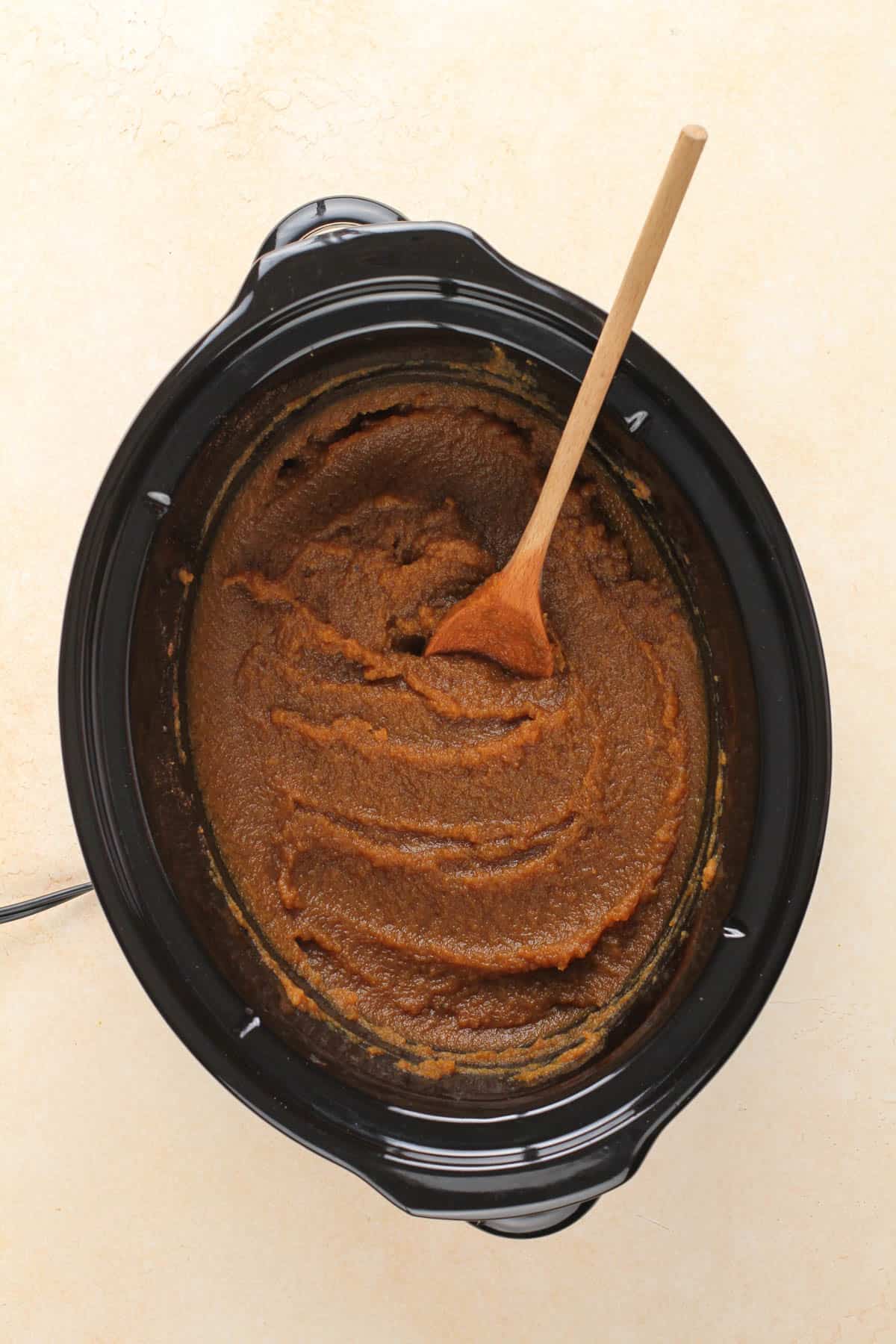 After the 10-12 hours have passed, remove the lid and puree the mixture using an immersion blender.
Stir in the vanilla and then give the butter a taste. If desired, add additional brown sugar and/or pumpkin pie spice.
If you'd like your pumpkin butter to be thicker, cook uncovered on low for up to 2 more hours until it has reached your desired consistency.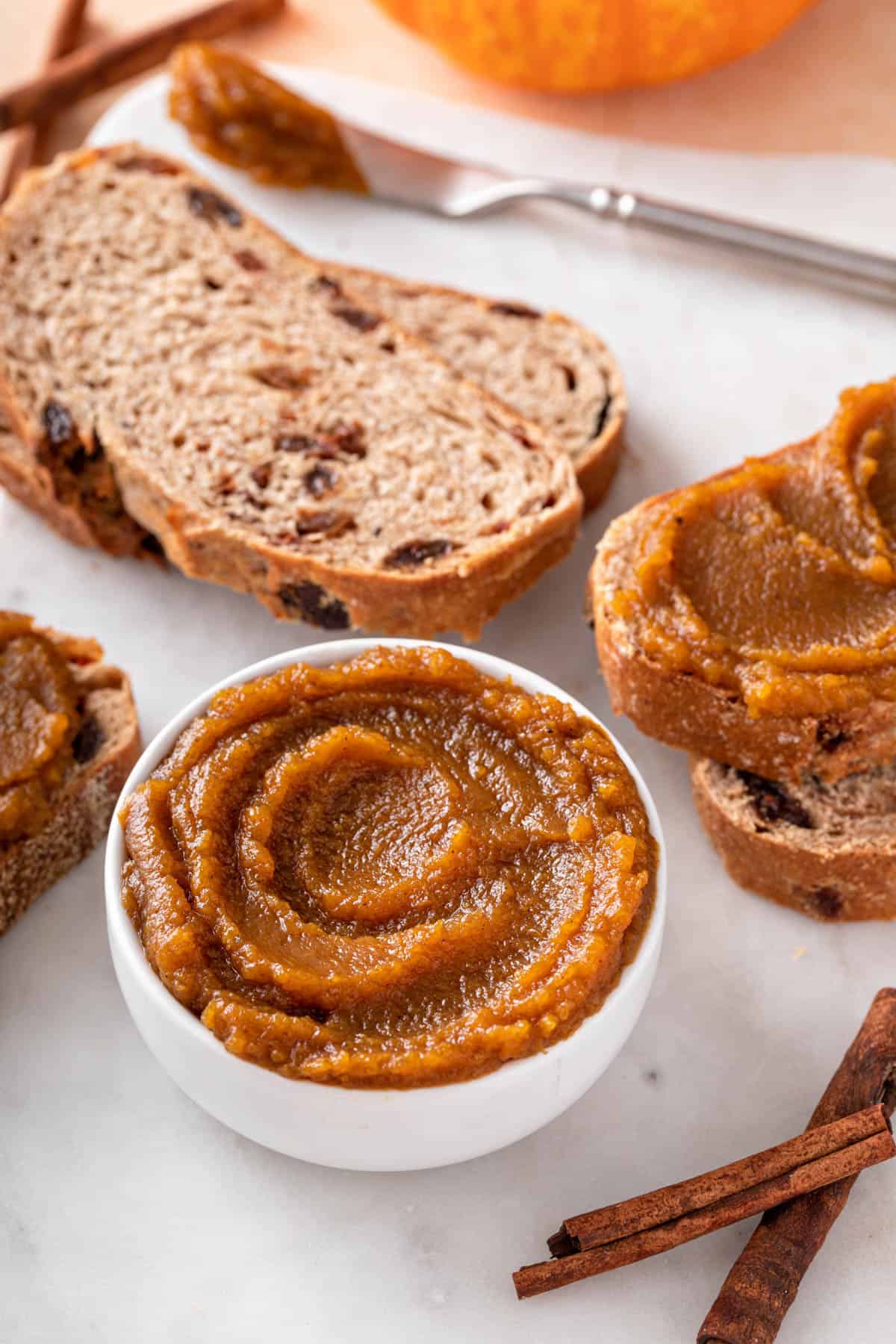 SERVING SUGGESTIONS
So what can you do with pumpkin butter?
Just like apple butter, it is incredible spread on a slice of toasted English muffin bread or on buttered Bisquick biscuits for breakfast.
You can even use it in baking! Try it as a filling in overnight cinnamon rolls or use it in place of apple butter in apple butter cake.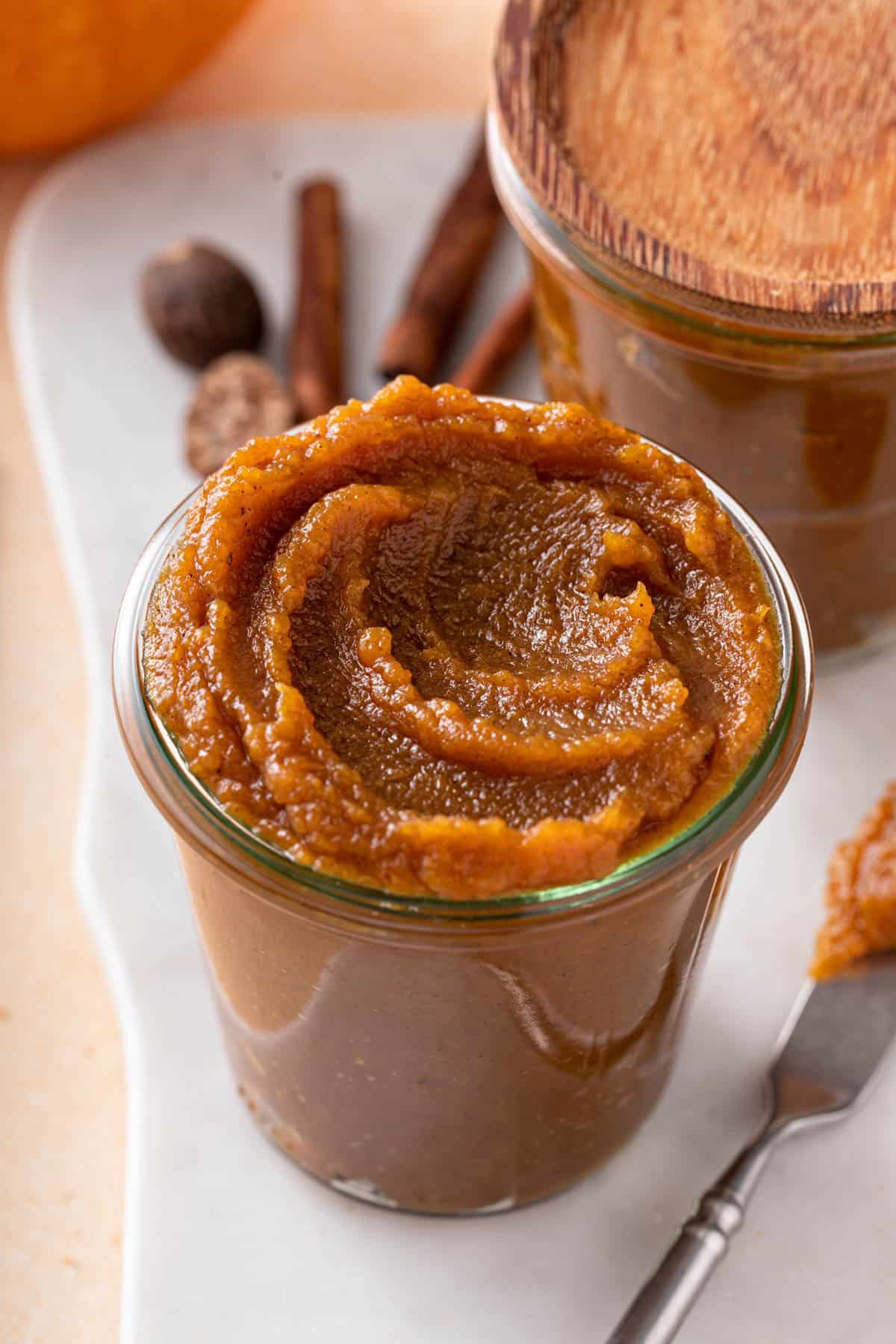 STORAGE
Store your pumpkin butter in jars in the refrigerator for up to a week.
If you'd like to keep it for longer, you can freeze it for up to 6 months. Make sure not to overfill your jars if you plan to freeze it; you don't want them to crack after freezing.
Please note that I have not attempted canning this pumpkin butter.