These Iced Pumpkin Cookies are soft and cake-like, topped with a vanilla glaze icing. This is a recipe you'll want to make again and again.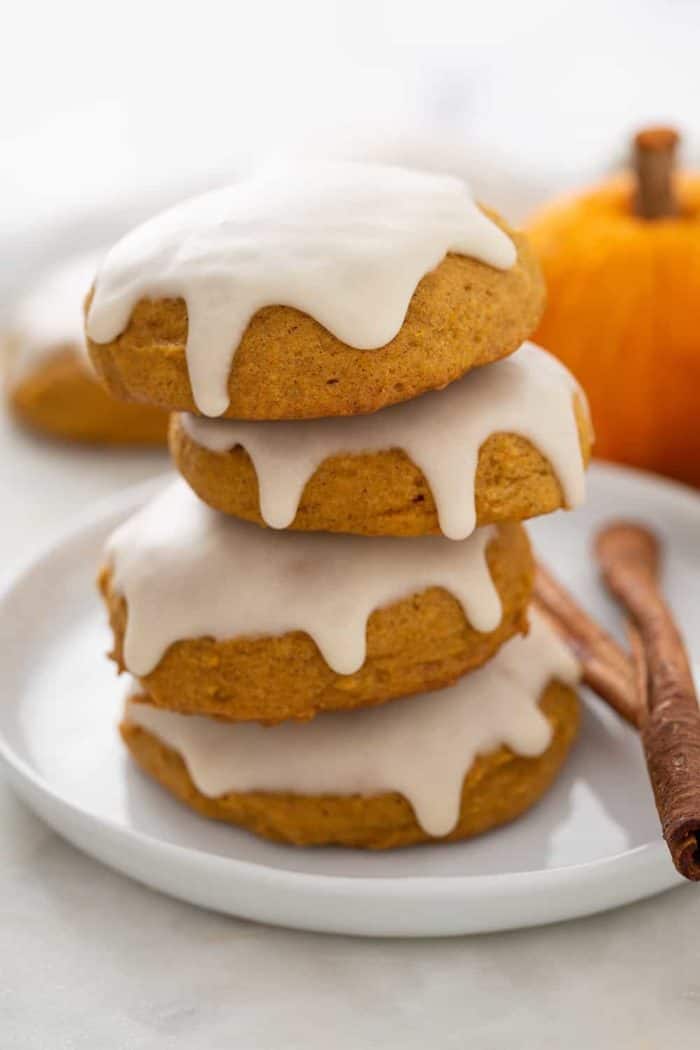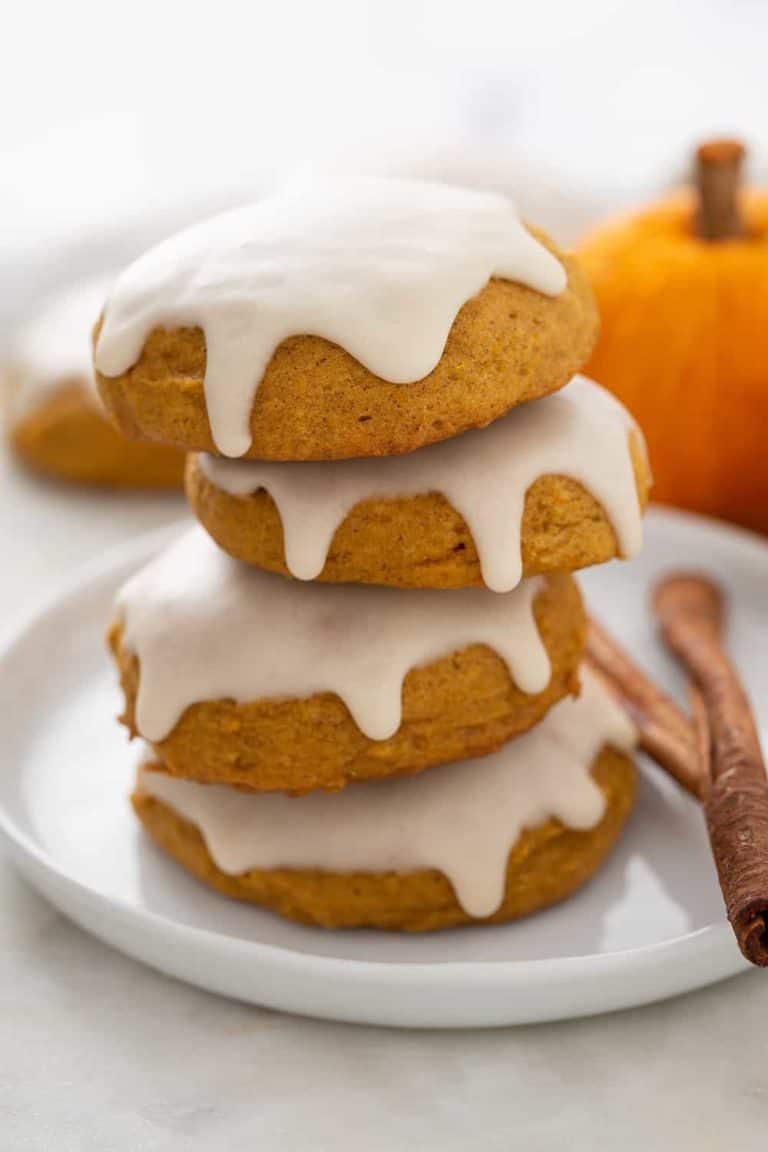 There are certain recipes that I come back to time and time again. And every single fall, these Iced Pumpkin Cookies are at the top of my list.
Well, these pumpkin cookies and pumpkin roll, pumpkin crunch cake and pumpkin cheesecake. Notice a theme here? I'm all about the pumpkin.
Whether you're looking for a sweet treat for your family or wanting to cheer up a neighbor or friend, these iced pumpkin cookies are sure to be a hit!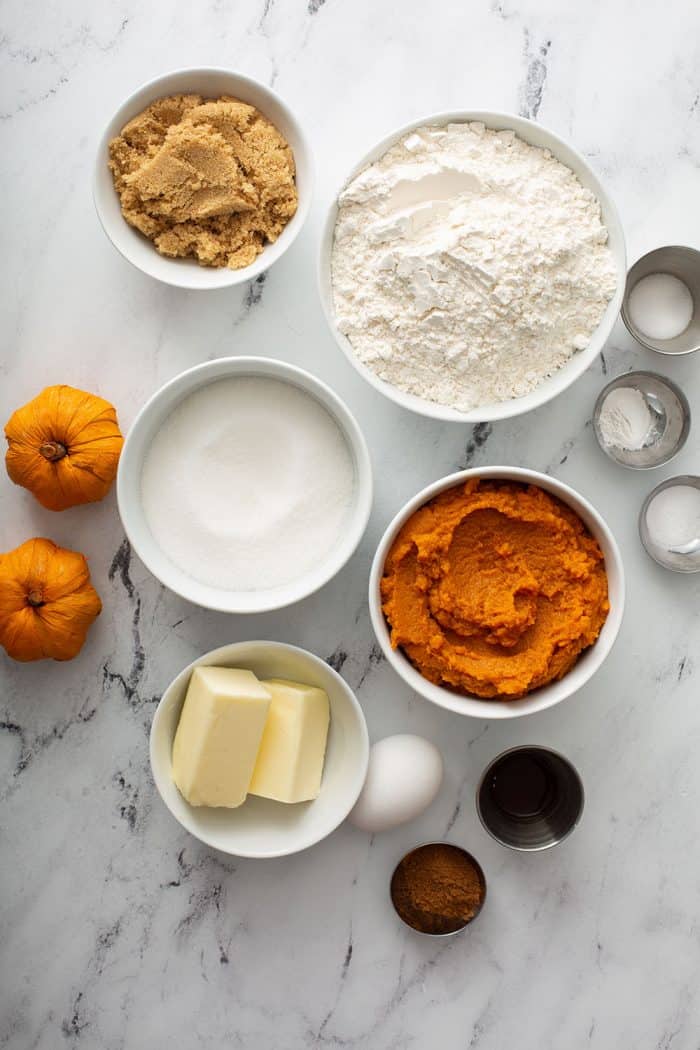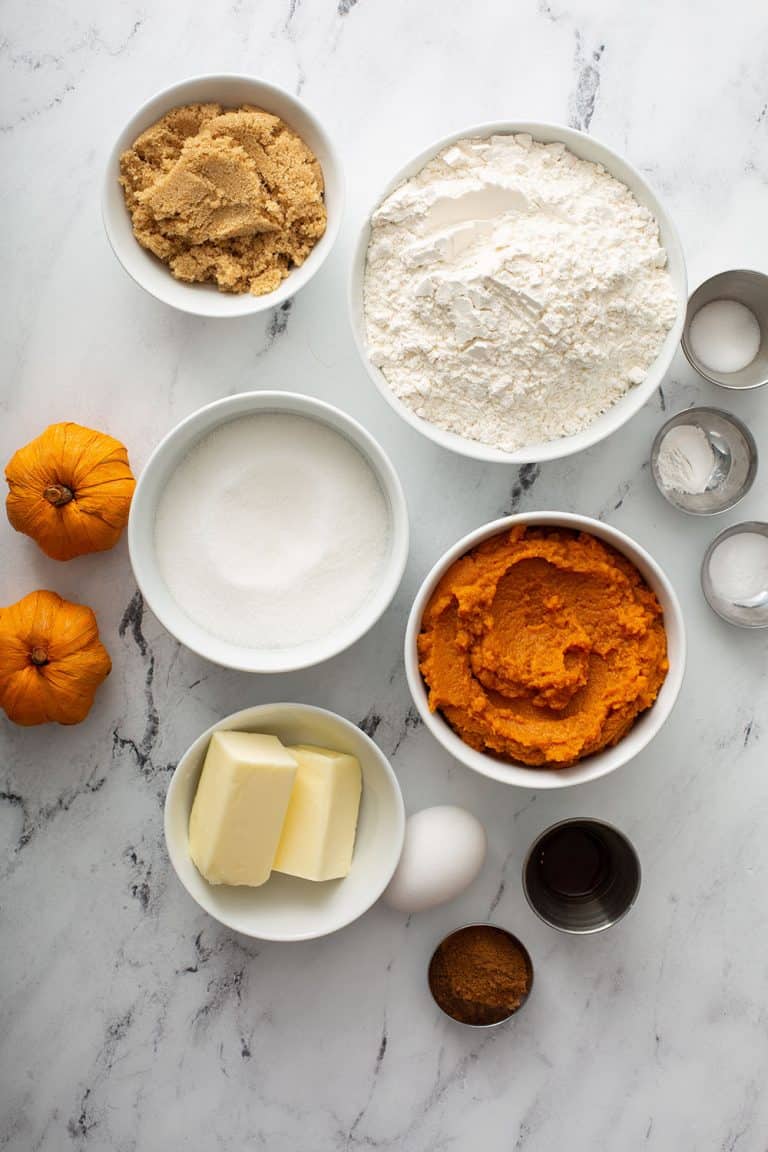 SOFT AND CAKEY PUMPKIN COOKIES
I've been making these Iced Pumpkin Cookies for years now. I don't recall making a cookie like this with my Nana, but for some reason the recipe always reminds me of her.
That's probably why this recipe has become a fall favorite just like my Pumpkin Roll and Pumpkin Crunch Cake.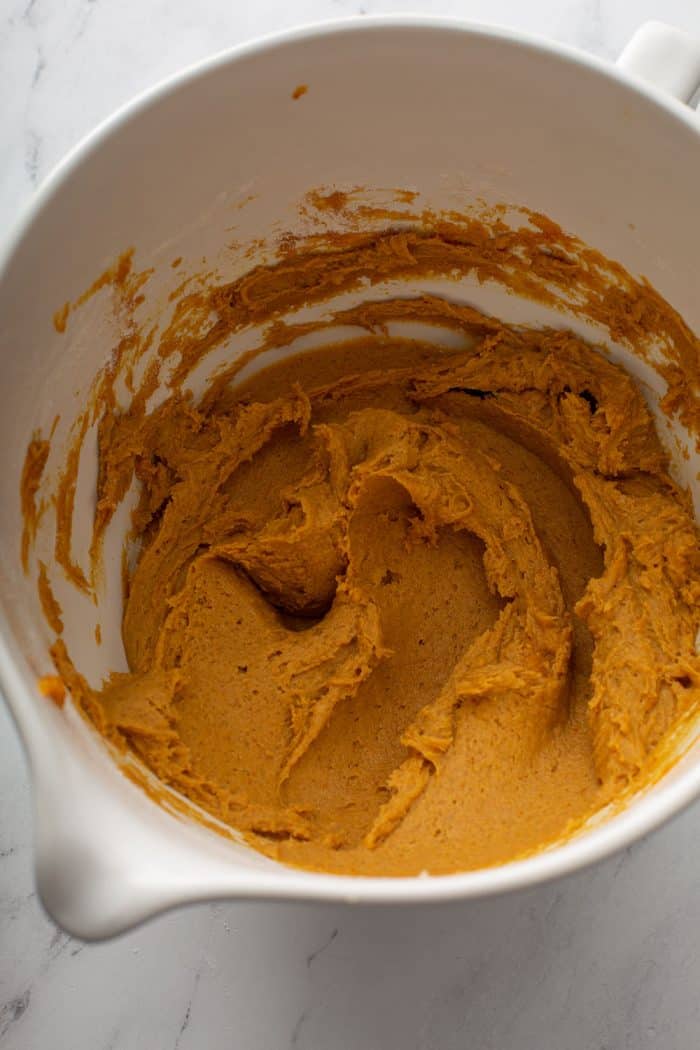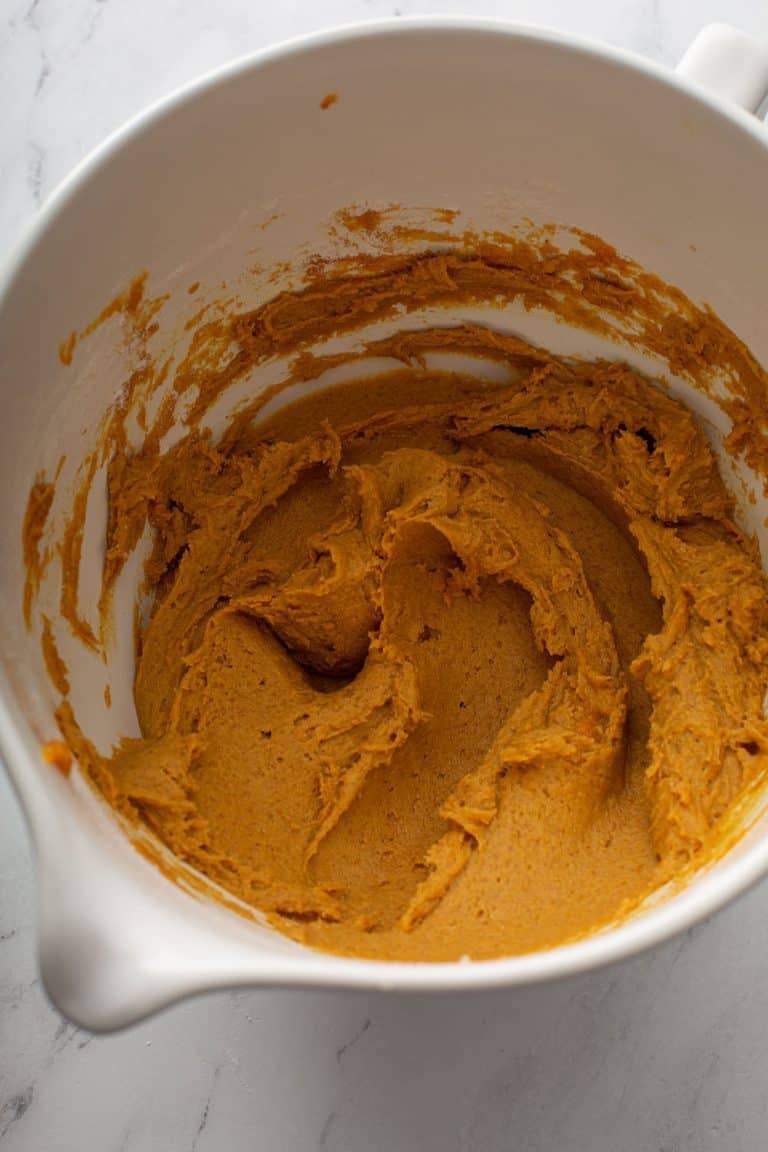 These Iced Pumpkin Cookies are super soft and cakey. They almost remind me of a cross between a muffin and cookie.
Add in the flavor of pumpkin and the warmth of pumpkin pie spice, and this is a cookie recipe that is pure comfort.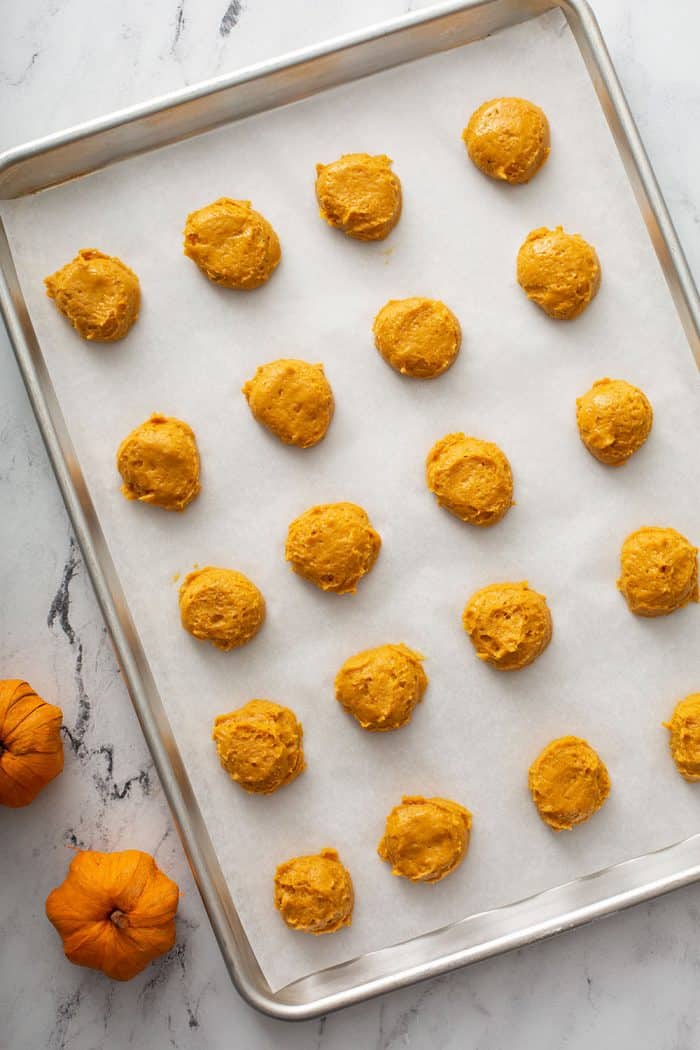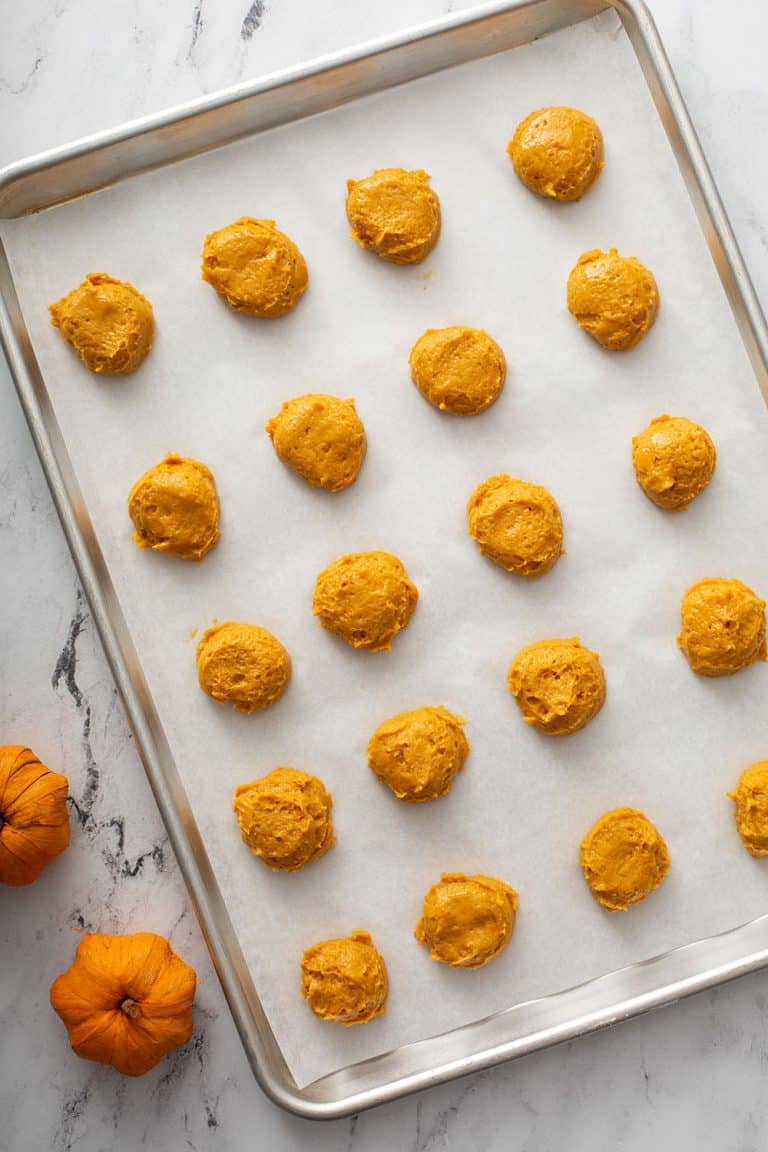 Last year I shared a similar Pumpkin Cookies recipe with a cream cheese frosting, but these are a little more laid back with a simple powdered sugar glaze. The glaze is just sweet enough to complement the spices without overpowering the pumpkin flavor.
Plus, the glaze (and the cookie dough itself!) is incredibly easy to whip together.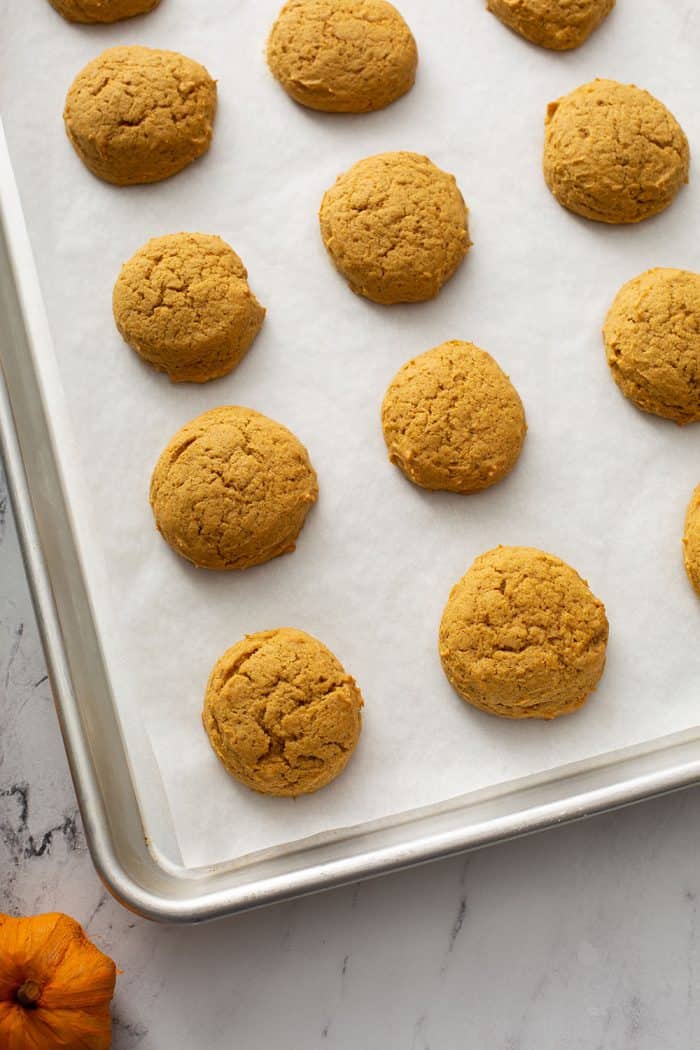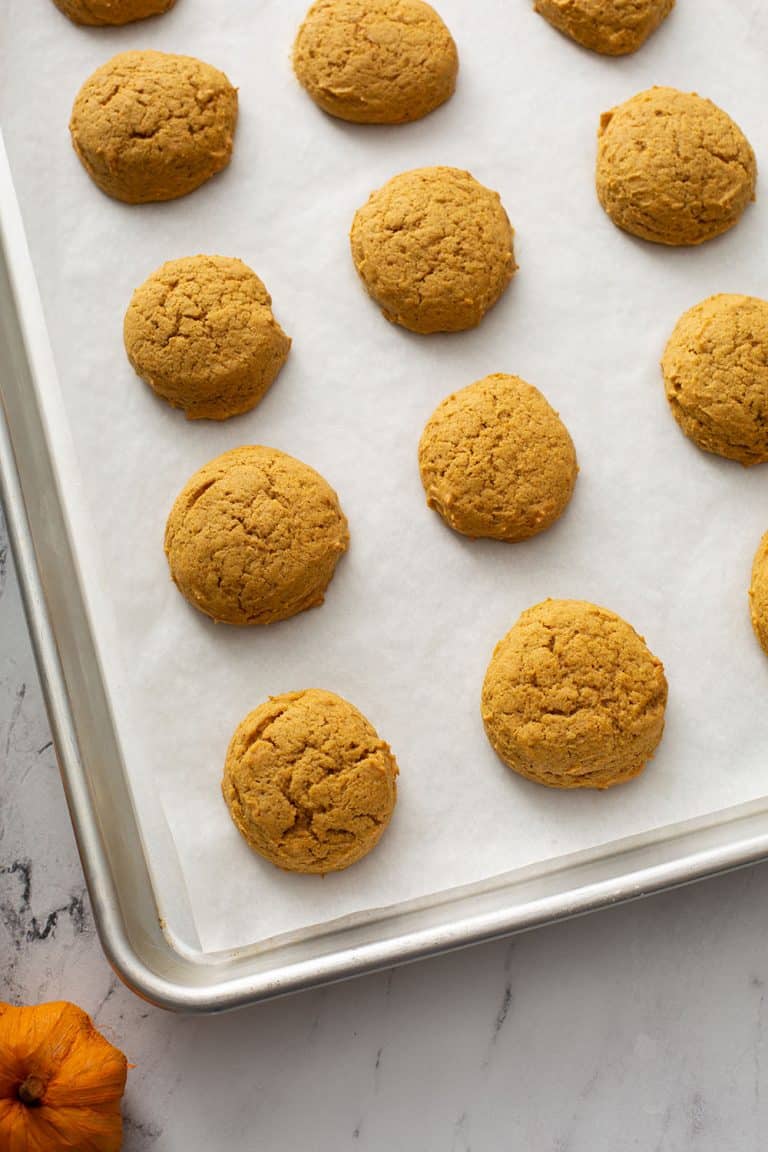 HOW TO MAKE ICED PUMPKIN COOKIES
To make the pumpkin cookies, whisk together the following dry ingredients in a bowl:
2 1/2 cups all-purpose flour
1 teaspoon baking powder
1 teaspoon baking soda
1 tablespoon pumpkin pie spice
1/2 teaspoon salt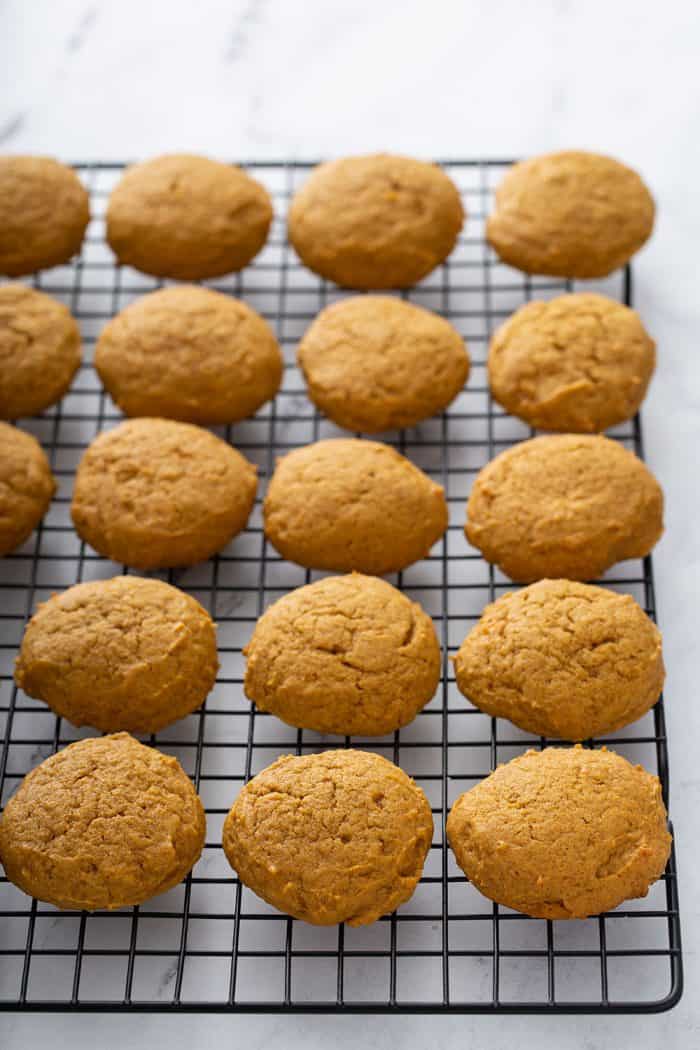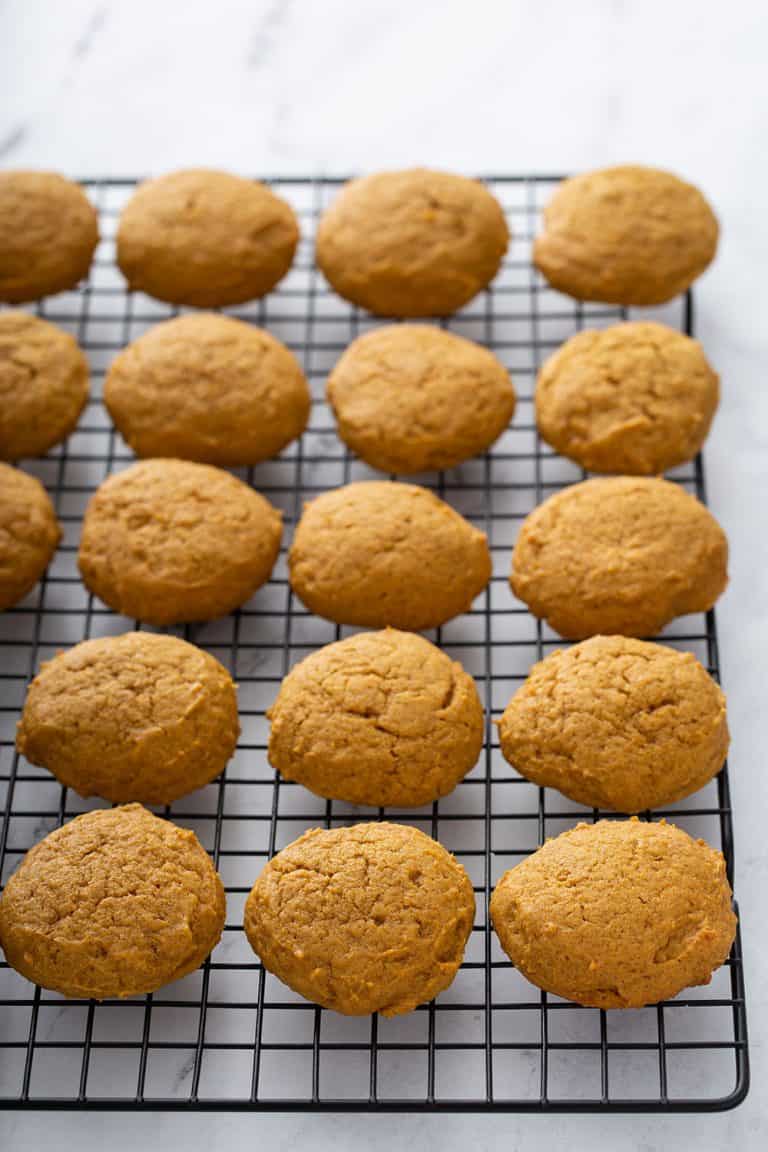 Yes, you'll need a full tablespoon of pumpkin pie spice! I promise that it's not too much. In fact, it's just enough to make these cookies ultra flavorful.
Next, get your wet ingredients ready:
1/2 cup unsalted butter, softened
1 cup granulated sugar
1/2 cup light brown sugar, lightly packed
1 cup pumpkin puree
1 large egg
1 teaspoon pure vanilla extract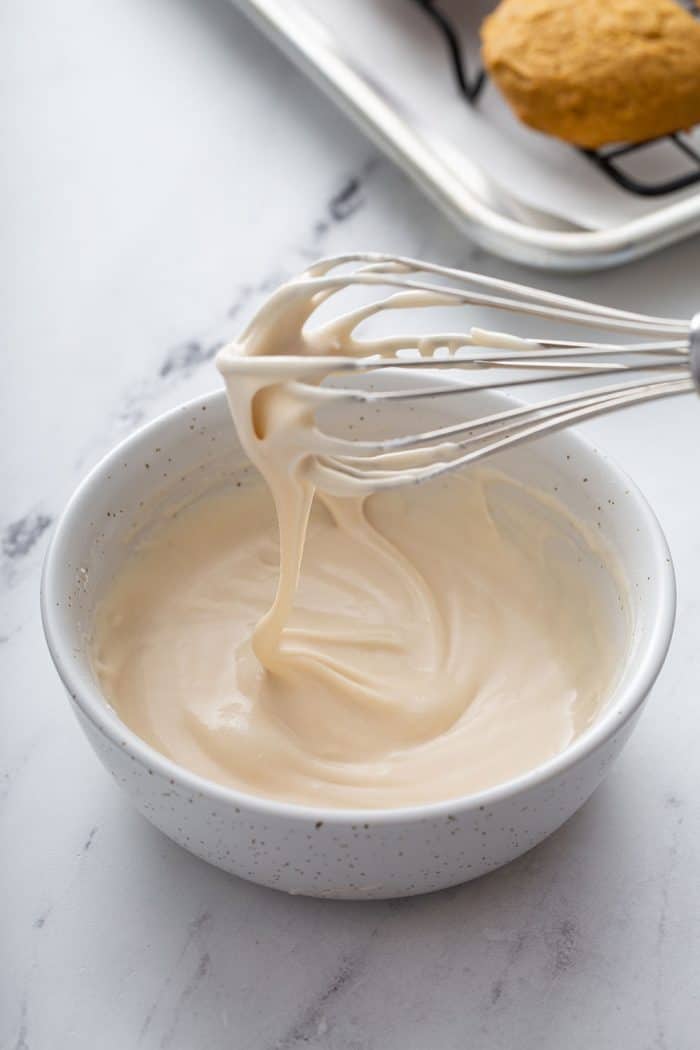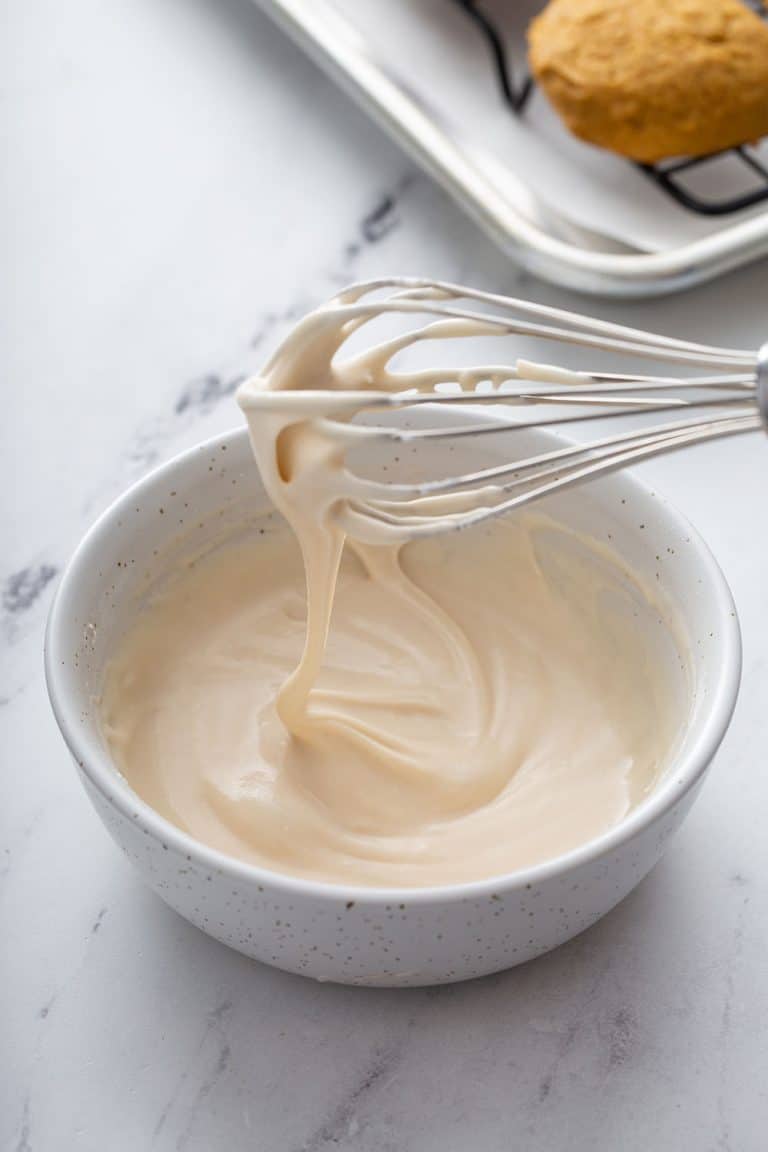 Does it seem weird that sugar is a "wet" ingredient? Because we are going to cream together the butter with the sugar, it is considered to be one of the wet ingredients!
Cream together the softened butter (learn how to soften butter quickly!) and sugars before adding the pumpkin, egg, and vanilla. Stir in the dry ingredients until just combined.
Use a cookie scoop to scoop the dough onto a lined cookie sheet, then use the bottom of a glass sprayed with nonstick cooking spray to slightly flatten the tops.
Bake the cookies for 12-15 minutes then let them cool before icing.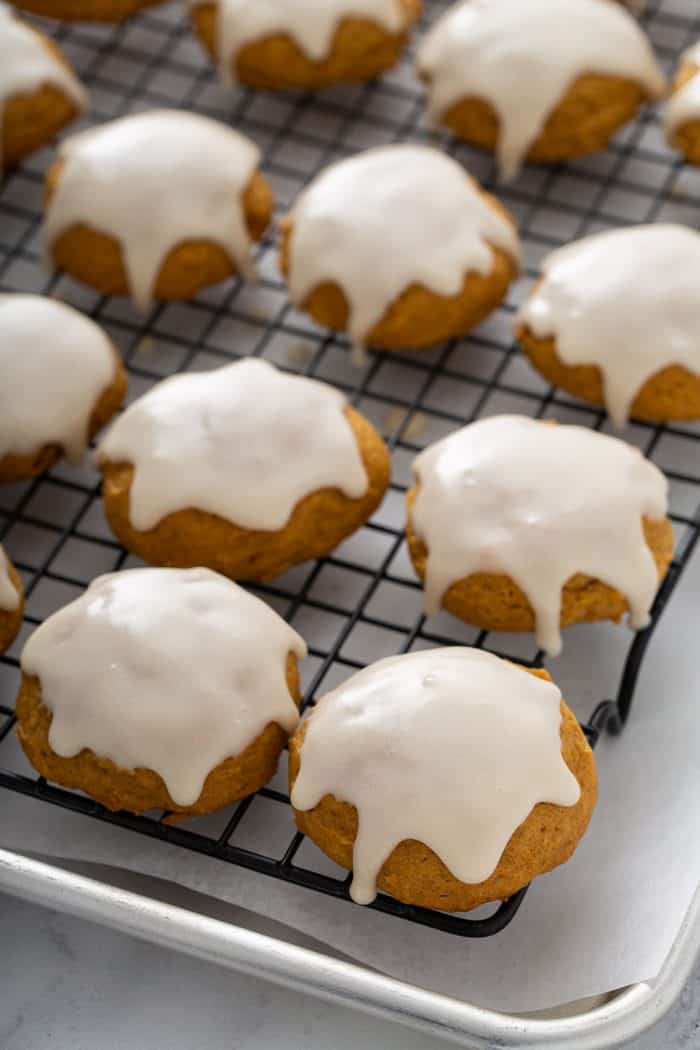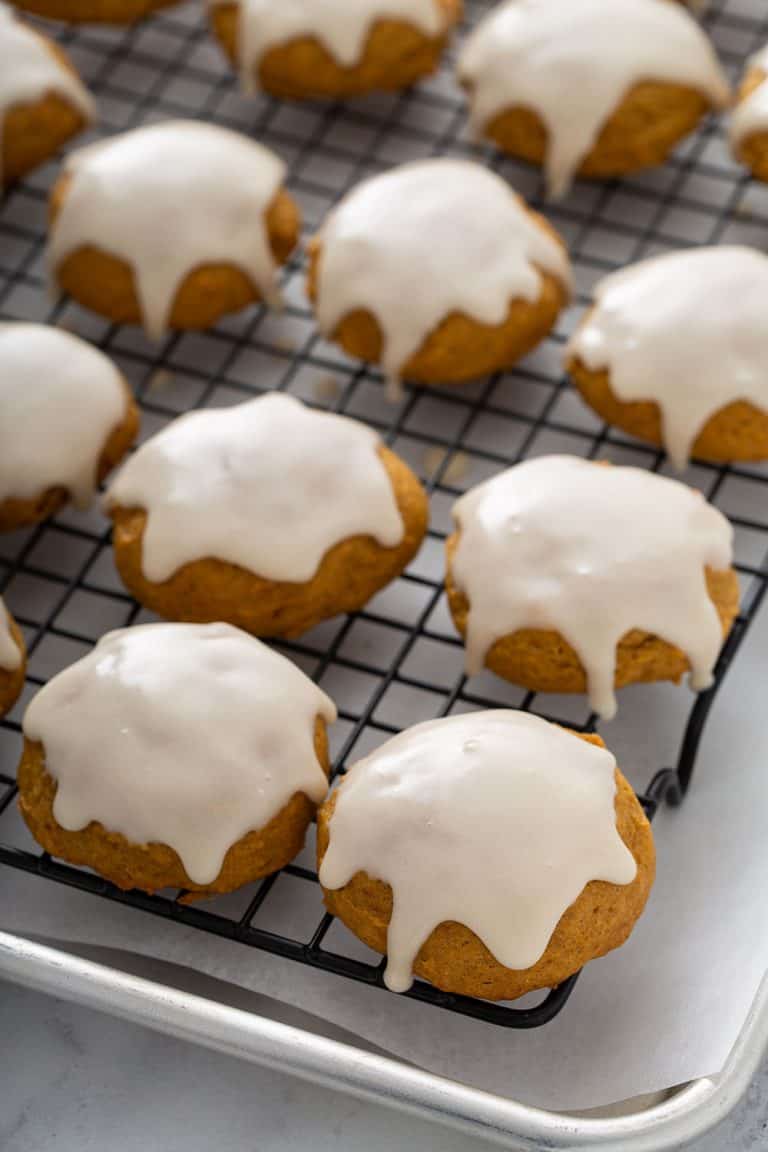 MAKING EASY VANILLA GLAZE ICING
The vanilla glaze on these Iced Pumpkin Cookies is so easy to make. You don't need a mixer to make it, just a bowl and a whisk!
Simply whisk together powdered sugar, milk, melted butter, and vanilla.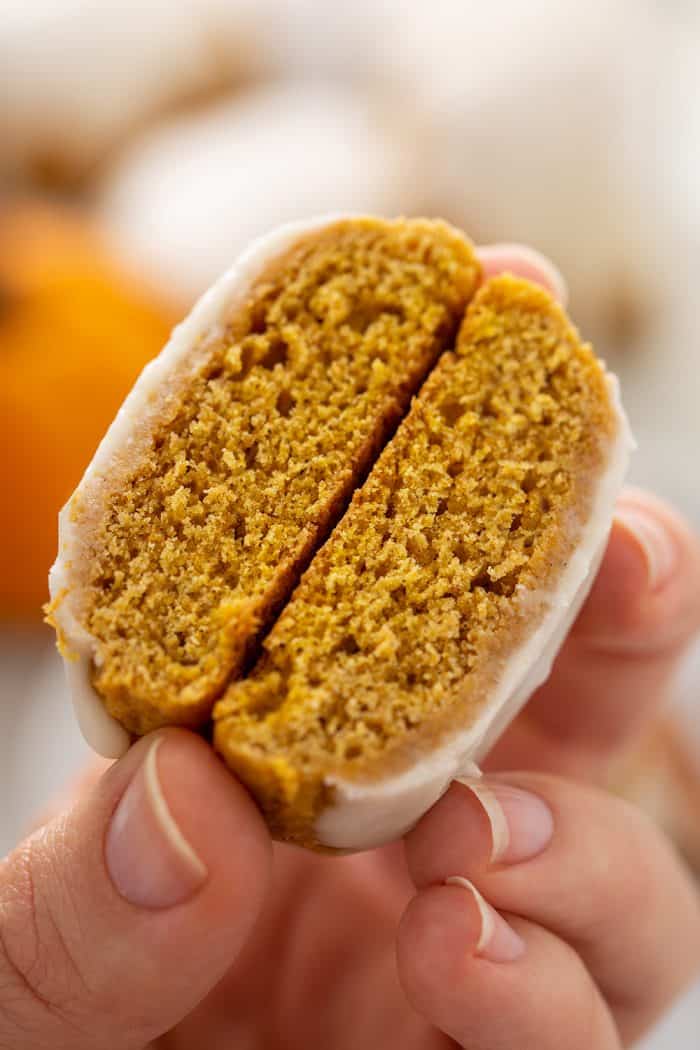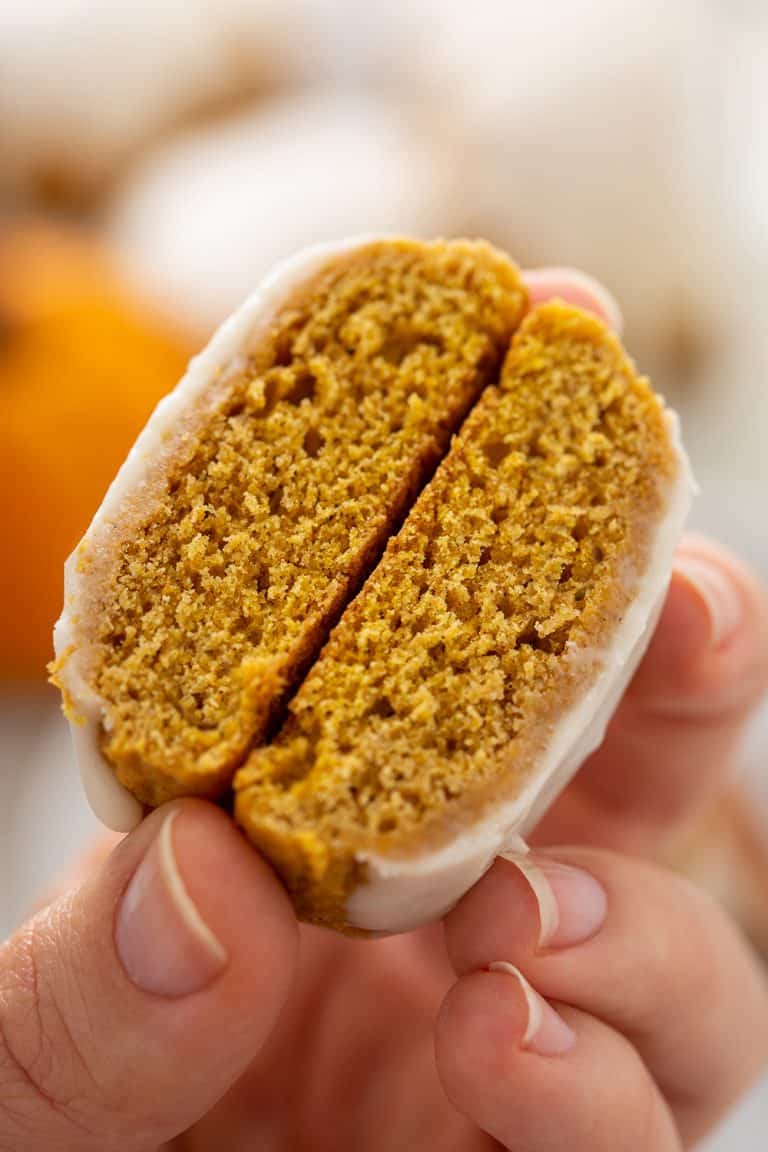 Once the cookies have cooled, you can spoon the glaze over them or dip the tops into the glaze.
Let the icing harden before serving. These cookies are best served the day they are made because the pumpkin tends to make them soft if they're left any longer, but can be stored at room temperature for up to a day.