Rosé Cheesecake
Rosé Cheesecake is smooth, creamy, and full of delicious flavors. A sugar cookie crust and rosé soaked berries make it totally irresistible.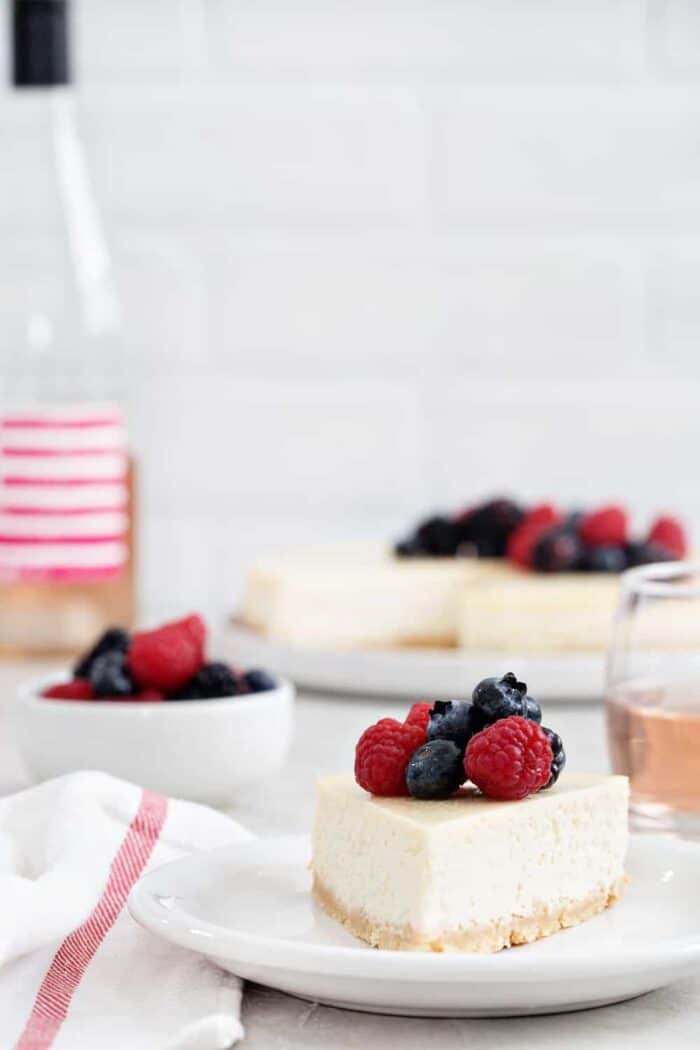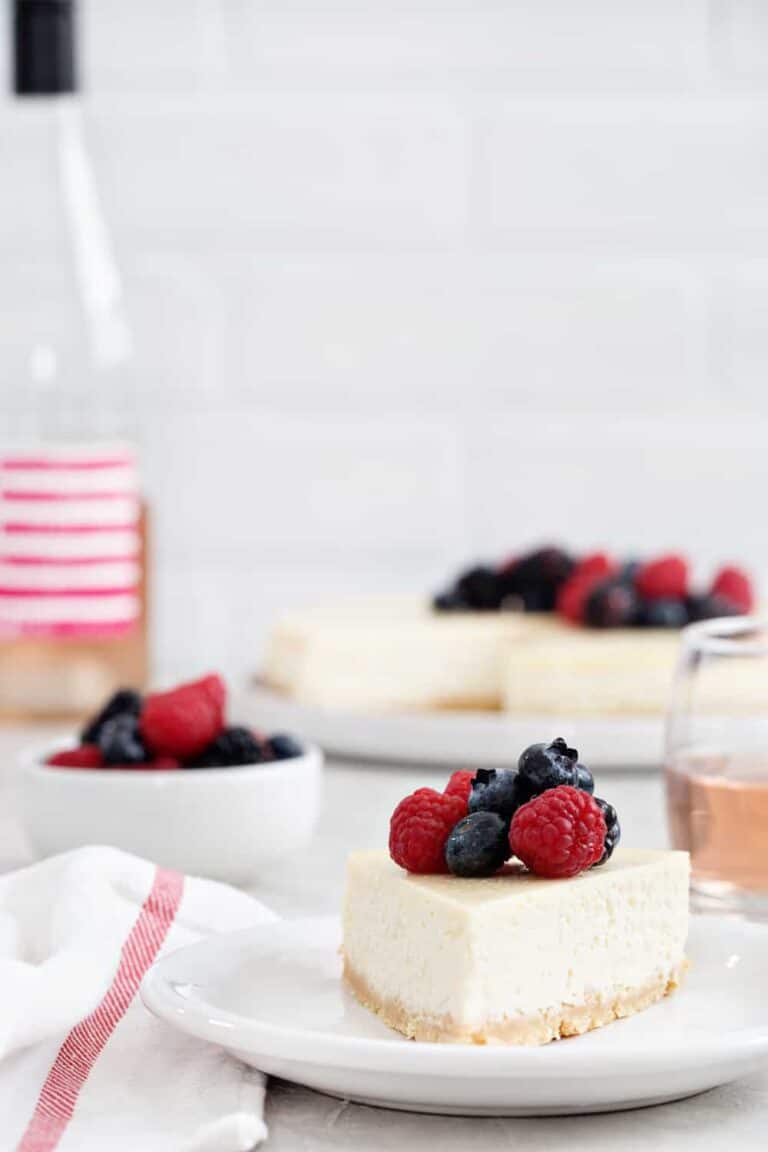 This post is sponsored by Challenge Dairy. Thank you for continuing to support the brands that make My Baking Addiction possible.
Well friends it's officially the halfway point in January, so I thought I'd check in to see how your resolutions are going.
Mine? Not great.
Although I don't necessarily make resolutions, I like to think of it more as goal setting.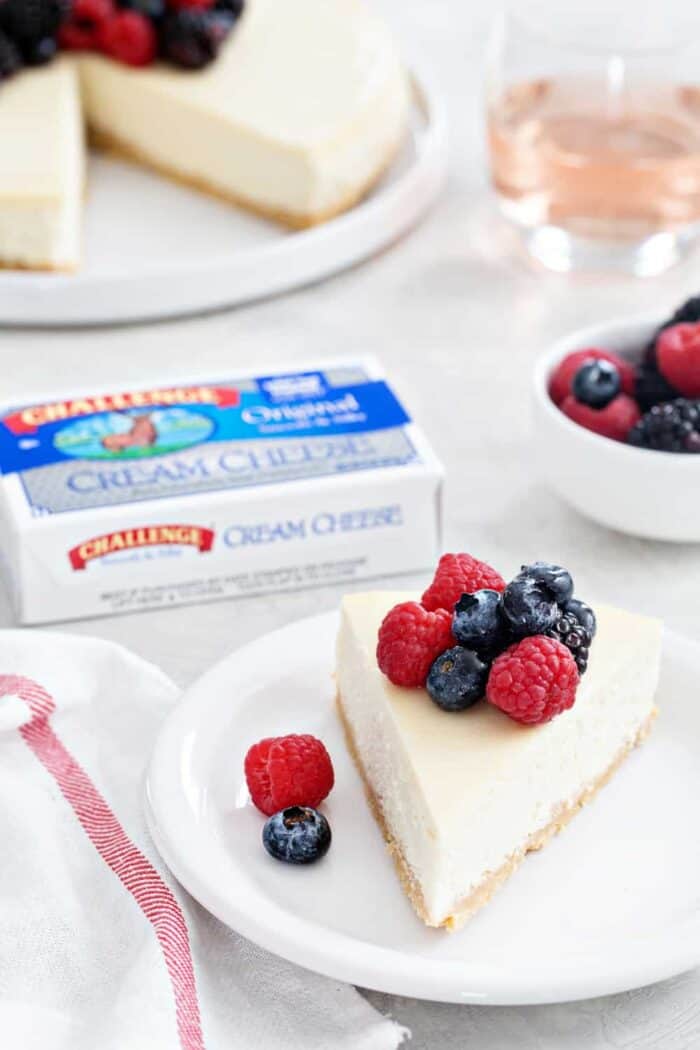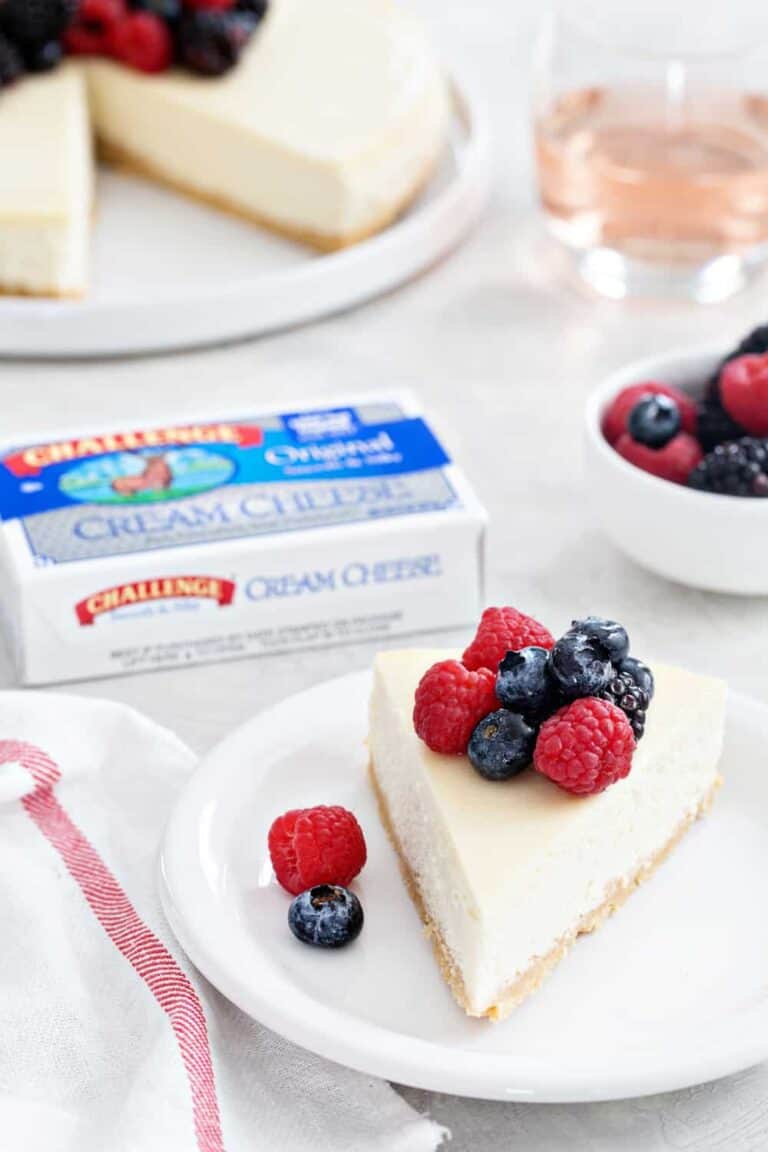 Ya know. Go to the gym more, work less, drink more water, and clean my pantry more often so I don't find potatoes with 5-inch sprouts growing out of them.
So far, I've gone to the gym twice and cleaned my pantry once. Which is my opinion is a total win. Because not to toot my horn or anything, but my pantry is still looking mighty pristine.
Want to know what else is a total win? Rosé Cheesecake. Complete with a sugar cookie crust and rosé soaked berries.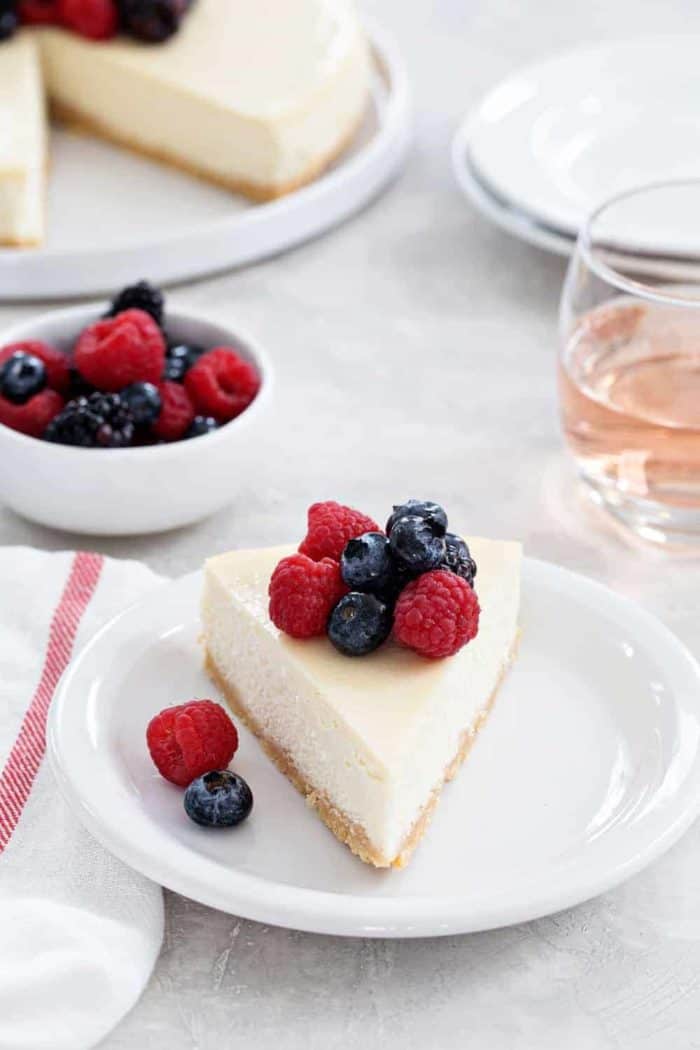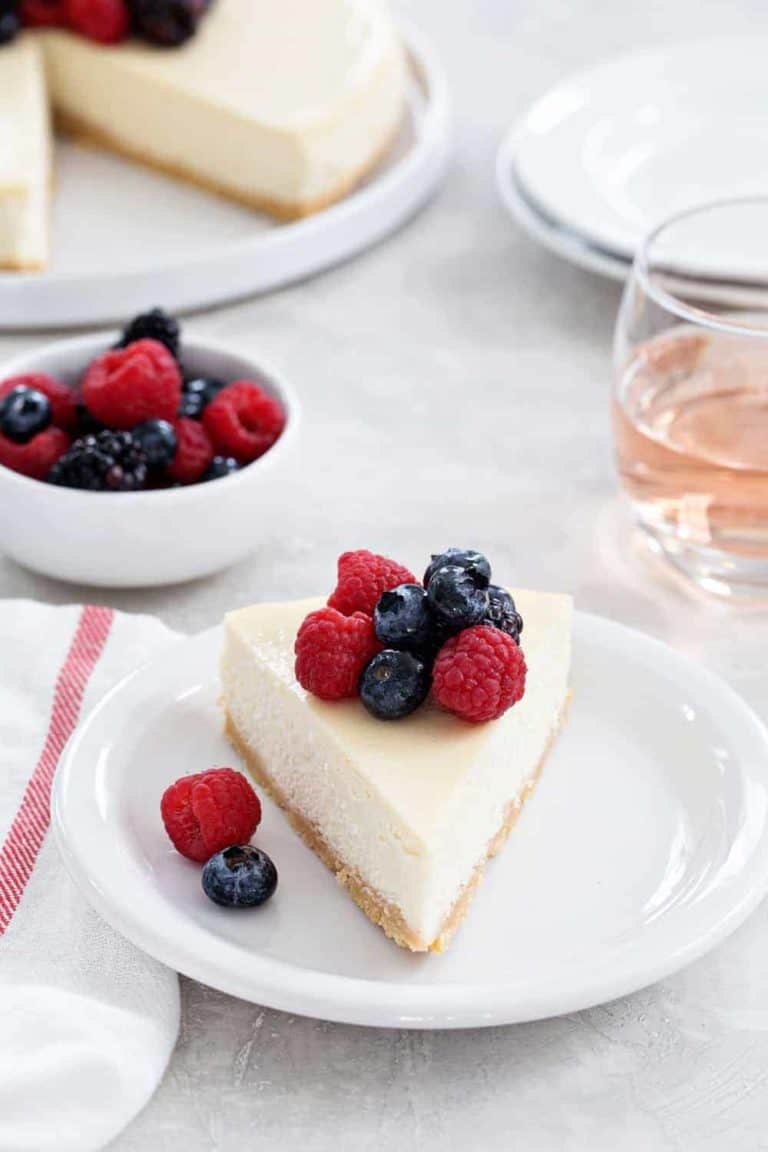 If you love rosé, this is the cheesecake for you.
I happen to think it's pretty perfect for just about any occasion.
Think Valentine's Day, Mother's Day, or just a random Monday when you feel like noshing down on a cheesecake that has wine in it. I mean, how could that possibly ever be a bad thing?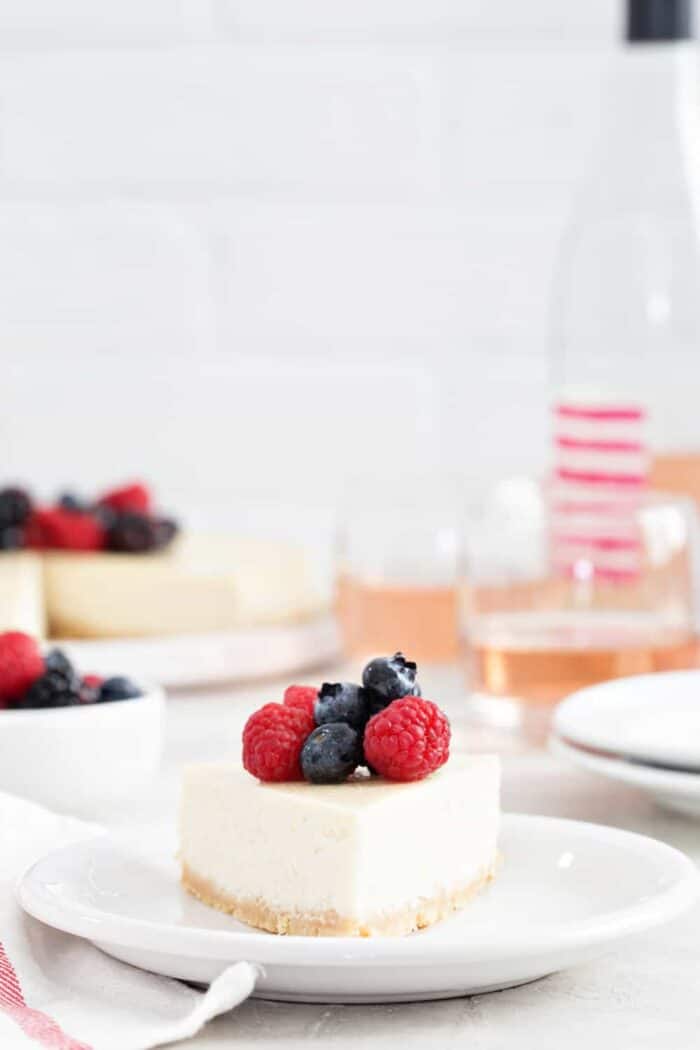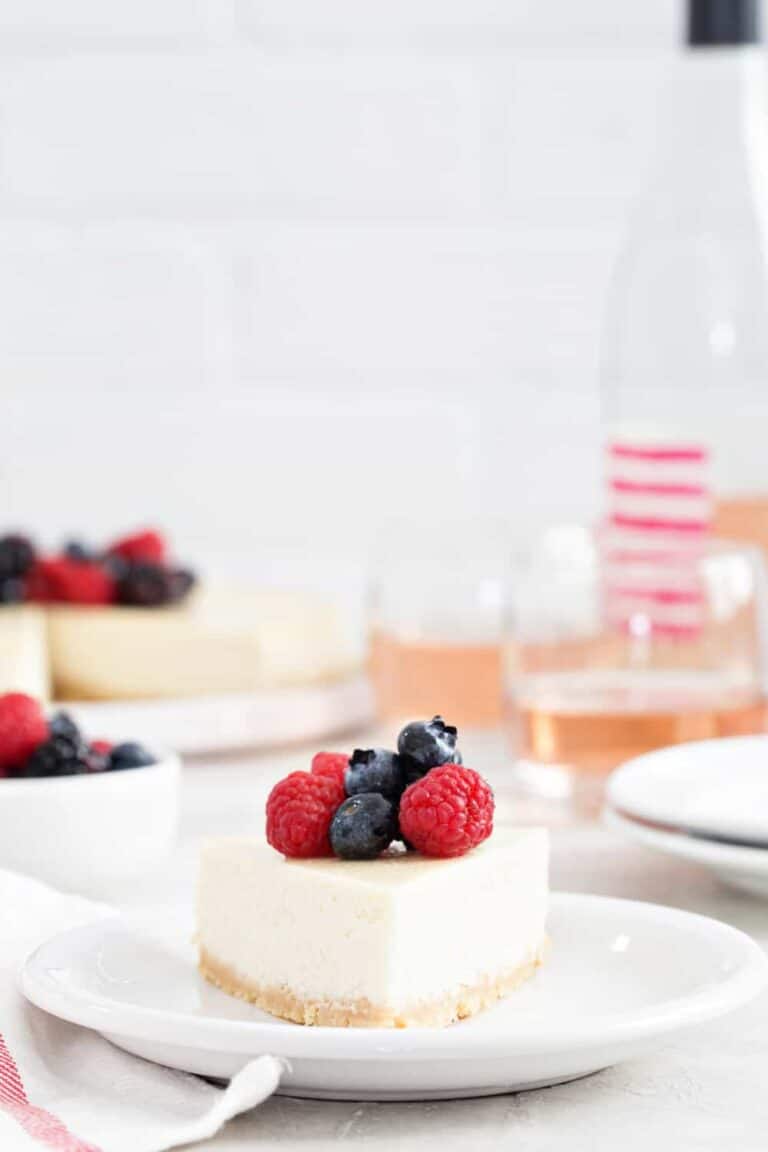 This Rosé Cheesecake starts with a sugar cookie crust. Any crisp sugar cookie will do, but I have noted my fave brand in the recipe notes.
Then I reduced a glass of rosé, chilled it (in the snow because hello, outdoor refrigeration) and mixed it into my favorite cheesecake filling.
If you follow My Baking Addiction regularly, you know that I had to use my favorite butter and cream cheese from Challenge Dairy in this cheesecake.
I've been partnering with Challenge Dairy for years because I am such a fan of their products – everything from their butter to their cream cheese spreads are just top notch.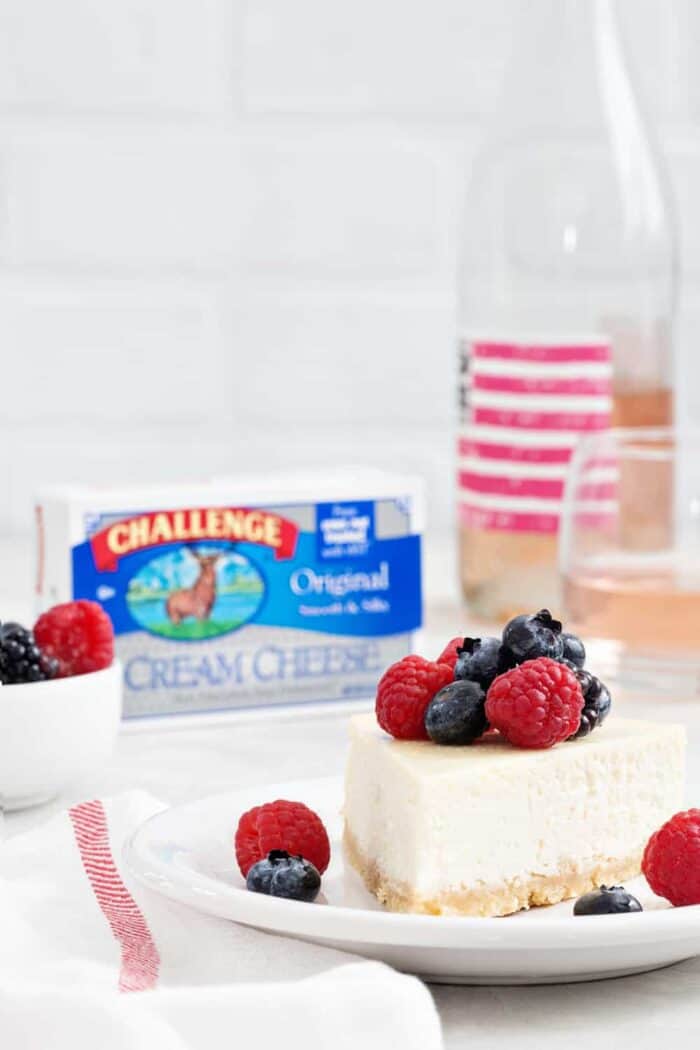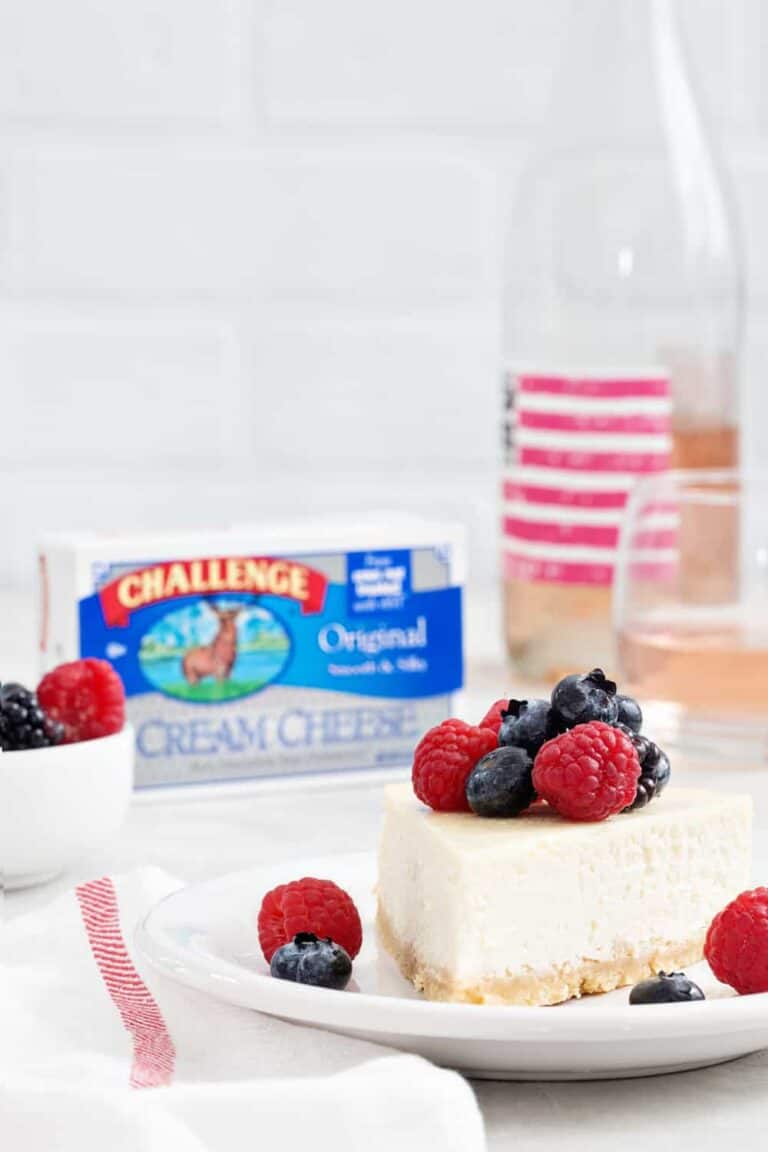 They're the only dairy product company that controls the whole process from milking the cows, to transporting milk, to making the butter, to packaging. And that's something I can always get behind.
The rosé imparted a very subtle flavor to this rich and creamy cheesecake, but I loved the fact that it wasn't overpowering because I knew I wanted to top this Rosé Cheesecake with rosé soaked berries. Which by the way are incredibly delicious!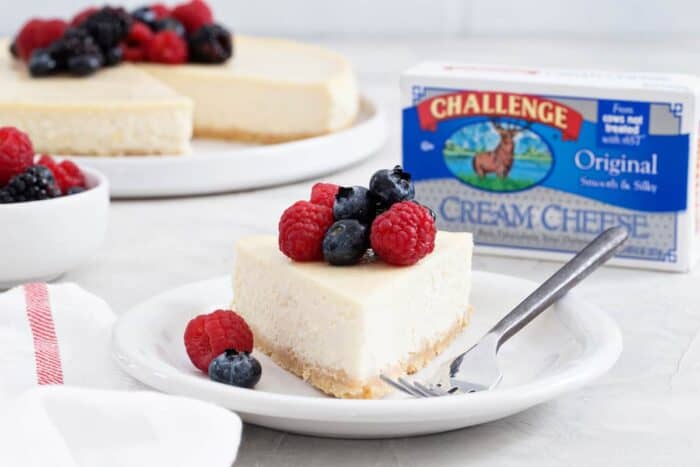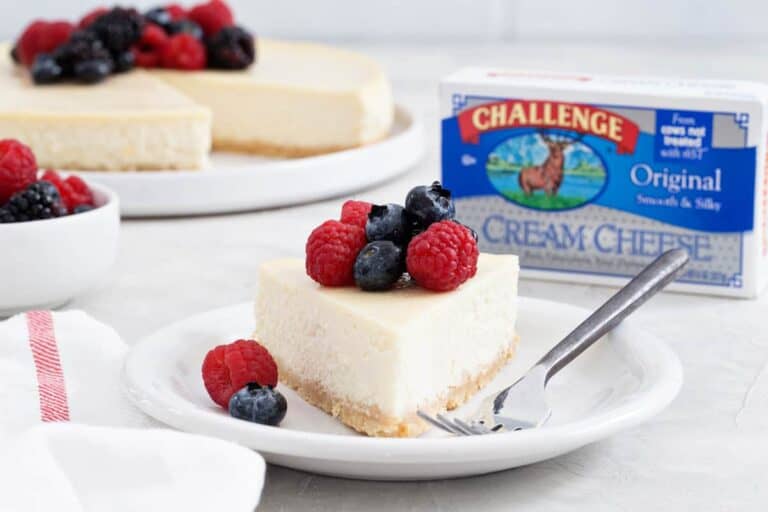 Whether you're making this Rosé Cheesecake for a special occasion, or just because, I hope you love it as much as I did!
If you're looking for cheesecake recipes, look no further because this girl has you covered! Check out this Sweet Potato Cheesecake,this Samoa Cheesecake and these Cheesecake Brownies!
Rosé Cheesecake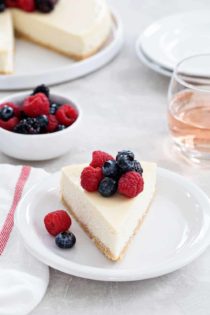 Ingredients:
For the Crust
8 ounces crispy sugar cookies*, crushed in a food processor until they form fine crumbs
3 tablespoons unsalted Challenge Butter, melted
For the Cheesecake
1 cup rosé
32 ounces Challenge Cream Cheese, room temperature
1 cup granulated sugar
4 large eggs, room temperature
2 teaspoons vanilla extract
For the Topping
2 cups assorted fresh berries
2 tablespoons sugar*
1/4 cup rosé
Directions:
In a small saucepan over medium heat, bring 1 cup of rosé to a boil and cook until the wine is reduced to about 1/4 cup; about 6-8 minutes. Set aside to cool. You can speed this up by placing it into the fridge.
Preheat oven to 325°F. Tightly wrap a 9 inch springform pan in heavy duty foil. This step prevents leaks when using a water bath. I also take the extra step by placing the foil wrapped spring form pan inside an oven bag while baking, but this is optional. Lightly spray the inside of the pan with nonstick cooking spray.
Mix together the crust ingredients and press into the bottom of the prepared pan. Bake for 8 minutes and cool completely on a wire rack.
Begin to boil a pot or kettle of water for the water bath.
In the bowl of your stand mixer fitted with your paddle attachment, beat the cream cheese until smooth. Add sugar and mix until combined.  Add eggs, one at a time, fully incorporating each before adding the next. Make sure to scrape down the bowl in between each egg. Add reduced and chilled rosé and the vanilla and mix until smooth.
Pour batter into prepared crust.
Place the springform pan into a larger pan and pour boiling water into the larger pan until halfway up the side of the cheesecake pan.
Bake 55-60 minutes, the edges will appear to be set, but the center will still have some jiggle to it. At this point, turn off the oven, but leave the door cracked and allow the cheesecake to rest in the cooling oven for one hour.
After one hour has passed, carefully remove the cheesecake from the water bath and place on a cooling rack to cool completely. Once the cake is completely cooled, place it into the refrigerator for at least 8 hours.
About two hours before serving, combine berries, sugar and 1/4 cup rosé. Cover and chill until ready to serve.
When ready to serve, use a slotted spoon to remove the berries from the bowl and top each slice of cheesecake with the rosé soaked berries.
Notes:
*I used about 18 Pepperidge Farm Sugar Cookies (a little less than 2 5.25-ounce bags)
You can increase or decrease the amount of sugar based upon the sweetness of your berries.
Cover and refrigerate any leftovers for up to 3 days.
All images and text ©
Follow Jamie on Instagram. We love to see what you're baking from MBA! Be sure to tag @jamiemba and use the hashtag #mbarecipes!
This post may contain affiliate links. We are a participant in the Amazon Services LLC Associates Program, an affiliate advertising program designed to provide a means for us to earn fees by linking to Amazon.com and affiliated sites.