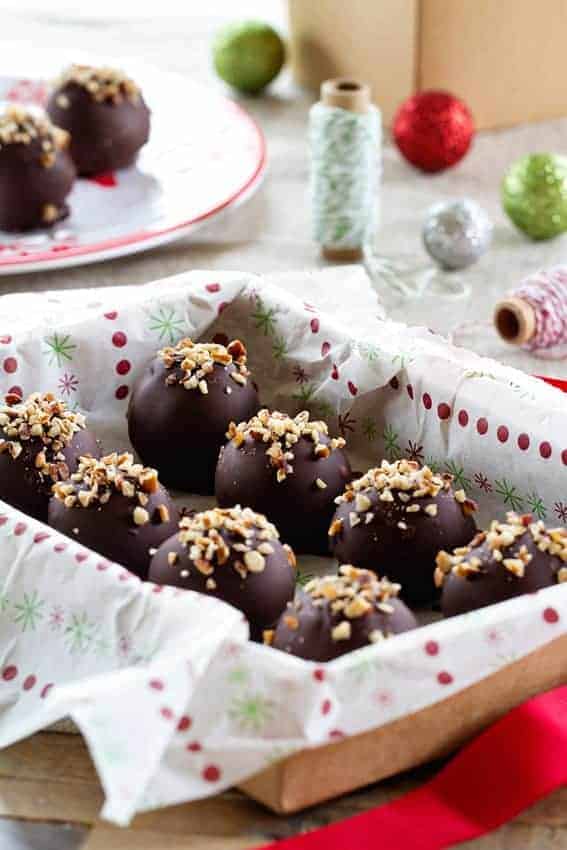 Turtle Cookie Balls couldn't be cuter as a make-ahead holiday treat. Homemade gifts are the best, and these babies prove it!
This is a sponsored post on behalf of Baker's Chocolate. All opinions are my own. Thank you for continuing to support the brands that make My Baking Addiction possible.
Now that Thanksgiving is over, it's time to think about the gift-giving season! I'm trying my very best to make sure I am ready this year by having lots of homemade treats on hand to give to my loved ones.
Store-bought gifts are awesome, sure. (I'd never turn down some new candles from that smell-good place at the mall, after all!) But there's something so lovely about giving your family homemade yummies.
Like these Turtle Cookie Balls. Let me just say that there's something truly spectacular when chocolate, caramel, vanilla wafers, and pecans come together in one little morsel. And they're SO easy to make!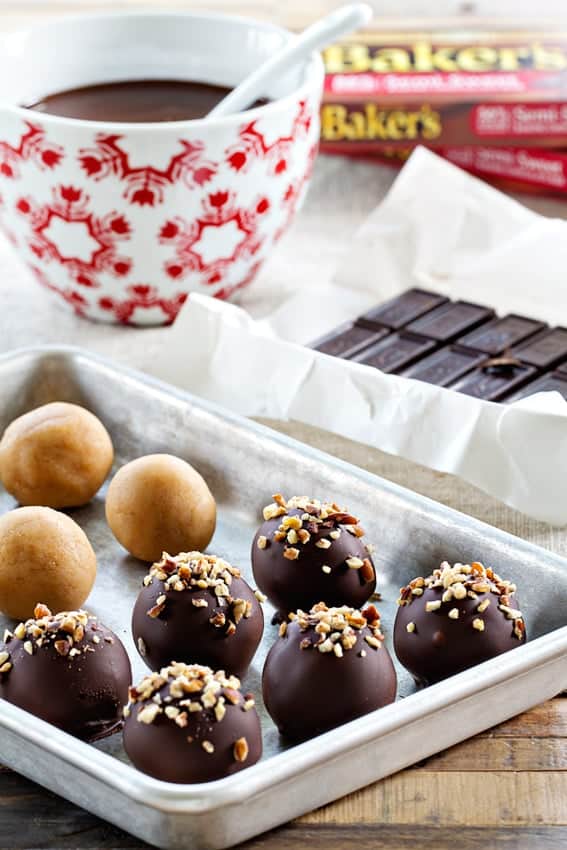 COOKIE BALLS
Honestly, the hardest part of making these cookie balls is keeping yourself from eating the filling by the spoonful before you can enrobe each little ball with a decadent covering of chocolate.
The kind of chocolate you use when making Turtle Cookie Balls is important, so make sure that you know the differences between them. Working with chocolate is easy, but delicate work.
Knowing all your Chocolate 101will ensure that these nibbles and any other desserts you make this holiday season come out perfectly.
For these cookie balls, all you need is some cream cheese, vanilla wafers, caramel ice cream topping, pecans, and BAKER'S semi-sweet chocolate.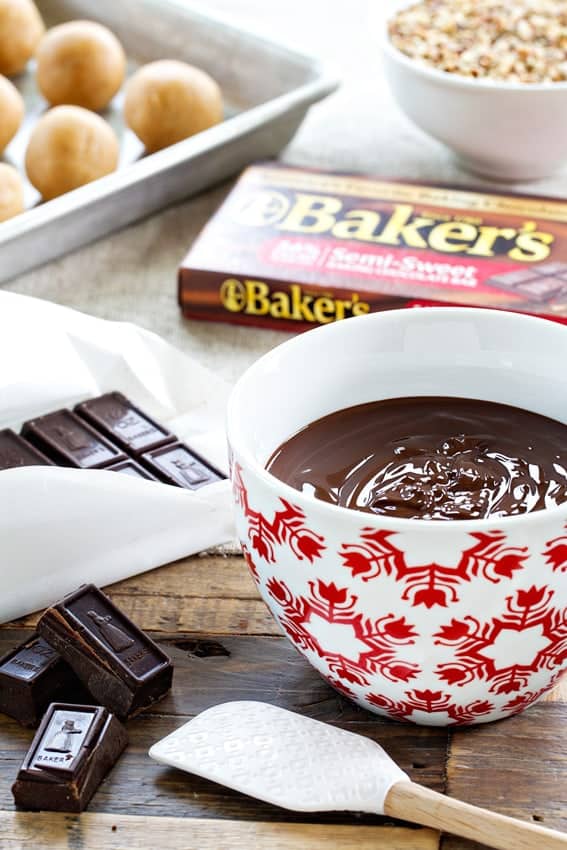 HOW TO MELT CHOCOLATE IN THE MICROWAVE
I like to use BAKER'S when I'm making truffles or cookie balls like this, because it's consistent. I know I'm going to get the same silky smooth result every time.
Melting Baker's Chocolate for recipes like these Turtle Cookie Balls couldn't be easier. In fact, you can get perfectly smooth results using a microwave.
Here's how you do it in just a few easy steps.
Break Baker's Chocolate into pieces and place in a microwave-safe bowl.
Microwave on high for 30 seconds and stir.
Repeat and stir.
Continue cooking and stirring in 10 second increments until completely melted and perfectly smooth.
Baker's Chocolate takes the guesswork out of melting chocolate and gives you smooth, delicious results every single time. It really couldn't get much easier!
Have you started stocking up your pantry for the holiday season yet? It's time. Pick up a few items off a separate list every time you go grocery shopping.
By the time you're ready to get to whipping up these Turtle Cookie Balls, you'll have all your staples ready to go, especially when they're shelf-stable, like BAKER'S chocolate.
You can keep it on hand all year round, because let's face it; Turtle Cookie Balls will not just be for Christmas once you've made them one time.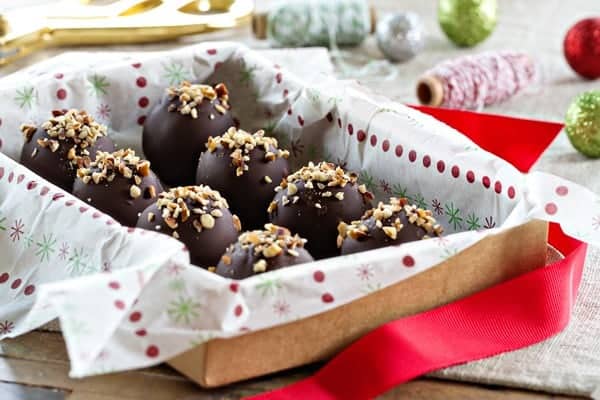 HOW TO MAKE COOKIE BALLS
Remember how I said that the hardest part of making Turtle Cookie Balls is not eating the filling before you can coat them in chocolate?
It's true! All you have to do is finely crush some vanilla wafer cookies and combine them with softened cream cheese.
To give this Turtle Cookie Balls recipe that key caramel component, you'll also mix in a few tablespoons of caramel ice cream topping.
From there, it's as easy as shaping the dough into balls – a perfect activity for kids! – letting them chill and then dipping them in the melted chocolate.
These Turtle Cookie Balls will store in the refrigerator until you're ready to gift them out to everyone you love or indulge a little after a long day at work.
Think of the other combinations you could try too – chocolate sauce and peppermint chips, cherry sauce and lime zest – this cookie ball recipe is fully customizable!
Make sure to check out the Kraft Pinterest page for more holiday treat inspiration.
MORE COOKIE BALLS RECIPES
Want to try out your new cookie-ball-making skills with some more recipes?
Try Peppermint Oreo Cookie Balls, Peppermint Kahlua Oreo Cookie Balls, or Berry Oreo Cookie Balls. They are all fun to make and perfect for gifting.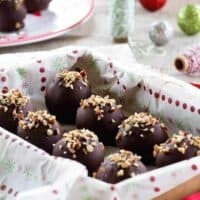 Turtle Cookie Balls
Turtle Cookie Balls couldn't be cuter as a make-ahead holiday treat. Homemade gifts are the best, and these babies prove it!
Ingredients
1 (8-ounce) package cream cheese, softened
70 vanilla wafers, finely crushed (about 2-1/3 cups)
3 tablespoons caramel ice cream topping
4 (4-ounce) packages BAKER'S Semi-Sweet Chocolate, broken into pieces, melted
1/4 cup chopped pecans
Instructions
Mix first 3 ingredients until blended.
Shape into 42 (1-inch) balls. Freeze for 10 minutes.
Dip balls in melted chocolate and place in a single layer in a shallow waxed paper-lined pan.
Sprinkle with nuts. Refrigerate 1 hour or until firm.
Nutrition Information
Yield

21
Serving Size

2 cookie balls
Amount Per Serving
Calories

97
Total Fat

5g
Saturated Fat

2g
Trans Fat

0g
Unsaturated Fat

3g
Cholesterol

4mg
Sodium

73mg
Carbohydrates

12g
Fiber

0g
Sugar

7g
Protein

1g