Love roasted green beans but don't have space in your oven? These air fryer green beans are quick and easy to make without having to turn on the oven! Try topping them with everything from parmesan cheese to red pepper flakes to a squeeze of lemon juice.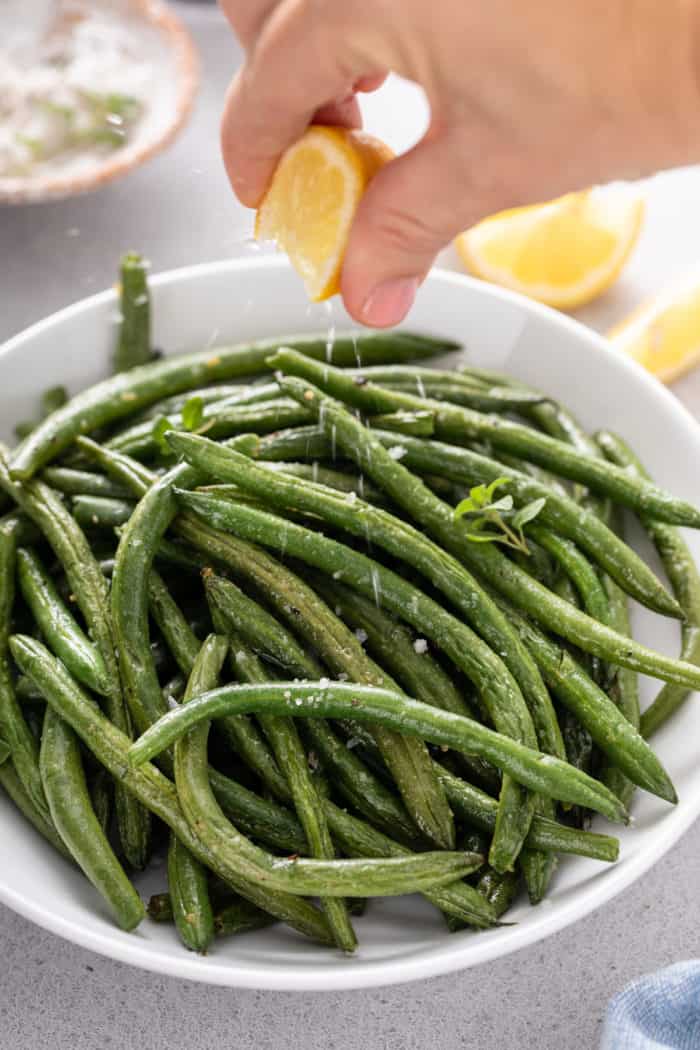 This post contains affiliate links.
Sometimes I get so focused on the main dish for dinner that I forget about making a vegetable side.
I'll realize 15 minutes before dinner is ready that I haven't even thought about a vegetable, much less started cooking one!
That's when I like to grab a bag of green beans from the fridge and turn to my air fryer for a simple side that I can make in about 10 minutes.
These air fryer green beans are delicious alongside your favorite easy meatloaf or sloppy joes for a weeknight dinner. And since they don't take up any space in your oven, they're also perfect for adding to your holiday menu alongside favorites like glazed ham, hash brown casserole, honey glazed carrots, and sweet potato casserole.
Once you know the method, you can change up the seasonings to make these green beans your own. Whether you like them spicy, lemony, or with a balsamic glaze, they're a side dish you'll make time and time again.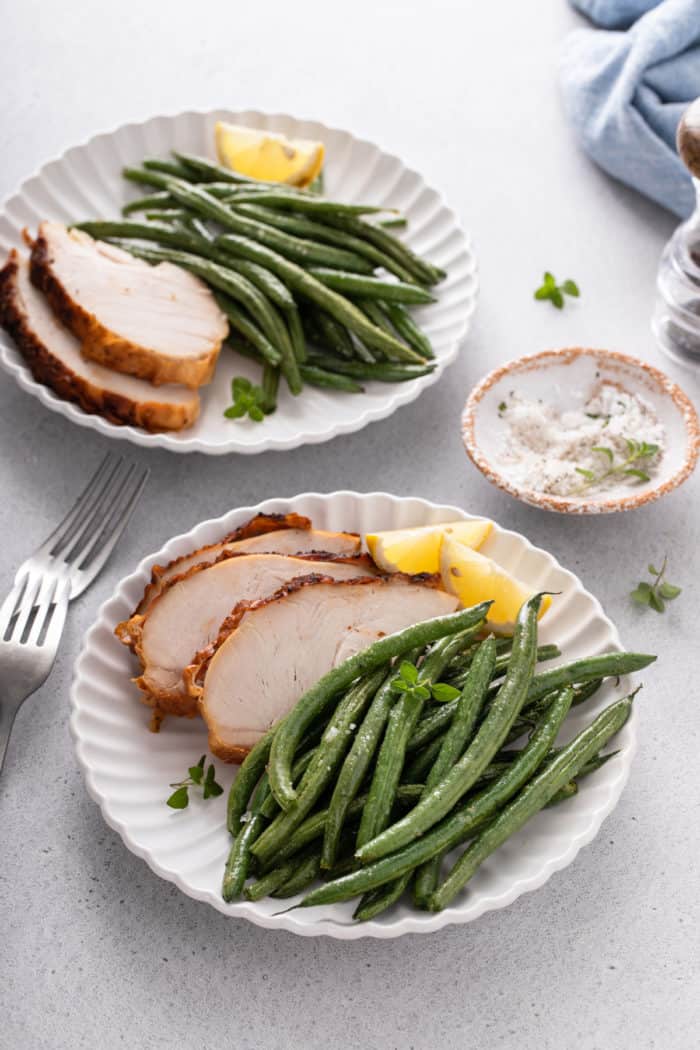 CAN YOU MAKE GREEN BEANS IN THE AIR FRYER?
We've used our air fryer to make air fryer roasted potatoes, air fryer brussels sprouts, and air fryer chicken tenders.
If you're like me and love your air fryer because you can save oven space (or avoid turning on the oven altogether), then I've got great news for you: You can totally make roasted green beans in it, too!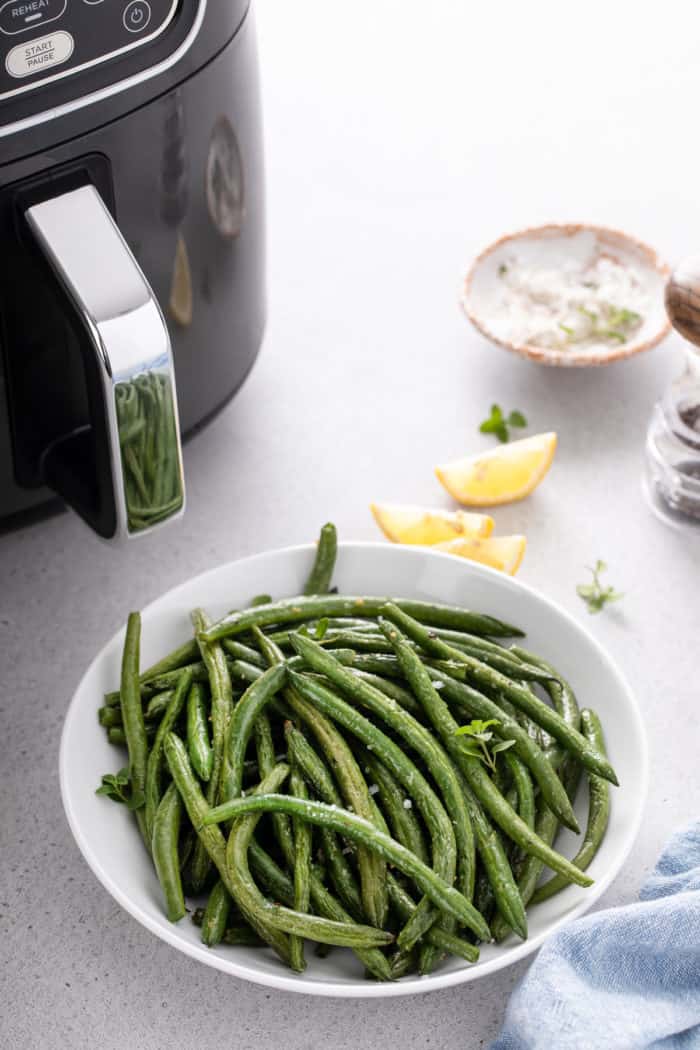 This recipe is super simple because it's really all about the method.
Once you know how to make these green beans, you can flavor them however you like. Skip down to "recipe variations" for some ideas!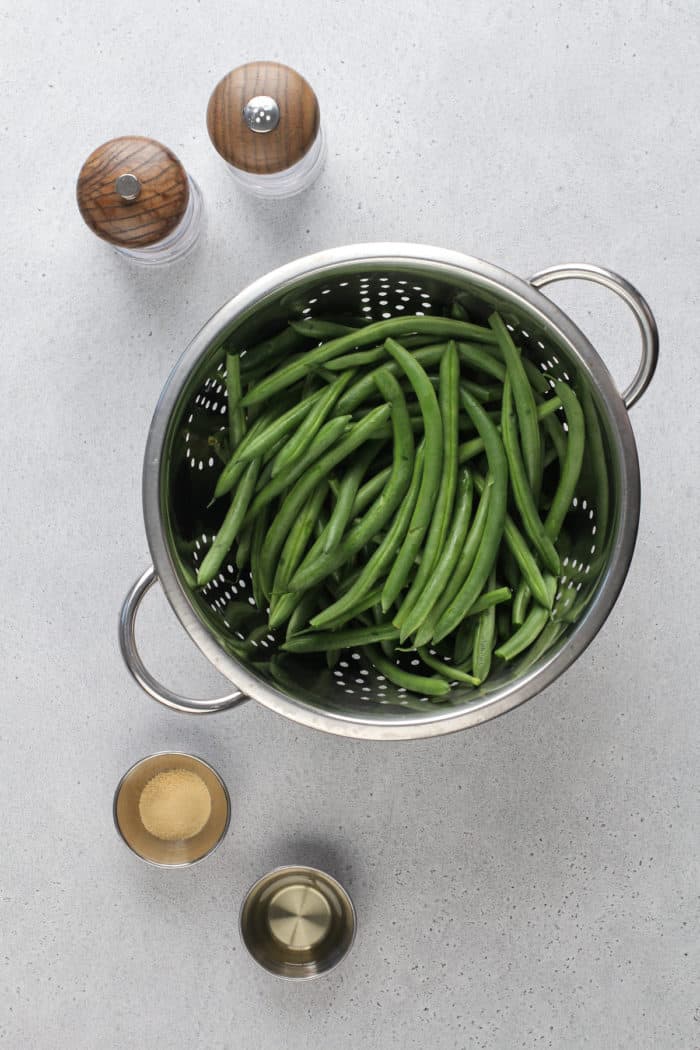 HOW TO MAKE AIR FRYER GREEN BEANS
If you're just getting started using your air fryer, it's helpful to learn a few basic recipes that you can riff on as you play around with it more. This is one of those recipes!
Ingredients you'll need
To make these green beans as written, you will need:
Fresh green beans: To get nice and crisp green beans, I recommend using fresh green beans. You can air fry frozen green beans as well, but the texture won't be quite the same. Make sure to trim the ends of the green beans and snap them in half if you want.
Olive oil: You'll need about a tablespoon of olive for a pound of green beans.
Granulated garlic: I prefer to use granulated garlic here. Garlic powder tends to get clumpy, but granulated garlic covers the green beans more evenly.
Salt & pepper: Of course we will need some salt and pepper for these green beans! I always season mine to taste.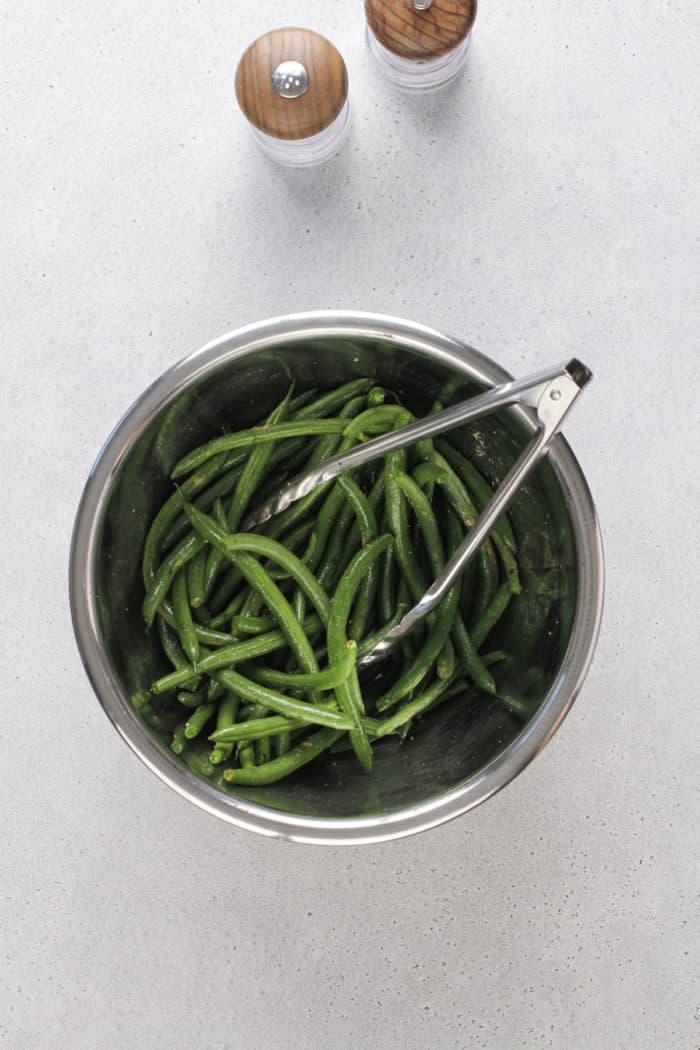 Making this recipe
This is so easy. Are you ready?
In a bowl, toss together the green beans, olive oil, granulated garlic, and a generous sprinkle of salt and pepper. Make sure the green beans get thoroughly coated with the oil and seasoning.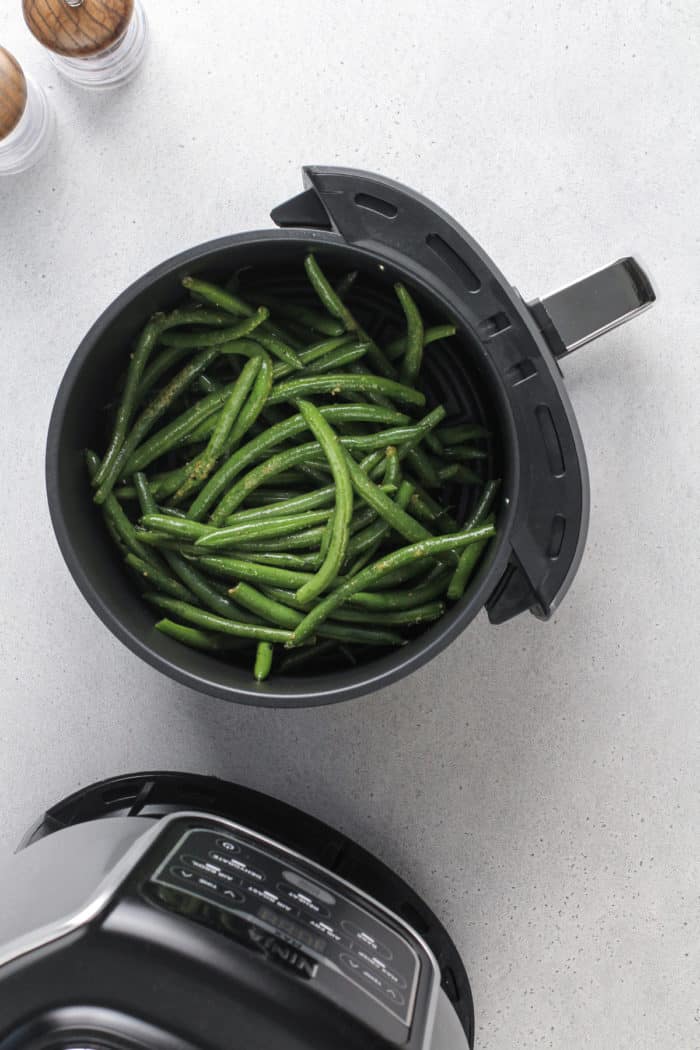 Add the green beans to the basket of your air fryer and cook at 370°F for about 8 minutes. I like to give them a toss halfway through.
8 minutes is the perfect amount of time to cook the green beans but for them to retain a nice crisp-tender bite to them. If you prefer them to be softer, cook for an additional 2 minutes at a time until they are the way you like them.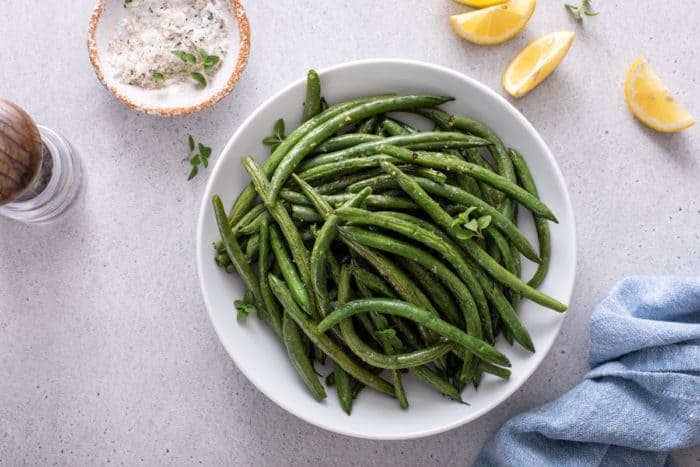 RECIPE VARIATIONS
Now for the fun part: ways to make these green beans your own!
You can serve these just the way they are and they'll be delicious, but you can also add additional flavors either before or after cooking.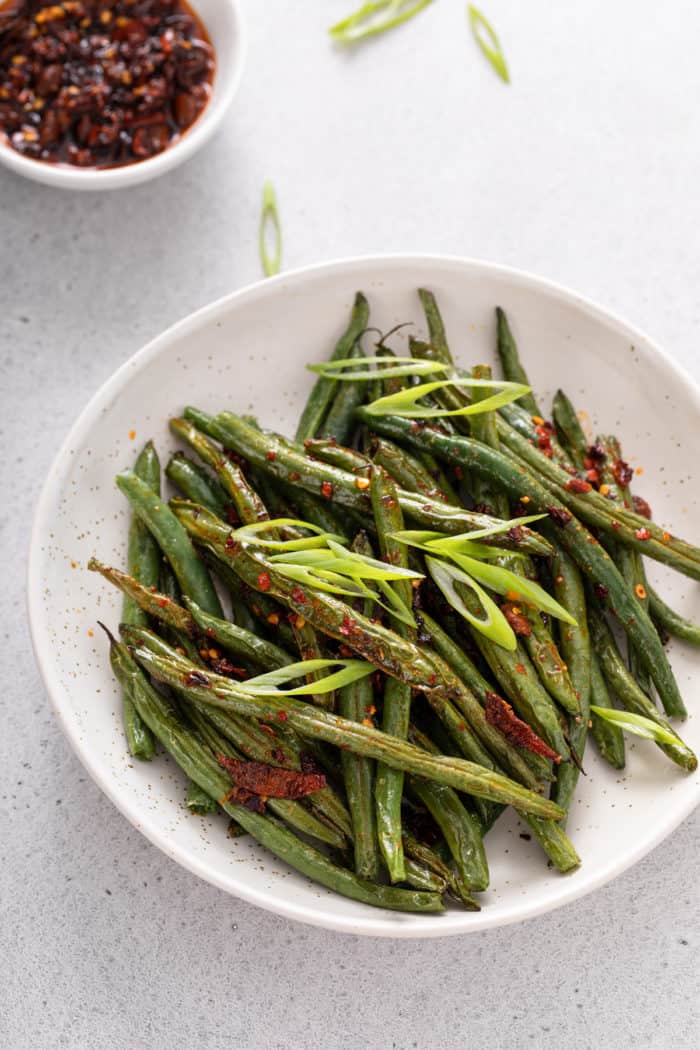 After they are done cooking, try finishing them with freshly grated parmesan cheese, a squeeze of lemon juice, a sprinkle of flaky sea salt, some balsamic glaze, a spoonful of chili crunch…the sky's the limit!
Or change up the seasonings on the green beans before they go into the air fryer. Some of my favorites are adding crushed red pepper flakes, tossing the green beans with our favorite chili garlic sauce for a spicy twist, or adding some herbs to the mix.
However you make them, these air fryer green beans are the simplest side, perfect for holidays or weeknights alike!