Blueberry buckle is a lightly spiced, dense blueberry coffee cake topped with a sweet and crunchy streusel. Serve this cake for breakfast, dessert, or an afternoon snack.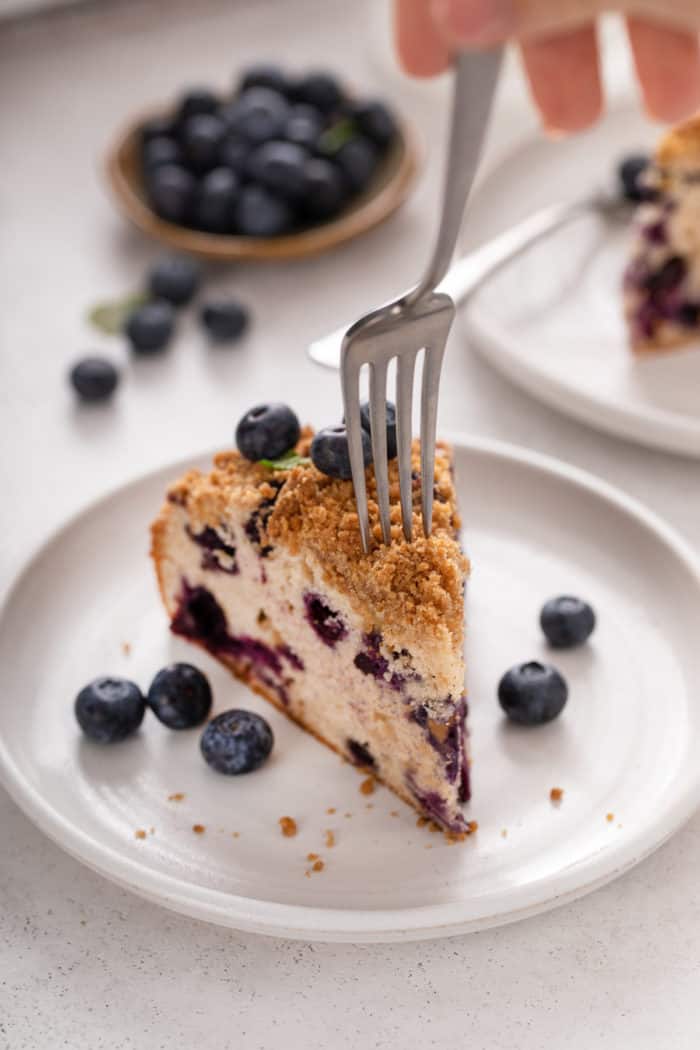 I don't know about you, but I like any excuse to eat cake for breakfast.
I mean, I still know that it's cake. But calling it coffee cake gives you an excuse to splurge every once in a while, right?
Whether it's my easy coffee cake made with baking mix, apple coffee cake, or chai coffee cake, I love them all.
So of course I love this blueberry buckle as well! It's an old family recipe that still holds up after all these years. And I think you'll love it as much as we do.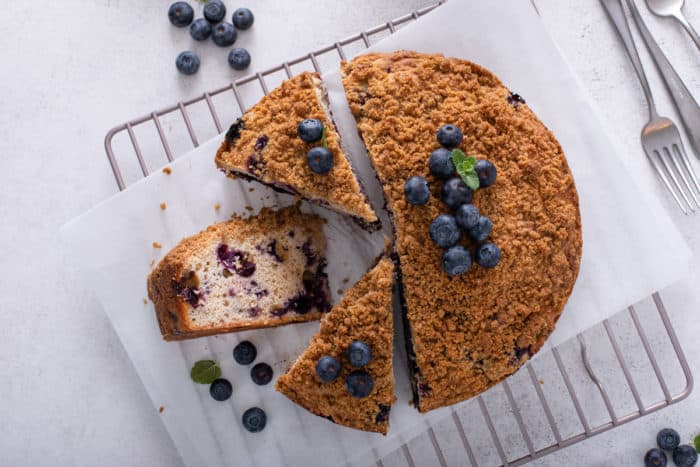 WHAT IS A BUCKLE?
Back when Eric and I were still dating, I had a chance to raid his grandmother's recipe collection. There's just something so special and nostalgic about handwritten recipe cards – I sort of feel like it's a lost art that totally needs to make a resurgence.
I don't know why her recipe for blueberry buckle caught my eye, but I do know that the fact that it had the word "buckle" in the name kind of intrigued me.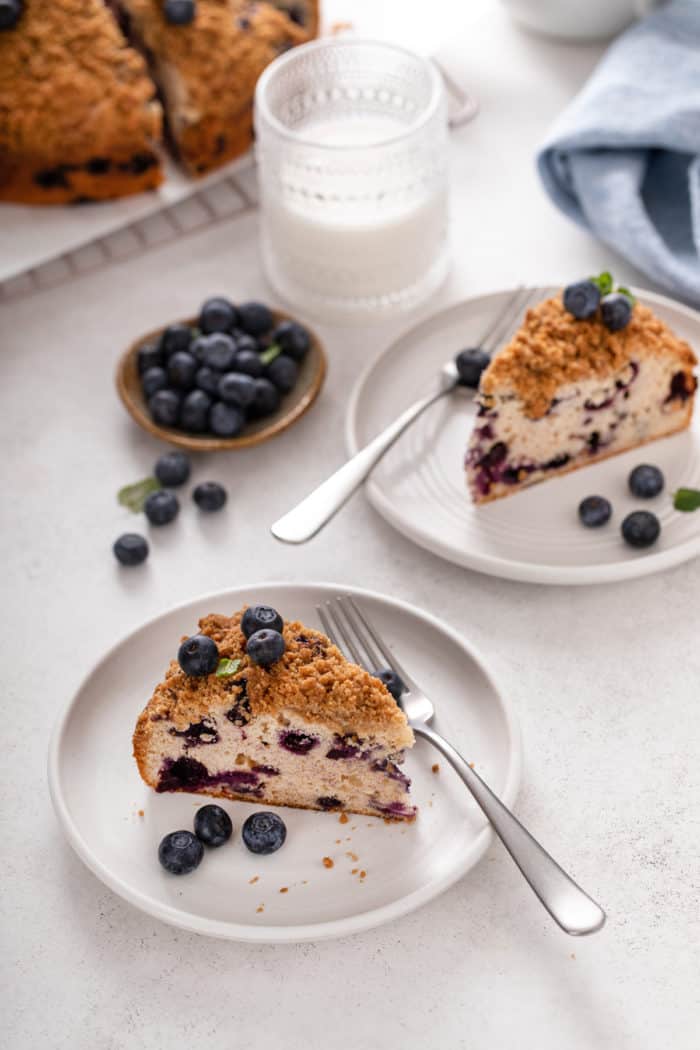 Turns out, a buckle is an old-fashioned dessert and just refers to a single-layer cake with berries or fruit in the batter. When it bakes up, the top has a "buckled" (indented) appearance.
Buckles also often have a streusel topping, so it's not always easy to spot the indents in the top, but they're there!
Notice some similarities between that and cinnamon coffee cake or even Bisquick coffee cake? That's because buckles can definitely be considered a type of coffee cake! And who doesn't like an excuse to eat cake for breakfast?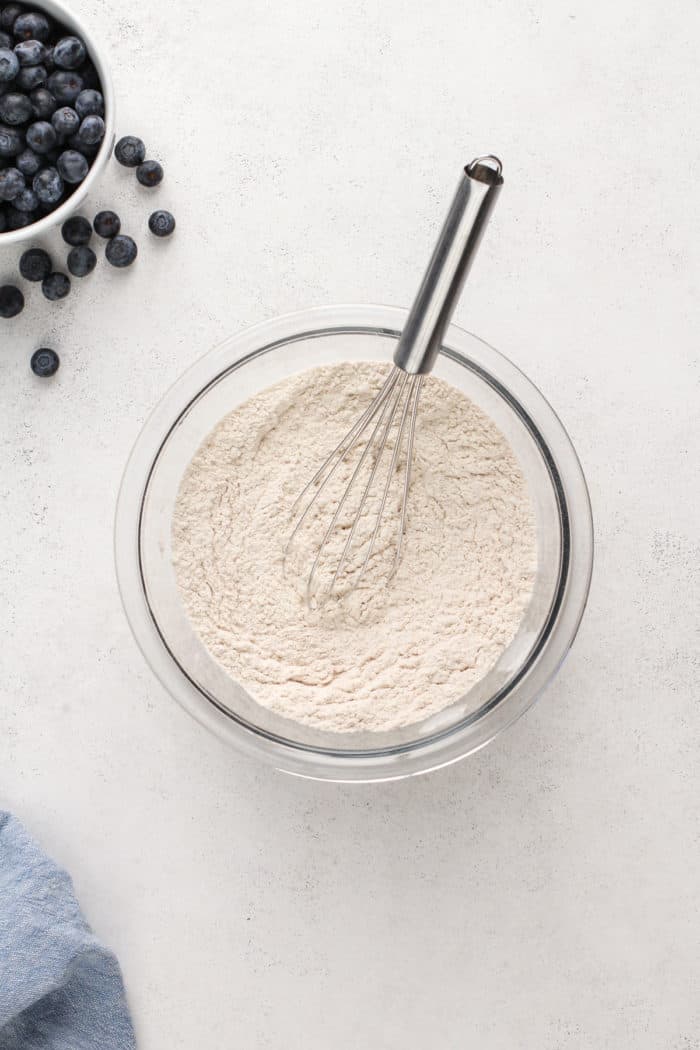 Of course, over time I've added a couple of minor tweaks to Eric's grandmother's blueberry buckle recipe because I have an issue with leaving well enough alone. But the essence of this recipe is still totally hers, and should totally be on your must-try list.
HOW TO MAKE MY BLUEBERRY BUCKLE
Like many old-fashioned recipes, like old-fashioned apple dumplings or date cake, this is a pretty straightforward recipe without a lot of frills.
But there's a reason the classics are so popular – because they're delicious!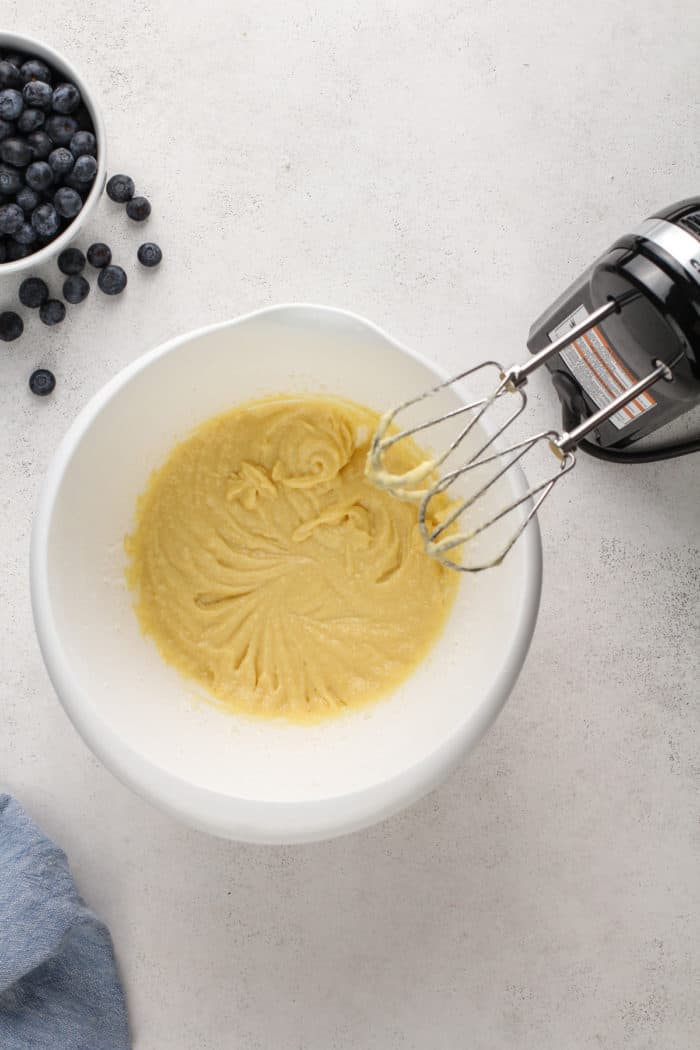 Ingredients you'll need
You can find pretty much all of what you'll need for this blueberry buckle recipe in most baking pantries:
All-purpose flour: Make sure you know how to measure flour correctly so that this cake turns out perfect every time.
Baking powder: This cake is leavened with baking powder. Make sure you use baking powder, not baking soda!
Salt: A little salt helps to balance out the sweetness of the cake.
Cinnamon: A little cinnamon helps to flavor the cake and pairs surprisingly well with the blueberries!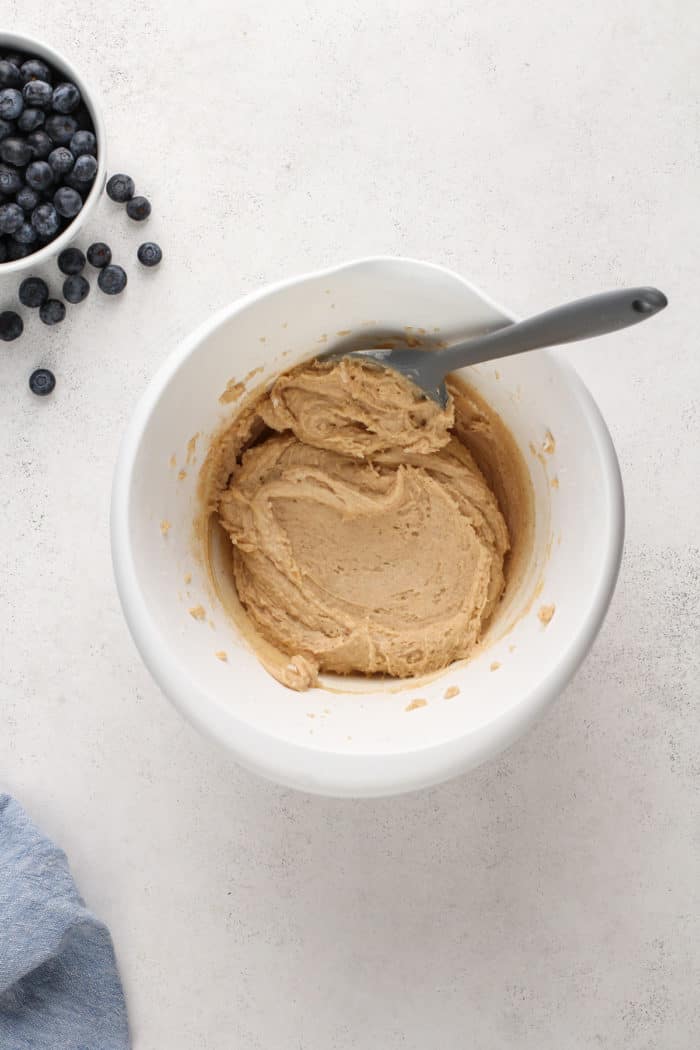 Unsalted butter: The original recipe calls for shortening, but I prefer to use butter instead. You can definitely use shortening if it's what you have and what you like, though!
Egg: An egg helps to bind the cake and provides a bit of lift.
Vanilla: You can use your favorite brand of vanilla or use homemade vanilla extract.
Milk: I typically use whole milk, but reduced-fat milk or even a milk alternative would work fine.
Fresh blueberries: The batter for this cake is very dense, so odds are good that some of the blueberries will break up as you mix them in. Because of that, I don't necessarily recommend using frozen blueberries. If you do, do NOT thaw them and know that they still might discolor the batter a bit.
The streusel topping uses several of these same ingredients, plus brown sugar.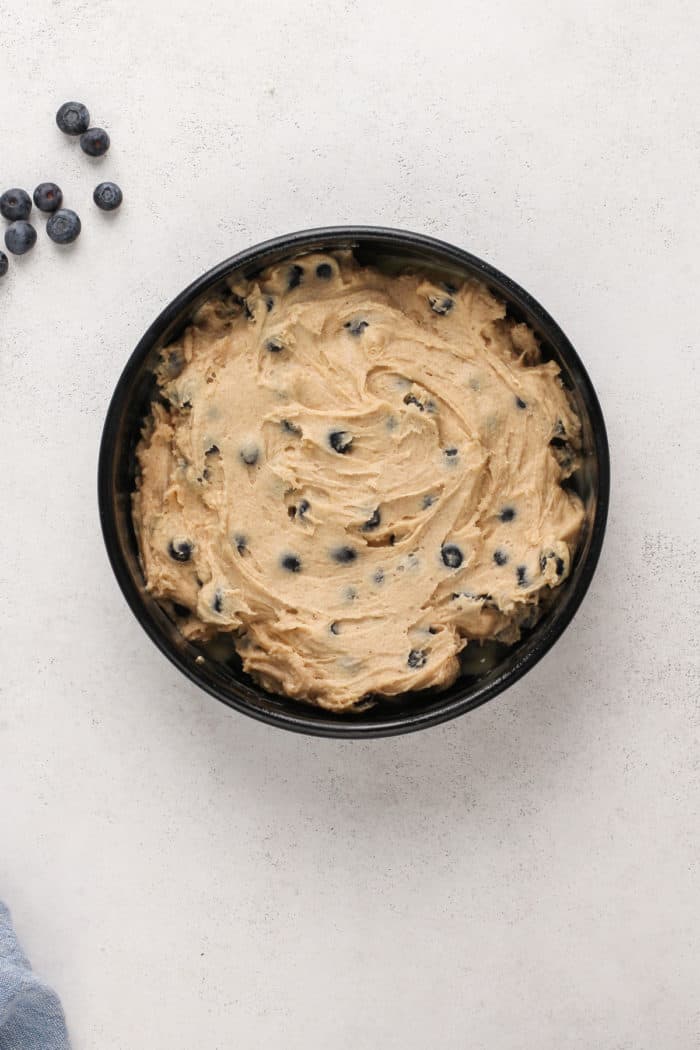 Making this recipe
Grab your favorite 9-inch cake pan and spray it with nonstick cooking spray.
In a bowl, mix together the flour, baking powder, salt, and cinnamon.
In a separate bowl, use an electric mixer to cream together the butter (or shortening) and sugar until the mixture is light and fluffy. This takes about 3 minutes.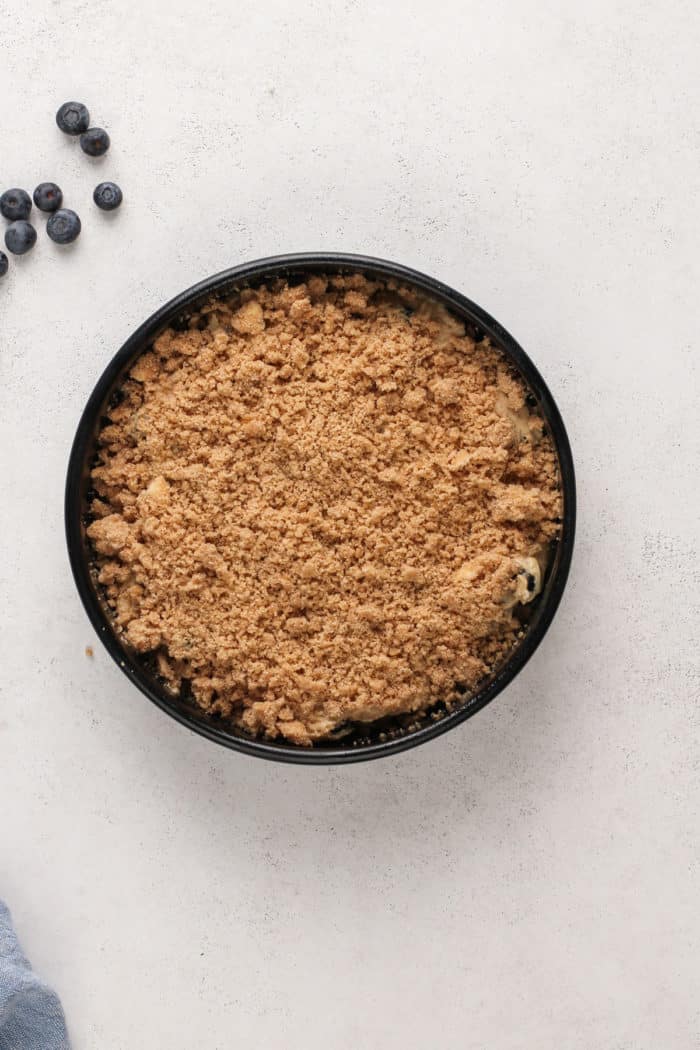 Add the egg and the vanilla, then reduce the speed of the mixer. Add half of the dry ingredients, all of the milk, then the rest of the dry ingredients, making sure to mix after each addition.
Fold the blueberries into the batter. The batter will be quite thick, so try to fold the berries in as gently as you can.
Spread the batter into the prepared pan, then mix together the streusel topping and spread it evenly over the top of the batter.
Bake for about 40-45 minutes. I recommend letting the cake cool for at least 10-15 minutes in the pan before turning it out onto a wire rack.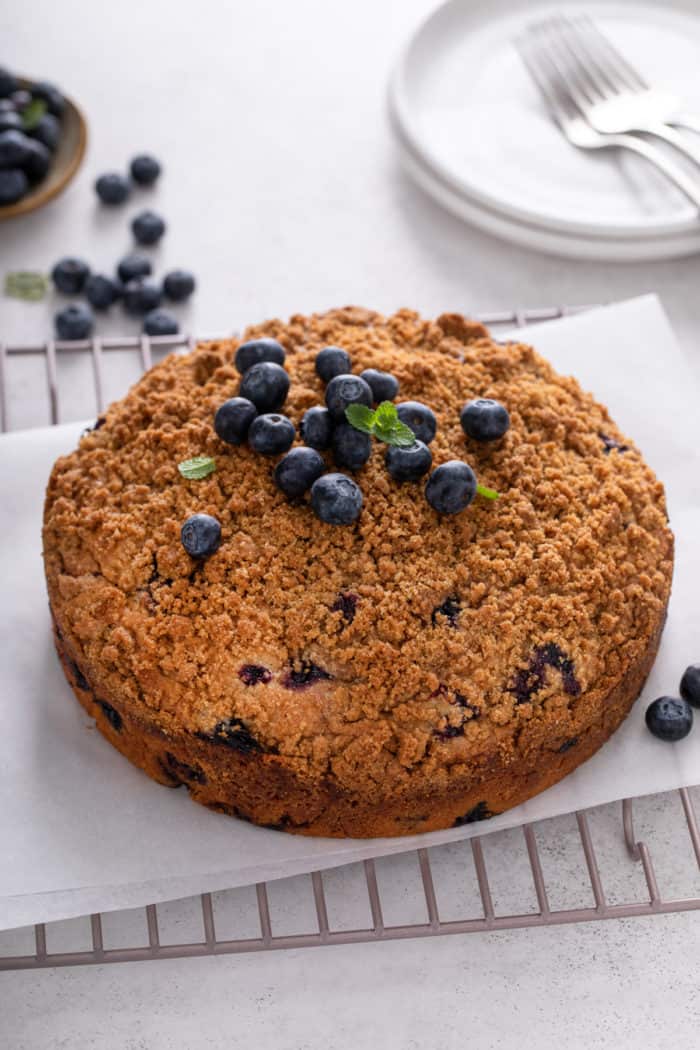 STORAGE
I don't think anyone could argue that there's nothing better than a piece of cake fresh from the oven, and this blueberry buckle is no exception. But it's delicious the next day as well!
Store any leftover cake well wrapped at room temperature for up to 3 days.
You can also cut the buckle into slices, wrap each one in plastic wrap, place them in a zip-top freezer bag, and freeze for up to a month.
To thaw and reheat the blueberry buckle, unwrap a frozen slice and microwave it for 30-60 seconds.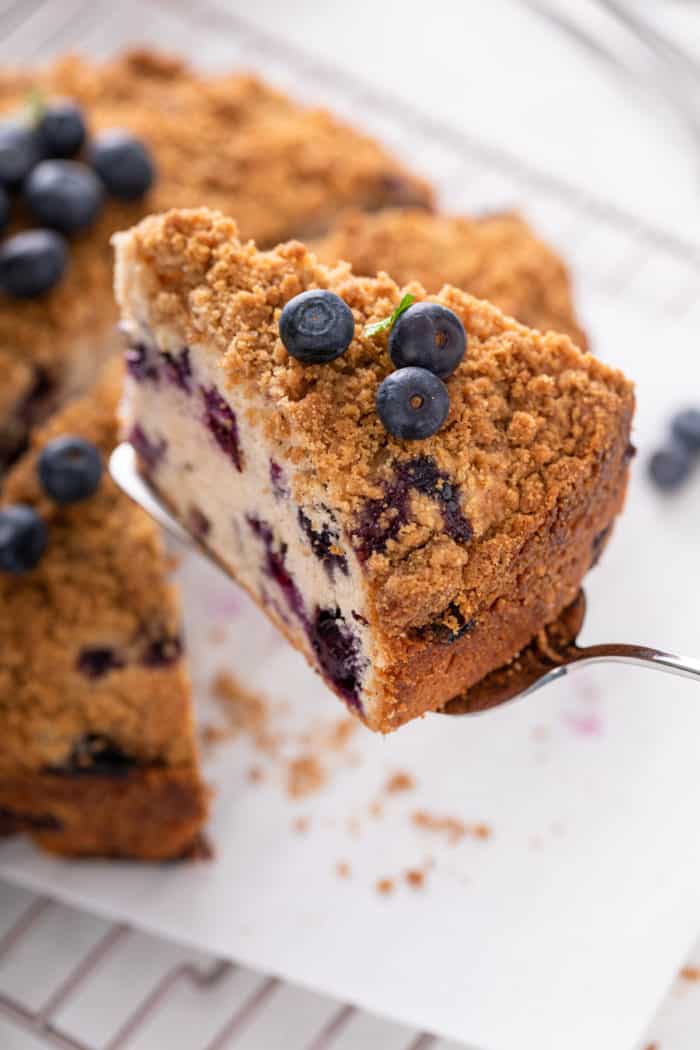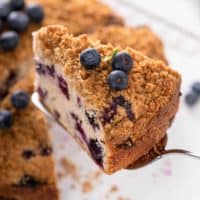 Blueberry Buckle
Blueberry buckle is a lightly spiced, dense blueberry coffee cake topped with a sweet and crunchy streusel. Serve this cake for breakfast, dessert, or an afternoon snack.
Print
Pin
Ingredients
2

cups

all-purpose flour

2

teaspoons

baking powder

½

teaspoon

salt

1

teaspoon

ground cinnamon

¾

cup

granulated sugar

¼

cup

unsalted butter (softened) or shortening

1

large egg

1 ½

teaspoons

pure vanilla extract

½

cup

milk

2

cups

fresh blueberries
For the Streusel Topping:
⅓

cup

all-purpose flour

⅓

cup

packed light brown sugar

½

teaspoon

ground cinnamon

¼

teaspoon

salt

3

tablespoons

cold unsalted butter

cut into small pieces
Instructions
Preheat oven to 375°F. Spray a 9-inch cast iron skillet or cake pan with non-stick cooking spray.

In a medium bowl, whisk together the flour, baking powder, salt, and cinnamon. Set aside.

In a large bowl with an electric mixer on medium speed, combine sugar and butter or shortening and mix until light and fluffy, about 3 minutes. Add egg and vanilla, mixing until thoroughly combined. Reduce mixer speed to low and alternating adding the dry ingredients and the milk to the sugar mixture, beginning and ending with the dry ingredients, mixing until just combined after each addition. Fold in blueberries. Spoon batter into prepared pan.

Make the Streusel Topping: In a medium bowl, combine flour, brown sugar, cinnamon and salt. With your hands, work in butter pieces until small clumps form. Spread topping evenly over batter.

Bake in preheated oven for 40-45 minutes.
Notes
This batter is very thick, which means that some blueberries may get broken up in the process of folding them into the batter at the end. For this reason, I don't necessarily recommend using frozen blueberries. If you do use frozen blueberries, do NOT thaw them before adding to the batter and note that even then, there may be some discoloration of the batter.
Makes 1 9-inch cake.
Nutrition
Serving:
1
slice
|
Calories:
370
kcal
|
Carbohydrates:
62
g
|
Protein:
5
g
|
Fat:
12
g
|
Saturated Fat:
7
g
|
Polyunsaturated Fat:
1
g
|
Monounsaturated Fat:
3
g
|
Trans Fat:
0.4
g
|
Cholesterol:
49
mg
|
Sodium:
421
mg
|
Potassium:
116
mg
|
Fiber:
2
g
|
Sugar:
32
g
|
Vitamin A:
384
IU
|
Vitamin C:
4
mg
|
Calcium:
103
mg
|
Iron:
2
mg
The default measuring system on My Baking Addiction is US Customary. Unit conversions are provided as a courtesy; please be aware that there may be some discrepancies.
Card may contain affiliate links. As an Amazon Associate and member of other affiliate programs, I earn from qualifying purchases.