[pinit]
If you've read MBA for any length of time, you are probably well aware of the fact that my life pretty much functions by to-do lists. In fact, the home screen of Mac is currently littered with about 5 stickies ranging from personal appointments to recipe ideas. Without these lists, I'd basically accomplish nothing. And I'll be honest here, I kind of get a lot of gratification from adding little check marks next to my list items.
Blueberry Buckle has been on my must make sticky for about two months. I don't remember why this particular recipe fell upon my radar, but I do know the fact that it has the word buckle in the name kind of intrigued me.
According to Serious Eats, "A buckle is a popular New England dessert that's made by adding berries or sliced fruit to a single layer of cake batter. During baking, the fruit sinks and the cake emerges from the oven with a "buckled" appearance." There's your random tidbit of knowledge for the day – you're welcome.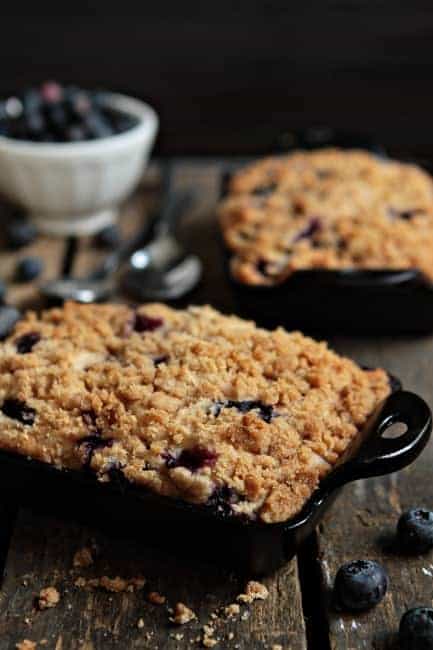 This whole situation came about because I got a chance to raid the recipe collection of my boyfriend Eric's grandmother. There's just something so special and nostalgic about handwritten recipe cards – I sort of feel like it's a lost art that totally needs to make a resurgence.
Of course I added a couple of minor tweaks because I have an issue with leaving well enough alone. One of the adaptations that I made was to bake the Blueberry Buckle in mini rectangular cast iron pans from Lodge. I love the look of the rustic blueberry cake baked in cast iron.
Because hey, if it's mini, it's totally one serving, right? Plus, there's fruit. I mean, it's practically breakfast. And I would totally advocate popping one of these babies into the oven for a breakfast warm-up before work. Oh yeah.
Blueberry Buckle Recipe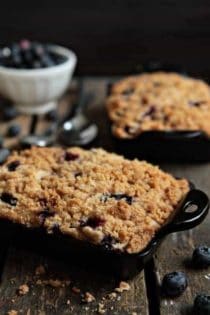 Ingredients:
2 cups all-purpose flour
2 teaspoons baking powder
1/2 teaspoon salt
1 teaspoon Penzy's Cake Spice (see note below)
3/4 cup sugar
1/4 cup shortening (see note below)
1 large egg
1 1/2 teaspoons pure vanilla extract
1/2 cup milk
2 cups fresh blueberries
For the Streusel Topping:
1/3 cup all-purpose flour
1/3 cup packed light brown sugar
1/2 teaspoon Penzy's Cake Spice
1/4 teaspoon salt
3 tablespoons cold unsalted butter, diced
Directions:
1. Preheat oven to 375°F. Spray an 8x8 inch pan with non-stick cooking spray. I use coconut oil spray from Trader Joe's. See note below regarding the Lodge cast iron pans seen in the images.
2. In a medium bowl, whisk together the flour, baking powder, salt, and cake spice. Set aside.
3. In a large bowl with an electric mixer on medium speed, combine sugar and shortening and mix until light and fluffy, about 3 minutes. Add egg and vanilla, mixing until thoroughly combined. Reduce mixer speed to low and slowly add dry ingredients alternating with the milk to the sugar mixture - mixing until just combined. Fold in blueberries. Spoon batter into prepared pan.
4. Make the Streusel Topping: In a medium bowl, combine flour, brown sugar, cake spice and salt. With your hands, work in butter pieces, until small clumps form. Spread topping evenly over batter.
5. Bake in preheated oven for 25-30 minutes.
Notes:
- If you are not a fan of shortening, you can substitute 1/4 unsalted butter.
- If you do not have Penzy's Cake Spice, simply substitute it for ground cinnamon.
- I baked the Blueberry Buckle in mini rectangular cast iron pans from Lodge. The Blueberry Buckle baked perfectly in these pans in about 25 minutes.
All images and text ©
Follow Jamie on Instagram. We love to see what you're baking from MBA! Be sure to tag @jamiemba and use the hashtag #mbarecipes!