Bisquick coffee cake is quick and easy, making feeding overnight guests a snap! Sour cream adds some tang while a streusel topping adds sweetness to this simple cake. Serve it alongside a cup of coffee for a delicious breakfast or afternoon snack.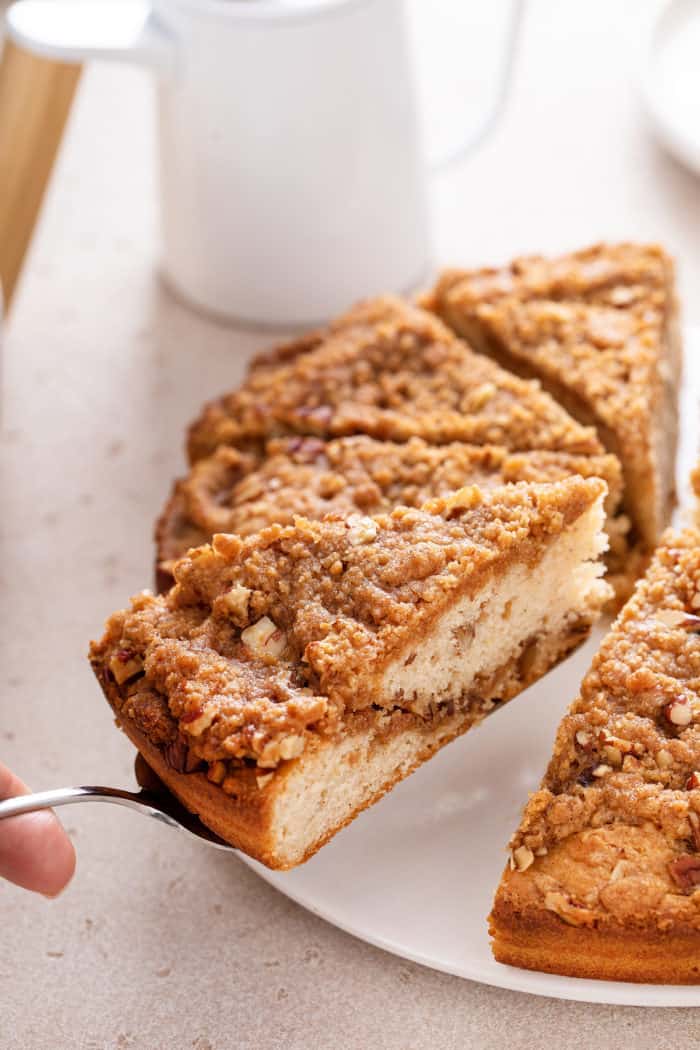 You guys, we are in the home stretch.
If you're a parent, you know exactly why I'm calling it the "home stretch." As magical as this time of year is, it's also so exhausting when you're the one making the magic happen for your kids.
And that's without mentioning attending all of the holiday recitals and parties and making sure they have outfits for all of the holiday dress-up days at school and putting together teacher gifts…
But we're almost to Christmas and we'll get to take a big breath and settle in with Christmas pajamas and a cup of coffee and maybe a slice of Bisquick coffee cake while the kids open their presents.
We can do this! Just remember that there's coffee cake as a reward at the finish line.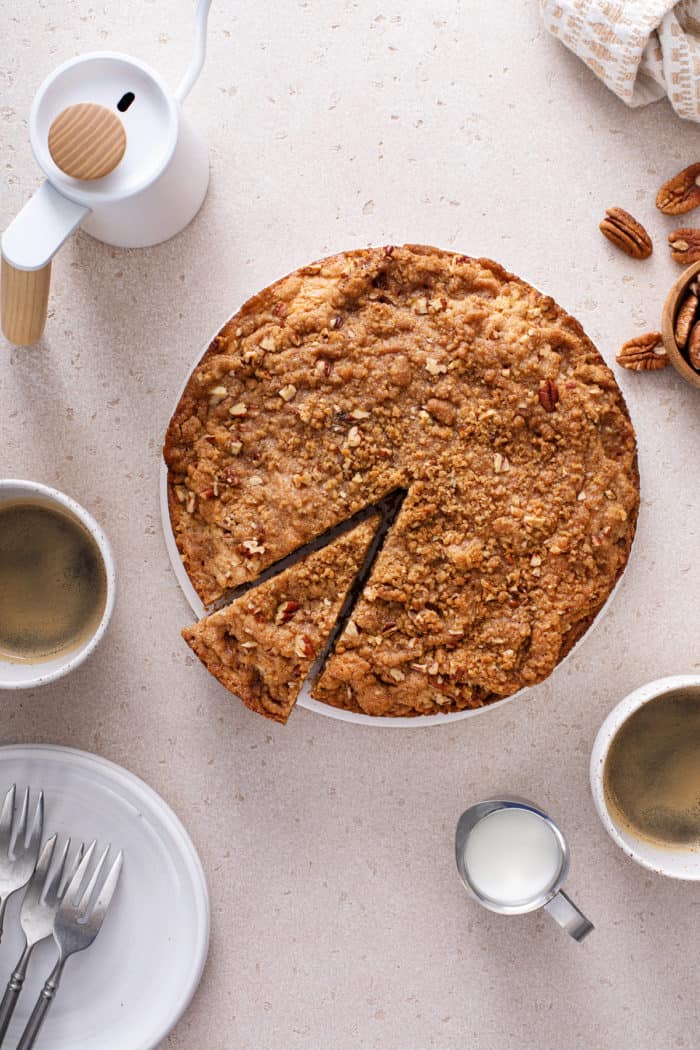 WHY I LOVE THIS BISQUICK COFFEE CAKE
I love whipping up a coffee cake when we have guests. They're just so versatile. I mean, who doesn't love a cake that you can eat or breakfast, an afternoon snack, or dessert?
And there are so many different types of coffee cake recipes out there, you can really find something for everyone and every season.
This Bisquick coffee cake is a personal favorite when I'm running short on time and energy (like so many of us these days) and don't need to feed a big crowd.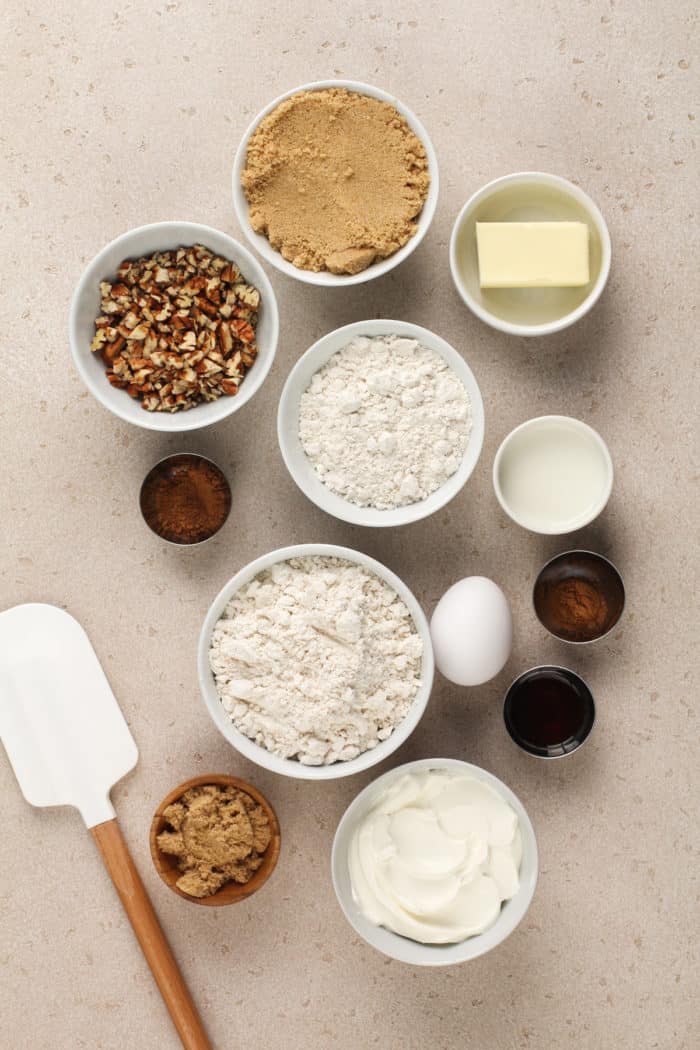 I love my easy coffee cake recipe, which uses Jiffy baking mix, but the fact that it's made in a bundt pan does mean that it automatically feeds a lot more people. And if we only have 1 or 2 guests over, I don't necessarily want to make a big cake.
So that's when I grab my homemade Bisquick mix and whip up this recipe instead. It's a little bit tangy from the sour cream, perfectly sweet from the streusel topping, and is perfect alongside a piping hot cup of coffee or tea.
Add some fresh fruit or a dollop of homemade whipped cream and you're totally set.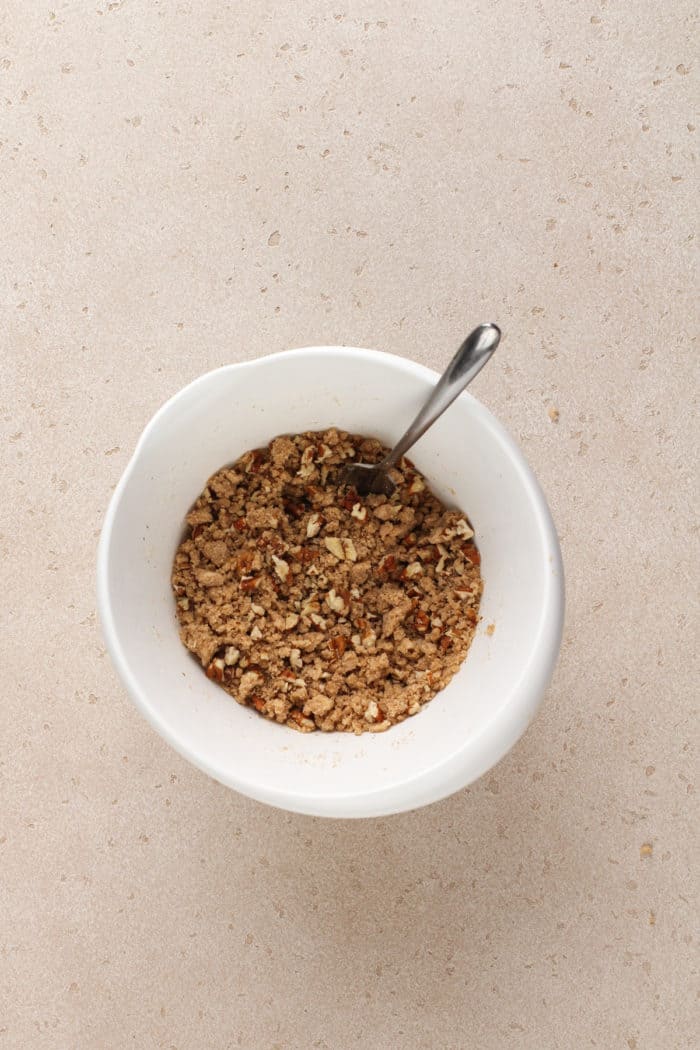 HOW TO MAKE COFFEE CAKE WITH BISQUICK
We already love using homemade Bisquick to make Bisquick waffles, Bisquick pancakes, and Bisquick biscuits, but did you know you could use it in a coffee cake?
In fact, we already have! I used it to make banana coffee cake before!
But this time, we're going to go a much more classic direction in this streusel-topped cake.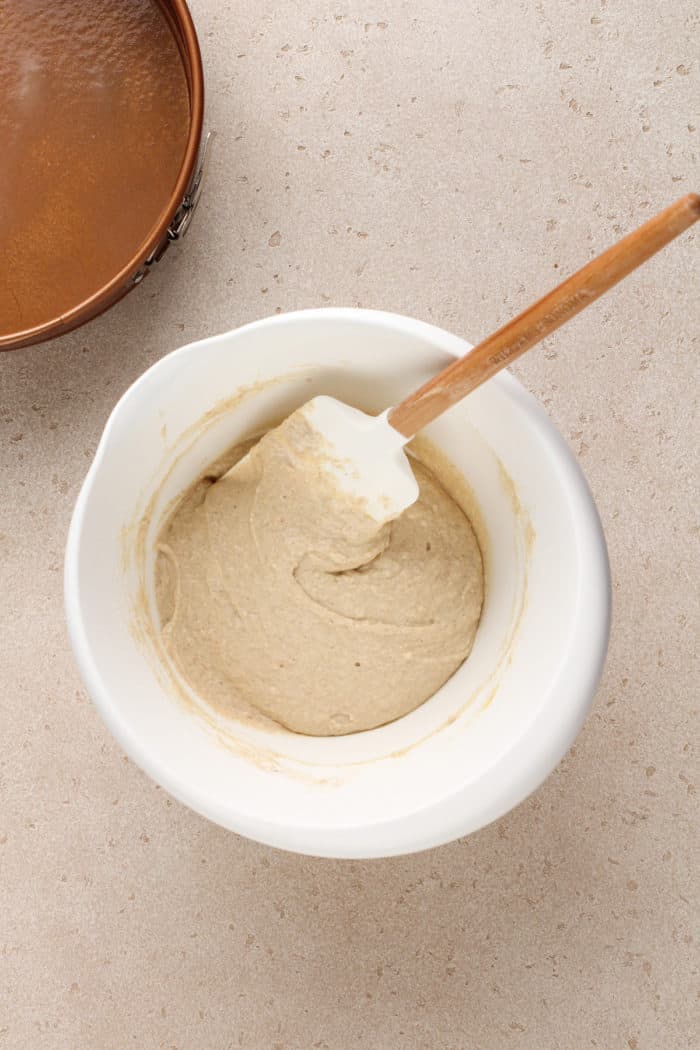 Ingredients you'll need
Even though you have to make the cake batter and the streusel topping for this coffee cake, they use a lot of the same ingredients. You'll need to have:
Bisquick mix: You can use store-bought mix or homemade mix.
Light brown sugar: If you ran out of brown sugar, you can use my simple brown sugar substitute in this recipe.
Pumpkin pie spice: I like using a spice mix like pumpkin pie spice to add the flavors of multiple spices in one step. You could also use apple pie spice, chai spice mix, or just ground cinnamon here!
Unsalted butter: Make sure your butter is cold for the streusel.
Chopped pecans: These are optional, but highly recommended.
Sour cream: This adds a lovely tang to the cake and helps keep it moist and tender.
Milk: This helps thin out the sour cream so it mixes easily into the cake.
Egg: This helps the cake to rise and also makes it moist and tender.
Vanilla extract: As always, a bit of vanilla really rounds out the flavor of this cake!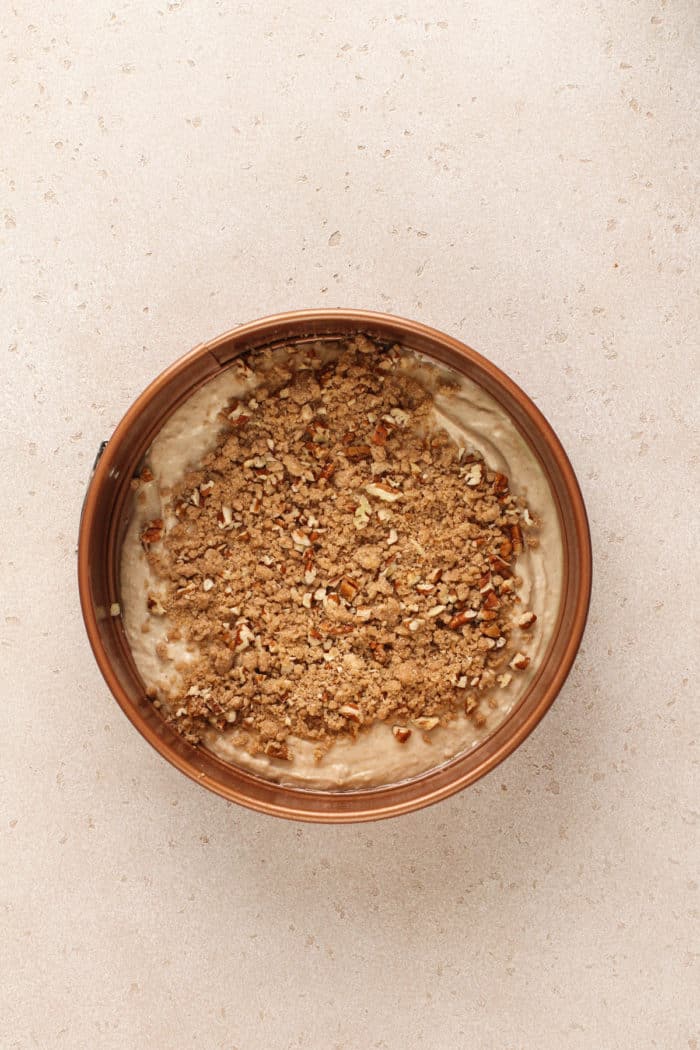 Making this recipe
This cake should take less than an hour to make from start to finish, which is kind of perfect if you're running short on time.
Start by prepping the streusel. Combine Bisquick, brown sugar, and pumpkin pie spice in a bowl, then cut in the cold butter with a pastry blender. Make sure to cut the butter in well until only a few small pieces are visible, then stir in the pecans.
Now it's time to make the cake batter!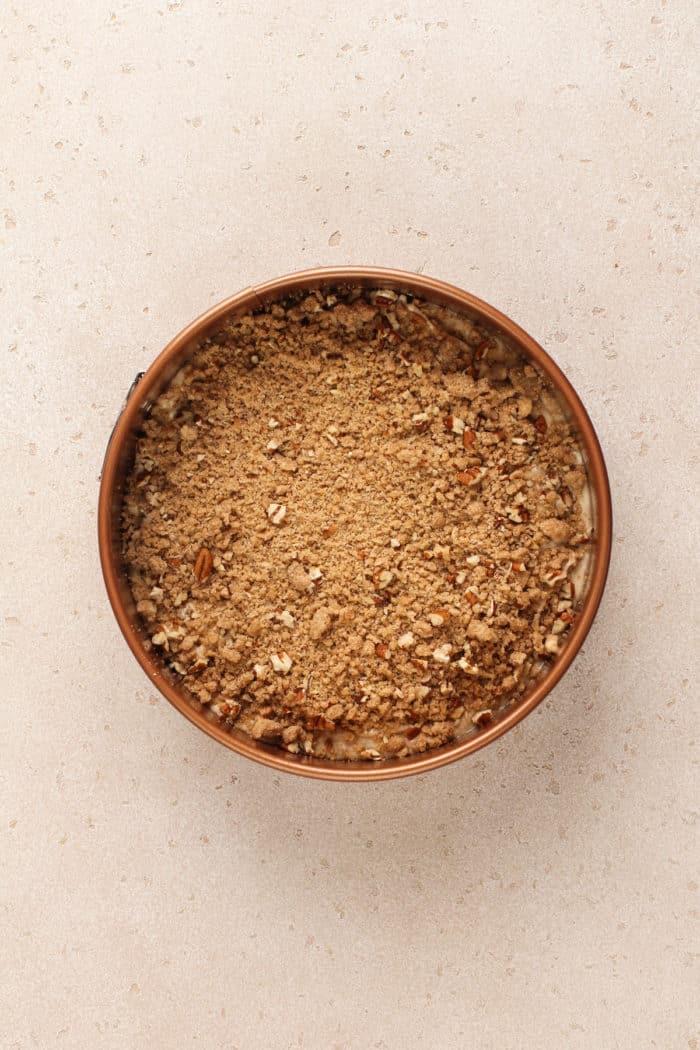 Whisk together the rest of the Bisquick, brown sugar, and pumpkin pie spice in a large bowl. Stir in the wet ingredients – sour cream, milk, egg, and vanilla – until the batter is well combined.
Spread half of the batter into a greased 9-inch cake pan and top the batter with half of the streusel. Add the rest of the cake batter and finish with the rest of the streusel.
Bake the Bisquick coffee cake for 30-35 minutes. It's done when it is golden and a toothpick inserted into the center comes out clean.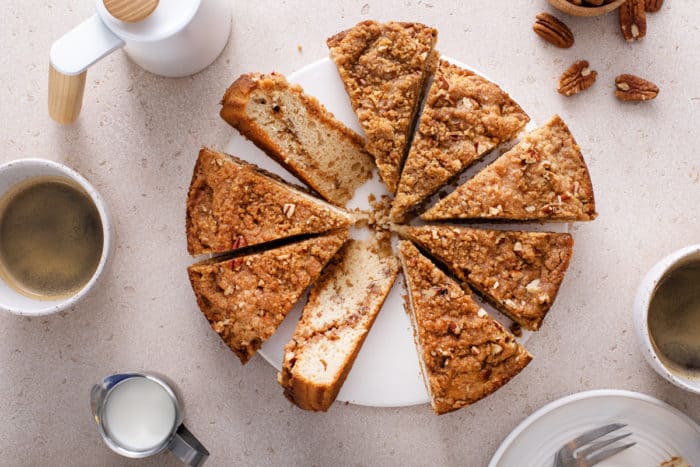 MORE DELICIOUS COFFEE CAKE RECIPES
Do you also love coffee cake? Then you're in luck, because in addition to this Bisquick coffee cake, I have plenty more coffee cake recipes for you to check out!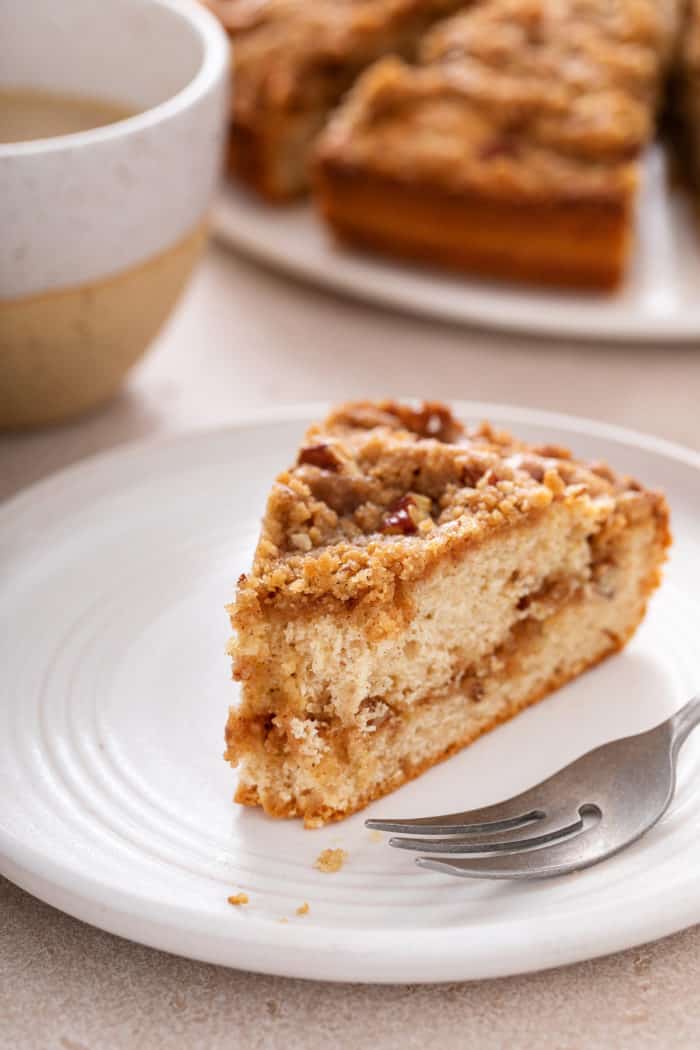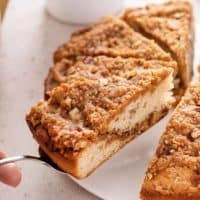 Bisquick Coffee Cake
Bisquick coffee cake makes feeding guests a snap! This easy coffee cake gets its tang from sour cream and sweetness from a flavorful and buttery streusel.
Print
Pin
Ingredients
For the streusel topping:
Instructions
Preheat oven to 375°F. Spray a 9-inch round cake pan with cooking spray. Set aside.

Prep the streusel: In a medium bowl, stir combine ⅔ cup Bisquick, ⅔ cup brown sugar and 1 teaspoon pumpkin pie spice. Use a pastry blender to cut in the butter until well combined and only small pieces of butter are visible. Stir in the pecans. Set aside.

In a large bowl, whisk together the remaining Bisquick, brown sugar, and pumpkin pie spice. Stir in the sour cream, milk, egg, and vanilla until well combined.

Spread half of the cake batter into the bottom of the greased cake pan. Sprinkle evenly with half of the streusel. Top evenly with the remaining cake batter, followed by the rest of the streusel.

Bake for 30-35 minutes, or until a toothpick inserted into the cake comes out clean.
Notes
Feel free to substitute the pumpkin pie spice with ground cinnamon, apple pie spice, or even chai spice mix.
Makes 1 9-inch coffee cake; 8-10 servings.
Adapted from Betty Crocker
Nutrition
Serving:
1
slice
|
Calories:
323
kcal
|
Carbohydrates:
39
g
|
Protein:
4
g
|
Fat:
17
g
|
Saturated Fat:
6
g
|
Polyunsaturated Fat:
2
g
|
Monounsaturated Fat:
7
g
|
Trans Fat:
0.2
g
|
Cholesterol:
39
mg
|
Sodium:
427
mg
|
Potassium:
136
mg
|
Fiber:
1
g
|
Sugar:
21
g
|
Vitamin A:
276
IU
|
Vitamin C:
0.4
mg
|
Calcium:
104
mg
|
Iron:
1
mg
The default measuring system on My Baking Addiction is US Customary. Unit conversions are provided as a courtesy; please be aware that there may be some discrepancies.
Card may contain affiliate links. As an Amazon Associate and member of other affiliate programs, I earn from qualifying purchases.