Mini Brownie Trifles are layered with raspberry sauce, raspberry whipped cream and finished with fresh raspberries to create a delicious dessert worthy of any upcoming holiday celebration.
This post is brought to you by Driscoll's. All text, images and opinions are 100% my own.

With the holiday season in full swing I'm all about creating recipes that are simple to make. But they also have to be beautiful, delicious, and perfect for holiday entertaining.
Simple has become my mantra. From dinner recipes to holiday shopping, I want everything to be simple. I'm still trying to figure out why Eric and I thought it would be an amazing idea to plan a move during the holiday season, but we did. And there's no turning back now. We're in the middle of packing everything that we don't need – the only problem is, I need all the things.
I can't tell you how many times I've headed out to the garage and sifted through a slew of boxes to locate something that we've already packed away. And don't get me started on the horrible labels that I've given the boxes. I thought labels such as basement, living room, and kitchen would suffice. Turns out they don't when you're unpacking before you even move.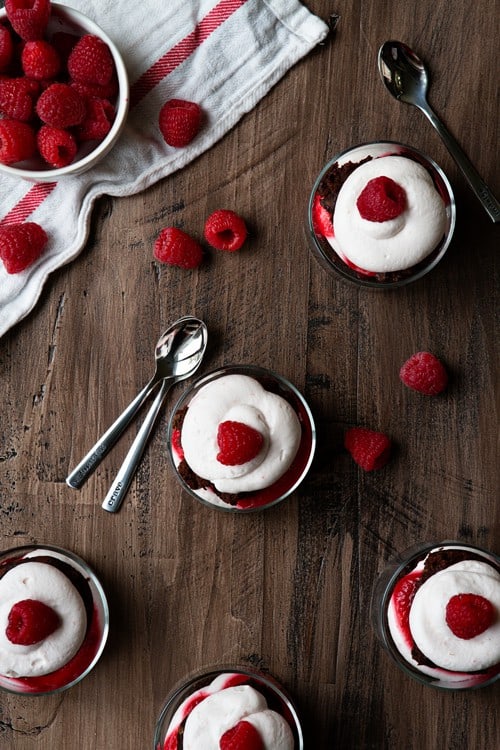 There may have been a moment when I realized we somehow packed all my mini trifle glasses, glass jars, and even my favorite spoons! How this travesty happened, I don't know, but there was some serious panic at Chez Baking Addiction.
If you have followed My Baking Addiction for any length of time, you are probably well aware of the fact that I have a serious affinity for individualized desserts like these Cranberry Trifles and these No Bake Cranberry Cheesecakes. Especially if they're served layered in small glass containers. Hence my panic.
There's just something about a mini trifles on a pretty tray that speaks to me. And since they have built in portion control, they're great for holiday get-togethers with family and friends. Hence unpacking boxes to find these mini glasses.
When Driscoll's asked me to create a recipe using their gorgeous and sweet fresh raspberries, my mind immediately went to brownies. If there's anything in life that should go together, it's chocolate and raspberries. So I give you Brownie Trifles – layered with raspberry sauce, raspberry whipped cream and topped with – you guessed it, fresh raspberries. Not only are these Brownie Trifles with Raspberries easy to assemble, you can make the brownies and the raspberry sauce the night before. And they're mini, because mini is always better, and I didn't go through all the hard work of unpacking already-packed boxes for nothing.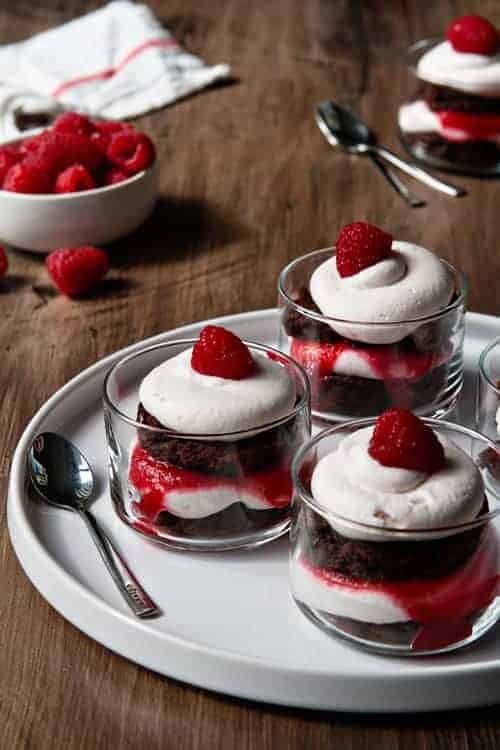 Whether you're creating a dessert for a holiday gathering or an impromptu get-together with your best friends, these Mini Brownie Trifles with Raspberries are sure to be a hit. And they'll definitely stand out amidst a sea of the standard pumpkin desserts that are sure to fill dessert tables this holiday season.
Plus, if you have two or three in the process of eating your feelings because of allthepacking, no one's really going to judge you. They're mini.
Do you love raspberries as much as I do? Be sure to check out Driscoll's on Facebook, Pinterest and Instagram for loads of berry inspiration, recipes, and so much more.
Looking for more delicious raspberry desserts?
No Bake Raspberry Cheesecake
Chocolate Raspberry Cake
Raspberry Lemon Cupcakes
Disclosure: This Raspberries… Now It's Desserts post is sponsored by Driscoll's; however, the views and opinions expressed on My Baking Addiction are my own, and based upon my experiences with Driscoll's berries. Thank you for supporting Driscoll's and the brands that continue to make My Baking Addiction possible.