With Thanksgiving just a week away, I am definitely ready for some turkey. If I'm being completely honest, I'm ready for turkey, stuffing, mashed potatoes, cranberry relish and some pumpkin pie. You can't have Thanksgiving without some pie.
Every year, my family has our staple dishes that always show up on our Thanksgiving table, but we also like to add a few new recipes to the rotation. The 'extras' that round out the menu and keep things interesting. Some years it's an interesting roasted vegetable or wild rice stuffing. This year, I'll be serving up savory and sweet Butternut Squash Soup.
The idea for this soup came about when I was making a batch of my mom's Squash Apple Bake. It's a dish that my mom made when I was little, and it's roasted butternut squash (sometimes she used acorn) roasted with sliced apples and cinnamon. It's got sweetness from the apples and some earthy savoriness from the squash and I knew these flavors would make a spectacular soup.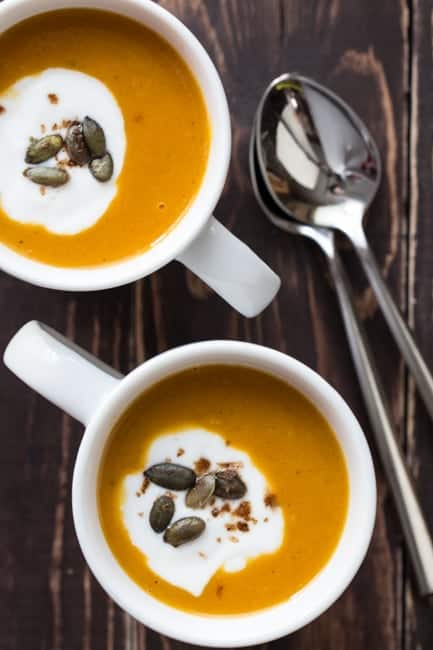 For the base of the soup, I added sautéed onions and fresh ginger to the roasted butternut squash and apples. With the addition of warm spices, the resulting soup was creamy and full of complex flavors. It's a great starter course for Thanksgiving, even if your family is like ours and our meal is often a casual buffet.
Serve this Roasted Butternut Squash soup in cute little mugs topped with a dollop of sour cream and a sprinkling of maple roasted pumpkin seeds or praline pecans and your family will be quite pleased with you. Make an extra big batch of soup and freeze some for later. You will thank yourself later, trust me!
Happy Thanksgiving!
Butternut Squash Soup Recipe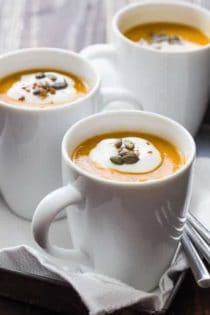 Ingredients:
1 large butternut squash, or 2 small (about 4 lbs total), peeled, seeded and cubed
3 tablespoons olive oil, divided
kosher salt
black pepper
1 tablespoon butter
2 apples, peeled and sliced (I used Gala)
1 inch piece of fresh ginger, peeled and grated or minced (about 1 1/2 tablespoons)
1 medium onion, chopped
1/4 teaspoon cinnamon
1/2 teaspoon allspice
pinch of ground cardamom (optional)
3 cups of stock (chicken, turkey or vegetable)
Directions:
1. Preheat oven to 425 degrees. Spray a rimmed baking sheet with non-stick cooking spray. Spread squash in a single layer on prepared baking sheet and drizzle with 2 tablespoons of olive oil. Season with salt and pepper, tossing the squash to coat. Roast squash for 30 minutes or until tender and the edges are caramelized. Allow to cool slightly.
2. In a heavy bottomed pot or Dutch oven, heat remaining 1 tablespoon of olive oil and butter over medium heat. When butter is melted, add apples, ginger, onion, cinnamon, allspice and cardamom (if using). Cook, stirring frequently, until apples and onions are soft and mixture is fragrant, about 10 minutes. Add roasted squash and stock to the pot and bring soup to a boil. Reduce heat and simmer for 10 minutes.
3. Working in small batches, carefully transfer soup to blender and puree until smooth. Return soup to the pot and simmer for an additional 10 minutes. Adjust seasonings for salt and pepper. Serve!
All images and text ©
Follow Jamie on Instagram. We love to see what you're baking from MBA! Be sure to tag @jamiemba and use the hashtag #mbarecipes!