I heart soup in a serious way…it makes me all warm and fuzzy inside. As the weather begins to transition from summer to fall, there is nothing more comforting than a big bowl of piping hot soup.
This Corn Chowder recipe is creamy with just a little kick of spice to please your palette and warm your heart and soul.
If you read MBA on a regular basis, you may have caught on to the fact that I am not a big fan of hot weather…I don't like to sweat and I am certainly not partial to pesky Ohio mosquitoes. However, the one thing I truly love about summer (besides not working) is sweet corn. There were countless nights that I simply ate corn on the cob for dinner. Brian would gape at me in awe as I polished off two huge ears and wouldn't even think twice about the protein pushed off to the side of my plate.
This soup combines that sweet, fresh corn flavor with a little smokiness from the chipotle seasoning and transforms into a delicious one pot meal that is hearty enough to satisfy any hunger. Serve it alongside some homemade beer bread and prepare for your family to swoon. Heck, they may even volunteer to clean the kitchen for you! Have an amazing day and thanks so much for taking the time to stop by My Baking Addiction.

Corn Chowder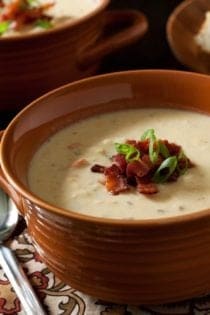 Ingredients:
5 strips thick cut bacon; sliced into 1/2 inch pieces
1 sweet onion, diced
2 carrots peeled and chopped
2 stalks of celery chopped
2 garlic cloves, minced
1 jalapeno, seeded and finely chopped
6 sprigs fresh thyme, leaves only
1/4 cup all-purpose flour
1/2 teaspoon chipotle seasoning
1/4 teaspoon crushed red pepper flakes (add more if you like some heat)
6 cups vegetable stock
2 cups heavy cream
2 Idaho potatoes, peeled and diced
6-8 ears corn
2 cups cooked and shredded chicken; I use rotisserie chicken from the local market
Salt and freshly ground black pepper
1/4 cup chopped fresh Italian parsley
green onions; sliced for garnish
Directions:
1. In a Dutch oven, cook bacon over medium high heat until crisp; remove bacon with a slotted spoon and allow to drain and reserve for garnish.
2. Reduce heat to medium. Add the onion, carrots, celery, garlic, jalapeno and thyme to the bacon drippings and cook until the vegetables are soft; about 8 to 10 minutes. Dust the vegetables with flour, chipotle seasoning, crushed red pepper flakes and stir to coat well.
3. Cook vegetables, flour and seasonings for 2 minutes; stir frequently.
4. Pour in the vegetable stock and bring to a boil. Add the cream and the potatoes, bring to a rapid boil. Allow soup to boil hard for about 7 minutes, until the potatoes break down. This process will help thicken the soup.
5. Cut the corn kernels off the cobs and add to the soup. Season with salt and pepper to taste and add in the cooked chicken. Simmer until the corn is soft and chicken is heated through; about 10 to 12 minutes.
6. Stir in the parsley. Ladle the soup into bowls and garnish with the reserved bacon and green onions.
Notes:
- If you are not a fan of heat, eliminate the jalapeno. Personally I would not omit the crushed red pepper or the chipotle seasoning. It adds a smokiness and depth of flavor that is truly magical in this soup.
- If you like heat, definitely toss some more spices in and even leave a few jalapeno seeds hanging around.
- This soup is perfectly delicious without the addition of the chicken, but is definitely more of a meal with it.
All images and text ©
Follow Jamie on Instagram. We love to see what you're baking from MBA! Be sure to tag @jamiemba and use the hashtag #mbarecipes!