This hearty corn chowder will warm you up on even the chilliest of days! With bacon, potatoes, corn, and just a slight kick from some jalapeños, this is a soup that will make your family swoon.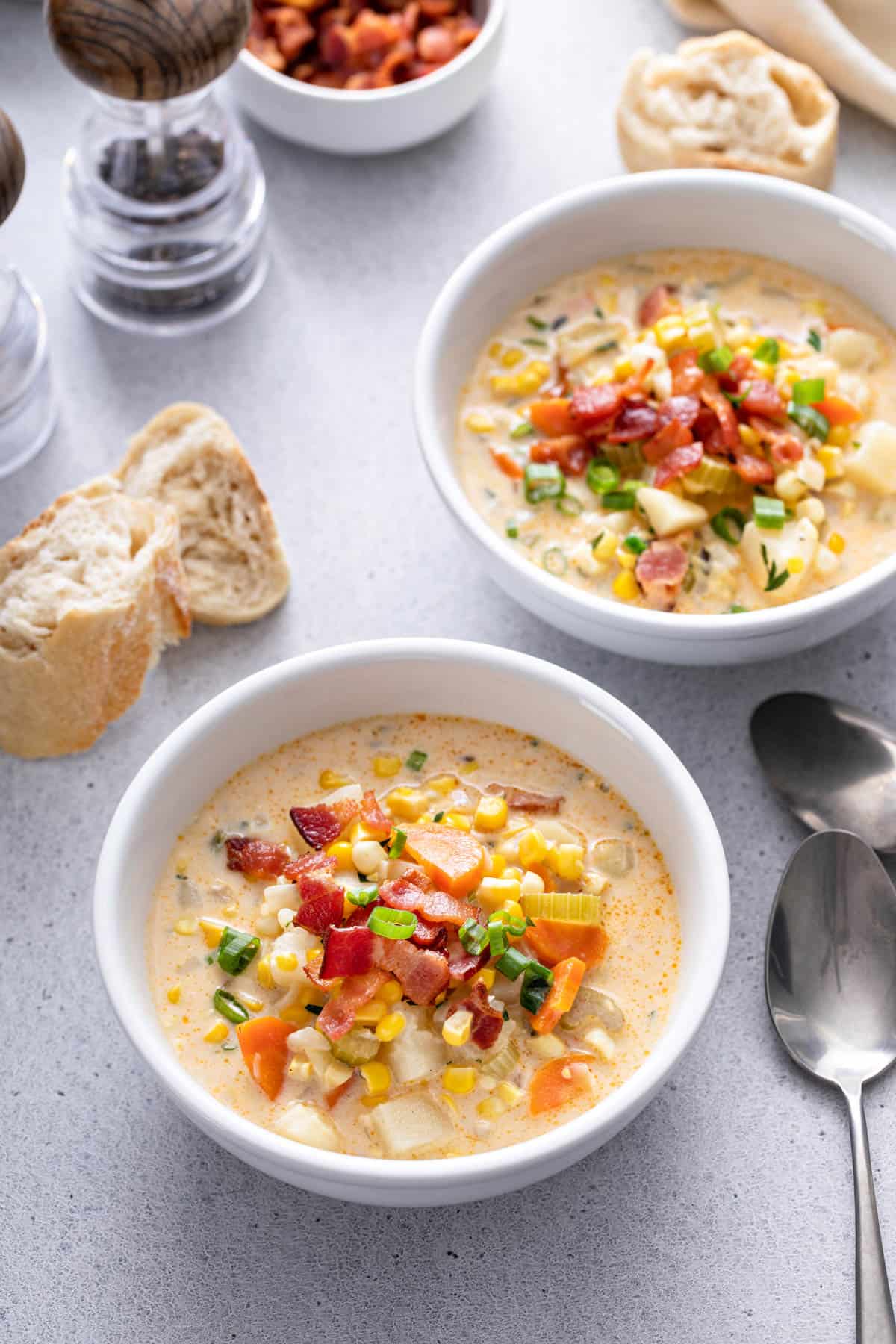 This post contains affiliate links.
I heart soup in a serious way…it makes me all warm and fuzzy inside. As the weather turns chilly, there is nothing more comforting than a big bowl of piping hot soup.
From loaded baked potato soup to broccoli cheese soup to zuppa toscana to sausage and lentil soup…I seriously love it all.
This corn chowder recipe is creamy with just a little kick of spice to please your palate and warm your heart and soul.
This recipe makes a big pot of soup, so it's perfect for big family gatherings, sharing with neighbors, or freezing for later.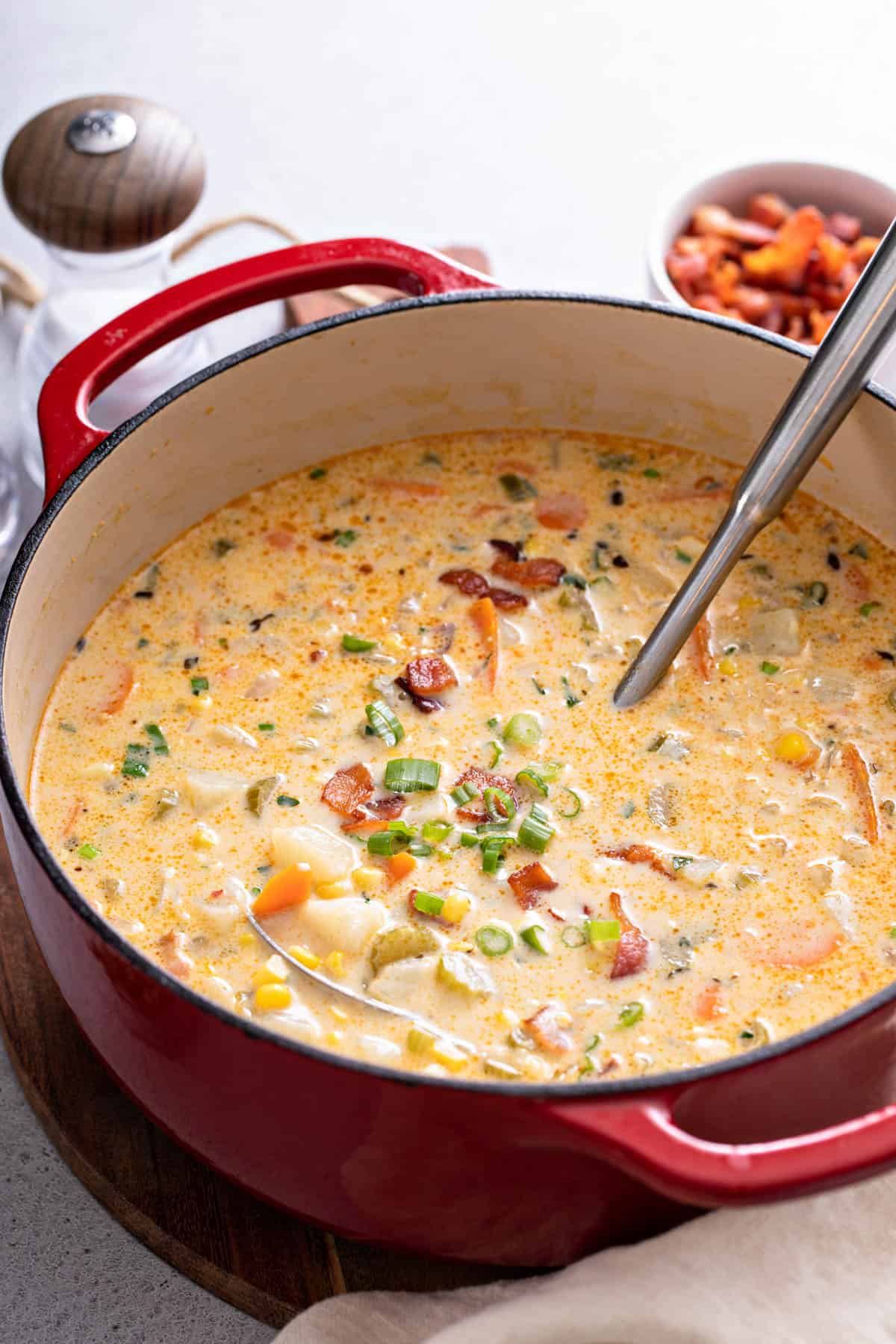 WHAT IS CHOWDER?
Have you ever wondered what the difference is between chowder and soup?
While soups can have a thin, light broth (although they don't have to), chowders are typically characterized by being rich and creamy. They often have bacon, onions, potatoes, and cream in them.
Some of the most popular chowders are corn chowder and clam chowder. Manhattan clam chowder has a tomato base instead of a cream base, although it does still contain potatoes.
This corn chowder starts off with bacon, is loaded with vegetables such as carrots, onions, potatoes, and corn, and is finished off with some heavy cream. It is thick, hearty, and sure to warm you up.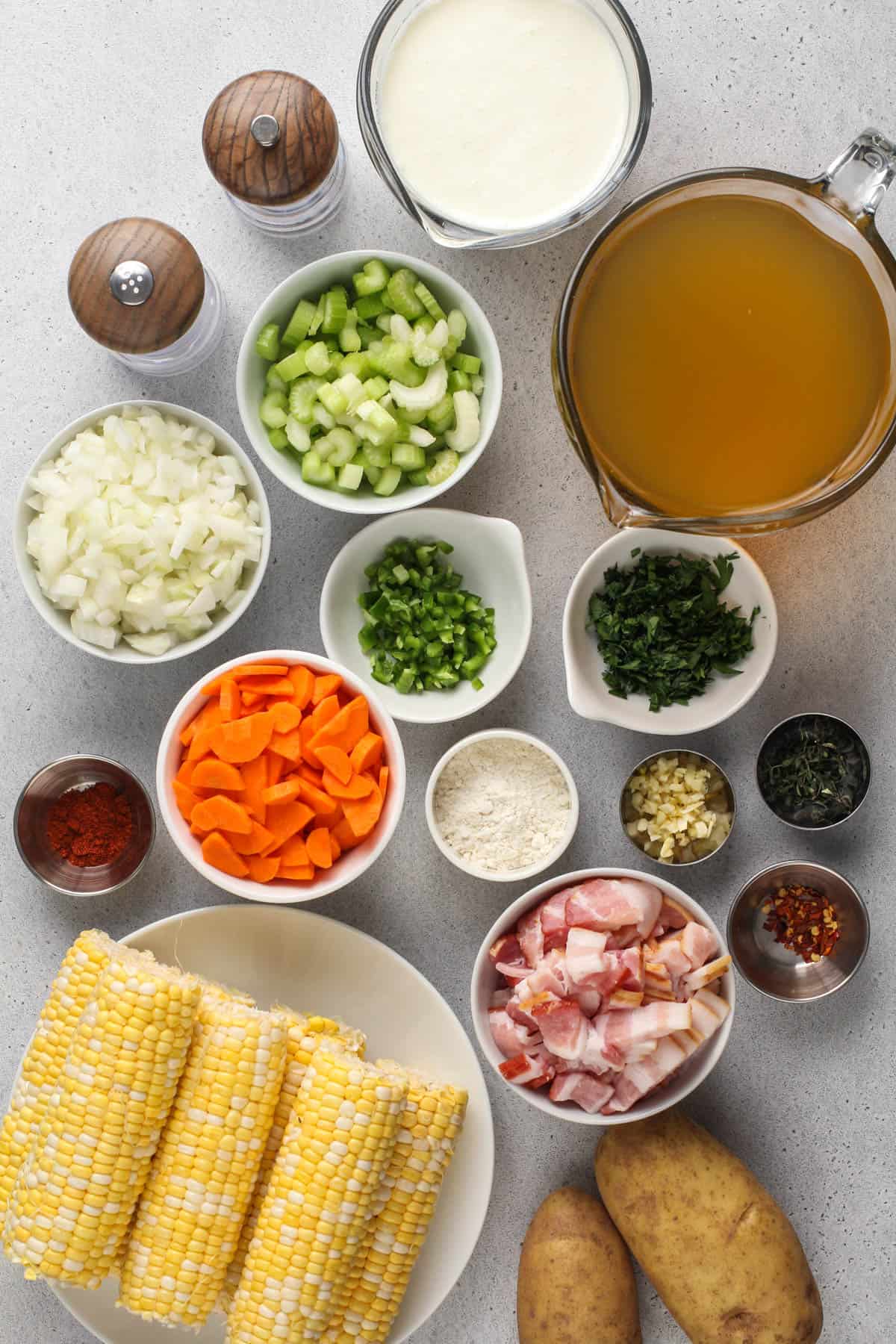 HOW TO MAKE CORN CHOWDER
This recipe is not hard to make, but it does require some prep work. Let's talk about it!
Recipe prep
Because there are a lot of vegetables in this corn chowder, there's a decent amount of chopping you'll need to do to get ready to cook.
If you want to cut down on the prep time, here are some tips:
Pick up a bag of diced, frozen onions instead of dicing a sweet onion.
Use pre-minced jarred garlic instead of 2 fresh garlic cloves.
Use frozen corn instead of cutting corn fresh off the cob.
I also recommend dicing the potatoes while the carrots, onion, and celery cook, then preparing the corn while the potatoes cook. This will also help streamline the process a bit.
Making this chowder
Since this recipe makes a lot of corn chowder, I recommend using the biggest Dutch oven you have, ideally at least a 6-quart Dutch oven.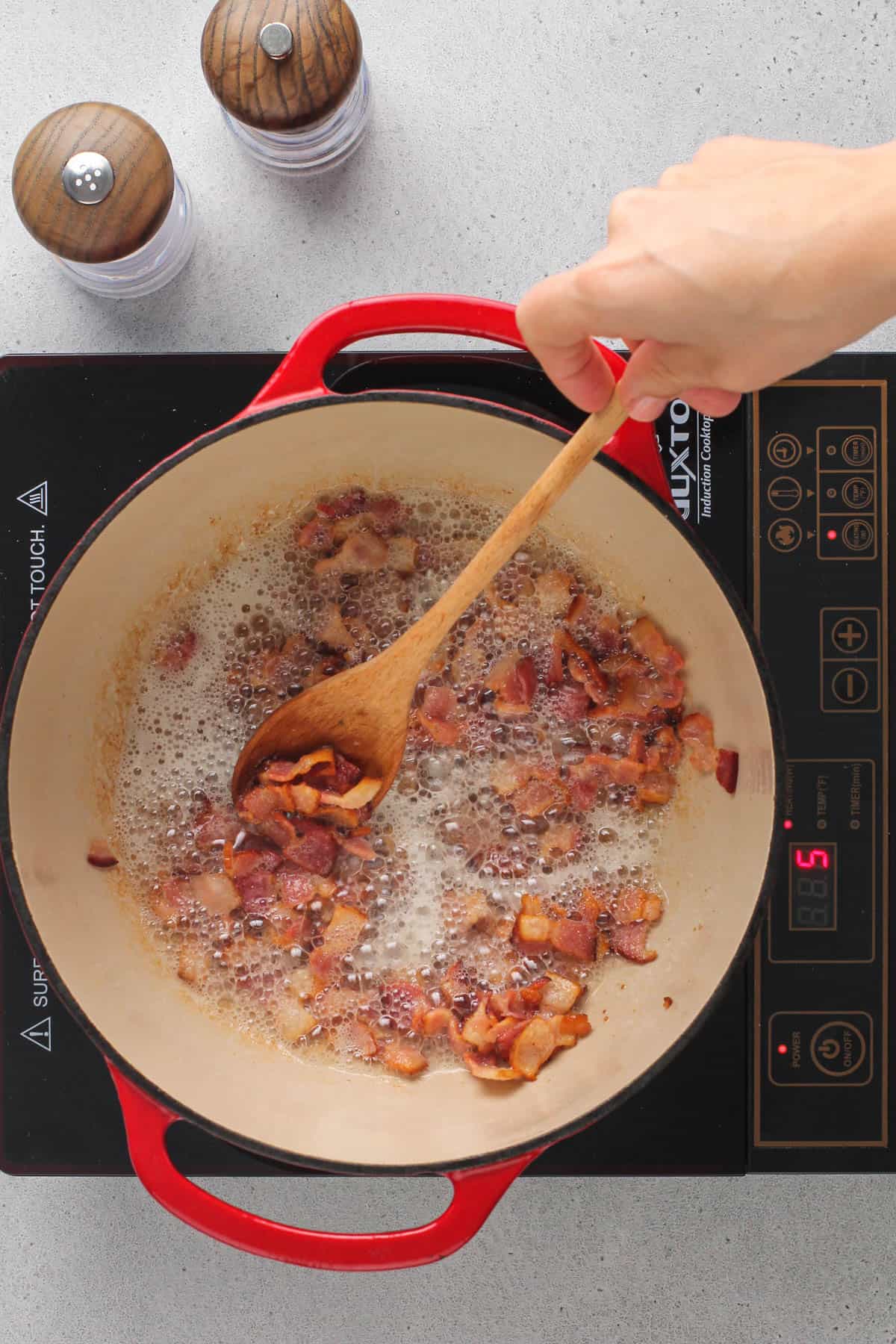 Start by cooking the bacon in the Dutch oven until it is crispy. Remove the pieces of bacon and save them for later, but do not discard the bacon drippings in the bottom of the pot.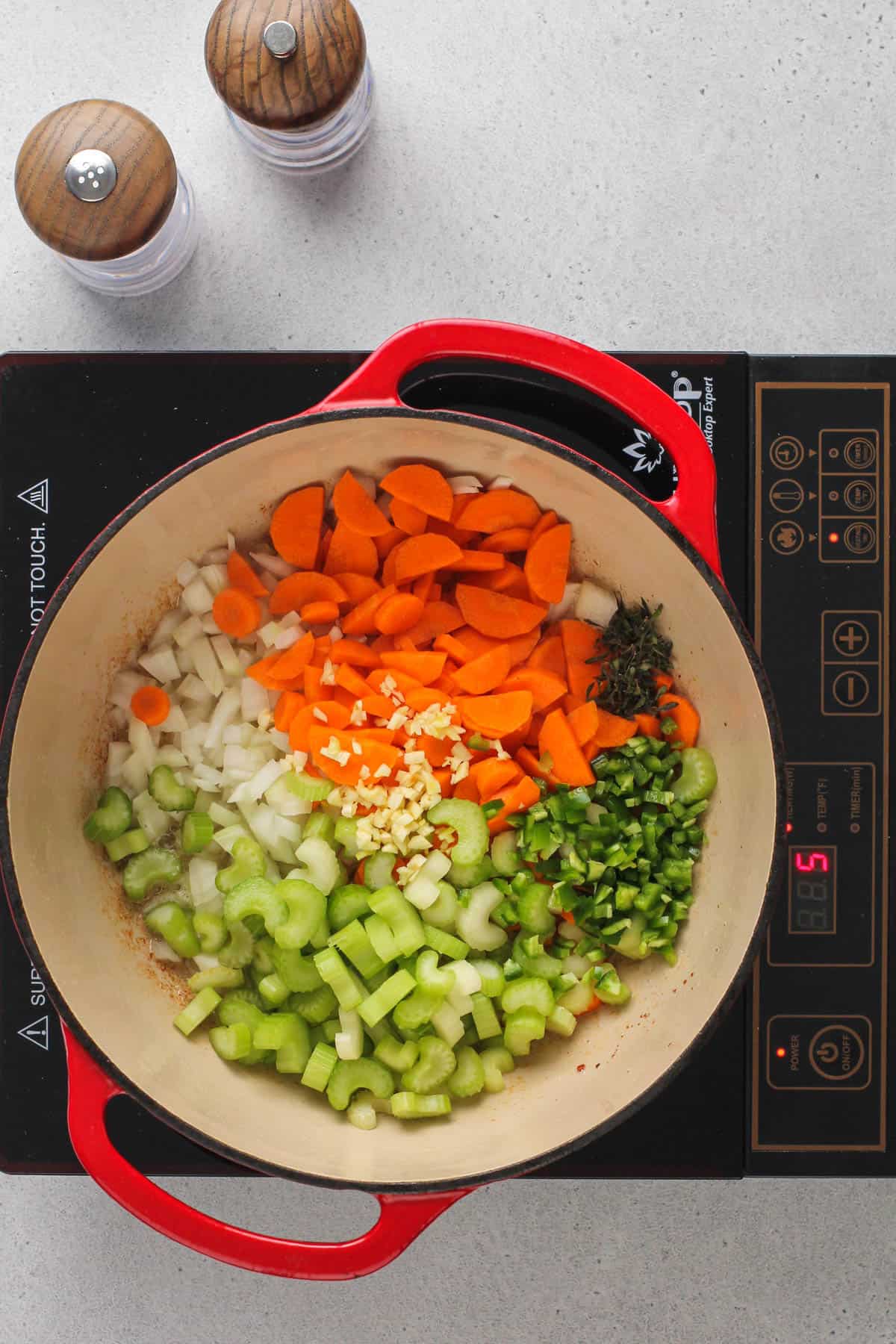 With the heat on medium, add the onions, carrots, celery, garlic, jalapeño, and thyme to the bacon drippings. Let these cook for 8-10 minutes while you peel and dice the potatoes.
Dust the flour over the cooked vegetables, along with the chipotle seasoning and crushed red pepper flakes. Stir to thoroughly coat the vegetables in the flour and seasonings.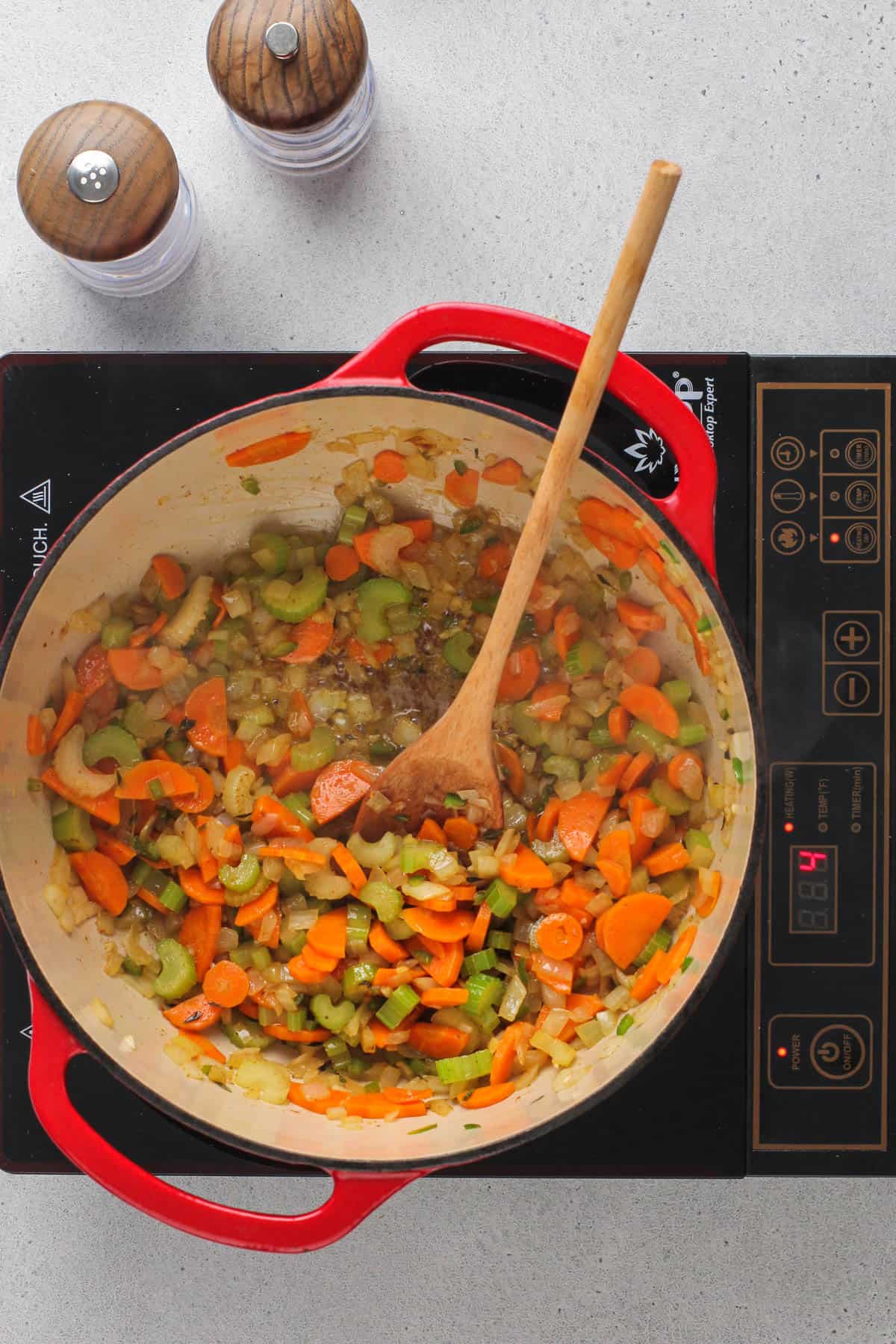 Let this mixture cook for 2 minutes, stirring frequently. This will make a roux that will help thicken the soup.
Pour in the vegetable stock and bring the mixture to a boil. Add in the cream and the potatoes; let the soup come to a rapid boil and continue to boil hard for about 7 minutes. The potatoes will start to break down, further thickening the chowder.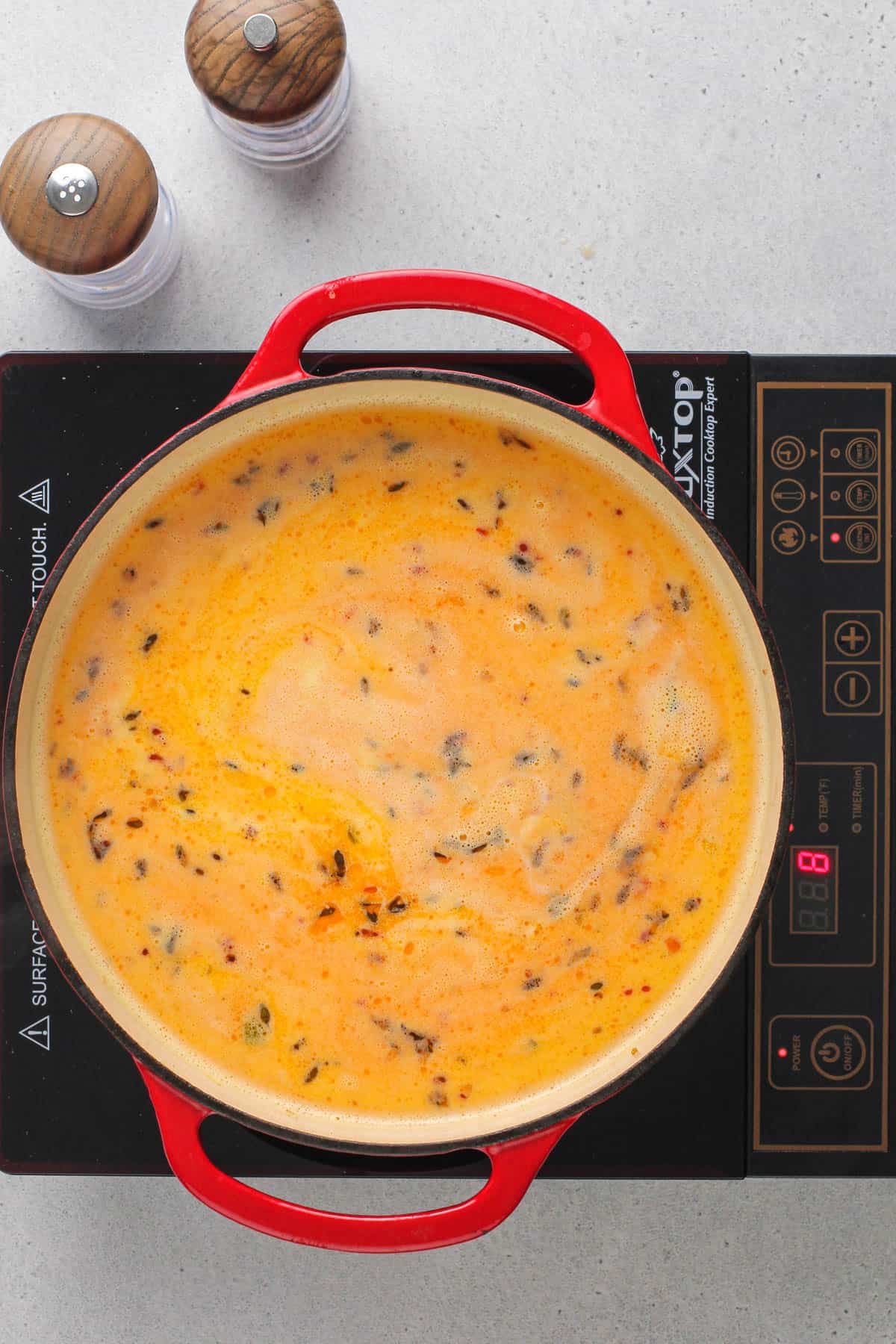 While the potatoes are cooking, prep the corn and then add it to the soup. Season with salt and pepper and simmer for another 10 minutes or so, until the corn is cooked to your liking.
Before serving, stir in the parsley.
Recipe adjustments
If you need the recipe to be vegetarian, skip the bacon and cook the vegetables in a few tablespoons of butter instead.
Feel free to use chicken stock in place of vegetable stock.
If you do not like spice, feel free to leave out the jalapeño.
If you do like your food spicy, you can always leave the seeds in the jalapeño and/or add more chipotle seasoning and crushed red pepper flakes. You could even add a few dashes of your favorite hot sauce at the end.
For an even heartier chowder, stir in 2 cups of shredded chicken when you add the corn. I like to use a rotisserie chicken to keep things simple!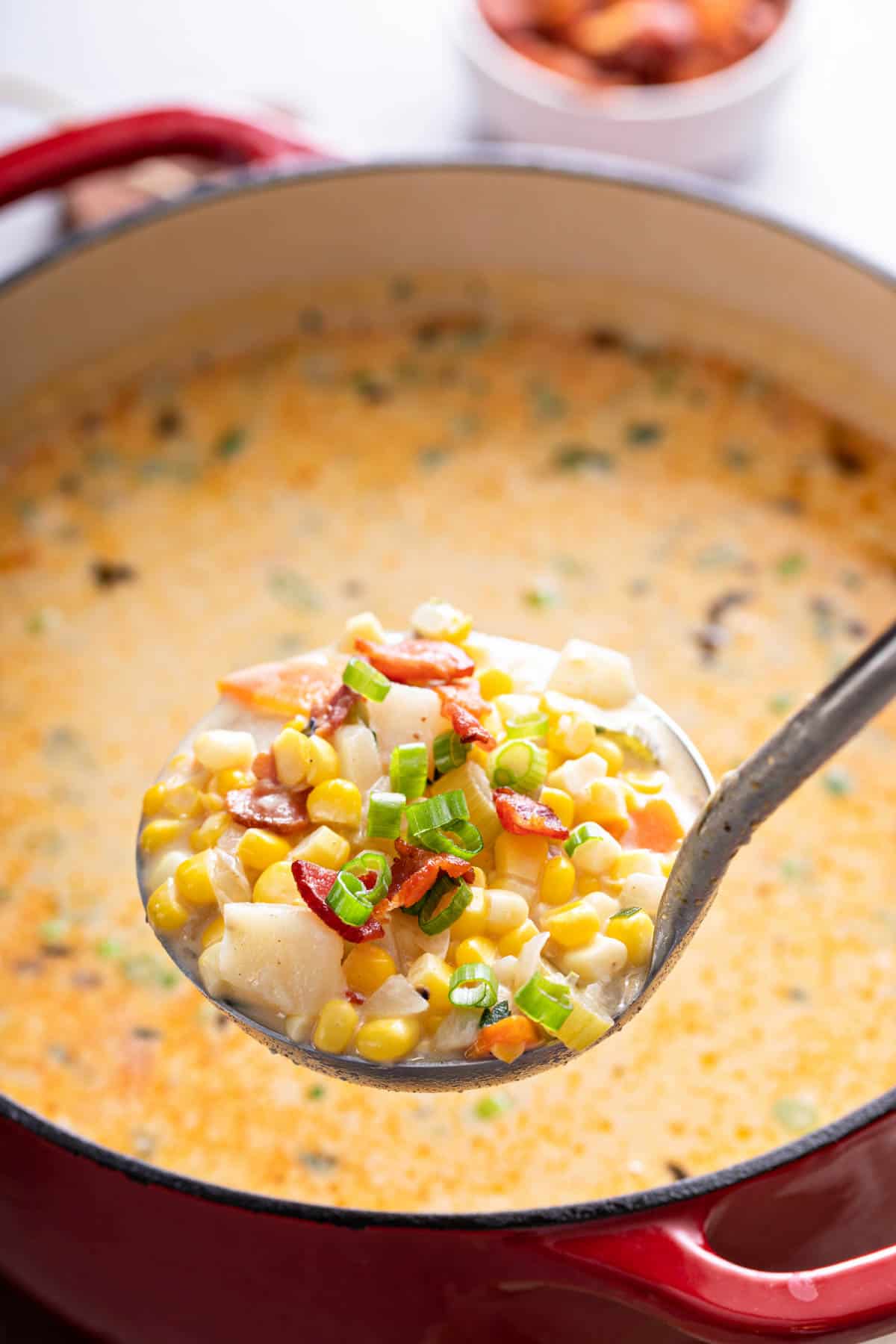 SERVING SUGGESTIONS
I like to serve my corn chowder alongside some homemade beer bread, Bisquick biscuits, or Irish soda bread.
I also like to top my chowder with the reserved crispy bacon and a sprinkle of green onions. Yum!
Don't hesitate to throw together a nice green salad with some homemade ranch dressing, blue cheese dressing, or creamy garlic dressing.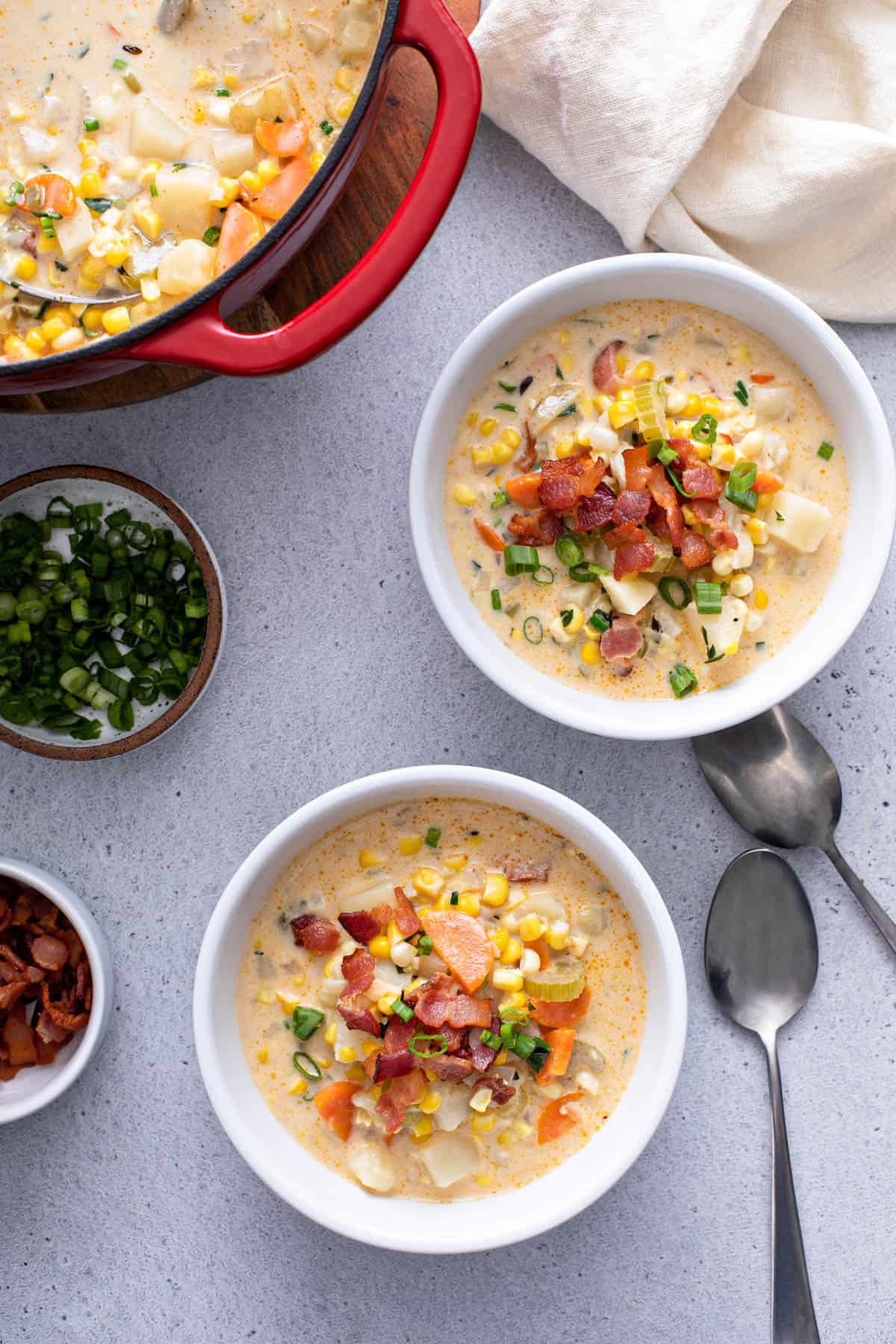 FREEZING TIPS
This recipe makes a huge pot of soup, so you will have plenty if you want to make it for a crowd, share it with a neighbor, or freeze some for later.
If you make the soup as written and freeze leftovers, keep in mind that potatoes and dairy products sometimes change textures when they thaw. The chowder will still taste great and be perfectly safe to eat, but the texture might be slightly grainy.
If you know that you're going to freeze the soup for later, I recommend making the following adjustments:
Skip adding the potatoes and cream. Add the corn after adding the vegetable stock.
Cool the soup, then freeze in an airtight container.
When reheating, bring to a boil, then add the potatoes and cream and cook until the potatoes have softened.
This way, you've still saved yourself a ton of future work, but your corn chowder will have that same beautiful consistency as if you had made it all that day!