This butternut squash soup is both savory and sweet, packed with apples, ginger, and your favorite winter squash. It's incredible as a simple weeknight dinner or dressed up for a holiday meal!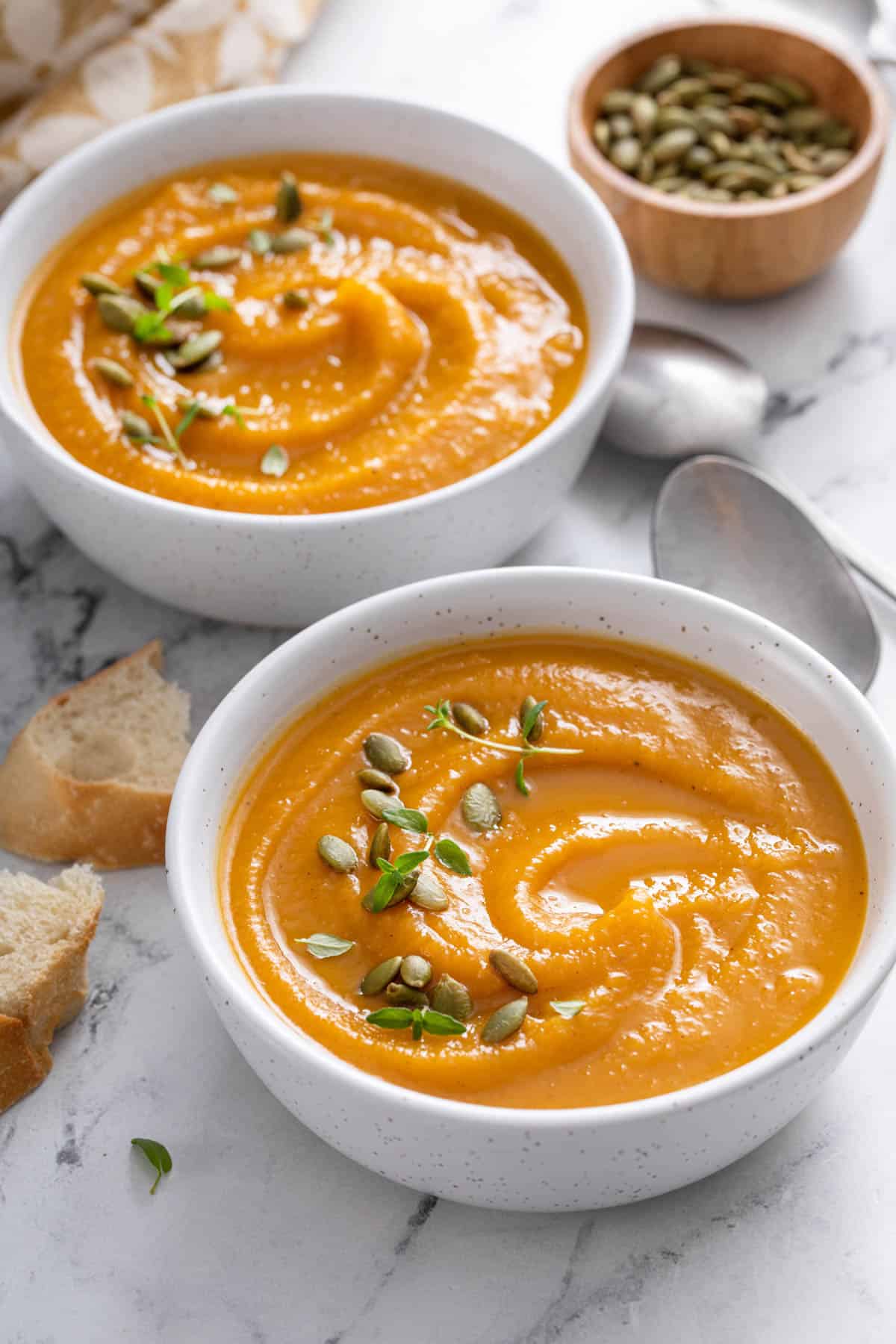 This post contains affiliate links.
I know that it's not quite November yet, but what can I say? I'm already thinking about Thanksgiving.
Recipes like pumpkin cheesecake, Jiffy corn casserole, homemade cranberry sauce, and garlic mashed potatoes are obvious staples on our Thanksgiving table. But it's also fun to switch things up with something new each year.
This butternut squash soup recipe is originally from my friend Emily at Jelly Toast, and is as great for weeknight dinner as it is for a holiday starter course.
Its flavor is rich and complex with a combo of sweet and savory ingredients. Combined with the silky smooth texture, this soup feels totally fancy but is super simple to make!
Give this savory-sweet soup a try next time you have some beautiful butternut squash on your hands – you'll be glad you did.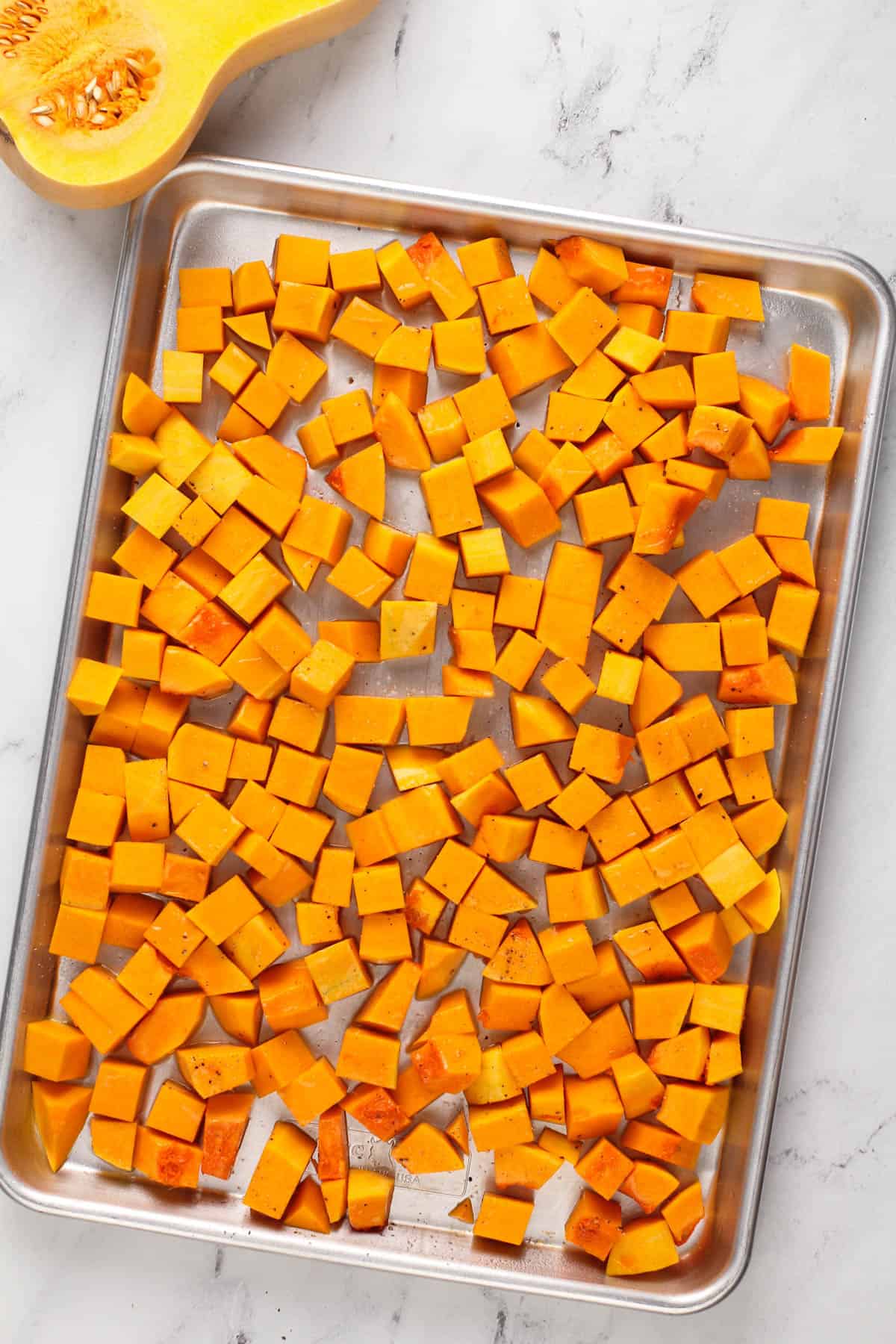 HOW TO CUT BUTTERNUT SQUASH
Butternut squash is one of my favorite winter squashes. It is sweet and nutty, similar to pumpkin.
In fact, it is not uncommon for what is marketed as "pumpkin puree" to actually be butternut squash puree.
The only thing that sometimes makes butternut squash kind of intimidating is figuring out how to peel and cut it!
For me, the best way to peel a butternut squash is to use a Y peeler. Even though the skin seems really thick, a good peeler will make quick work of taking it off.
Once you have peeled the squash, lay it on its side. Use a large, sharp knife to cut the squash in half, right around where the thinner neck of the squash meets the bulb end.
The seeds are in the bulb end of the squash, so now it will be easy to cut that section in half and use a spoon to scoop out and discard the seeds.
From there, you can cut the squash into cubes before roasting it as noted in the recipe!
Can you use pre-cut squash?
If you are unable to cut and prep a whole butternut squash, or are looking for a bit of a shortcut, don't worry.
A lot of grocery stores carry pre-cut butternut squash cubes this time of year.
Since this butternut squash soup calls for a 3-4 pound whole butternut squash, plan to use 2 ½-3 pounds of prepared butternut squash cubes for this recipe.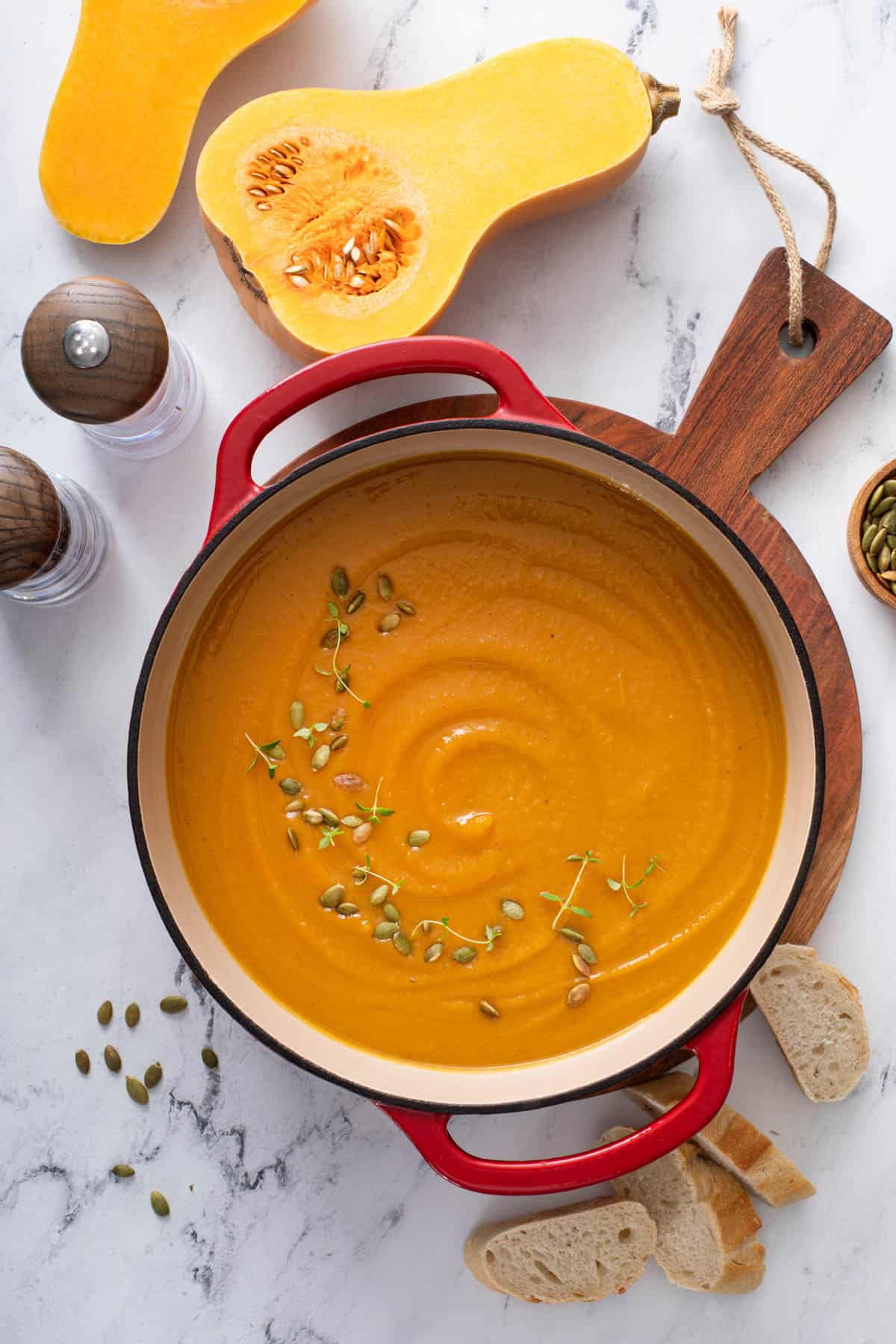 HOW TO MAKE BUTTERNUT SQUASH SOUP
The combination of butternut squash, apples, ginger, and spices in this soup give it so many layers of flavor that you can easily serve this at Thanksgiving and impress everyone. But the secret they don't need to know?
It's just as easy to make – maybe even easier! – as your comfort-food stand-bys like loaded baked potato soup and corn chowder.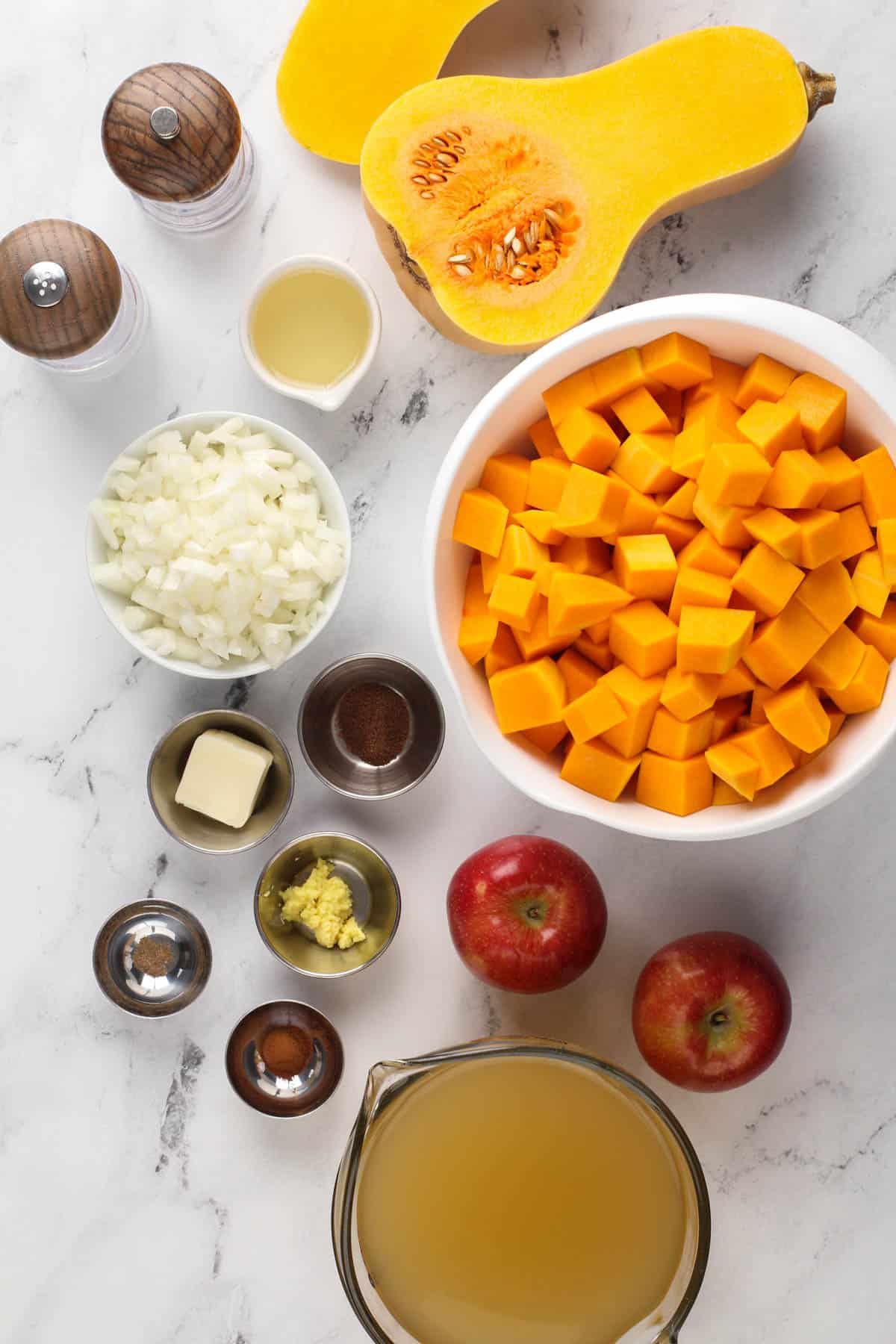 Ingredients you'll need
This is one of those recipes where the method is super simple, so the thing that really makes this soup special is the ingredients.
To make this butternut squash soup, you'll need:
1 large butternut squash, or 2 small (about 3-4 lbs total), peeled, seeded and cubed
3 tablespoons olive oil, divided
kosher salt
black pepper
1 tablespoon butter
2 apples, peeled and diced (I used Gala)
1 inch piece of fresh ginger, peeled and grated or minced (about 1 1/2 tablespoons)
1 medium onion, chopped
1/4 teaspoon cinnamon
1/2 teaspoon allspice
pinch of ground cardamom (optional)
6 cups of stock (chicken, turkey or vegetable)
While the butternut squash is naturally sweet, I like adding apples to this soup for a bit of extra sweetness and a bit of tartness.
I typically use Gala apples, which are pretty sweet, but you could absolutely use a more tart apple – such as Granny Smith – if you want a slightly different flavor profile.
One of the other keys to this soup is the ginger and spices. The ginger adds a lovely spiciness that pairs really well with the cinnamon, allspice, and cardamom.
If you need this recipe to be vegetarian, make sure to use vegetable stock instead of chicken or turkey stock. If you need it to be vegan, replace the butter with olive oil as well.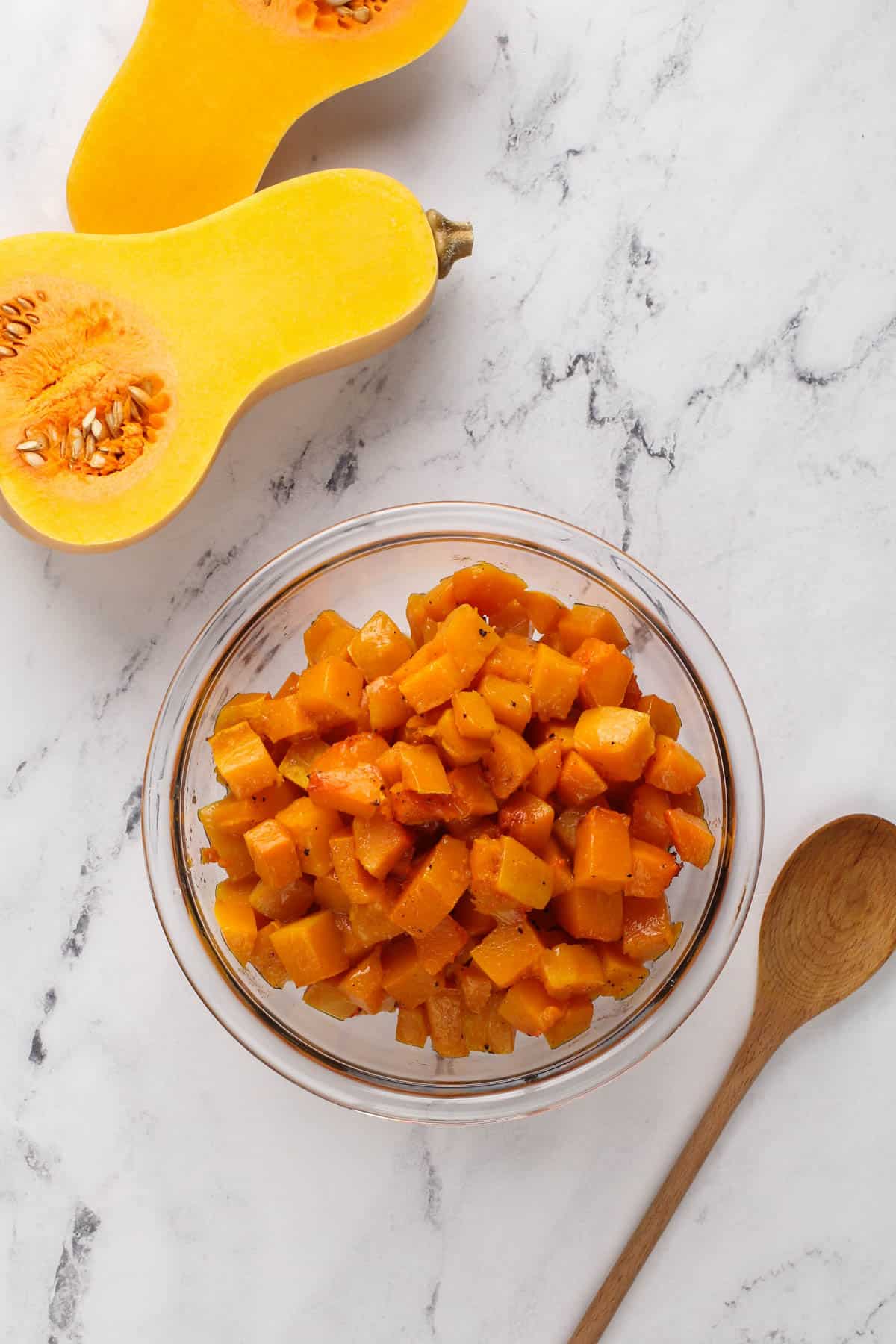 Making this recipe
To start this recipe, roast the butternut squash cubes. You can do this just before making the soup, or you could roast the squash the day before and store it in the fridge until you're ready to make the soup.
Drizzle the squash with olive oil and season with salt and pepper, then roast on a sheet pan for about 30 minutes.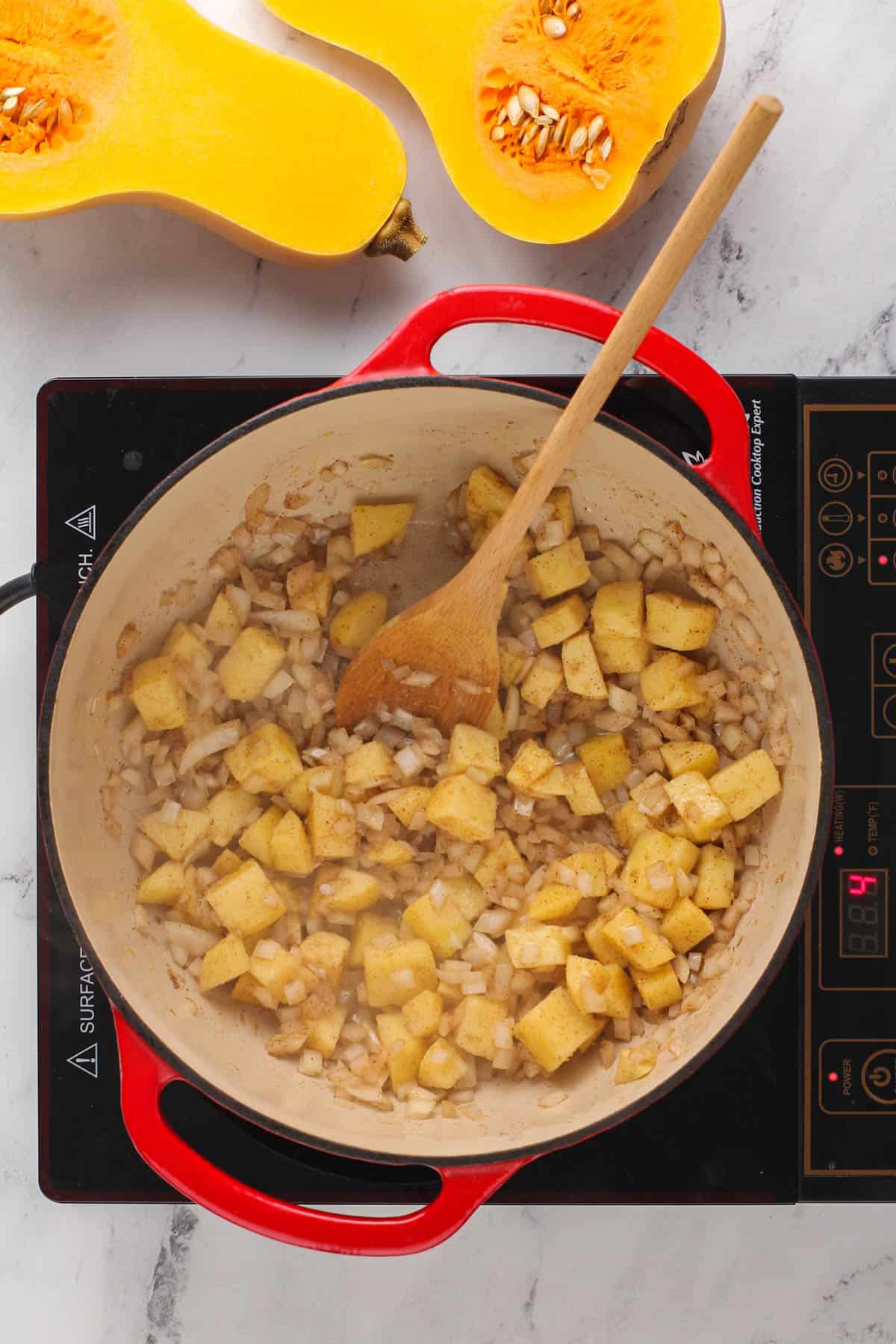 In a large Dutch oven, saute apples, onion, ginger and spices in a combination of olive oil and butter until the apples and onions are soft. This will take around 10 minutes.
Add the roasted squash and the stock and bring to a boil. Reduce heat and simmer for about 10 minutes, then carefully puree the soup using an immersion blender.
Continue simmering the soup for another 10 minutes, taste for seasoning, and serve!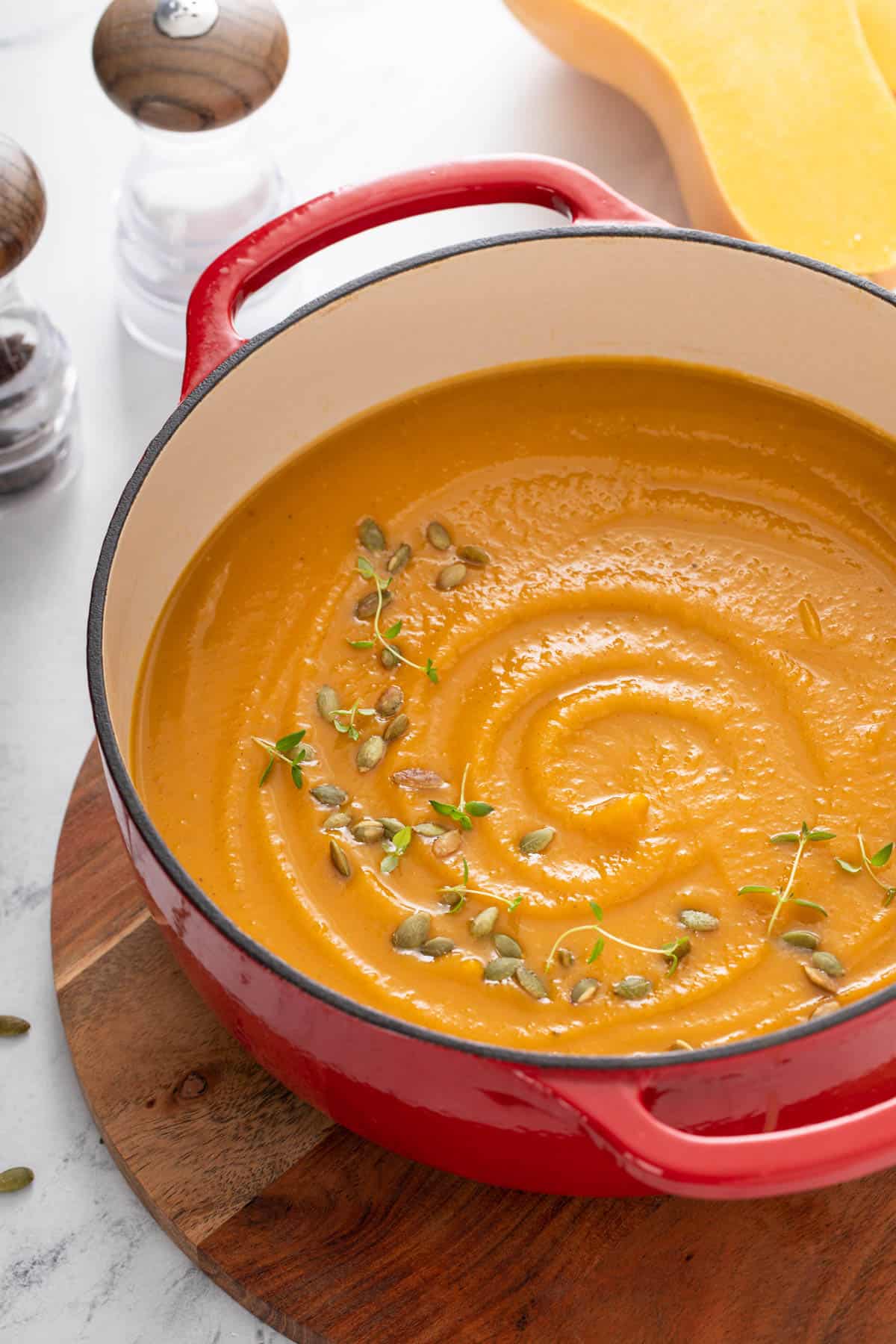 SERVING SUGGESTIONS
I love to top this soup with pumpkin seeds for a little bit of crunch. Maple roasted pumpkin seeds would be really delicious!
A dollop of sour cream or creme fraiche would be lovely as well.
You could even go for some homemade sourdough croutons or crispy bacon!
If you're serving this for a holiday meal, try setting out small bowls of a few different toppings to let your guests top their soup exactly how they like.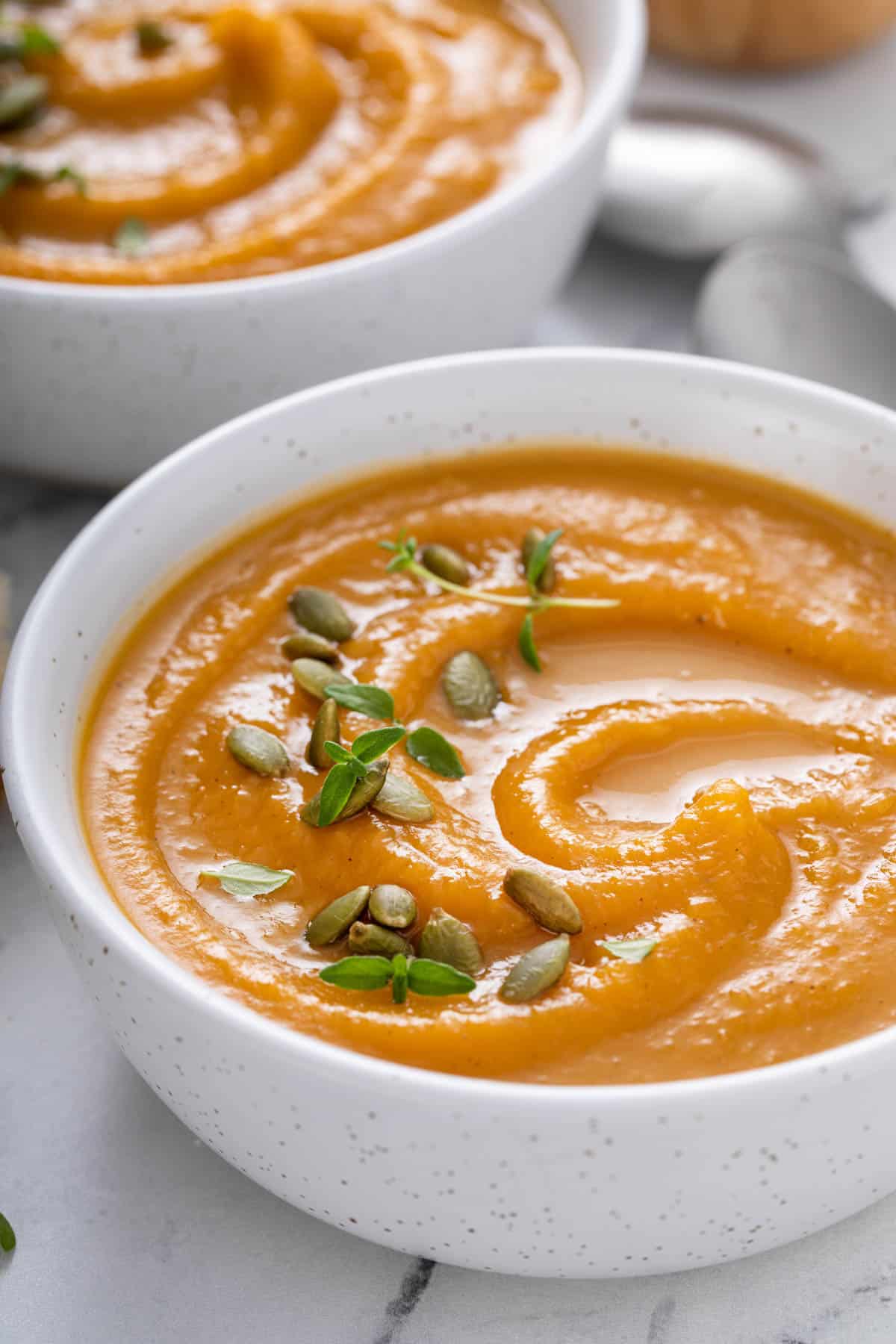 FREEZING BUTTERNUT SQUASH SOUP
Butternut squash soup freezes beautifully.
Unlike other soups with dairy or potato bases that split after thawing, butternut squash soup retains its silky texture, making it the perfect make-ahead meal.
You could make the soup ahead of time and freeze the entire batch, or freeze it in small containers for quick lunches on the go.
Whether you're serving this butternut squash soup for a holiday meal or on a random weeknight, this is one you're sure to enjoy.