Craving the Chipotle quesadillas from the viral TikTok "hack" but can't get them in the store? Learn how to make these cheesy quesadillas with steak or chicken, fajita veggies, and a creamy sauce right at home!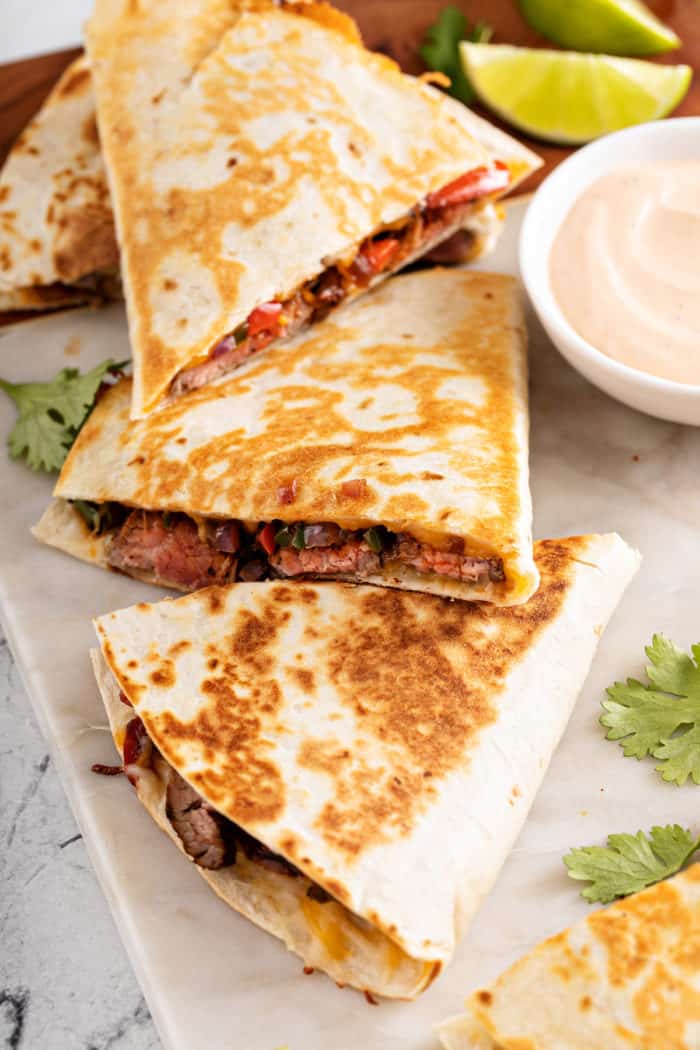 This post contains affiliate links.
If you saw my post from earlier this week, you know that I've been getting bombarded with TikTok videos about the new quesadilla "hack" at Chipotle.
Some of the videos are of people trying the quesadilla and raving about how good it is, but other videos are of people saying that their local Chipotle restaurants are refusing to make the quesadillas.
Plus, all of the videos have made a lot of Chipotles run out of their signature Chipotle honey vinaigrette.
If you've been wanting to try the quesadillas but haven't been able to (or you're just wondering what everyone is talking about), don't stress. We're going to learn how to make a copycat version at home!
This is one recipe that is definitely going into my "TikTok hall of fame" along with cinnamon rolls with heavy cream and the TikTok grinder sandwich.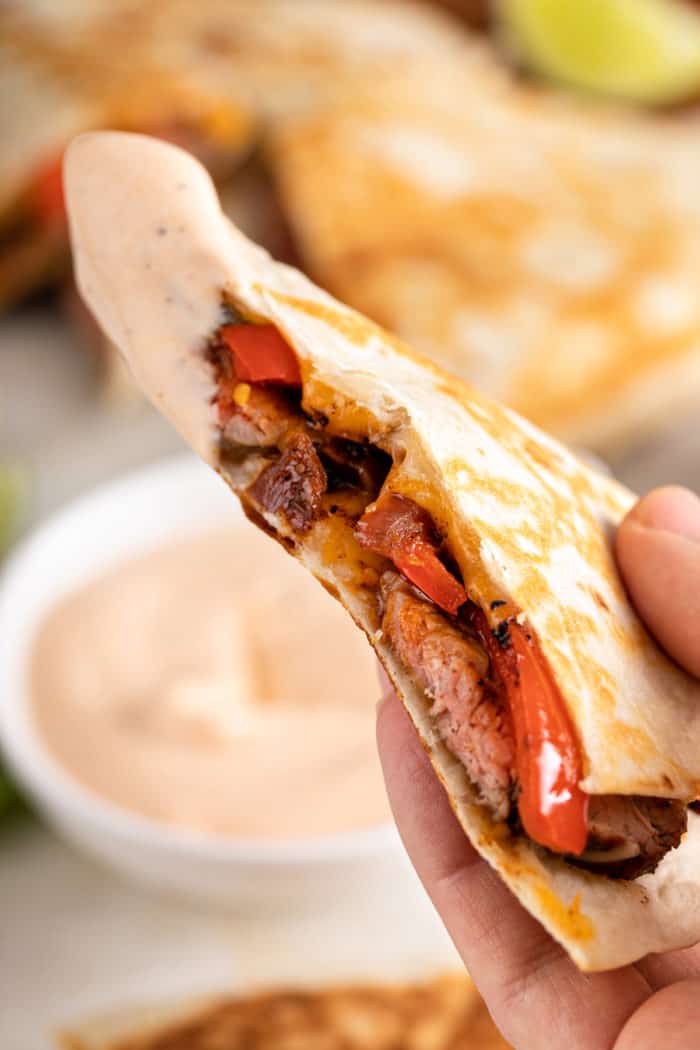 WHAT IS THE VIRAL CHIPOTLE QUESADILLA "HACK"?
Chipotle only added quesadillas to their official menu a couple of years ago, and technically you can only order them online. They also are only supposed to come with a protein OR fajita veggies.
I still can't figure out who started this trend, but someone on TikTok recently tried the Chipotle quesadillas with steak AND fajita veggies, and mixed sour cream together with the Chipotle vinaigrette to make a creamy, zippy dipping sauce.
A lot of people say that it's kind of a quesadilla version of a Philly cheesesteak.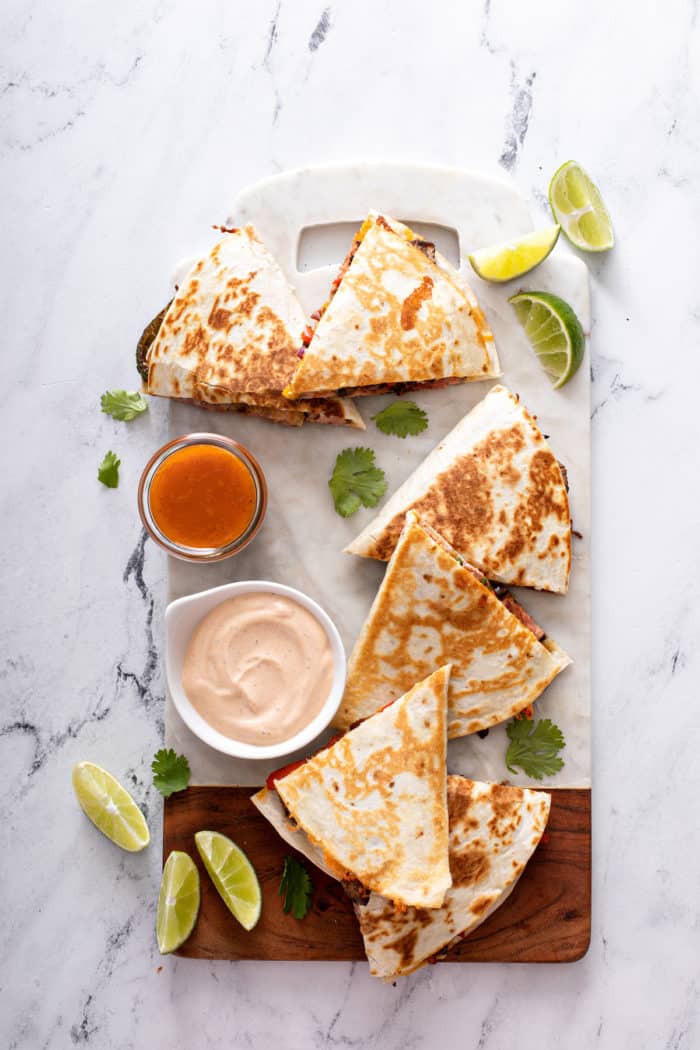 But since Chipotle has all of their rules around how quesadillas are supposed to be made and ordered, a lot of the stores aren't letting customers order this new version. And a lot of customers have gotten upset at staff who are just trying to follow the rules.
Look, we never should get upset at restaurant staff who are just doing their jobs, okay? It's just not worth it!
So instead of asking workers to break the rules or risk getting told "no" altogether, I decided to make the viral quesadillas at home.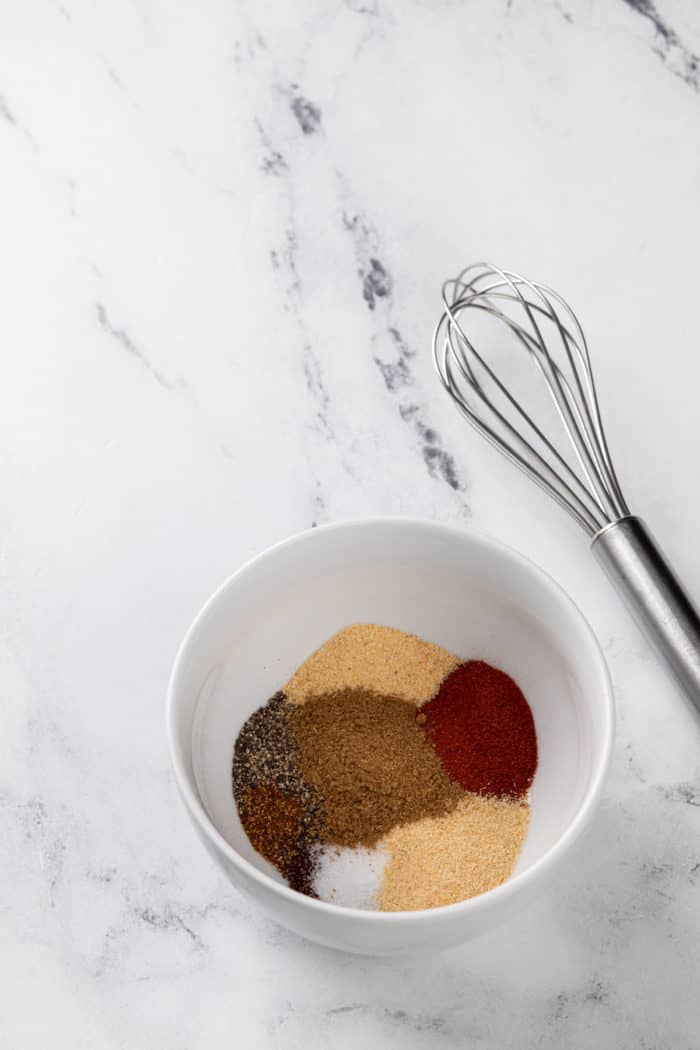 HOW TO MAKE THE CHIPOTLE QUESADILLAS
We all know that the best thing about making copycat recipes at home (like my copycat zuppa toscana or Chipotle barbacoa) is that you can tweak them to perfectly suit your tastes.
Quesadilla components
The viral Chipotle quesadillas are made up of 3 main components:
Marinated steak or chicken
Fajita veggies
Dipping sauce
I prefer making these quesadillas with steak, and my favorite steak to use is the marinated and grilled flank steak from my flank steak tacos. It is super flavorful and delicious and goes perfectly with the melty cheese, veggies, and zesty sauce.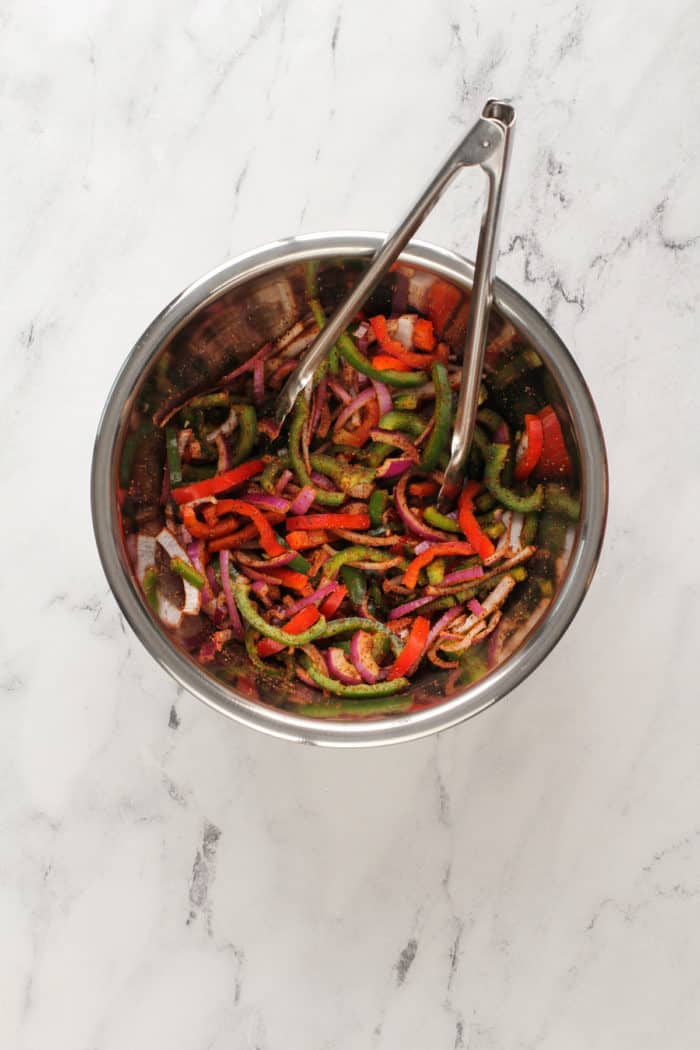 If you prefer chicken, make sure to scroll down to "chicken variation" to learn more about that!
For the fajita veggies, I use red and green bell peppers, red onion, and fresh jalapeños tossed and cooked with:
1 tablespoon chili powder
1 teaspoon fine sea salt
1 teaspoon black pepper
1 teaspoon smoked paprika
1 teaspoon onion powder
1 teaspoon garlic powder
1 teaspoon ground cumin
1 pinch cayenne pepper (optional, if you want some heat)
I always have these spices in my cabinet, but you could also use your favorite packaged fajita seasoning instead.
And for the dipping sauce, we'll simply mix together some of our homemade Chipotle vinaigrette with sour cream. I like a 50/50 mix of the two, but you can use whatever ratio you like best!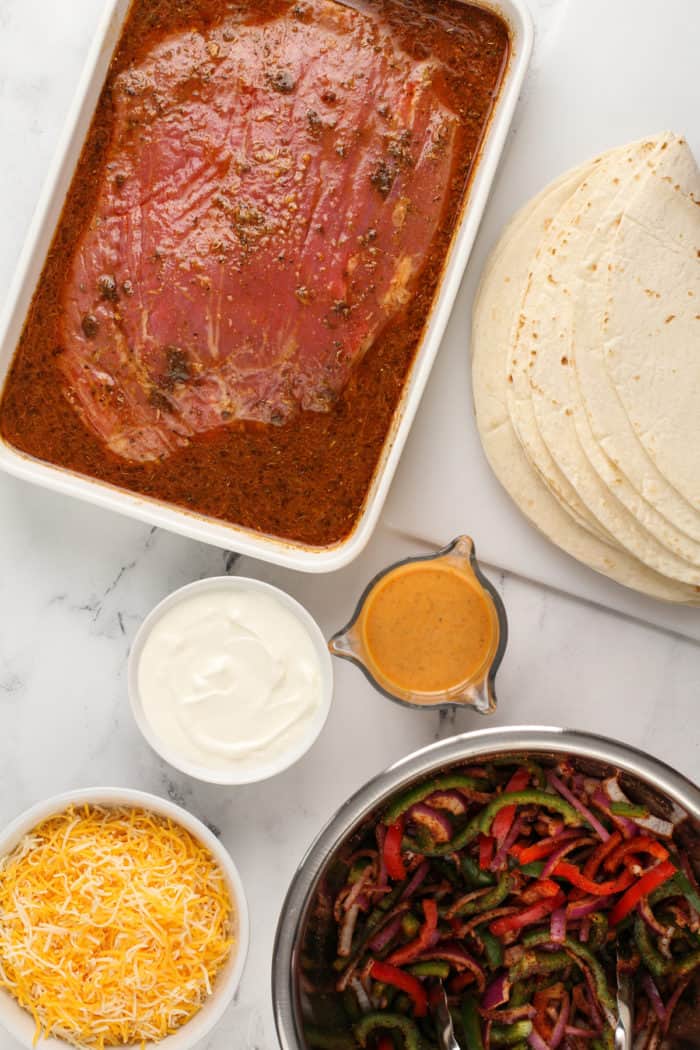 Making the quesadillas
Marinate your steak ahead of time – at least 2 hours, but overnight is even better.
Toss together the fajita spices with the sliced onion and peppers. Set this aside.
We'll cook everything on a large griddle or in a large cast iron skillet. We like to use our Blackstone griddle for this recipe, but a stovetop griddle will work well, too!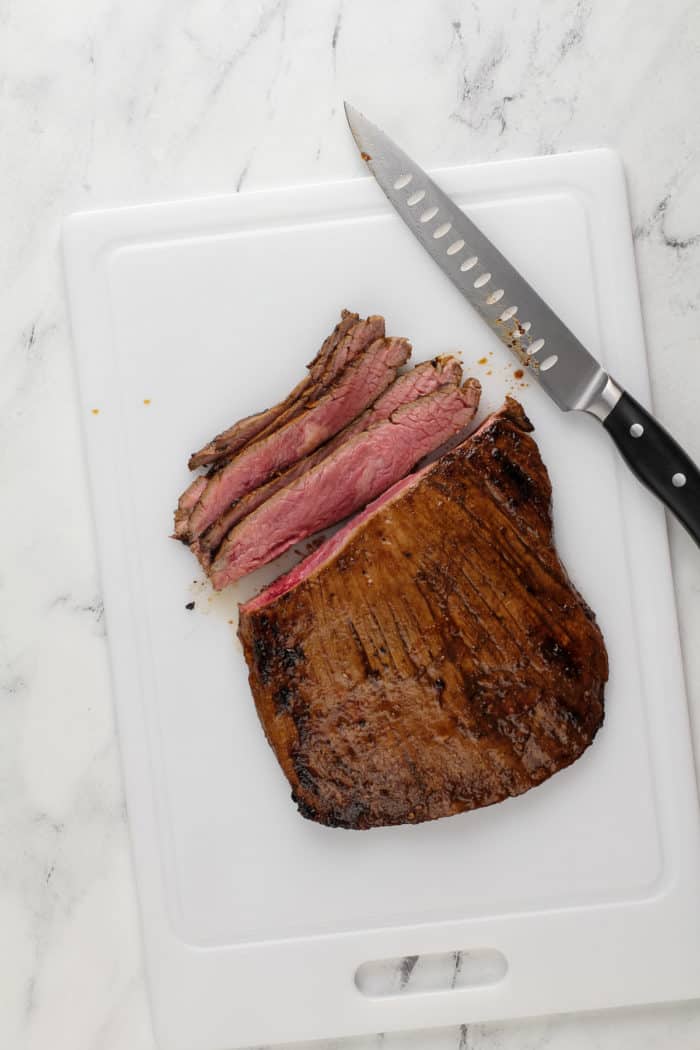 Lightly oil the surface of your griddle. Cook the marinated steak for 3-5 minutes per side, or until your desired doneness. I check mine with an instant-read thermometer:
Medium Rare: 130-135°F
Medium: 135-145°F
Well: 145-155°F
Remove the cooked steak to a plate, then cook the veggies for about 5-7 minutes. You want the onion to be soft and the peppers to still have a slight bite to them. Remove those to a plate once they are done, too.
If you need to, use a paper towel to wipe down the surface of your griddle before toasting the quesadillas.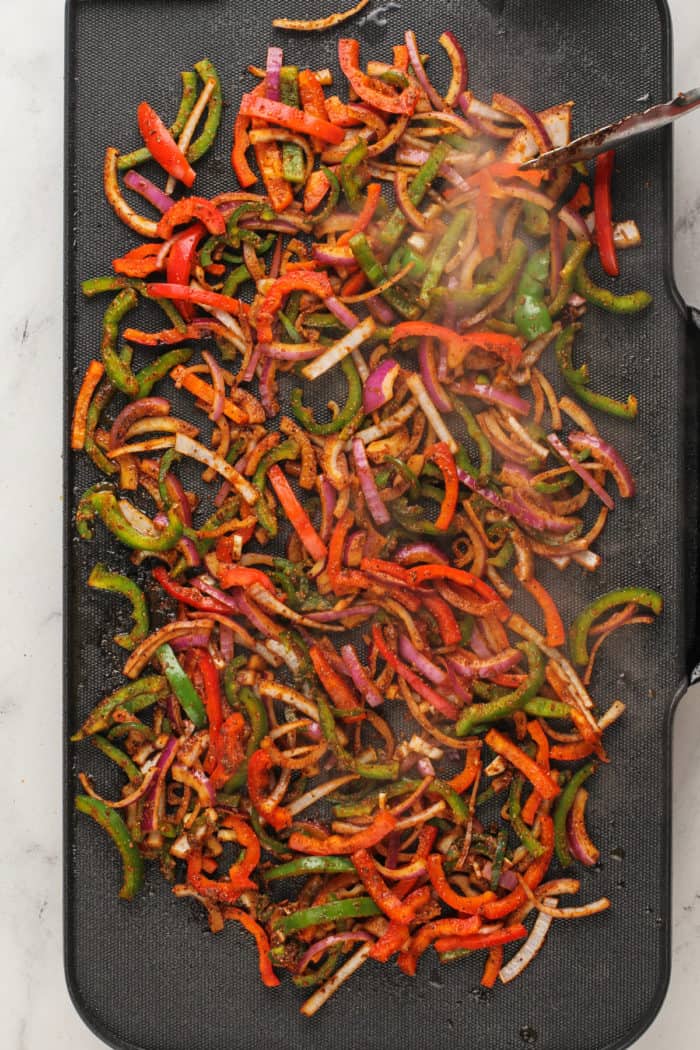 Thinly slice the cooked steak against the grain. Cover half of a tortilla with shredded cheese, followed by sliced steak and cooked fajita veggies, and finished with more cheese.
Fold the tortilla over the fillings. Place it on the griddle and cook for 2-3 minutes per side, until the tortilla is toasted and the cheese is melted.
Before serving, stir together your sour cream with as much of the vinaigrette as you like. Use this as a dipping sauce when serving the quesadillas.
CHICKEN VARIATION
If you prefer chicken in your Chipotle quesadillas, no problem!
Use the same marinade recipe, but add a couple pounds of boneless/skinless chicken thighs or chicken breasts instead. Marinate for 2 hours or overnight.
Cook the marinated chicken on the griddle for about 5-7 minutes per side, or until the internal temperature reaches 165°F. Remember that the exact cooking time will vary depending on the thickness of the pieces of chicken.
Proceed with cooking the vegetables and assembling the quesadillas as written. Just like with the steak, make sure to thinly slice the chicken against the grain before adding it to the quesadillas.
Whether you opt for steak, chicken, or a mixture of the two, these Chipotle quesadillas are a delicious meal to enjoy in the comfort of your home.