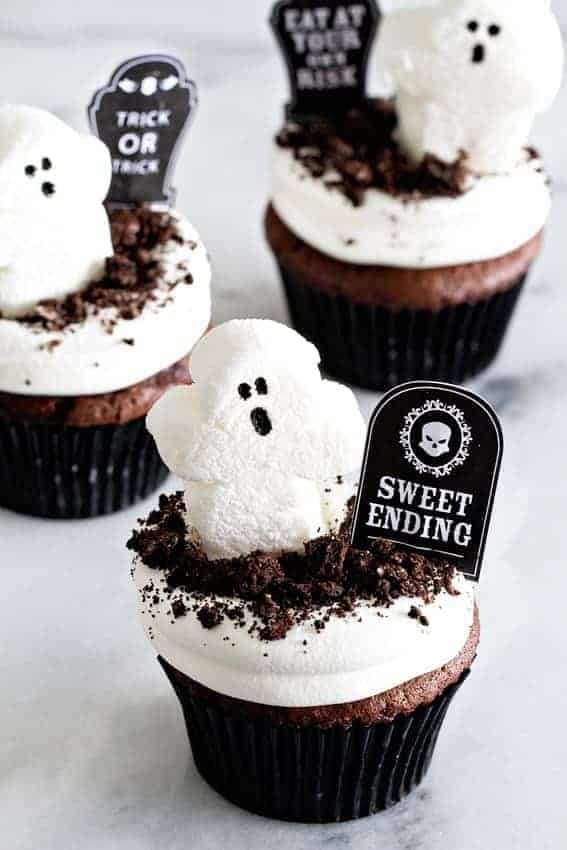 Dirt Pudding Cupcakes will make your Halloween buffet table more adorable than ever. What's better than dirt pudding? Serving it up in a chocolate cupcake.
This is a sponsored post on behalf of Campfire® Marshmallows. All opinions are my own. Thank you for supporting the brands that continue to make My Baking Addiction possible.
There are certain things that I will always love despite my age; Fruit Roll-Ups, Tang, and Dirt Pudding rank at the very top of that list. And while I know none of them are really the healthiest options, I plan on introducing Elle to all of Mama's faves – in moderation of course – starting with Dirt Pudding.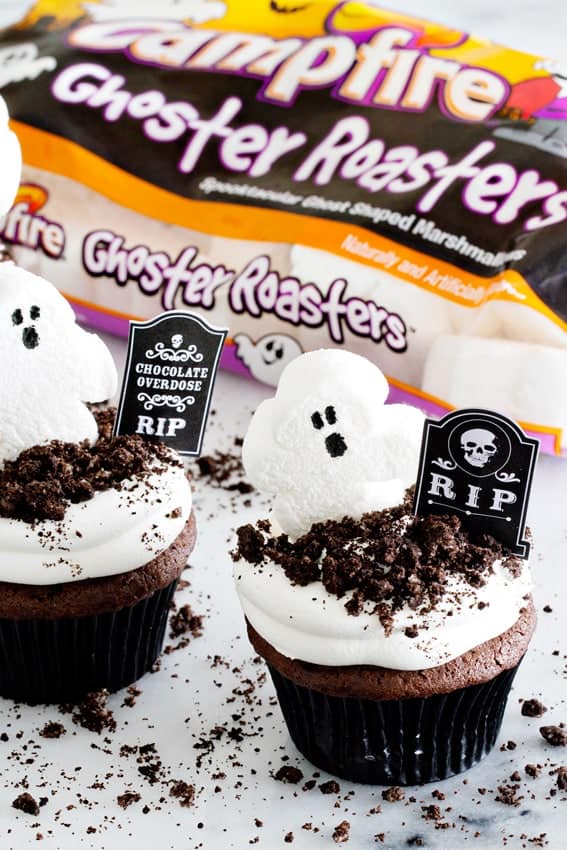 If you've been following along along with some of my Halloween recipes like these Halloween Chocolate Chip Cookies or these cute Meringue Ghost Cookies, you know that we're planning a Halloween party this year – complete with ridiculously expensive Elmo and Cookie Monster costumes. Go big or go home, right? We keep telling ourselves that we'll get a lot of use of of them, so let's hope she's not over Elmo before 2025.
I just finished planning the menu which I've decided to keep pretty simple so I don't go insane. Items like Crockpot pulled pork, baked beans, creamed corn, and spiced apple cider are going to be the stars of the show. Along with super cute desserts like Halloween Marshmallow Pops and these Dirt Pudding Cupcakes.
As I mentioned, Dirt Pudding is something that I've loved since I was a kid. There's something pretty indulgent about being allowed to eat something that resembles dirt – pulling gummy worms – or in this case, ghostly marshmallows, from the pudding is an added bonus. I decided to put a spooky spin on traditional dirt pudding by making Dirt Pudding Cupcakes.
I used my favorite Doctored Up Cake Mix recipe for chocolate cupcakes, filled them with chocolate pudding and topped with whipped topping, crushed Oreos and an adorable Campfire® Marshmallows Ghoster Roaster. You can definitely add on gummy candies, but I actually preferred the look of these Dirt Pudding Cupcakes without them. Plus, playing up the dirt-graveyard connection is pretty darn clever on the Halloween party theme scale, if you asked me.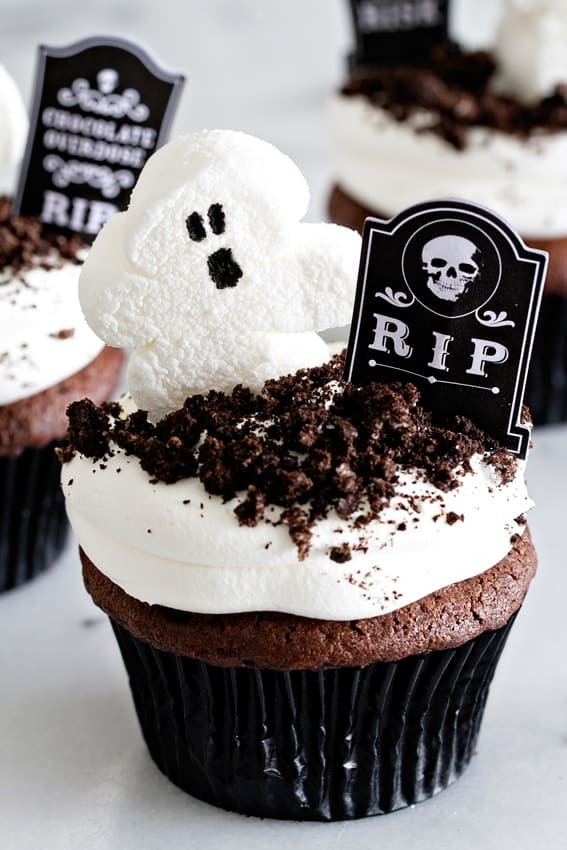 Campfire® Marshmallows Ghoster Roasters couldn't be cuter and you can make them a little more spooktacular by using a food decorator pen to draw on ghostly faces with edible ink. You can totally get creative with these adorable marshmallow ghosts or simply serve them up in a big festive bowl for people to nosh on.
Serving these up at your Halloween party would be pretty awesome, I have to say. I love that these Ghoster Roasters make it easy to decorate your cupcakes without extra hassle. I mean, I'm going to spend the evening in a Cookie Monster costume. I need decorating cupcakes to be as easy as possible.
I've partnered with Emily from Jelly Toast and Campfire® Marshmallows to create delicious holiday recipes to share with you.
We even created a Marshmallow Madness Pinterest board where we'll pinning loads of delicious marshmallow recipes for the holidays. Just like this delicious Cranberry Fluff.
If you love marshmallow-y things as much as I do, be sure to check out my and these Pumpkin S'mores Bars.