Made with a doctored up cake mix, this easy strawberry cake is a great make-ahead dessert for summer! Bursting with strawberries and topped with cream cheese frosting, this pretty pink cake is sweet, tangy, and totally delicious.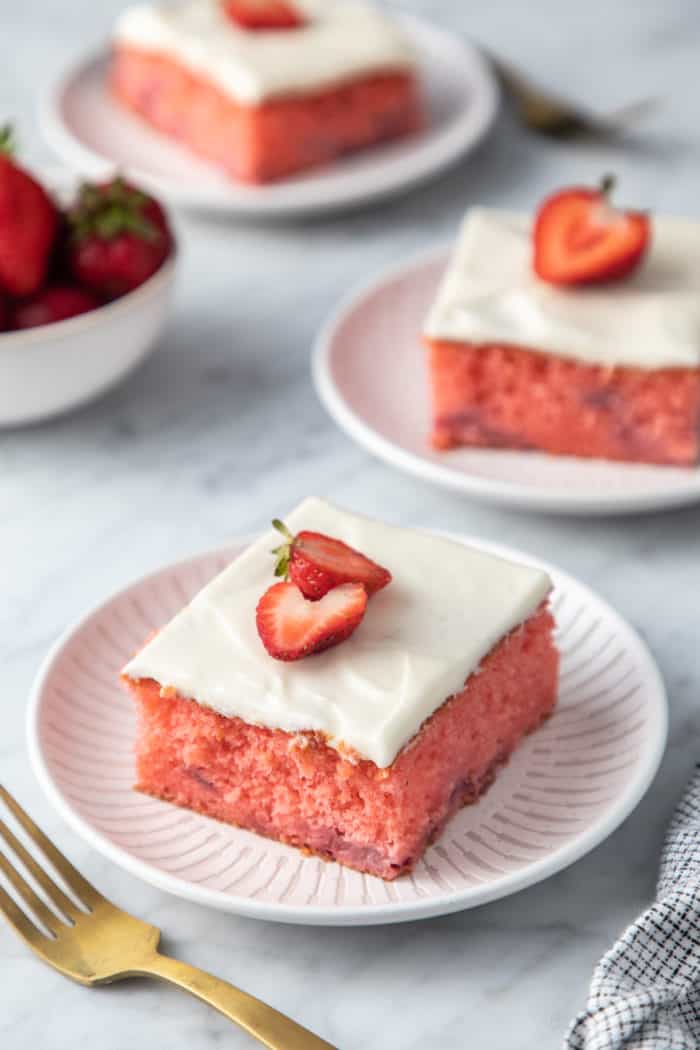 If you saw my post on the famous TikTok cinnamon rolls with heavy cream, you know that TikTok is totally a source of inspiration for me these days.
I recently had a video pop up on my FYP of someone making a strawberry cake using a cake mix. I didn't love their method, but I loved the idea!
So I decided to turn to my own archive of cake recipes and figure out how to tweak some existing recipes to make a fun and simple strawberry cake.
The result is this pretty pink cake that is bursting with pieces of fresh strawberries. It's fun, it's pretty, and it's so delicious!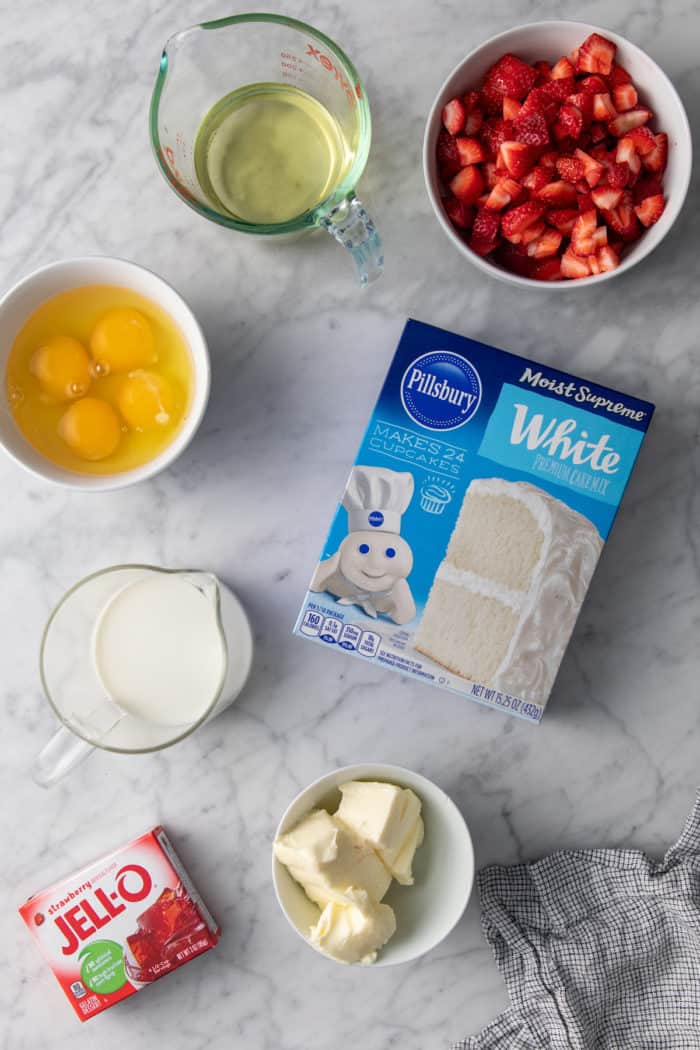 MY EASY STRAWBERRY CAKE RECIPE
If you've been reading MBA for a while, you've probably picked up on the fact that while I love making from-scratch cakes – like the best chocolate cake, banana cake, or strawberry shortcake – I also really love finding ways to dress up a simple cake mix.
Cake mixes are great. Everyone is at a different level of skill in the kitchen, and for some people, cake mixes are their first introduction to baking.
And even for people like myself who bake almost daily, sometimes you need to throw a dessert together really quickly. Using a cake mix can totally help with that!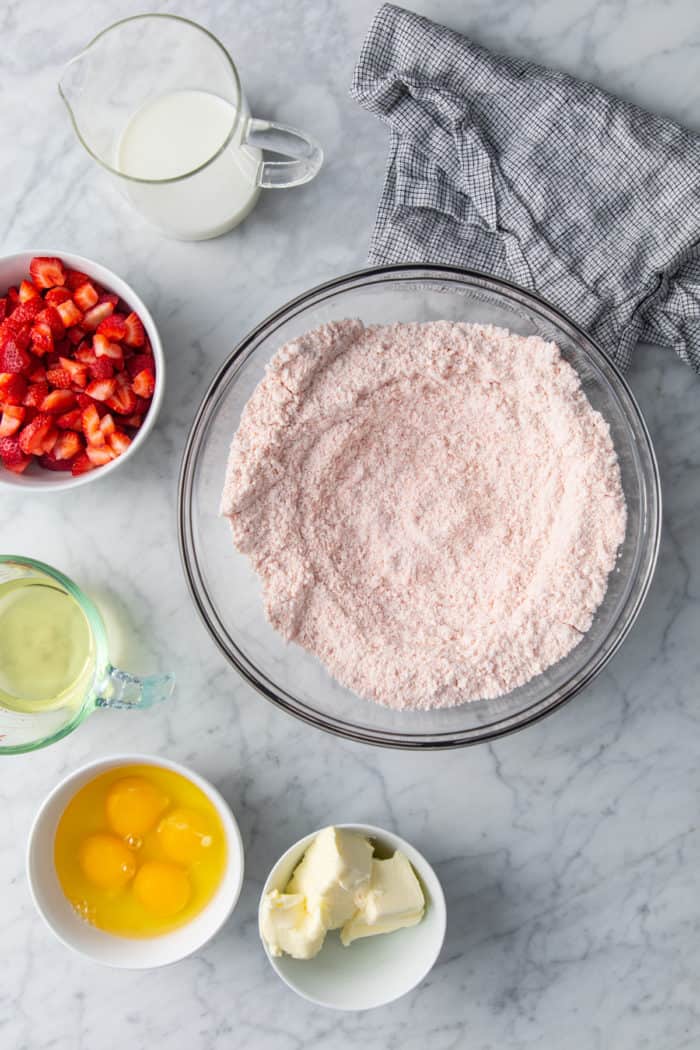 I have used my doctored cake mix recipe to make so many different kinds of cakes and cupcakes, from easy pineapple upside-down cake to pistachio pudding cake.
I really love my easy strawberry cupcakes, so this year I decided to do a twist on that recipe with this easy strawberry cake.
I made this cake for family and neighbors and every single one of them was obsessed with this cake. It disappeared so fast, I knew I'd have to make another one right away!
Luckily it's so simple to make, throwing another one together takes minimal effort.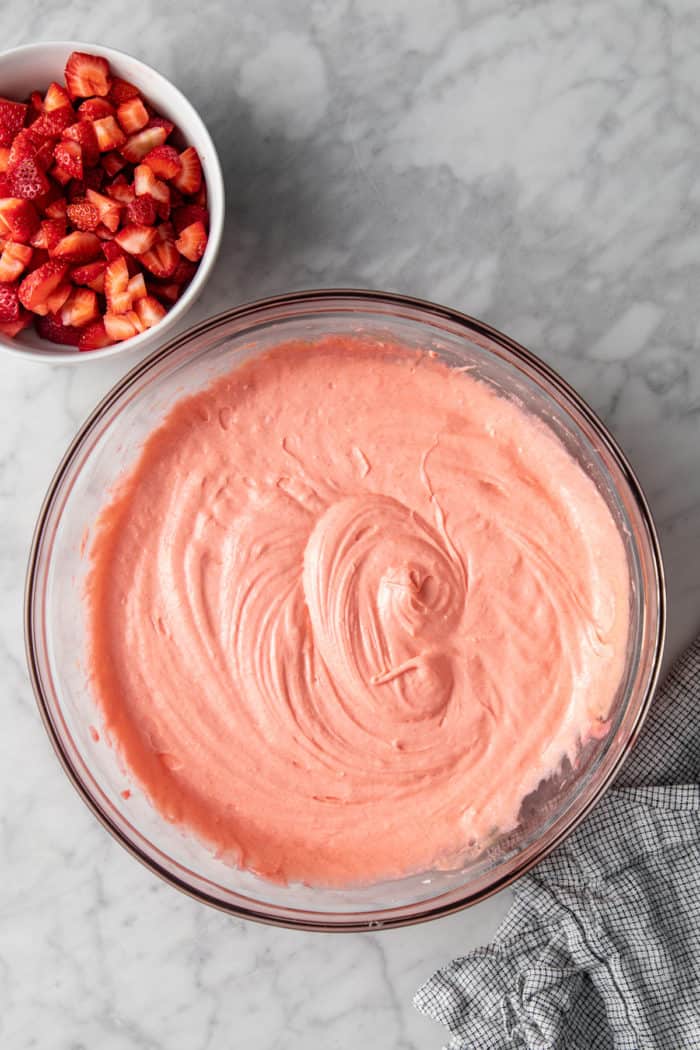 HOW TO MAKE STRAWBERRY CAKE
This easy strawberry cake is perfect for summer. Not only is it a great way to use those summer strawberries, but this cake is best served cold. It's a refreshing sweet bite on a hot summer day!
Ingredients you'll need
This recipe is inspired by my doctored cake mix, but I tweaked the ingredients a bit this time around.
Some of the main ingredients are:
White cake mix: I decided to use a white cake mix for this recipe instead of a yellow cake mix. I used a Pillsbury mix for this cake, but you could give a homemade white cake mix a try if you like.
Strawberry jello mix: Instead of pudding mix, I decided to use a box of strawberry jello mix. Not only does it add extra strawberry flavor to the cake, it also makes it a pretty pink color. Who could resist that?
Fresh strawberries: The best part of this cake is all of the strawberries in it! This recipe uses a full pound of strawberries so you get fruit in every bite.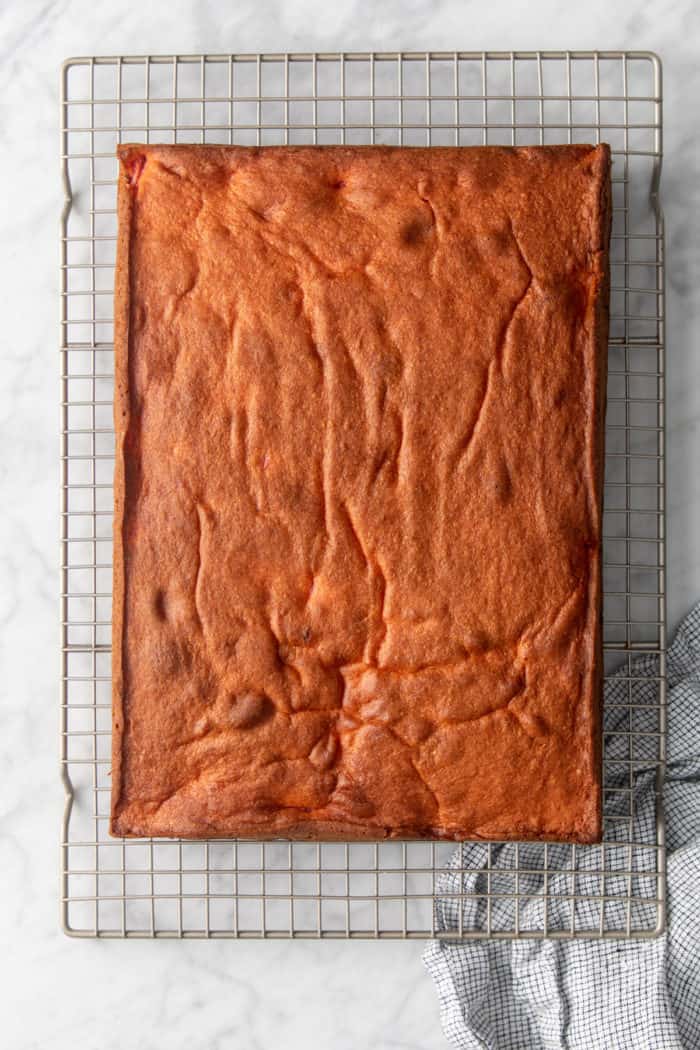 Other ingredients you'll need for the cake are:
Softened unsalted butter
Milk
Vegetable oil
Eggs
If you forget to set out your butter ahead of time to soften, get my tricks for how to soften butter quickly!
This cake is also topped with a simple cream cheese frosting, which pairs perfectly with the moist, fruit-filled cake.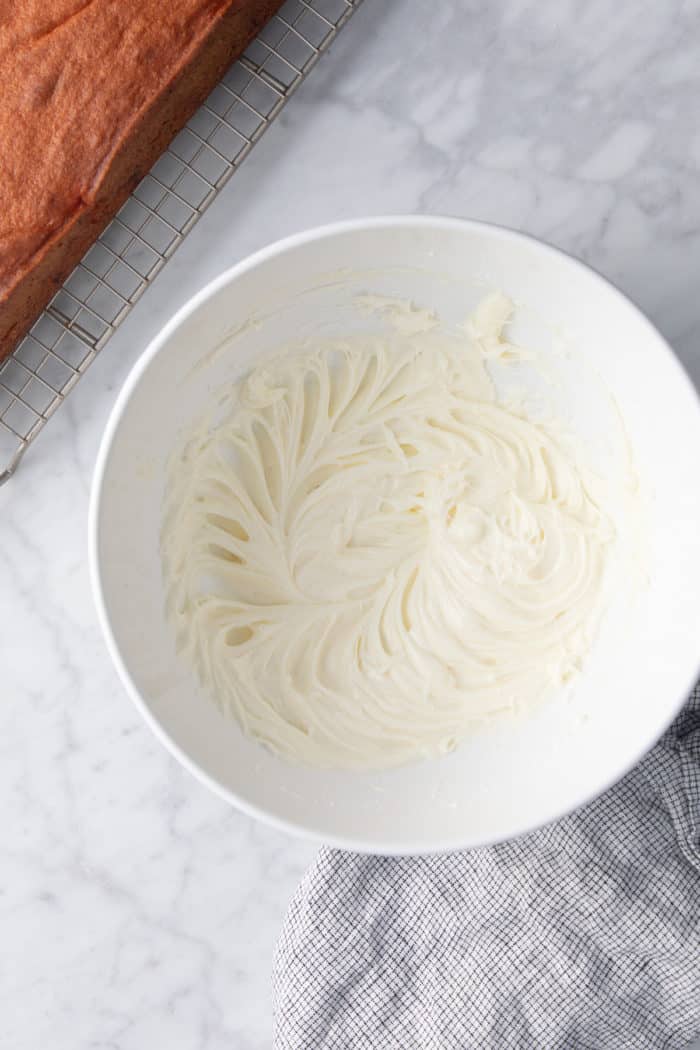 Making this cake
To make the strawberry cake, start by whisking together the cake mix and the jello mix in a large bowl.
Add the softened cubed butter and use your stand mixer or a hand mixer to work the butter into the dry mixes.
Add the mix and oil, mixing until combined, then add the eggs one at a time, making sure to mix well after each addition. Finally, use a spatula to gently fold in the diced strawberries.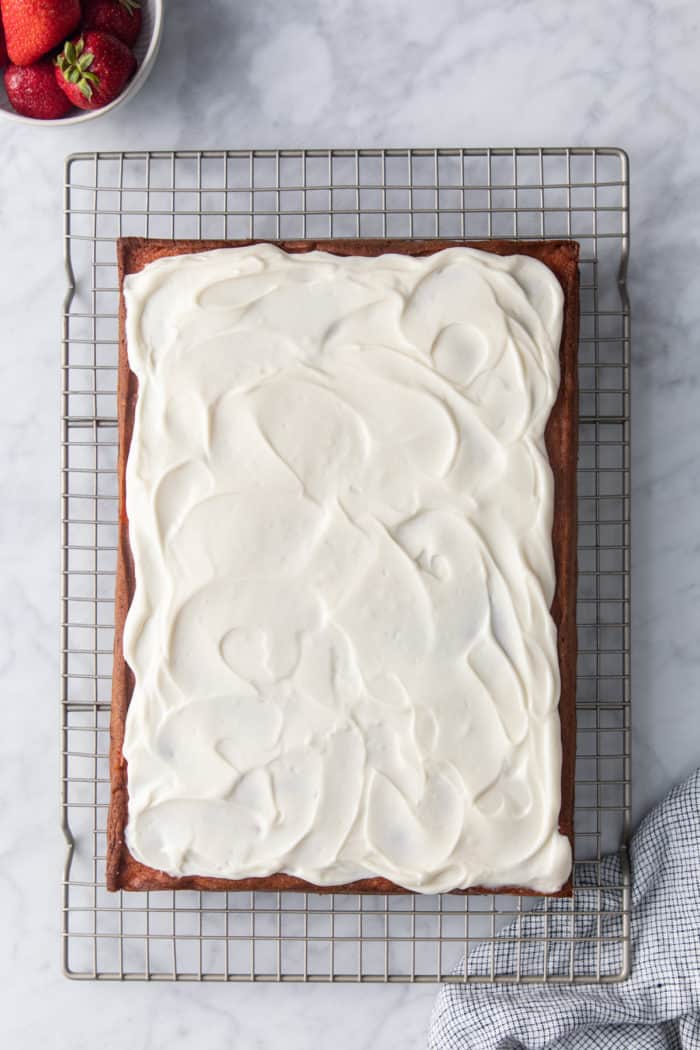 Bake this cake in a 13×9-inch pan. Once it is baked, let it cool to room temperature before frosting it.
To make the cream cheese frosting, beat the cream cheese and butter together for about 5 minutes to thoroughly combine.
With your mixer on low speed, gradually add the powdered sugar, followed by the vanilla. Mix on medium speed for another 5 minutes to make the frosting super smooth and creamy.
Frost the cake and refrigerate for at least 4 hours before serving.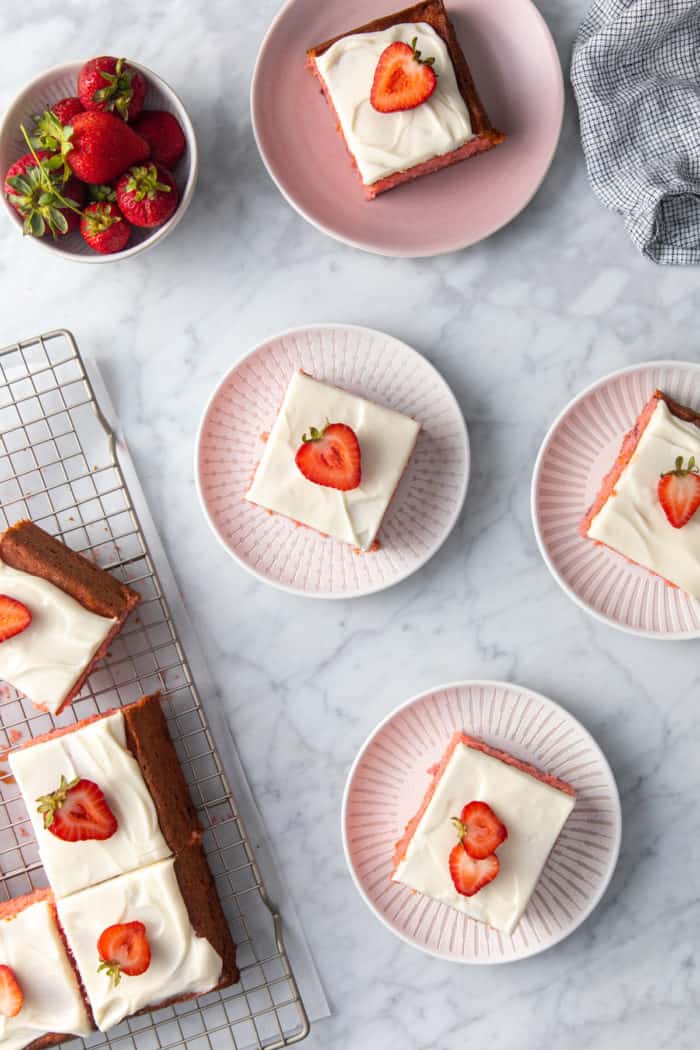 STORAGE AND SERVING
This cake is best served cold and is actually even better the second day, so I highly recommend making it the night before you plan to serve it.
That's right, it's a great make-ahead dessert!
Simply cover the cake and keep it refrigerated until right before you plan to serve it.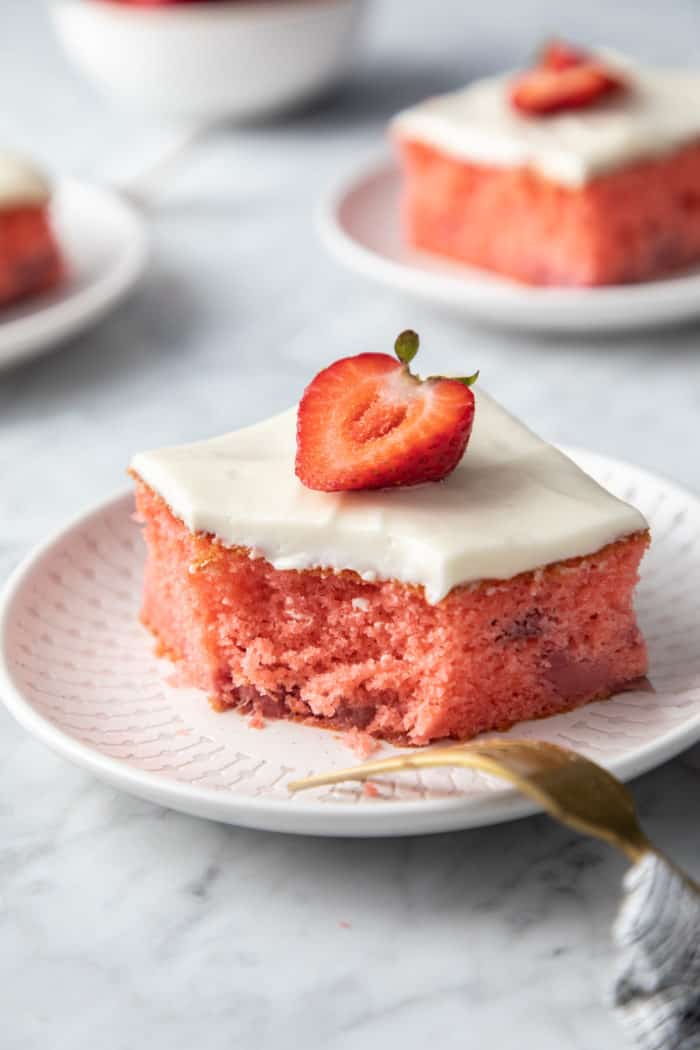 Before serving, I like to decorate the top with more strawberries. After all, you can never have too many strawberries, and they make the cake look so pretty!
This easy strawberry cake recipe is everything you will want from a cake this summer. Moist, cool, and packed with strawberry flavor – it's absolutely perfect!