Eggnog Eclair Cake is a super easy dessert for eggnog lovers! This icebox cake comes together in minutes and is perfect for the holidays.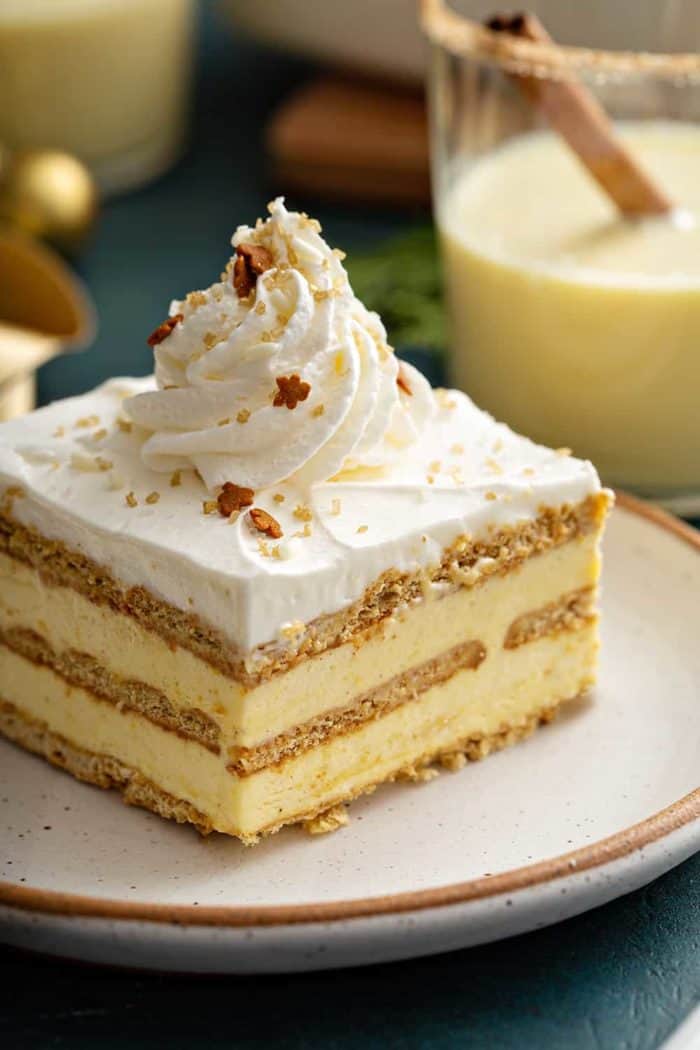 I know it's really last minute to be throwing another must-make holiday recipe at you, BUT if you like the flavor of eggnog, this super simple Eggnog Eclair cake is for you!
Not only is it easy to make, it's absolutely delicious – especially if you love the flavor of eggnog, but can't get on board with chugging the stuff out of a glass.
It comes together in less than 10 minutes with only a handful of simple ingredients, so you can totally whip it together in between wrapping gifts and baking cookies.
I promise, you will absolutely love it and people will be asking you for the recipe after their first bite!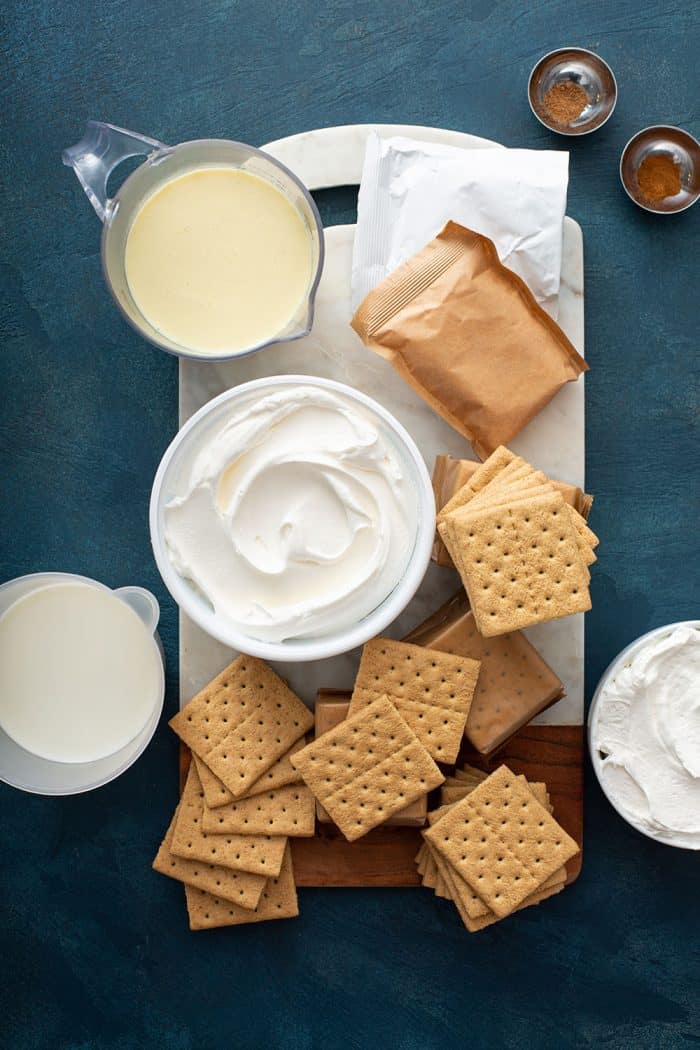 EGGNOG ECLAIR CAKE RECIPE
Are you pro-eggnog or anti-eggnog?
People seem to have super strong feelings about it one way or the other.
I'm actually kind of in the middle. I personally could not drink a glass of eggnog, but I really love the flavor of eggnog. So recipes made with eggnog are right up my alley.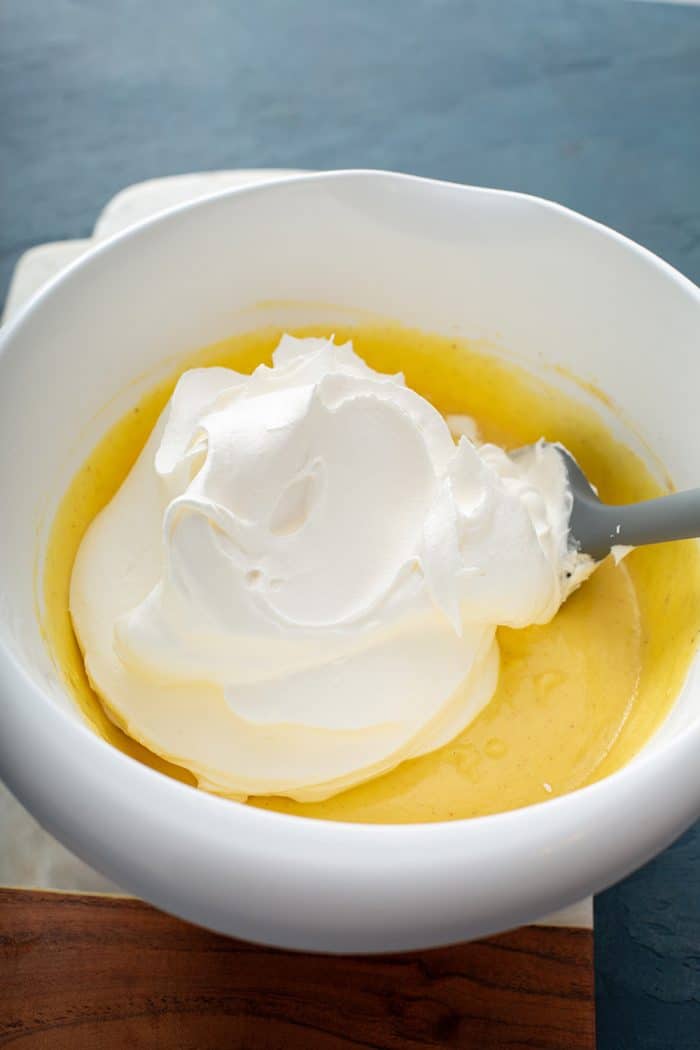 I've been on a real eclair cake kick this year. From Banana Cream Pie Eclair Cake and No-Bake Cheesecake Eclair Cake to Pumpkin Eclair Cake, I've been having a lot of fun coming up with new flavor combinations.
So obviously I had to whip up an eggnog version just in time for Christmas.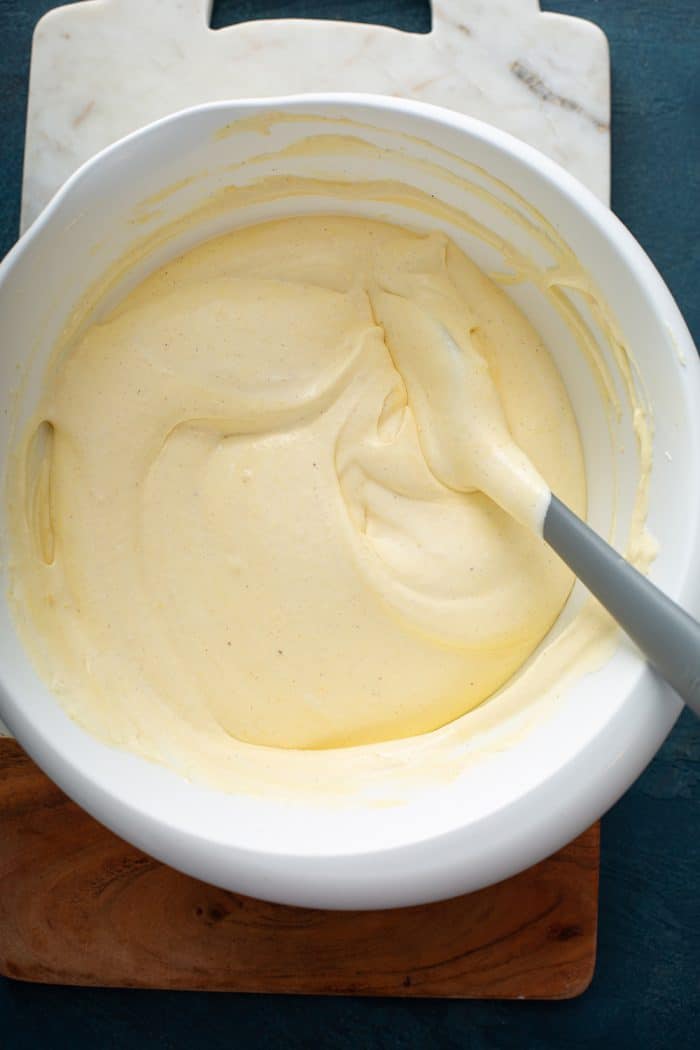 Just like my other eclair cake recipes, you can put this simple dessert together in just a few minutes. Just make sure it has time to chill before serving and you're golden!
Because let's be real: at this point, complicated desserts are just not happening. It's time for super easy and super delicious.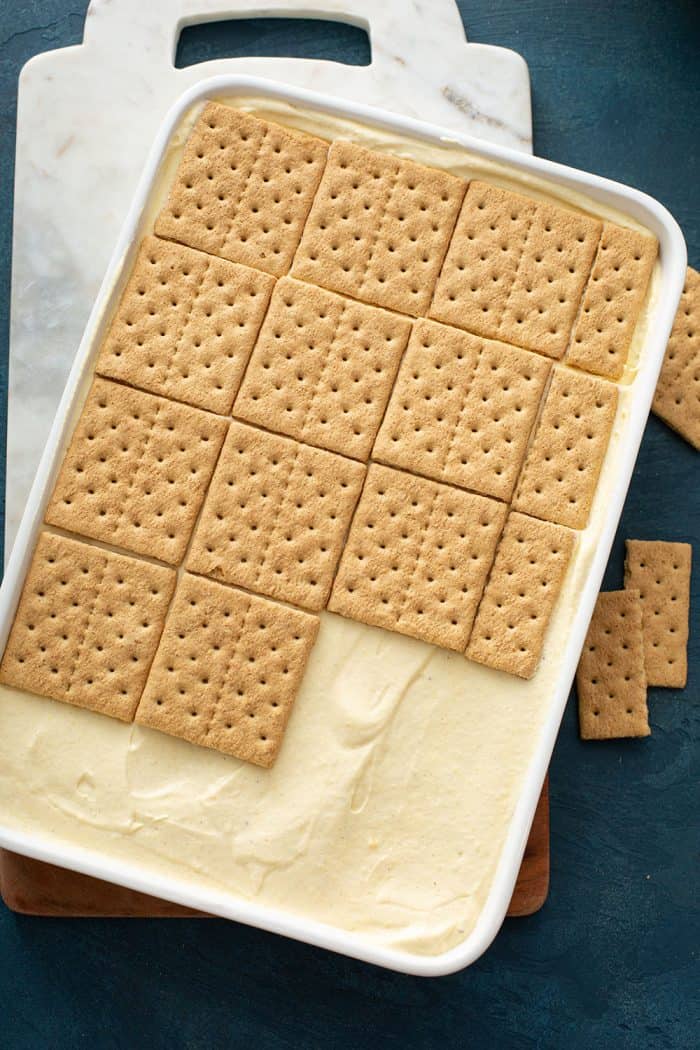 HOW TO MAKE THIS EGGNOG ICEBOX CAKE
Making this simple icebox cake requires just a few ingredients:
Instant vanilla pudding mix
Whole milk
Eggnog
Ground nutmeg
Ground cinnamon
Frozen whipped topping
Cinnamon graham crackers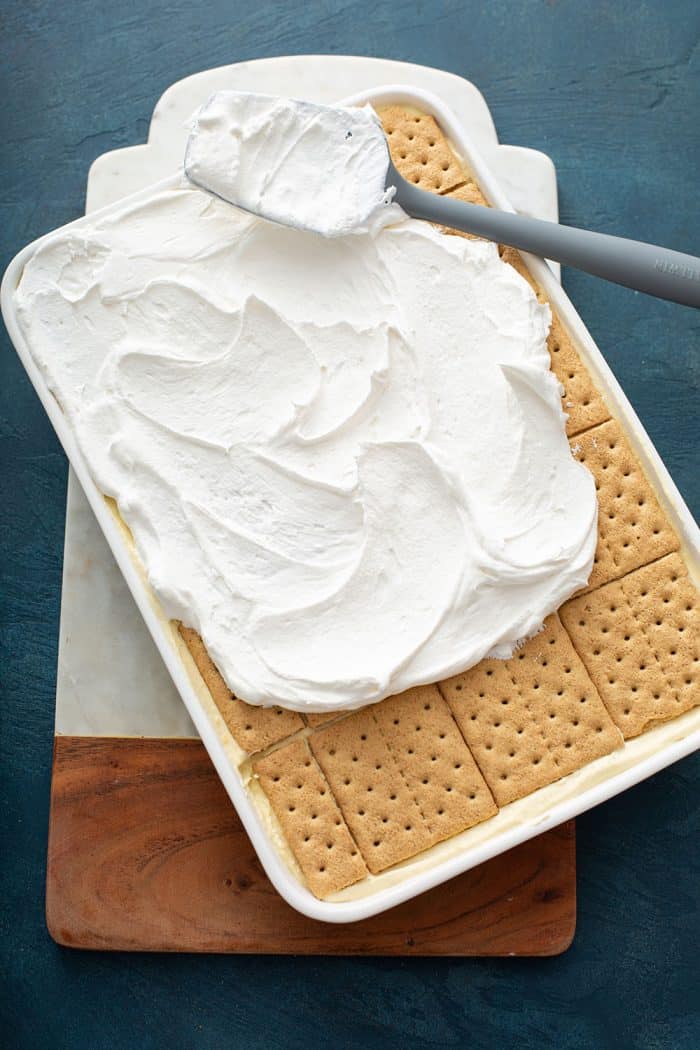 Our eclair cakes usually just use milk, but we're using a mix of milk and eggnog in this version. We're also adding some cinnamon and nutmeg (and using cinnamon graham crackers!) for that extra bit of eggnog flavor.
In a bowl, whisk together the pudding mix, milk, eggnog, and spices. Then add in a tub of thawed whipped topping until thoroughly combined.
Line the bottom of a 13×9-inch cake pan with a layer of cinnamon graham crackers.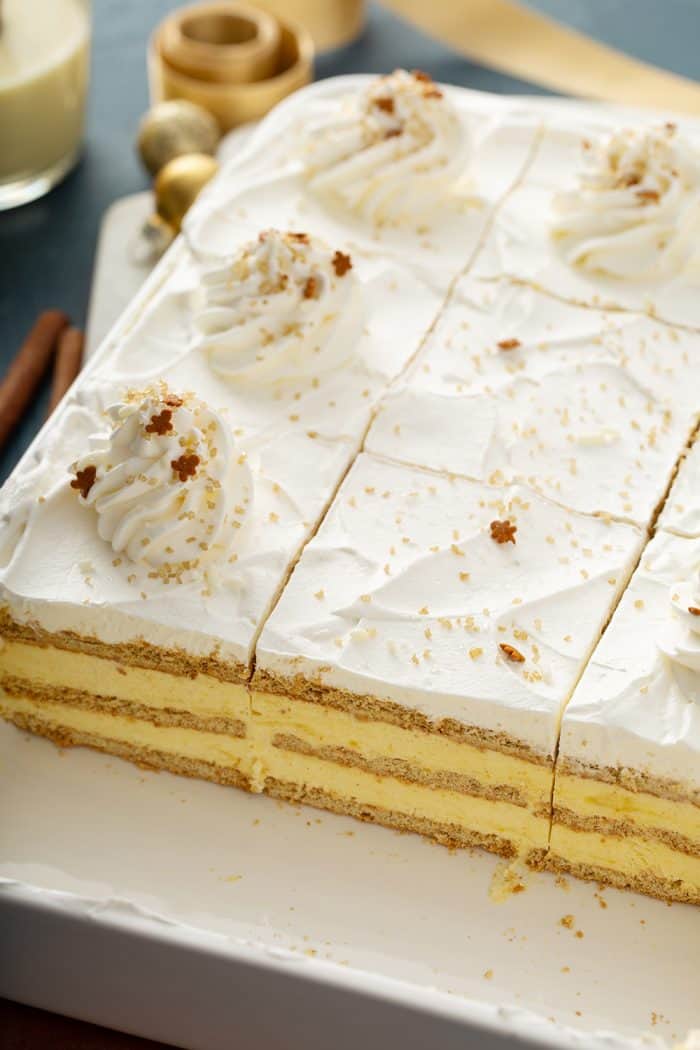 I have found that, depending on the brand of graham crackers I'm using, sometimes I have more gaps between my graham crackers than others. Don't worry if there are some gaps; your cake will turn out just fine!
Spread half of the pudding mixture on top of the graham crackers. Top with another layer of cinnamon graham crackers, followed by the rest of the pudding and finished with one final layer of graham crackers.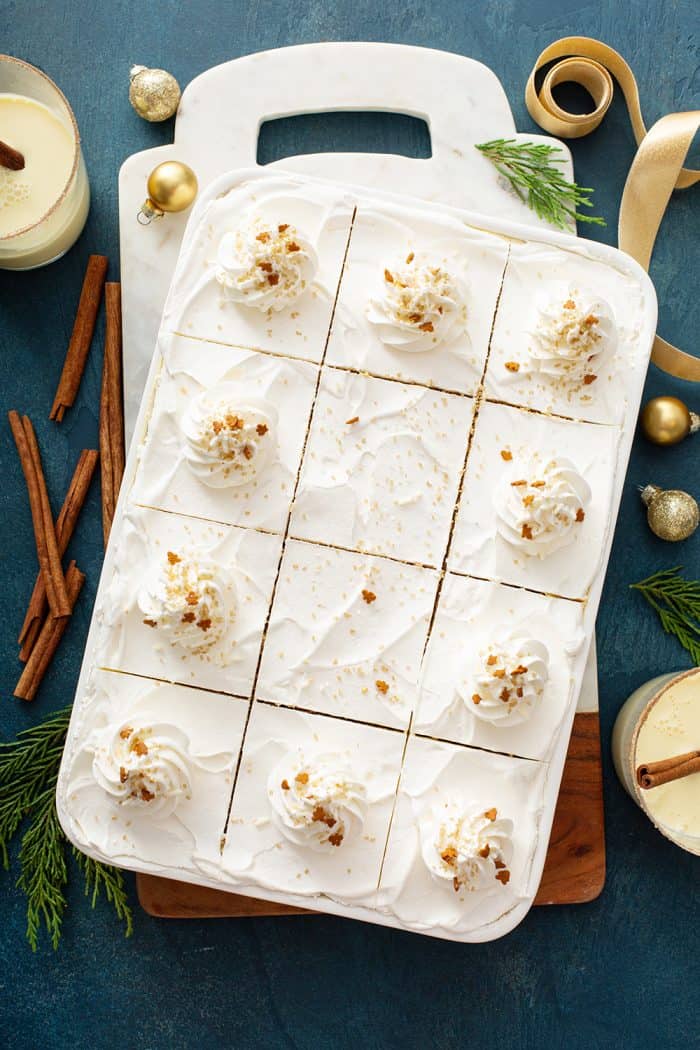 Spread 2 additional cups of whipped topping on top. Chill for at least 4 hours before cutting and serving.
I like to top this eggnog cake with some whipped cream and some sparkling sugar, but you could also top it with more cinnamon or nutmeg if you like!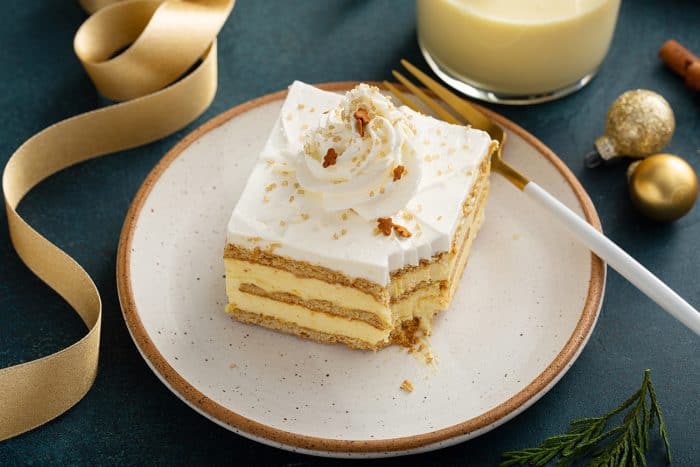 MORE EGGNOG RECIPES TO TRY
Whether you like to drink eggnog or you just like to bake with it, there are plenty of ways you can still enjoy some eggnog before the holidays are over! Give one (or all!) of these eggnog recipes a try and enjoy feeling ultra festive.