Pretty much as soon as I found out I was pregnant with Elle, I stopped cooking. Not because I didn't want to, but because meal prep made me super queasy. The smells and textures of raw foods – especially meats – did a number on me almost immediately. Eric stepped up in a big way and began cooking almost all of our meals on his own. He'd flip through his grandmother's cookbook for childhood favorites and he even got a little adventurous; cooking from online recipe sites and many of my fave food blogs. We kept a file of our favorites and Eric quickly developed a repertoire of delicious meals that were in heavy rotation throughout my entire pregnancy.
As you know, I'm not a trained professional. I'm a self-taught home cook and baker, but I'm pretty confident in the kitchen. However, after doing minimal cooking for almost 8 months, I felt totally out of my element once I started preparing our meals. After burning bacon, overcooking chicken and allowing numerous pots to overflow – I started to feel a lot less confident. And my knife skills – they went from pretty darn good to the skill level of 9 year-old with a butter knife. I remember prepping pepper steak and taking a good 10 minutes to cut up a few green peppers. After a couple of weeks, this girl finally got her groove back.
One of things I love about watching cooking shows are the amazing knife skills of professional chefs. And although I'm not looking to sling a chef's knife like Morimoto, I definitely could tighten up my technique a bit. That's why when Craftsy asked me to take their free online – yes, FREE Complete Knife Skills Class, I jumped all over the opportunity.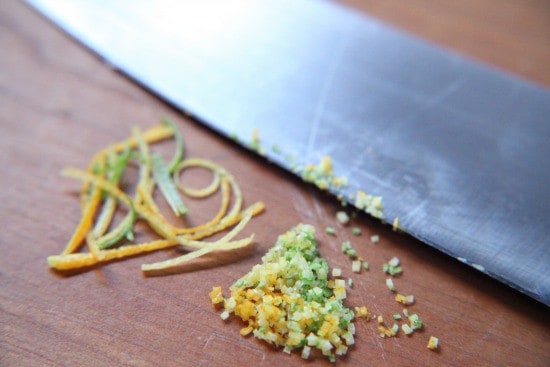 The Complete Knife Skills class is instructed by Chef Brendan McDermott (this guy has mad skills) and is broken into 5 lessons. Chef McDermott starts by introducing class participants to himself and a variety of knives and discusses their uses. This made me realize that I need to purchase a paring knife immediately – seriously, how do I not own one of these?
Chef McDermott teaches you cutting board basics and how to hold a knife correctly. Admittedly, I've pretty much been doing it all wrong – I'm so guilty of the death grip! Chef McDermott then discusses Four Basic Cuts: Low Cut, High Cut, Horizontal Cut, and Pull Cut. This lesson was so helpful! I even went into the kitchen and cut up some fresh veggies while watching Chef McDermott demonstrate each cut. I'm pretty sure I would've aced a julienne quiz – just sayin'.
My favorite part of the Complete Knife Skills class was definitely Lesson 4: Shortcuts for Fruits, Veggies, & Herbs. My mind was blown watching Chef McDermott slice and dice jalapeños, citrus, and fresh herbs.
Chef McDermott also shares a variety of tips throughout the class and even gets all fancy-schmancy and shows you how to open a bottle with a knife when you find yourself without a bottle opener.
After watching the entire Complete Knife Skills class, I honestly felt a lot more confident. Let's just say we had crudité for days! I really hope you take advantage of this free class from Craftsy. There are no strings attached and once you take about a minute to create a Craftsy account, you'll be getting a one-on-one Complete Knife Skills class from the comfort of your couch!
Sign up for Craftsy's FREE Complete Knife Skills Class and take your skills to a whole new level!
Disclosure: My Baking Addiction has partnered with Craftsy to share a variety of classes with our readers. This post is sponsored by Craftsy; however, the views and opinions expressed by Jamie Lothridge on My Baking Addiction are my own, and based upon my experiences with the Complete Knife Skills class.