Homemade sloppy joes are super satisfying and come together with minimal effort. They're a quick and easy weeknight dinner that's sure to become a family favorite!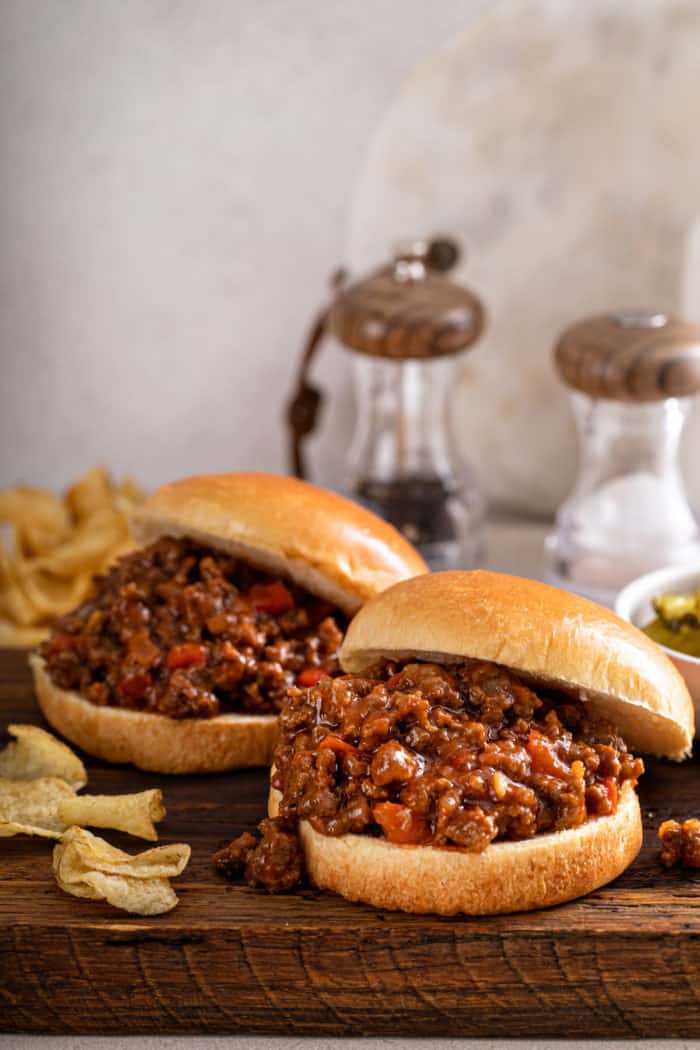 As I've mentioned before, Eric and I both work from home, which to many of my friends is their worst nightmare.
I often get the "You mean you're together 24 hours a day, 7 days a week?" stare that awaits a series of verbal gripes, but truth is, it's not bad at all. We both have our own work spaces and are able to balance our schedules pretty easily.
But despite both of us being home all day, every day, our meal planning game is most definitely not on point.
Unless we've got Mississippi pot roast or Italian beef bubbling away in the slow cooker or pulled pork ready for the Instant Pot, one of us is either scanning the pantry or running to the market around 5:00.
It's just the way we roll around here.
One of our favorite on-the-fly meals happens to be these simple homemade sloppy joes. They come together super quickly, require minimal ingredients, and they pair perfectly with just about anything.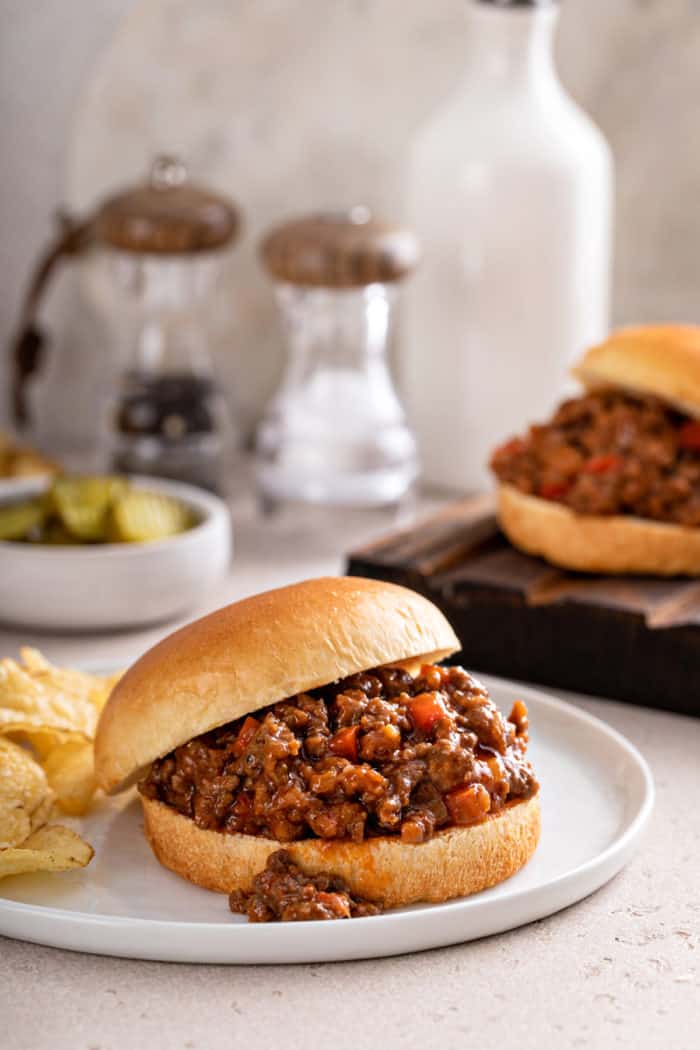 WHAT ARE SLOPPY JOES?
There are a few different "origin stories" for the sloppy joe, but the one thing that folks seem to agree on is that a sloppy joe is a sandwich served on a burger bun and made from ground beef and a tomato-based sauce with onions, Worcestershire sauce, and other seasonings.
In some versions the tomatoes are from tomato sauce, in others (like my recipe), the tomato component is ketchup.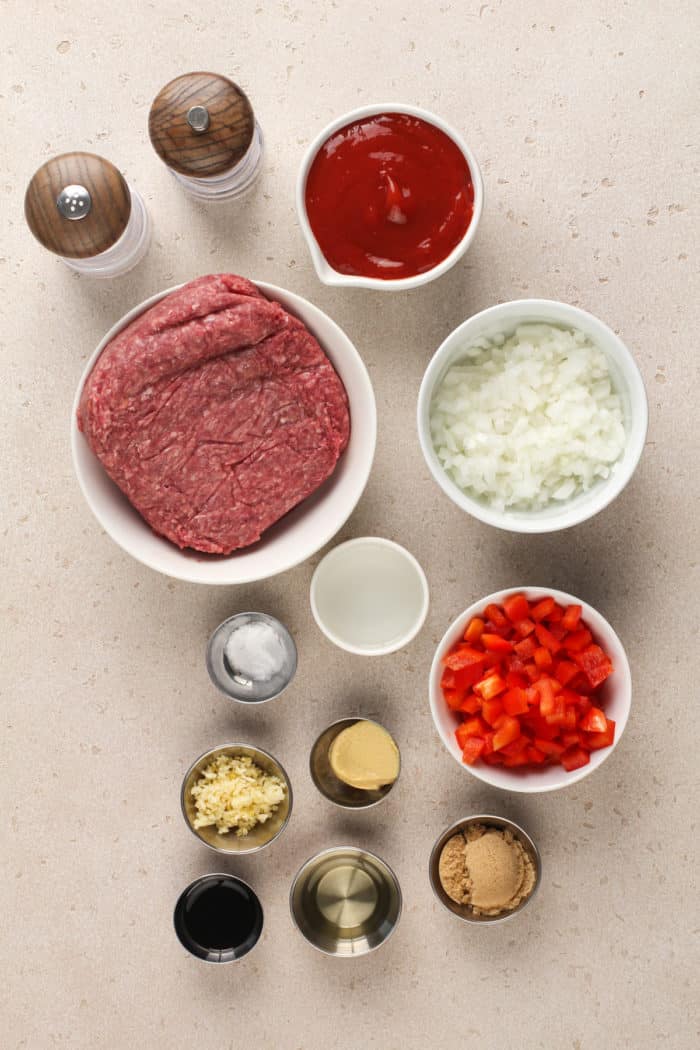 HOW TO MAKE HOMEMADE SLOPPY JOES
These homemade sloppy joes are definitely perfect for a weeknight dinner. If you have ground beef already thawed, you can have these sloppy joes ready to go in about half an hour.
Gotta love a 30-minute dinner recipe!
Ingredients you'll need
Since I like to keep extra ground beef in the freezer, I almost always have the ingredients on hand to make this recipe. You'll need:
1 pound ground beef
½ teaspoon baking soda
¼ cup plus 1 tablespoon water, divided use
1 tablespoon olive oil
1 small yellow onion, diced
1 small bell pepper (any color), diced
2 cloves garlic, minced
1 cup ketchup
2 tablespoons brown sugar
1 tablespoon Worcestershire sauce
1 tablespoon dijon mustard
Salt and pepper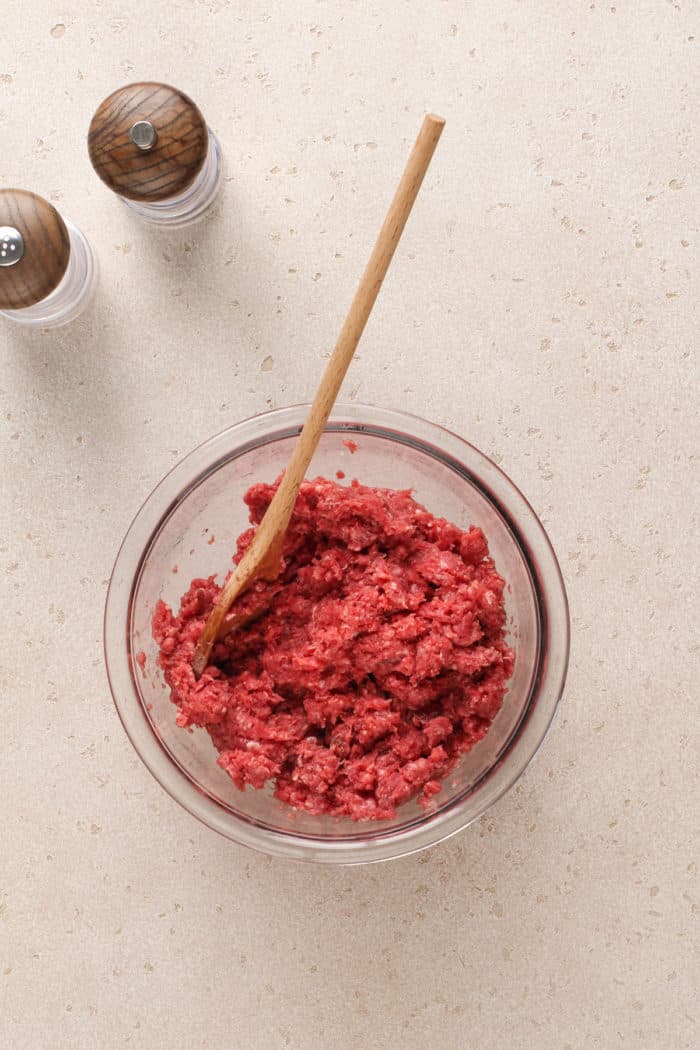 Ground beef is traditional for sloppy joes, but you could substitute ground turkey if you prefer.
I like the flavor and texture that the bell pepper adds to the sandwiches, but you could omit the pepper if you don't have any on hand. Don't skip the onions, though!
I prefer this recipe with dijon mustard, but you could use yellow mustard or even a spicy brown mustard if that's what you have available.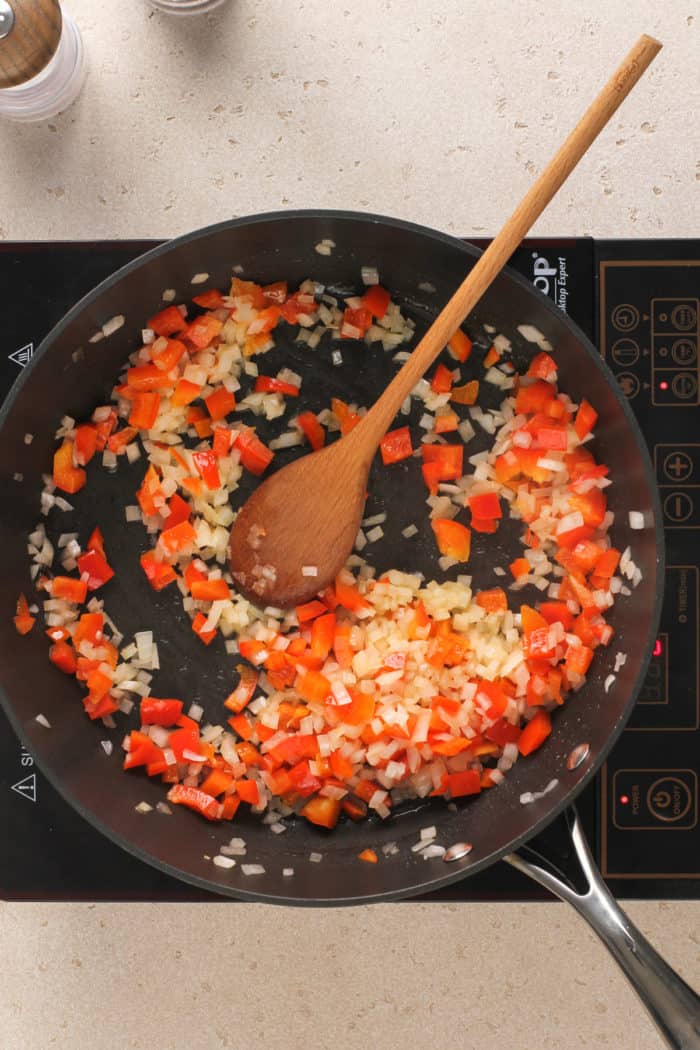 What does the baking soda do?
I bet you're looking at the baking soda in that ingredient list and scratching your head.
This is a trick I learned from America's Test Kitchen. They found that working a baking soda slurry into the ground beef before cooking helped improve the texture of the sandwiches and helped keep the meat from drying out.
I was skeptical the first time I saw it, too, but I tried it and it works! And it doesn't add any time to the recipe. Win/win!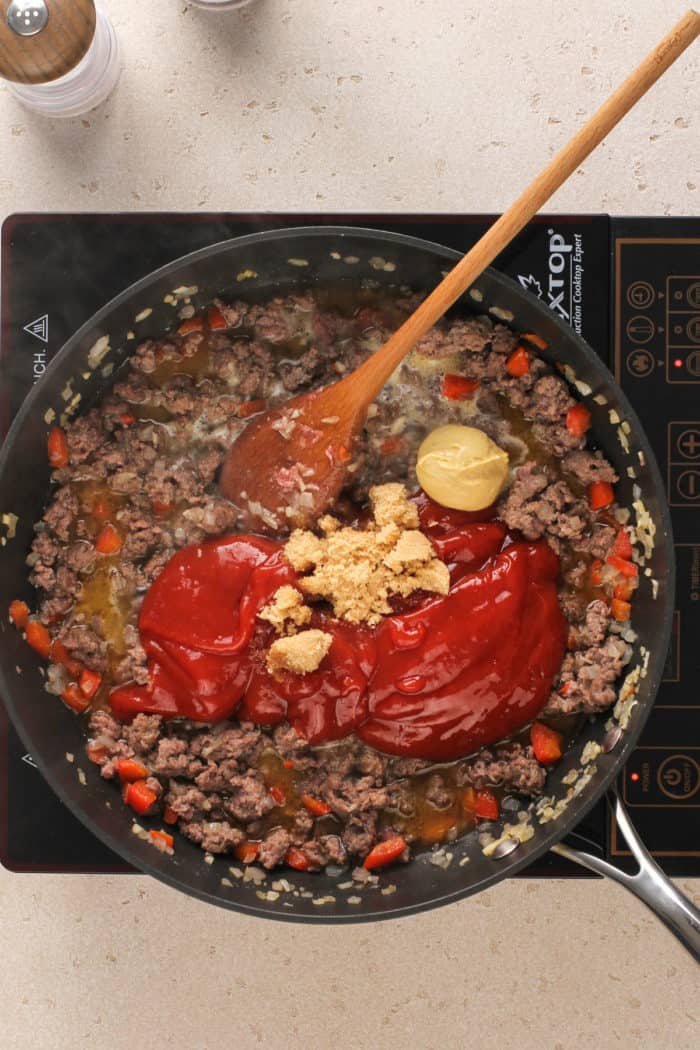 Making my sloppy joes
Add the ground beef to a bowl. Whisk together the baking soda with 1 tablespoon of water, then add this to the meat with some salt and pepper.
Massage everything into the meat using your hands (or a spoon if you don't like touching raw beef). Set the meat aside while you saute the vegetables.
Grab a large skillet and heat the olive oil over medium-high heat. Add the diced onions and bell pepper and cook until the onion is translucent. This will take 3-5 minutes.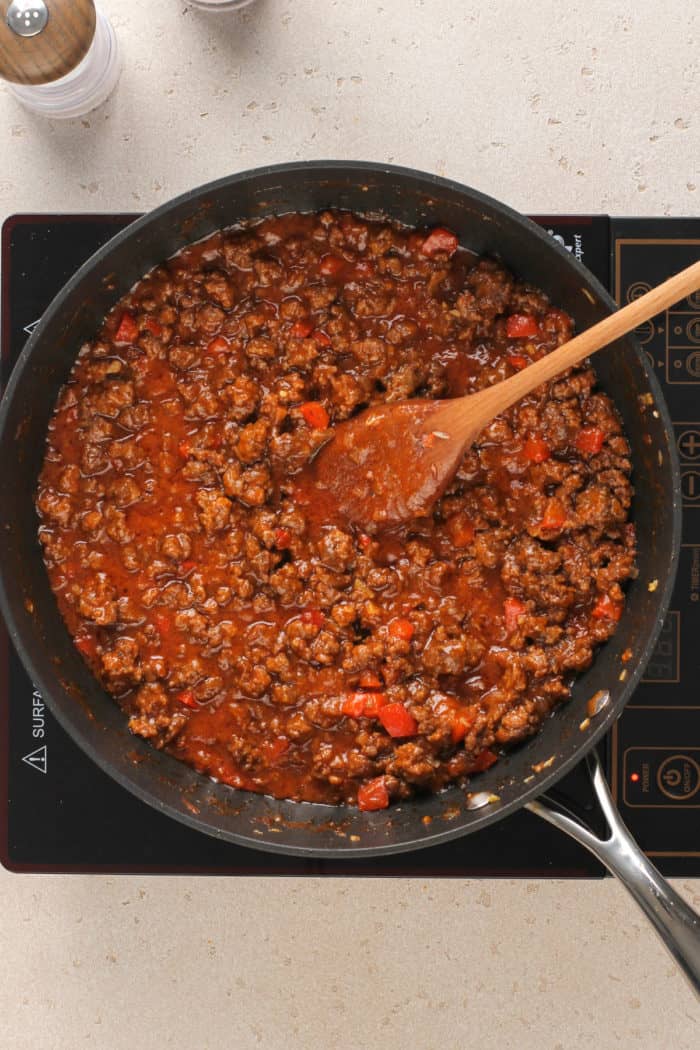 Add the garlic and saute for 1 more minute before adding the beef to the pan.
Brown the beef, then add the remaining ¼ cup of water along with the ketchup, brown sugar, Worcestershire sauce, and mustard. Mix everything together and simmer, uncovered, for 15-20 minutes, stirring occasionally.
The sloppy joes are ready when the sauce has thickened and everything is nice and bubbly.
Make sure to taste for seasoning before serving, adding more salt and pepper if desired.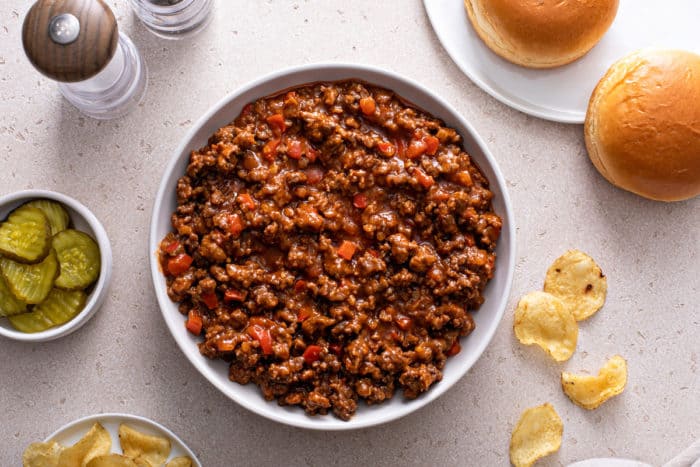 SERVING SUGGESTIONS
It's almost easier to list what doesn't go with sloppy joes than to list what does!
These sandwiches really are great with nearly anything. We serve them with everything from a fresh green salad with homemade ranch dressing and jo jo potato wedges to chips and french onion dip to honey glazed carrots and one-pot mac and cheese.
Sometimes we serve them on buns, sometimes on leftover biscuits – even a slice of toasted bread works in a pinch!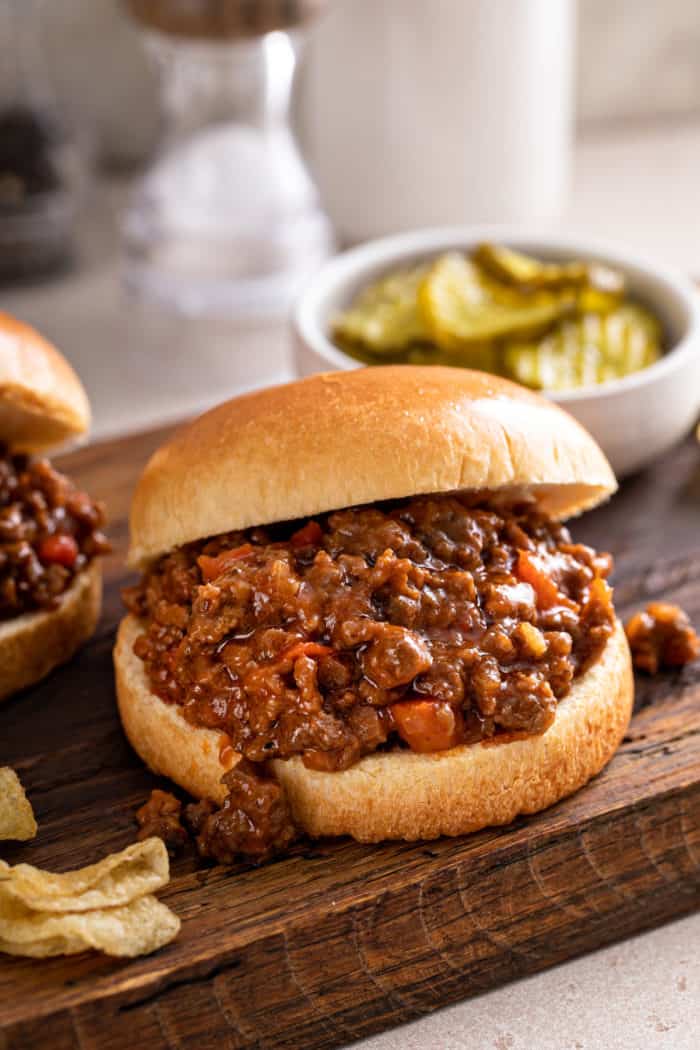 MAKE-AHEAD INSTRUCTIONS
Sloppy joes are also a great make-ahead dinner.
You can keep the sloppy joe mix in an airtight container in the fridge for up to 3 days. Simply reheat when you're ready to eat.
You can also freeze the mix in airtight containers for up to 3 months.
If you know you're going to want to eat it all in one meal, feel free to freeze it in a large container. I like to portion it out into smaller containers for quick dinners when there's just one or two of us at home, though!