Tangy lemon ricotta cookies are topped with a sweet and tart lemon glaze that creates the perfect summer cookie for any occasion.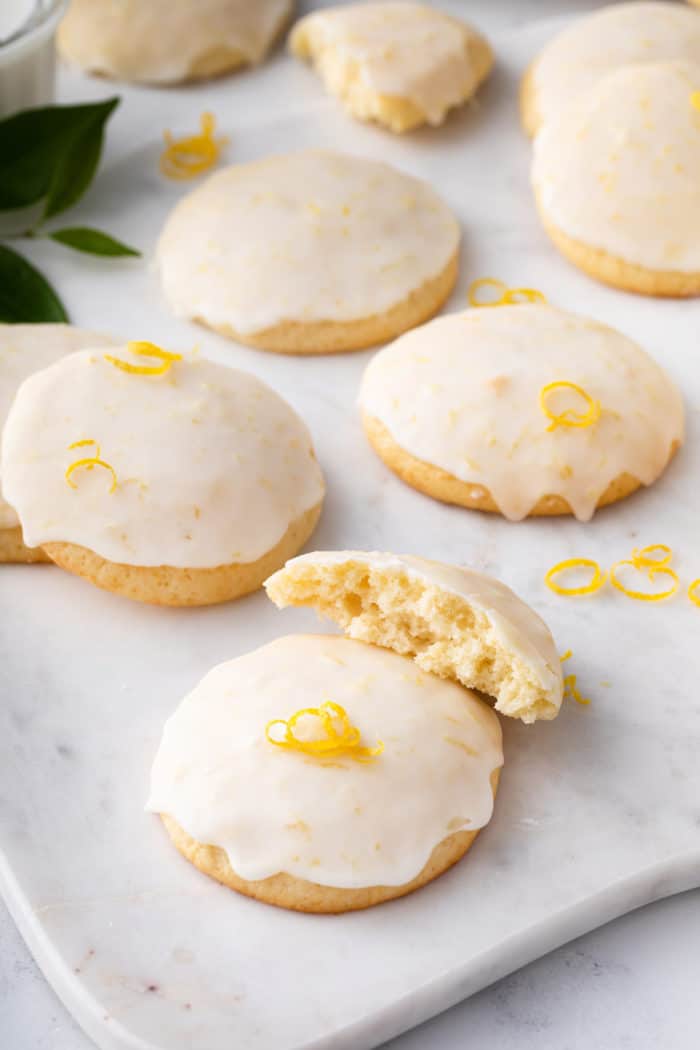 I was recently reminded that the first time I made these cookies, Elle was only 6 months old.
Now she's 8. 8 years old! Time is a thief.
As this school year comes to an end, I am determined to embrace every moment I can of this summer with her. I know I'll blink and she'll be grown, but these slow summer days are full of memories we can make together.
But don't mind me if you find me eating some of these soft lemon ricotta cookies and weeping over her 6-month photos in the meantime.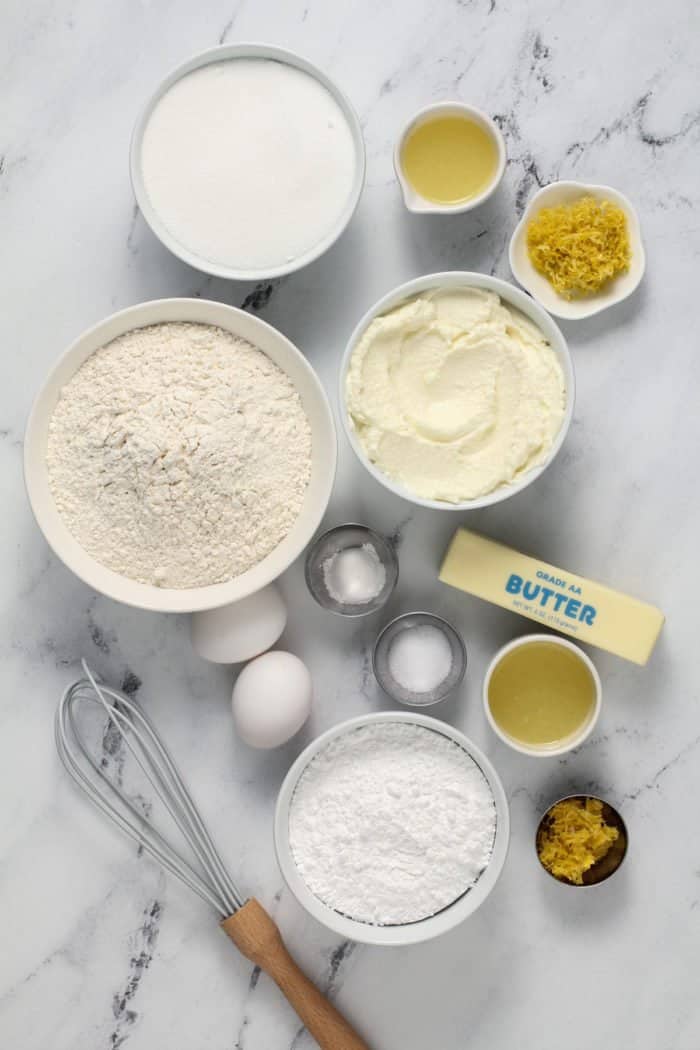 SUMMERY LEMON COOKIES
Is there anything that screams summer more than lemon? The second the weather starts to warm up, I crave everything from lemon bars and lemon cheesecake to strawberry lemonade.
And add these lemon ricotta cookies to that cravings list. They are loaded with bright, fresh lemon in the cookie and then topped with a lemony glaze for a double hit of lemon. They're like a bite of sunshine!
These cookies even turned Eric into a lemon lover. They're that good!
Unlike my chewy lemon sugar cookies or dense and chewy no-bake cookies, these cookies are super soft and a little bit cakey. Somehow that light and airy texture makes them even easier to pop into your mouth one after the other.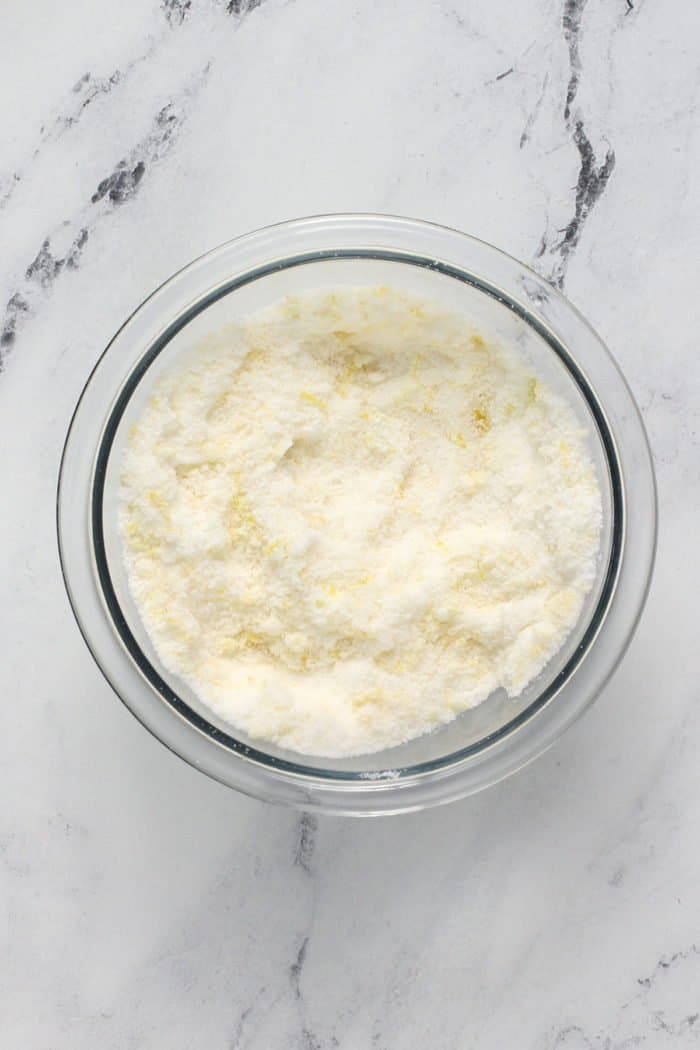 HOW TO MAKE THESE LEMON RICOTTA COOKIES
If these soft, lemony cookies sound right up your alley, let me show you how to make them!
Baking with ricotta cheese
Curious about the ricotta cheese in these cookies?
Don't worry, the cookies don't taste like cheese. The ricotta gives the cookies their amazing texture and provides a very subtle tang that makes you say, "Mmm, what's the secret ingredient here??"
I do recommend using whole milk ricotta in this recipe; the fat content helps keep the cookies nice and tender.
I usually just use ricotta that I've picked up at the store, but you can use homemade ricotta cheese as well.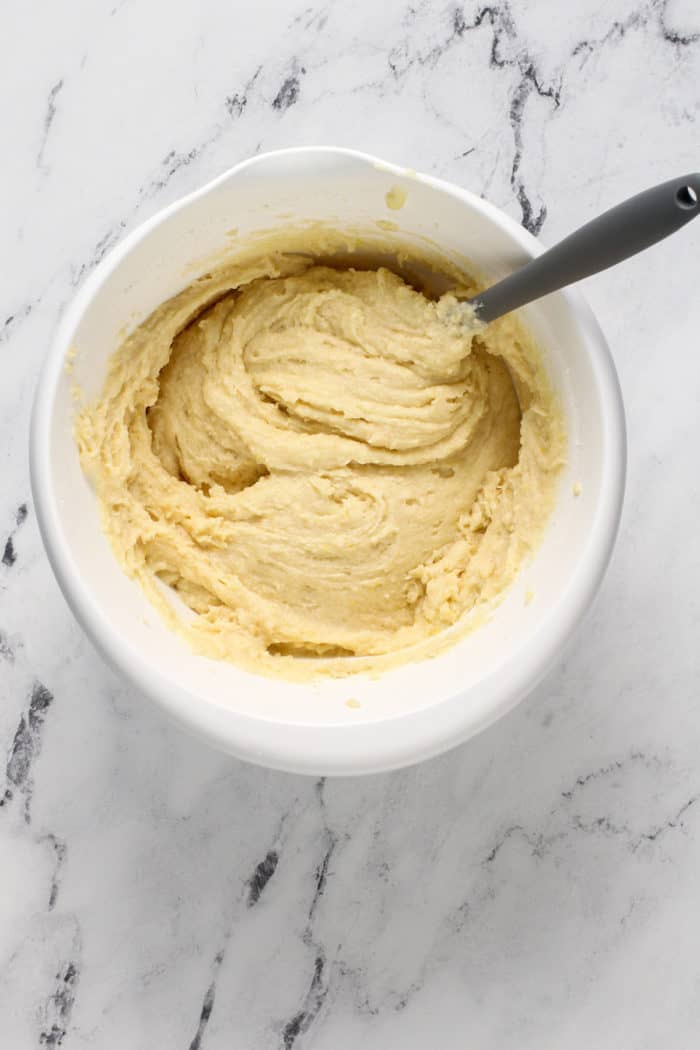 Other ingredients
The other ingredients you'll need for these cookies are:
Granulated sugar: The granulated sugar goes into the cookies themselves to give the right sweetness to balance the tart lemons.
Zest of 3 lemons + lemon juice: There is a ton of lemon packed into these little cookies! You won't miss out on that bright flavor.
All-purpose flour: No fancy flours here! Just simple AP flour.
Baking powder: This is the leavening for the cookies.
Salt: We always want to use a bit of salt to balance out the sweet.
Softened butter: Check out my tips for how to soften butter quickly if you forget to set yours out.
Eggs: Eggs help bind the cookies, provide some leavening, and help tenderize the cookies.
Powdered sugar: We will use this sugar for the glaze that goes on top of the cookies.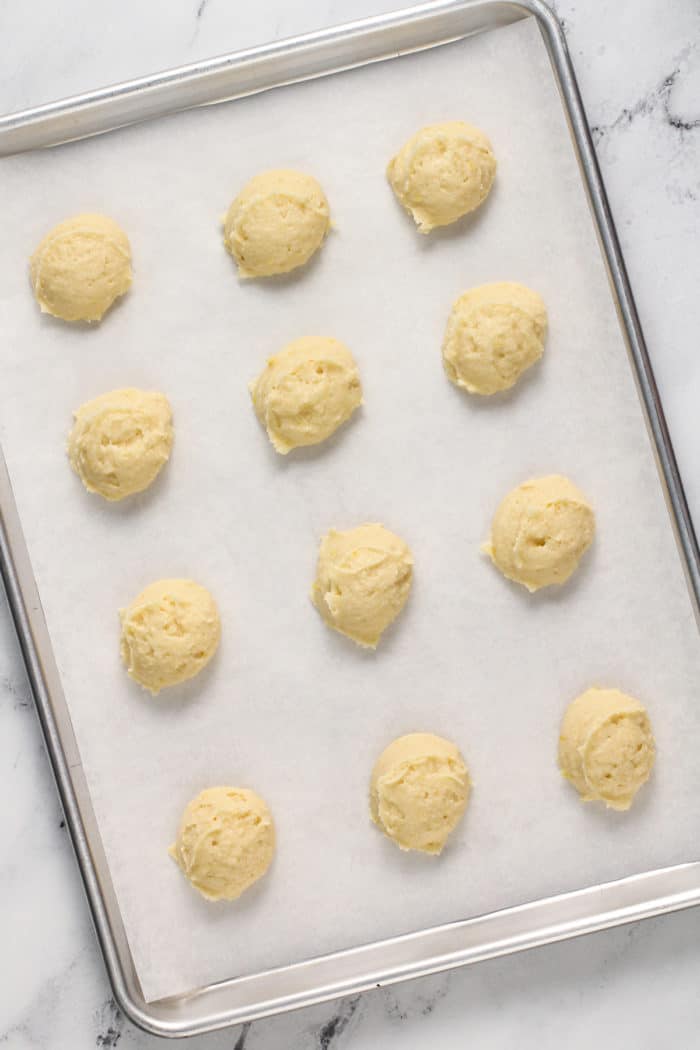 Making these cookies
To get all of the lemon flavor we can into our Lemon Ricotta Cookies, we'll start by combining the sugar and lemon zest together until the sugar is nice and fragrant.
This might seem like a silly extra step, but it really helps get all of those fragrant oils out of the zest and infuses that flavor throughout the cookies. If you've made my lemon raspberry scones, you know what a difference it makes!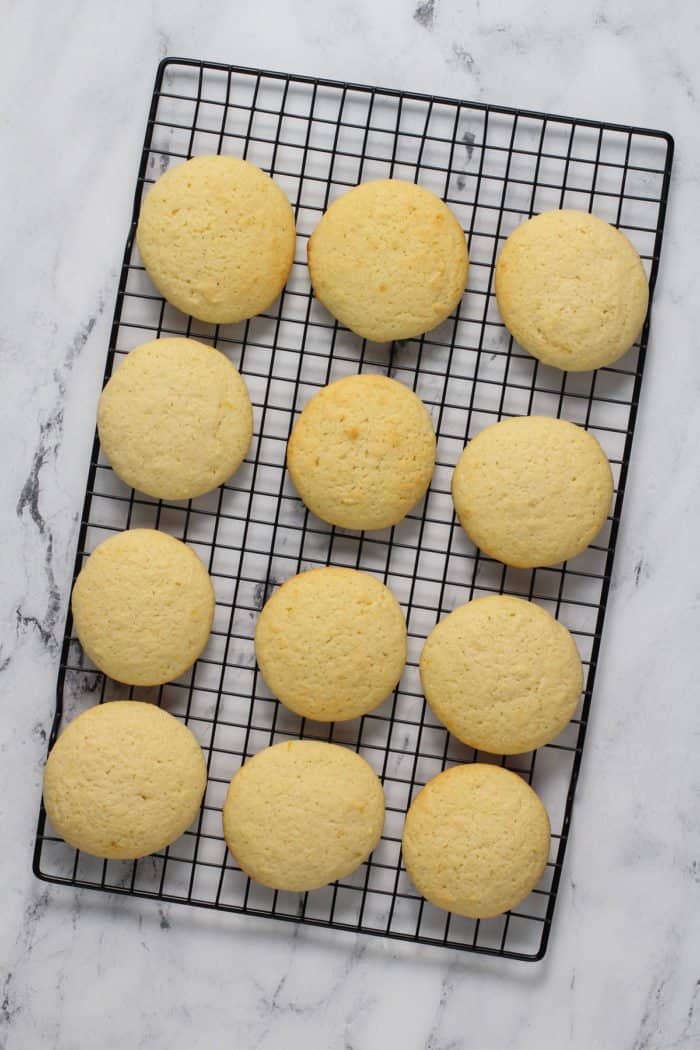 In a separate bowl, whisk together the flour, baking powder, and salt, then set that side. Make sure you know how to measure flour properly so these cookies turn out perfectly!
Go back to your sugar mixture and add the butter, then beat with an electric mixer until the mixture is light and fluffy. This will take about 3 minutes.
Add the eggs one at a time, mixing until each is fully incorporated, then add the ricotta cheese and lemon juice and mix to combine.
Stir in the dry ingredients, then spoon the dough onto lined baking sheets. Bake until the cookies are slightly golden at the edges.
Because these cookies are so soft, let them cool on the baking sheets for 20 minutes before removing them and dipping them in the lemon glaze.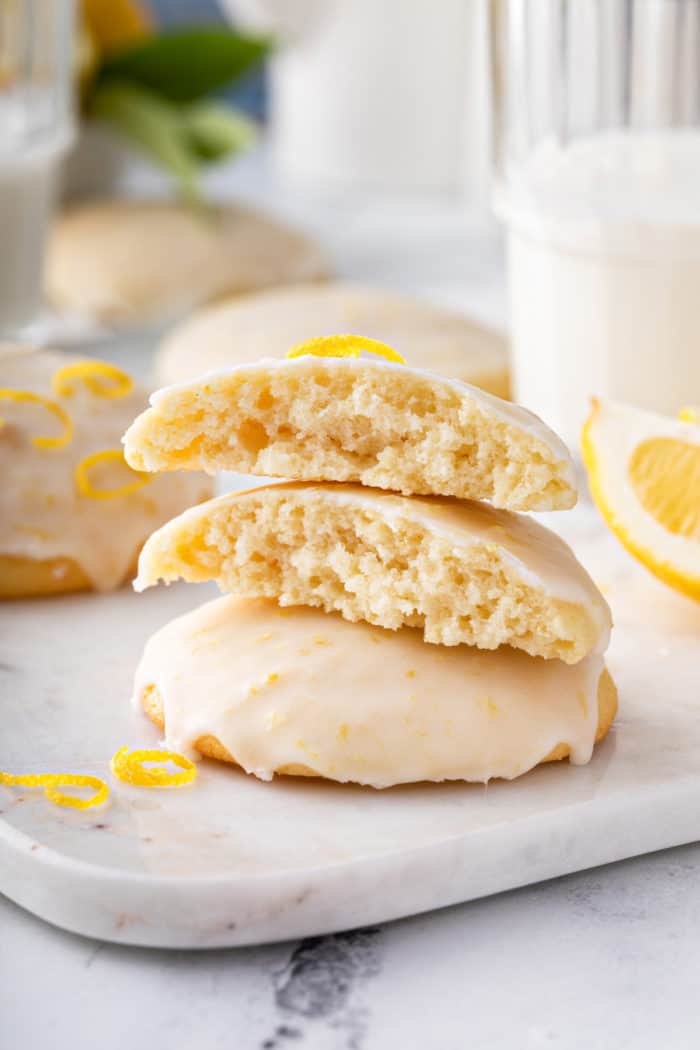 STORAGE AND FREEZING
These cookies will keep at room temperature for up to 2 days, or you can store them in the fridge for up to 5 days.
If you want to keep them fresh for longer, store them in the freezer. Place them in an airtight container with layers of waxed paper or parchment paper between the layers and freeze for up to 3 months.
Because of the texture of these cookies, they'll thaw very quickly; they should only need an hour or so at room temperature to fully thaw. You'll be ready to grab a bite of Lemon Ricotta Cookies whenever you'd like!