Tangy lemon ricotta cookies are topped with a sweet and tart lemon glaze that creates the perfect summer cookie for any celebration.
Time flies. Our sweet baby is already 6 months old and I feel like it's all going by way too fast. Sometimes I want to freeze moments in time and then there are moments when I can't wait for her to crawl and call out for her mama.
We just had her 6 month photo session and watching her adorable tu-tu wearing self sit up with a huge grin made me all kinds of emotional. She has so much personality – she's happy, strong, and independent – pretty much everything that I'd wish for her to be. It's all just flying by. And to be honest, it kinda makes my ovaries hurt.
Summer also feels like it came and went with the blink of an eye. There's a chill in the morning air that makes me crave fall and all the amazing things that come along with my favorite season. Sweaters, boots and pumpkin – loads and loads of pumpkin.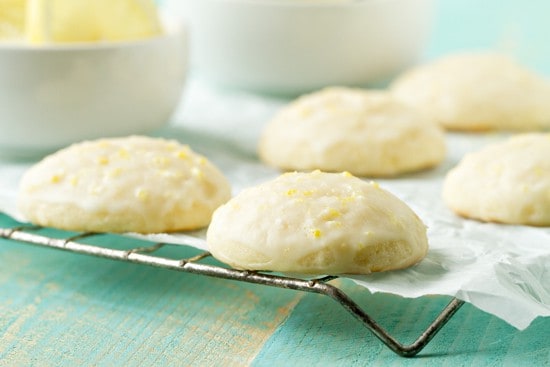 However, much like I don't want to rush Elle's first year, I also don't want to get into full on fall mood too soon. Although I'm dreaming about pumpkin rolls and pumpkin cream cheese muffins, I've decided to embrace the waning weeks of summer.
What screams summer more than lemon? I am sharing Lemon Ricotta Cookies on Food Fanatic. They're loaded with bright, fresh flavors and they're dipped in a sweet lemony glaze that made my anti-lemon guy pop them into his mouth one after another. Seriously, he became a lemon lover after one of these cookies. If that doesn't compel you to make these immediately, I don't know what will!
They're sweet, tart little bites of sunshine and they're perfect for any celebration.