Peanut Butter Pie couldn't be easier or more delicious. Top it with mini peanut butter cups, whipped cream, and chocolate sauce for one seriously decadent dessert.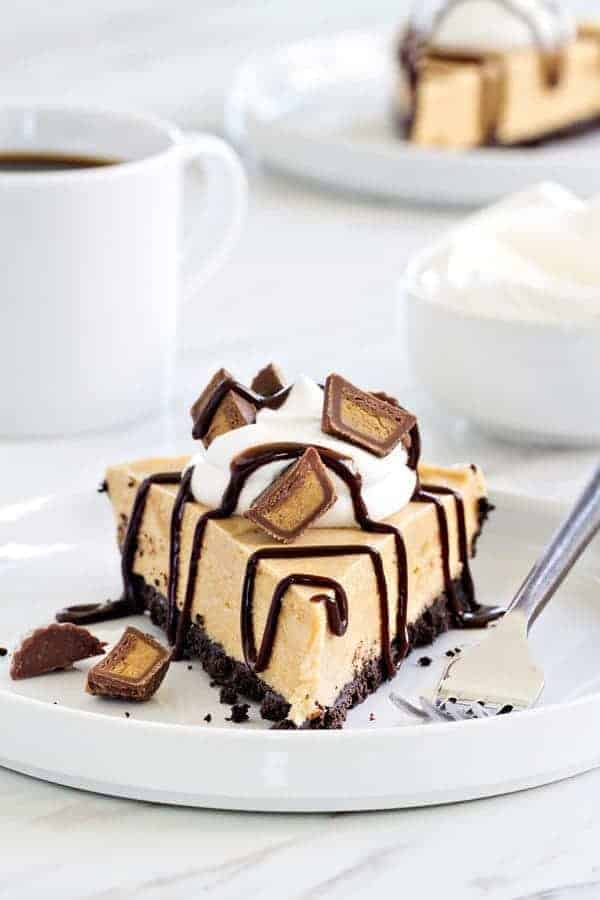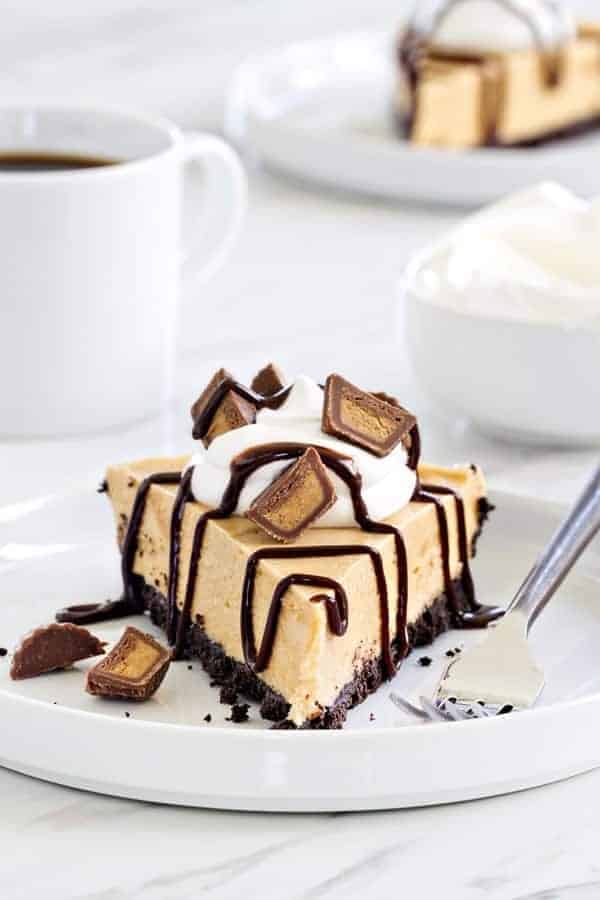 This post is sponsored by Challenge Dairy. Thank you for supporting the brands that make My Baking Addiction possible.
I can't believe that I am saying this, but I am so ready for fall. You guys are probably well aware that fall is my favorite season, but I typically don't find myself wishing away summer this early.
I mean, it's only August 15th. But it has been SO hot. I'm talking not wanting to leave the house, sweat off your makeup in 10 minutes hot. And if you know me at all, you know I hate being hot unless I'm lounging by a pool, fruity drink in hand.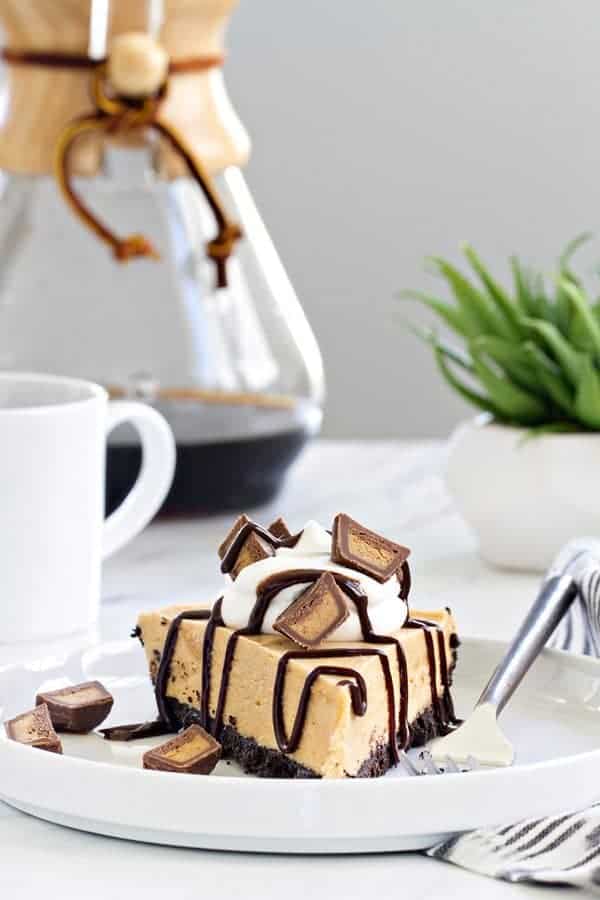 Needless to say, I haven't been baking much at all. We've been opting for fresh fruit and ice cream for dessert on most days – until I got a serious craving for peanut butter pie.
When I was 15, I worked at a family-owned diner that made a killer peanut butter pie, and I've always wanted to try to replicate it at home. Last week, I made three versions of this pie and I must say, I think I nailed it.
Except this one might be a tad bit better because it has a cookie crust instead of a traditional pie crust.
This peanut butter pie is super easy to make and the filling only requires a a handful of ingredients: creamy peanut butter, powdered sugar, heavy cream, vanilla and tangy Challenge Cream Cheese.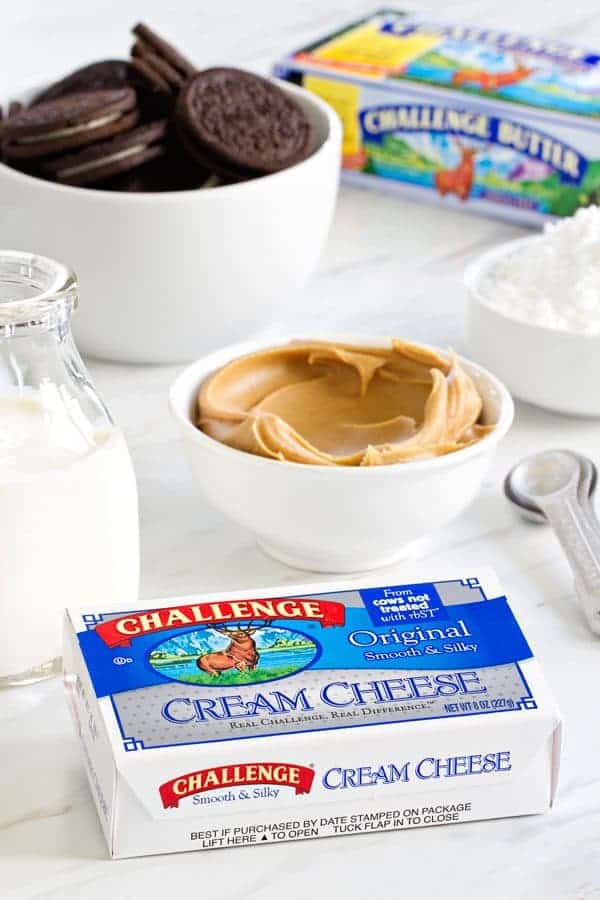 I made this pie using Challenge Dairy butter and cream cheese. I love working with their products because they're made the old fashioned way, from the freshest milk and cream from happy cows at local dairies.
They're the only dairy product company that controls the whole process from milking the cows, to transporting milk, to making the butter, to packaging. You gotta love that!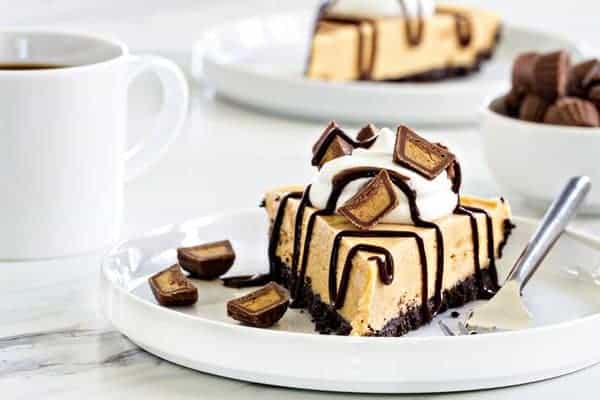 Whip this peanut butter pie up for a special occasion or on a Monday afternoon – it's that easy. And I promise you'll love be eating the light, fluffy filling right off of a spoon.
A dollop of whipped cream, a drizzle of chocolate sauce and mini peanut butter cups make it even more amazing!
If you're looking for more delicious desserts using Challenge Dairy, be sure to check out my Salted Caramel Cheesecake and Cheesecake Brownies!
Peanut Butter Pie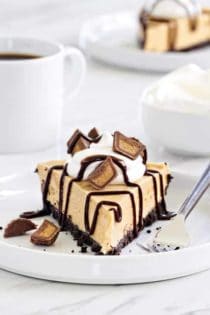 Ingredients:
25 whole Oreo cookies, crushed in a food processor until they form fine crumbs
4 tablespoons Challenge unsalted butter, melted
1 cup heavy cream
8 ounces Challenge cream cheese, room temperature
1 cup creamy peanut butter
1 cup powdered sugar, sifted
2 teaspoons pure vanilla
additional whipped cream for topping, optional
mini peanut butter cups, optional
chocolate sauce, optional
Directions:
Preheat oven to 350°F.
Mix together the Oreo crumbs and melted butter. Press the crumbs into the bottom and 1 inch up the sides of a 9-inch springform pan.
Bake for 10 minutes and cool completely on a wire rack.
In a stand mixer fitted with the whisk attachment, whisk the cream at high speed until it forms stiff peaks. Transfer the whipped cream to another large bowl and set aside.
Change the whisk attachment to the paddle attachment and beat the cream cheese and peanut butter at medium-high speed for 2 minutes.
Add in powdered sugar and vanilla and beat an additional 2 minutes.
Use a rubber spatula to fold the peanut butter mixture into the whipped cream until combined and no streaks remain.
Spoon the filling into the cooled cookie crust, cover and refrigerate for at least 4 hours.
Just before serving top with whipped cream, mini peanut butter cups and chocolate sauce.
Notes:
You can substitute the whipped cream for an 8-ounce container of thawed whipped topping.
Refrigerate pie immediately after serving.
All images and text ©
Follow Jamie on Instagram. We love to see what you're baking from MBA! Be sure to tag @jamiemba and use the hashtag #mbarecipes!