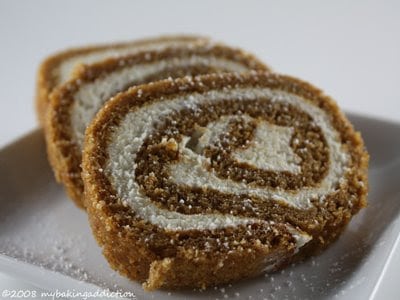 This has to be my favorite dessert ever! I have memories from early childhood making these with my grandmother. When I was no older that eight years old, I remember rolling these babies up in tea towels and slathering on that delicious cream cheese filling. My grandmother and I would make a bunch of these in the early fall and freeze them…which is why I think love them right out of the freezer…that or I am too impatient to let them thaw. Whenever I make one of these, people seem so impressed by the presentation, they have the notion that these take forever to make and are the product of a long and tedious process. Contrary to those thoughts, pumpkin rolls are easy to make once you get the hang of it! Aside from the ingredients listed below, make sure you have the following items on hand…tea towels, parchment paper, an off-set spatula, saran wrap, aluminum foil and a bit of patience. I had originally planned on doing a step by step tutorial of the process; however, life became very hectic and I had to scrap the idea. If you have any questions, shoot me an email or leave a comment and I will be more than happy to help you, I can even send ya a pic if need be.
PUMPKIN ROLL
Recipe
3/4 cup flour
1/2 tsp. nutmeg
2 tsp. cinnamon
1 tsp. pumpkin pie spice
1/2 tsp. salt
1 tsp. baking powder
2/3 cup canned pumpkin (not pie mix)
3 eggs
1 cup sugar
1 tsp pure vanilla extract
1 cup nuts (optional)
Directions
Mix first 6 ingredients together and set aside. Beat eggs, add sugar, vanilla then pumpkin. add dry ingredients. Spray a 15x10x1 inch baking pan cookie with Pam and line with parchment paper, also spray parchment paper. Add mixture to pan, spread evenly and bake at 375 degrees for 13-15 minutes or until golden and cake springs back when lightly touched with fingertips. Sprinkle tea towel generously with powdered sugar and invert cake onto towel. Gently remove parchment paper and roll cake and tea towel together. Place seam side down, cool completely.
CREAM CHEESE FILLING
1 cup powdered sugar; sifted
8 ounces cream cheese
5 tbsp. softened butter
1 tsp. pure vanilla extract
Directions
Beat together the cream cheese and butter until thoroughly combined, add in vanilla and powdered sugar. Unroll cake and evenly spread the cream cheese frosting onto the cooled cake. Re-roll the cake, wrap in plastic wrap and then in foil. Refrigerate overnight or freeze.