Use your favorite red velvet cake mix to whip up a batch of these red velvet crinkle cookies. These soft, chewy cookies are easy to make and their deep red color makes them perfect for celebrating Valentine's Day.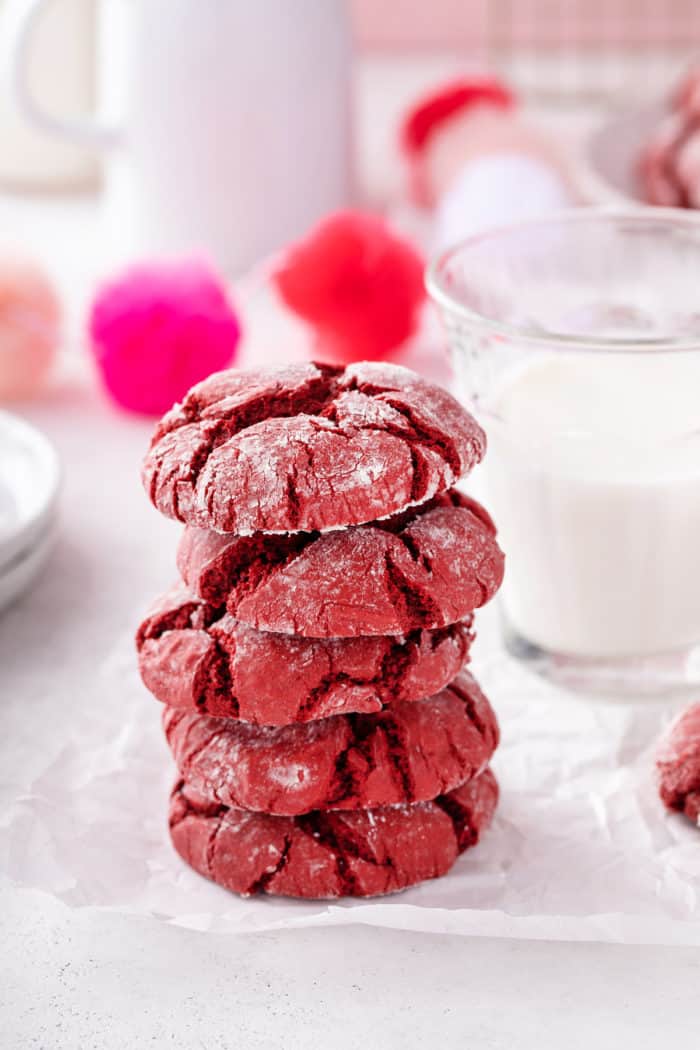 This post contains affiliate links.
Do you think of red velvet as a Valentine's Day thing or a Christmas thing?
I don't know if it depends on where you live, but I tend to think of red velvet cake around Valentine's Day – I guess because of the deep crimson color. But I know some people who love to enjoy it at Christmas instead.
I don't really think you can go wrong with either option, although right now I am all about these red velvet crinkle cookies. They're so easy that Elle can make them on her own to give to her friends for Valentine's Day.
If you're looking for a super simple Valentine's treat, this is it!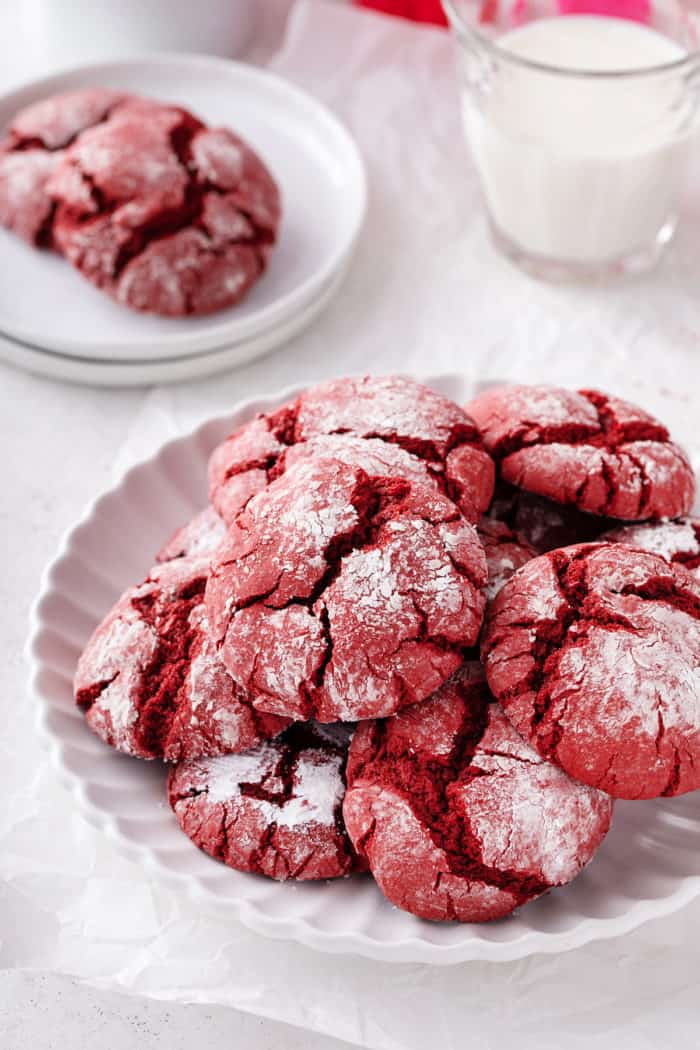 WHAT ARE CRINKLE COOKIES?
Crinkle cookies are so much fun. For some reason, there's something about them that just screams childhood to me.
Maybe it's the sugar on the outside or the many flavors you can make, or maybe it's just the fact that they're so easy to make with kids.
If you've never had crinkle cookies, they are soft and chewy cookies that have cracks and "crinkles" on the outside. They're usually rolled in powdered sugar before baking which helps the "crinkles" show up even more.
There are many from-scratch recipes for crinkle cookies out there, but I like to make mine with a cake mix. After all, we love making gooey butter cookies and cake mix cookies with cake mix, so why not give others a try??
My chocolate crinkle cookies are always a hit around the winter holidays, so I got to thinking about ways that I could change that recipe up for other holidays. Obviously I had to give red velvet crinkle cookies a try for Valentine's Day!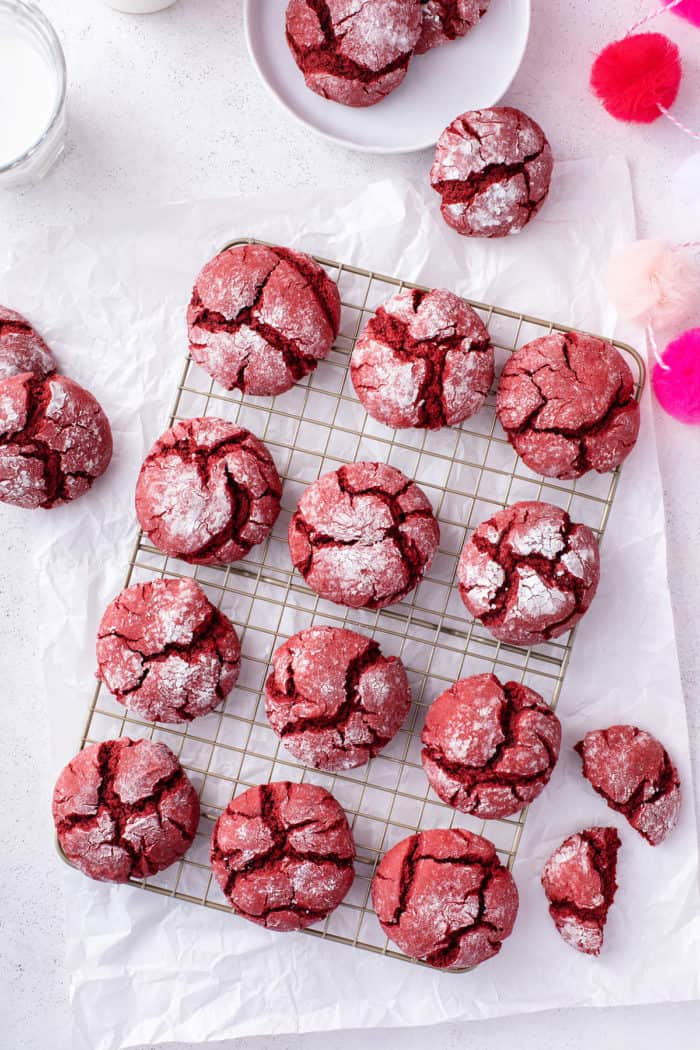 HOW TO MAKE RED VELVET CRINKLE COOKIES
These red velvet crinkle cookies come together in a matter of just a few minutes with only 5 ingredients. It makes them a wonderful cookie to make as a last-minute treat or party addition, and they're so simple that kids can pretty much make them by themselves!
Ingredients you'll need
You only need 5 ingredients to make these cookies. In fact, you probably have almost all of them on hand right now.
Red velvet cake mix: The main ingredient for this recipe is a box of red velvet cake mix. I typically use a Betty Crocker or Duncan Hines mix, but feel free to use your favorite.
I have not tried this recipe with a gluten-free cake mix, but would love to know if anyone gives it a try.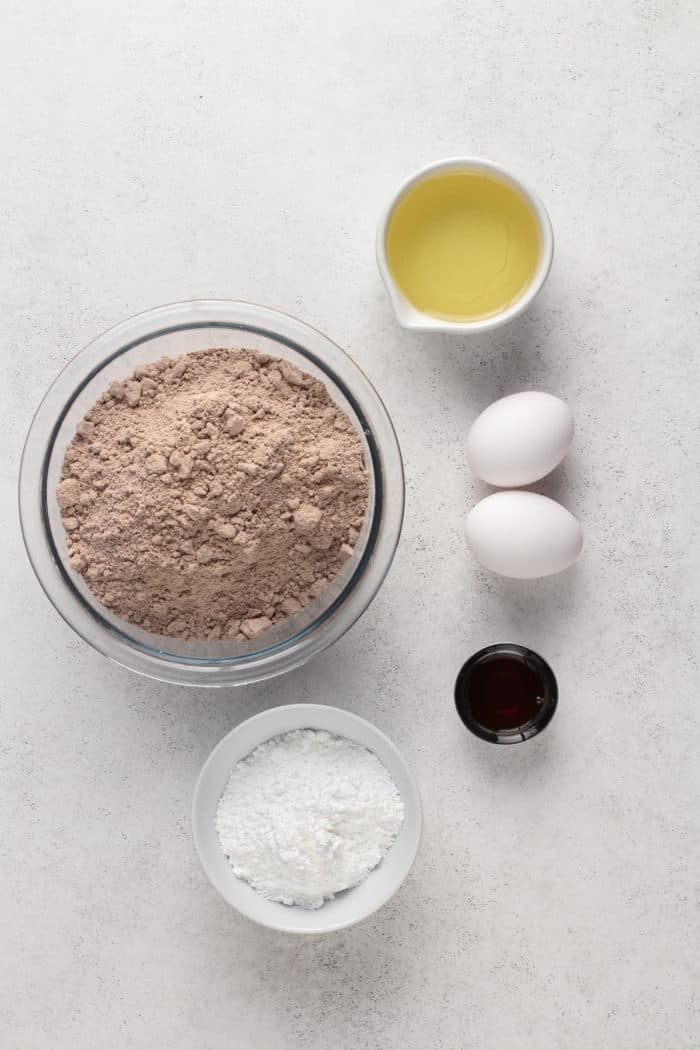 Large eggs: You'll need 2 large eggs for these cookies.
Vegetable oil: I use vegetable oil in my red velvet crinkle cookies, but any neutral-flavored oil should work fine, such as avocado oil.
Vanilla extract: This is one of those additional ingredients that you can technically skip, but I always include it. Adding just a splash of vanilla extract or vanilla bean paste makes a big difference in the final flavor of the cookies!
Powdered sugar: We'll roll the cookie dough in powdered sugar before baking the cookies. If you find you've run out, learn how to make powdered sugar in just a handful of minutes.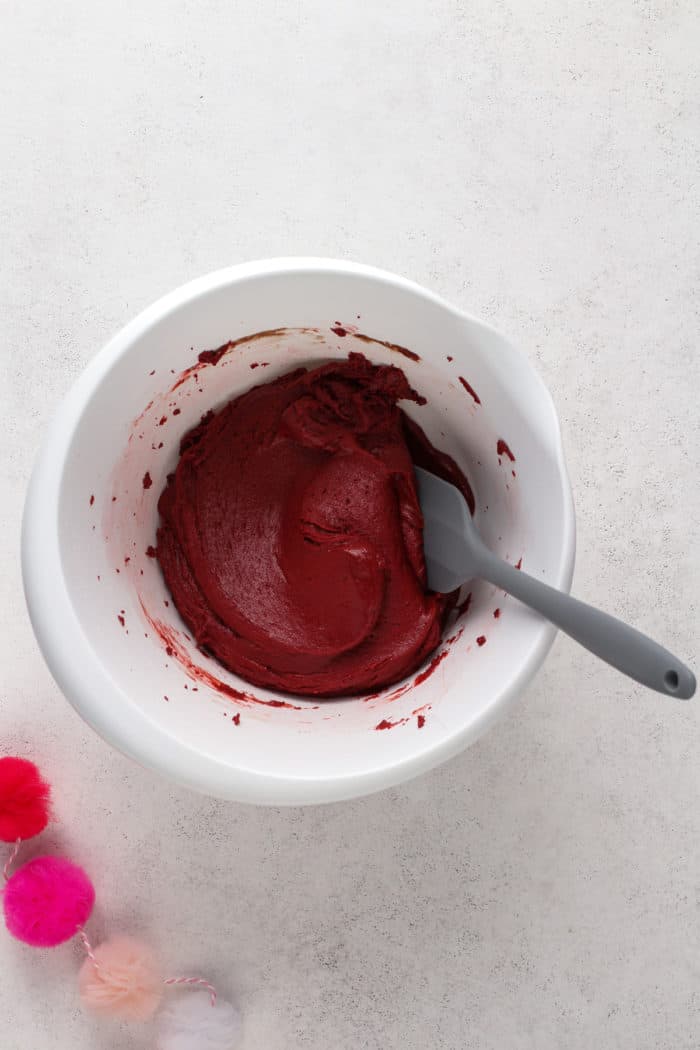 Making my red velvet crinkle cookies
I like to quickly throw this cookie dough together with my hand mixer, but you can use a stand mixer if you prefer.
Use your mixer to beat together the cake mix, eggs, oil, and vanilla until well combined. Add your powdered sugar to a separate bowl.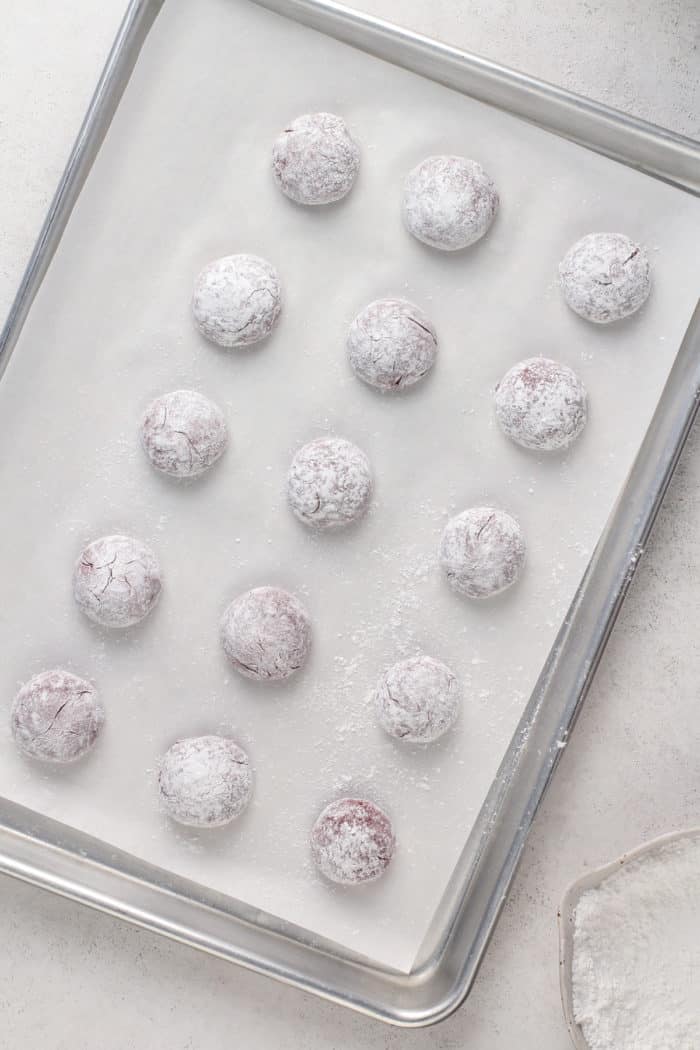 Use a medium cookie scoop to portion out balls of the dough – you should get about 18 cookies or so. Roll each dough ball in the powdered sugar. The dough will be sticky, so the powdered sugar will help you form the dough into a more uniform ball.
Place the dough balls onto a lined baking sheet and bake for 7-9 minutes.
The cookies are done when the bottoms are set but the middles still look a bit undercooked. Let the red velvet crinkle cookies rest on the baking sheet for about 5 minutes before you move them to a wire rack to cool completely.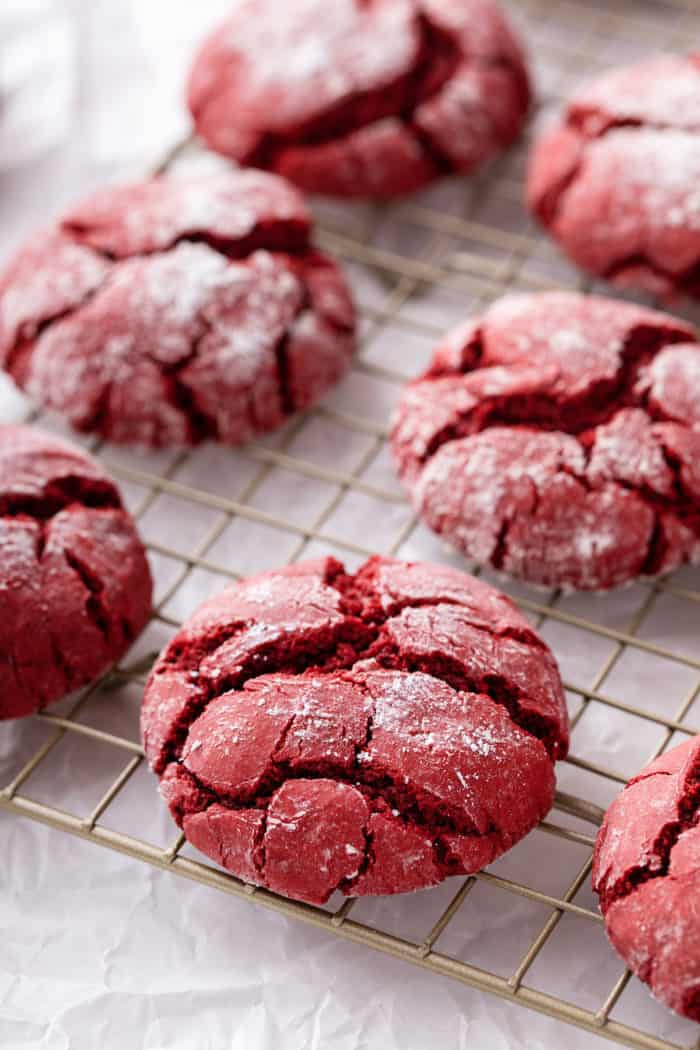 STORAGE
Once the red velvet crinkle cookies have cooled, store them in an airtight container at room temperature for up to 4 days.
If you'd like to freeze the cookies, freeze them in an airtight container or zip-top freezer bag for up to a month. Thaw the cookies at room temperature before enjoying.