Salted Caramel Cheesecake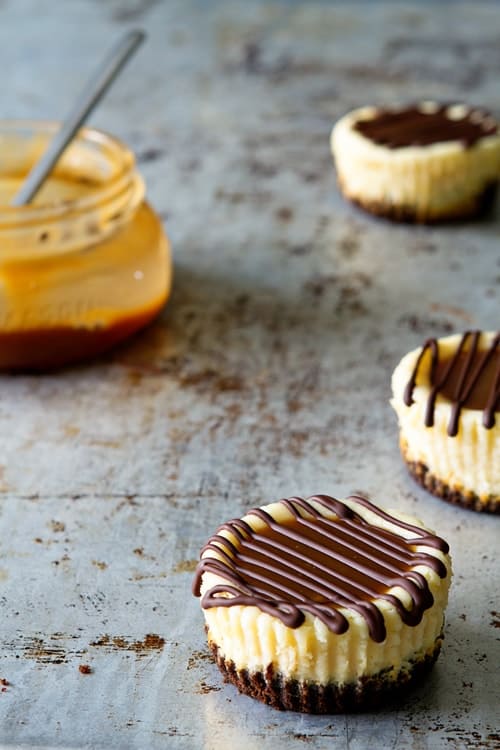 Mini Salted Caramel Cheesecakes are topped with homemade salted caramel sauce and a chocolate drizzle to create one of the most delicious cheesecakes you'll ever eat.
I like to consider myself one of the "official birthday bakers" of my family. There are a lot of people in my family, and that means a lot of birthdays. There's nothing better than presenting someone you love with their favorite treats to celebrate another year of being family.
If you've been following along the last few weeks, you know that Eric, Elle and I are planning to make the move back near where I grew up. We really want Elle to be near all her grandparents, uncle, great aunties, and cousins.
Plus, if Eric and I are being honest, we're kinda tired of making that hour and a half drive each way every single time there's something to celebrate – like a birthday or a Browns game. I can tell you right now, it's not fun to transport desserts in a car with two dogs, and it's also not fun making them in a kitchen that isn't your own.
Luckily, the prevailing birthday treat in my immediate family isn't cake or cupcakes.. it's cheesecake. And cheesecake can transport like a champ – especially when they're cute mini cheesecakes like these.
Did you know that September is the most popular birthday month? Guess there's just something about December 31st that makes people happy! September also happens to be the McCormick Spice Company's official birthday too. Talk about gettin' spicy.
McCormick asked if I'd like to share with you some of my favorite birthday flavor stories, and around here, that flavor is 100% cheesecake. Smooth, velvety, vanilla-infused cheesecake that's heavy on the salted caramel sauce.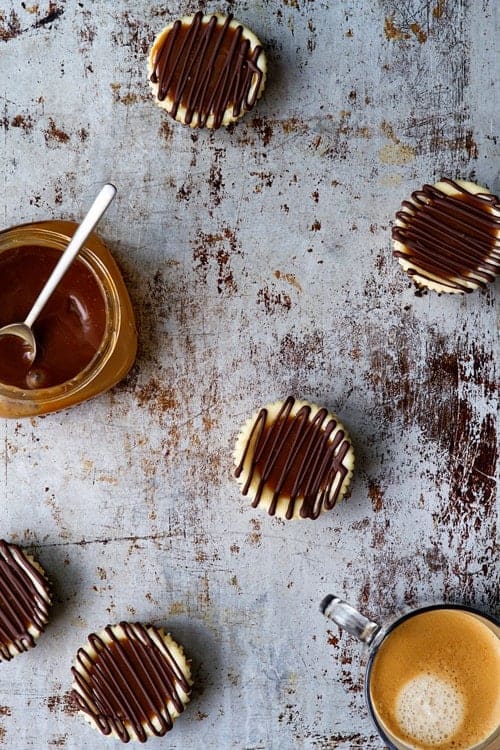 Almost every birthday, for as long as I can remember, has always been about cheesecake. When three out of the four people in your immediate family are addicted to the stuff, it's pretty much a no-brainer that that's where you'll plant your birthday candles instead of a plain old yellow cake (or even the best chocolate cake).
Every year has been about topping (literally) the previous birthday's cheesecakes. I have so many great memories of all the scrumptious cheesecakes we've made over the years, especially when my Nana was still alive. I'll be sharing her famous cheesecake recipe very soon, so stay tuned.
My mom and Jared were all over this Salted Caramel Cheesecake. My mom even proclaimed it to be the best cheesecake she's ever eaten and let me tell you, we've eaten a lot of cheesecake. Topped with salty caramel and a chocolate drizzle with chocolate graham crumbs for the crust, this cheesecake is the definition of birthday celebrations in my family.
I'm using McCormick's Extra Rich Vanilla Extract for this cheesecake; it's their newest vanilla, and stronger than what you'd usually find. It's just the right balance between sweet caramel and
bourbon-y flavors, making it extra perfect for Salted Caramel Cheesecake.
To celebrate their birthday this month, McCormick is igniting a conversation around birthdays and asking people to share their favorite birthday flavor story – maybe it's a memorable party, an unforgettable birthday cake, or the best gift you've ever received.
So tell me, what's your favorite birthday story? Tell me in the comments below, or on Facebook and Twitter using the hashtag #FlavorStory.
Salted Caramel Cheesecake Bites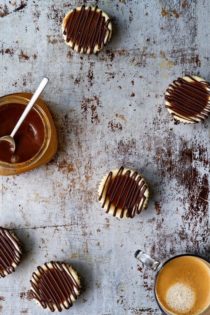 Ingredients:
For the Crust
9 full chocolate graham cracker sheets, crushed into crumbs
4 tablespoons salted butter, melted
For the Cheesecake
2 packages (8 ounces each) cream cheese, room temperature
2/3 cup granulated sugar
2 large eggs, room temperature
2 teaspoons McCormick® Extra Rich Pure Vanilla Extract
For the Topping
Directions:
Preheat oven to 325°F. Line 12 muffin cups with paper baking liners.
In a small bowl, combine chocolate graham cracker crumbs and butter, mix until combined.
Press crumbs onto the bottoms of the lined muffin cups. Bake in preheated oven for 5 minutes.
Remove pan to a wire rack to cool while you prepare the cheesecake filling.
In the bowl of a stand mixer fitted with the paddle attachment or in a large bowl with an electric mixer, beat cream cheese for about two minutes. Add in sugar and mix for another minute. Add eggs and vanilla, beat well. Be sure to scrape down the sides of the bowl to ensure the batter is thoroughly mixed.
Spoon batter into each cup (about 3 tablespoons), filling each 2/3 full.
Bake 22 to 24 minutes or until centers are almost set. Cool in pan on wire rack. (Mini cheesecakes will deflate in center upon cooling.).
Refrigerate 4 hours or overnight.
Before serving, spoon 1 heaping teaspoonful of salted caramel sauce onto each mini cheesecake and drizzle with melted chocolate.
Notes:
Salted Caramel Cheesecake can be covered and stored within the refrigerator for up to 3 days.
Follow Jamie on Instagram. We love to see what you're baking from MBA! Be sure to tag @jamiemba and use the hashtag #mbarecipes!
Disclosure: This is a sponsored post written by My Baking Addiction on behalf of McCormick® Extra Rich Pure Vanilla Extract. The views and opinions expressed on My Baking Addiction are purely my own.
Craving salted caramel? Check out these delicious recipes!
Salted Caramel S'mores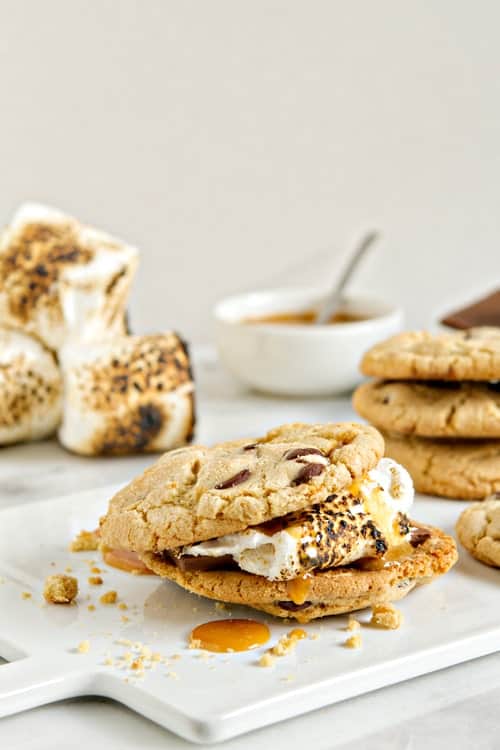 Salted Caramel Chocolate Chip Cookies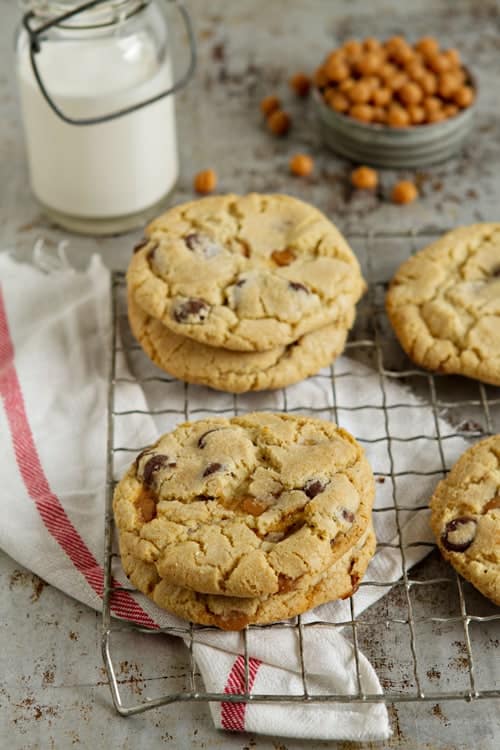 Salted Caramel Brownies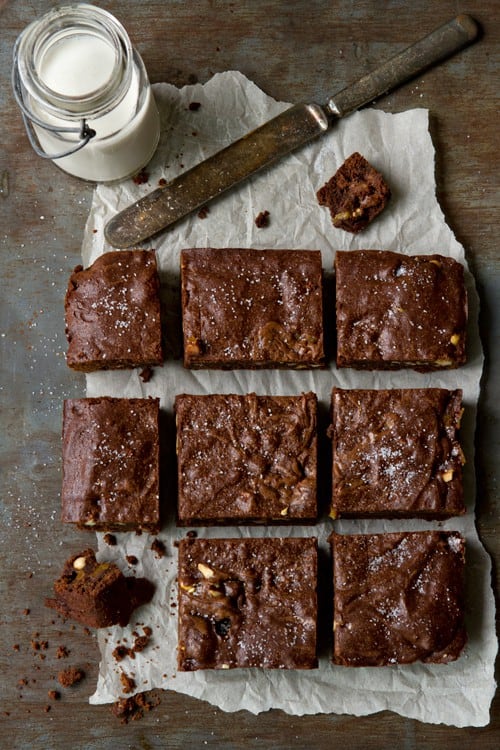 This post may contain affiliate links. We are a participant in the Amazon Services LLC Associates Program, an affiliate advertising program designed to provide a means for us to earn fees by linking to Amazon.com and affiliated sites.