Slow Cooker Taco Soup uses up all your fresh and frozen veggies for a hearty, cozy dinner. Making it couldn't be easier!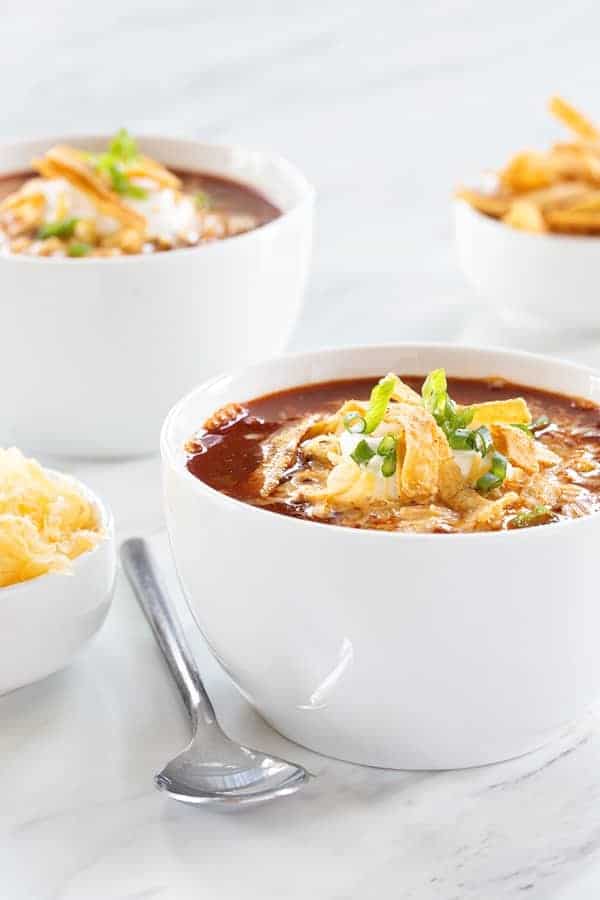 This is a sponsored post on behalf of Glad® Food Protection. Thank you for continuing to support the brands that make My Baking Addiction possible.
The other night, we made some really spectacular tacos. I was trying to use up some ground beef we had before it went bad, and I had definitely over-bought. No surprise there.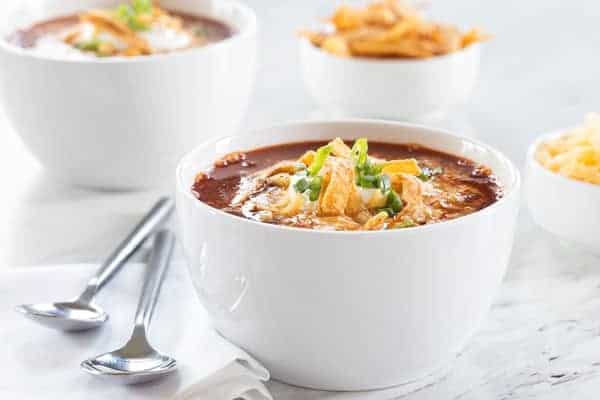 So even after eating our weight in delicious crunchy tacos, I had a lot of meat left over. I was talking to my friend Amber about it, and she wondered, "How would that be in soup?"
Well, you guys know me. I'm not going to leave a question like that unanswered.
We also had leftover chopped onions, corn, and cheese in the fridge. So the next day, I tossed the leftover taco meat, cans of spicy tomatoes, black beans, and the leftover corn and onions, right into my slow cooker.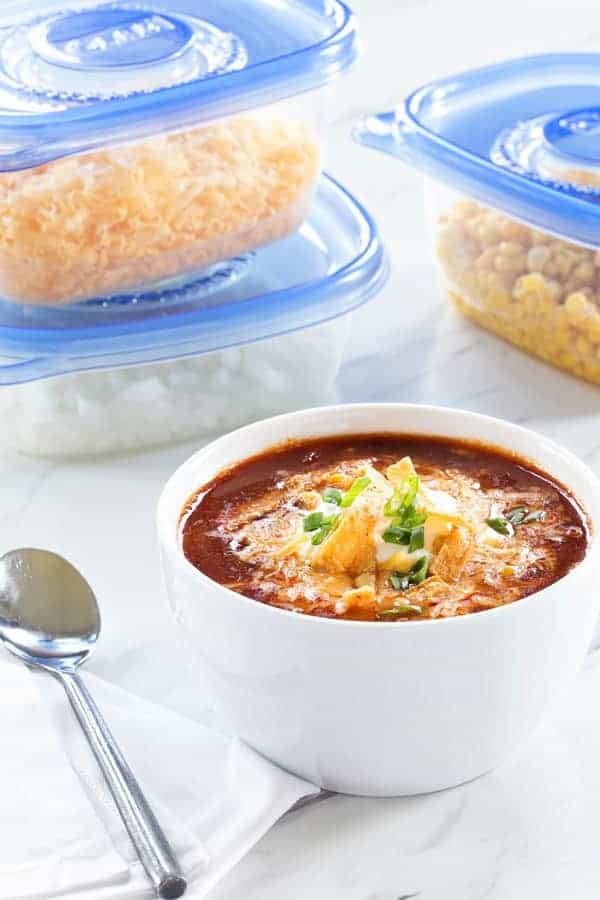 With lots of garlic and tomato sauce to make the broth more hearty, the scent wafting through our house all day was downright amazing. And I'm so glad I was able to use up all those leftover ingredients.
It's so important to me to eliminate as much food waste as we can. We try to cook proportionately, or make things that we're for sure going to eat as leftovers, like this soup.
All you need to do is grab some GLAD® containers that are just the right size for either a full family meal, or single servings for lunches. Portion out the leftover soup, allow it cool, and then freeze it for a rainy day.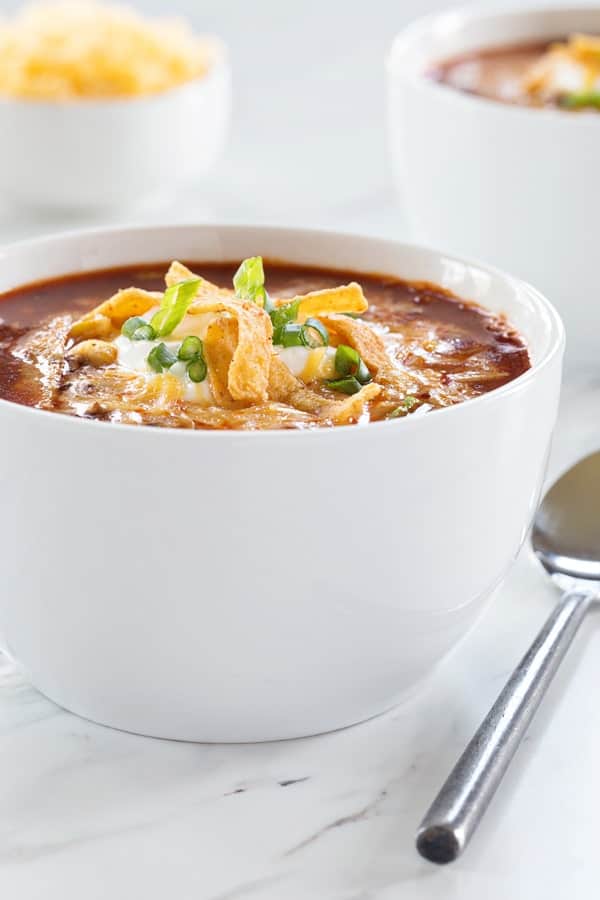 Literally. This is the BEST soup for a rainy day. You can garnish it any way you like, but we added tortilla strips and sour cream, shredded cheese and a little green onion.
Flavors like that are going to make just about anything amazing, but this Slow Cooker Taco Soup may just be my new favorite meal.
Those GLAD® containers will also keep this soup fresh in the refrigerator for days, if you just want to make-ahead your lunches or dinners for the week. Talk about organized living!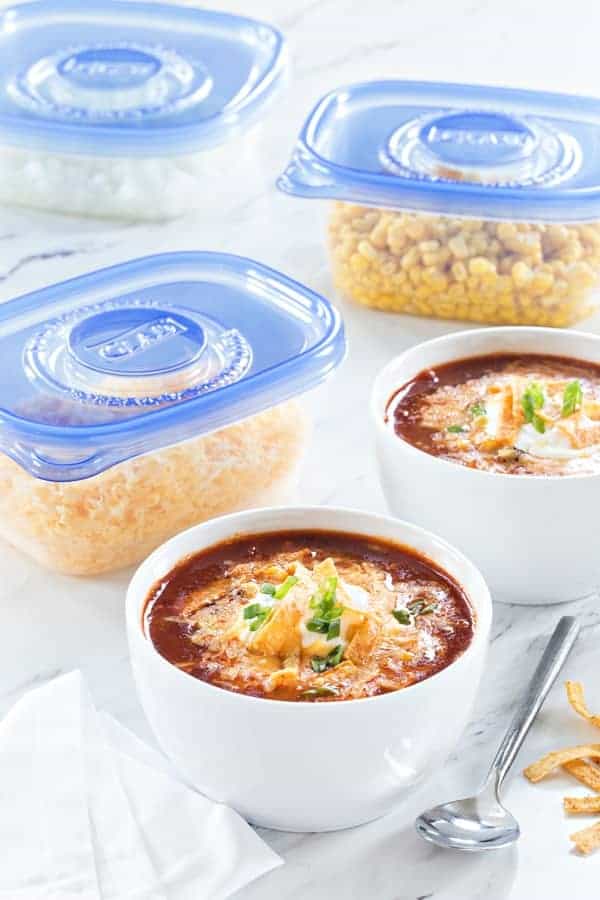 The GLAD® Soup & Salad containers are also perfect for going straight from the fridge to the microwave, to eating, so you don't even need to dirty extra dishes. And speaking of salad – that would make a great side to this yummy soup.
There are so many ways you can save this Slow Cooker Taco Soup to enjoy later, or in a few hours. Because that might be all the time there is between your first meal and your second. It's THAT good.
Be sure to visit the GLAD® website for more food storage tips!
Slow Cooker Taco Soup
Yield: 10-12 servings
Prep Time: 20 minutes
Cook Time: 6-8 hours in slow cooker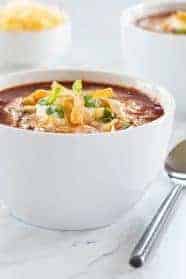 Ingredients:
2 tablespoons olive oil
1.5 pounds ground beef
1 cup diced onions
3 cloves of garlic, minced
3 tablespoons homemade taco seasoning
2 10-ounce cans of diced tomatoes with green chilies, undrained
2 8-ounce cans tomato sauce
2 15-ounce cans black beans, drained and rinsed
1 14-ounce can corn
2 cups water
salt and pepper to taste
shredded cheese, optional
sour cream, optional
sliced green onion, optional
tortilla strips, optional
Directions:
Heat oil in a large skillet over medium heat. Add in ground beef and cook until the beef starts to brown. Add in onions and garlic and cook until the beef is completely browned. Drain excess oil.
Return the pan to medium heat and stir in homemade taco seasoning. Cook for 2 minutes, stirring constantly.
Transfer ground beef mixture to a slow cooker.
Stir in diced tomatoes, tomato sauce, black beans, corn and water.
Cover and cook on low for 6-8 hours, or high for 3 hours. Add salt and pepper to taste.
Before serving, top with shredded cheese, sour cream, green onion and tortilla strips.
Notes:
If you prefer to cook this taco soup on the stovetop, simply cook the beef mixture in a large Dutch oven, add in the diced tomatoes, tomato sauce, black beans, corn and water. Cover and simmer on low heat for about 1 hour.
I included directions for making the taco meat at the same time as the soup, but please feel free to do what we did and use leftover taco meat. If you do that, start the soup with ingredients from the cans of diced tomatoes with green chiles forward.
This is a sponsored conversation written by me on behalf of Glad Food Protection. The opinions and text are all mine.
4 Responses to "Slow Cooker Taco Soup"