Crockpot Taco Soup simmers all day long for a comforting meal at the end of the day. Making it couldn't be easier!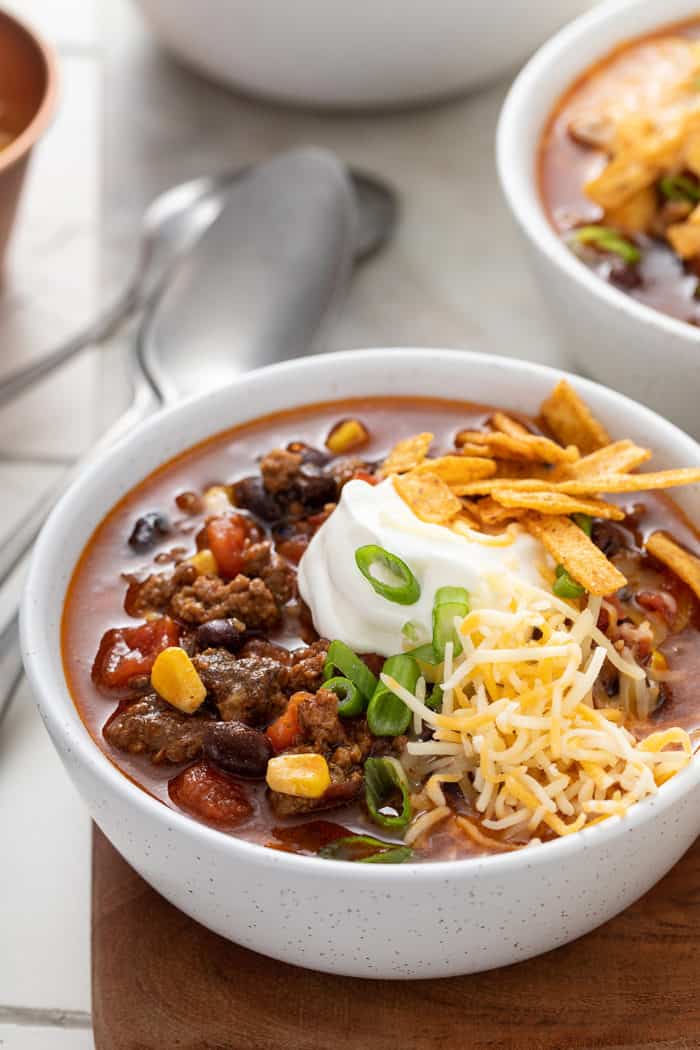 As we're easing our way back into our normal day to day lives after the holiday break, I am all about quick and simple dinners – especially if they are Crockpot friendly.
This Crockpot Taco Soup comes together in snap, is loaded with delicious flavors and textures and the leftovers are absolutely perfect for a quick lunch for yourself or your kiddos!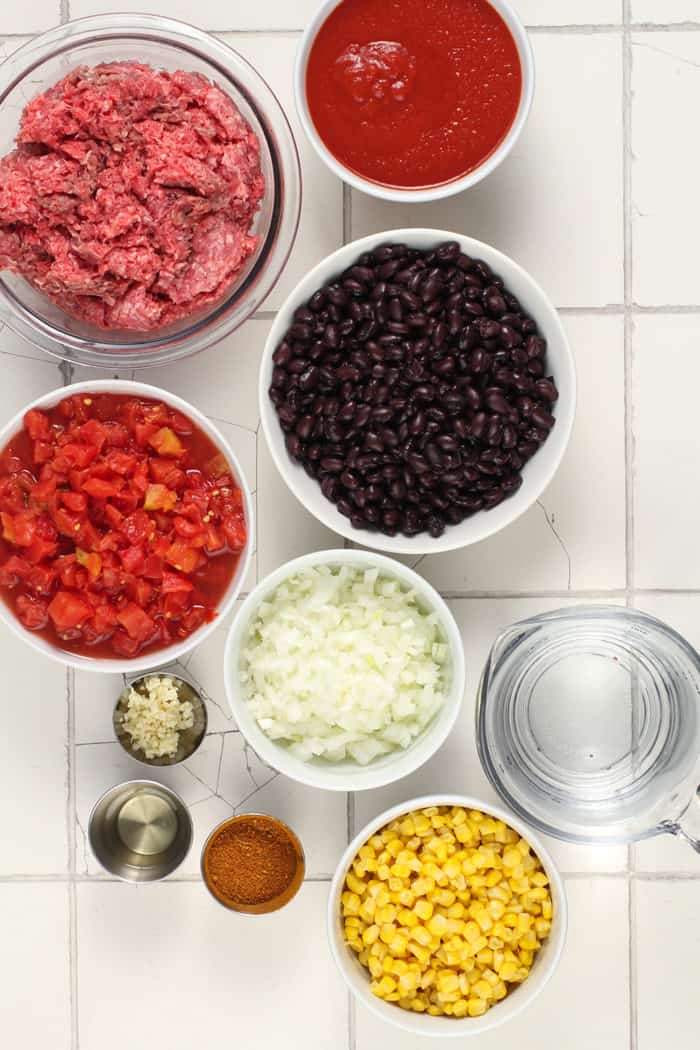 TACO SOUP INGREDIENTS
This taco soup recipe came to be when I was trying to figure out what to do with an excess of leftover taco meat. My friend Amber wondered, "How would that be in soup?"
Well, you guys know me. I'm not going to leave a question like that unanswered.
So I grabbed my trusty crockpot and grabbed some pantry staples and got to work.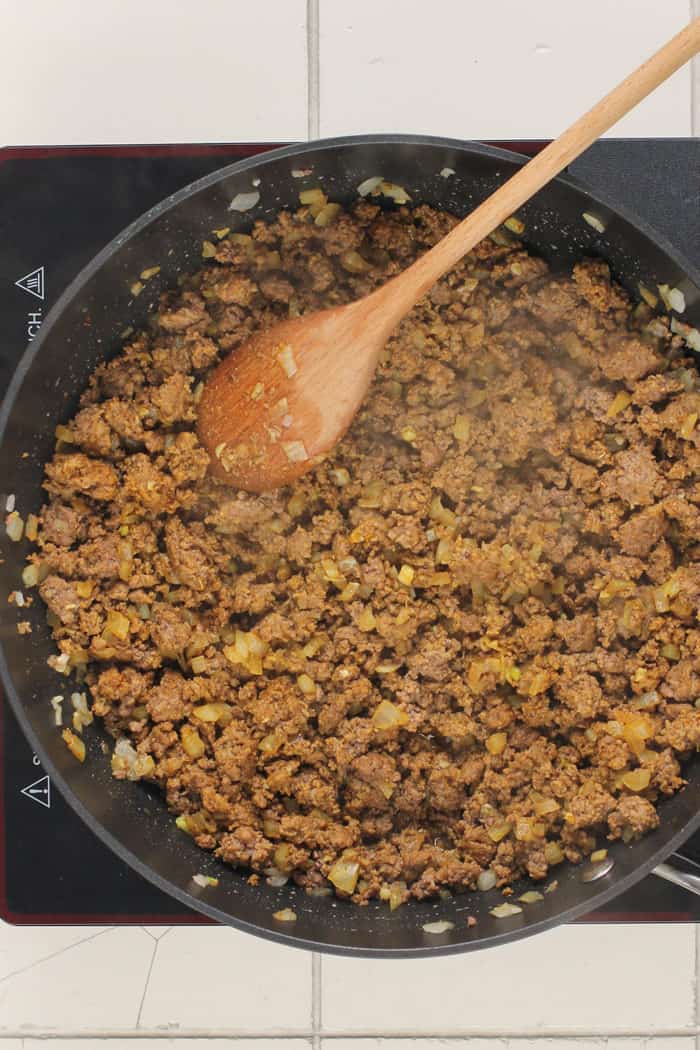 I wanted this Crockpot Taco Soup to be simple to make with ingredients you likely have on hand, so it uses:
Ground beef
Onions
Garlic
Canned diced tomatoes with green chilies
Canned tomato sauce
Canned black beans
Canned corn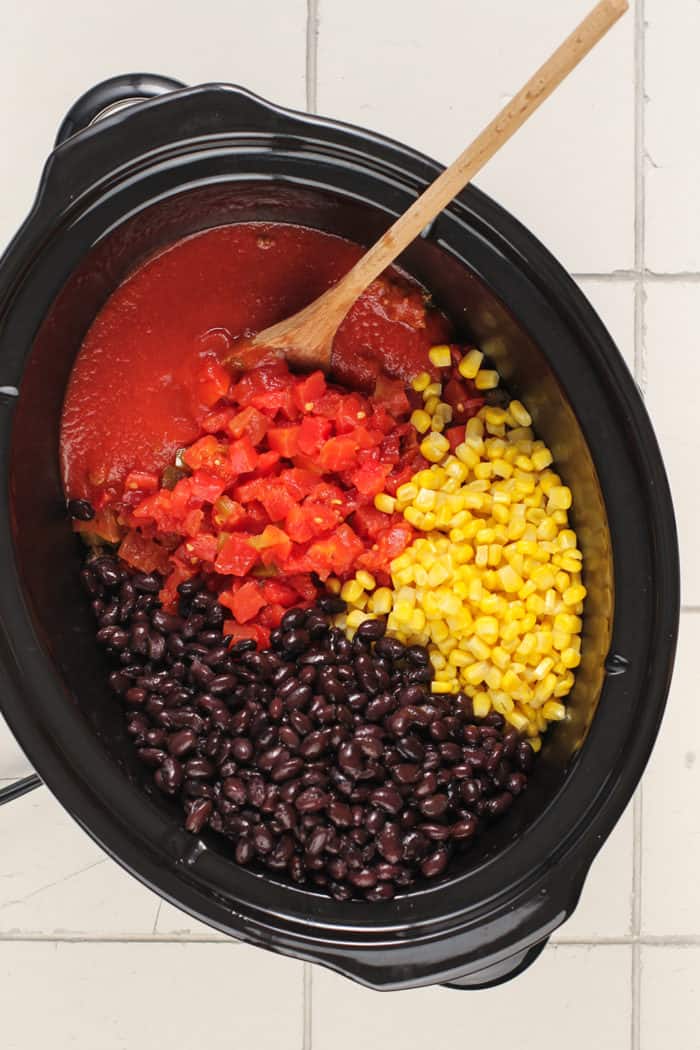 If you don't want to use canned corn, you could always swap it for frozen corn or even fresh corn cut from the cob.
You could also swap the canned beans for home-cooked black beans.
You could even use ground turkey instead of ground beef if you want! That's the beauty of recipes like this – they're easy to customize with ingredients you have on hand.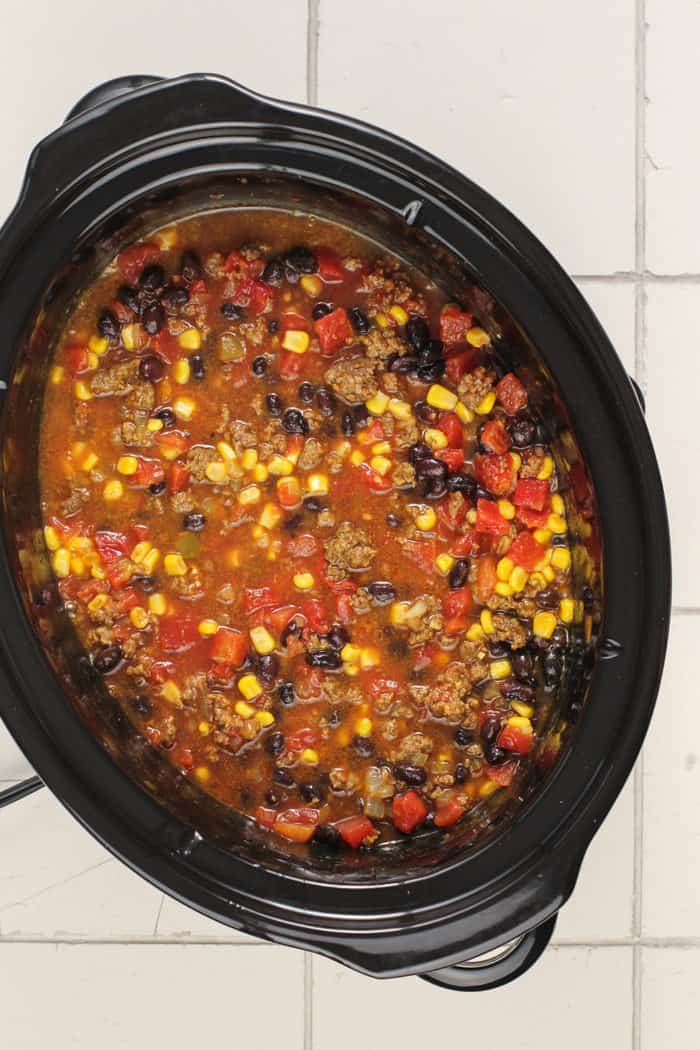 IS TACO SOUP SPICY?
Whether you love your food spicy or mild, this Crockpot Taco Soup is for you. Just like when you're making Spicy Guacamole, you can make this soup as mild or as spicy as you like.
If you like your soup mild, use homemade taco seasoning and regular canned tomatoes with green chiles.
If you want your soup to be spicier, use a hot and spicy taco seasoning and tomatoes with hot green chiles. You can even add as much of your favorite hot sauce as you like; Cholula, Melinda's, or Tapatío would be great here.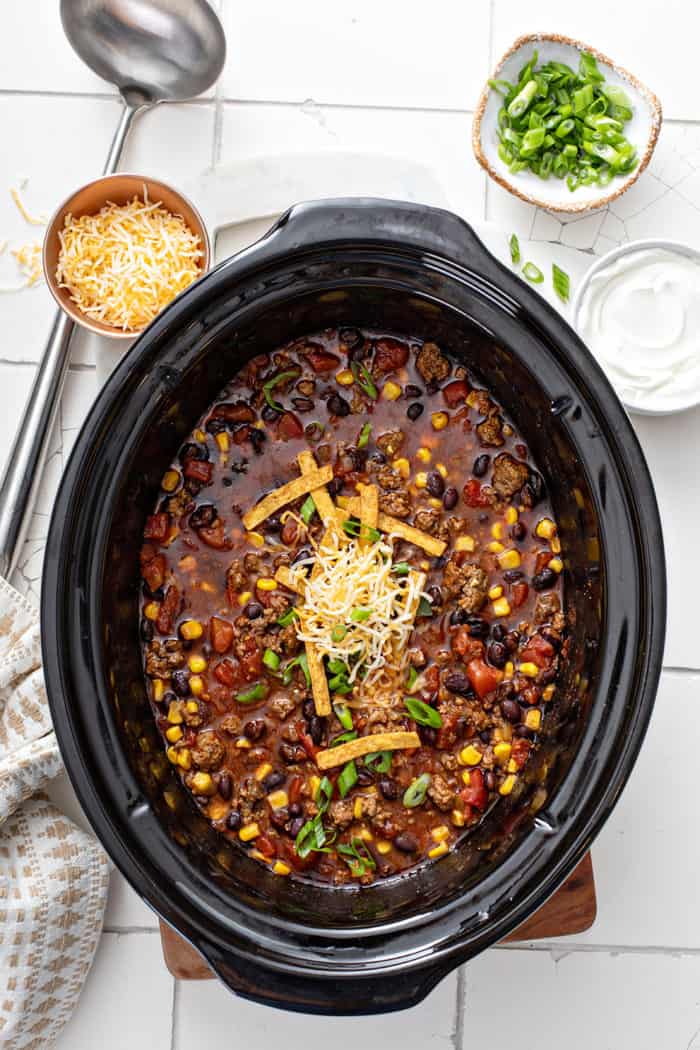 HOW TO MAKE CROCKPOT TACO SOUP
Thanks to the trusty slow cooker, this soup is super quick to throw together. I let it simmer all day long and am happy to have dinner ready at the end of a long day.
Start by browning the ground beef, onions, and garlic together. Drain any excess oil or grease, then add the taco seasoning. Transfer this mixture to your slow cooker.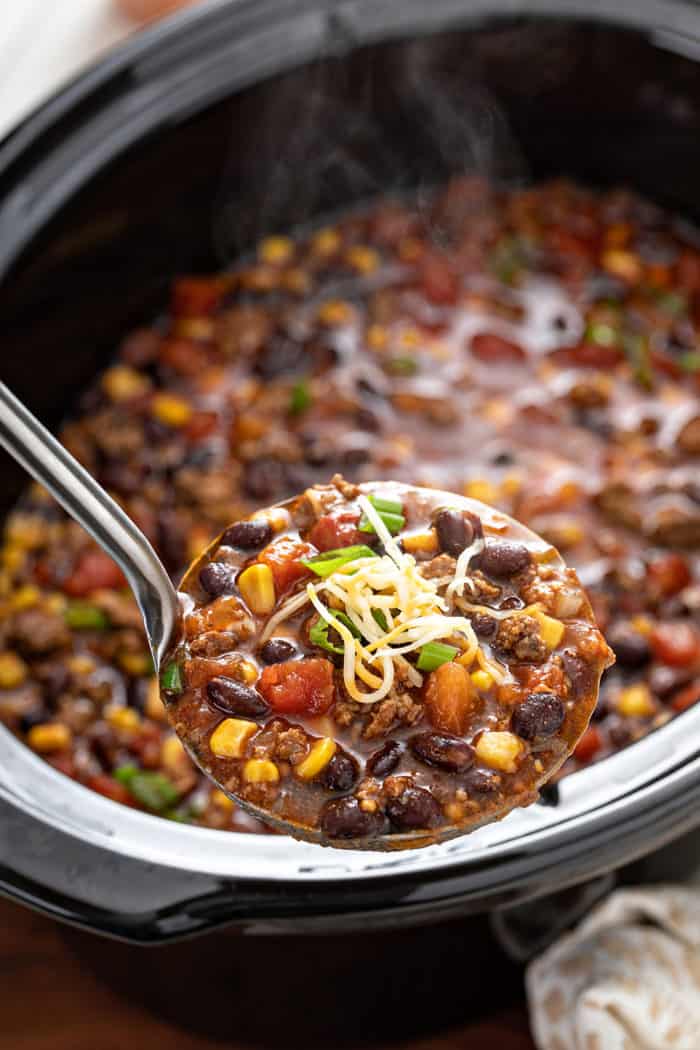 If you are using the slow cooker function on your Instant Pot or have a slow cooker with a saute function, you can do this all in your crockpot without having to dirty up a skillet!
Add the tomatoes with green chiles, tomato sauce, black beans, corn, and water to the pot. Give it a stir, then cover and cook on low for 6-8 hours.
When the soup is done, season with salt and pepper to taste and serve!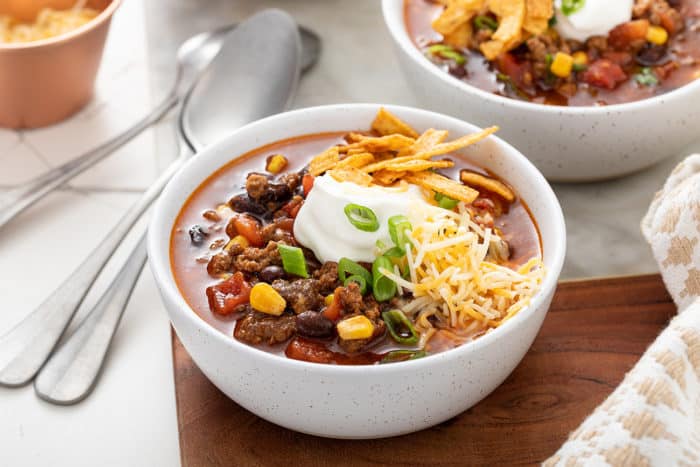 SERVING AND FREEZING TIPS
There are so many ways you can top your taco soup. We like to garnish ours with tortilla strips and sour cream, shredded cheese, and green onion.
Sliced fresh or pickled jalapeños would be great as well, as would pickled or fresh onions. And don't forget the hot sauce!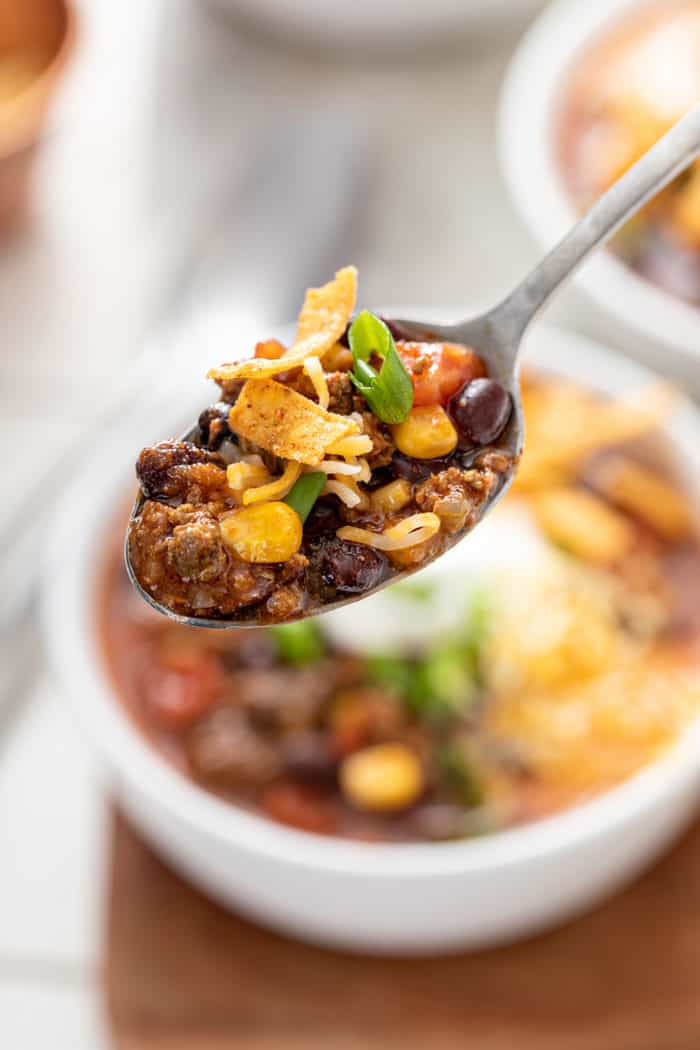 Whenever I make Crockpot Taco Soup, Tortilla Soup, or Easy Chicken Chili, I like to put out small bowls of a bunch of different toppings so everyone can dress up their soup exactly the way they like it.
This soup also freezes well. Just let it cool and store it in an airtight container in the freezer for up to three months.
For quick lunches, store it in smaller containers that you can grab and toss into your lunchbox as you run out the door.