Baked Apple Puff and a Cookbook Giveaway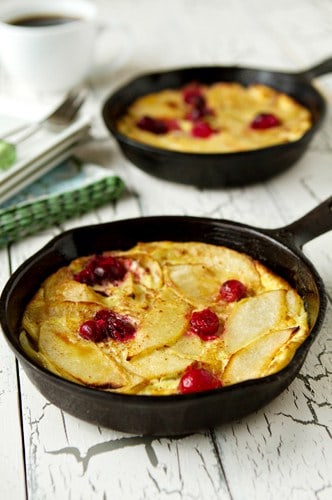 Growing up, my brother and I were always fond of breakfast for dinner. There was something very "opposite day" about it that intrigued us like no other meal could. We almost felt like little rebels basking in a stack of pancakes dripping in syrup while our neighborhood friends sat down to spaghetti or pot roast.
At 32, I still enjoy a good omelet for dinner and even the occasional Belgian waffle, so this recipe for a Baked Apple Puff really stood out in Michelle Stern's new cookbook, The Whole Family Cookbook.
I had the pleasure of meeting Michelle back in October at BlogHer Food in San Francisco. We were among a group of people that were left momentarily stranded at a function which led us to being smooshed into a limo like sardines while winding through the streets on San Francisco.
Being that I am extremely claustrophobic and get insanely car sick, I was about two seconds away from either breathing or vomiting (maybe both) into a paper bag before the limo came to screeching halt at the curb of our hotel.
Michelle's passion for teaching children about fresh, wholesome food is evident throughout her entire book, which is full of unique recipes that will help you get your children involved the kitchen. Michelle provides you with great tasting recipes using accessible, fresh and local ingredients along with easy to follow, color coded, step by step instructions.
It will get you excited about dragging a stool into the kitchen and allowing your little one to crack eggs, measure flour, stir batters, and a myriad of other little-hand suitable tasks. In turn, helping out will get them excited about the food that they are helping to create!
Your kiddos are going to love this Baked Apple Puff. And to get them excited about the many other recipes in The Whole Family Cookbook, Michelle has graciously offered up a copy of it to one lucky MBA reader.
How to Enter:
Simply leave a comment with what your favorite childhood memory of cooking is.
Important Details:
-This giveaway is open to USA residents only and will run until Sunday, April 17th at 11:59 pm EST.
-Winner will be generated via a random number generator software program. Winner will be notified via the contact email provided on the comment contact form.
-Winner will have until 4/21/11 to claim their cookbook, or we will choose another winner.
-Winner will receive one copy of  The Whole Family Cookbook. Product will be shipped by the publisher.
-See Official Giveaway Rules
Disclosure:
I was given a copy of The Whole Family Cookbook  free of charge; however, I was not monetarily compensated for a positive review or giveaway.[/donotprint]

Baked Apple Puff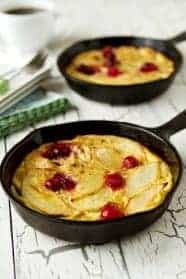 Ingredients:
5 tablespoons butter, divided
3 eggs
3/4 cup milk
3 tablespoons granulated sugar, divided
1/2 teaspoon vanilla extract
1 1/4 teaspoons ground cinnamon, divided
1/4 teaspoons salt
1/2 cup flour
2 small crisp apples, peeled, cored and thinly sliced
Directions:
Preheat oven to 450º
1. Melt 2 tablespoons butter.
2. In a medium-sized bowl, crack the eggs. Beat lightly. Add the melted butter.
3. Combine milk, 1 tablespoon sugar, vanilla, 1/4 t. ground cinnamon, salt and flour. Add to the eggs. Combine until well blended.
4. Heat the remaining 3 tablespoons butter in a 10-inch oven proof skillet. Add the sliced apples and cook until they are golden brown, 5 - 10 minutes.
5. Pour batter over the apples.
6. Combine 2 tablespoons granulated sugar and 1 tablespoon cinnamon and stir them together in a small bowl. Sprinkle the cinnamon sugar mixer over the batter.
7. Place the skillet into the oven and bake for 15-25 minutes until gently browned and puffed. Do not open the oven door. Or it will deflate!
8. Remove the skillet from the oven. Cut into wedges and serve immediately.
Notes:
- I added a handful of frozen cranberries to the mix for a little pop of color.
252 Responses to "Baked Apple Puff and a Cookbook Giveaway"

Leave a Comment