There is something about scones that makes me want to curl up on my couch with a cup of tea and spend hours watching old movies under a fuzzy blanket. This is definitely not a luxury I have very often, but I still make scones and simply eat them while running out the door.
Although the weather has warmed up here in Ohio, I was craving fall flavors and really wanted a cinnamony, buttery, delicious scone. Once I thought of a game plan, these scones were on mind through hours of shopping and errands. The plan? Cinnamon chip scones with a cream cheese drizzle—seriously, how good does that sound?!?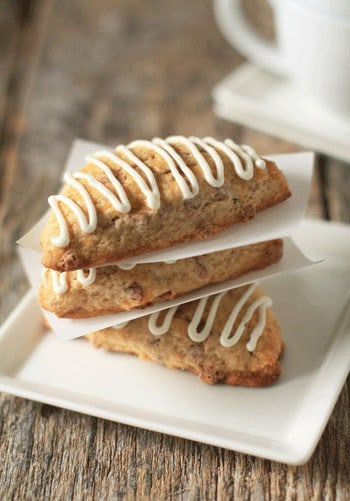 When I got home from shopping I threw together a batch plain scone dough and tossed in one cup of mini cinnamon chips and some ground cinnamon. The results were delicious; a nice buttery, slightly sweet scone bursting with fabulous cinnamon flavor. The cream cheese glaze made them extraordinary– so good in fact– I ate one for dinner instead of the filet mignon Brian grilled for me! Sound crazy? Well, keep in mind I am not much a meat eater and would take a starch and veggies over meat any day of the week!
Although I loved my last scone recipe, this one is my new fave. I made them much smaller than the Maple Oatmeal Scones; because I prefer them to be more dainty–yep, dainty! If you too want smaller scones, check out the Pioneer Woman's picture tutorial for cutting petite scones by clicking here.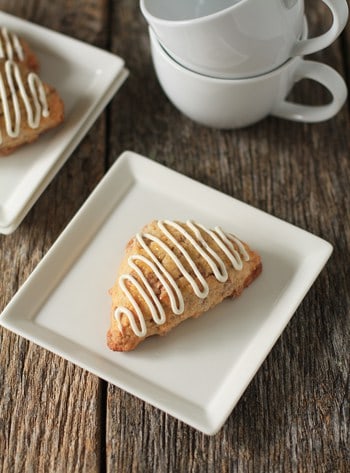 Looking for more scones? Check these out:
Maple Oatmeal Scones from My Baking Addiction
Pear Almond Scones from Good Life Eats
Bacon Cheddar and Leek Scones from The Baker's Daughter
Lemon Blueberry Scones from Baked Bree

Cinnamon Chip Scones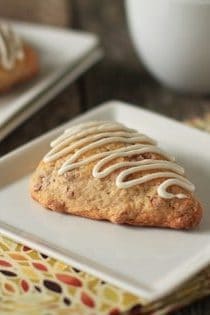 Ingredients:
For the Scones
1 cup sour cream
2 teaspoons pure vanilla extract
1 teaspoon baking soda
4 cups all-purpose flour
1 1/4 cup white sugar
2 teaspoons baking powder
2 teaspoons cinnamon
1/4 teaspoon cream of tartar
1 teaspoon salt
1 cup butter; very cold cut into pieces
2 eggs
1 cup *mini cinnamon chips
optional egg wash
1 egg beaten with 1 tablespoon water
For the Cream Cheese Glaze
1 (4 ounce) package cream cheese, softened
1 tablespoon butter, softened
2 cups confectioners' sugar
1/2 teaspoon vanilla extract extract
2 tablespoons milk
Directions:
For the Scones
1. In a small bowl, blend the sour cream, vanilla and baking soda, and set aside.
2. Preheat oven to 350 degrees F. Lightly grease a large baking sheet or line with parchments paper.
3. In the bowl of your food processor, place the flour, sugar, baking powder, cinnamon, cream of tartar, and salt. Pulse a few times to incorporate. Add in the butter and pulse until butter is in pea-sized pieces.
4. Add in the sour cream mixture and eggs into the flour mixture and pulse until just moistened.
5. Remove scone dough from the food processor and into a bowl, fold in cinnamon chips.
6. Turn dough out onto a lightly floured surface, and knead briefly. Roll or pat dough into a 3/4 inch thick round. Cut into 12 wedges, and place them 2 inches apart on the prepared baking sheet. You can easily shape these any size you want.
7. Optional: Brush the tops lightly with egg wash.
8. Bake 13-16 minutes in the preheated oven, until golden brown on the bottom
For the Cream Cheese Glaze
1. Mix the cream cheese with the butter, confectioners' sugar, vanilla extract, and milk in a bowl.
2. Drizzle over cooled scones in any fashion you choose, I used a pastry bag with a Wilton #3 tip to achieve the look shown in the photos.
Notes:
- If you cannot find mini cinnamon chips, simply chop the standard cinnamon chips to make smaller pieces.
- No food processor? Simply cut the butter into the flour mixtures using a pastry blender.
- You can also freeze your butter in whole sticks and grate it using the large holes of a box grater; this will allow you to incorporate the butter into the flour mixture without too much effort.
All images and text ©
Follow Jamie on Instagram. We love to see what you're baking from MBA! Be sure to tag @jamiemba and use the hashtag #mbarecipes!
[pinit]